Chicago Colleges:

AJ McCarron
December, 13, 2013
12/13/13
10:31
AM CT
By
ESPN Stats & Information
Melina Vastola/USA TODAY SportsFlorida State fans have made their pick, but Jameis Winston is just one of six Heisman finalists.
Six Heisman Award finalists will head to New York for Saturday's ceremony, the most that have received invites to the ceremony since 1994, when there were also six. The last time there were more was in 1988, with eight.
Although the favorite entering the ceremony is
Florida State
QB
Jameis Winston
, all six have made a solid case of why they are the best player in the country this season.
QB Jordan Lynch, Northern Illinois

Although Northern Illinois' bid to be a BCS buster was ended in the MAC Championship Game, Lynch's dual-threat ability kept the Huskies in it all season. He had 321 rushing yards against Western Michigan, the most by a quarterback in FBS history, breaking his own record of 316 set earlier in the year against Central Michigan.
Lynch ended the season with 1,881 rush yards, also an FBS record for a quarterback.
QB Johnny Manziel, Texas A&M
Manziel's bid to join Archie Griffin as the only multiple Heisman winners saw a transformation of his game. While his 2012 season was built more on his legs, his 2013 campaign saw him develop as a passer.
Manziel added a yard to his yards per attempt (from 8.5 in 2012 to 9.5 in 2013). His touchdown percentage also increased from 6.0% in 2012 to 8.4% this year. Also in 2013, 63 percent of his completions this season have gone for a first down or a touchdown, compared to 57.6 percent last year.
RB Tre Mason, Auburn
Even after a 1,000-yard rushing season last year, Mason wasn't on the short list of Heisman contenders until he finished the season with five straight 100-yard rushing games, including 304 against Missouri in the SEC Championship Game, the fifth-highest total all-time in an SEC game.
Mason's 2,137 all-purpose yards this season broke the Auburn school record, previously held by Bo Jackson. Mason's 22 rushing TD this season also set a school record.
QB AJ McCarron, Alabama
This is McCarron's third season as Alabama's starting quarterback, and he's improved every season. His opponent-adjusted QBR was 76.7 in 2011, 81.5 in 2012 and 83.5 this season.
He was even better against the tough SEC competition. In SEC games, McCarron had an 86.4 opponent-adjusted QBR, tied for the best in the conference. Fellow Heisman candidate Manziel was third (85.5).
RB Andre Williams, Boston College

This season, Williams became just the 16th player in FBS history to run for at least 2,000 yards in a season, and the first since Donald Brown did so for Connecticut in 2008.
Williams also showed big-play ability. He had 26 runs of at least 20 yards, the most by an FBS player since Kevin Smith had 26 in 2007. His 11 touchdowns on such runs are the most for any player in the last 10 seasons.
QB Jameis Winston, Florida State
Winston is the clubhouse leader for the Heisman, and as the FBS leader in opponent-adjusted QBR (90.9), he has good reason to be. The leader in opponent-adjusted QBR in three of the last six seasons went on to win the Heisman, including Manziel last year.
Winston has also showed a clutch presence on the field throughout the year. On third downs, Winston has a 98.9 Total QBR, leading all FBS quarterbacks. Over the last 10 seasons, the highest third-down Total QBR in a completed season was also 98.9, by Andrew Luck in 2010.
January, 8, 2013
1/08/13
2:43
AM CT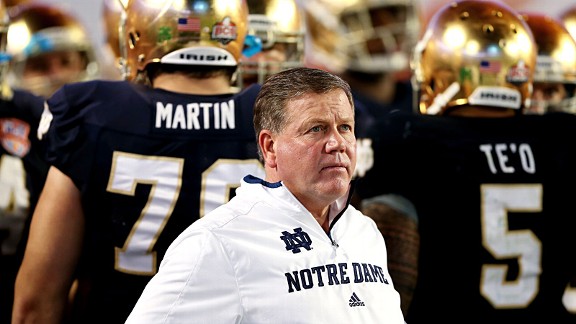 Streeter Lecka/Getty Images"Pretty darned good football team," coach Brian Kelly said of his Irish, "but not good enough."
MIAMI -- The "Rudy" theme is playing over the loudspeakers. And when the Rudy theme is playing over the loudspeakers, it is usually playing late in a tight game to inspire Notre Dame to pull out one more thriller in a season full of them.
This was the case two months ago against Pittsburgh. The Fighting Irish defied everyone by winning at Oklahoma a week earlier, got off to a lethargic start against Pitt and fell behind 14. But this was Notre Dame and this was the Irish's year, and so the Notre Dame Stadium speakers blared that famous tune less than a minute into the fourth quarter. Notre Dame scored 23 of the game's final 29 points, won in triple overtime, extended its perfect campaign and marched onward.
Now the song is playing inside Sun Life Stadium, Notre Dame again needing another miracle. The Irish have just failed to convert on fourth down. Alabama has gotten the ball back. The Crimson Tide have had the ball plenty already, and they have scored every single time they have had it.
This is with 13 minutes, 20 seconds left in the second quarter.
This is with Alabama boasting a three-touchdown lead, well on its way to a
42-14 victory
in the Discover BCS National Championship.
This is reality crashing down hard on a team amid a renaissance campaign, no history nor luck nor year-three magic on its way to the rescue.
"Maybe Alabama doesn't come back in the second half," an almost-resigned coach Brian Kelly says at halftime. "It's all Alabama. I mean, we can't tackle them right now, and, you know, who knows why? You know, they're big and physical; I guess I do know why. It's just that our guys have not tackled the way they have all year. We've got to go in there and we've got to get after it and play with some pride in the second half and try to get this thing closer so we can try to find a way to win."
Notre Dame gets the ball back first, and its offense finally gets something going. A 6-yard run here, a 21-yard pass there, nine more yards on a completion … and here the Irish are at the Alabama 36-yard line, the closest that they have come to the end zone all night.
Everett Golson
takes a shot deep down the right sideline to
DaVaris Daniels
, and
Dee Milliner
is ready to pick it off, except he doesn't. No matter, because
Ha'Sean Clinton-Dix
is close enough to dive and catch the tip while falling out of bounds, one more blow to a Notre Dame team that has already taken all it can handle.
[+] Enlarge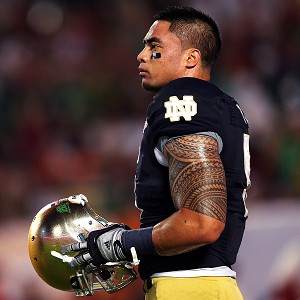 Mike Ehrmann/Getty ImagesManti Te'o couldn't find the momentum-shifting play that marked his, and Notre Dame's, run to Miami.
This was the case all night for the Irish, from a highly questionable kick-catching interference call on
Matthias Farley
that took away a chance for early momentum, to
Manti Te'o
's diving attempt at a second-quarter interception going just off his fingertips -- or the exact opposite of what happened to him in a season-defining pick at Oklahoma.
Breaks? There was
Davonte Neal
's fumble of a second-quarter punt return bouncing out of bounds, allowing the Irish to keep the ball. Or
AJ McCarron
's inches-too-long throw to
Amari Cooper
, who had outrushed two Irish defenders and fell just shy of a ball that would have accounted for a 59-yard score and a 28-0 Tide lead.
Instead, the Tide simply scored on their next possession to make it 28-0. They rushed for 265 yards against a defense that had allowed 92 per game. They had scoring drives of 82, 80, 97 and 86 yards; Notre Dame had not allowed one longer than 75 yards entering Monday night.
"I think Coach Kelly told us before the game that there are eight minutes that are very important in the game," said Te'o, whose legendary career came to a close. "The first two minutes of the game, the last two minutes in the second quarter, the first two minutes of the third quarter and the last two minutes of the game."
Alabama scored on the first drive of the game and on the last drive of the second quarter. The Tide picked off Notre Dame in the first two minutes of the third quarter, and by the last two minutes of the game the "S-E-C" chants were making their final appearance of the night.
Just before then, a pin drop could be heard on the Irish sideline, players staring everywhere and nowhere at once, the hopes and dreams of capping this magical season with a crystal football all but officially dead for three hours now.
"Pretty darned good football team," Kelly would say, "but not good enough."
Robby Toma
walked off the field first, helmet on, a stoic stride into the tunnel. Everyone soon followed, and when the locker room opened
Theo Riddick
was crying all by himself in front of his stall. Roommate and backfield mate
Cierre Wood
eventually appeared, tapping his left hand on Riddick's head every now and then for comfort during interviews. Eventually the emotions of this season and a four-year, whirlwind career gave in, and soon a towel was covering Riddick's face in its entirety.
Kelly was the last to emerge from the locker room, his mission to fulfill the third-year destiny of great Notre Dame leaders falling short, the coach stopping to thank a couple of men in orange jackets for their hospitality while a fan's cry of "Get 'em next year, Coach" faded in the background.
There were 25 teams ranked ahead of his in the Associated Press preseason poll, and there were 23 mostly unfulfilling seasons preceding this year's outfit.
Loss No. 1 came four months later than anyone had expected, and it was on to 2013 and finishing the gap-closing that the 125th team in the history of Notre Dame football thought it was so close to completing.
"There are 121 FBS schools," Kelly's boss, athletic director Jack Swarbrick, would say, "and we're in pretty good shape relative to all but one of them."
January, 7, 2013
1/07/13
10:42
PM CT
MIAMI -- Alabama became the first team to repeat as BCS champions, as the Tide rolled through Notre Dame on Monday night,
42-14
, to win the Discover BCS National Championship, their third title in four years. Here is how it went down.


It was over when:
Following a three-and-out from Notre Dame, officials blew a call on Alabama's punt return, ruling that
Christion Jones
was hit by an Irish player. He was hit by a teammate. Instead of an Irish fumble recovery and some early momentum, the Tide marched down the field for a 14-0 lead and never looked back.
Gameball goes to:
The offensive line paved the way for Alabama's run game and protected
AJ McCarron
all night. Alabama scored touchdowns on its first three drives and made it look easy, taking any chance away from the Irish early. This was an historic group.
Stat of the game:
The longest drive against Notre Dame in the regular season was 75 yards. On Monday, Alabama had drives of 82, 80, 97 and 86 yards.
Best call:
We'll change this to worst call: The Jones fumble that wasn't. It looked like a pivotal play at the time and ended up not mattering in the grand scheme of things, but it was an awful, awful call.
Second guessing:
Not to take away from Alabama's defense, but Notre Dame's No. 1 scoring defense look disheveled throughout the night, missing tackles left and right, blowing assignments and getting the ball taken to it all night.
What Alabama learned:
The Tide are a dynasty. No ifs, ands or buts about it. Nick Saban has his third national title in four years, and his fourth overall. The scary part? Alabama may be even better next year.
What Notre Dame learned:
Everyone who said the Irish were lucky to be here feels a little validated. It was an historic season by almost any measure for Notre Dame, but one has to wonder just how far this program is from being the best of the best after a demoralizing Monday night.
January, 7, 2013
1/07/13
10:15
AM CT
Can Notre Dame defy any and all expectations one final time?


When Alabama has the ball
: When push came to shove in the SEC title game against Georgia, the Tide ran, ran and ran some more. They piled up a ridiculous 350 rushing yards and, to cap it off, hit
Amari Cooper
for a 45-yard touchdown pass that proved to be the game winner. Cooper has slowly but surely become one of the better receivers in the country. He cannot be overlooked when talking about this matchup, as the Irish will certainly try to keep the Tide from establishing a rhythm on the ground and aim to rattle quarterback
AJ McCarron
, who has had tremendous protection from his offensive line all season long. If Notre Dame can get to the MVP of last year's title game, it will put itself in great position to pull off the win.
When Notre Dame has the ball
:
Everett Golson
and the offense cannot play tentative, not on this stage and not against an Alabama defense that ranks in the top 10 nationally in six different categories. The redshirt freshman has come a long way in a short time, and he will have to make some plays through the air and on the ground in order to win this game.
Tyler Eifert
could play a huge role in that, too, as the tight end is unlike anything Alabama has faced this season … even in the SEC.
Intangible
: Notre Dame has won five games by seven or fewer points this season. Like Auburn in 2010, which won five games by three or fewer points en route to the title, these Irish have been tested over and over again, and they have withstood every challenge. Brian Kelly said he doesn't believe in teams of destiny, but the Irish have looked the part during this unexpected, remarkable journey. If the game is close late, they have every reason to think they can and will win this game. Alabama, meanwhile, has pulled off two for-the-ages victories of its own, against LSU and Georgia, while falling to Texas A&M. But the Tide do have Nick Saban, who has mastered the process of a long layoff and is going for his fourth national title, and third with the Tide.
Prediction
: Alabama 21, Notre Dame 17. In an epic championship clash between two titans, Alabama's defense makes one final stand as time expires.
January, 7, 2013
1/07/13
9:00
AM CT
No. 1 Notre Dame (12-0, independent) vs. No. 2 Alabama (12-1, 7-1 SEC)


Who to watch
: Keep an eye on Alabama All-American center
Barrett Jones
, who injured his left foot in the SEC title game against Georgia. If Jones is not close to 100 percent,
Louis Nix
and the rest of the Notre Dame defensive line likely will reveal that early and often. For Notre Dame, watch how quarterback
Everett Golson
handles the stage and the Tide's dominant defense. He has grown throughout this season, and how well he improvises could prove to be the difference Monday night.
What to watch
: The key matchups will come in the trenches. Jones and Alabama's offensive line have been talked about in legendary terms; Notre Dame's defense leads the nation in scoring. The Irish likely will try to pressure quarterback
AJ McCarron
in a way that has not been done yet this season. If they can knock him around and force some errant throws early, they will have a strong chance at pulling off the upset.
Why to watch
: This is the final game of the college football season, and it is for the crystal football trophy. It is also a matchup of two of America's most popular and historic programs. Will the SEC extend its national title stretch to seven straight years, or will Notre Dame solidify its return to the top of the college football world? No team has won consecutive BCS titles, and Tide coach Nick Saban will try to make it three in the past four years -- and four overall for him -- when he faces Brian Kelly and the Irish.
December, 11, 2012
12/11/12
1:30
PM CT
The honors keep coming for
Manti Te'o
-- and he has three teammates to share the glory with this time, too.
Te'o was named an
Associated Press first-team All-American
on Tuesday, one year after the linebacker made the AP's second team.
Te'o is joined by teammates
Tyler Eifert
,
Stephon Tuitt
and
Braxston Cave
.
Eifert, the most prolific tight end in Notre Dame history, was named a second-team AP All-American for the second straight year, and Tuitt joined him at defensive end.
Cave rounded things out for the Irish as a third-team center.
Notre Dame's national title-game opponent, Alabama, landed six players across the three teams, most notably center
Barrett Jones
and guard
Chance Warmack
on the first-team offense and linebacker
C.J. Mosley
and cornerback
Dee Milliner
on the first-team defense.
Offensive tackle
D.J. Fluker
made the second team, while quarterback
AJ McCarron
was named a third-team All-American.
Not to take away from any of the players who were honored, but let's just say you'll have a hard time convincing me that there are six interior defensive linemen who had better seasons this fall than Irish noseguard
Louis Nix
.
December, 2, 2012
12/02/12
9:23
PM CT
Notre Dame Fighting Irish (12-0) vs. Alabama Crimson Tide (12-1)
Jan. 7, 8:30 p.m. ET, Miami (ESPN)
Notre Dame take from Notre Dame blogger Matt Fortuna:
Haven't you heard? Notre Dame is back. No, not BCS-bowl back. BCS national title game back.

The No. 1 Irish ran the table in the regular season and are the only bowl-eligible team left that is spotless in the loss column. They navigated a tough stretch featuring opponents from five BCS conferences and two independents. And now they will get one more chance to prove this was no fluke on Jan. 7, when they take on a team from the one conference they have yet to face in 2012: the SEC, winners of the past six national titles.
The key for Notre Dame all season has been the defense, which gives up just 10.33 points per game and has surrendered just 10 touchdowns all season long, with one of those scores coming from the opposing team's defense (Stanford). The Irish showed their toughness in the trenches by utilizing goal-line stands to hold off a pair of Pac-12 opponents in Stanford and USC, and their offense has started to come along after some early-season missteps.
Redshirt freshman
Everett Golson
went the final three games without getting yanked for performance issues, and he has turned the ball over just once during that stretch. He has been aided by a ground game averaging 202.5 yards per game, and he has flashed his ability to run much more as the season has progressed. He has rushed for 316 yards in his last seven games after netting negative-11 yards on the ground through his first four outings, in which he was benched twice in favor of
Tommy Rees
.
Speaking of rushing … good luck moving the ball on the ground against this defense. Notre Dame ranks fifth nationally against the run, surrendering just 92.42 yards per game. The Irish did not give up a rushing touchdown until the eighth game of the season, against Oklahoma's
Blake Bell
. Heisman candidate
Manti Te'o
gets much of the attention, and he deserves every bit of it, but don't overlook future early-round draft picks
Louis Nix
and
Stephon Tuitt
up front.
For all the national talk about the SEC, America probably won't see something much further from last year's title game, as the Irish fit the blueprint of a successful SEC team this season.
---
Alabama take by TideNation's Alex Scarborough:
Believe it or not, the Crimson Tide are finishing the season right where they started. Despite losing eight starters to the NFL draft in April -- including three first-rounders and one Heisman Trophy finalist -- the expectation for Nick Saban's squad remained "BCS or bust" with a preseason No. 2 ranking. After beating Georgia to win the SEC championship on Saturday night, No. 2 is where Alabama will finish in the final BCS Standings of the season.

The talent in Tuscaloosa, Ala., was never in question. Five straight top-3 recruiting classes filled the coffers, and the coaching staff used their young players wisely, incorporating a pair of potential Freshmen All-Americans in running back
T.J. Yeldon
and wide receiver
Amari Cooper
. With junior
AJ McCarron
under center again, the offense has gone to new heights.
The defense rallied around a handful of veterans to maintain its top-dog status. Alabama led the country in total defense for the second straight season after losing stars like Mark Barron, Dre Kirkpatrick , Courtney Upshaw and Dont'a Hightower. A fresh set of leaders emerged to reinvent the Alabama defense as something possibly less dominant, but more stingy. The Tide created more takeaways and sacks than a year ago, and practiced a bend-but-don't-break mindset in the biggest games.
Like last season, Alabama's path to the national championship game was not without a speed bump, and this time it wasn't LSU blocking the Tide's way. A week after surviving Death Valley and the
LSU Tigers
, Alabama was shocked at home by freshman phenom
Johnny Manziel
and the
Texas A&M Aggies
, dropping the Tide out of the title race from No. 1 to No. 4 in the BCS Standings. A week later, No. 1 Kansas State and No. 2 Oregon fell on the same night, paving Alabama's way back to Miami.
Alabama assured itself a berth in the title game by beating No. 3 Georgia in remarkable fashion, surviving an SEC-title record five lead changes. It was the Tide's fourth win against a ranked team this season. Net up is a chance for a fifth, against No. 1 Notre Dame. Alabama will be the seventh consecutive SEC team to compete in the BCS National Championship Game. It's Alabama's third trip to the title game in four years.
TOP 25 SCOREBOARD
Thursday, 9/18
Saturday, 9/20
TOP PERFORMERS
M. Mack South Florida - RB
31 car, 103 yds, 1 td