Chicago Colleges:

Akeem Spence
April, 23, 2013
Apr 23
9:00
AM CT
Unless you've been living in a world without ESPN, the Internet or sports talk radio, you're well aware that the NFL draft begins Thursday night.
What will the weekend hold for Big Ten products? Who will be the top pick from the league? Which players should be garnering more buzz? Big Ten bloggers Adam Rittenberg and Brian Bennett try to answer those questions and more in this blog debate:
Brian Bennett:
Adam, another NFL draft is nearly upon us. What better way to spend 96 hours of a spring weekend than listening to analysts describe a player's upside? At least we won't have to read any more 2013 mock drafts after Thursday afternoon.
But let's get down to Big Ten business. According to our colleagues with the good hair -- Mel Kiper Jr. and Todd McShay -- the league very well
might not produce a first-round pick
for the first time since the AFL-NFL merger. Last year, the first Big Ten player taken was all the way down at No. 23. What's going on here? Is there that big of a talent shortage in the conference, or is this just a blip? And do you think any Big Ten players hear their names called on Thursday night?
[+] Enlarge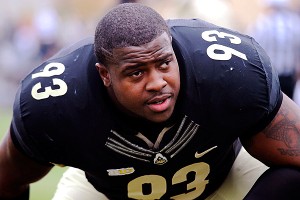 AP Photo/Michael ConroyKawann Short's versatility could make him too attractive for NFL teams to pass up in the draft's first round.
Adam Rittenberg:
I think we can match them follicle for follicle, don't you? The Big Ten's draft downturn has been a trend for a number of years. First, the league was falling out of the top 10 consistently. Then, it started to only see selections in the final 10-12 picks. Now it might fall out of the first round entirely. So, yes, there is a talent shortage at the very highest levels and especially at certain positions. The three we've written about most often are quarterback (last first round pick: Kerry Collins), cornerback and wide receiver. I still think the Big Ten produces a wealth of great linemen on both sides of the ball, as well as its share of quality running backs. But the running back position isn't valued nearly as high in the first round as cornerback and quarterback.
I thought the Big Ten still would have a first-round pick even after Michigan LT
Taylor Lewan
announced he would return in 2012. But now I'm not so sure. Ohio State DT
Johnathan Hankins
and Purdue DT
Kawann Short
both could hear their names called, but it's far from a guarantee.
What do you think this year's draft says about the state of the Big Ten?
Brian Bennett:
I think you hit on several of the reasons, and I'd add in the population and demographic shifts as another. Of course, if Lewan came out as expected, he'd probably be a top-15 pick. And if the NFL were to do last year's draft over, I'm pretty sure Russell Wilson would go in the first round, right?
Still, the downturn in top-level NFL talent, at least from a draft perspective, has to trouble the conference and offers a possible explanation as to why the Big Ten has struggled on the big stage of late. I believe that the way Urban Meyer and Brady Hoke are recruiting will mean more elite players will be entering the pros in the near future, but we shall see.
Let's talk about this year's prospects. Who do you think will be the first Big Ten player selected this weekend? And which Big Ten product do you think
should
be the first one taken?
Adam Rittenberg:
As much as I'd love to see Wisconsin RB
Montee Ball
work his way into the first round, I think the first pick will be either Short or Hankins. Both are potentially great NFL defensive linemen, but I think Short has a little more versatility to his game and can be an effective pass-rusher in addition to his run-stuffing duties. Short wasn't healthy for a chunk of last season, which led to some erratic play, but he has the ability to dominate inside. So does Hankins, but he's more of a space-eater than a difference-maker on the pass rush. I think Short should be the first Big Ten player taken, and I think he will be.
You mention Wilson, who was arguably the biggest steal of the 2012 draft. Which Big Ten player will fill that role this year? Who are the value picks out there from the league?
Brian Bennett:
Wilson slipped in last year's draft because of concerns over his height. And I think there may be a similar thing going on with Ohio State's
John Simon
. He's viewed as a tweener because he's only 6-foot-1, but there's no questioning Simon's motor, heart or leadership. As long as he can stay healthy, he'll be a productive player for a long time in the NFL.
Penn State's
Jordan Hill
is another guy who's shorter than the prototype for a defensive lineman but who also makes up for it with his performance and drive. I also believe Nebraska's
Rex Burkhead
is being undervalued, though running backs aren't the commodities they once were at the next level. A knee injury hurt Burkhead's stock, but he showed at the combine what kind of athlete he is. And I think Michigan State cornerback
Johnny Adams
, who was looked at as a first-round draft pick not that long ago, could be had at a good price this weekend.
Which players do you think are being undervalued? And what do you see as the draft fate for Michigan's
Denard Robinson
?
[+] Enlarge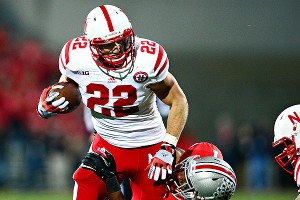 Andrew Weber/US PresswireRex Burkhead showed during pre-draft workouts that he's recovered from a 2012 knee injury.
Adam Rittenberg:
You bring up some really interesting names, BB, especially Burkhead, who, if healthy and in the right system, could be a very valuable NFL player. Simon is another guy who needs to be in the right system and must overcome measurables that aren't ideal for the NFL at defensive end or outside linebacker. I wouldn't forget the group of Illinois defensive linemen --
Michael Buchanan
,
Akeem Spence
and
Glenn Foster
, who wowed the scouts during pro day in Champaign. It's easy to dismiss them because they played on a terrible team, but all three have been on the NFL radar for some time -- especially Spence and Buchanan -- and have the talent to succeed at the pro level.
Ohio State tackle
Reid Fragel
is another guy who could be a great value, although his stock seems to be rising quickly. He started his career as a tight end but really thrived last year at the tackle spot.
Robinson will be one of the weekend's top story lines. He's clearly a work in progress as a receiver, but you can't teach that speed and explosiveness. Robinson is a risk-reward guy, but I'd be surprised if he's still on the board midway through the third round.
The Big Ten sends a fairly small contingent of underclassmen to this year's draft. How do you think those players pan out?
Brian Bennett:
Michigan State has three of 'em in
Le'Veon Bell
,
Dion Sims
and
William Gholston
. I think there's a chance that some team reaches for Bell in the first round, and he's got the body to be a very good NFL running back for a long time. Sims also presents an intriguing option for teams, especially with the increased use of tight ends in the pro passing game. Despite Gholston's impressive physical traits, he didn't test that well in Indianapolis and had a questionable motor in college. Teams could shy away from him.
You mentioned Spence from Illinois, a guy whose stock seemed to climb as he showed some great strength in workouts. Hankins will be a second-rounder at worst. Then there's Wisconsin center
Travis Frederick
, who posted a slow sprint time at the combine. But how many times do centers need to sprint? I still think he'll be a good player, and one who shouldn't fall past the second round.
This is getting to be as long as the draft itself, so we should probably start wrapping things up. Any final thoughts on the Big Ten's outlook this weekend?
Adam Rittenberg:
The big story lines for me, other than whether the Big Ten has a player drafted in the first round, are where running backs like Ball, Bell and Burkhead land, the Denard Watch, how the underclassmen fare and where the potential sleepers we outlined above end up. This won't be a transformative draft for the Big Ten because it lacks elite prospects at the positions we mentioned earlier, especially cornerback and quarterback. But there are always a few surprises along the way. As a Chicago Bears fan, I'm always interested to see if a Big Ten player ends up at Halas Hall.
What Big Ten story lines intrigue you heading into the draft?
Brian Bennett:
You mentioned most of the big ones. I'll also be interested to see if any team takes a chance on Penn State's
Michael Mauti
and whether Iowa's
James Vandenberg
gets drafted after a disappointing senior year. I predict the Big Ten keeps its first-round streak alive -- barely -- and that Robinson stays in Michigan when the Detroit Lions draft him in the fourth round.
And then we can all put the 2013 NFL draft to bed -- and start studying those 2014 mock drafts.
April, 3, 2013
Apr 3
2:30
PM CT
Greg Colby and Mike Bellamy both have seen better days at Illinois.
During Colby's first stint as an assistant at his alma mater (1988-95), Illinois shared a Big Ten championship in 1990 and reached six bowl games in seven seasons. Bellamy starred at wide receiver for two of those Illini bowl teams (1988 and 1989). Illinois went 10-2 during Bellamy's senior season, when he earned first-team All-Big Ten honors and second-team All-America honors as a kick returner.
Both men played for the Orange and Blue, and both are in their first seasons as full-time assistants on Tim Beckman's revamped coaching staff. Their challenge: recapture the winning ways after a 2-10 disaster in 2012.
"When I was here before, we had some pretty good success," Colby recently told ESPN.com. "A championship, six bowls, and played pretty well. I want to see Illinois be successful. I have all along, and now I've got [a job] where I can have a little bit of an influence, at least. So I've got a very strong vested interest.
"It is personal for me."
[+] Enlarge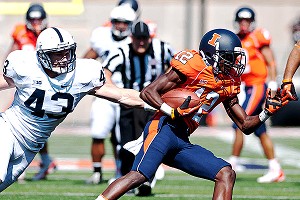 Bradley Leeb/USA TODAY SportsNew Illinois receivers coach Mike Bellamy will aim to get more production from Ryan Lankford in 2013.
Every Friday during the offseason, Beckman has speakers address the team to talk about the program's history. Colby and Bellamy recently made a joint presentation, discussing their playing days in Champaign and, in Colby's case, his first run as an assistant.
Colby returned as defensive line coach after five years as head coach at Division II Millersville University in Pennsylvania. He has made four stops since leaving Illinois following the 2005 season, including two at other Big Ten schools (Michigan State and Northwestern). Bellamy, who played for four NFL teams between 1990-95, takes over as Illinois' receivers coach after serving as the team's assistant director of player personnel and relations in 2012.
"Last year, being around the guys, I told them I was one of them," Bellamy told ESPN.com. "So that made it easy during this offseason, being in their ear and watching them work out, giving them tips here and there on how to study. So when the choice was made, some thought it would be a natural fit and Coach Beckman wanted to make sure he got the right guy.
"I was excited."
Bellamy works with a group that, like the rest of the offense, underperformed in 2012. He inherits veterans like
Ryan Lankford
and
Spencer Harris
, and has seen some good signs this spring from converted safety
Steve Hull
and
Miles Osei
, a full-time wideout after serving as a reserve quarterback for three seasons. Junior-college transfer Martize Barr also has been a bright spot.
Colby oversees a group that has been Illinois' strength despite the team's recent struggles. Two Illini defensive linemen -- Whitney Mercilus (2012) and Corey Liuget (2011) -- have been selected in the first round of the NFL draft in the past three years. Linemen like
Michael Buchanan
,
Akeem Spence
and
Glenn Foster
could hear their names called later this month.
Although Colby is aware of the recent track record, he's not focusing on it.
"It's all attitude right now," he said. "That's what the offseason is. If you don't develop it now, you're not going to have it in the fall during the season."
Colby inherits a young group that includes only one player (senior
Tim Kynard
) with significant game experience. He hopes
Jake Howe
and
Austin Teitsma
can blossom, and he's seen flashes from redshirt freshman
Vontrell Williams
.
"I don't think we're going to have the All-American, All-Big Ten that they've had in the past, but who knows," Colby said. "That's not something we really focus on. We've got to be blue-collar players up front. That's what we're trying to instill, the kind of work ethic. Don't depend on your athleticism to make plays for you.
"Depend on your work ethic, and let your athleticism be the icing on the cake."
Both Colby and Bellamy often talk to players about forging a legacy, one the coaches helped shape as former Illini.
"I told them a couple times, 'At some point, you've got to take this personally,'" Bellamy said. "To me, this is personal right now.
"We can't go anywhere but up."
March, 13, 2013
Mar 13
12:00
PM CT

The Illini must find a way to replace three defensive line starters from 2013.
March, 11, 2013
Mar 11
4:00
PM CT
A year ago,
Mason Monheim
was in high school.
He's now among the leaders of an Illinois team desperately trying to get back on track for the 2013 season after a 2-10 clunker last fall. Ideally, Monheim could play behind several veterans for a few years, develop physically and mentally and then claim a leadership position. But a wave of injuries, combined with Monheim's emergence as a starting linebacker, have fast-tracked him to the forefront.
[+] Enlarge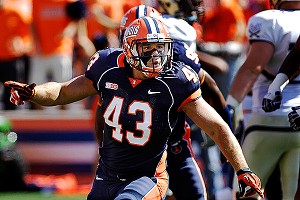 AP Photo/Seth PerlmanIllinois LB Mason Monheim said he's trying to learn the nuances of the other defensive positions so that he can become a better leader.
The good news: Monheim is OK with taking the reins. The better news: he likes it.
"I feel more of a leadership role," Monheim recently told ESPN.com. "I'm really taking ahold of the defense. I'm trying to figure other people's positions so I can help them out, and know what they're doing to help me. I'm trying to be more vocal, just trying to bring that fire a little bit, to the group.
"It's a lot better and easier when there's a little fire underneath you."
Monheim said he's not fiery by nature but likes bringing energy to Illinois' spring workouts, whether it's critiquing a teammate or celebrating with them after big plays. Despite his young age, his teammates are responding to him well.
"They're ready for that criticism," he said. "Everybody's trying to learn, whether you've been here for a few years or not."
Much of Monheim's education came between the lines on Saturdays last fall. The 6-foot-1, 230-pound Monheim started the final 10 games for Illinois and led all Big Ten freshmen in tackles with 86.
His tackles-per-game average of 7.2 tied for 15th in the league, while no other freshman ranked in the top 50. Monheim had six tackles for loss, including 1.5 sacks, to go along with two forced fumbles, an interception a fumble recovery and a pass breakup.
He earned
freshman All-America honors from Phil Steele
and made
our All-Big Ten freshman team
along with fellow Illini linebacker
Mike Svetina
.
"I guess I didn't expect to play so much, but I went in with an open mind," Monheim said. "I knew if I would get an opportunity, I'd make the best of it for the team. That's what happened."
Monheim, a two-time Division IV all-state selection from Orville High School in Ohio, likely would have played for Toledo if Illini coach Tim Beckman had remained the Rockets' head man. But days after taking his official visit to Toledo, Monheim learned Beckman had accepted the Illinois job.
Monheim, who had received several Mid-American Conference offers, jumped on the chance to follow Beckman to Champaign.
"When I came in [last] summer, I didn't know what to expect," Monheim said. "But it wasn't anything that I was scared or didn't believe in my abilities. I have a lot of great teammates. They made it easy on me."
Monheim's challenge this spring is to better understand his teammates' responsibilities so he can lead them this fall.
Illinois could have three defensive linemen selected in the NFL draft --
Michael Buchanan
,
Akeem Spence
and
Glenn Foster
, who
sparkled last week at pro day
after not receiving a combine invite. The secondary loses cornerbacks
Terry Hawthorne
and
Justin Green
.
The biggest reasons for optimism can be found at linebacker, as both Monheim and Svetina return along with
Jonathan Brown
, a second-team All-Big Ten selection in 2011.
"We're more together as a group," Monheim said of Illinois' defense. "We're not focused on the individual abilities and talents. When you're together, nothing can break you."
February, 28, 2013
Feb 28
10:00
AM CT
Spring practice is under way in the Big Ten, so let's take a look at what's on tap for the six teams in the Leaders Division.

ILLINOIS
Spring start:
March 5
Spring game:
April 12
What to watch:
1. Coaching staff makeover:
Illinois players are used to coaching changes, and Tim Beckman's staff received a significant overhaul during the winter as five assistants departed the program (four voluntarily). The biggest change comes at offensive coordinator, as former Western Michigan head coach Bill Cubit takes over. Cubit has to implement his system and identify more playmakers with a unit that finished last in the Big Ten in both scoring and total offense last season.
2. Lines in limbo:
The Illini not only lost significant pieces on both the offensive and defensive lines, but they have new position coaches at both spots as well. Defensive line has been Illinois' strongest spot, but the team must replace two future NFLers in
Michael Buchanan
and
Akeem Spence
.
Glenn Foster
is also gone, so the front four will have a very different look. The offensive line struggled mightily in 2012 and needs young players like
Michael Heitz
and
Ted Karras
to take steps this spring.
3. Getting healthy:
Illinois
lost so many starters to injury in 2012
that it became difficult to get an accurate gauge on what Beckman could do with a healthy roster. Although linebacker
Jonathan Brown
and receiver
Darius Millines
will be limited this spring, the rest of the team is ready to go and Illinois added several potential big contributors from the junior-college ranks. If Illinois has any chance of taking a major step in 2013, its best players must stay on the field this spring and allow the coaches a chance to evaluate and scheme for the season.

INDIANA
Spring start:
March 2
Spring game:
April 13
What to watch:
1. Quarterback cluster:
While some Big Ten teams (Penn State, Purdue) have hardly any experience at quarterback, Indiana has three signal-callers who have logged significant field time.
Tre Roberson
, who started the 2012 season before suffering a broken leg in Week 2, returns this spring, and it will be interesting to see how he looks and whether he outperforms
Cameron Coffman
and
Nate Sudfeld
. Coffman started the final 10 games last fall and passed for 2,734 yards and 15 touchdowns, while Sudfield added 632 pass yards and seven scoring strikes. Indiana's quarterback depth is a good problem to have, but it would be good to see some separation this spring.
2. Defensive leadership:
Fielding a Big Ten-level defense remains Indiana's top priority, and the Hoosiers need leaders to develop this spring. Top linemen
Adam Replogle
and
Larry Black Jr.
depart, and Indiana needs to build depth up front after allowing a league-worst 231.3 rush yards per game in 2012. Linebacker is another spot IU must upgrade, and
David Cooper
should be ready to take the reins after recording 86 tackles in 12 starts a year ago. Like Illinois, Indiana also welcomes several junior-college defenders, including tackle
Jordan Heiderman
.
3. Secondary surge:
All the question marks in Indiana's defensive front seven make it even more important for the secondary to make strides this spring. The Hoosiers have no shortage of experience in the back four with players like
Greg Heban
,
Mark Murphy
,
Brian Williams
(12 starts last season) and
Antonio Marshall
(started final seven games). There's potential for the secondary to be a strength for IU in 2013, but the group must make more plays after recording a league-low seven interceptions last fall.

OHIO STATE
Spring start:
March 5
Spring game:
April 13 (at Paul Brown Stadium, Cincinnati)
What to watch:
1. Taking a pass:
The highest-scoring offense in the Big Ten returns every starter but two, and all that experience, talent and familiarity with the spread attack heading into Urban Meyer's second season with the Buckeyes figures to make them even more dangerous. The key will be how much more efficient
Braxton Miller
can become as a passer.
2. Getting defensive:
For all the pieces the offense retains, the defense is a completely different story heading into spring camp. The Buckeyes have to replace the entire defensive line after losing three seniors and junior
Johnathan Hankins
to the draft, two starting linebackers are gone and the graduation of cornerback
Travis Howard
leaves an additional hole in the safety. There will be no shortage of competition for first-team reps.
3. Looking for leaders:
Meyer and the senior class that has since departed quickly forged a deep bond, and he's gone out of his way to praise those players' leadership as integral in the unbeaten season that started his tenure with the Buckeyes. Now he needs a new wave of emotional speakers and relentless workers to take the torch from the likes of
John Simon
and
Zach Boren
, and Meyer will be making a point to identify his best candidates over the 15 workouts leading into the summer.
-- Austin Ward, BuckeyeNation

PENN STATE
Spring start:
March 18
Spring game:
April 20
What to watch:
1. Quarterback competition:
With the departure of fifth-year senior
Matt McGloin
, quarterback is now the biggest question mark on this team. Sophomore
Steven Bench
has a head start and will compete against juco early enrollee
Tyler Ferguson
.
Christian Hackenberg
won't join the team until summer. Can this no-huddle offense be as effective?
2. Replacing LBs Michael Mauti and Gerald Hodges:
Mike Hull
, who usually played inside, will have to make some adjustments as one of the expected replacements for the All-Big Ten linebacker tandem. The other spot is up for grabs, and fans should expect to see a battle between
Ben Kline
and
Nyeem Wartman
.
3. New faces at WR, TE:
Redshirt freshman
Eugene Lewis
, the headliner of PSU's 2012 class, could challenge
Brandon Moseby-Felder
as the No. 2 WR target.
Adam Breneman
, the No. 1 tight-end recruit in the country, is also hoping to be recovered from a torn anterior cruciate ligament in time for the Blue-White Game. Both could be stars down the road for PSU.
-- Josh Moyer, NittanyNation

PURDUE
Spring start:
March 18
Spring game:
April 12
What to watch:
1. Behind these Hazell eyes:
Yes, I'll justifiably take the abuse for the Kelly Clarkson reference, but new Purdue coach Darrell Hazell has his first chance to evaluate his team on the field this spring. Hazell brings a completely new coaching staff and a new approach to Purdue, which fell short of expectations in 2012 and has significant questions on both sides of the ball. He seems to be getting good buy-in from the players so far, but it'll be interesting to see how things progress during the 15 workouts this spring.
2. Quarterback race:
If you like mysteries, you'll enjoy Purdue's quarterback competition this spring. The combination of a new coaching staff and unproven but talented candidates makes the race
virtually impossible to predict
. Hazell and new offensive coordinator John Shoop will study redshirt freshman
Austin Appleby
, who could have a slight edge to win the job, along with redshirt freshman
Bilal Marshall
and early enrollee
Danny Etling
, a decorated recruit. Don't forget about
Rob Henry
, who started in 2010 and would have been the top quarterback in 2011 if not for an ACL injury weeks before the season.
3. Short stopper:
Purdue has to find a replacement for standout defensive tackle
Kawann Short
, the centerpiece of the defensive line the past few seasons.
Bruce Gaston Jr.
will continue to occupy the other top tackle spot, but there will be plenty of competition to join him in the starting lineup. Purdue's defensive line underachieved in 2012, and while Gaston and ends
Ryan Russell
and
Ryan Isaac
all return, the Boilers will really miss Short's production if they don't build more depth up the middle.

WISCONSIN
Spring start:
March 9
Spring game:
April 20
What to watch:
1. New era dawns:
Consistency is the norm at Wisconsin, but players will have to adjust to a dramatically different coaching staff for the second consecutive season. This time, it includes a new leading man in Gary Andersen, who gets his first chance to work with the players on the practice field. Andersen doesn't plan to overhaul the schemes, but he and his coaches will put their spin on things and see what works. He'll also bring a different personality to practice but one that athletic director Barry Alvarez thinks will fit the program's culture.
2. Intrigue at quarterback:
Arguably no team in America has a more interesting quarterback race than the Badgers do this spring. They have three players with starting experience --
Joel Stave
,
Curt Phillips
and
Danny O'Brien
-- plus a talented redshirt freshman (
Bart Houston
) who arrived as a decorated recruit and a junior-college addition (
Tanner McEvoy
) brought in by the new coaches. Add in a new system under coordinator Andy Ludwig, and it's anyone's guess who will separate himself this spring. Be sure to tune in.
3. Secondary in the spotlight:
The Badgers lose three of four starters in the secondary from the 2012 squad, including top cornerbacks
Devin Smith
and
Marcus Cromartie
. The new staff is aware of the numbers issue and signed junior-college All-America
Donnell Vercher
earlier this month. Other players who will compete for starting spots include cornerbacks
Darius Hillary
and
Peniel Jean
and safeties
Michael Trotter
and
Michael Caputo
. Wisconsin hopes to have some answers in the back four by the end of the spring.
January, 27, 2013
Jan 27
8:00
AM CT
Illinois is losing one of the Big Ten's top assistants in defensive-line coach Keith Gilmore.
Rivals.com and others reported Saturday that Gilmore is leaving Illinois
to join North Carolina's staff in the same capacity. He'll be reunited with North Carolina defensive coordinator Vic Koenning, with whom he worked at Illinois from 2009-2011. Gilmore was the only assistant Illini head coach Tim Beckman had retained from the previous staff -- and for good reason.
He mentored two NFL first-round draft picks in defensive tackle
Corey Liuget
and defensive end
Whitney Mercilus
. Two of his linemen, tackle
Akeem Spence
and end
Michael Buchanan
, are expected to be drafted in April. Although Illinois certainly has had its issues the past two seasons, defensive line hasn't been one of them. Gilmore is a significant loss for Beckman's staff.
It's hard to blame Gilmore for leaving as Beckman faces potentially a make-or-break season in 2013. Things are much more stable at UNC, and Gilmore's familiarity with Koenning makes him a good fit in Chapel Hill.
Illinois will have at least three new assistants in 2013 after bringing in new offensive coordinator Bill Cubit and new offensive-line coach Jim Bridge.
Defensive line has been the Big Ten's strongest position in recent years. The league has lost two respected D-line coaches this weekend after Michigan State announced Friday that it's
cutting ties with Ted Gill
.
December, 20, 2012
12/20/12
3:18
PM CT
Illinois coach Tim Beckman made no secret of his team's depth and talent issues before the season, and those issues were exposed during a 2-10 campaign.
Beckman and the Illini need reinforcements as quickly as possible, so they are turning to the junior college ranks. Today was the first day that junior college players could sign letters of intent, and Illinois announced that five juco imports are coming to Champaign. They are:
Martize Barr, WR, 6-foot, 190 pounds, Iowa Western CC
Abe Cajuste, DT, 6-3, 290, Victor Valley (Calif.) College
Eric Finney, OLB/S, 6-1, 205, College of the Canyons (Calif.)
Dallas Hinkhouse, OL, 6-5, 275, Iowa Western CC
Zane Petty, S, 6-1, 190, America River (Calif.) College
Hinklehouse and Finney will each have three years of eligibility with the Illini, while the other three players will have two. Finney did not play last season because of an injury. Barr played at New Mexico as a freshman before going to Iowa Western, which won the junior college national title. Hinklehouse also played on that team and was named a juco All-American. Petty spent a redshirt season at Colorado State and had seven interceptions last year. Cajuste could help fill the void left by departing starters
Akeem Spence
and
Glenn Foster
at defensive tackle.
"We're extremely excited about these five young men and their families joining the Fighting Illini family," Beckman said in a news release. "These men are coming to Champaign from winning programs around the country. There are two national champions and several conference champions in the group. The most exciting part is that they fill immediate needs for us. They all play a different position of need and are spread across all areas of the team."
Beckman and his staff have been actively scouring the junior college ranks, and don't be surprised to see more two-year transfers in the 2013 class.
December, 18, 2012
12/18/12
8:50
PM CT
December, 18, 2012
12/18/12
8:00
AM CT
Before players can take part in bowls -- or go home if their team is not in the postseason -- they must first finish their final exams. Here on the blog, we're passing out final grades for the regular season for each Big Ten team -- offense, defense, special teams and overall -- before the league kicks off its bowl season later this month.

First up, the
Illinois Fighting Illini
.
Offense: F
Illinois finished second-to-last in the FBS in total offense and in scoring at 16.7 points per game, a number that seems high when compared to the team's output in Big Ten play: a putrid 11.8 points per contest. The offensive line was a disaster, and neither quarterback
Nathan Scheelhaase
nor
Reilly O'Toole
could consistently move the chains. Moving to a spread system under new coach Tim Beckman, the Illini had nothing to hang their hats on with a weak running and weak passing game. The team was held to seven points or fewer in three Big Ten games. The leading rusher was
Donovonn Young
with 571 yards in 12 games, while
Ryan Lankford
's 469 receiving yards were most on the squad. Illinois also had more interceptions and lost fumbles than it did offensive touchdowns. Just a near total failure here.
Defense: D-minus
There were some top-flight playmakers on this side of the ball with guys like
Michael Buchanan
,
Akeem Spence
and
Jonathan Brown
. Unfortunately, it didn't translate into results, as the Illini surrendered more than 32 points per game, fielded the worst pass efficiency defense in the Big Ten and yielded more than 190 rushing yards per contest. Injuries depleted the unit during the course of the season, and there were embarrassing performances like the 45-14 loss to Arizona State, the 52-24 defeat to Louisiana Tech and the 50-14 season-ending setback at rival Northwestern. At least true freshmen linebackers
Mason Monheim
and
Mike Svetina
showed promise.
Special teams:
D-plus
The absence of Ron Zook didn't end the Illinois problems on special teams. The Illini were once again one of the worst punt- and kickoff-return units in the country. They made only eight of their 12 field goal tries. On the plus side, they did lead the Big Ten in punting, as
Justin DuVernois
had a solid year (and was asked to punt a lot). Still, a team that struggled to move the ball on offense didn't do many things to help itself with field position.
Overall: F
Sorry to be harsh with the grades, but there just wasn't much of anything to like about Beckman's first year in Champaign. Illinois beat just one FBS team -- Western Michigan, which later fired its coach. After that season opening win, the Illini went 1-10 with the only victory over an FCS opponent (Charleston Southern). Only one of those losses came by fewer than two touchdowns (20-17 against Purdue). Attendance plummeted and many fans have already lost faith in Beckman, who said at one point that he had lost 22 pounds during the trying season. Beckman is seeking some immediate help by signing several junior-college transfers. He has to upgrade just about every facet of this team, and there likely will be a staff shakeup. He and Illinois fans everywhere will have to hope the 2012 season represented rock bottom for the program.
September, 19, 2012
9/19/12
4:30
PM CT
Illinois' defense entered the season pegged as one of the Big Ten's best, a distinction linebacker
Jonathan Brown
thinks the Illini still merit.
"We've got the best front seven in the country,"
Brown told reporters
last week. "I firmly believe that."
His comments came four days after Illinois surrendered 45 points and 510 yards in a blowout loss to Arizona State. The Illini had communication problems early and missed tackles throughout the game. Perhaps the only positive is that the contest kicked off so late (10:30 p.m. ET) that most of the country missed it.
The debacle in the desert would seem to counter Brown's claim. Then again, it could be just an aberration -- a bad night after a long trip. Illinois has allowed just seven points in its two victories.
[+] Enlarge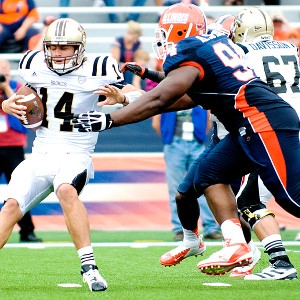 Bradley Leeb/US PRESSWIREAkeem Spence and the Illinois defense have allowed seven total points in two victories, but allowed 45 in a loss to Arizona State.
What is the real Illini defense?
The beauty is we'll soon find out, thanks to the schedule.
After a game that revealed virtually nothing -- last week's 44-0 smashing of woeful Charleston Southern -- Saturday night's test against Louisiana Tech figures to show much more about the Illinois defense. Louisiana Tech's offensive numbers, despite a small sample size (two games), are quite staggering:
Fifth nationally in total offense (603.5 ypg)

Third in scoring (56 ppg)

Ninth in rushing (289 ypg)

17th in passing (314.5 ypg)

Tied for 15th in offensive plays per game (83)
"They're not complicated with what they do," Illinois coach Tim Beckman said. "They just do what they do very well."
The final number might get Illinois' attention more than any other. Louisiana Tech coach Sonny Dykes wants his offense, led by senior quarterback
Colby Cameron
and freshman running backs
Tevin King
and
Kenneth Dixon
, operating at an accelerated tempo, and the Bulldogs ran 94 players in their opening win against Houston.
Arizona State coach Todd Graham also preaches a quick pace on offense, and although his Sun Devils ran only 67 plays against the Illini, they capitalized on a defense that looked out of sorts, especially early in the game.
"It was just a lack of communication," defensive tackle
Akeem Spence
told ESPN.com. "Guys were looking at the wrong person, getting the wrong call."
Illinois simplified the signaling issue and worked to prepare for Tech's pace this week. Coaches put players through "fastball" periods in practice, where Spence estimates six plays were run in a span of a minute or so.
They also went over rotations and substitution patterns for an opponent that makes it difficult to shuffle players on and off of the field.
"It's just guys talking," Spence said, "making sure one another is on the same page, and just getting on the small things not to get us beat. Make sure the guys have the right call. If we're all wrong, and we all have the wrong call, then we're all right. ... When they're going so fast, you can't really take guys out, and you don't want to get any stupid penalties, 12 men on the field, substitution penalties.
"I think we took the proper measures to get ready for these guys."
According to Spence, Illinois will look to take away King, Dixon and the run game and make Louisiana Tech one-dimensional. Like Brown, Spence hasn't lost any confidence in the front seven, which he thinks still can be elite.
Saturday night, they have the chance to prove it.
"We've got to execute a lot better than we did when we played Arizona State," Spence said. "If we do that, we'll have a better outcome. A lot better outcome."
August, 13, 2012
8/13/12
4:00
PM CT
Now that the season is just around the corner, it's time to take our annual look at the best- and worst-case scenarios for each Big Ten team.
Last year, we did this in video form, but you'll have to read words this time around. We'll go in alphabetical order in this series, and try to have a little fun along the way. First up is Illinois.

Best Case
It's Beck-mania! The Illini have long been seen as underachievers, but first-year coach Tim Beckman is able to wring the best out of the talent Ron Zook collected in Champaign. Beckman inherited a strong defense that turns things up a notch in 2012, and his spread system is the cure to what ailed the offense in the second half of 2011. Quarterback
Nathan Scheelhaase
fully embraces the spread, using his legs and arm to become one of the Big Ten's most dynamic playmakers. The skill position question marks become answers as
Josh Ferguson
,
Donovonn Young
and
Darius Millines
all make the leap. Defensive end
Michael Buchanan
and linebacker
Jonathan Brown
battle for the national lead in sacks, while defensive tackle
Akeem Spence
plays up to his first-round potential.
The Illini cruise through the nonconference schedule, waxing another first-year coach at a major program by winning handily at Arizona State. They beat Penn State by two touchdowns in the Big Ten opener, after which several Nittany Lions players are seen talking to Illinois assistants about a possible 2013 transfer. Illinois loses at Wisconsin the following week but pulls a stunner in Ann Arbor by catching Michigan looking ahead to the Michigan State game. It loses at Ohio State on Nov. 3, but ends the season with a four-touchdown win at Northwestern as Rahm Emanuel presents Beckman a key to the city. Since Wisconsin finishes with three losses, the Illini clinch the title in the probation-saddled Leaders Division. Hungry Illinois fans flock to Indianapolis, where their team knocks off Michigan a second time to advance to the Rose Bowl. Just like that, it's a football school again.
Worst Case
They fired Ron Zook for this? Beckman finds that he's not in Toledo anymore, as his transition to the Big Ten is a rough one. While the defense is solid, it misses Whitney Mercilus and Vic Koenning more than anyone realized. The spread system is an odd fit for a team that lacks many playmakers at receiver or running back, and neither Scheelhaase nor
Reilly O'Toole
is fully able to master it in a seesaw quarterback competition. Much like the second half of last year, Illinois simply can't score, and its special-teams play hasn't improved much.
The Beckman era gets off to a shaky start when Western Michigan -- which played a close game in Champaign a year ago -- springs the upset in the opener. The Illini are 0-2 after a loss at Arizona State. They rebound to win the next two but are crushed at home by a Penn State team that's angry about all those Illini assistants sniffing around State College this summer. That begins a spiral of losing, as the next two games are blowouts on the road at Wisconsin and Michigan. Illinois beats Indiana but falls at Ohio State, drops another home game to Purdue and ends the year getting pushed around by resurgent Northwestern. The Wildcats somehow win the Big Ten and prompt Chicago to dye the river purple. Meanwhile, the Illini sit at home after a 4-8 season, wondering what the future holds.
April, 3, 2012
4/03/12
10:20
AM CT
Tim Beckman's first pivotal recruiting venture at Illinois didn't take place in a living room or at a camp for prep players.
It happened at a California hotel in late December. His targets already wore the Orange and Blue. The group gathered before the Kraft Fight Hunger Bowl to meet with a man who, at that point, was their head coach only by title.
"They didn't know me, and I didn't know them very well," said Beckman, hired Dec. 9 as Illinois' coach. "I had met with them because I met with everybody on the football team. I had watched practices. But it wasn't my job to interfere with them for their bowl game.
"It was kind of a scary situation because I wanted all of them to stay."
[+] Enlarge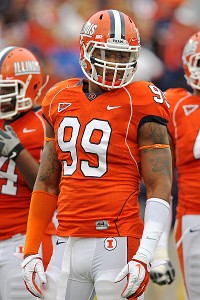 Jonathan Daniel/Getty ImagesIllinois will look to senior Michael Buchanan to be a leader on defense.
They were Illinois juniors who had the potential to enter the NFL draft after the bowl game. The group included defensive end
Michael Buchanan
, cornerback
Terry Hawthorne
, defensive tackle
Akeem Spence
and center
Graham Pocic
. Buchanan earned second-team All-Big Ten honors in 2011, while Hawthorne earned honorable mention honors and Spence displayed next-level ability.
All-America defensive end
Whitney Mercilus
, pegged as a potential first-round pick, also met with Beckman.
The meeting was part information session, part recruiting session. Beckman wanted to give each player an idea of his draft prospects. He fast-tracked the paperwork to the NFL draft advisory board and received the evaluations as soon as he could. Beckman leaned on his father, Dave, who had worked in the front office with the Cleveland Browns and San Diego Chargers, and other contacts to speed up the process.
"I tried to formulate as much information as I possibly could so they could make an educated decision, from Whitney to all of them," Beckman said. "I wanted all of them to stay. I wanted all of them to be able to say they played their senior year at the University of Illinois and had the opportunity to be a champion."
Despite that desire, Beckman didn't come on too strong.
"Not as much as you'd expect a coach to," Pocic said. "He showed us what kind of person he was and just talked about the opportunity we had if we came back."
Mercilus entered the draft after the bowl game, surprising no one, but the other four players opted to stay. They're now building blocks for Illinois as Beckman and his staff hope to make a transition without losing any ground.
What did Illinois retain?
Spence has started every game the past two seasons, while Buchanan has started 20 of 26 contests. Although Mercilus made the big splash in 2011 with insane numbers, Buchanan quietly racked up 7.5 sacks and 13.5 tackles for loss. Spence recorded 69 tackles and a forced fumble and clogged the interior for the nation's No. 7 defense.

Hawthorne has made starts in each of the past three seasons, including 11 last fall. He led the team in both interceptions (three) and passes defended (11) in 2011, and finished sixth in tackles (60). On a team that has some issues at safety, Hawthorne's presence as a potential shutdown corner looms large.

Pocic has started Illinois' past 24 games at center and provides leadership for a youngish line that loses mainstay Jeff Allen at left tackle. Having a veteran center to help make line calls during the transition to a new offense is a luxury for the Illini.
After Beckman told the players of their NFL grades, he gave them the floor.
"It was funny," Spence said of the December meeting with Beckman. "Me, Terry, Mike and Graham, we were sitting there scared to ask the first question. But we had to because this is our future. I was trying to find out what the deal was going to be, what type of defense, his plans for us and the team."
Spence eventually asked Beckman if the team's defense would suit his game like the previous scheme had. Although Beckman hadn't hired his defensive coordinator, he had announced that defensive line coach Keith Gilmore would be retained.
After the meeting, Spence remembers talking with Buchanan and Hawthorne about their decisions.
"We all wanted to come back and be leaders," Buchanan said.
Beckman doesn't downplay the significance of their decisions.
"It's huge," he said. "To look out there and see No. 1 [Hawthorne] running around, and 99 [Buchanan] and 94 [Spence] and 76 [Pocic], those are guys who have played, who have been involved in two bowl games and understands a little bit of what it takes to be successful."
March, 5, 2012
3/05/12
12:06
PM CT
The Tim Beckman era reaches a new phase Wednesday as Illinois players go through their first spring practice under their new coach. Beckman is a high-energy leader who wants to foster competition in every element of his program. Although two-year starter
Nathan Scheelhaase
returns at quarterback, he'll have to fend off three contenders and make an impression on the team's new coordinators, Billy Gonzales and Chris Beatty. The Illini are short on running backs and wide receivers, while the defense looks to continue the momentum it generated in 2011. Beckman takes over a team that has recorded back-to-back bowl victories but struggled to show it can take a step toward the top half of the Big Ten.
ESPN recently caught up with Beckman. Here are his thoughts.
[+] Enlarge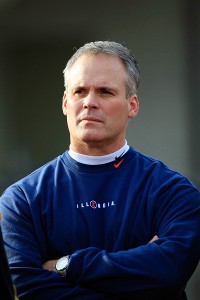 AP Photo/Marcio Jose SanchezNew Illinois coach Tim Beckman has high expectations for his team as it begins spring practices.
What are your expectations for spring practice?
Tim Beckman:
I want our players competing. I want them playing with outstanding effort in everything they do in spring ball. That competitive nature will be in every drill we do. These players will be evaluated in everything that they do. They're going to get feedback from the coaches on what we feel is championship-caliber and what we feel is not championship-caliber.
How much have you looked at tape from last season?
TB:
Definitely. I've watched and evaluated tape, and been involved with what they did last year. But that's in the past. As I told the players when I met individually with each one of them, this is the future, this is a new era and we're building this thing forward, not building from the back.
How would you describe your quarterback situation entering the spring? Will it be a full competition?
TB:
Oh, it's great. That's what life's all about. We've got the capabilities of being good at that position with four guys. Competition just makes you better. We've got one that has played [Scheelhaase] and played quite a bit and proven that he can win football games, won seven this year and won a bowl game. But we also have some backups with Reilly [O'Toole] and Miles [Osei] and [Chase] Haslett, there's three backups and a starter that are capable of winning football games.
TOP 25 SCOREBOARD
Saturday, 12/21
Monday, 12/23
Tuesday, 12/24
Thursday, 12/26
Friday, 12/27
Saturday, 12/28
Monday, 12/30
Tuesday, 12/31
Wednesday, 1/1
Thursday, 1/2
Friday, 1/3
Saturday, 1/4
Sunday, 1/5
Monday, 1/6