Chicago Colleges:

Alex Marcotullio
March, 15, 2013
3/15/13
1:15
AM CT
CHICAGO -- On what could have very well been the last game of Bill Carmody's Northwestern tenure, his Princeton offense flunked.
The Wildcats went scoreless for the first 7 1/2 minutes of their 73-59 loss to Iowa in the first round of the Big Ten tournament on Thursday night.
For the Wildcats (13-19, 4-14 in Big Ten regular season), it was a fitting swan song to a lost season and for Carmody, a 13-year tenure that resulted in zero NCAA tournament appearances. Northwestern athletic director Jim Phillips is expected to make a decision soon on Carmody's future. He has one year remaining on a two-year contract extension.
Northwestern missed its first seven shots and had three turnovers as Iowa went ahead 11-0.
Nikola Cerina
's layup put the Wildcats on the board with 12:32 left in the first half.
"I think at the beginning we weren't executing our offense very well," said senior guard
Reggie Hearn
, who led Northwestern with 19 points and 10 rebounds in his final game. "We had some guys out of position, we weren't communicating well about what the play was and our offense was kind of stagnant and I felt at times when we're not going on offense, it affects our defense. And we obviously weren't playing defense well initially and we just got in a big hole."
The Wildcats never led, but got their deficit down to 15-9 before Iowa answered with a 14-2 run.
The undermanned Northwestern team had a rough season after preseason expectations of finally making the NCAA tournament for the first time in school history. Northwestern lost two key players to injury,
Drew Crawford
in December and
Jared Swopshire
in February, and one to an academic suspension before the season in
JerShon Cobb
. The remaining players would've been more at home in the Ivy League.
"It was really difficult, especially for the senior class," senior guard
Alex Marcotullio
said. "But that's basketball. You're going to have to deal with injuries and it's really tough for us being our last year and having all these little fluke things happen to us. But it's no excuse."
Give the Wildcats credit for making it hard on Iowa in the second half. The Hawkeyes had a 36-22 lead at the half, but shot only 28.1 percent in the second half as Northwestern sank into a 2-3 zone.
The Wildcats cut their deficit to single digits a handful of times in the second half, getting as close as 50-43 with 8:27 left, but Iowa never let them make a serious run.
"We knew we had to give it our all," Marcotullio said. "We had one last run in us, maybe a couple. We just said to each other, are we going to leave it all out here or are we going to give up? And it seemed like we came together for a few minutes there and we brought it back to seven.
"And a couple missteps here and there and then they increased the lead. So that was kind of deflating. But I'm proud of the way we fought. Just a few things that we needed to clear up and we didn't take care of really early."
March, 1, 2012
3/01/12
12:30
AM CT
EVANSTON, Ill. -- Was it too much to ask?
Was it too much to hope that just one time -- this time -- would be Northwestern's turn as fate's chosen beneficiary? Was it too much to think that maybe, despite all the reasons to believe the contrary, the Wildcats might just catch a break? Could Northwestern fans, besieged constantly by reminders of their program's historic futility, finally feel the freedom of belief?
The short answer? No.
"It's very tough," Northwestern guard
Drew Crawford
said.
"Disappointing," forward
John Shurna
said. "Kind of a tough way to go out."
Wednesday night was Shurna's senior night, an honor he shared with
Davide Curletti
,
Nick Fruendt
and
Luka Mirkovic
. Shurna & Co. are the school's all-time winningest class, one that also set a school record with three consecutive postseason appearances.
Of course, none of those postseasons has been of the NCAA tournament variety, which is why Wednesday night's game was so much more than a disappointing loss, so much more than an emotional senior night spoiled by a
75-73 defeat
.
February, 29, 2012
2/29/12
9:55
PM CT
EVANSTON, Ill. -- A quick rundown of Ohio State's
75-73 victory
over Northwestern on Wednesday night:
Overview:
The script was written. Northwestern didn't have enough size, enough athleticism, enough sheer basketball talent, and Ohio State did. The Wildcats were getting brutalized on the boards, and while their outside shooting kept them in the game, it didn't seem capable of actually pushing them over that last big invisible hump.


And then, suddenly, it did. Northwestern hung in and battled back from double-digit second-half deficits. By the final two minutes, the Wildcats had cut the lead to five, then four, then three, then -- suddenly, miraculously, from 30 or so feet --
Alex Marcotullio
sank a game-tying 3 and sent Northwestern's tortured fan base into hysterics.
And then, just as suddenly, the euphoria vanished. Ohio State ran a perfectly designed play with 7 seconds left, leading to a shockingly easy
Jared Sullinger
layup.
John Shurna
's last-ditch half-court heave (just barely) missed, and there it was: 75-73, Buckeyes. Northwestern was close. So, so close. But the hump won again.
Star of the game: Jared Sullinger.
The Buckeyes big man found life in the middle of Northwestern's zone about as easy as you'd expect. He scored 22 points and grabbed 18 rebounds, 11 of them of the offensive variety. He and
Deshaun Thomas
(19 points, 10 rebounds) dominated down low, an advantage that for much of the game kept Northwestern at bay.
Stat of the game: 62.5.
That's the percentage of its own misses Ohio State grabbed Wednesday night. For reference's sake, the national leader in offensive rebounding percentage (Quinnipiac, believe it or not) grabs about 42 percent of its own misses on average. Again, OSU dominated the offensive glass, and those second-chance points were the key difference.
What it means
: It's impossible not to feel, if only a little, for Northwestern. In consecutive weeks, the Wildcats took a top team (first Michigan, then the Buckeyes) to the wire at home, either of which would have given them the marquee win that almost certainly would ensure a first-ever berth in the NCAA tournament. Now, their at-large bid is still shaky, with only one game -- a potential bubble-burster at Iowa on Saturday -- left in the regular season. This is Northwestern's second brutal loss in eight days.
January, 30, 2012
1/30/12
5:28
PM CT
Northwestern
coach Bill Carmody thought coming into the season that his Wildcats' roster was deeper than it had been the past few years.
His hope was to be able to use four or five players off the bench and not have to rely so heavily on his starters.
That hasn't exactly worked out for Carmody.
Injuries have plagued Northwestern as much as anybody in the Big Ten, and the Wildcats have been stuck playing their starters 30-plus minutes. While
Ohio State
can get away with playing a short bench, Northwestern doesn't have that luxury.
[+] Enlarge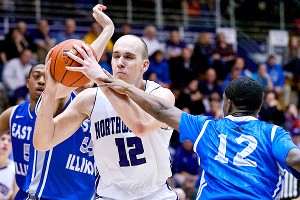 Damen Jackson/Icon SMINorthwestern's Luka Mirkovic rolled his ankle and may miss time this week.
Against
Purdue
on Saturday, Carmody called on two subs. He used junior guard
Alex Marcotullio
to spell an assortment of players, and he played 26 minutes. Senior forward
Nick Fruendt
was the other sub, and he played just one minute.
The immediate future doesn't look much brighter for Northwestern's depth. Carmody said Monday he thought senior center
Luka Mirkovic
was questionable this week after rolling his ankle, and sophomore guard
JerShon Cobb
continues to be doubtful due to a hip injury.
"Bad luck? I don't know what you call it," Carmody said last week about his team's injuries. "It's something."
Here's a rundown of Northwestern's injuries this season:
Freshman guard Tre Demps injured his shoulder in August and tried to play through it. He appeared in four games, starting one, and then shut his season down to have surgery.


Marcotullio suffered a toe injury early in the season and it has troubled him most of the year. He also had a concussion. He missed four games and was forced to play limited minutes until recently.


Cobb underwent hip surgery in the offseason and has been dealing with complications since. Carmody described Cobb's recent setback as him feeling pain down his leg. He's played in 11 games this season and has missed the last five contests.


Mirkovic: Rolled his ankle in practice last week. He missed Saturday's game against Purdue and is questionable for Nebraska on Thursday.

June, 27, 2011
6/27/11
4:43
PM CT
Northwestern junior guard
Alex Marcotullio
was named to the U20 Great Britain national team on Monday.
Marcotullio will play for Great Britain in the FIBA U20 Division B European championships next month in Sarajevo, Bosnia.
Marcotullio played for the U20 team last year and averaged 13.9 points and 1.7 steals to help Great Britain to a sixth-place finish. His maternal grandmother is from Scotland, which allows him to play for Great Britain.
Marcotullio averaged 6.2 points, 2.5 rebounds and 2.1 assists for Northwestern as a sophomore. He scored in double figures in five of the Wildcats' last six games.
TOP 25 SCOREBOARD
Thursday, 9/18
Saturday, 9/20
TOP PERFORMERS
M. Gordon Wisconsin - RB
13 car, 253 yds, 5 tds