Chicago Colleges:

Andre Hollins
March, 8, 2012
3/08/12
9:19
PM CT
INDIANAPOLIS -- On Thursday night, the
Northwestern Wildcats
didn't talk like an NCAA tournament team. They didn't look like one, either.
Somewhere within the vicinity of the Bankers Life Fieldhouse, the NCAA selection committee will finalize its bracket in the coming days. And the Wildcats should not be included.
They had their chance to impress and they squandered it.
"I don't know. Hopefully, I won't be disappointed on Sunday," said Northwestern star
John Shurna
. "But I guess we'll just have to wait and see. We'll be playing next week, and we like to compete no matter who we're playing against."
Don't get me wrong. I'm a sucker for good storylines, too.
Northwestern fans around the world will celebrate the program's first-ever bid if it happens. The buildup to NCAA tournament No. 1 will consume all of Evanston, Ill. The players within the program certainly put in the work to position themselves for a shot at history leading up to the Big Ten tournament.
But decisions have to be made without consideration of TV story packages. The selection process should answer only one question: Who's earned it?
And the Wildcats had to do more in Indianapolis to prove that they'd earned a ticket. Instead, they lost to Minnesota for the second time this season.
They led 61-57 with three minutes to play. But they missed three shots and committed two crucial turnovers in the final minutes of regulation. They then lost
75-68
in overtime.
I am not biased toward any particular program. But I do believe the best should earn bids.
And it's hard to see how that team -- which had to make a statement following an 8-10 record in Big Ten play and a 1-10 record against the RPI's Top 50 -- gets into the field of 68 after that performance Thursday.
[+] Enlarge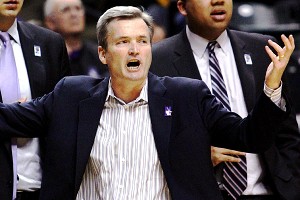 AP Photo/Kiichiro SatoBill Carmody's Northwestern squad hasn't answered the bell with an NCAA bid on the line.
Minnesota freshman
Andre Hollins
, who averages 6.7 ppg, scored 25 against the Wildcats. That was the sort of clutch performance that would have made more sense for a Northwestern player based on the circumstances. But Northwestern fumbled down the stretch.
In my opinion, the Wildcats got an F on the eye test against the Gophers. They had something to prove and didn't play like they knew it in crucial stretches.
They didn't execute like a tournament team desperate for résumé-boosting victories.
This is not just about Northwestern. This is about the entire field.
This is about Drexel, a team that's lost two games since early December. This is about Tennessee, a team that's won eight out of nine. This is about competition.
Teams deserve credit for their full body of work. Northwestern's portfolio put the Wildcats in a pool of schools with similar arguments for NCAA tournament invites.
But if the selection committee aims to create the most competitive bracket, then it should rewatch NU's effort Thursday night. It warrants scrutiny.
Every "must-have" performance within the bubblesphere does.
I watched the Northwestern-Minnesota game from press row at Bankers Life Fieldhouse. And I did not see a team that belonged in the Big Dance.
Perhaps the selection committee has already penciled in the Wildcats as a tournament team. Well, that's why we have erasers.
This is a great story. And it's easy to root for a Northwestern team that has never participated in the NCAA tournament. History can be quite cruel.
But that shouldn't factor into the decision to say yea or nay to the Wildcats on Selection Sunday.
They were presented with an opportunity to make a statement on national TV on Thursday. And the Wildcats ultimately offered an argument against their first bid.
"I'm still here. It's hard. It's disappointing, tough … but, you know, you come back," Northwestern coach Bill Carmody said after the game.
Northwestern's resilience has been well-documented in recent years. The Wildcats have approached NCAA tournament status in the past. But players admit they've never felt this close to a bid.
That determination is commendable. The annual conversation about if "this is Northwestern's year" is a familiar one for fans of any program that's struggled year after year.
But this can't be about sympathy. It has to be about quality.
And that means Northwestern -- just 8-12 since mid-December -- is an NIT team.
That might not seem fair to Northwestern or its supporters. But it's fair to the game and it's fair to other teams that will prove their worth in the coming days, something the Wildcats didn't do in their brief stay in the Big Ten tournament.
March, 8, 2012
3/08/12
6:59
PM CT
INDIANAPOLIS — Reaction from Minnesota's
75-68 overtime victory
over Northwestern:
Overview:
Northwestern entered its first-round matchup against Minnesota in the Big Ten tournament Thursday needing a win, maybe multiple victories, to earn its first-ever NCAA tournament invitation. But the Wildcats never made it past the Golden Gophers, suffering a loss that damaged their hopes of dancing for the first time.


The Gophers jumped out to a 15-5 lead less than seven minutes in, but the Wildcats were 9-for-20 from beyond the arc before halftime, which helped them climb back into the game and take a 36-34 lead at the break.
Andre Hollins
hit a big 3-pointer with 5 minutes to play that tied the game at 57. And he scored on a crucial drive with 55.2 seconds to play that established a 61-61 tie; that shot ultimately sent the game into overtime.
In the extra period, the Gophers played big.
Austin Hollins
hit a 3-pointer with just under three minutes on the game clock that put Minnesota ahead 68-64. Yet Northwestern was within one in the final 90 seconds of overtime before another Andre Hollins layup extended the lead to three.
A
Rodney Williams
dunk with 27.9 seconds to go put the Gophers ahead by five.
The two teams split their two conference games, with the Gophers taking a 75-52 victory in Minneapolis on Jan. 22 and Northwestern returning the favor in a 64-53 win in Evanston, Ill., on Feb. 18.
Turning point:
Andre Hollins' 3-pointer near the five-minute mark started a final push by the Gophers, who ended up sending the game into overtime. They were looking for a catalyst in the final minutes and they found one in the freshman.
Key player:
Last year, Andre Hollins was a star prep in the state of Tennessee. On Thursday, he looked like a young collegiate star as he carried the Gophers with clutch shots and big plays. He scored a game-high 25 points and went 5-for-10 from beyond the arc.
Key stat:
The Gophers outrebounded the Wildcats 41-24. Both teams shot 42.3 percent from beyond the arc.
Miscellaneous:
The Gophers played without injured center
Ralph Sampson III
… The two teams were 16-for-35 combined from beyond the arc in the first half.
What's next:
The Gophers will face Michigan on Friday night. Northwestern will sweat on Selection Sunday as it awaits its postseason destination.
TOP 25 SCOREBOARD
Saturday, 12/7
Thursday, 12/5
Friday, 12/6
TOP PERFORMERS