Chicago Colleges:

Andrew Taglianetti
September, 27, 2011
9/27/11
3:34
PM CT
Notre Dame committed two more turnovers Saturday at Pitt, which was actually an improvement after giving the ball away five, five and three times in its first three games, respectively.
[+] Enlarge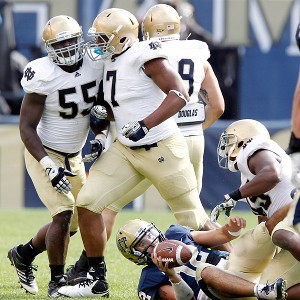 AP Photo/Keith SrakocicNotre Dame's Stephon Tuitt, 7, celebrates with Prince Shembo, 55, after sacking Pittsburgh's Tino Sunseri. The Irish defense has been at its best following a turnover by the offense.
Nonetheless, the Fighting Irish are tied with Tulsa for the nation lead with 15 turnovers, and they are all alone at the bottom in turnover margin, at -2.50.
The latter figure is of less importance to the Irish because of just how effective their defense has been. And, more specifically, because of how effective their defense has been once the offense turns the ball over.
Following Notre Dame's past four turnovers, Irish opponents have totaled just 12 yards on 14 plays, an average of just less than .86 yards per play. Two field goals are all the Irish have allowed during that stretch.
The sudden-change defense was at its absolute best in the first quarter Saturday, after Pitt's Andrew Taglianetti forced a
Tommy Rees
fumble on a third-and-12 at the Irish 26 yard line.
Pitt took over at the 23, committed a false start penalty and, two plays later, lost five more yards when Manti Te'o sacked
Tino Sunseri
. The drive, which ended with a 45-yard Kevin Harper field goal to put Pitt ahead 3-0, totaled -5 yards on four plays.
A week earlier, following a
John Goodman
fumbled punt deep in his own territory in the fourth quarter, Notre Dame's defense responded three plays later by picking off Michigan State's
Kirk Cousins
in the end zone to seal the game.
"I think Coach [Bob] Diaco and the defensive staff do a great job of talking about it," Brian Kelly said of his defensive coordinator during his Sunday teleconference. "I think it's something that we coach every day and talk to our players about, and they then -- I think right now, any time you have some early success in that, it starts to build a confidence level where they are talking about it themselves, and I think we have got that going for us."
That's no lie. Just a week earlier, following the Irish's win against the Spartans, Te'o said being ready for such situations is part of the defense's DNA.
Fifth-year safety and captain Harrison Smith said the unit has come to enjoy being ready to get back out there, acknowledging the unusualness of the statement by adding, "as sick as it sounds."
Notre Dame's defense has just five takeaways on the season, but Kelly doesn't see that as a problem.
Given the circumstances the unit has been put in, it is doing just fine.
"Well, I think there's a balance there in terms of big plays," Kelly said. "We really have not let up any big-play runs, and if you are going to gamble a little bit and look to get that takeaway, there's a chance that you give up some more big plays.
"We are philosophically more in line with wanting to be gap sound and disciplined against the run game. I mean, we are doing pretty good this year relative to teams in running the football. I'm more interested in that right now than gambling on defense to get some more turnovers."
September, 24, 2011
9/24/11
7:45
PM CT
PITTSBURGH -- An early wake-up call in the Steel City gave way to 17 total penalties, two more head-scratching
Tommy Rees
turnovers, a missed field goal and, perhaps most fitting, 666 combined yards of offense.
[+] Enlarge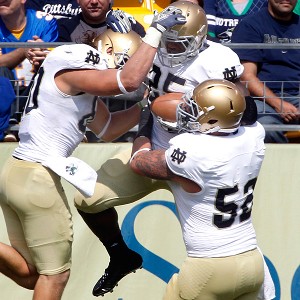 AP Photo/Keith SrakocicNotre Dame running back Jonas Gray, center, celebrates with teammates Tyler Eifert, left, and Braxston Cave after his 79-yard touchdown run against Pittsburgh.
But Irish coach Brian Kelly and his team were more focused on
Notre Dame 15, Pitt 12
, the luck of the Irish turning after two mind-boggling defeats to open the season.
"It was a tough, blue-collar kind of day, and that's what was required of everybody, and that's what we got from our team," Kelly said, "enough to get the win and get outta here."
That result is all that matters for a Fighting Irish team that has churned out far prettier performances in early-season losses. Notre Dame put up more than 500 yards of offense in two straight weeks, outgained South Florida by a 2-to-1 margin, and held a 17-point lead entering the fourth quarter at Michigan.
And Notre Dame (2-2) lost both games.
On Saturday at Heinz Field, Rees fumbled deep in his own territory, leading to three points for the Panthers (2-2). He lofted a ball to the end zone that was easily picked off by Andrew Taglianetti. And Irish WR
Michael Floyd
, arguably the nation's best wideout, had just four catches for 27 yards, his worst statistical performance since his freshman campaign three years ago.
"It's not gonna be an instant classic," Kelly said, "but it certainly is, from a football standpoint -- games that you have to win on the road. And you're gonna be presented with some of these kinds of closely fought, last drive, come-up-with-a-big-stop-or-a-big-conversion [games], and that's what we saw today."
Like Floyd's aggressive downfield blocking on
Jonas Gray
's 79-yard touchdown run, the lone highlight of a rugged first half for the Irish offense.
Or the five times Notre Dame sacked Pitt QB
Tino Sunseri
, making him earn every one of his 22 completions and 165 passing yards.
And, of course, Rees' second-to-last drive, when he completed all eight of his passes after a rough 15-of-32 start and marched the Irish 85 yards on 11 plays to give them the lead with 6:48 to go.
"Like all the guys say, an ugly win is better than a pretty loss," Rees said. "So a win's a win, and on the road against a good Pittsburgh team here, that's all we can ask for, is coming out with a win."
Rees can thank Kelly's faith in him for that, along with the sure hands of tight end
Tyler Eifert
, who finished with a game-high eight catches for 75 yards, including three consecutive catches covering the final 27 yards on the go-ahead drive. His 6-yard touchdown grab capped the drive, and he also caught the two-point conversion.
And Rees can thank some of the little things Kelly pointed to afterward -- a potential saving tackle here, a few big plays by freshmen there, an ability to prove it can end up on the right end of one of these close contests.
"I think one of the key plays in the game was Prince Shembo running down
Ray Graham
, great hustle," Kelly said, recalling Graham's 42-yard first-quarter burst that looked like it could go all the way. "And I guess all those little illustrations are what I like about the team. They keep battling, they play every single play, sometimes maybe not as good as we would like, but it's a group that's learning. Had the big sack, Stephon Tuitt the end of the game there was huge, moved them back after they challenged the play. And some young guys getting in there are making plays for us."
This was supposed to be a breather after a gauntlet of an opening schedule, one that left the Irish with a 1-2 record and plenty of question marks given their perplexing performances.
Notre Dame wasn't supposed to face a serious challenge again until next month against USC, and after Saturday's win Kelly was asked what to make of his squad one-third of the way through its season.
"I told you this many a times, I like the way we compete," he said. "I'd like to have won 37-0 too, but you know what? Winning's winning. It's not easy. You go on the road against a BCS team and limit them to 12 points, and find a way to win, I like that development. We're developing an expectation with our guys that in a close game we're gonna win, and those are good dynamics.
"So we put this one behind us and, believe it or not, we have expectations that we wanna win every game."
Notre Dame's last game of September was an ugly start toward fulfilling that prophecy, but it was a start nonetheless. And after the way this month began, the Irish will surely take it.