Chicago Colleges:

Anthony Davis
June, 27, 2012
6/27/12
8:20
PM CT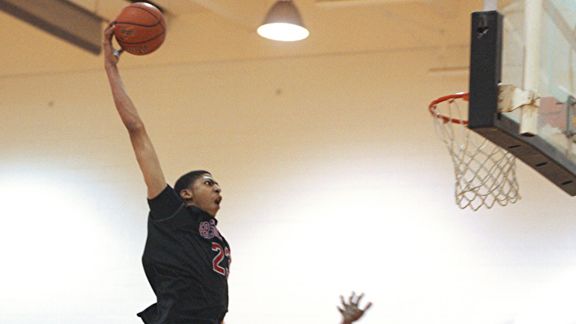 Scott Powers for ESPN.comAnthony Davis didn't have the confidence of a top pick when walked in to Tai Streets gym in 2010.
Anthony Davis didn't want to practice with former NFL wide receiver Tai Streets' club basketball team, MeanStreets, when Davis showed up for the first time in the spring of 2010.
At that point, Davis was unknown by nearly everyone. He hadn't played club basketball since he was in junior high, and his high school, Perspectives, wasn't somewhere college coaches or even local Chicago media traveled to check out players.
Looking to give Davis exposure, he and his father, Anthony Sr., approached Streets for an opportunity to play on his Nike-sponsored team. Streets agreed and invited Davis to a practice.
"I remember I had on my sheet a 6-7 player from Perspectives," Streets said. "He was another big body. The first time he came to practice he didn't think he could play with those guys. His dad made him stay, and the rest is history."
The rest is history.
MeanStreets gave Davis a chance to showcase his game in front of first national scouts and then college coaches. By the end of the summer, he was nearly everyone's No. 1 player in the country and was headed to Kentucky. Now two years later, he's a won national championship and is expected to be the No. 1 pick in the NBA draft on Thursday.
It's all unbelievable to Streets.
"It's amazing just how it happened so fast," Streets said. "When I first saw him, no, I didn't that was realistic. As it went on and it kept going and going, I was like this is going to be special. No. 1 pick would never have crossed your mind. He kept improving, and he kept showing."
Streets still often texts with Davis. Streets said he'll pass on any advice from his NFL career when he feels Davis needs it, but he doesn't think he does right now.
"I think it helps that all the attention he got came so late," Streets said. "That helps 100 percent. Kids nowadays, they're going to be told they're the greatest thing since they were in sixth or seventh grade. It helps he didn't get that until his last year of school. Everything happened so fast. He's had to work for everything."
February, 10, 2012
2/10/12
5:52
PM CT
Sometimes it's appropriate to speak when not spoken to. Sometimes -- again, not all of the time, just sometimes -- it's appropriate to pound your chest, pop your collar, find the mountain top and let the rest of the world know the truth. As unconventional and inconvenient as it sometimes can be. Sometimes you gotta go Kanye.
"Chicago is the basketball capital of the world!"
Read the entire story.
December, 8, 2011
12/08/11
7:07
PM CT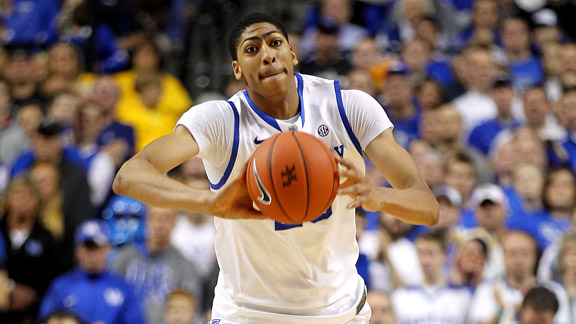 Andy Lyons/Getty ImagesIt's still amazing how far Anthony Davis has come in such a short time.
Illinois produced one of its most talented high school basketball classes in 2011. Now as freshmen, a number of them are already making an impact in the college game.
Here's a look at the most notable ones:
Anthony Davis, Kentucky, Perspective High School (Chicago)
Davis, a 6-10 forward, is considered the nation's top freshman and is the early favorite to be the No. 1 pick in the NBA draft. It's still so strange that only a few in Chicago knew about him until after his junior season. He's averaging 12.3 points, 9.1 rebounds, 4.5 blocks, 1.4 steals for the top-ranked Wildcats.
Ryan Boatright, Connecticut, East Aurora High School
Plenty of people doubted Boatright could continue to be a dynamic playmaker at the college level because of his size -- listed at 6-feet. So far, Boatright has proven them wrong. While it's still early, he's showing the Allen Iverson comparisons aren't far off. He's averaging 18.5 points, three rebounds, 4.5 assists and one steal.
Chasson Randle, Stanford, Rock Island High School
While Boatright and Davis didn't show much interest in any of the in-state schools, Randle, a 6-1 guard, chose Stanford over the Illini. He's been stellar so far for Stanford. With the Cardinal off to an 8-1 start, Randle has averaged 11.2 points, 3.7 rebounds, 2.1 assists and 1.6 steals.
David Sobolewski, Northwestern, Benet Academy (Lisle)
Sobolewski quickly earned the trust of his Wildcats coach Bill Carmody and his teammates as the team's starting point guard. He's been playing 31.8 minutes a game and averaging 7.3 points, 3.1 rebounds and four assists. He has the chance to be a four-year starter for Northwestern like his predecessor
Michael Thompson
.
Tracy Abrams, Illinois, Mount Carmel High School (Chicago)
The Illini's Chicago recruits haven't done a whole lot yet. Abrams is logging the most minutes out of
Nnanna Egwu
,
Myke Henry
and
Mike Shaw
. Abrams is averaging 16.2 minutes to go along with 3.1 points, 2.3 rebounds, 1.6 assists and 0.7 steals.
Sam Thompson, Ohio State, Whitney Young (Chicago)
Thompson is seeing the floor a bit for No. 2 Ohio State. He's averaging 3.4 points, 1.3 rebounds and 1.5 assists in 9.9 minutes for the Buckeyes.
Jamee Crockett, DePaul, Crete-Monee High School
Crockett, a 6-4 forward, earned his first career start for DePaul against Loyola on Wednesday. He's become more comfortable playing college basketball in recent weeks. He's averaging 5.6 points, 1.3 rebounds and 0.8 steals.
Julius Brown, Toledo, Hillcrest (Country Club Hills)
Brown's numbers are as good as any freshman from the state. He's averaging 13.6 points, 2.8 rebounds, 4.5 assists and 1.8 steals for Toledo, which is 6-2.
Abdel Nader, Northern Illinois, Niles North (Skokie)
Nader, a 6-7 forward, has been one of the few highlights for the Huskies this season. Considered a recruiting steal, Nader's averaging 10.1 points, 3.9 rebounds, 0.9 steals and one block in 24.7 minutes.
Roosevelt Jones, Butler, O'Fallon High School
Jones, a 6-4 forward, has jumped into the starting lineup for the Bulldogs. He's averaging 5.5 points, 5.4 rebounds, 1.8 assists and 0.9 steals. He had a double-double against Xavier.
Greg Travis, UIC, Curie High School (Chicago)
Travis has been one of the Flames' more consistent players early on. He's averaging 7.9 points, 2.7 rebounds, 3.1 assists and 1.3 steals in 24.4 minutes.
Derrick Marks, Boise State, Plainfield Central High School
Marks has contributed right away for Boise State. He's averaging 8.8 points, 2.6 rebounds, 2.1 assists and 1.0 steals for Boise State.
July, 5, 2011
7/05/11
6:02
PM CT
The first of two July recruiting basketball periods begin on Tuesday. Here are 10 things to keep in mind throughout the coming weeks.
[+] Enlarge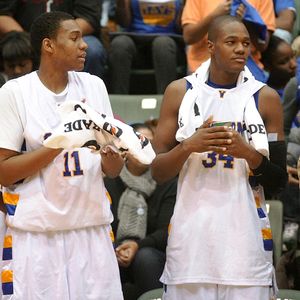 Scott Powers for ESPN.comCould Simeon's Jabari Parker and Steve Taylor both end up at DePaul?
1. DePaul taking next recruiting step:
While the Blue Demons improved their team with this year's recruiting class, there's still plenty of work to do. The next step is for Oliver Purnell to grab a marquee recruit from the Chicago area. Simeon senior forward
Steve Taylor
, the area's lone ESPN's top-100 player, could be that guy for the Blue Demons. Taylor may not have the impact Quentin Richardson did years ago for DePaul's recruiting, but he could do some wonders locally for the program. Class of 2013 guard Billy Garrett Jr., who is No. 45 in ESPN's Super 60, is a major commitment for DePaul, but he was expected to go there because his father is a Blue Demons assistant.
2. Just one:
Illinois welcomed six freshmen and one transfer to its latest recruiting class. Headed into July, Illini coach Bruce Weber had just one scholarship to play with. Simeon forward Steve Taylor is the likely target for the Illini. Weber and his staff also will be sure to be seen plenty when the state's younger recruits are playing.
3. Big class for Northwestern:
The Wildcats are hoping to secure four or five commitments for their Class of 2012. While losing point guard
Michael Thompson
won't be easy, next year's departures will be even harder. Northwestern will graduate starters
John Shurna
and
Luka Mirkovic
and key reserve Davide Curletti after next season, and will need to find a few players, especially post players, who can make an immediate impact for the 2012-2013 season. There's a good chance Northwestern will not seek a single in-state player in this class. Wauwatosa East (Wis.) forward
Darrell Bowie
is one of the Wildcats' targets.
4. New to the road:
This will be the first opportunity for a number of new in-state coaches to hit the road recruiting for their programs. Bradley's Geno Ford, Loyola's Porter Moser and Northern Illinois' Mark Montgomery are all entering their first season at their new homes. It will be the second year for Chicago State's Tracy Dildy, DePaul's Oliver Purnell and UIC's Howard Moore.
5. Jabari watch:
Simeon junior
Jabari Parker
continues to get better, and his recruitment is bound to only get more intense. Parker is coming off MVP honors while helping Team USA win the 16-U FIBA Americas championship. He isn't likely to make a decision until at least next summer, and that means the nation's top coaches will be recruiting him hard until then. DePaul, Duke, Georgetown, Illinois, Kansas, Michigan State and Washington are among the schools he's interested in.
6. Not the state's best:
Illinois was stacked in 2011. The state placed nine players in ESPNU's top 100. This year will be a different story. As of now, one player -- Simeon's Taylor -- is in the top 100 for the Class of 2012. A few others could end up on the list. Downers Grove South's
Jerron Wilbut
has proven himself as a scoring machine.
Jay Simpson
, who just transferred from Champaign Central to Indiana's La Lumiere, is also a candidate.
7: Back to the usual:
The Class of 2012 may be a down year for the state, but the talent quickly picks up again in the years following. The Class of 2013 has six players in ESPN's Super 60. The Class of 2014 has three players in the Terrific 25. There's a chance Simeon's Parker could end up the No. 1-ranked players in the Class of 2013, and Whitney Young's
Jahlil Okafor
could be the No. 1 player in the Class of 2014.
Anthony Davis
, who played at Perspectives in Chicago, was the No. 1 player in 2011.
8. Local tournaments:
The Tip-Off Classic will be at Riverside-Brookfield High School from Wednesday through Friday. The field includes the Illinois Warriors, Ferrari and PrymeTyme. More information can be found at www.773hoops.com. ... The D-I Elite tournament will be held at York High School from Friday through Monday. The tournament field is loaded with local talent. The Illinois Wolves, Mac Irvin Fire, MeanStreets, Illinois Warriors, Full Package and Illinois Heat are all expected to compete in it. More information can be found at www.bayloryouth.org. ... The King James Summer Showcase will be held in the northern suburbs from Saturday through Tuesday. King James has a lot of the nation's top out-of-state teams. Locally, Ferrari, Rising Stars and PrymeTyme are among the teams to see. The tournament's locations will include the Waukegan Field House, Ridgewood High School, Libertyville Sports Complex, Lake Zurich High school, Lake Barrington Field House and Joy of the Game. More information can be found at www.neobasketball.com.
9. The high school season is different:
East Aurora point guard
Ryan Boatright
, a Connecticut recruit, ended up No. 72 in ESPN's final Class of 2011 rankings and was behind four other Chicago-area players in the rankings. Despite that, Boatright earned the ESPNChicago.com Player of the Year award and Mr. Basketball with his play during the high school season. So no matter where players end up after being ranked this July, it likely won't have an impact on next year's high school season. It's important to remember the game is different during the high school and club seasons.
10. The search for another Anthony Davis:
They story of Davis is unlike any of the past. Davis went from being an unknown player in Chicago as a junior to now being considered the likely No. 1 pick in the 2012 NBA draft. Davis was discovered last summer on the club circuit. There probably won't be another player with as much talent who goes unnoticed like Davis, but there's sure to be a couple diamond in the roughs always discovered. Joliet West senior forward Marlon Johnson, who played for the Illinois T-Wolves, could be one to watch. He began to emerge in the spring and could have a big July period.
November, 10, 2010
11/10/10
9:20
PM CT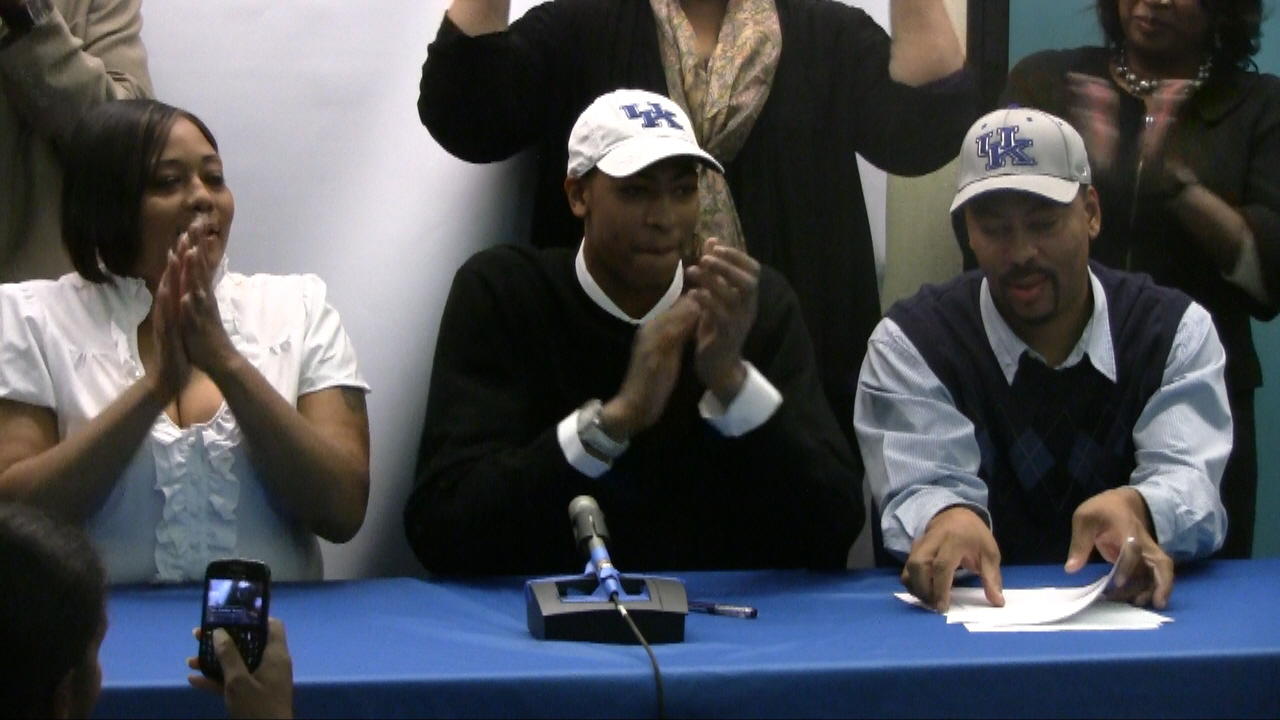 CHICAGO --
Anthony Davis
was almost an unknown in the basketball world as recently as seven months ago.
[+] Enlarge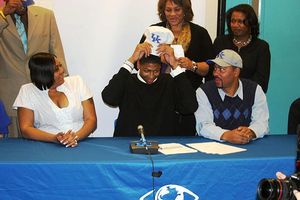 Scott Powers / ESPNChicago.comAnthony Davis, the nation's No. 2 recruit, signed a National Letter of Intent to play college ball at Kentucky on Wednesday.
The only reason Davis wasn't completely off the map was because there was one college basketball coach who had recognized the 6-foot-10 forward as a talent. While Davis flew under the radar to everyone else because he attended a school of only a few hundred students and didn't play club basketball, Cleveland State coach Gary Waters had caught of wind of Davis and went as far as offering a scholarship.
On Wednesday as 200-plus Perspectives' students chanted Davis' name while he signed his letter of intent to play at Kentucky, Davis reflected back on what had been an unforgettable seven months and what might have been if he hadn't been discovered.
Most likely, Wednesday, the first day of college basketball's early signing period, would have been a monument day at Cleveland State if the events didn't play out as they did.
"I was going to go there," said Davis, who is ranked No. 2 in the Class of 2011 by ESPN. "Playing AAU really helped me a lot. If I hadn't played AAU, I wouldn't be here today. There's a lot of people who doubted me, a lot of critics. I used that as motivation. [They said,] 'I wasn't going to go high D-I. I was going to go mid-major.'"
With what began with a decision to give club basketball a try as a way to gain more exposure, Davis and his versatile play became the talk of the hoops community nearly overnight. He skyrocketed up the national rankings, and nearly every coach in the country was falling over each other offering him a scholarship.
It was a series of events that rarely occurs in basketball recruiting in this day and age.
"I think it's a great story," ESPN Recruiting's Reggie Rankin said. "It's one of those you're glad to see a happy ending to. Here's a kid who is going from being a relatively unknown player in the spring time to going to play for the winningest program in the country. That's pretty extreme."
Davis' mother Erainer Davis said the same.
"I never would have thought that things like this would have happened," she said. "I knew he was good. I thought he was pretty good at basketball. We told him your turn will come around. Then all of sudden he went to play AAU with MeanStreets, and it blew up out of nowhere."
Davis chose Kentucky over DePaul, Ohio State and Syracuse in August because he felt the Wildcats and their coach John Calipari gave him the best opportunity to win a national championship and play in the NBA.
Kentucky's Class of 2011 is ranked No. 1 by ESPN -- the Wildcats signed four top 25 players on Wednesday. Along with Davis, the Wildcats brought in
Michael Gilchrist
,
Marquis Teague
and
Kyle Wiltjer
.
"We all think we're going to win a national championship, and I think that's going to happen as long as the four of us are there," Davis said. "That's one of our biggest goals, and something we need to accomplish. If our team this year wins, that'll be banner No. 8, and we're going to try and get No. 9. If they don't win, I guess we're going to get banner No. 8.
"Whatever Kentucky needs me to do and coach Calipari needs me to do to win a national championship, I'm going to do."
Davis' recruitment to Kentucky did involve some controversy. In August, the Chicago Sun-Times reported someone close to the Kentucky program had agreed to pay $200,000 to secure Davis' commitment, and that Davis' father, Anthony Davis Sr., had asked three other schools for $125,000-$150,000.
Kentucky and the Davis family have denied the allegations all along and continued to do so on Wednesday.
"I have no idea [why they wrote that,]" Davis Sr. said. "Maybe there were schools jealous of coach Calipari and Anthony picking Kentucky. That's my assumption. I'm not sure. I truly believe one of the other schools he didn't pick was upset.
"It wasn't difficult. We knew what they wrote wasn't true. Anthony was a little upset because he's been getting all the good, and he finally got a little bit of the bad. I had a talk with him and explained to him, 'That you know, you're going to get a lot of good, you're going to get a lot of bad, but it's how you take it and run with it.' So when the story came out, he still chose Kentucky. We're happy as a family."
Davis Sr. said they do still plan on suing the Sun-Times, and his attorney was still working through the situation.
July, 29, 2010
7/29/10
11:58
PM CT
MERRILLVILLE, Ind. -- DePaul basketball coach Oliver Purnell promised when he was hired that he would turn the program's recruiting around.
Purnell and the Blue Demons took a giant step in that direction on Thursday when Chicago Perspectives 6-10 forward
Anthony Davis
, ESPN's No. 12-ranked recruit in the Class of 2011, said he was still considering DePaul as a possible destination.
Read the entire story.