Chicago Colleges:

Ara Parseghian
November, 25, 2012
11/25/12
12:52
PM CT
LOS ANGELES -- Brian Kelly emerged from the Coliseum field flanked by security guards left and right, looking nearly disheveled. He held his white Notre Dame baseball cap up toward the sky in a brief moment of bravado, his ensuing toss falling a good 10 feet short of the fans.
The coach of the nation's No. 1 team was already near his locker room by the time the cap landed, his star player rushing to catch up to him. Kelly and
Manti Te'o
embraced, the 51-year-old bear-hugging the linebacker, looking more excited than any of his players were after they had just pulled off the unthinkable.
"I can't remember what I said," Kelly recalled of the moment. "But what we've been saying all along is that we're in this together. It's really been about both of us, player and coach, driving this thing. And I think we were probably sharing that embrace, that we got it one step closer."
From South Bend, Ind., to Southern California, the Fighting Irish now will march on to South Beach, one step closer to holding up that prized crystal football. They will do it after winning Saturday night at rival USC,
22-13
, to clinch a spot in the BCS National Championship Game, which will be played Jan. 7 in Miami Gardens, Fla.
They will go there under a third-year coach, the standard for all legendary Notre Dame leaders, four of whom won national titles with the Irish in Year 3 and have statues on campus to show for it.
They will go there under the nation's best defensive player, who has emerged as an icon amid personal tragedy, who might or might not have some hardware already in hand after another interception Saturday, his seventh of the season.
"If a guy like Manti Te'o's not going to win the Heisman, they should just make it an offensive award," Kelly said afterward. "Give it to the offensive player every year, and let's just cut to the chase. He is the backbone of a 12-0 football team that has proven itself each and every week, and showed it tonight again with another key interception and a great play in the end zone on
Marqise Lee
to save another touchdown.
"If the Heisman Trophy is what it is, I just don't know how Manti Te'o is left out of that conversation."
With the Irish up 19-10 early in the fourth quarter, Te'o hit Lee, USC's Heisman candidate, in the back of the end zone on a third-and-goal play, forcing the ball to the ground and forcing the Trojans to settle for a field goal.
Te'o and the Notre Dame defense returned to that area of the field on USC's next drive, after a 43-yard Lee kick return and a 53-yard Lee reception. Backs against the wall, a 22-13 lead and a little more than five minutes from a perfect regular season, the Irish lined up, prepared to stop a first-and-goal play from the 2.
Eight plays and three minutes later, the visitors sideline was coming apart at the seams, Notre Dame's fate all but sealed. The Irish had kept USC's lethal attack out of the end zone, again. They had made a remarkable goal-line stand, again.
Six weeks earlier, against Stanford, Notre Dame had kept the Cardinal out of the end zone on four consecutive overtime plays from inside the 5. That was the moment everything came to fruition for athletic director Jack Swarbrick, who confessed Saturday night that this season's title run had come a year earlier than expected.
"Coming into the year, I thought Stanford was the test," Swarbrick said. "I just think in the past two years they were more physical than we were, bigger and tougher than we were. I thought, 'That's going to be our benchmark.' And when we survived that, especially the way we did, I thought this team had a chance."
Swarbrick came to Notre Dame as a student in 1973, just in time for Ara Parseghian's second national title. He graduated in the spring of 1977, just missing Dan Devine's first.
He came back to his alma mater four years ago, before a season that ended in this same building, the reporters that time surrounding him for comment about the status of former coach Charlie Weis after another blowout loss here.
"It's what gets you up in the morning," Swarbrick said of restoring the Notre Dame lore.
He helped do that by hiring Kelly, who now has a 12-0 team for the second time in four years. His previous one, at Cincinnati, did not get to play for the national title. This one, after entering the season unranked, after enduring questions from quarterback play to recruiting methods to injury concerns, will.
"We believed in each other," Te'o said of the journey, which took a detour last season after a loss to USC, leading to Kelly comments that threatened to fracture the locker room. "Our coaches believed in us, and we believed in our coaches. It showed the type of camaraderie we have on our team. It's the camaraderie on our team that has helped us be successful."
Upon reaching the visitors locker room after Saturday's win, Kelly greeted a group of players who were, in his words, singing and dancing and laughing. He said a few words to them before presenting the game ball to
Theo Riddick
, who had carved up the Trojans for 146 rushing yards.
Then Te'o, the leader who spurned USC four years ago for Notre Dame, who spurned the NFL last season for this moment, stood up unexpectedly. He said a few words himself, these ones about his coach, and then he presented Kelly with a game ball of his own. Teammates called it a speechless moment.
Notre Dame is back on college football's grandest stage. Not much else is left to be said.
November, 20, 2012
11/20/12
2:56
PM CT
Brian Kelly received a card from Ara Parseghian this week, just like he does every week. Kelly picks Lou Holtz's brain from time to time as well, seeking advice from coaches who have won national titles at Notre Dame.

The gestures aren't limited to legends, though.

"Charlie Weis knows Notre Dame," Kelly said during his Tuesday news conference. "I got a wonderful note from Charlie last week. It was heartfelt, and it talked about the seniors and wishing them the best, and it was really a terrific note from Charlie. It was very classy. We get a lot of that communication with the former Notre Dame coaches and it's really nice."

As much as the players have been showered with attention in class and online, as much as campus has been buzzing about being home to the nation's No. 1 team, Kelly has heard from all corners as well, saying he received a handful of congratulatory texts when Kansas State and Oregon fell and that the communication lines have been open with Notre Dame icons past and present.

"I get my weekly card from Ara each week; he hand writes a note to me," Kelly said. "The great thing is he's so unassuming. He's done this and been there, but he'll write a note like he doesn't want to assume anything. He's never given any advice, just talking as a Notre Dame fan and alum. It's just great to get that combination with him.

"As it relates to Lou, I talk to him about some specific things that I would like his opinion on. Ara's much more of a fan, supportive. I invite him up every home game to my box and he politely declines because he thinks he's got the best seat in front of the television. That's our conversation. And then with Lou it's more about some specific things."

The players, meanwhile, have noticed the No. 1 sign lit up atop Grace Hall, so Kelly hasn't ignored the obvious.

He insists, however, that whatever celebration period there may have been is now over, and the team is back to the usual business of reviewing its Wake Forest tape and preparing for Saturday's game at USC.

"It's a lot better when that light's on than when it's not on," Kelly said. "I'm sure it's better going to class. I'm sure it's better in the dorms. I'm sure it's a better feeling, a more positive approach to everything. That's unquestionable. But does it affect way they way they come to work every day? No, it does not."
December, 9, 2011
12/09/11
5:48
PM CT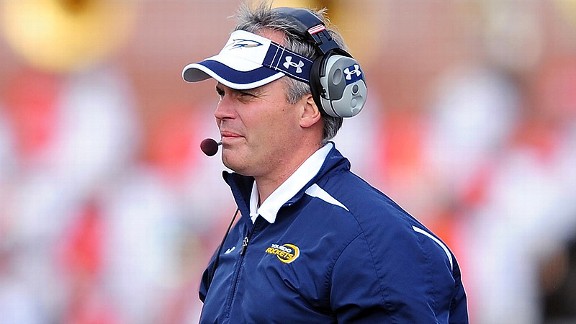 Andrew Weber/US Presswire Tim Beckman must change the culture at Illinois and bring consistency to the program.
The next time a Big Ten fan base gets excited about a MAC coach likely will be the first.
Big Ten fans want big names, even if they're more hyped than proven. There's a sense that Big Ten programs should be able to reach further than the MAC, even though the MAC has produced some excellent major-conference coaches, many of whom have done well in the Big Ten. Some are known only by their first names: Woody, Bo and Ara. All three succeeded at Big Ten programs after coming from a MAC school, Miami (Ohio).
Still, coaching searches are often the time when fan perception meets program reality. It happened this week at Illinois.
The rumor mill began buzzing Tuesday that Illinois was close to a deal with Houston coach Kevin Sumlin. Regarded as a rising star in coaching, Sumlin is one of those names that gets fans excited, even if his track record doesn't quite match the hype around him. He runs an exciting offense at Houston, led by quarterback
Case Keenum
. He's a Big Ten guy (Purdue product) who had great success as a Big 12 assistant. Perhaps most important, he's wanted by others.
I never bought the Sumlin-to-Illinois talk. With a vacancy at Texas A&M, it makes too much sense for Sumlin to eventually move up the road to College Station. Illinois wanted him, but he didn't want Illinois. Predictably, the Sumlin buzz died down and Toledo's Tim Beckman became the target for Illinois first-year athletic director Mike Thomas.
Beckman will be
introduced as Illinois' coach at a 4 p.m. ET news conference
Friday in Champaign, Ill. He comes to the Illini after recording a 21-16 record in three seasons with Toledo.
There's a lot to like about Beckman. He's an Ohio native who knows the Big Ten and has recruited well, particularly in his home state. He has worked for successful programs (Oklahoma State, Ohio State and Bowling Green) and for successful head coaches (Mike Gundy, Jim Tressel, Urban Meyer). He took over a Toledo program dealing with a point-shaving scandal and led the Rockets to 8-win seasons in each of the past two years. He's known as a tireless worker with a fiery personality.
I have a feeling Illinois fans will feel better about the hire after Friday's news conference.
But some still will only see "MAC coach." And that's fine. Beckman will have to win them over by winning. If he mirrors what former Toledo coach Gary Pinkel has done at Missouri, or what former Toledo coach Nick Saban did at Michigan State, or what Bo, Woody and Ara did at Michigan, Ohio State and Northwestern, respectively, no one will remember where he came from.
When Thomas announced Ron Zook's firing, he noted that
his track record shows he hires coaches with previous experience
leading programs. He didn't add that he hires them from the MAC, as he brought both Brian Kelly and Butch Jones to Cincinnati from Central Michigan. Kelly had historic success at Cincinnati before moving onto Notre Dame, while Jones has the Bearcats at 9-3 this season. The Beckman hire follows the pattern for Thomas, who also reportedly expressed interest in two other MAC head-coaches: Eastern Michigan's Ron English and Temple's Steve Addazio.
If Beckman succeeds at Illinois, Thomas will be hailed as strong evaluator of under-the-radar coaches. If Beckman fails, Thomas will be seen as an AD who couldn't reel in the big fish. While Illinois reportedly was
willing to spend big bucks for Sumlin
, Beckman likely comes as a bargain, as he made $400,000 at Toledo.
Beckman inherits some talent at Illinois. Talent never was the problem for Zook, who recruited well. But Beckman will need to develop players better than his predecessor.
There are some potential concerns with Beckman, namely that he's a defensive coach whose defenses didn't exactly rank among the nation's best.
Here's a look:
2011 (Toledo):
76th in total defense, 89th in scoring defense
2010 (Toledo):
56th in total defense, 73rd in scoring defense
2009 (Toledo):
95th in total defense, 116th in scoring defense
2008 (Oklahoma State):
93rd in total defense, 73rd in scoring defense
2007 (Oklahoma State):
101st in total defense, 79th in scoring defense
To be fair, fielding a decent defense in the MAC is no easy task. But Toledo also surrendered 63 points in back-to-back games, including a 63-60 loss to Northern Illinois in which Beckman's timeout decisions came under heavy scrutiny.
Beckman could win points with many Illini fans by retaining Vic Koenning as his defensive coordinator. Koenning has done a masterful job with Illinois' defense, which boasts an All-American in defensive end Whitney Mercilus and ranked No. 7 nationally in yards allowed, No. 4 against the pass, No. 5 in tackles for loss and No. 9 in sacks. Whether their defensive philosophies match remains to be seen, but Beckman certainly should consider keeping Koenning.
His bigger task will be establishing consistency with an Illinois program that hasn't seen nearly enough in the past two decades. Although Illinois has reached back-to-back bowl games for the first time since 1991-92, the team has too often been a tease, arguably never more so than this season when it started 6-0 and finished 0-6. The talent has been in Champaign, but Illinois has been too fragile of a team. Beckman must change the culture.
Some coaches create buzz just by showing up (see: Meyer, Urban). Others create it by what they do on the field.
Beckman must show he can do the latter at Illinois.