Chicago Colleges:

Arby Fields
February, 23, 2012
2/23/12
9:55
AM CT
Adonis Smith
's decision to transfer from Northwestern might not mean much come September.
But his exit adds to the questions surrounding a position that hasn't provided enough definitive answers in the past few seasons.
Smith appeared in 17 games the past two seasons, racking up 462 rush yards and three touchdowns. He might have evolved into the Wildcats' featured back, but he also might have been a career backup. It's tough to tell. Coach Pat Fitzgerald announced Smith's departure Wednesday.
[+] Enlarge

Jerry Lai/US PRESSWIRERunning back Adonis Smith has decided to transfer from Northwestern.

"We're disappointed to see Adonis leave Northwestern," Fitzgerald said in a statement. "He is an outstanding young man and we wish him nothing but the best in his future endeavors."
Wildcats fans will forget about Smith if, say,
Mike Trumpy
returns from a torn ACL and surges as the starter. Or if true freshman Malin Jones emerges in preseason camp. Or if
Treyvon Green
builds on a freshman season in which he rushed for 362 yards and four touchdowns.
But if Northwestern can't identify a featured back and fails to generate a consistent rushing attack in 2012, Smith's name likely will be brought up.
While a struggling defense should be coach Pat Fitzgerald's top priority in the offseason, running back shouldn't be too far down his checklist. Northwestern's offense has made strides under Fitzgerald's watch, producing a steady stream of quarterbacks and wide receivers in recent years. But the running back position, once a program strong point, has declined.
Fitzgerald's predecessor at Northwestern, the late Randy Walker, left an indelible mark on the position he played in college. Walker had a 1,000-yard rusher in 25 of his 30 seasons in coaching, including each of his final four seasons as Northwestern's head coach (2002-05). Northwestern produced a 1,000-yard rusher in five of Walker's final six seasons.
But since Tyrell Sutton finished with exactly 1,000 yards in 2006, Fitzgerald's first season as Wildcats coach, Northwestern has failed to produce a 1,000-yard rusher.
Here are the team's leading rushers the past five seasons:
2007: Sutton, 451 yards

2008: Sutton, 890 yards

2009: Arby Fields, 302 yards

2010: Trumpy, 530 yards

2011: Kain Colter, 654 yards
Colter, by the way, plays quarterback for the Wildcats. Fields transferred following a disappointing 2010 season when he struggled to hang onto the ball or a favorable spot on the depth chart.
Why can't Northwestern produce featured backs anymore? An offense rooted in high-percentage passes and accurate quarterbacks has something to do with it. But the Wildcats have run the spread since 2000, and it didn't stop them from producing standout backs under Walker.
Northwestern has run the ball better as a team the past two seasons, rising from 95th nationally in rushing in 2009 to 58th in 2010 and 45th in 2011. But the team had a league-low 3.8 yards-per-carry average last fall.
Jones, the team's first commit in the 2012 recruiting class, could be the answer, much like Sutton was in 2005, when he captured Big Ten Freshman of the Year honors. Perhaps Trumpy bounces back from injury or Green takes steps in his development. Maybe a committee system is the best approach.
If not, you might hear some grumbling about Adonis Smith in September.
September, 11, 2010
9/11/10
5:05
PM CT
EVANSTON, Ill. -- Northwestern running back
Arby Fields
may not read the newspapers or listen to what others are saying about him, but the sophomore's mom often relays to him what she sees and hears.
Read the entire column.
August, 12, 2010
8/12/10
3:42
PM CT
[+] Enlarge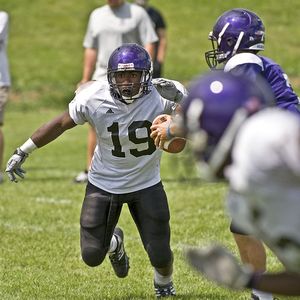 Courtesy Stephen J. CarreraArby Fields is more relaxed, and he said he's no longer worried about making mistakes.
EVANSTON, Ill. – After walking across the Northwestern practice field side by side with his fellow running backs,
Arby Fields
takes a few quick steps as they approach the reporter on the sideline.
Fields has decided he's going to talk first. He wants to be first at everything.
Jacob Schmidt
and
Stephen Simmons
aren't having it. They're not going to allow Fields, the youngest of the trio, to get back to the locker room first after the interview. No, Simmons and Schmidt -- a senior and junior, respectively -- decide they'll be interviewed by seniority, leaving the sophomore Fields to wait the longest.
The competition never ends with this group.
Off the field, they debate which of the running backs is the tallest and the fastest. The 5-8 Simmons states he's both, but everyone, including him, knows that's not true.
"Height doesn't actually matter," Simmons said when asked how much taller he is than the others. "Just write [I'm the tallest and fastest] in the story."
Fields' reaction to Simmons' claim was disbelief.
"Ha, Steph did not say that," said the 5-9 Fields. "He's definitely not the tallest. He's definitely not the fastest."
For the record, the 5-10 Schmidt is the tallest of the three.
The three also are competing on the field for a starting role. They try to keep the mood light, encourage each other and want to see the group do well. But Northwestern coach Pat Fitzgerald told them that he's still looking for a starting running back, and they're all out to win that position.
"It's a competition, but it's still fun," Simmons said. "We're just out here having fun, playing. We're out here going at each other's throats, but it's a friendly competition. It's friendly rivalry-type stuff.
It's like a friendship, but we still compete at the same time. It's pretty cool. We're all close, especially the shorts because we're all short."
However far Northwestern goes this season may depend on those shorties. A season ago, Northwestern's running game was among the nation's worst. The Wildcats ranked 89th in the country with an average of 117.8 yards per game. Their longest run for the year was 25 yards, which was the worst in the country, and they averaged 3.0 yards per carry, which was 111th.
Fields led the rushing attack last season with 302 yards and five touchdowns.
Scott Concannon
, who also is returning but has been injured, had 241 yards and two touchdowns. Simmons rushed for 233 yards and two touchdowns. Schmidt had 217 yards and one score. All together, the running backs had 10 touchdowns.
They all understand that isn't going to cut it this season.
"It really comes down to us making plays," Simmons said. "We didn't make that many plays last year. I think we had 10 touchdowns as a whole group, which isn't enough for one running back -- let alone four. I think that's the biggest thing we need to improve on."
Schmidt believes it's important for one or two running backs to separate themselves from the group.
"We just need to improve overall on the run game, obviously," he said. "We had three, four, five guys run the ball last year, and it didn't work that well. We need to get it right in camp. We need to find one, two, maybe three guys that are really going to carry the rock and that can really produce. That's what it's going to come down to -- production."
It looks to be Fields' job to lose. He was at the top of the depth chart at the end of the spring season. He also held the starting spot most of last season and was impressive in spurts. He had 48 yards and two touchdowns on six carries against Towson in his college debut. He ran for 43 yards and one touchdown on nine carries against Minnesota.
But he also struggled at times as a freshman. He had 27 yards on 11 carries against Miami of Ohio. He needed 18 carries to get to 43 yards against Purdue. He had five yards on two runs against Michigan State.
Looking back, Fields described his first season as rocky.
"I'm really critical of myself," Fields said. "I'm never satisfied. I always feel like I should have done this better, that better. I feel I learned a lot. The game's faster. The game's changing. The stuff I did in high school I was faster than everyone. Some of the stuff I could have done in high school, you can't do playing football at this level. You can't run by people.
"When they named me the starter, I was still learning a lot, still learning the playbook. I felt like everything was happening so fast. I was afraid to make a mistake. I went through this period where I was afraid to make mistakes. You can't play football that way. I don't want coach yelling at me. I just wanted to do everything right, but you can't do that."
That has changed this season. Already during the first week of camp, Fields has felt completely different. He knows the plays. He's making the right decisions. He's relaxed.
"I'm having a blast out here," Fields said.
Football also is fun for Simmons again, and it all has to do with being healthy.
Last year, Simmons started off the season with a surge, and appeared as if he might be the breakout back the Wildcats needed. He ran for a career-high 77 yards on 18 carries in the season-opener against Towson. The following game, he rushed for 73 yards on 13 carries and scored a career-high two touchdowns against Eastern Michigan.
From there, his season quickly declined. His injuries began to pile up. He missed four total games due to injury and wasn't the same the player when he was on the field. Over the last year, he has had problems with his ankles, toes and knees, but he is finally healthy.
"I'm feeling pretty good now," Simmons said. "It's a huge difference. I can just run. I couldn't do that two months ago.
"For me, personally, last year was disappointing. I went out with a couple injuries. I had been injured up until recently. Now I'm just trying to get back and just trying to pick up where I left off at the beginning of the season last year. It's my last go around. I got to get the best out of it, do everything I can to get out of it what I can, just play."
Schmidt had his moments last season, too. After seeing limited reps as a freshman, Schmidt stepped into a role large as a sophomore and proved to be a reliable receiver out of the backfield. He started against Minnesota and Syracuse. He had two catches for 37 yards against Purdue. He had four receptions for 46 yards against Syracuse. He had 61 rushing yards against Eastern Michigan. He led Northwestern with 36 rushing yards against Auburn in the Outback Bowl.
Schmidt felt last year was a good starting point to what he wants to do this season.
"I thought I helped a lot in production, ran routes well and made some catches, made some plays," Schmidt said. "When my number was called on third downs to get some first downs, I did. I embraced my role and I loved it, but I hope to have a little larger role this year.
"Coach Mac [running backs coach Matt MacPherson] kind of put it on the line this fall. He said, 'I want to see one or two guys take a lead and go get the job.' I took it upon myself for that to be a goal -- to be the one or the two and be out there every Saturday producing."
Of course, Fields and Simmons hope the same and are just as motivated. That's not a bad thing, according to Fields.
"Competition makes it fun," Fields said. "Me, personally, being a competitive person, if there wasn't competition out here, it's kind of boring. I like somebody to say, 'You're not good. I'm going to take your spot.' I like that kind of stuff. That kind of stuff makes me laugh. It makes me make work that much harder.
"I'm going to come out here and compete as hard as I can. That's why we're all out here. We're all good. They trust us all to run the ball. I think we all help this team in a different way. Whoever is going to execute, do the job, make the most plays is going to be out there."
Scott Powers covers high school and college sports for ESPNChicago.com and can be reached at spowers@espnchicago.com
August, 2, 2010
8/02/10
4:33
PM CT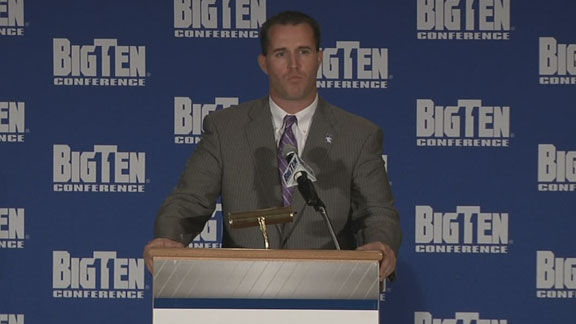 CHICAGO -- Northwestern coach Pat Fitzgerald is the first to point out that the Wildcats' running game had as much of a chance to succeed as their passing last season.
If they hadn't passed the ball 78 times in the Outback Bowl, the Wildcats actually would have run the ball more than thrown it for the season. Instead, Northwestern attempted 531 passes and 503 rushes.
That's where the similarities end, though.
Northwestern's passing game was among the nation's best. It ranked 13th in the country with an average of 286.5 yards per game.
[+] Enlarge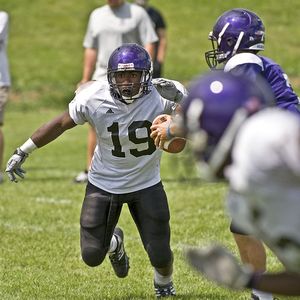 Courtesy Stephen J. CarreraArby Fields believes he can be the Wildcats' regular running back this season.
Its running game was among the worst. The Wildcats ranked 89th with an average of 117.8 yards. Their longest run was 25 yards, which was the worst in the country, and they averaged 3.0 yards per carry, which was 111th.
If Northwestern is going to make a push at the top dogs in the conference, Fitzgerald acknowledged Monday during the Big Ten media days that Northwestern's running game must improve.
"We had good balance when you look at the stats," Fitzgerald said. "We just have to be run-efficient. If you want to win the championship in this league, you got to be able to run the ball efficiently. You define that by four more on first down, half or more on second down, pick it up on third and fourth and score on the goal. So it's not really that complicated of an equation. We definitely need to be better there. We put a strong a focus on that in the spring, and we'll be right back there to start camp."
One of the more intriguing battles during Northwestern's fall camp will be at running back. Sophomore
Arby Fields
is penciled in as the starter after the spring, but there's no guarantee that it's his job. Junior
Jacob Schmidt
, senior
Stephen Simmons
, junior
Scott Concannon
, redshirt freshman
Mike Trumpy
and freshman Adonis Smith will all be given a chance to dethrone Fields.
"If someone emerges and takes it over, it's their job," Fitzgerald said. "We haven't had that happen yet. Everybody's close to each other. There's a lot of similarities. If they're that close, we're going to rotate."
Fitzgerald would prefer for someone to emerge.
"I would like to see one of our tailbacks potentially take over the role," Fitzgerald said. "I remember back when I played Michigan it seemed like every down it was a different back, and they just kept hitting you, hitting you and hitting you."
Fields believes he can be that guy. Last season as a freshman, he led Northwestern with 302 yards rushing and five touchdowns. This season he believes he can do much more.
"Having gone through this once and having gone through a full season, I feel I'm capable of taking it upon myself to lead this group and be the best running back they want me to be and I want to be," Fields said last week on campus. "I don't read the newspapers, but my mom does. Whatever people have to say negative or positive, OK, that's going to make me work harder. I want to prove people wrong.
"The big picture is my goal is to go to the Rose Bowl because I live in California. It's going to be a breakout season for the Northwestern running game. I just want to have a big year and want to help Northwestern win a Big Ten championship. If that means I rush for 1,500 yards, I rush for 1,500 yards. If I rush for 600 yards and have 700-800 yards receiving, whatever they need me to do, I'm going to do it. Whatever it takes for us to win. "