Chicago Colleges:

Archie Griffin
October, 3, 2013
10/03/13
11:30
AM CT
EVANSTON, Ill. -- Northwestern's rise from national doormat to national darling to consistent winner is impossible to deny, even for farsighted skeptics who still discuss the program as if it were 1983, not 2013.
A team once best known for owning college football's longest losing streak can point to Big Ten titles in 1995, 1996 and 2000, five consecutive bowl appearances, and, finally, a bowl victory this past Jan. 1. But there's a scarlet and gray asterisk next to Northwestern's name. Of all the hurdles -- real or perceived -- the Wildcats have cleared since 1995, one opponent consistently trips them up and leaves them lying flat on their faces.
Ohio State hasn't merely dominated the all-time series against Northwestern, holding a 59-14-1 edge, including wins in the past four meetings and 28 of the past 29. Most of the matchups haven't even been competitive, beginning with the first, a 58-0 Buckeyes win a century ago.
Since a 60-0 win in 1973 at Ohio Stadium, the Buckeyes own 13 victories against Northwestern by 40 points or more and 21 victories by 20 points or more. Single-digit losses to Ohio State are almost as uncommon as wins for Northwestern. Even the Wildcats' championship seasons in 1995, 1996 and 2000 occurred without Ohio State on the schedule.
The dark days are over at Northwestern. No reasonable person could dispute that. But Ohio State remains a dark cloud hovering around the program. Saturday night, the fourth-ranked Buckeyes storm into Ryan Field for the most-anticipated regular-season Northwestern game in recent memory. The forecast, by the way, calls for showers.
[+] Enlarge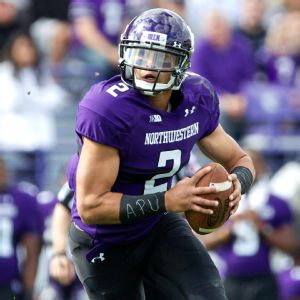 John Gress/Getty ImagesKain Colter and the Wildcats hope to end Ohio State's dominance with a win Saturday night.
Will Northwestern's big-stage appearance be a washout, or will the purple reign?
"It's going to be a big measuring stick for us, to see where we're at," Northwestern quarterback
Kain Colter
said Monday.
Nine years earlier, Noah Herron sat in the same room as Colter, discussing Northwestern's upcoming home game against an Ohio State team ranked No. 7 nationally. Herron, the Wildcats' running back at the time, and several of his teammates made comments that were true then and are true to this day but that still created a stir in Buckeye Country. Wide receiver Mark Philmore described the Buckeyes as "kids just like you out there."
"It was along the lines of, 'They're just Ohio State. They're the same guys that we are, playing for their school. They're no different than us,'" Herron recalled in a phone interview with ESPN.com this week. "It became poster-board stuff for their locker room, which is not what it was intended to be, but it was supposed to look at it from our approach. We're not playing their tradition, we're playing them. We're playing the current roster for 2004, not Archie Griffin and all these other great names that they've had."
Brett Basanez, the Wildcats' quarterback at the time, had a similar feeling. Despite playing with a separated throwing shoulder suffered the previous week, Basanez passed for 278 yards and two touchdowns and added 53 rushing yards, including a 21-yard dash to set up Herron's eventual winning TD.
Basanez had watched Ohio State's game against NC State and saw similarities between NC State's offense and Northwestern's.
"You're not playing Eddie George," Basanez said. "You're playing normal guys. Just play your game and win. We knew if we came out and played, we could score with them, we could score more than them. And that came to fruition as the game started."
Herron might have violated Big Ten etiquette by not paying homage to the Buckeyes. Ohio State came to Ryan Field eager to put Northwestern in its place.
Instead, the Wildcats won 33-27 in overtime. Herron scored the winning touchdown in what
one Northwestern fan website
calls the "33 game" -- Herron wore No. 33, scored the team's 33rd point on his 33rd carry and helped snap a 33-year losing streak to the Buckeyes.
"We weren't intimidated by them from the very beginning," Herron said. "Offense, defense, special teams, everybody played with that same kind of swagger, that, 'Hey, we're playing this team right now, nobody else.' Sometimes you catch a little heat for saying some things, but nevertheless they're true and they prove to be true. They're college kids just like us.
"Just because they're Ohio State, they don't get a free pass."
The current Northwestern players had nothing inflammatory to say this week about Ohio State. Colter praised the Buckeyes' coaches and said Ohio State has "athletes all over the board."
But the Wildcats also aren't in awe of Ohio State, which might have been a problem for Northwestern teams of the past.
"If you grow up watching college football, you hear about tradition, you hear about the successes that programs have had," Herron said. "You can be enamored by it. You can even be intimidated by it."
Herron acknowledges that, from top to bottom, Ohio State had more talent than Northwestern in 2004 and still does today. Wildcats coach Pat Fitzgerald agrees, saying Monday, "I think there's a talent gap between anybody in the top five and everybody else, including us. ... But we're pretty darn talented."
The talent gap has narrowed for Northwestern, as recruiting is on the rise under Fitzgerald. The are-you-kidding-me losses that used to plague Northwestern, particularly in nonleague play, have gone away. The Wildcats actually can stay ranked for more than a week.
But there are steps to legitimizing a program, and beating the Big Ten's most talented and visible program is one Northwestern eventually has to take, especially if it intends to return to the Rose Bowl.
Saturday night's opportunity, Basanez said, is more about Northwestern's future than its past.
"If you're judging your football program in the Big Ten, especially with [Buckeyes coach] Urban Meyer, with the tradition that [Jim] Tressel and other guys have had there, yeah, that's a measuring stick," he said. "It's very important to beat Ohio State because they're a Big Ten foe, but it's just as important to beat Michigan or Iowa. Everyone just thinks of Ohio State, but you beat them, arguably right now you're the best in the Big Ten."
Herron, who played five NFL seasons with four teams, calls the touchdown run in overtime against Ohio State his best moment on a football field. Personal achievement played a small role, as the win resonated for a team and a school still trying to escape its putrid past on the gridiron. The Ohio State win turned out to be the high point for the 2004 Wildcats, who went 6-6 and missed a bowl, thanks to a 1-3 mark in nonleague play.
The program since has been elevated. So have the stakes Saturday night.
"It is a measuring stick because it's the main stage, and it's seemingly been a team that Northwestern has had a hard time beating," Herron said. "Two ranked teams, game of the week, 'GameDay' is going to be there.
"What more can you ask for, not only for that team but for the program?"
June, 5, 2012
6/05/12
12:31
PM CT
Our daunting assignment for Monday was to identify the top five individual seasons by a Big Ten player in the past 50 years. It was not in any way easy.
There have been so many great players and great performances in this league that it seemed almost unfair to limit this list to just five. It's impossible not to omit some very, very worthy individual efforts.
But that was our task, and we did the best we could while trying to pick out the most memorable seasons and weighing team success into the formula as well. Please remember a couple key notes about this list. This is limited to
the past 50 years,
so legends such as Red Grange and Nile Kinnick were not eligible. We are including Nebraska, even though the Cornhuskers have only spent one year as a Big Ten members. Blame conference realignment and feel free to complain, but the Huskers are part of the family now and are going to be included in these kinds of historic lists. Deal with it.
OK, here we go, and we'll do this chronological order:
[+] Enlarge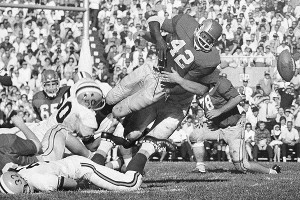 AP PhotoDick Butkus (50) made 145 tackles and caused 10 fumbles in 1963, leading the Illini to a Big Ten title.
Dick Butkus, LB, Illinois, 1963:
In many ways, Butkus is synonymous with the hard-nosed defensive style that has become the Big Ten's calling card. If you want a symbol for toughness, you couldn't do much better than him. He was named the player of the year in 1964 and finished third in the Heisman voting that year. But we're going with his 1963 season, in which he recorded a whopping 145 tackles, won Big Ten MVP honors and led the Illini to a Rose Bowl win over Washington. Little wonder that the award for the nation's best linebacker is named after him.
Archie Griffin, RB, Ohio State, 1974:
Griffin remains the only two-time Heisman Trophy winner, and his first statue-worthy season was his best as a collegian. He ran for 1,620 yards and 12 touchdowns while averaging an eye-popping 6.9 yards per carry in an era of less offense. As he broke tackles left and right that season, Griffin earned the high praise of legend Woody Hayes, who called him the best football player he'd ever coached.
Mike Rozier, RB, Nebraska, 1983:
The Cornhuskers' ground game was an unstoppable machine in '83, and Rozier was its engine. He averaged an amazing 7.8 yards per carry, a NCAA record for players with at least 214 attempts, and finished with 2,148 rushing yards and 29 touchdowns. He ran for more than 200 yards in each of his last four regular-season games. Would Nebraska have beaten Miami in the Orange Bowl had Rozier not injured his ankle in the second half? We'll never know, but we do know this was one of the top seasons of all time.
Charles Woodson, CB/WR/PR, Michigan, 1997:
Woodson became the first primarily defensive player ever to win the Heisman Trophy with his extraordinary performance for the Wolverines, who won a share of the national title that season. He had eight interceptions even though teams steadfastly avoided throwing the ball to his side of the field. He also compiled 500 yards and three touchdowns as a receiver and punt returner, including his memorable score against Ohio State. Woodson had to be special to beat out Peyton Manning for the Heisman that year, and he sure was.
Montee Ball, RB, Wisconsin, 2011:
This may be controversial, since it happened so recently. But we firmly believe that when historians and fans look back on Ball's 2011 season, they will be astounded that he didn't win the Heisman or get more attention for what he accomplished. Ball led the nation in rushing yards and averaged 6.3 yards per carry, matching the best mark that Heisman winner Ron Dayne ever put up during his Badgers career. He also scored 39 touchdowns, tying Barry Sanders FBS record. While a lot of people like to point out that Sanders played in fewer games, they conveniently neglect to mention that Ball had 37 fewer carries in 2011 than Sanders did in 1988. It was truly a historic season for Ball, and one of the best in Big Ten history.
Who's on your list for the top five seasons of the past 50 years in the Big Ten?
TOP 25 SCOREBOARD
Thursday, 9/18
Saturday, 9/20
TOP PERFORMERS
M. Mack South Florida - RB
31 car, 103 yds, 1 td