Chicago Colleges:

B.J. Lowery
September, 23, 2013
Sep 23
11:00
AM CT
The constant talk about the Big Ten's national perception and performance against other conferences can get a bit tiresome.
But there's also no denying that the league has an image problem that stems from a lack of noteworthy wins. And with nonconference play all but wrapped up (three nonleague games remain -- Illinois versus Miami (Ohio) and Purdue versus Northern Illinois this week, and BYU at Wisconsin in November), we can make a few judgments.
[+] Enlarge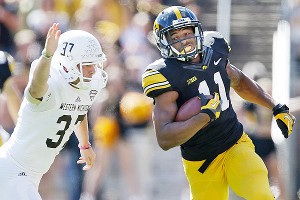 AP Photo/Charlie NeibergallIowa receiver Kevonte Martin-Manley returned two punts for touchdowns in the Hawkeyes' rout of Western Michigan.
The good news is that there weren't many total embarrassments, though Michigan certainly flirted with a couple the past two weeks. The not-so-good news: The Big Ten finished an underwhelming 9-8 against BCS AQ teams. That record is even less impressive when you consider the caliber of the competition.
The best win remains Michigan's Week 2 triumph over Notre Dame, which is the conference's only victory over a ranked opponent for now. Other BCS AQ scalps include California (twice), Cincinnati, Connecticut, Iowa State, South Florida and Syracuse (twice). The losses were to Arizona State (allegedly), Cincinnati, Notre Dame (twice), Missouri, UCF, UCLA and Washington.
The Big Ten went 3-2 against the AAC, 2-0 against the ACC (Syracuse), 1-0 against the Big 12 (Iowa State), 2-3 against the Pac-12, 0-1 against the SEC (Missouri) and 1-2 against Notre Dame. As you can tell, the league didn't exactly play the cream of the crop in the ACC, Big 12 or SEC. The Big Ten's slate was
low on marquee games
, and the conference didn't win any of the ones that were there, save for going 1-for-3 against what looks like a decent but not great Notre Dame team.
Luckily, conference play is almost here, and that will consume us for the next couple of months. But if the Big Ten wants to earn more respect nationally, it will have to wait until bowl season for another shot.
Take that and rewind it back ...
Team(s) of the week:
It's a tie between Iowa and Minnesota. The
Hawkeyes beat Western Michigan 59-3
in their most complete performance in ages, while the
Gophers dismantled San Jose State
and its NFL-caliber quarterback 43-24. Bring on Floyd of Rosedale!
Worst hangover:
Michigan State hoped that maybe, just maybe, it had found a solution to its passing game woes when
Connor Cook
and the offense rolled against Youngstown State two weeks ago. Instead, the Spartans' passing game looked just as bad as last year in a
17-13 loss at Notre Dame
. And the quarterback controversy is not even over, as coach Mark Dantonio strangely went with
Andrew Maxwell
on Michigan State's final possession -- which unfolded just as you would have expected, with three incomplete passes, two penalties and a Maxwell scramble that came up far short of the first-down marker on fourth-and-long.
The Spartans also killed the small momentum they had going in the second half by calling for a halfback pass from
R.J. Shelton
, who threw an interception into tight coverage. Apparently, Michigan State failed to learn from its rival last year, but how about everyone in the Big Ten agree not to call halfback passes in South Bend for a while? Dantonio said he made the Shelton pass call, and he likes to name his trick plays after kids' movies. Call that one "The NeverEnding Story," because that's what MSU's offensive disaster has become.
Big Man on Campus (Offense):
Minnesota QB
Mitch Leidner
made his first career start in place of the injured
Philip Nelson
, and he didn't disappoint. Leidner ran for 151 yards and four touchdowns against San Jose State. The 6-foot-4, 233-pounder showed off some speed when going around the edge and lots of toughness as he continually pushed forward for more yards after first contact.
Big Man on Campus (Defense):
Iowa cornerback
B.J. Lowery
had a pair of pick-sixes against Western Michigan.
Big Man on Campus (Special Teams):
This one's an easy call: Iowa's
Kevonte Martin-Manley
returned a pair of punts for touchdowns in the second quarter, piling up 184 total punt return yards. He became the third Big Ten player to have two punt return touchdowns in the same game and the first since 1983 (Ohio State's Garcia Lane).
Fun with numbers (via ESPN Stats & Information):
Your new Big Ten leader in Total QBR: Ohio State's
Kenny Guiton
, who's No. 10 nationally with an 86.7 rating (based on a 100-point scale). A fan asked on Twitter on Saturday night whether the Buckeyes' Guiton and
Braxton Miller
might be the best two quarterbacks in the league. A strong case could be made for that. ... Wisconsin's
Melvin Gordon
leads the nation in rushing with 624 yards. What's crazy is that the No. 2 rusher, Rutgers'
Paul James
, trails Gordon by 51 yards and has 25 more carries on the season. Gordon is still averaging just over 13 rushes per game. ... Michigan State in a nutshell: The Spartans rank third nationally in total expected points added by the defense at 74.32; the offense, meanwhile, has contributed negative-six expected points added. ... Four Big Ten teams (Wisconsin, Ohio State, Minnesota and Nebraska) rank among the top five in the FBS in rushing yards. Five league teams (Iowa, Nebraska, Minnesota, Northwestern and Ohio State) rank in the top 10 in number of total rush attempts, with the Hawkeyes leading the way at 218 (third nationally). ... Problem not solved: Nebraska has fumbled eight times this year, more than every team except Idaho. The only good news is that the Huskers have lost only four of them. ... Penn State's defense has allowed only 12.8 first downs per game, ranking fourth in the FBS, just behind Michigan State. ... An overlooked part of Minnesota's early success: Gophers opponents have started their possessions inside their own 25-yard line after a kickoff 17 times this season, the most in the nation. Thank kicker
Chris Hawthorne
and the coverage unit for that. By comparison, Michigan's opponents have started a drive after a kickoff inside their 25-yard line just five times this season.
Stern discipline:
Five days after the Pac-12 reprimanded the officials who botched the ending of the Wisconsin-Arizona State game and promised "additional sanctions" for that crew, the same group worked the Utah-BYU game on Saturday night. Yep, that's some punishment, having those officials call an intense in-state rivalry featuring a Pac-12 team on the road. BYU fans didn't like the calls that went against their team in the
20-13 Utes win
and
pelted the officials with trash after they left the field
. That was deplorable by those fans, but as far as we can tell, it was the only real punishment those refs received. The Pac-12 refs aren't the only ones who mess up, though. That was a Big Ten unit hosing Michigan State on those pass interference calls at Notre Dame.
Strangest moment(s):
San Jose State's
Harrison Waid
tried to get revenge for battered punters everywhere after
he got pancaked on a block by Minnesota's
Derrick Wells
. Waid hopped up and tried to go after Wells. Alas, that's a battle a punter will never win, and he got ejected from the game. Yes, a punter was kicked out for fighting.
Meanwhile in Columbus ... as if Ohio State needed any extra help against Florida A&M, running back
Jordan Hall
used umpire Jim Krogstad as a blocker and then a bowling pin
on his way to a touchdown. Maybe FAMU could let Krogstad wet his beak on some of the $900,000 Ohio State paid the school for that 76-0 steamrolling.
Say what?
: Remember when Penn State coach Bill O'Brien called his team a bunch of "fighters" on national TV at the end of last year's Wisconsin finale, but several people
thought he said a different "F" word
? Well, O'Brien appeared to almost use another "F" word
during his postgame news conference Saturday
before catching himself. O'Brien was then asked if he was going to say "fighters" again. "We do have a bunch of fighters," he said. "I don't know anyone who debates me on that. It's like my mom -- she still doesn't believe I said 'fighters.' Do I look like the type of guy who swears?"
September, 23, 2013
Sep 23
9:00
AM CT
Remember two weeks ago when
we were debating Ohio State versus Michigan
as the Big Ten's top team? Well, the Buckeyes have created some separation from Michigan and the rest of the league with two dominant offensive performances. Michigan, meanwhile, either has a massive hangover from beating Notre Dame or a lot of issues to sort out.

We gave the Wolverines the benefit of the doubt after the Akron game and kept them at No. 2. After Saturday night's slopfest at Connecticut, we can no longer keep Michigan in the second slot. Northwestern looked lackluster for the second straight week but avoided the major scare Michigan has endured. Wisconsin, meanwhile, might be the league's second-best squad. We'll find out a lot about the Badgers this week in Columbus.
Minnesota and Iowa make nice moves this week, while Indiana takes a tumble.
As a reminder, we keep these rankings consistent with how we vote in the ESPN.com Top 25. Here's one final look at
last week's power poll
.
Let's get to the rundown ...
1. Ohio State (4-0, last week: 1):
We'll finally get a gauge on these Buckeyes as they open Big Ten play Saturday night against Wisconsin, but the recent results have been encouraging.
Braxton Miller
's absence once again didn't faze Ohio State, which scored 34 points in the first quarter and received a nice boost from running back
Carlos Hyde
in his season debut. Backup signal-caller
Kenny Guiton
continued his surge with a school-record six touchdown passes. Miller likely returns this week, but the Buckeyes' offense clearly is more than just one man this season.
2. Northwestern (4-0, last week: 3):
For whatever reason, Northwestern looks worse against weaker nonleague foes than seemingly stronger ones. The Wildcats had more positives against Cal and Syracuse than Western Michigan and Maine, although they were never in serious danger of losing in the past two weeks. Linebacker
Damien Proby
sparked a takeaway-driven defense Saturday. Quarterbacks
Kain Colter
and
Trevor Siemian
struggled but have two weeks to prepare for Ohio State, when running back
Venric Mark
is expected back.
3. Wisconsin (3-1, 1-0 Big Ten; last week: 4):
Credit Gary Andersen's players for not letting last week's unfortunate ending linger as they opened Big Ten play against Purdue. Wisconsin went back to what it does best, overpowering opponents with the run game, as
Melvin Gordon
and
James White
combined for 292 rush yards and four touchdowns. The Badgers' defense bottled up Purdue, surrendering only 12 first downs, 45 rush yards and 180 total yards. You have to like how Wisconsin is performing before this week's showdown in Columbus.
4. Michigan (4-0, last week: 2):
The Akron game could be forgivingly dismissed as a letdown. But when many of the same issues surface for the second straight week against a poor opponent, it's reason to be concerned. Michigan won't stay perfect much longer if quarterback
Devin Gardner
keeps turning over the ball (he leads the nation with 10 turnovers) and the offensive line endures periods of inconsistent play. Coach Brady Hoke and his staff have plenty of items to address this week before the Jug game against potentially undefeated Minnesota.
5. Nebraska (3-1, last week: 6):
After a turbulent eight days, Bo Pelini wanted his players to have some fun in their final nonleague tuneup. The offense had plenty despite playing without top quarterback
Taylor Martinez
, eclipsing 300 pass yards and 300 rush yards. Reserve quarterbacks
Tommy Armstrong
and
Ron Kellogg III
both performed well. The defense had a lot less fun, however, surrendering 465 yards in a performance that Pelini labeled its worst of the season. Nebraska has to get a handle on its defense this week before opening Big Ten play against Illinois.
6. Minnesota (4-0, last week: 7):
Knock San Jose State if you must, but the Spartans provided the biggest test for Minnesota to date, and the Gophers passed it with flying colors. Minnesota showed the physical dominance coach Jerry Kill has been waiting for, piling up 353 rush yards and six touchdowns behind quarterback
Mitch Leidner
and running back
David Cobb
. Although San Jose State's
David Fales
showed why he's an NFL prospect, the Gophers continued to force turnovers. Minnesota hosts Iowa this week in a game that has more than bacon on the line.
7. Michigan State (3-1, last week: 5):
The Spartans looked like the better team for much of Saturday's game at Notre Dame. But many of the same issues that surfaced in close losses last season -- stalled drives, dropped passes, not enough takeaways and missed field goals -- surfaced in a
17-13 setback
. Coach Mark Dantonio and his players say this feels different, and that they can overcome their errors to make some noise in a
wide-open Legends Division
. The defense remains championship-level, but there are other issues to sort out, namely quarterback.
8. Penn State (3-1, last week: 8):
Kent State's woeful offense turned out to be the perfect cure for a Nittany Lions defense that struggled mightily in a Week 3 loss to Central Florida. Safety
Ryan Keiser
and cornerback
Jordan Lucas
helped
trigger Penn State's first shutout since 2010
, as the Lions allowed only nine first downs and 190 total yards. The run game once again surged behind
Akeel Lynch
(123 rush yards) and others. Penn State's defense will face much greater tests when Big Ten play begins in two weeks.
9. Iowa (3-1, last week: 11):
Kirk Ferentz's crew is clearly on the rise after its most complete performance in recent memory. Iowa received numerous contributions on offense, two punt return touchdowns from
Kevonte Martin-Manley
and a pick-six from
B.J. Lowery
-- all during a 38-point first half against Western Michigan. Lowery added another pick-six in the second half and stomped the Broncos. After a rough start to the season, Iowa has the momentum it needs heading into a pivotal Big Ten opener against Minnesota.
10. Illinois (2-1, last week: 10):
The Illini sat back and watched the rest of the Big Ten in Week 4, enjoying the first of two open weeks. They'll have an excellent chance to improve to 3-1 this week against an 0-3 Miami (Ohio) squad that was shut out Saturday against Cincinnati and has scored just 21 points in its first three games. This is the perfect opportunity for Illinois' defense to rebound after getting gashed by Washington in Week 3. Illini quarterback
Nathan Scheelhaase
tries to bounce back after completing just 9 of 25 pass attempts.
11. Indiana (2-2, last week: 9):
Just when Indiana appears ready to turn a corner, it becomes Indiana again. For the second time in three games, Indiana limped out of the gate and fell behind, never finding a good offensive rhythm and struggling to stop Missouri's balanced attack. Missouri piled up 623 yards, a Memorial Stadium record for an Indiana opponent. The Hoosiers' defense remains far too vulnerable, and quarterback
Nate Sudfeld
struggled, throwing three interceptions. There's a lot to fix in the open week before Penn State comes to town.
12. Purdue (1-3, 0-1 Big Ten; last week: 12):
Trips to Madison haven't been kind to the Boilers, and Saturday's proved to be no exception as Darrell Hazell's team took a step back after an encouraging performance against Notre Dame. When you can't run the ball or stop the run, you have no chance, and Purdue struggled mightily in both areas. Hazell admits
Purdue must do some "soul searching"
following a rough start, and things don't get any easier this week against
Jordan Lynch
and Northern Illinois.
September, 22, 2013
Sep 22
10:00
AM CT
Five lessons from the week that was in Big Ten football:
1.
Wisconsin-Ohio State could be the Big Ten's game of the year:
In recent years, the Badgers-Buckeyes matchups have been more significant than Ohio State-Michigan or any other conference pairing. This week's showdown at Ohio Stadium could be just as significant. Ohio State is the Big Ten's best team, and Wisconsin might be No. 2 after another dominant rushing performance against Purdue. Both teams ascribe to the power run game but do it in vastly different yet equally entertaining ways. Although the Kenny G show has been terrific for the Buckeyes, top quarterback
Braxton Miller
should be back for the Big Ten opener. Miller might not be the biggest offensive star on the field, as Wisconsin running back
Melvin Gordon
has performed as advertised, racking up 624 rush yards and seven touchdowns in the first four games. The game features first-year Wisconsin coach Gary Andersen going up against his former boss, Urban Meyer. One of these teams has held at least a share of the past eight Big Ten titles. The winner takes control of the Leaders Division. Should be a great one.
[+] Enlarge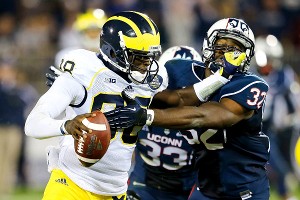 Jim Rogash/Getty ImagesMichigan quarterback Devin Gardner had another three turnovers in the Wolverines' close win over UConn.
2. Michigan has real problems:
It was tempting to write off Michigan's struggle to beat Akron last week as a hangover from the high-stakes Notre Dame game. But no hangovers the past two weeks. The Wolverines found themselves down two touchdowns in the second half Saturday night at UConn, the same Huskies team that lost at home by 15 to Towson in the opener.
Michigan rallied for the 24-21 win
, and at least Brady Hoke's team has shown grit at the end of games the past three weeks. But quarterback
Devin Gardner
committed three more turnovers (two interceptions, one fumble), and he has devolved from potential Heisman candidate to a potential problem spot in just a fortnight. An even thornier issue is the continued inability of the Michigan offensive line to open consistent holes for the running game. If the Wolverines are having trouble running the ball against Akron and UConn, what's going to happen in Big Ten play? There's plenty of time for Hoke & Co. to right the ship, and the upcoming bye week is a welcome sight. But right now, Michigan does not look like the top-15 team we thought it was two weeks ago.
3. The Iowa-Minnesota game has added meaning:
We love the pig, but there's a lot more than the Floyd of Rosedale at stake (steak?) this week as Iowa and Minnesota open Big Ten play in Minneapolis. Both teams have shown improvement, especially with their power running games, and enter the matchup with momentum. Iowa exploded for 38 first-half points Saturday against Western Michigan and finished with 59, its highest total since 2002. The Hawkeyes received contributions in all three phases, including two punt return touchdowns from receiver
Kevonte Martin-Manley
and two pick-sixes from cornerback
B.J. Lowery
. Iowa's defense has yet to allow a rushing touchdown. After a miserable offensive performance in 2012, Iowa is starting to establish an identity behind its line and a stable of running backs. Minnesota is doing the same, finally showing it can control the line of scrimmage and dominate on the ground. Despite not having its starting quarterback (
Philip Nelson
) or starting running back (
Donnell Kirkwood
), Minnesota racked up 353 yards and six rushing touchdowns, including four by backup signal-caller
Mitch Leidner
, in an impressive win against San Jose State. The Gophers are 4-0 for the second straight season. Both teams have very challenging league schedules, so getting off to a 1-0 start is huge. Big one at TCF Bank Stadium this week.
4. Bo Pelini is still standing, but needs time to regroup:
The open week couldn't come at a better time for Nebraska's coach and his team, which ended an emotional week with a
59-20 thumping
of FCS South Dakota State. The firestorm from audio-gate should die down, at least a little, as Pelini got through Saturday's game without any further controversy, and received mostly support from Huskers fans. Pelini is hardly out of the woods, though, and must turn his attention to a defense that needs a ton of work before Big Ten play begins Oct. 5 against Illinois. The Huskers surrendered 465 yards to the Jackrabbits, who had a balanced attack (238 yards passing, 227 yards rushing). Pelini called it the defense's worst performance in a season filling up with them. Whether it's youth, talent, scheme or attention to detail, Nebraska's defense must get back on track soon. Although the schedule remains favorable the next month or so, it's hard to see the Huskers repeating as Legends Division champs without some significant upgrades on D.
5. Indiana still hasn't arrived:
Indiana entered the year with high hopes for a bowl game this year, and with a warp-speed offense averaging 50 points a game through three weeks, the Hoosiers didn't appear to be deluding themselves. But after an impressive showing last week against Bowling Green,
Kevin Wilson
's team found itself right back in a familiar spot: unable to defend a good team. Missouri racked up 623 yards -- the most in Memorial Stadium history -- in a
45-28 win
in Bloomington on Saturday. The game wasn't even as close as the final score, as Indiana tacked on a touchdown and two-point conversion with 10 seconds to go, and Missouri had three turnovers in the first half to kill promising drives. The Hoosiers' vaunted offense failed to score from the 6:31 mark of the second quarter until there was 11:24 left in the game, and IU punted nine times after punting only five times in the first three games combined. The loss to Navy now hurts even more, as Wilson's team would have to go 4-4 in Big Ten play to become bowl eligible. That seems like an awfully tall order. Penn State comes in next after a bye for both teams, and the Nittany Lions just righted their defense in a
34-0 shutout of Kent State
. Penn State has never lost to Indiana and will be favored soundly again on Oct. 5. It might be wait for next year time again in Hoosierland.
September, 22, 2013
Sep 22
9:00
AM CT
Recognizing the best and the brightest from Week 4 in the Big Ten:

Iowa PR/WR Kevonte Martin-Manley and CB B.J. Lowery:
Here's one way to ring up a bunch of points: Get four combined special teams and defensive scores. Martin-Manley scored on back-to-back punt returns in the second quarter, from 83 yards and 63 yards out, and Lowery brought a pair of interceptions to the house, from 35 and 13 yards away, in the Hawkeyes' 59-3 blasting of Western Michigan.
Ohio State QB Kenny Guiton:
OK, it was only Florida A&M, which was wildly overmatched in the Horseshoe. Still, we have to acknowledge Guiton's unbelievable run as
Braxton Miller
's replacement. He set a Buckeyes' record with six touchdown passes while completing 24-of-34 passes for 215 yards in the 76-0 whitewashing. And now it's probably back to being the backup when Miller returns.
Minnesota QB Mitch Leidner:
Subbing for the injured
Philip Nelson
(hamstring), Leidner set a Gophers quarterback record with four touchdown runs in a 43-24 win over San Jose State. He piled up 151 yards on 24 rushing attempts and was virtually impossible to bring down on first contact. Leidner only completed five passes for 71 yards, but Minnesota hardly needed to throw, as its ground game dominated.
Wisconsin RBs Melvin Gordon and James White:
The Badgers' dynamic backfield duo was at it again versus Purdue. Gordon ran 16 times for 147 yards and three touchdowns, while White added 145 yards on 16 carries, as both averaged better than nine yards per attempt. White also had three catches for 49 yards in the 41-10 conference victory.
Michigan LB Desmond Morgan:
He gets a sticker for just one play, but it was a big one. Morgan picked off UConn's
Chandler Whitmer
early in the fourth quarter and returned it 29 yards to set up the tying touchdown in Michigan's 24-21 escape in East Hartford. That might go down as a season-saving play for the Wolverines.
September, 22, 2013
Sep 22
12:45
AM CT
The Big Ten Leaders Division race could very well be decided next week when Wisconsin goes to Ohio State. With Penn State ineligible for the conference championship game and Illinois, Indiana and Purdue all looking at least a step behind, the winner of that Saturday showdown in Columbus will occupy the inside lane on the road to Indianapolis.
As for the Legends race? Well, it might take all season to sort out that scrum.
A little more than a week ago, Michigan looked like the division favorite. That was before the Wolverines barely got by Akron at home, and then -- as if to prove that wasn't merely a post-Notre Dame letdown -- they struggled mightily in a come-from-behind, 24-21 squeaker at winless UConn in Week 4. Brady Hoke's team has some serious issues, including an unreliable running game and
Devin Gardner
's sudden inability to keep the ball from going to the other team.
[+] Enlarge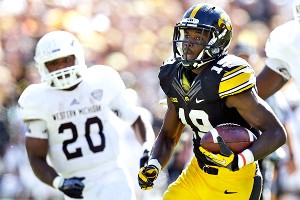 AP Photo/Charlie NeibergallB.J. Lowery had a pair of pick-sixes in Iowa's win and the improved Hawkeyes are showing signs of life in the conference race.
Northwestern remains a major threat, but the Wildcats' tendency to play down to their competition surfaced again in an unimpressive 35-21 win over Maine. It sure seemed as though Pat Fitzgerald's team was playing with one eye on the calendar, which presents a bye week in Week 5 followed by possibly the biggest regular-season game in school history: Ohio State's visit to Evanston on Oct. 5.
In South Bend, Michigan State showed it is exactly what we thought -- a great defense saddled by continual ineptitude on offense. The Spartans will be in every game because of that defense; how many they can actually pull out is a big question mark. Nebraska weathered the storm of the Bo Pelini controversy but still hasn't ironed out its problems on defense, which is priority No. 1 for Pelini for the upcoming bye week.
But the real reason the Legends has become so unpredictable is because the bottom has risen up.
Two of the most eye-opening performances of Week 4 in the Big Ten belonged to Iowa and Minnesota. The Hawkeyes smothered Western Michigan 59-3, getting four non-offensive scores on a pair of punt return touchdowns by
Kevonte Martin-Manley
and two pick-sixes by cornerback
B.J. Lowery
. Head coach Kirk Ferentz called it a "doubledouble victory" because for once the Hawkeyes got to empty their bench and didn't have to lean too hard on workhorse back
Mark Weisman
. Iowa is now 3-1 and starting to develop toughness in the trenches, the leading trait of all Ferentz's teams.
"We're pleased with the win, don't get me wrong, but I think everybody realizes we're still very much a work in progress," Ferentz said after the game. "But I think we improved today. There's no question I felt better today than I did two weeks ago sitting here. We're on the right track, but it's daytoday, weektoweek, and I know our older guys understand that."
The Hawkeyes are by no means a juggernaut, but they're turning into the type of team no one will want to play. The same goes for Minnesota, which pounded San Jose State 43-24 behind 353 rushing yards and only 12 passing attempts. The Gophers improved to 4-0 against an admittedly weak schedule, but they have a definite identity.
"They are Midwest, Big Ten football," San Jose State head coach Ron Caragher said in what must have been music to Jerry Kill's ears. "It is about the power run game for four yards and eat up the clock."
Iowa and Minnesota will knock heads for the Floyd of Rosedale next week in what should be one of the most evenly-matched editions of the pig game in several years. While it's unlikely that either will win the Legends, both teams appear much better equipped to compete physically with their division opponents than they did a year ago.
That's why the Legends race should be fun to follow, long after the Leaders' frontrunner is determined next week.