Chicago Colleges:

Barry Alvarez
October, 10, 2014
Oct 10
10:00
AM CT
Week 7 is here, and let's not sugarcoat it: Big Ten football has looked more interesting on other weekends. This first Saturday of the season without nonconference action lacks marquee matchups. Still, the division races will continue to take shape.
Here's a look at the five games (all times Eastern):
Noon
Illinois (3-3) and Wisconsin (3-2)
, ESPN2: Will
Melvin Gordon
run for 300 yards? If the Badgers wanted it to happen, Illinois' 119th-ranked rushing defense would likely comply. More of the intrigue in Madison involves the quarterbacks. For Wisconsin,
Joel Stave
, who returned last week against Northwestern, will see time, in addition to
Tanner McEvoy
, who might also take a shot at receiver. And with Illinois'
Wes Lunt
out with a fractured leg, senior Reilly O'Toole and sophomore
Aaron Bailey
, who was set to redshirt, have competed in practice this week.
Indiana (3-2) and Iowa (4-1)
, ESPNU: Indiana has shown it can win on the road in tough spots, handing Missouri its lone loss on Sept. 20. The Hoosiers are more explosive on offense than any foe Iowa has faced. But Indiana still can't defend well, in particular against proficient quarterbacks. The Hawkeyes are going back to
Jake Rudock
at the start, but
C.J. Beathard
will play. How well can Greg Davis manage this? If it's a disaster, Indiana might just find itself in the right place at the right time for an upset bid.
[+] Enlarge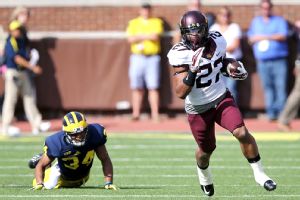 Leon Halip/Getty ImagesDavid Cobb and Minnesota can take a big step in their quest for a Western Division crown by beating Northwestern on Saturday.
Northwestern (3-2) at Minnesota (4-1)
, BTN: Who would have guessed a month ago, as the Golden Gophers fell flat at TCU and the Wildcats sat winless, that this game would have legitimate implications for the West Division title race? It does, with NU in quest of a third straight unexpected win to open league play. Its defense led the charge against Penn State and Wisconsin. Minnesota is simply solid, led by
David Cobb
, statistically the league's most valuable offensive player. Minnesota has defended the pass especially well in recent games and will test Northwestern's
Trevor Siemian
, 13th in the Big Ten in QBR.
3:30 p.m.
No. 8 Michigan State (4-1) at Purdue (3-3)
, ESPN2: At least it's not the best team in the Big Ten against the worst. Purdue escaped the low spot last week with a win over Illinois. And sophomore quarterback
Austin Appleby
looked good in the victory. Very good, in fact. Back at home, he figures to find a much more difficult situation against the Spartans, who might come in a bit angry after nearly blowing a 24-point, fourth-quarter lead against Nebraska.
7 p.m.
Penn State (4-1) at Michigan (2-4)
, ESPN2: The visitors from Happy Valley, after an off week, get an opportunity to show that their anemic performance against Northwestern was just a fluke. With an upcoming stretch of three challenging games, no better time exists for PSU to get healthy than at Michigan, trying to avoid its first 0-3 start in the Big Ten since 1965. Against a good Penn State front, the Wolverines must protect
Devin Gardner
and throw the football, neither of which they've done well in recent weeks.
Required reading
June, 25, 2014
Jun 25
11:00
AM CT
It's OK, these links don't bite.
May, 15, 2014
May 15
11:10
AM CT
ROSEMONT, Ill. -- If you've listened to Jim Delany lately, you undoubtedly have heard the Big Ten commissioner talk about living on the East Coast, not just visiting.
It's all part of the Big Ten's push to be a bi-regional conference with the additions of new members Rutgers and Maryland on July 1. The league has
partnered with the Big East
for the Gavitt Tipoff Games in men's basketball and moved the 2017 men's basketball tournament
to the Verizon Center in Washington D.C
. The football championship game, which will remain in Indianapolis at least through 2015, likely will
stay in the center of the league
.
[+] Enlarge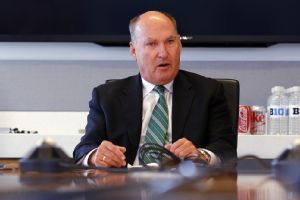 AP Photo/Nam Y. HuhJim Delany knows the Big Ten has to walk a fine line between building the Big Ten's presence out East while not forgetting its Midwest roots.
Delany, a New Jersey native and the driving force behind the Maryland and Rutgers additions, is not surprisingly devoting much of his time and energy to all things East Coast.
"The challenge will be living in two regions," Delany said Wednesday after the league's athletic directors met. "All the major conferences are doing it. Nobody has done it before. That will require a real concerted effort to build, make friends, become relevant and build relationships. That's what we're in the process of doing.
"But the other side of it is that 80 percent of our historic fan base and our alums aren't in this region."
In some ways,
that's
the real challenge for Delany and the Big Ten: building the brand in a new, competitive region, without forgetting where you came from and what made you who you are.
"I want to get a better sense of what our landscape is going to look like in the conference with the Eastern push," Michigan State athletic director Mark Hollis said. "It's an extremely important component for the conference. It's important for Michigan State because of the donors we have there. But you don't want to leave the Midwest in the wake of an Eastern push.
"Our conference is founded in the Midwest, and it's important we continue to understand those roots. While excited to have this new frontier, our foundation is in Chicago and Indianapolis and Detroit and other areas. I just want to make sure we protect our homeland while flanking out to a very important East Coast."
Hollis is absolutely right. While time, money and some events should be devoted to the new territory, the Big Ten can't alienate its base, a large chunk of which remains miffed about the new additions. But the Big Ten's latest expansion always was less about the specific schools than their locations.
If the ACC hadn't added Pitt and Syracuse -- infringing on the eastern edge of the Big Ten's current footprint, because of Penn State -- there might not have been a need to get bigger than 12. But the Big Ten felt it needed to protect Penn State and enhance its footprint, especially with a new TV contract on the horizon.
"That's the new Big Ten," Wisconsin AD Barry Alvarez said. "We all have to accept it, our fans have to accept it. We want to welcome our two new members in Rutgers and Maryland, and we want a presence in the East. We want to take advantage."
It's Delany's job to capitalize on those advantages, while not turning his back on the region that defines the league.
"You're going to see a rotation [of events] and a respect for both regions," Delany said. "You're going to see a representation in both regions with our competitions, our championships, our television network and our alumni base."
May, 14, 2014
May 14
6:30
PM CT
ROSEMONT, Ill. -- The Big Ten spring administrators' meetings wrapped up Wednesday with more discussion about the proposed NCAA governance changes,
nonconference scheduling
, athlete welfare and other topics.
Here are some notes from Day 2:
COST OF ATTENDANCE
Big Ten schools are in agreement that increasing the value of athletic scholarships to federal cost-of-attendance figures needs to happen. They've felt this way for years.

But the increase means different things for different institutions and different leagues, as some, like the Big Ten, sponsor more sports than others. The Big Ten ADs spent much of their meetings discussing the details.
"It varies from $1,200-$4,900 [per scholarship] just in our league," Wisconsin athletic director Barry Alvarez said. "I think ours is in the $3,000-$4,000 range, so we're probably talking about another $1 million to $1.5 million just on cost of attendance. I'm very supportive of that. I've always been supportive of whatever we can do for the student-athletes."
Such a large gap, however, could allow some programs to use their more valuable scholarships as advantages in recruiting. Michigan State AD Mark Hollis, who said the cost-of-attendance plan would be about $1 million for the school, thinks there needs to be a "firewall" between athletic departments and financial aid offices in how numbers are calculated.
"Every school tends to take whatever information they have available and try to make it to their advantage," Hollis said. "It'd be a bad situation to use cost-of-attendance as a recruiting advantage, but the likelihood is that will come into play."
FUTURE FOOTBALL CHAMPIONSHIP GAME SITES
[+] Enlarge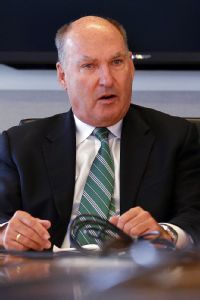 AP Photo/Nam Y. HuhJim Delany expects the Big Ten football title game to remain in the Midwest.
The Big Ten expects to finalize future sites for football championship games and basketball tournaments after the league's presidents and chancellors meet in early June. Indianapolis has hosted the first three football title games and is contracted to host the 2014 and 2015 games.
Although the men's basketball tournament heads to Washington, D.C., in 2017 and likely will make other future appearances on the East Coast, the football championship isn't expected to leave the Midwest.
"A central location would be the presumption," commissioner Jim Delany said of future sites.
DEFENDING THE COLLEGIATE MODEL
Delany said the Big Ten would "aggressively" defend itself against several antitrust lawsuits challenging the collegiate model, even if the cases go all the way to the U.S. Supreme Court. He said polls show most people don't want unions with college sports, pay-for-play systems or some type of minor-league system.
"There's a tremendous public interest in what we do," Delany said, "and some of what we do could be improved upon. I think people are just saying to us, 'Get it right, get it balanced.'"
Delany sees that as a three-step process: restructure and reform; defend themselves against litigation and advocate for all college athletes. How they address cost-of-attendance, athlete time demands, health coverage and other topics will be under the microscope.
The commissioner reiterated the need to set up a
voting model
to push through change.
"We're going to have a scorecard," Delany said, "and the question is going to be, what did you accomplish?"
TIME SPENT ON SPORTS
Athlete welfare was a big topic here this week, including increased amount of time they devote to their sports. Delany, who
brought up the issue last summer
, wants to consult athletes and coaches about how to strike a better balance with time.
The major conferences could implement "dead periods" after seasons or in the summer. Delany mentioned study abroad programs and internships, two opportunities many students enjoy but most athletes cannot, as areas that should be explored.
"We need to really inspect the experience," Delany said, "talk to the athlete, talk to the coach, and come up with a template is that is more flexible and more balanced."
ODDS AND ENDS
Iowa was not offered a night game this season and will not appear in prime time for the second straight year, but athletic director Gary Barta doesn't think it suggests the school has second-class status in the league. "At the end of the day, we'd love to have one or two night games a year," Barta said. "We don't have one this year. That's not going to affect the way we go into the season. We're going to be excited and play the games."

Purdue athletic director Morgan Burke reiterated that athletes need more power in shaping the decisions that affect their experiences. He also thinks recently graduated athletes could be involved in the discussion because they can devote more time. "You want to make sure the voice is not a token thing," Burke said. "I've found that if you engage people at the earliest possible time on all the facts you have, the chances of having wide disagreements dissipates. You drive yourself closer together."

Alvarez, a member of the playoff selection committee, is concerned about the rising cost of travel with an expanded football postseason. He saw it firsthand this spring as Wisconsin's men's basketball team made the Final Four. "We have to be sensitive about [ticket] pricing," Alvarez said. "It's been brought up."

It wouldn't be a Big Ten meeting if the expansion question didn't come up. But Hollis doesn't think the league is looking to increase beyond 14 members. "We're going to 22," he joked. "We're settled at the number that we have. Expansion is always done for strategic reasons. Sometimes it's reactionary to what's being done on the national landscape, but it was extremely important to the Big Ten to ensure that Eastern corridor was protected as other conferences had rubbed into some of our traditional markets. The new Big Ten logo is not a B-1-6. It's actually a B-one-G.
January, 8, 2013
1/08/13
10:13
AM CT
Alabama and Notre Dame put a bow on the 2012 college football season Monday night. Most of the Big Ten would just as soon douse it with gasoline and light a match.
But before a largely forgettable 2012 Big Ten season goes up in flames, let's take one final look at the power rankings following the bowls. Ohio State not surprisingly remains on top, and the bottom three teams stay the same as well. There's a bit of shuffling among the seven bowl teams after varying performances. As has been the case most of the season, very little separates Nos. 2-6.
Here's a look at the
pre-bowl power rankings
.
Let's get to it ...
1. Ohio State (12-0; previously: 1):
The Buckeyes will occupy this spot until they lose a game, which might be a while under coach Urban Meyer. After recording just the sixth unbeaten, untied season in team history, Ohio State sets its sights on even bigger goals as it emerges from NCAA sanctions. The Buckeyes showed major strides on offense behind sophomore quarterback
Braxton Miller
and improved on both lines as the season went on. Meyer exceeded most expectations in Year 1, but they'll be much higher in 2013.
2. Northwestern (10-3; previously: 5):
Pat Fitzgerald's team moves up three spots after claiming its first bowl victory in 64 years. There was surprisingly little drama as Northwestern capitalized on Mississippi State's errors and won the TaxSlayer.com Gator Bowl by two touchdowns. The Wildcats recorded just the third 10-win season in team history and easily could have won another game or two despite a young roster. Things are headed in the right direction in Evanston.
3. Michigan (8-5; previously: 2):
The Wolverines were one defensive stop away from recording the most impressive win in the Big Ten's bowl season and in the Brady Hoke era. They paced a very talented South Carolina team in the Outback Bowl and received big performances from wideout
Jeremy Gallon
, running back
Denard Robinson
and quarterback
Devin Gardner
. Unfortunately for Michigan, an elite pass defense couldn't get it done in the end. Four of Michigan's five losses came against top-10 teams, but an 8-5 record isn't what Hoke or his players had in mind this fall.
4. Penn State (8-4; previously: 3):
Penn State and Michigan are similar in that both teams have "good" losses on their résumés (Michigan a few more than Penn State). Both teams rallied to beat Northwestern at home, while Penn State has another quality win against Wisconsin. The Lions and Wolverines didn't play one another, and we'll never know how Penn State would have fared against a team like South Carolina. Michigan gets the slight edge here, but Penn State had a terrific season behind a dramatically improved offense and a defense led by senior stars
Michael Mauti
,
Jordan Hill
and
Gerald Hodges
.
5. Nebraska (10-4; previously: 4):
The Huskers beat the three teams ahead of them in the rankings, but the power rankings place more weight on recent results, and Nebraska finished the season with a thud. Bo Pelini's team surrendered 105 points in its last two games -- losses to Wisconsin in the Big Ten championship game and to Georgia in the Capital One Bowl. Nebraska showed it could move the ball and score against anyone, despite being turnover-prone. But the defense was abysmal in the four losses and raises serious concerns for Pelini's program going forward.
6. Wisconsin (8-6; previously: 6):
The Barry Alvarez-led Badgers showed they could hang with Stanford, but they couldn't take advantage of the unique opportunity to play in the Rose Bowl despite finishing third in the Leaders Division. The inconsistent offensive execution that plagued Wisconsin throughout the season surfaced once again against a tough and talented Stanford defense. Wisconsin just didn't have enough firepower to get over the hump, which was really the story of its season.
7. Michigan State (7-6; previously: 7):
A come-from-behind win against TCU in the Buffalo Wild Wings Bowl takes the sting off of a season that didn't go according to plan for Michigan State. The Spartans leaned on their defense and received just enough offense from backup quarterback
Connor Cook
and Co. to get past a young Horned Frogs team in Tempe, Ariz. Michigan State posted its second straight bowl win under coach Mark Dantonio and said goodbye to three juniors -- running back
Le'Veon Bell
, tight end
Dion Sims
and defensive end
William Gholston
-- in the days following the game.
8. Minnesota (6-7; previously: 9):
Minnesota appeared poised to give the Big Ten a surprising 1-0 start to the bowl season. The Gophers made strides on offense between the end of the regular season and the Meineke Car Care Bowl of Texas, as young quarterback
Philip Nelson
and the offensive line looked a lot better against Texas Tech. But Minnesota still doesn't know how to finish and suffered breakdowns down the stretch in a tough loss to the Red Raiders. The team still doubled its win total in Jerry Kill's second season and could make some noise in a tough Legends Division next fall.
9. Purdue (6-7; previously: 8):
The Boilers and Minnesota swap places after Minnesota performed much better in its bowl game than Purdue did. A mismatch on paper turned into a total whitewash on the field as Oklahoma State, which had no business being in the Heart of Dallas Bowl, outclassed Purdue from the get-go. Purdue's once-promising season ended with a thud as a veteran-laden Boilers team that kept pace with both Notre Dame and Ohio State struggled mightily against most of the good to great teams it faced this season.
10. Indiana (4-8; previously: 10):
After going 1-11 in Kevin Wilson's first year, Indiana could only get better and took some important steps this season. The Hoosiers showed they can score points on just about every defense in the Big Ten, and their group of skill players is among the league's best. IU's defense still isn't at a Big Ten level and improving the talent and depth on that side of the ball is the chief challenge for Wilson and his staff entering the 2013 season.
11. Iowa (4-8; previously: 11):
A bowl appearance looked like a guarantee for Iowa before the season as the schedule set up favorably for eight or more wins. But the offense took a giant step backward, and injuries hurt the unit throughout the season. Iowa's defense kept it in quite a few games but also let down against better offenses like Northwestern and Michigan. The Hawkeyes will look for more cohesion on offense and more playmakers to emerge. The Legends Division only seems to be getting tougher.
12. Illinois (2-10; previously: 12):
No team and no coach wants to turn the page on 2012 more than Illinois and Tim Beckman. Almost nothing went right in Beckman's first season, as the offense stalled and the defense struggled against spread offenses. The Illini dropped all eight of their Big Ten contests and lost by fewer than 14 points just once. Perhaps new offensive coordinator Bill Cubit can get the offense on track. The defense, meanwhile, must fill holes up front and in the secondary. At least Illinois gets a fresh start in 2013.
December, 20, 2012
12/20/12
2:01
PM CT
We must remember this season that, outside of the national title game and the other BCS games, postseason results are forgotten quickly.
Yes, overall bowl performance can certainly help or harm a league's image, and the Big Ten could use a positive showing this year. But most people will have a hard time remembering who won the Outback or Heart of Dallas bowls a few months from now, and wins or losses in the postseason don't necessarily have an effect on the following season. See Michigan State, which scored the Big Ten's best bowl win last year, over Georgia, but didn't do much to continue that momentum with a 6-6 season in 2012.
Still, bowl wins can lead to better perception and set up higher preseason rankings for the following year. With that in mind, we thought we'd take a look at which Big Ten teams could most use a bowl victory this year. Our top five candidates:

Northwestern
(vs. Mississippi State in the Taxslayer.com Gator Bowl): Beating an SEC team would be a nice cap to a strong season for the Wildcats. But who are we kidding? Just beating anybody in a bowl game would be a thrill, and a relief, for a program that is tired of talking about not having won one since 1949. Shedding that albatross would help Pat Fitzgerald and everyone else in purple move forward. A win would also mean a 10-3 season, and for a team that brings nearly everybody back, that should equate into a preseason ranking in 2013.
Wisconsin
(vs. Stanford in the Rose Bowl Game presented by Vizio): Hey, it's the Rose Bowl, so of course a victory would be meaningful. The Badgers are eager to avoid a third straight loss in Pasadena, and they have a chance to get Barry Alvarez his fourth Rose Bowl title. Things are going to change immensely after the game with a new head coach regardless of the outcome, but some positive vibes sure couldn't hurt.
Nebraska
(vs. Georgia in the Capital One Bowl): The Cornhuskers have to be disappointed to be back in Orlando and not in the Rose Bowl. But a victory over a highly ranked SEC team would erase some of the sting of that Big Ten title game disaster. Beating Georgia would also remove some of the criticism surrounding Bo Pelini as fans couldn't complain too much about an 11-win season.
Michigan
(vs. South Carolina in the Outback Bowl): The Wolverines lost every one of their high-profile games this season (Alabama, Notre Dame, Ohio State and Nebraska) to finish 8-4. Beating the Gamecocks would reverse that trend and end the year on a positive note. If Devin Gardner has a big game against a nasty South Carolina defense, it could be a good sign of things to come for '13.
Minnesota
(vs. Texas Tech in the Meineke Car Care Bowl of Texas): Just advancing to a bowl game in Year 2 under Jerry Kill was a strong accomplishment, and the Gophers are heavy underdogs against the Red Raiders. An upset win wouldn't suddenly turn Minnesota into a 2013 Legends Division favorite, but it would register as probably the biggest victory to date of the Kill era and send this young team into winter conditioning with a serious bounce in its step. Playing well in Texas could also aid recruiting efforts.
Which of these five teams would benefit the most from a bowl win? Vote now in our poll.
April, 24, 2012
4/24/12
8:00
AM CT
It figures that the most important meetings to determine college football's future postseason structure are taking place this week in Hollywood, Fla.
After all, every other meaningful event in the sport occurs well south of the Mason-Dixon Line.

Big Ten commissioner Jim Delany needs to make sure that changes, no matter which playoff format the BCS leaders ultimately choose. Forget the laughable "Four Teams Plus" plan that keeps the Rose Bowl in the mix for determining the national champion, but has virtually no chance of being approved by commissioners not from the Big Ten or Pac-12. While Delany loves the Rose Bowl and always will, his top priority this week in South Florida should be proximity.
If a four-team postseason plan is green-lighted, as many expect, Delany must ensure that it's possible for at least some of the games to be played in or near the Big Ten footprint. Because the current system doesn't serve the Big Ten or its fans.
There are myriad reasons for the Big Ten's downturn during the BCS era, but the location of the most significant bowl games, including the national championship, undoubtedly hurts the league, which has played several virtual road contests.
Since the BCS launched in 1998, the Big Ten has dropped two games to LSU in New Orleans, including the national title game after the 2007 season. The Big Ten also is 0-4 against USC at the Rose Bowl. While there are exceptions, like Penn State's Orange Bowl win against Florida State, Big Ten teams generally become roadkill in these matchups.
The Big Ten's destination dilemma is inherent within the current bowl/BCS system. The big bowl games always have been played in the south and west, and because of the "double-hosting" model, the same holds true for the national championship games. Most Big Ten fans understand the reasons behind this, and have willingly hopped on airplanes every December and traveled far and wide to see their teams play. It's this willingness that has made Big Ten teams so attractive to BCS bowl committees.
But the
future postseason structure will bring change
. A four-team setup would create two semifinals, which might take place within the current bowl structure, but most likely will not. The semis could take place at on-campus sites belonging to the higher seeds, a plan Delany advocates, or at neutral sites like Indianapolis' Lucas Oil Stadium and Detroit's Ford Field. The Edward Jones Dome in St. Louis? Beats facing LSU in NOLA.
"Yes, has to be," Ohio State athletic director Gene Smith recently told ESPN.com. "If you go neutral sites, you've got to have one in the Midwest. You've just got to. If it's campus sites, it's hard to dictate that, because it depends on the rankings. If you go campus sites, you hope some Midwest team is up there and they get to host."
Although Big Ten fans travel better than any in the country, the cost of making two long trips -- for the semifinals and championship game -- in a short span around the holidays will be too much for many to bear.
"If you think about it, just about every conference now has a [championship game], so you expect your fans to go to that," Wisconsin athletic director Barry Alvarez, who is attending the BCS meetings along with Delany, told ESPN.com. "Now you're going to go to a bowl site, and if you're in a championship game, that's three games you want them to travel to. It would be nice if one of those games would be at a home site, or two of them."
There's also the possibility the national championship game moves away from the bowl sites and goes to the highest bidder, which could bring venues like Lucas Oil Stadium and Ford Field into the rotation. The chance to play for a title on Big Ten soil will excite fans around the Midwest, but they'll settle for having some type of nationally relevant football game within driving distance in late December or early January.
Delany's ideal setup likely would call for semifinal games on campus, and the national title game at the Rose Bowl every year. Don't hold your breath on either element coming to fruition, but having a neutral-site semifinal in the Midwest every year certainly isn't too much to ask.
Big Ten fans have served their league and its teams extremely well by traveling in droves to big-time bowl games in faraway destinations.
It's time for Delany to return the favor by ensuring they'll have a chance to see their teams play meaningful games closer to home.
TOP 25 SCOREBOARD
Thursday, 10/23
Friday, 10/24
Saturday, 10/25
TOP PERFORMERS