Chicago Colleges:

Ben Koyack
June, 13, 2014
Jun 13
10:53
AM CT
One of the bigger storylines around Notre Dame this spring was whether Tight End U had a capable successor after the early departure of
Troy Niklas
.
Ben Koyack
spoke like a guy who was comfortable in his new No. 1 role, and the Irish's coaching staff talked about him becoming a major player in the passing game.
[+] Enlarge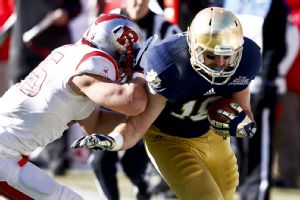 Jeff Zelevansky/Getty ImagesBen Koyack says he's ready to take the reins at tight end.
The expectations continue to rise for Koyack outside South Bend, Ind., as well. Mel Kiper Jr.
has placed Koyack as his No. 3 senior tight end for the 2015 NFL Draft

, citing his long frame (6-foot-5, 260 pounds) and his ability to run. Koyack is the third different Notre Dame player this week to make one of Kiper's position lists,
joining
Sheldon Day
and
KeiVarae Russell
. And Koyack is the first senior of that group to be listed.
Ironically enough, the man in front of Koyack at No. 2 is Ohio State's
Jeff Heuerman
, the older brother of
Mike Heuerman
, who is expected to be one of Koyack's primary backups this fall at Notre Dame.
We
touched on Koyack's stock a little bit last week
when Phil Steele named him as a third-team preseason All-American. The Oil City, Pa., native came on strong down the stretch last season, catching nine passes for 152 yards and two touchdowns during the Irish's final six games. (He had only one catch, a 19-yard touchdown grab, in the seven games prior.)
Koyack is well aware of the Notre Dame tight end lineage he is stepping into. It seems now as though more and more are becoming aware of Koyack, which would be a big boost for the Irish passing game in 2014.
June, 9, 2014
Jun 9
9:00
AM CT
Three
Notre Dame
players
were named preseason All-Americans by college football guru Phil Steele
, with linebacker
Jaylon Smith
leading the Irish pack by making the second team.
In what might come as a slightly bigger surprise, tight end
Ben Koyack
made the third team and cornerback
KeiVarae Russell
made the fourth team. Koyack's stock obviously is rising after a strong finish to last season, especially with
Troy Niklas
having left early for the NFL. Now a senior in the No. 1 tight end role, Koyack will be counted upon to become an integral part of the Irish's passing game, which has featured no shortage of tight end success in recent years. Steele obviously sees a lot in the Oil City, Pennsylvania, native, who caught 10 passes last season for 171 yards and three scores.
Russell, meanwhile, is coming off consecutive strong seasons at corner and, in keeping with his usual unfiltered self, has talked openly about trying to become the best cornerback in the country. Playing more press coverage under new coordinator Brian VanGorder should only help in that effort, and it would not be a huge shock if Russell were to play his way into first-team or second-team All-America status by season's end.
DaVaris Daniels
, arguably the Irish's best skill player, did not make any of the 30-man teams, though receiver looks to be a ridiculously stacked position throughout the nation this year. If Daniels can pick up where left off with
Everett Golson
two years ago, and if his off-site training during his spring exile pays dividends, the redshirt junior figures to be one of the better receivers in the country.
One familiar name at receiver who did garner preseason All-America status was
Deontay Greenberry
, who was once committed to Notre Dame and enters his junior season at Houston on Steele's fourth team.
Florida State, which hosts Notre Dame Oct. 18 in the Irish's first true road game, led the nation with five first-teamers and 11 total players on Steele's list.
April, 29, 2014
Apr 29
11:00
AM CT

Three things we learned in the spring
The QB rotation is stable: Everett Golson is back from his 2013 suspension, hardened and bigger than ever. And Malik Zaire has taken full advantage of the opportunity Brian Kelly has given him, after Kelly declared the job open. (Notre Dame had just two scholarship quarterbacks this spring.) While few expect Golson to relinquish his hold on the starting role, the prospect of a hungry, capable backup has to make new QBs coach Matt LaFleur happy.
Greg Bryant looks like a playmaker: A rough start to Bryant's career last year might have been a blessing in disguise, as knee tendinitis allowed him to redshirt and essentially get a do-over in 2014. The returns this spring have been phenomenal, with the No. 2 running back prospect from the Class of 2013 bringing a burst to the run game that was absent last season. He turned heads in the spring game and says he is carrying a more mature head on his shoulders after last season, as he's hungry to get back on the field and make plays.
The secondary is primed to breakout: Notre Dame does not lack for bodies among its defensive backs. KeiVarae Russell enters his third year of starting ready to be one of the nation's top corners, and the Irish return four safeties with starting experience -- one of whom, Matthias Farley, moved to nickelback this spring. Throw in Florida transfer Cody Riggs at corner this summer -- as well as the aggressive approach of new defensive coordinator Brian VanGorder, who will bring more press coverage -- and the secondary has all of the ingredients to be very good in 2014.
Three questions for the fall
Where will the pass-rush come from? The Irish said goodbye to Louis Nix and Stephon Tuitt, two linemen who made their living in opposing backfields. There are simply no big, athletic bodies like them on this year's roster. With a revamped front-seven, VanGorder will be tasked with finding new ways to generate pressure on the quarterback. Perhaps senior Ishaq Williams, now primarily at end, can add a boost to the line.
Which receivers will step up? With DaVaris Daniels (academics) gone this spring, it was essentially an open audition for Irish receivers, only two of whom had ever caught balls from Golson before (Chris Brown and tight end Ben Koyack). Corey Robinson has continued his growth after a promising freshman campaign, and Koyack will have to emerge as a bigger receiving threat after handling mostly blocking duties next to the departed Troy Niklas. Daniels' expected return this summer will provide a major boost to this group.
Will special teams play finally improve? Few areas have given Notre Dame trouble in recent years the way special teams has, particularly the punt return game. Awful weather this spring limited outdoor work, which limited ideal return opportunities. Bryant could emerge as the guy at punt return, though Tarean Folston and Torii Hunter Jr. may contend for chances as well.
One way-too-early prediction
Notre Dame will average better than 30 points per game for the first time in the Kelly era. In Golson, the Irish have the ideal quarterback in place to run the Kelly offense. And with the defense taking massive personnel hits up front while adjusting to a new scheme, the offense will be relied on more than ever to stretch the field, carry the load and put points on the board.
April, 24, 2014
Apr 24
9:00
AM CT
SOUTH BEND, Ind. -- Scott Booker and his players take a lot of pride in the tradition of excellence their group has produced. But despite Tight End U facing more uncertainty at the position than in recent memory, Booker, the Notre Dame tight ends coach, does not find himself having to explain the legacy that this relatively young unit is trying to carry on.
[+] Enlarge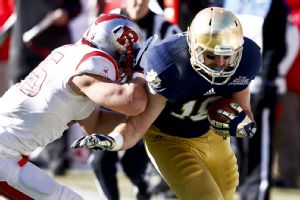 Jeff Zelevansky/Getty ImagesBen Koyack emerged as a receiving option last season, setting himself up for a breakout season as a junior.
"When they come here and they get recruited, it's easy to know about
Kyle Rudolph
,
John Carlson
,
Anthony Fasano
,
Mark Bavaro
back in the day," Booker said. "And obviously now recently,
Tyler (Eifert)
, Kyle and
Troy (Niklas)
. That's easy. That's what you do in recruiting, you do your homework.
"And when you do your homework as a tight end, coming out of high school, if you want to be successful, if you want to be on national TV every day and you want to catch a lot of balls and you want to have an opportunity to go to the league, I don't know what place is better. So you don't have to tell them where they're at."
Niklas' surprising early departure to the NFL put the Fighting Irish's tight ends on a learning curve this spring.
Ben Koyack
was forced into the No. 1 spot, with redshirt freshmen
Mike Heuerman
and
Durham Smythe
behind him. Freshmen
Nic Weishar
and
Tyler Luatua
will arrive this summer.
Koyack has drawn plenty of praise for the way he has carried himself among the youngsters since assuming his new role atop the depth chart.
"I think just the way he's coming every day prepared, ready to go," Booker said. "Watching the film before we watch the film as a unit. Talking to the guys, talking to Mike Heuerman, going out and eating with those guys. And just showing them how to be Notre Dame football players, and specifically Notre Dame tight ends, and the expectations that are put on us on a day-in, day-out basis. In all those facets he's been doing a better job continuing to grow."
Booker didn't want to compare Koyack to anyone before him, but the Oil City, Pa., native spoke with a renewed sense of confidence early in the spring, which can likely be attributed to his strong finish to the 2013 season. As a No. 2 tight end who was relegated to mostly blocking duties for much of last season, Koyack recorded 10 catches for 171 yards and three touchdowns, with all of those catches but a 19-yard scoring strike coming during the Irish's final six games.
Notre Dame is hoping that such improvement can have a trickle-down effect throughout the unit. Heuerman, who saw his redshirt all but confirmed early last season after having surgery to repair a hernia, is looking to add more weight, with the 225-pounder saying he sees himself adding 15 more pounds.
"It's all about making plays at the end of the day, and that's what I know I have to do," Heuerman said. "And now that Troy's gone, it kind of opens the door for someone to step in, so I'm excited to be able to be here now competing for that position and be here for summer and going to camp and (at the) end of the season still competing and making plays and doing what I do best, so I look forward to that."
March, 25, 2014
Mar 25
9:00
AM CT
All that talk about
Everett Golson
this spring must have gotten lost between the time Notre Dame's former starter returned to school and the time the redshirt was unofficially taken off the Fighting Irish's other returning quarterback.
No,
Malik Zaire
is not bowing down to anybody this spring, even if the man he is splitting reps with has a résumé that includes national title game experience.
"I don't see it as a competition at all -- I see it, I'm competing with myself to get better every day and competing with myself to be the best quarterback in the country, because I hope that's why a lot of guys come to college football, especially Notre Dame," Zaire said. "I'm not here to make this a one-on-one match with the next guy as me being the most prepared to lead this team to 12 victories and a national championship."
[+] Enlarge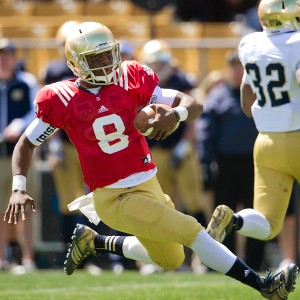 Matt Cashore/USA TODAY SportsDespite the pedigree that Everett Golson provides, Malik Zaire won't concede the Notre Dame starting job without a fight.
It's been there, nearly-done-that for Golson, which is why Brian Kelly raised a few eyebrows last month when he declared the starting job an open competition. What Golson's opponent lacks in experience he just might make up for in potential, as Zaire entered Notre Dame a year ago as ESPN's No. 6 signal-caller from the Class of 2013.
But with
Tommy Rees
and
Andrew Hendrix
now out of the picture -- and with incoming signee
DeShone Kizer
three months away from enrolling -- the burden is on Zaire to be more than window-dressing, to emerge as a viable in-game option for the Irish and perhaps even more.
"It's definitely put me in another level of capability in terms of just being comfortable within the offense," he said. "I think this year and this spring specifically it's got better for me because I'm in there a lot more than last year. Dealing with that, I'm feeling better as the days progress, I'm getting better as the days progress, I'm enjoying it as the days progress, so I'm just getting a lot better each day."
The southpaw gets the benefit of a clean slate with a new position coach in Matt LaFleur, and, by statistical measure, hardly trails Golson in the chemistry department with the current crop of receivers.
Only
Ben Koyack
and
Chris Brown
have caught passes from current Irish signal-callers, accounting for two receptions from Golson totaling 55 yards during that charmed run of 2012. Both the experience gap and the skill-set between Notre Dame's current quarterbacks are not what they were during Golson's ascension around this time two years ago, when he fought off the incumbent, football-savvy Rees -- who was never hesitant to share all that he knew with the underclassman.
"They're good together, they like each other," Kelly said. "Everett's not going to sit down and teach him the playbook, though. But they like each other, they get along very well, but it's not a Tommy Rees (situation), where Tommy Rees would sit down and teach Everett the offense; we don't have that kind of situation. These are two competitive kids. Malik wants to beat out Everett. But it's a very positive kind of atmosphere.
"(Zaire's) just a highly competitive kid, and he's extremely confident in his ability. Extremely. Sometimes I have to settle him down a bit. But that's a good thing. I'd rather have that than somebody who doesn't think he can do it. So the dynamic is very positive. They're very good with each other. They help each other. But it's not one where they're going to share notes and sit down and, 'Hey, how can I help you beat me out?' That's not happening."
Zaire treaded a path similar to Golson upon his arrival to Notre Dame last spring before coming down with mononucleosis during his first preseason camp. Kelly conceded that the 6-foot, 208-pounder probably got a little lost mentally as the reality of redshirting settled in, but he had come full-circle by season's end.
"When December rolled around, being in there and being at least kind of involved definitely impacted me in a way where I felt a lot more comfortable and I felt like myself," Zaire said. "I always say, 'You take the lion out of the wild and put him in the zoo for a while, he forgets how to be a lion.' In December, I was able to come right back and do what I've been doing since Day 1, and that's playing and being involved and being the quarterback that I am."
Whether that will be enough to pull off a monumental upset on the depth chart remains to be seen, but for now the only person Zaire is concerned with is Zaire, the name he thinks can take the first snap for the Irish come Aug. 30.
"This competition is more me getting better and finding whatever it takes to do and whatever it takes to get to that next level, so they don't have a choice but to play me," he said. "There are things that I can't control as well -- it's definitely an uphill battle on fighting in terms of what people believe to be a quarterback competition because of the guy that's been there and done that.
"So I can't concern myself with something I can't control. More of it is just like, whatever it takes for me to be on the field, and doing what it takes to be on the field and knowing that I got what it takes, that's all that really matters."
March, 6, 2014
Mar 6
2:00
PM CT
SOUTH BEND, Ind. --
Everett Golson
has a pretty good idea of what
DaVaris Daniels
is going through. Together, the redshirt juniors have been cast aside from Notre Dame in consecutive semesters because of academic shortcomings, with the quarterback missing the 2013 season and the receiver gone for this spring.
So in a sense, Golson has provided a blueprint for Daniels to return this summer and be ready to go when fall camp opens in August.
[+] Enlarge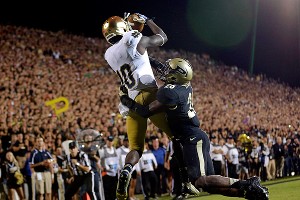 AP Photo/Michael ConroyDaVaris Daniels finds himself in the position that Everett Golson did -- having been kicked out of Notre Dame due to academic shortcomings.
"He was actually up here last weekend, so he came over and we were talking," Golson said. "I rapped with him a little bit, just going through kind of the same situation, encouraging him, letting him know everything is going to be fine. He's good. He's working out and doing his thing. I just can't wait to get him back."
Daniels' suspension became public in January, as he released a statement saying he planned to work his way back after a few months away. He
spoke last week with CBSSports.com
, detailing the pressures of mounting injuries and academic probation eventually leading to his GPA slipping below 2.0 in the fall.
The Vernon Hills, Ill., native is now working out at EFT Sports Performance in Highland Park, and he will be immediately counted on if and when he returns to the Fighting Irish, who said goodbye to other top targets
TJ Jones
(graduation) and
Troy Niklas
(draft) after last season.
Daniels' 49 catches for 745 yards and seven touchdowns last season all were good for second on the team. He grabbed 31 passes for 490 yards in his first season of action in 2012, with Golson as the primary signal-caller.
The two connected six times for 115 yards in the BCS title game loss to Alabama, one of the few bright spots in the 42-14 defeat.
For now, Golson is left to work with a new cast of receivers this spring, with
Ben Koyack
(one catch, 5 yards) and
Chris Brown
(one catch, 50 yards) being the only active players who have recorded receptions from him in the past.
"As long as [Daniels] takes care of the admissions process and getting back and he's readmitted, he'll be back here this summer," Notre Dame coach Brian Kelly said. "Now, he's got to take summer school when he gets back here and he's got to get his classes taken care of, and as long as he takes care of his classes this summer, he'll be eligible for all the games next year."
February, 18, 2014
Feb 18
9:00
AM CT
Our series looking at the top position battles to watch this spring continues with a spot the Irish probably didn't think they'd need to worry about in 2014.
Tight end
[+] Enlarge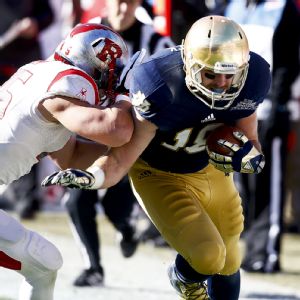 Jeff Zelevansky/Getty ImagesBen Koyack will step into a lead role in Notre Dame's offense with Troy Niklas leaving early.
To be sure, the fact that this is not a discussion about the No. 1 spot should calm a few nerves, if that's possible. Still, the surprising departure of
Troy Niklas
has accelerated the learning curve for what is a deep but relatively untested group of tight ends on the Notre Dame roster.
Ben Koyack
emerged plenty last year in the No. 2 role, stepping up to catch 10 passes for 171 yards and three touchdowns -- with all but one of those catches and scores coming during the season's final six games. The 6-foot-5, 261-pound junior took plenty of pressure off Niklas and the rest of Notre Dame's more prominent pass-catchers, and he was set to build off that performance going into his senior year in 2014.
Now? The pressure is on Koyack to perform as the top target at tight end, and it is up to someone behind him to develop as a blocker and become another reliable receiving option for the Irish offense. Fortunately for Notre Dame, there are plenty of bodies at that position for a school that can boast the moniker Tight End U., and competition this spring will be a nice starting point to see who emerges in the fall.
Alex Welch is gone, choosing to play his final season at Miami (Ohio), but
Durham Smythe
and
Mike Heuerman
should both have benefited from redshirt campaigns last fall as freshmen, allowing them to develop in the weight room and be more physically ready for the pounding they are sure to take at the position. Smythe was listed last year at 6-4 1/2, 235 pounds. Heuerman was at 6-3 1/2, 225, and he also had the added benefit of enrolling last spring.
It doesn't hurt that the Irish added a pair of 2014 ESPN 300 prospects in
Tyler Luatua
and
Nic Weishar
, but they won't be on campus until fall practice. For now, it is up to Smythe and Heuerman to gain separation and prove that they are viable options if and when their numbers are called.
January, 22, 2014
Jan 22
9:00
AM CT
For three years, Brian Kelly had success like few others in recruiting players back to school. Sure, Kyle Rudolph left after Year 1 of the Kelly era, but since then the Notre Dame coach had successfully gotten Michael Floyd, Manti Te'o, Tyler Eifert, Louis Nix and
Zack Martin
to come back to the Irish for their fourth (and, in Martin's case, fifth) seasons of college ball.
That changed drastically this season. With several highly projected underclassmen on their roster, the Irish figured to say goodbye to one or two underclassmen early. And even when Kelly said in late December that he had submitted paperwork to the NFL advisory board for
Stephon Tuitt
,
Troy Niklas
and
George Atkinson III
, few expected all three to leave school early.
Then January came along, and within one week's span, all three players declared for the draft, choosing to avoid the recent trend and skip their final seasons. Each had his reasons, so here's a look at the trio and a look at who on the Irish roster will be tasked with filling the big shoes in 2014.
(Worth noting: Nix, who had a fifth season of eligibility available to him in 2014, is not included in this group, because he graduated in December.)
Leaving:
Stephon Tuitt
Replacement:
Isaac Rochell
The outlook:
It is worth noting that
Justin Utupo
will return for a fifth year
and that veterans
Tony Springmann
(ACL, infection) and
Chase Hounshell
(shoulder) are expected to be back at full health next fall after both missed the 2013 season. Together, all will be counted on to replace the production of Tuitt, who was one of the best pass-rushers in school history. Still, if the Irish are looking for a youngster to step up, they will turn to Rochell, who ended up seeing much more playing time as a true freshman than initially expected this past fall, given the injury bug that affected the Irish in the trenches. ESPN's No. 139 overall player from the class of 2013 played in 11 games, recording 10 total tackles. The 6-foot-3.5, 280-pounder is a far cry from the 6-foot-6.5, 312-pound Tuitt physically, but most typically are. The bottom line is Tuitt will be the hardest of Notre Dame's early departures to replace, but Rochell will probably see his role increase the most in his sophomore season. Junior
Sheldon Day
, entering his second year as a starter, will be counted on even more this coming fall as well.
[+] Enlarge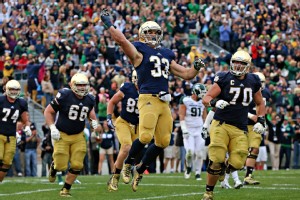 Jonathan Daniel/Getty ImagesCam McDaniel (33) led the Irish with 705 rushing yards in 2013.
Leaving:
George Atkinson III
Replacement:
Cam McDaniel
,
Tarean Folston
,
Greg Bryant
The outlook:
Atkinson should be the easiest of the early departures to replace, as his playing time and production took a big dip late during this past season. He was ultimately suspended for the New Era Pinstripe Bowl for what Kelly called a violation of team rules, a violation that Atkinson later tweeted (and then deleted) consisted of him texting during a team meal. Still, the Irish have the always-reliable McDaniel back for another year, and the Coppell, Texas, native actually had more carries (152-93) and rushing yards (742-583) than Atkinson in 2013 while helping with kick-return duties as well. The most important developments to keep an eye on, though, are those of Folston and Bryant, both of whom came to Notre Dame as highly touted four-star backs expected to deliver immediate boosts. Bryant had trouble gaining playing time early and ultimately suffered a knee injury that forced him to take a medical redshirt, but Folston came on strong late in the season, finishing with 88 carries for 470 yards and three touchdowns. Things will be tougher next season with a rebuilt offensive line, and all of these backs need to improve as pass-catchers, but there remains plenty of promise in the fold. Let's not rule out redshirt junior
Amir Carlisle
, either.
Leaving:
Troy Niklas
Replacement:
Ben Koyack
The outlook:
Niklas, who began his career at linebacker, played tight end at Notre Dame for just two years, coming on this past fall after the departure of Eifert, as he hauled in 32 passes for 498 yards and five touchdowns. He was improving as a blocker and was on track to become one of the best tight ends in the country next season. Now Koyack will be tasked with a bigger workload in his senior season. He, too, came on strong late last season, finishing with 10 catches for 171 yards and three touchdowns, though he often played in two-tight-end sets with Niklas and gave the Irish plenty of offensive flexibility.
November, 22, 2013
11/22/13
2:00
PM CT
Can Notre Dame make it 4-0 on Senior Day under Brian Kelly?


When BYU has the ball
: As you may have heard, the Cougars like to pick up the tempo on offense. They are fourth in the nation in total plays, having run 868 on the season. That's an average of 86.8 per game. By comparison, Notre Dame runs 64.6 plays per game.
Taysom Hill
is a threat at all times on the field, and likely the most effective dual-threat quarterback the Irish will have faced this year, as he is second among quarterbacks with 956 rushing yards this season. His favorite target,
Cody Hoffman
, had a nice day last year in South Bend, Ind., catching eight balls for 86 yards and a touchdown.
When Notre Dame has the ball
: Who emerges from the backfield this week is anyone's guess, though a nice run game could help keep a depleted defense off the field a bit more against a BYU offense that moves at a rapid pace.
Tommy Rees
and
TJ Jones
have been a reliable connection all season long, and look for them to keep that going in their home finales against a good but not great defense. The continued emergence of
Ben Koyack
in the passing game can help open things up for the rest of the aerial attack, too.
Intangible
: This is Senior Day, so the Irish need to guard against the emotions and potential sloppy play in the early going. They also need to rely on a lot of people to chip in defensively, especially with
Louis Nix III
now out and his backup,
Kona Schwenke
, at less than 100 percent. BYU knows it was a missed pass away from pulling out an upset against the Irish late last season, and the Cougars are determined to finish the job this time around.
Prediction
: BYU 23, Notre Dame 20. I
was leaning in the Irish's direction earlier this week
, but the loss of Nix -- on top of some of the other guys at less than 100 percent -- is just too much to overcome against this good, and this fast, of a Cougars team.
November, 10, 2013
11/10/13
9:00
AM CT
These three stood out in No. 23 Notre Dame's 28-21 loss Saturday at Pitt:

TJ Jones, WR
: Another week, another strong effort for Jones, though his fumble will sting. Still, the senior captain finished with six catches for a game-high 149 yards and a touchdown, while adding 41 yards and a touchdown on three carries.
Ben Koyack, TE
: The junior impressed once again, coming oh-so close to hauling in his fourth touchdown in the last five games. He will have to settle for four catches for 76 yards, as he continues to establish himself as another legitimate threat in the passing game.
Sheldon Day, DE
: So much for the ankle injury. Day, finally getting a chance to play with his fellow first-team defensive linemen -- for some of the game, at least -- notched three tackles for loss and five total tackles after a week in which no one was sure how much he would play after re-aggravating a high ankle sprain last week against Navy.
November, 5, 2013
11/05/13
12:00
PM CT
April, 10, 2013
4/10/13
9:00
AM CT
SOUTH BEND, Ind. -- The expectations for the next-in-line at Tight End U. are as basic as can be for three relatively untested faces. What
Alex Welch
,
Ben Koyack
and
Troy Niklas
have done in two-plus years hardly registers when measured against the legacies
Tyler Eifert
and others before him have left behind.
So yes, Niklas concedes that, just more than halfway through spring ball, there is still a feeling-out period among Notre Dame's tight ends, a trio that will bear large responsibility in one way or another on an offense that returns upward of seven starters but only two of its top six pass-catchers from last season.
"That's a tough question to answer," Niklas said. "But I would say the expectation for our group is just to block when we need to block, catch passes when we need to catch passes and just be as dynamic and aggressive and open to new things as we can and just be really flexible with what we do."
All is up for grabs at tight end, where Eifert re-wrote the school record books in grabbing 140 passes for 1,840 yards during the past three seasons.
[+] Enlarge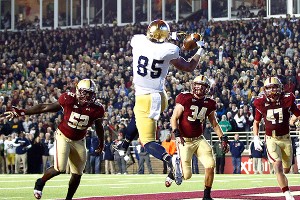 Mark L. Baer/US PresswireTroy Niklas counted this touchdown against Boston College among his five catches last season.
There is Niklas, a converted linebacker entering his third season with the Irish and second at tight end after grabbing five passes for 75 yards and a score in 2012. There is the junior Koyack, the most seasoned of the three despite grabbing just four balls the past two years while being limited to mostly blocking. And there is the redshirt junior Welch, who missed all of last season after an anterior cruciate ligament tear in his right knee suffered during fall camp ruined any hopes of becoming Eifert's No. 2 in 2012.
The distinction of succeeding a likely first-round pick in Eifert -- and NFL players Kyle Rudolph, John Carlson and Anthony Fasano before him -- is not lost on this group.
"I wouldn't say it's a pressure, it's kind of like a prestige," Welch said. "You feel good about yourself to be a part of the tight ends at the University of Notre Dame, but at the same time we're not trying to be any of those tight ends; we're going to be ourselves. We lost Tyler Eifert, he's a great tight end. He'll be playing in the NFL. But none of us are trying to replace him. We're just trying to be ourselves and go out there and help the team."
For Welch, that means getting back up to speed after a dream season spent on the sideline. Holding his own in winter workouts was the first big hurdle cleared, and now he is hoping to use the spring to make up for what was lost in a year off the field, with fall camp later serving as the true barometer among his peers.
"You don't really forget, just when you're out there on the field you take for granted certain things," Welch said. "When you get 15 practices under your belt you feel much more comfortable, especially after I got my knee done."
Emerging from the unit as the next future pro is currently off the radar. For now, this spring is simply a start toward filling out one of the offense's biggest holes.
"[Tight ends] coach [Scott] Booker always has high expectations in general," Koyack said, "but I feel like as long as we just do what we're coached to do, we may not be put in the same exact situation as Tyler was put into, but as long as we do well in the situations that we are put into I think that's pretty much the expectations of the group at this point."
January, 8, 2013
1/08/13
6:16
PM CT
In news that was simply a formality,
Tyler Eifert
announced after Monday night's game that he would be heading to the NFL draft,
saying that he knew for "quite a while
" that the Discover BCS National Championship would be his finale, according to the South Florida Sun-Sentinel.
The Mackey Award winner caught six passes for 61 yards in Notre Dame's 42-14 loss to Alabama.
Draft analyst Mel Kiper Jr. has Eifert at No. 17 on his Big Board.
Ben Koyack
,
Troy Niklas
and
Alex Welch
-- who missed this season after tearing an ACL in camp -- are next in line for a school that has recently developed the moniker of "Tight End U."