Chicago Colleges:

big ten mailbag
June, 4, 2014
Jun 4
5:00
PM CT
It's time for another edition of the Wednesday mailbag. We'll start off today with some responses
to Tuesday's post
about what Illinois coach Tim Beckman needs to do in 2014 for Illini fans to want him back in '15.

Gary T. from Huntsville, Alabama, writes:
This is most certainly the last year for Beckman if he doesn't get to at least a six-win season. This would be very surprising given the talent he has and the schedule the Illini play. As an alum, though, I would rather have a clean program with good kids than a 10-win season with players being arrested. ... Given my long history as a Cubs fan and an Illini fan, please just make them entertaining.
Mark M. from Palatine, Illinois, writes:
Nothing he can do would make me want to bring him back. It hurts me to say I almost hope he only wins three or four games so we can finally get rid of him. I am tired of reading about the potential Illini recruits and seeing that the only other schools pursuing them are schools like Toledo, Ball State, Western Michigan, South Dakota State, etc. What a joke!
Tony from Wauconda, Illinois, writes:
What would it take for Tim Beckman to excite the Illini nation? I think six wins and a mediocre bowl game would be enough if Illinois played and beat another Power 5 team. At the end of Ron Zook's run, bowl wins over Baylor and UCLA at least let Illini fans feel like our team was helping the B1G from being embarrassed in bowl season. Six wins means Illinois either wins three games in conference or else gets two conference wins with a nice road win in Pac-12 country. That would be enough to secure Beckman's job and probably get a few more people to buy tickets. ... If they can consistently score around 30 points a game I think more fans might show up to watch an exciting offense. I have high hopes for
Wes Lunt
working in that offense and hope that six or seven wins can happen this year.
Virgel from Valdosta, Georgia, writes:
I hope that the Illini do better. I mean, you know things are bad when Cubs fans have more hope for a World Series over Illinois making an upper-level bowl game. I must say, though, there are several little things to give a glimmer of hope, but it all needs to come together. I have been stationed in Valdosta, Georgia, for seven years now and all I have ever wanted is for Illinois to make a bowl game in Florida. Besides, I need Illinois to do better; it is hard to wear an Illini shirt in the crossroads of Auburn, Florida, Florida State and Georgia.
Brian Bennett:
As you can see, a lot of Illini fans need to see a bowl game this year from their team in order to get behind a Year 4 for Beckman. Of course, they won't be making that decision; athletic director Mike Thomas will. Three years used to be way too short of a time period to fire a coach, but everything is accelerated these days. As Tony points out, a six-win season would include either a solid nonconference win or a respectable 3-5 Big Ten record. That should absolutely secure Beckman a fourth season. A five-win campaign in Champaign will make things very interesting, and anything less could spell the end of Beckman's tenure.
---
Ron from Michigan writes:
Hey, Brian, I read your article on the
possibility of an early signing period
for students. In general, I think it's a good idea for someone to commit sooner than February, but there is a major drawback that I'm concerned about. Many ADs make their final decision to fire a head coach depending on the outcome of the bowl game that is played in December. For instance, Dave Brandon fired Rich Rodriguez after the humiliating loss to Mississippi State, and if someone committed already to that coaching staff, it may not go over well for the kid when the new staff comes aboard.
Brian Bennett:
That's a good point, Ron, and one that colleague Rod Gilmore expounds upon in
this piece
. I definitely see the potential problems for players who sign early, only to see the head coach leave or get fired. Whatever line people might feed you about players committing to a school and not the coach is simply a bunch of bull. So I would want to see one important clause instituted in any early signing period: If there is a significant coaching change (head coach or coordinator) after the player signs, he would have the right to renounce his letter of intent and be eligible to sign again in the February period. Some players might still stick to their original school in that scenario, but at least they'd have the freedom to make the decision.
---

Jesse from Minneapolis writes:
What chance do you see Minneapolis securing the NCAA Final Four in the near future? We only need one domino to fall, and that already happened with Super Bowl LII being awarded to Minnesota. If Minneapolis gets to host the Final Four, are we virtually a lock to host other big-time sporting events like the college football championship game? Do you think that would be enough to persuade B1G officials to start rotating the conference championships for both football and basketball?
Brian Bennett:
I have written that the
Midwest should host a College Football Playoff championship game
and that Minneapolis is an excellent option. Indianapolis would be just as good. I'd say the odds are pretty good that Minneapolis will get a Final Four, and along with the Super Bowl, that gives the city a great opportunity to show it can host huge events. I just don't know if the Big Ten title game will be coming to the Twin Cities any time soon. The league really likes the central location of Indianapolis and how well that city has put on the game so far. It might just stay there for a while.
May, 5, 2014
May 5
4:00
PM CT
The Monday mailbag is back. I'll have another installment on Wednesday, which will be my last one before I go on vacation. So make sure to get your questions for that one in now by
sending them here
or
hitting us up on Twitter
.
For now, I like the way you work it. I got to 'bag it up:
---
Charlie from Chicago writes:
Which incoming freshman will make the biggest impact this season?
Brian Bennett:
It's a good question, Charlie, and one I imagine we'll revisit more closely this summer. The guys who arrived in January and went through a full spring practice have a leg up, so players such as Ohio State linebacker
Raekwon McMillan
, Michigan wide receiver
Freddy Canteen
and Penn State receiver
De'Andre Thompkins
leap immediately to mind. I'm excited to hear about the players who get to campus this summer, such as Michigan State defensive tackle and recruiting drama champion
Malik McDowell
, Minnesota running back
Jeff Jones
and Maryland offensive tackle
Damian Prince
. There are a lot of candidates, but for now my money remains on incoming Michigan cornerback
Jabrill Peppers
.
---

Will from Obetz, Ohio, writes:
OK, I was just looking over the 2015 B1G team schedules and saw Wisconsin's crossover games. ... I really hope the West can have someone keep up with the Badgers over that very weak schedule. They play no one.
Bennett:
Will, the Badgers have the same 2015 crossover opponents as they do this season: Rutgers and Maryland. It does seem like Wisconsin caught a major break or that Jim Delany owed Barry Alvarez a favor with those schedules. In reality, though, we don't know how competitive Rutgers and Maryland will be, and you could argue that Indiana -- which has been to recent bowl games far, far less frequently than the two newest members -- would make for an easier crossover. Wisconsin has a great opportunity to make some noise the next two seasons, particularly with its openers against LSU (in 2014) and Alabama (2015). And then things go the opposite way in 2016, as the Badgers open Big Ten play at Michigan, at Michigan State and vs. Ohio State in three consecutive weeks.
---
Brian from Omaha writes:
People are quick to deride the B1G West as the new Big 12 North. Why? The B1G West/B1G would be lucky to be the Big 12 North/Big 12 from the 1996-2010 era from an on-the-field standpoint. The old Big 12 produced three national champions and four Heisman Trophy winners, with one each from Nebraska. If the B1G West/B1G matches that haul in the next 14 years, it would be an improvement, or the apples-to-apples comparison, of the B1G from 1996-2010 (two national champs and three Heisman trophies).
Bennett:
Some fair points, there, Brian (great name, by the way). I think most of the B1G West/Big 12 North comparisons come in regard to the relative strength between the other division in the conference -- the Big 12 South was so clearly deeper and more competitive overall than the North over the course of that era, and some fear the same thing will be the case with the Big Ten East because of Ohio State, Michigan State, Michigan and Penn State. But there is no dominant team in the West right now, like Nebraska was for a long stretch during its Big 12 days. In fact, the West has a chance to be really balanced, especially if Iowa plays up to its capabilities, Northwestern bounces back, Minnesota continues its upward trend, etc. If you offered the Big Ten the scenario of having one legitimate playoff contender in the West every year but that the division would be weaker than the other side, I think the conference would be more than happy to take that.
---
Dale from Los Angeles writes:
Brian, you predicted that Ohio State's defensive line will be the premier unit in the Big Ten this year. I think your selection is an unintended indictment of the Big Ten, and demonstrates just how poor the Big Ten is relative to the other major conferences. Football Study Hall used advanced metrics to
rank every defensive line in the country
for 2013. Ohio State's line was ranked 96th. It's absolutely pathetic that the Big Ten's best unit in 2014 was among the worst, most overrated units in the country last year. The Big Ten is truly at an all-time low if you can't identify a group with more promise than the OSU D-line. Sadly, though, I think you're right that this lowly unit may be the class of the Big Ten. The gap continues to expand between the B1G and the more premier conferences.
Brian Bennett:
Football Study Hall is always an interesting read, and I love the application of advanced stats. But here's one case where I don't think the numbers add up. I don't believe Ohio State had the best defensive line in the Big Ten last season, but there's no way it was No. 96 in the FBS. The Buckeyes were really good against the run and had strong pass rushers. They had their lapses and could stand to get better. But don't forget that key players on that line included a true freshman (
Joey Bosa
) and two true sophomores (
Noah Spence
and
Adolphus Washington
). They're only going to get better, and the depth and skill level on this line is extremely promising for 2014.
---
Mike from Huskerville writes:
Interesting read on your
best position group in the B1G
. Any chance you would be willing to give your thoughts on the best of each position group in the league? I.E. best OL, best LB's etc.? Thanks and GBR.
Brian Bennett:
Mike, we usually do position group rankings for the whole league close to the start of the season. The one position group that I think is the most interesting to rank right now is offensive line. Ohio State held the top spot there in the past two seasons, in my opinion, but the Buckeyes lost four senior starters from last year's group. Several potential contenders have major question marks right now at offensive line, including Ohio State, Penn State and Michigan. Wisconsin usually just reloads there, but still has to replace some good players. Michigan State lost three starters and is searching for the kind of depth it had in 2013. Nebraska is replacing a ton of experience. Could Iowa, led by
Brandon Scherff
, take the title of best offensive line? What about Minnesota's underrated group? It will be really interesting to see how such an important position group in this league shakes out this summer and fall.
April, 30, 2014
Apr 30
5:00
PM CT
What's on your mind?
rtXC from Denison, Texas, writes: Hey, Brian, love the blog! After the SEC's "groundbreaking" announcement to stay at eight conference games and have each of its teams play one team from the Power 5, would you like to see the other conferences band together and make a stand? Other than certain SEC-ACC rivalries and current contracts for future games, how about the four conferences band together and abstain from scheduling SEC teams in the future? That'd surely solve things, eh?
[+] Enlarge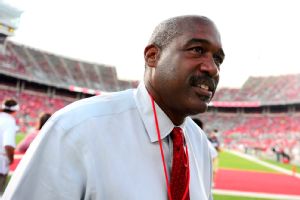 Andrew Weber/USA TODAY SportsOhio State AD Gene Smith says the SEC's decision puts the onus on a strong nonconference schedule.
Brian Bennett:
It would make scheduling all but impossible for the SEC, but I don't think other leagues are as outraged over the decision by the SEC to stay at eight games as many fans are. I talked to Ohio State athletic director Gene Smith earlier this week and asked him if he had an opinion on the SEC's decision. Here's what he said:
"No, not really. I don't know about my colleagues in the league, but I think when you look at different conferences, they have to do what they have to do based on their makeup, based on their geography and their fan base. Whether they go nine or eight games, that's really based on who they are. I really don't have a preference and would not want to even try and direct how those conferences should go. They're living in it, they're working in it, they know their travel issues and all that stuff, so for someone outside to project, I just don't think that's right."
Smith did add that the SEC's decision "will ultimately depend on what they're doing in the nonconference. Because their in-conference strength of schedule, the majority of the time, is going to be pretty good. But when you leave four games to the nonconference part of your schedule, you've got to make sure you're able to get who you need to get in order to make that overall schedule strength good."
Translation: SEC teams had better not shy away from playing strong teams in the nonconference, and they'd better hope the teams they schedule years in advance are actually good when the games arrive (see Ohio State's conundrum with the Cal series). Ultimately, the best way to get some uniformity in conference games is not some sort of boycott. It's having the playoff selection committee send a strong message about strength of schedule in its choices for the four-team event.
---
Eric from Iowa writes:
Give the so called "Big 5" conferences more power, eh? More power to create their own rules on things like stipends, medical coverage, family travel benefits, recruiting, etc? ... I'm not going to pretend those conferences aren't already the big money makers of college football, but giving them the autonomy to make these rules for themselves vs. a poor old little MAC school who already struggles to keep up ... proof that the Central Michigans are in place to provide home games for Michigan and MSU, and that's pretty much it.
Bennett: Well, how is that really any different? The Central Michigans of the world are in no way, shape or form on the same playing field right now as the Michigans and Michigan States anyway. The money gap is huge and will continue growing. I think there's an honest desire from the power conferences to give back more to the players (in part, sure, because they're afraid a court or legislature will force them to do so if they don't act first), and if all that's holding them back are mid- and low-major schools that can't afford it, then there need to be different rules in place.
---
Tony from Auburn Hills, Mich., writes:
When Darrell Hazell was announced as head coach for Purdue, everyone assumed he would be bringing that TresselBall that he carried to Kent State, even though Purdue has been a spread team since Joe Tiller brought it to the league. Then the season happened and, well, none of us is really sure what identity the offense was supposed to have. But in
the Q&A from last week's lunch links
, Hazell said he thinks they'll be a spread team this season. So was this really his plan from the beginning, or is this a change out of pure necessity due to poor recruiting and awful play from the O-line?
Bennett: Hazell has always preached physicality and a strong running game as his base philosophy, so hearing him talk about the spread was surprising -- though as Ohio State showed the past two seasons, the two aren't always mutually exclusive. You're right, Tony, in that Purdue had zero identity last season (or maybe I should say it's identity was a zero) on offense or defense, and the coaching staff might have misread the talents of the players. With an offensive line that's not close to being dominant and speedsters such as Akeem Hunt and Raheem Mostert, the spread might be a better use of the Boilers' current talent, much of which was recruited for a spread system, after all. The smartest coaches adapt their system to the players they have, not the other way around.
---
John C. from Princeton Jct., N.J., writes:
Been a lifelong RU football fan. Have the Knights winning three games this year. May steal one or two more. The athletic department is a mess. And it seems every week it gets worse. Coach Kyle Flood (nice man) plays not to lose. Watch the games, and you will see it. This lack of "killer instinct" has to overflow to the players. I can give multiple examples. What do you think?
Bennett: I don't know about a lack of a killer instinct, but Flood and predecessor Greg Schiano certainly seemed to play a conservative style -- especially on offense. Perhaps that will change with Ralph Friedgen calling the plays, but we shall see. It's not like that type of style would be out of step in the Big Ten, after all. There's no doubt that the Scarlet Knights' inaugural Big Ten schedule is very difficult, and out-of-league games at Washington State and at Navy are no gimmes by any stretch. I think Rutgers will win more than three games, but 5-7 might be a reasonable accomplishment against that slate.
---
Bran Stark from Winterfell writes:
Penny-for-your-thought type of question, Brian ... Iowa clearly has the "easiest" conference schedule of the three preseason favorites of the B1G's West. Next, Wiscy gets Big Red at home and finally my Huskers have to travel to Iowa City, Madison, and East Lansing, coming in at the hardest of the three favorites. If memory serves me correctly, Bo Pelini hasn't lost to any B1G teams twice in a row, and only the terrible Longhorns have notched that feat against him. How much, if at all, do you think the fact that the last time Nebraska played all three of those home teams it ended with losses will have on the team? Mind you, some of those losses came in grand fashion.
Bennett: Thanks for taking time out of your busy warging schedule to write in, Bran. ("Game of Thrones" nerd alert). That's an interesting stat on Pelini, but I'm not sure that history has any bearing on the future. Teams just change too much from year to year for the past season to be a huge factor. And remember the Huskers needed some major comebacks in games against Northwestern, Ohio State and Michigan State to avoid back-to-back losses. The schedule, though, is definitely worth noting. Nebraska clearly got the toughest draw of the three teams you mentioned. Based on returning talent alone, I would make the Huskers the West Division favorite by a nostril. The schedule could end up keeping them out of Indianapolis. Truly worthy championship teams can overcome it, though.
April, 23, 2014
Apr 23
5:00
PM CT
A big Monday looms with spring football wraps and spring game recaps. So I won't have a mailbag that day. But here's a full one for today:
Dan from Washington, D.C., writes:
Brian, I'm sure you'll be getting thousands of comments on this point, so I'll add my two cents. You say, "You'd have to suffer from amnesia not to remember how close Bo Pelini came to losing his job at Nebraska last season." However, I don't believe you're [Nebraska athletic director] Shawn Eichorst (perhaps a FauxEichorst Twitter handle is in the works). No one outside of Eichorst and perhaps Harvey Perlman and Pelini knows "how close" Pelini came to losing his job. For weeks you, the Omaha World-Herald, and the Lincoln Journal Star lamented how tight-lipped Eichost was being about the whole situation. Then, lo and behold, he received a contract extension -- hardly something you give to someone you may not want around in a year or two. Now don't get me wrong -- if Pelini goes 5-7, he's toast -- but until he tanks, his job is safe.
Brian Bennett:
Dan, you make a fair point that Eichorst's silence on the issue for so long means we don't know exactly how close Pelini came to being fired last year. But silence can also speak volumes, and not saying anything for weeks after the infamous audio tape leaked and while Nebraska lost some games said a lot as well. The pressure obviously got to Pelini in the regular-season finale against Iowa. Your timeline on the extension is a little off as well. Pelini said he signed received and signed the one-year extension in March. It would have been news had he not gotten it, since it covers him for the next five years. But don't think for a second that a one-year extension of his deal will have any bearing on whether Eichorst decides to make a change this fall -- Nebraska can easily afford to buy out of that extra year.
I think Pelini should be fine if he wins his usual nine or 10 games and avoids some of the embarrassing blowout losses we've seen. The Huskers also have a great chance to win the West Division. But anything less than that could prompt a coaching switch, which is why Pelini remains on the proverbial hot seat.
---

Aaron from Pittsburgh writes:
Good ol' Tim Beckman is the B1G coach on the hottest hot seat, according to you guys. I fully understand this -- one conference win in two years, blah, blah, blah. But I honestly have some form of empathy for the man. He inherited a Ron Zook team so devoid of depth and talent that I think Year 1 should not be credited against Beckman's resume. Illinois isn't a powerhouse in the first place, so as long as Beckman's Illini don't regress in 2014, I think he might get one more year. What do you think?
Brian Bennett:
The thing Beckman has going for him is that athletic director Mike Thomas hired him and probably wants to give the first major coaching hire of his tenure every shot to succeed. The Illini did show improvement last season, at least on offense, and Beckman has done a great job with off-the-field stuff such as academics. But Zook did take the program to back-to-back bowl games, so it's a little odd to hear he should be responsible for a 2-10 season. The biggest thing going against Beckman right now, I'd say, is the fan apathy. There were way too many empty seats in Memorial Stadium last season, and that gets an AD's attention more than anything. That's why it might be bowl or bust this year for Beckman.
---

Jason L. from Kansas City, Mo., writes:
What's your take on Indiana replacing 2 games with South Florida with 2 games with Florida International? Doesn't this go against what B1G commissioner Jim Delany has stated that he wants (B1G teams scheduling tougher opponents)?
Brian Bennett:
I've been a consistent proponent for toughest scheduling. Heck, I'm the guy who favors 10 Big Ten games and one marquee opponent every season. But for Indiana, I understand this move by athletic director Fred Glass. When you've been to one just bowl game since 1993, the first priority has to be finding any way possible to get back to the postseason. I thought the Hoosiers scheduled too aggressively last year, when they played Navy, Missouri and a good Bowling Green team. If IU, which finished 5-7 despite losses to Navy and Missouri, had played a dumbed-down nonconference schedule a la Minnesota's 2013 slate (or even Ohio State's), then the team likely would have gone bowling for the first time under Kevin Wilson. Think about the difference a bowl game would have made for the program, giving Wilson 15 extra practices and allowing for a little more offseason buzz.
The weird thing here is the idea that South Florida is too tough of an opponent. But especially when the Big Ten goes to nine league games in 2016 and Indiana is competing in the stacked East Division, a more manageable nonconference schedule makes sense. Delany wants teams to challenge themselves and build up strength-of-schedule ratings for the playoff selection committee. Let's be honest here: The playoff is not exactly on the Hoosiers' radar.
---

Sam C. from Fargo, N.D., writes:
Hey, BB, I was just thinking about the Gophers and recruiting and how one of the best in the nation is right here in our home state in
Jashon Cornell
. Is it a dream for me to think we have any shot of landing him? Getting
Jeff Jones
was nice, but even in the last couple of weeks no one thought we would get him, saying that he was gonna go to the SEC. Just wondering what your thoughts are. Thanks!
Brian Bennett:
It would be an enormous coup for the Gophers and Jerry Kill to keep Cornell in their backyard, Sam. Too many top-level prospects (
Michael Floyd
and
Seantrel Henderson
as the most prominent examples) have left over the years. Kill and his staff have been working hard to build a relationship with Cornell, but they're going to be competing with not only the best programs in the Big Ten for his services but also many of the best in the country. The facilities and traditions at some of those places will be hard to top. It's crucial that Minnesota has a good year this season to show Cornell that staying home has its perks.
---
Rodney from Grantville, Pa., writes:
I'm obviously excited about PSU hiring James Franklin, but is it clouding my judgment? He did a fantastic job at Vandy, and his first 100 days at PSU have been great, so why are so many saying we can't do well his first year? I personally see 9-3 being doable and 10-2 not out of the question. 7-5 at the worst. The coaches are touting a more aggressive defense and better special teams, which was probably our biggest issues last year. The offensive line is obviously our Achilles' heel, but there are ways to work around that and the offense only needs to score more than the defense allows. ... So what am I missing?
Brian Bennett:
Rodney, feel free to get excited. Franklin has done nothing but create optimism so far with his energy and his early recruiting returns. Really good things are on the horizon for Penn State, I believe. But while I believe the Nittany Lions could be surprise contenders in the East Division because of their advantageous schedule -- Illinois and Northwestern as crossover opponents, Ohio State and Michigan State coming to Beaver Stadium -- I still worry about the depth on the roster because of sanctions, the lack of high-level defensive playmakers and that troublesome offensive line. Those are all real issues, and remember that Bill O'Brien did a fantastic job of getting this team to 7-5 the past two seasons. I think Penn State could match or slightly exceed that this season, but that the true brighter days are still in the future.
March, 17, 2014
Mar 17
4:00
PM CT
Let's round out this Monday with another edition of the ol' mailbag. Remember to keep
those emails coming
or to hit us up on
Twitter
.
Michael from Remsen, Iowa, writes:
Do you think that NEBRASKA's young but very talented linebackers will take that step up this year and be the best linebacking group in the Big Ten? Also, who do you think wins the starting left tackle spot?

Brian Bennett:
Michael, the potential is certainly there. Not all of the linebackers are young; the coaches have loved senior
Zaire Anderson
's talent and potential for some time, but he's just got to stay healthy and in the lineup.
Michael Rose
looks like a rising star,
Josh Banderas
has turned some heads in spring practice so far, and
David Santos
gained a lot of experience last year. Throw in newcomers like
Marcus Newby
and
Courtney Love
, and this is a deep group with loads of athleticism. Best in the Big Ten? I'm not so sure about that, but the league did lose an abundance of star linebackers to the NFL draft. I still need to see the Huskers' defense deliver consistently, but the future looks really bright in that front seven.
As for left tackle, Alex Lewis has been getting reps with the No. 1 unit so far this spring. Lewis transferred in after playing two years at Colorado and withstood some legal troubles. The reshuffling of Nebraska's offensive line remains a big story to watch this offseason.
---


Ol' Red from Sandusky, Ohio, writes:
In your
"Ultimate B1G 2014 road trip: Week 9"
pick of the Michigan-Michigan State game, you pointed out that Michigan has only scored 32 combined points the last three seasons. Just another tidbit I'd like to throw your way... Although Michigan has won four, the Spartans have held U of M to less points than the preceding year for 9 straight games (45, 34, 31, 28, 21, 20, 17, 14, 12, 6). If that trend continues, it will be awfully tough for the Spartans to lose giving up less than 6 points. This really shows the improvement in Mark Dantonio's defense year-to-year. I expect the Wolverines to score only three this upcoming season and be shut out in 2015.
Brian Bennett:
A Rose Bowl victory followed by a Big Ten tournament title and seemingly every expert picking them to win the NCAA tournament understandably has Spartans fans feeling a bit chesty. Michigan State's defense has locked things down against Michigan the past few years. You need some bulletin board material, Doug Nussmeier?
---
Jase from Nebraska writes:
I imagine most networks are doing something very similar to your fantasy trip planning, but on a much larger scale. My worry is at all the *meh* weeks we're racking up will mean few televised game and less exposure.
Brian Bennett:
The return of the dreaded double-bye does make for some less-than-stellar weeks on the 2014 schedule. But the nonconference opponents this year are much better than they were in 2013, and there are still some excellent heavyweight matchups sprinkled throughout the conference season. Ohio State-Michigan State, Nebraska-Wisconsin, Penn State-Michigan, Michigan State-Michigan, Ohio State-Penn State are just a few of those. The biggest question from the broadcast side is how many games will be picked up for primetime, especially in November? But the Big Ten isn't exactly hurting for exposure.
---

Craig from Braintree, Mass., writes:
I see that in
the West Division poll
, Minnesota is rated a distant fourth, barely over Northwestern. I guess most consider Minnesota's performance in 2013 to be a one-time occurrence. I think the team may have a difficult time improving on last year's win-loss totals though the team may be better than last year's.
Brian Bennett:
No doubt there are still some doubters on Minnesota (and polls like that tend to favor the biggest fan bases). The Gophers had a great run in the 2013 season but have yet to really break through as serious division contenders. It's going to be tough to do that without some major improvement in the passing game, something the team is emphasizing this spring for sure. Minnesota has a tougher schedule this year with a road game at TCU, crossover games against Ohio State and Michigan and intra-division road trips to Wisconsin and Nebraska. Still, a solid core returns from last year's team, and the arrow is pointing up in Minneapolis. I'm guessing Jerry Kill doesn't mind being the underdog right now.
---

Scott from Marinette, Wis., writes:
Why is no one talking about
Vince Biegel
this year for Wisconsin on defense? I truly believe he will make a big difference for the Badgers on the front seven this year. He is an absolute animal and will create havoc for opposing offenses this coming year.
Brian Bennett:
Biegel ... animal ...
Jack Russell
... nope, I'm going to stay strong. Biegel made an impact as a redshirt freshman at outside linebacker in the 3-4 and will step into a much bigger role this season. He needs to because the Badgers lost so much talent and experience in that front seven, including linebackers
Chris Borland
,
Ethan Armstrong
and
Brendan Kelly
. At 6-foot-4 and 233 pounds, Biegel has great size and a good chance to make some plays from that pass-rushing position. He's still a young guy, but he'll have to be an anchor for this rebuilt defense.
March, 10, 2014
Mar 10
4:00
PM CT
I had a good time covering Arch Madness this past weekend. My astute, professional opinion: Wichita State is really, really good.
But the hoops moonlighting is over. Back to football -- and more of your emails ...
Luke from Lincoln, Neb., writes:
What's your take on
Jamal Turner
getting reps at QB? I know he has gotten reps in previous years but less significant reps. Will anything come of it, or is it just some spring experiment?

Brian Bennett:
First of all, I commend Bo Pelini for giving us media types something interesting to write/blog/debate so early in spring practice. So bravo on that. I suspect this is mostly an experimental thing. Turner is a senior, so he doesn't need a ton of spring reps at QB. But it also gives Nebraska some options, especially in some potential Wildcat alignments.
Tommy Armstrong Jr
. is not the runner that
Taylor Martinez
was, at least not yet in his career, and
Ameer Abdullah
gets enough carries. Turner could bring a speed element to the quarterback spot, a place where the Huskers have no experience behind Armstrong as is. If nothing else, it gives Nebraska's early-season opponents something to think about as they game plan this spring and summer.
---
Kevin from Rock Island, Ill., writes:
To me, it seems the Illinois QB race will come down to
Wes Lunt
and
Aaron Bailey
. If Lunt wins the job (as many expect), does Bailey stay at QB for limited sets, and as a backup, or do they use his athleticism to help fill a position of need at WR? Lunt has had injury issues in his past (why he lost his job at OSU), but Illinois is desperately in need of more playmakers.
Brian Bennett:
While I understand why Illinois' coaches want to term this as an open competition, I'd frankly be very surprised if anyone other than Lunt is the team's starting quarterback. His skill set just seems to fit Bill Cubit's offense perfectly. Bailey is an interesting case. He's too good of an athlete for the Illini to keep him off the field, and
Reilly O'Toole
is a serviceable backup. I think receiver is a natural potential landing spot for Bailey, especially given the team's need there. But prepping him now at quarterback is still a good idea, especially with Lunt's injury history.
---
@HawkFlies via Twitter writes:
Any chance there is a QB controversy in Iowa City this spring?
Brian Bennett:
I doubt it. Kirk Ferentz said he will let
C.J. Beathard
compete with
Jake Rudock
for the job, and there's no question that Iowa needs better play in general from the quarterback position. But as Ferentz also said on signing day, "C.J. still has some catching up to do. Jake has really accelerated." I find it hard to believe that Ferentz will make a switch after Rudock started all 13 games last fall, unless Beathard makes great strides this spring or Rudock really falters. And given that the Hawkeyes play things pretty close to the vest, I doubt we'll see or hear much this spring that would actually lead to any sort of controversy.
---
Jeff from Whitewater, Wis., writes:
In your opinion, is Wisconsin a possible darkhorse to make a BCS bowl? Outside of the LSU game, the toughest games the Badgers will have are at Iowa, at Northwestern and then home against Nebraska. If the receivers can be somewhat productive and secondary can eliminate some of their lapses, I think they can run away with the West.

Brian Bennett:
The Badgers are a real long shot to make a BCS bowl this fall since BCS bowls no longer exist. What you probably mean is a contract bowl. Time to adjust our college football vocabulary. Really, the goal now has to be the College Football Playoff, though realistically Wisconsin would probably have to beat LSU and then run the table or maybe lose just once to make the four-team event (and remember for this coming season, the Rose Bowl is a national semifinal). The playoff committee will also choose teams for the other four major bowls. But I get your point. Gary Andersen's team has a great schedule in 2014, though some lingering questions about the passing game and the defense must be answered. I could easily see Wisconsin winning nine or 10 games with that schedule, and the Badgers are a major West Division threat.
---
John from Brighton, Mich., writes:
I've had this argument with a friend several times. It regards the outlook of the conference over the next 10 years or so. I think projecting forward, Michigan State has overtaken Michigan as a program, and the top of the conference is going to be a battle between the Spartans and Ohio State for the next decade. Am I misguided in my view, and do you think that Michigan is going to be "back" to what it was?
Brian Bennett:
Trying to project a decade in advance might make for fun arguments with your friends, but it's nearly impossible to forecast with any level of accuracy or confidence. Boom and bust cycles are just too short. Look at where Florida State and Texas were just a few shorts years ago compared to now. Michigan State is clearly riding high right now and is in better shape than Michigan. As long as Mark Hollis and Mark Dantonio are around, I expect the Spartans to remain a major factor. But will that be the case in 10 years? Who knows? Michigan has resources that only a few programs can match. Eventually that sleeping giant will come to life, whether it's under Brady Hoke or someone else. At least I think so.
---
Corey from East Lansing, Mich., writes:
Speaking as a Spartan fan, I can't say UofM switching to a 3-4 is all that scary. My thinking is that they don't have the bodies to put three 300-pound linemen on the field together. Hoke and his staff have recruited for running a base 4-3 and have to stick with it. Mixing in the 3-4 is a nice change of pace possibly, but running it as their base doesn't seem like the answer to me. I'm more interested to see if more Big Ten teams don't start copying Pat Narduzzi's aggressive 4-3 zone schemes, especially since Urban Meyer is coming out and saying he wants to be more aggressive. What do you guys see happening in the near future?

Brian Bennett:
Some teams have borrowed bits and pieces from the Spartans' defensive scheme, but for as successful as Narduzzi has been with it, you'd expect even more copycatting. Part of the reason is that most coaches and defensive coordinators don't have the stomach (or the personnel, for that matter) for playing as much man-to-man pass coverage as Michigan State does. As Narduzzi told me in late November, "People know what we're doing, but they don't know how we do it. We're the only team in the country that does zone pressure like this. There's a risk to it if you don't know what you're doing."
Defenses in the Big Ten need to be big enough up front to take on the power run game but also have enough speed to counter the proliferating spread offenses. Whether that comes out of a 4-3 or 3-4 isn't really as important as having great athletes, a consistent philosophy and experience within the system. One of the overlooked aspects of Michigan State's success was how so many guys had learned and practiced just one position in the same system for years and years. It's often not so simple as changing a scheme and expecting a quick fix.
March, 5, 2014
Mar 5
5:00
PM CT
The Big Ten postman always rings twice (a week, at least during the offseason) ...

Rob NitLion from Morristown, N.J. writes
: Brian, you made a very good argument in
this morning's Take Two
-- much better, I feel, than Adam. But you asked a question at the end of your argument, that while rhetorical, I figure I'd provide an answer. "Why not?" Here is why NOT. While some programs like Rutgers and Maryland are used to playing mid-week games, a majority of their fan bases are within a two-hour commuting distance of the stadium (being from Jersey, I have a decent handle on this). It's easy for most fans to leave work and still make an 8 p.m. weekday kickoff. On the other hand, for schools like Ohio State, Penn State, Michigan, etc, the fan bases are much more scattered, a large portion of the season-ticket-holder base is not within an easy driving distance of the campus, so for a Thursday night game, essentially you are asking someone like me to take a four-day weekend to see a Thursday night football game. I don't think this is plausible AND considering you guys just ran articles talking about stadium attendance being down, I cannot see some of the larger programs accepting a Thursday night game on their schedule.
Brian Bennett:
The arguments from both of us were similar, and you echo many of our points, Rob. The programs with super-sized stadiums really don't ever have to think about hosting a weeknight game. (I shudder at the prospect of trying to get to Pittsburgh or Philadelphia or wherever after a Thursday night game in State College, for example.) But for programs such as Illinois, Indiana, Minnesota, Maryland, Rutgers and Purdue, a weeknight game can provide plenty of good exposure. Their fan bases aren't as spread out, and their stadiums aren't nearly as large. And for some of them, filling the stadium isn't easy on a Saturday, anyway, so why not grab the extra eyeballs and attention a Thursday night game could bring?
---

Trevor K. from Wis., writes:
Say
Joel Stave
or
Bart Houston
win Wisconsin's QB battle. Could you see the Badgers utilizing
D.J. Gillins
' athletic ability at wide receiver? There is a HUGE hole there, and it shouldn't be out of the question if he is really that athletic.
Brian Bennett:
There is precedent here, as
Tanner McEvoy
bowed out of the quarterback competition early last year because of an injury and ended up starting at safety. The difference, though, is that McEvoy was a junior college transfer who had already used his redshirt year at South Carolina, so he wanted to get on the field. Gillins is a true freshman, and if he's not ready at quarterback, the coaching staff might want to redshirt him. On the flip side, though, maybe the coaches see him providing value at receiver, especially if the Badgers' young wideouts don't step up this offseason, and maybe Gillins expresses a desire to play early. There are a lot of factors at play here. I'd be really surprised if Gillins makes much of an impact at quarterback this season, simply because he's so young and Wisconsin has other experienced options.
---
TN Spartan from Jackson, Tenn., writes:
I am excited about the new bowl lineup for this next football season. Not sure if you did this anywhere, as I have not seen it, but could you project what the last bowl season would have looked like if it had the new arrangement, and then compare it to how it actually went? Perhaps you could then comment if the W/L record would have improved, or if the matchups would have been better.
Brian Bennett:
It's a little tricky to project, not knowing if you want to include the new playoff system as well. Let's just say for now that the playoff wasn't involved but that the 2014 lineup was somehow superimposed on the 2013 season.
In that case, the top of the order wouldn't look much different. Michigan State would still have gone to the Rose Bowl and Ohio State would still have made a BCS game. Then the next tier would involve the Capital One, Outback and Holiday bowls, with the Big Ten having greater input on matchups. I still think Wisconsin goes to the Cap One and Iowa makes the Outback, based on their records and how they finished the season. The debate would then have come down to whether Michigan or Nebraska should go to the Holiday, much as it did with the Buffalo Wild Wings Bowl. Whoever didn't get picked there would fall to either the Music City or Gator Bowls, and you wonder if the league would step in to avoid placing Nebraska in that rematch with Georgia and giving the Huskers another trip to Florida.
Minnesota could then have found itself in the Kraft Fight Hunger Bowl, which is in the third tier of picks along with the Pinstripe Bowl. The opponents wouldn't have been much different for the league at the top, but the Big Ten would have played Pac-12 teams in the Holiday and Hunger bowls. Going by 2013, that would have been Arizona State and Washington, respectively, in what would have been two tough matchups for the league.
---
James from Akron, Ohio, writes:
With the latest position moves on defense (most notably
Jake Ryan
to MLB) and Greg Mattison's past experience, is there any chance that Michigan switches to a 3-4 defense this year? All of the pieces are in place to make the switch.
Desmond Morgan
would be the other ILB,
James Ross
would still be starting on the outside, while one of the current backups (
Ben Gedeon
/
Joe Bolden
/
Mike McCray
) would fill in the other OLB spot. Mix all of that with the fact and Michigan is thin at DT, am I crazy to think the 3-4 will make some sort of appearance this year?
Brian Bennett:
It's not a crazy thought, especially because the linebacker group looks like the deepest and most talent-rich position on the Wolverines defense. Michigan hasn't really been dominant at defensive tackle since Mike Martin left town, and Mattison often ran the 3-4 while with the Baltimore Ravens. However, Michigan has run a 4-3 scheme so far under Brady Hoke, and Big Ten teams have been hesitant to go away from four down linemen very often, though Wisconsin used a 3-4 alignment often last season and had success with it. Defensive coordinators often talk about wanting to be multiple and offer different looks to the offense, so Mattison might want to at least explore the idea this spring and see how it goes. That might be the best way to get Michigan's best players on the field.
---
Kurt from Winter Wonderland, Ill., writes:
Can we all finally acknowledge that the NU vs. "NU" rivalry has been one of the conference's best through the first three seasons of its incarnation? An underdog winning against a Top 10 Nebraska team in Lincoln, a comeback Nebraska win by one at a strong Northwestern in Ryan Field, and then a Nebraska victory on a Hail Mary last season! What will the next season bring?!
Brian Bennett:
Maybe it's a budding rivalry. I also think Nebraska and Northwestern are the two most unpredictable teams on a week-to-week basis in the Big Ten, with both capable of wild swings of momentum at any time. So no wonder crazy things happen when the two get together.
March, 3, 2014
Mar 3
4:00
PM CT
Let's beat a case of the Mondays and another depressing winter storm with this edition of the mailbag. Remember to
keep your questions coming
, as Adam and I are both doing two mailbags per week now. Or you can always
tweet us
your questions.
Kyle from Madison, Wis., writes:
With spring games on the horizon, we once again see the difference between the BIG and the SEC; where BIG spring games are a moderately attended sideshow that might be fun for a family, SEC games routinely sell out. Is there any way to increase interest among BIG fan bases for these games, and is there any benefit (besides, in the case of Wisconsin, raising extra money for a cause) to doing so?


Brian Bennett: I wouldn't classify Ohio State's spring game as "moderately attended;" the Buckeyes led the nation in spring-game attendance in 2012 with more than 81,000 and set a record with more than 95,000 at the 2009 event. (That figure dipped to 37,000 last year, but Ohio State moved its spring game to Cincinnati in 2013 because of renovations at the 'Shoe). Nebraska got more than 60,000 people to come out to its spring game last year, which became memorable because of Jack Hoffman's inspiring touchdown run. Penn State had more than 60,000 two years ago, and I would expect a big crowd at Beaver Stadium next month to see the beginning of the James Franklin era.
Still, Kyle is right that the average spring game attendance in the Big Ten is typically less than that of the SEC. Just check out
this list
from last spring. But one of the main factors on attendance at those events is weather, and of course, April weather in the Midwest can be a whole lot more unpredictable (and sometimes downright unfriendly) than it is in the South. Unlike with real games in the fall, most fans and alums don't plan for weeks on making it to a game; they look at the weather and see if it's worth it to sit outdoors and watch a practice. Spring games are a great way for fans to get a glimpse of their team during the long offseason, especially those with kids, but they're not usually all that exciting, either. And with every team's spring game available on the Big Ten Network or elsewhere, I can't blame anyone for finding something better to do on an April weekend.
---
Andy from Beavercreek, Ohio, writes:
Does Bo Pelini's raise signal a commitment to the coach, or is it a "Hey, recruits, don't run screaming when we lose a few games" raise?

Brian Bennett:
It's neither, Andy. The $100,000 pay raise Pelini got was worked into his contract in 2011 and was nothing more than a scheduled formality. The more interesting question is whether he'll get a one-year extension to keep his current deal at five years. It hasn't happened yet, but it still could. Ultimately, though, we all know that 2014 is what's most important for Pelini's future. If Nebraska has a mediocre or subpar year, athletic director Shawn Eichorst might be inclined to make a change. If Pelini can finally deliver a conference title or at least maintain the nine- and 10-win plateau without as much off-the-field drama as last year, he'll likely be safe.
---
Jared from Columbus, Ohio, writes:
Can you think of another year where Ohio State's defense would have accounted for 30 percent of the best offensive performances of the season? I've heard the excuse that the talent was down from the norm, but you can't tell me the Buckeyes had less talented athletes than many teams that outpreformed them on D. Are you surprised there hasn't been more talk about accountability of the coaches, especially with a guy like Urban Meyer at the helm?

Brian Bennett:
It was by no means a vintage year for the Silver Bullets, though most of the bad Ohio State defensive performances came in the final weeks of the season. Depth became a major issue, especially in the Orange Bowl, and I was a bit surprised some younger players such as
Vonn Bell
didn't see more reps earlier in the year. (Though, to be fair, the Buckeyes were 12-0 and ranked No. 2 going into the Big Ten title game). Meyer has said over and over again that Ohio State's defense has not been up to standards, especially at linebacker. He has not really criticized his coaches or defensive coordinator Luke Fickell much at all publicly, and I'm not sure what purpose that would serve. The offseason hiring of Chris Ash from Arkansas to be co-defensive coordinator spoke volumes, however, and I'd expect him to have a big role in the defense this year.
---
Luke B. via Twitter writes:
Do you think Indiana's two-QB system can work, or would it be in IU's best interest to pick one and stand by him?

Brian Bennett:
I would argue that it can work and that it did work, for the most part, last season, as the Hoosiers fielded the Big Ten's top passing offense despite juggling
Nate Sudfeld
and
Tre Roberson
at quarterback. Sudfeld started off the season hot but faded a little down the stretch as Roberson took on a bigger role. Sudfeld throws it a little better than Roberson, but Roberson has better wheels. Conventional wisdom suggests that you need to pick just one guy, but Northwestern had success with a two-quarterback system in 2012 and used the same plan last season. Would coach Kevin Wilson like to see one guy totally separate and command the offense this spring as the clear No. 1? Probably. But part him probably also likes the idea of having two guys push each other constantly and knowing he has an option should one struggle on gameday.
---
LP from NYC writes:
Brian: Nobody really talks about this but it feels to me that one the reasons the B1G made the decision to expand East was to protect one of their power brands, who at the time was just given the worst penalty in the history of college sports. Now that my Nittany Lions have shocked the world, including Jim Delany, do you think the B1G brass regrets this decision even a little bit? I mean, can you imagine if they went after Carolina and Duke instead of Rutgers and Maryland?
Brian Bennett:
While there were rumors of the ACC courting Penn State and it's no secret the Nittany Lions felt isolated, I don't think the NCAA penalties had any impact whatsoever on the league's decision to expand East. This was all about opening up new markets, both for TV eyeballs, new fans and recruiting purposes. That's why the Big Ten chose schools located in the highly populated New York/New Jersey and Washington D.C./Baltimore/Virginia, even if the specific programs offered nothing extra special in terms of football. North Carolina and Duke would have given the league better "brands" (though not all that much in football), but they wouldn't have created as much potential areas for growth. It's also odd to me to suggest that league officials would regret the expansion decision when Rutgers and Maryland haven't even officially joined the conference yet.
November, 13, 2013
11/13/13
5:00
PM CT
I'm flippin' out down in Clemson right now but still have time to answer your Big Ten emails. Bring it:
J.R. from Houston writes:
If either Alabama or Florida State loses, who do you think has the best chance of moving up: Baylor or Ohio State? I looked it up, and Ohio State falls behind the Bears in every category except rushing yards, for which Buckeyes are eighth, only one spot ahead. Also Baylor has three ranked teams on its schedule (Oklahoma, Oklahoma State and Texas) while Ohio State only has one (Wisconsin). Not to mention the Big 12 is third in the conference power rankings with an overall rating of 73.9. The Big Ten is fourth with an overall rating of 66.8. If both teams win out, does the Big Ten blog think that Baylor would pass Ohio State and secure the No. 3 spot? P.S. The College Football playoffs can't come soon enough!
[+] Enlarge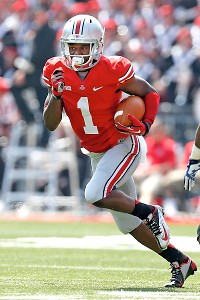 Kirk Irwin/Getty ImagesFreshman Dontre Wilson and the Buckeyes will need style points down the stretch.
Brian Bennett:
Great question, J.R. Right now, Ohio State does have to worry about winning with style points to make sure it stays ahead of Baylor -- and Stanford. Things are getting very, very close.
The good news for the Buckeyes is that Baylor is currently No. 5, not No. 4. Stanford is only .237 behind Ohio State, but I don't believe a one-loss team will pass an undefeated Big Ten champion. So the Bears have some work to do. But Baylor is only 25 points behind Ohio State in the coaches poll and 69 points back in the Harris poll. And it has some marquee matchups still to come by playing at No. 12 Oklahoma State on Nov. 23 and No. 24 Texas on Dec. 7.
If Baylor beats Oklahoma State, that will be a very good win that should propel the Bears in both the polls and the computers. Ohio State could suffer in the next three weeks as it plays Illinois, Indiana and a down Michigan team. That's why having Michigan State win out and play in the Big Ten title game could really boost the Buckeyes. And if Wisconsin wins out, Ohio State's wins over the Badgers and Spartans will look just as good if not better than Baylor's over Oklahoma and Oklahoma State.
Baylor cannot criticize the Buckeyes' nonconference schedule, either, since it played the murderer's row of Wofford, Buffalo and Louisiana Monroe. Ohio State should still worry, because Baylor wins with so much offensive flair that voters could become more sympathetic toward that team. But the best thing the Buckeyes have going for them is that they started out higher in the polls than the Bears, and that poll inertia will be tough to overcome.
John from Newark, Del., writes:
Just a quick note about the BCS computers. The Colley Matrix--which has disliked Wisconsin the most all season -- allows you to add and remove games at will. Reverse only the Wisconsin/ASU result and take a peek at what Colley's computer results would look like if Wisconsin had taken and made the FG.
Brian Bennett:
John, I like the cut of your jib. Excellent find. You can go
here
to that function on the Colley Matrix site and reverse the Arizona State result for the Badgers. What happens is that Wisconsin jumps to No. 10 in the hypothetical Colley Matrix rankings, all the way up from No. 26 in the real life ratings. (It also helps Ohio State, which moves up from No. 4 to No. 3).
Now, you could argue that maybe Wisconsin misses that field goal, because the Badgers' special teams have been suspect. And this is just one computer ranking system out of several used for the BCS. But the point about how much Wisconsin is getting punished by that terrible officiating crew is still valid. It makes 16 spots' worth of difference in one major computer ranking, and voters who still aren't giving the Badgers enough credit would likely have them ranked much, much higher. Wisconsin would go from being criminally underrated at No. 22 in the BCS to a an extremely strong candidate for an at-large bid.
There's only one word for it: Injustice.
M.V. from Grand Rapids, Mich., writes
: If Iowa finishes 8-4 and so does Minnesota, does the tie go to Iowa for beating Minnesota or does Iowa "traveling well" give them the go ahead? In all fairness the better bowl goes to Iowa no matter what. Wouldn't it?
Aaron M. from Purcellville, Va., writes:
I'm starting to get upset with the perception of Gophers. Everyone seems to think that they are just an average football team, and that they don't deserve a good bowl because the fan base apparently doesn't travel well. Let's be real: Minnesota hasn't been to a halfway decent bowl game since 2003 when they went to the Sun Bowl and played Oregon. Michigan is self-destructing. Wouldn't the bowl gain more interest if they took the Gophers especially with Coach Kill's leave of absence? That should provide more storyline.
[+] Enlarge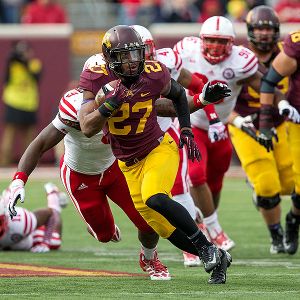 Jesse Johnson-USA TODAY SportsDavid Cobb and the Gophers already have posted eight wins, but will their reward be the best bowl it could be?
Brian Bennett:
I can understand why Minnesota fans are worried. If we were just talking about merit, the Gophers would be in line for a really nice bowl destination right about now. But a lot of things go into bowl selection, including fan support and team momentum. If all things are relatively even, Iowa could very well get the nod over Minnesota because of its fan base. Michigan could do the same because of its brand name.
But the Gophers could also have momentum on their side, if they end up with six straight wins or five of their last six. The Jerry Kill story is a great one, and bowl games love that kind of positive publicity. So all of that is good news. Here's my main concern: Minnesota has yet to draw sellout crowds to its own stadium. Last week against Penn State, the announced attendance was 48,123, or more than 2,000 below capacity at TCF Bank Stadium, and there were even more empty seats than that, according to media reports.
I'm not sure what else Gopher fans are waiting for to get all the way behind this special team. If that stadium is not absolutely full next week against Wisconsin -- and not because of visiting Badgers fans -- then Minnesota can't complain if it gets passed over for a bowl slot.
Mike R. from Camp Lejeune, N.C., writes:
While Michigan has certainly gotten better under Brady cHoke they clearly are still far and away from being elite again. I honestly feel that cHoke's Year 1 win against one of the least inspired/worst coached Buckeyes teams in recent memory, is the only thing keeping him off the hot seat at this point. What do you think it will take for Michigan fans to start calling for his replacement as he has said all the right things but continues to not produce?
Brian Bennett:
It's an interesting hypothetical, at the very least. Let's say Michigan doesn't beat Ohio State in 2011 (it was a three-point game with two minutes left, and
Braxton Miller
missed on what could have been a game-tying touchdown pass on the Buckeyes' final drive). Michigan finishes that regular season at 9-3 and does not go to a BCS game. Hoke would have a two-game losing streak to Ohio State with a likely third loss pending this year.
I still don't think that would put Hoke on the hot seat. He has built up a lot of goodwill by being a Michigan Man and by not being Rich Rodriguez, and his recruiting prowess provides hope for the future. But he'd be on a much shorter leash, and I think Maize and Blue fan anger would be much hotter right now without that win. You can do a lot of things right at Michigan or Ohio State, but if you don't win The Game, it's never enough.
Marcus from NY, NY, writes:
Is it time for Michigan to just start playing
Shane Morris
? I know this sounds crazy, and I am not advocating that Shane Morris will get Michigan out of its funk. Quite the opposite. Michigan will stink with Shane Morris out there. However, the future is now at Michigan, look at the offensive line and the secondary, it's a lot of freshmen and even Hoke has admitted its necessary to get the offensive linemen going to get some experience now. Morris' redshirt has been burned, so get him out there and get some experience. Gardner is completely lost and getting battered, and he's going to struggle from now until whatever pizza bowl Michigan gets to play in. At the very least a somewhat experienced Morris can push Gardner during the offseason and provide another QB for 2014.
Brian Bennett:
Marcus, I think if Morris were ready, he would have played more by now, because Gardner has had his troubles. But Hoke and Borges obviously don't think he's ready. You also run the risk of putting a young quarterback in there behind a bad offensive line and having his confidence shot (along with possibly some of his limbs).
Since Michigan doesn't have a whole heck of a lot to play for this season -- by Hoke's standards, the season is already a failure -- then it wouldn't hurt to get Morris some experience. At the same time, Michigan will be in a dogfight its final three games, and its best chance to win those is still probably with Gardner. I think the bowl game would be the perfect time to work Morris in, especially after he gets those extra bowl practices to develop. An open quarterback competition next spring would be good for everybody.
Steve from Columbus, Ohio, writes:
Brian, love the blog, just wondering why the media isn't pushing for an Urban Meyer-Nick Saban BCS finale. Seems like a journalist's dream, dozens of storylines. FSU is pretty good but no one wants to see another freshman quarterback get worked again. Your thoughts?
Brian Bennett:
Call me naive, but I think most journalists have the integrity to "push" for the two teams they feel are the most deserving. And Alabama and Florida State have that edge right now in a big way. There would still be plenty of storylines in an FSU-Bama clash. And have you seen
Jameis Winston
play? I'm not too worried about him "getting worked." He's a special player, and quite possibly this year's Heisman Trophy winner.