Chicago Colleges:

Big Ten Tournament
March, 13, 2010
3/13/10
1:48
PM CT
INDIANAPOLIS – Illinois coach Bruce Weber prefers not to use all three of his freshmen in unison.
D.J. Richardson
is the lone one to start and sees plenty of minute every game.
Tyler Griffey
and
Brandon Paul
come in off the bench and are used where needed. At times, two of them have found the floor together. Rarely have all three. With all three having so many ups and downs, like most freshmen around the country, Weber can't trust them together.
On Saturday, Weber went against his routine. With all three seemingly have good freshmen days, he rewarded them all with numerous minutes and even went with all three of them at once during the late minutes of the second half.
Illinois' freshmen have been at times frustrating this season, but on Saturday they were the reason the Illini led 37-31 at halftime.
Griffey sank all three of his shot attempts, including a high-arcing 3-pointer with the shot clock winding in the half's final minute, scored seven points, grabbed one rebound and passed out one assist. It was quite a difference from his recent past as he hadn't scored in his past three games and hadn't scored multiple baskets since scoring six points against Ohio State in February.
Richardson was especially feeling comfortable in the opening half. He put up a team-high 10 shot attempted, connected on four of them, including three 3-pointers, scored 11 points and had one steal. He also was the primary defender on Ohio State's national of the player candidate
Evan Turner
and frustrated throughout the opening 20 minutes as he committed five turnovers.
Paul , as he always does, wasn't afraid to get right in and start shooting. He made 1-of-4 shots and scored three points. But unlike previous games, he also distributed as he dished out four assists. It's the most assists he's had in a game since passing out five against Vanderbilt on Dec. 8. He also had three rebounds and drove twice strong the hole and was caused Ohio State fouls.
Scott Powers covers high school and college sports for ESPNChicago.com and can be reached at spowers@espnchicago.com.
March, 13, 2010
3/13/10
12:33
PM CT
INDIANAPOLIS -- Illinois Wolves AAU coach Mike Mullins has been in the stands nearly every time his former players Illinois'
Demetri McCamey
and Ohio State's
Evan Turner
have met in their collegiate careers.
On Saturday, Mullins' son's birthday took precedent, and he didn't make the trip to Indianapolis as the two former St. Joseph High School stars square off in the Big Ten Tournament semifinals.
Mullins did plan on watching.
"Both have carried their teams on their backs all season, and both are NBA players," said Mullins via text. "I am so proud of both. I love them both, glad they are my friends and part of my family. They're special people and special players."
In the past three seasons, McCamey and Turner have met six times with Turner's teams having a 4-2 advantage. Here's a rundown of their previous games:
March 2, 2010: Ohio State 73, Illinois 57 -- Turner had 16 points, 12 rebounds, five assists and one steal; McCamey had 18 points, four rebounds, seven assists and one steal.
Feb. 14, 2010: Ohio State 72, Illinois 53 -- Turner had 16 points, 11 rebounds, eight assists and one steal; McCamey had nine points, two rebounds, nine assists and one steal.
Feb. 22, 2009: Illinois 70, Ohio State 68 -- McCamey had 15 points, two rebounds and seven assists; Turner had 17 points, nine rebounds, five assists, two steals and one block.
Jan. 20, 2009: Illinois 67, Ohio State 49 -- McCamey had 13 points, three rebounds, seven assists and two steals; Turner had four points, 10 rebounds and four assists.
Jan. 22, 2008: Ohio State 64, Illinois 58 -- Turner had 14 points, two rebounds, two assists and one steal; McCamey had two points, two rebounds, three assists and two steals.
Jan. 3, 2008: Ohio State 74, Illinois 58 -- In their first meeting, Turner had five points, four rebounds, two assists, one steal and one block; McCamey had 10 points, four rebounds, two assists and one steal.
On Saturday, the two players could be competing for the final time in college -- unless they meet in the NCAA Tournament -- as Turner is probably headed to the NBA after the season. McCamey could follow him there next season.
For now, they are going to enjoy this one last encounter.
"To play us again, he's going to be extremely happy," McCamey said of Turner on Friday. "It's the friendship thing with us. We're like brothers, so it's always fun to get to play against one another."
Scott Powers covers high school and college sports for ESPNChicago.com and can be reached at spowers@espnchicago.com.
March, 12, 2010
3/12/10
6:42
PM CT
INDIANAPOLIS –Sophomore
Luka Mirkovic
is often the forgotten Northwestern starter.
There's
Michael Thompson
,
John Shurna
,
Drew Crawford
,
Jeremy Nash
and … oh yeah, Luka Mirkovic, most would say.
For one, interior play isn't the Wildcats' strength, and, secondly, Mirkovic isn't the overwhelming type of player. Being 6-foot-11, Mirkovic simply fills Northwestern's need for a big man. What coach Bill Carmody gets from him depends on the day.
On Thursday, Mirkovic provided little. He had zero points, five rebounds and fouled out in 18 minutes. For the season, he has averaged 7.4 points and 5.8 rebounds per game.
But during the first half of Friday's Big Ten Tournament quarterfinal against Purdue, Mirkovic chipped in a big way, and he did so with a little move.
After the Wildcats had already seen how Purdue center
JaJuan Johnson
can dominate the paint after rejecting two shots in the game's opening five minute, Mirkovic was willing to take another shot at scoring inside. This time, though, Mirkovic learned from his teammates' mistakes. He got the ball, faked, got Johnson in the air, went up and was fouled.
With 14:41 left in the first half, Johnson picked up his second foul, and Boilermakers coach Matt Painter was forced to go the bench. Without Johnson on the floor and Purdue unable to turn to injured
Robbie Hummel
to play inside, Northwestern was at even ground with the Boilermakers inside.
When Northwestern began to pull away in the opening half without Johnson and went up 14-4 at one point, Painter knew he needed Johnson badly on the floor, was willing to risk another foul and put him back into the game. Purdue rallied with Johnson and cut Northwestern's lead, but the Wildcats still were able to take a 34-30 advantage into halftime.
Mirkovic would pick up his second foul shortly after Johnson's and would sit for the half's final 14:13, but his contributions had already been made. He had scored two points, dished out three and caused one costly foul.
Scott Powers covers high school and college sports for ESPNChicago.com and can be reached at spowers@espnchicago.com.
March, 12, 2010
3/12/10
5:54
PM CT
[+] Enlarge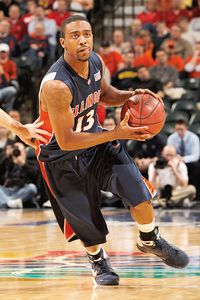 Jonathan Daniel/Getty ImagesJeff Jordan's hustle play and subsequent free throw helped put Wisconsin away on Friday.
INDIANAPOLIS – Illinois junior
Jeff Jordan
saw the ball bounce free with the Illini ahead by just two points in the closing seconds of Friday's Big Ten Tournament quarterfinal.
Someone on Illinois needed to grab the ball. Someone needed to get fouled. Someone needed to sink a free throw to put away Wisconsin for good.
Jordan, the son of Michael Jordan, decided that person needed to be him. Following what could be a genetic impulse, Jordan ran down the loose ball, was fouled and gave Illinois a 57-54 lead with 24 seconds by hitting one of two free throws.
Illinois would win 58-54 and advance to the Saturday's semifinals.
"I wanted to shoot it," Jordan said. "I wanted to come up and grab the ball once I saw it was loose. I was glad I had a chance to knock it down. It did feel good. I just wanted to make sure we won the game first and foremost. It felt good I got to go in and contribute at the end of the game and make the free throw."
With his dad in the stands, Jordan knew his dad would be pleased, but he also knew precisely what he would later hear.
"He's going to yell at me about the second one, but it was good to get one to go down," Jordan said.
Illinois freshman
D.J. Richardson
had no doubt about it.
"That's just confidence," Richardson said. "As coach [Bruce] Weber stated, we need our upperclassmen to be great. That's a great moment for an upperclassmen."
Jordan's contributions for the Illini have been mostly of a smaller significance throughout his career. He's usually asked to come off the bench, give starting point guard
Demetri McCamey
with a breather and provide defensive intensity.
Jordan hadn't actually been in a game-winning shot situation since his playing days at Loyola in high school. The fact he also hadn't put up a shot since halftime and had only eight previous free-throw attempts on the season headed into the game didn't help either.
"It's hard coming in cold and not being warmed up," said Jordan, who finished with one point. "I just didn't want to think about missing it. I just went up there with confidence."
To further add to Jordan's stress, the officials delayed his moment as they tried to figure out how much time should be on the clock.
"I went to the line three times and came to the bench," Jordan said. "It plays mind games. I was just really nervous. … I just told myself, 'Make it.'"
That he did.
Scott Powers covers high school and college sports for ESPNChicago.com and can be reached at spowers@espnchicago.com.
March, 12, 2010
3/12/10
5:36
PM CT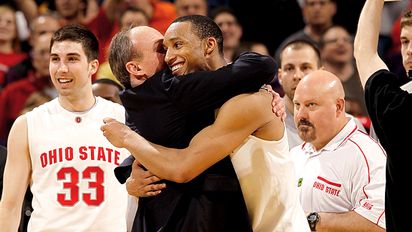 Jonathan Daniel/Getty ImagesEvan Turner envisioned days like Friday while he was growing up in Chicago.
INDIANAPOLIS -- This is what Evan Turner dreamed of growing up on Chicago's West Side.
Two seconds remaining, down by one point, a whole court to go and the ball in his hands.

The only difference from his imagination back then and the reality that presented itself in Friday's Big Ten Tournament quarterfinal was he was playing for Ohio State and his opponent was Michigan.

Chicago's kids just don't dream of being in a Michigan-Ohio State basketball game.

That didn't matter on Friday.

With 2.2 seconds on the clock and the ball on the baseline, Turner ran off a screen by Jeremie Simmons, another Chicago product. Turner caught the ball near the free-throw line, advanced beyond halfcourt with two dribbles, leaped with his body propelling forward, soared above the out-stretched arms of Michigan's Stu Douglass and released the ball from 37 feet out.

As the ball floated to the rim, Turner left his right hand hanging, and when the ball fell through the net, he kept his hand up. He turned to the crowd and awaited his teammates to mob him.

"A little bit of luck, a little bit of follow through," said Turner, who starred at St. Joseph High School. "It really pulled us out of tight situation. We live to play another day. That's what March Madness is, a whole bunch of crazy endings.

"I was definitely one of them kids that dreams about those type of shots. It happens. It's really cool. I'm glad it went in, and we won the game and we go onto tomorrow."

Ohio State's Jon Diebler froze when the shot went in.

"When he made it, I kind of stopped and had to look twice," Diebler said. "'He just made that.' Then I went crazy. That's the player of the year right there. Hands down, player of the year."

Illinois' players watched the shot unfold from the tunnel as they awaited to take the court for the following game.

"I called it," Illinois junior Jeff Jordan said. "I said, 'Watch if they get it at halfcourt,' and they got it to go in."

Illinois junior Demetri McCamey enjoyed watching his close friend and former teammate hit such a clutch shot. Turner never had that opportunity at St. Joe's.

"I usually took all the big shots," McCamey said. "Evan had his share today, and he made one today on ESPN, so I know he's really happy about that."

Turner was just pleased his grand moment wasn't ruined by what his emotions were really telling him to do.

"I just held up my hand, so I wouldn't scream and run around like a little girl all excited," Turner said.

Scott Powers covers high school and college sports for ESPNChicago.com and can be reached at spowers@espnchicago.com.


March, 12, 2010
3/12/10
2:35
PM CT
INDIANAPOLIS – Five days ago, Illinois fell to Wisconsin because 6-10 junior Jon Leuer torched the Illini in every way possible for 20 points. And the Illini were out-rebounded 17-9 on the offensive boards.
Through one half in Friday's Big Ten quarterfinal, the Illini didn't fare much better in either area. They were leading 29-20 at halftime, but Leuer continued to torment them with 11 first-half points, and the Badgers again beat them up on the offensive boards with a 7-0 advantage.

The reason Wisconsin struggled throughout the first half was its shooting. It shot 6-of-32 from the field, 3-of-12 from three-point range and 5-for-10 at the free-throw line. The Badgers' first-half numbers aren't anywhere near its .451 field-goal percentage, its .362 3-point percentage or .739 free-throw percentage.
Wisconsin's shooting likely will come around in the second half.


The question is whether Illinois can make up for it by beginning to contain Leuer and blocking out Wisconsin's players.
Stay tuned.

Scott Powers covers high school and college sports for ESPNChicago.com and can be reached at spowers@espnchicago.com.


March, 11, 2010
3/11/10
10:26
AM CT
[+] Enlarge
AP Photo/Darron CummingsJeremy Nash took responsibility for Indiana's Jordan Hulls making eight 3-pointers in the Wildcats' loss on Saturday.
Northwestern senior
Jeremy Nash
can't get the picture of Indiana's
Jordan Hulls
knocking down 3-pointer after 3-pointer over him and his teammates in the Hoosiers' overtime win on Saturday.
Hulls had eight 3-pointers, and as the top piece to Northwestern's 1-3-1 zone and the team's lone playing senior, Nash pointed the finger at himself for Hulls' career day.
"I told the coaches I felt like it was my fault," Nash said. "I wasn't more aggressive as I have been in the 1-3-1 or getting on guys after his first couple 3s. It's kind of personal now. I don't plan on letting it happen again."
On Thursday, Nash and the Wildcats get their shot at revenge as Northwestern and Indiana square off again. This time, there is more at stake with their matchup being one of three first-round Big Ten Tournament games on the day.
Northwestern has had success shutting down Hulls before. In their first meeting in early February, Hulls was shut out on his three 3-point attempts.
The key to that success again is talking more, according to Nash.
"If we talk, he's not going to get those shots the next game," Nash said. "That's a guarantee."
With Nash facing what could be the final games of his career, he is motivated to finish strong. Nash has had a memorable senior season, putting up career numbers, but in recent weeks his play has dipped. In the Indiana loss, he shot 1 for 11 from the field.
"I told the coaches the other day I haven't been happy with my play at the tail end of the season," Nash said. "I feel like I've been playing my worst basketball. I'm trying to focus on the next game, the next practice, trying to make myself better and put the shots down that I didn't against Indiana.
"Maybe the senior thing is getting to me, thinking about it too much instead of just going out and playing basketball. Knowing that this is my last postseason, I got to take it as it is."
The Wildcats have been most successful this season when they've had three players producing.
Michael Thompson
and
John Shurna
have consistently been two of those players. With freshman
Drew Crawford
dealing with some back issues, Northwestern coach Bill Carmody especially needs Nash to be that third weapon.
"He knows," Carmody said. "He realizes where he is. I'm sure he wants to have a good showing because he didn't play well the other night. He's a competitor, that's for sure."
The shooter:
All 83 of Iowa senior Devan Bawinkel's shots this season have been 3-pointers. Dating back to last season, Bawinkel, who is from Winnebago, Ill., has gone 38 games without attempting a 2-point field goal. His last 2-pointer came in the second half of Iowa's game against Wisconsin on Feb. 11, 2009. In his two years at Iowa since transferring from Highland Community College in Freeport, Ill., Bawinkel has made 83 of 222 3-pointers and 1 of 5 2-pointers.
Bringing more to the Battle:
Minnesota isn't taking No. 11-seed Penn State lightly headed into Thursday's game, and it has good reason not to as the Nittany Lions are playing their best basketball of the season. During Penn State's recent success -- winning three of its past six and losing by less than five points in two other games --
Talor Battle
, the team's star, has led the way. He has scored in double digits in the last 14 consecutive games.
The difference is the play of junior forward
Jeff Brooks
and sophomore guard
Chris Babb
. After not scoring in double figures since Dec. 9, Brooks got back on track against Northwestern with 12 points on Feb. 17. Since then, he's had three other games of 11 points or more and the other two were of eight and nine points. Penn State is 6-1 when Brooks scores in double figures this season.
Babb has also turned it on in the past few weeks. Beginning with that same Northwestern game, he has scored 14 or more points four times. In his previous 24 games, he had done that in just five games. He's also hit 19 3-pointers in the past six games.
Princeton power:
Carmody has heard so many times over the years that the Princeton-style offense he runs hampers his teams' ability to score. Finally he can laugh at the critics as Northwestern scored a league-best 68.7 points per game during conference play. "If you guys ever say Princeton offense is slow down," Carmody said while laughing. "Stay away from that stuff. Ha, Michigan State slow- down [offense], I hate that." The Wildcats surge in offseason has mostly to do with the number of 3-pointers they have made. Northwestern connected on 293 3s this season, which ranks fifth in the country, and attempted 806, which was good for sixth.
NBA prospects not named Turner:
Wisconsin's
Jon Leuer
has been one of the conference's most dominating players recently. After missing nine games with a broken left wrist, Leuer is starting to look like his old self again. In his past two games -- his fourth and fifth since his return -- he scored a total of 38 points on 16-of-22 shots. As he showed against Illinois in the regular season-finale, the 6-foot-10 junior can score in a variety of ways. He can shoot from deep. He's comfortable in the post and has a variety of moves that lead to short jumpers or layups. He also can put it on the ground and finish above the rim. Give him another season, and he will be leading the pack for conference player of the year.
What bench?:
Ohio State coach Thad Matta doesn't worry that his starters will get tired. He has rarely turned to his bench during the final stretch of the season. Against Michigan State late in the season,
Kyle Madsen
was the only bench player to see time. On Feb. 24 again Penn State, two bench players combined for 15 minutes and zero points. A game later against three players combined for 16 minutes and zero points. Matta has depended heavily on his starters for most of the season --
Evan Turner
(34.6 minutes per game), William Bufford (33.0),
Jon Diebler
(36.6),
David Lighty
(35.9) and
Dallas Lauderdale
(25.5). Lauderdale's stats are deceiving because he came off the bench early in the season. He has played 29 or minutes in five of his last seven games.
Northwestern is the closest team to Ohio State in pushing its starters. The Wildcats' five starters all average more than 26 minutes with Nash (34.5 minutes), Shurna (36.4) and Thompson (37.8) leading the way. "They're 20 years old," Carmody said. "They probably have pulses rates of like 36. They can do it."
State of freshmen:
Illinois high school products Illinois guard
D.J. Richardson
(Peoria Central) and Northwestern guard Crawford (Naperville Central) made the Big Ten All-Freshman Team this week, but they weren't the only local products to have a successful first year in the conference.
Cully Payne
, a Schaumburg graduate, was Iowa's starting point guard this season and averaged 8.1 points, 3.0 rebounds and 3.9 assists while playing 33.3 minutes a game. He was most impressive against Michigan late in the season when he had 13 points, four rebounds, seven assists and just one turnover. Shooting guard
Brandon Paul
, a former Warren star and last year's Mr. Basketball, contributed throughout the season for Illinois. He averaged 8.1 points, 2.9 rebounds, 1.3 assists and 0.9 rebounds. He had four games of 17 or more points.
TOP 25 SCOREBOARD
Thursday, 9/18
Saturday, 9/20
TOP PERFORMERS