Chicago Colleges:

Bill Rees
April, 29, 2014
Apr 29
9:00
AM CT
Tommy Rees
has had no shortage of familiar surroundings these past couple of weeks. The former
Notre Dame
quarterback is with several of his Irish teammates back in South Bend, Ind., as they make their final preparations for next week's NFL draft, and he was one of a handful of prospects invited to the Chicago Bears' local pro day.
Rees father, Bill, worked for the franchise more than a decade ago, one of many stops in a college and pro scouting career that has taken him across the country. The younger Rees enjoyed his time working with head coach Marc Trestman and quarterbacks coach Matt Cavanaugh, and the trip to Halas Hall certainly evoked old memories.
[+] Enlarge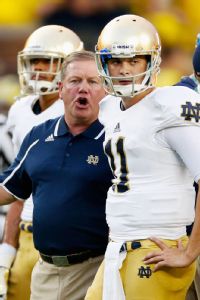 Gregory Shamus/Getty ImagesTommy Rees' high-profile career playing for Brian Kelly at Notre Dame could help his chances of reaching an NFL camp.
"[When] my dad was working there, I would go over to the facility all the time, so it was cool to be back," Rees told ESPN.com. "There were a lot of guys that I remember, guys on staff, it was good to see. It was a cool experience for me to go there so many years later and be able to work out."
The training hasn't been all that different back at Notre Dame. Rees has been working with new Irish quarterbacks coach Matt LaFleur, whose recent experience with the Washington Redskins has proved to be beneficial for Rees as he tries to reach the pro level.
"It's been great, he's really a great coach and a cool guy to work with," Rees said. "He's younger, so there's a connection there right away, and he's been in the league the last couple of years, so he's been able to watch film and talk about mistakes. And just putting me through some of the drills and some of the footwork stuff has gone a long way to help with my progression."
Also going a long way was the performance that Rees was able to put on last month at Notre Dame's pro day. The 6-foot-1.5, 210-pound signal-caller pushed a combine snub aside and completed 32 of 34 passes, with one of the incomplete throws being dropped.
Rees is hoping that the showing in front of the 59 NFL personnel men in attendance helped answer some questions about his ability after a four-year college career that featured just about every high and low imaginable.
"I was really happy with how pro day went, and followed that up with some good throwing sessions similar to that," Rees said. "And I just wanted to go out and show I could make all the throws and [that] my footwork was where it needed to be, and I felt like I did that, and I got a lot of positive feedback from it."
Little has surprised Rees these last four months, something that can likely be attributed to his background. While having a parent in the business (Bill now works for the Tampa Bay Buccaneers) carries its advantages, Rees is appreciative of his father not being overbearing during pre-draft process.
"My dad's been pretty good about trying to let it be my thing, and obviously he knows a lot about it and when he needs to say something he speaks up and helps out," Rees said. "But when I made the decision to try to [pursue the NFL], it was my decision. I'd be meeting with my agent. It was going to be our deal. And my dad's done a really good job of trying to separate that, but it's been great hearing from him for help or words of advice. He's always been there."
There is a strong possibility that Rees goes undrafted, though his pedigree suggests he could be an ideal invite to an NFL camp, if not an eventual coach. It was a narrative that followed him throughout his Notre Dame career, and one that head coach Brian Kelly validated after Rees' finale: "He'll keep trying to play the game as long as he can. But I told him he's got a bright future as a graduate assistant for Brian Kelly any time."
Rees will take in Night 1 of the draft at former roommate
Zack Martin
's place for the tackle's likely first-round selection before heading home, confident that he has held nothing back before his fate is decided.
"I think if you turn on tape you can see a lot of good things," Rees said. "But a lot of these intangibles: playing at Notre Dame, where you're on TV every week against the best competition, I did it for four years -- that wasn't by accident. I didn't play at Notre Dame by accident. And I think I'm the kind of guy who will go in there and just need to get better and that will only go in one direction, and I can definitely help a team with whatever they need."
November, 20, 2013
11/20/13
9:00
AM CT
SOUTH BEND, Ind. -- Danny Rees was talking about his little brother's legacy the other day when he allowed for an idea that Notre Dame was recently faced with, and one the Irish will have to get used to when
Tommy Rees
is no longer an option for them at quarterback.
"I think he's a winner," Danny Rees told ESPN.com. "Obviously there's been some tough losses, but if you look at his overall record I think he's won a lot of games, and I'm not sure where Notre Dame would be without him over the last four years, and I think he would probably say the same thing. I think he wants to be remembered as a guy who came in and won some big games."
Just where Notre Dame would be without Tommy Rees is hard to fathom, especially in light of last month's win over USC, when a neck strain
forced him to the sideline for most of the second half, giving way to an offense that totaled 30 yards and one first down
.
[+] Enlarge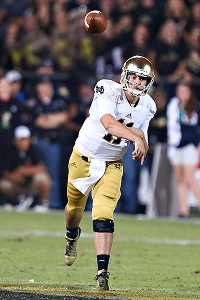 Brian Spurlock/USA TODAY SportsTommy Rees has seen his share of ups and downs and it often gets overlooked that he's led the Irish to 21 wins and thrown for nearly 7,000 yards and 58 TDs.
Or in light of last year's perfect regular season, when Rees accepted his diminished role after an offseason arrest, relieved Everett Golson in three of the first six games and carried Notre Dame to victory without complaint.
Or in light of his freshman year of 2010, when he filled in for an injured Dayne Crist and led the Irish to four straight wins, including their first over the rival Trojans in nine years.
Yes, it is hard to imagine Notre Dame without Rees. But life after him is approaching fast, as the senior will take the Notre Dame Stadium field for the final time Saturday against BYU, a home send-off to a career that has made him part-hero, part-goat and seemingly everything in-between.
Brian Kelly
had some trouble gripping with the idea of a Rees-less Notre Dame when asked Tuesday to think about impending days without the one constant of his four-year Irish coaching tenure.
"Look, we want to win football games -- you're hired and fired for winning football games here; I get that," Kelly said. "But he really loves Notre Dame and understands Notre Dame and understands the distinctions of Notre Dame."
It was just a decade ago that Lake Forest (Ill.) High coach Chuck Spagnoli met an 11-year-old Rees, then visiting a practice of older brother Danny, who went on to punt at UCLA. Rees did not immediately pass the eye test then, nor does he now at a hardly-imposing 6-foot-2, 215 pounds. But within three years, Spagnoli
knew he had himself a three-year starter
at quarterback who would eventually turn into one of the best captains his program has ever had.
"I don't think it's an accident that he's there and in the position he's in right now," Spagnoli told ESPN.com. "He's a fighter and he's a survivor, and he isn't going to just assume that things are going to be given to him by any stretch. He's going to work for everything he gets."
Rees remembers his father Bill, now a scout for the Buccaneers, telling him at an early age that he had three options with football: Liking it, loving it or living it.
"For me it's been about living it," said Rees, who has not ruled out a coaching career.
Added Kelly: "You'd never think of Tommy Rees being two seconds late for a meeting or not at a workout. He's always the first one in and the last one to leave. That's living it."
That means understanding what he signed up for, too.
Rees has not always gotten a fair deal from segments of the fan base, some of which booed him when he replaced Golson in the home opener last year before he led a game-winning drive against Purdue. Three losses this year have led to his name on social media getting linked with words that would not be uttered within earshot of the Basilica, though
a #ThankTommy movement has been growing on Twitter
this week with his home finale approaching.
He has tuned it all out, though, insisting that the sport has never become a burden.
"You've got to commit yourself fully to the game, and at times people get down on it after losses, but you think about not sharing those moments with your teammates, you think about not putting on that helmet," Rees said. "There are people that would give a lot to feel that bad after a game, to even play the game. You've got to be grateful, and you've got to look at it in perspective."
Others bolted at the first sight of adversity, or failed to understand those Notre Dame distinctions that Kelly referred to.
But through nearly 7,000 yards, 58 touchdowns, 21 wins and yes, those seven losses and 34 interceptions, too, Tommy Rees' resolve has persisted. And he still has one last stand left at Notre Dame.
"I mean, shoot, at the end of the day he's the quarterback at Notre Dame and that's a really special thing to be," Danny Rees said. "There's going to be criticism that comes along with it, but I bet you there are thousands of kids out there who would love to put up with that criticism and do what he does, so I don't think at the end of the day it's a big deal."
TOP 25 SCOREBOARD
Thursday, 9/18
Saturday, 9/20