Chicago Colleges:

Billy Gonzales
April, 1, 2013
4/01/13
12:00
PM CT
CHICAGO -- Illinois offensive coordinator Bill Cubit knows what he represents: another round of changes for players who have experienced plenty of them.
Cubit is Illinois' fourth offensive play-caller and fourth offensive coordinator in the past three seasons (Chris Beatty and Billy Gonzales shared play calls and the coordinator role in 2012). No unit in the Big Ten has endured more recent transition than the Illini offense. Cubit understands what his players have been through, but he's not decelerating the learning curve this spring. Just the opposite.
"Like I told those guys, what you did in the past really doesn't make a bit of difference," Cubit said Friday before Illinois held a spring practice/scrimmage at Gately Stadium on Chicago's South Side. "We've just got to get this thing done. ... Ohio State, Penn State, Northwestern, none of these people really care. You've got to face the facts."
The facts are Illinois had one of the nation's worst offenses in 2012. The Illini finished 119th nationally in both yards per game and points per game, 107th in passing and 97th in rushing. Big Ten play brought even greater struggles for Illinois, which averaged just 272 yards and 11.8 points in eight league contests.
Cubit, a longtime offensive coordinator before spending the past eight seasons as Western Michigan's head coach, is tasked to turn things around in a hurry. He's not wasting any time installing his system, and not downplaying what it entails for the players.
"The system is vastly different from what they've done," he told ESPN.com. "The routes are vastly different. The quarterback reads, the quarterback steps are vastly different. We're going to play underneath the center at times."
Quarterbacks
Nathan Scheelhaase
and
Reilly O'Toole
, who are competing for the starting job, are absorbing the brunt of the changes under Cubit. In addition to taking more snaps under center, both are working on getting the ball out quickly.
Cubit's target is 2.2 seconds, typically out of a five-step drop. He notes that even the slightest delay, like holding the ball at chest level rather than shoulder level, where it can be quickly released, makes a big difference.
"I don't think we have the personnel that we just sit back there and take seven-step drops and guys will be open," Cubit said.
Scheelhaase and O'Toole also have had to change their footwork and throwing mechanics, a process which, according to Cubit, has been fairly easy. Because neither quarterback worked much under center before, they haven't had to break longtime habits.
Although Scheelhaase has a major experience edge (36 career starts), Cubit said the quarterbacks are "about equal" so far this spring. Cubit is focused more on installing his system than evaluating a potential starter, and the competition likely will last through the summer and into preseason camp. It's highly unlikely Illinois will use a rotation at quarterback.
"Let's find the one guy we know we can win with and go," Cubit said, "and prepare that other guy in case something happens."
Whomever emerges will need a lot of help, as Illinois struggled to find playmakers in 2012. Cubit likes the potential of the tight end group:
Evan Wilson
,
Matt LaCosse
and, when he gets healthy,
Jon Davis
. Running backs
Josh Ferguson
and
Donovonn Young
have had good springs.
There are bigger questions at wide receiver. Although Illinois returns a few familiar names (
Ryan Lankford
,
Spencer Harris
), it needs others to emerge and could be turning to several players who have switched positions (
Steve Hull
,
Miles Osei
) as well as a junior-college arrival (Martize Barr).
"The biggest change has been Steve Hull moving from defense to offense," wide receivers coach Mike Bellamy said. "He's polished, he's excited, he's energized, he's competitive. He's making big plays."
Head coach Tim Beckman called the offensive line Illinois' "biggest concern" after a season where the group surrendered a league-worst 39 sacks and the Illini averaged a league-low 3.5 yards per carry. The silver lining is players like
Michael Heitz
,
Simon Cvijanovic
and
Ted Karras
have experience under their belts.
Alex Hill
has moved from guard into the top center spot this spring.
Cubit has tried to tailor his scheme to help out the offensive line.
"We've got to play to their strengths also," he said. "The one thing I see there is willingness. Probably a scarred group, like the whole offense. When you're next to last [nationally] in offense, you're going to have some gaps out there. But I just keep on telling them how good they can be. And they can.
"They've got a shot."
February, 20, 2013
2/20/13
6:30
PM CT
Illinois' new wide receivers coach knows a lot about catching passes for the Orange and Blue.
Mike Bellamy earned first-team All-Big Ten honors as an Illini receiver in 1989 (he also earned second-team All-America honors as a kick returner that season), when he recorded 59 receptions for 927 yards and eight touchdowns. Bellamy went on to be a second-round draft pick of the Philadelphia Eagles in 1990.

His new task calls for him to upgrade Illinois' receiving corps, which, like the rest of the offense,
struggled mightily in 2012
. Head coach Tim Beckman promoted Bellamy from assistant director of player personnel and relations, a recruiting-based position, to receivers coach. Bellamy replaces Billy Gonzales, who
left Illinois
for a post with Mississippi State after only one season.
While Bellamy fills one vacancy, Illinois reportedly has lost another assistant as cornerbacks coach
Steve Clinkscale is headed to Cincinnati
. Clinkscale, one of Illinois' top recruiters, is the fifth assistant to depart Beckman's staff -- four left voluntarily, one was fired. All the staff turnover is no surprise after such a tough 2012 season and with Beckman's uncertain future in Champaign.
Bellamy will be Illinois' fourth new full-time assistant for 2013, joining offensive coordinator Bill Cubit, offensive line coach Jim Bridge and defensive line coach Greg Colby. The Big Ten Network's Howard Griffith, a former teammate of Bellamy's at Illinois,
first reported Bellamy's promotion
.
"I always say there are three places that I call home -- my family's house, my mother's house, and Memorial Stadium," Bellamy said in a statement. "As an alum, I think it's important to teach our players what it means to wear the orange and blue. This program has a proud and storied history, and I can't wait to pass the pride that I have have for Illinois Football on to our current student-athletes."
Bellamy played six seasons of pro ball, in the NFL and the World League, before starting a business with his wife in the Atlanta area. He began coaching high school football in 2008 and served as receivers and specialists coach at Clark-Atlanta University in 2011 before joining Illinois' staff. His previous role involved coordinating events for former players, campus outreach and assisting with recruiting and coaching clinics.
While he has limited coaching experience, his success as a former Illini star and his familiarity with the players should help him in his new role.
February, 8, 2013
2/08/13
9:30
AM CT
Billy Gonzales, who served as co-offensive coordinator for Illinois last season, is leaving the Illini for another job,
the Champaign News-Gazette reports
.

Gonzales shared the offensive coordinator title with Chris Beatty, who was let go after the season. Illinois averaged only 16.7 points per game last season, last in the Big Ten.
Gonzales came to Illinois after serving as the passing game coordinator and receivers coach at LSU for two years. Before that, he was the receivers coach at Florida.
Illini head coach Tim Beckman hired former Western Michigan coach Bill Cubit as his offensive coordinator last month. Beckman now has two openings on his staff, as he also has to replace defensive line coach Keith Gilmore, who left for North Carolina.
January, 5, 2013
1/05/13
6:43
PM CT
Illinois
coach Tim Beckman announced Saturday that he will not retain co-offensive coordinator/quarterbacks coach Chris Beatty.
Beatty shared offensive coordinator duties with Billy Gonzales, who also coached the wide receivers last season. No announcement was made about Gonzales' position.
The Illini announced a national search for an offensive coordinator would begin immediately.
Beatty was hired by Beckman after spending the 2011 season as Vanderbilt's wide receivers coach and offensive recruiting coordinator. He was also previously an assistant at West Virginia, Northern Illinois and Hampton.
December, 20, 2012
12/20/12
2:01
PM CT
Paying top dollar for assistant coaches has become an issue in the Big Ten lately. Bret Bielema cited his inability to pay and retain assistants at Wisconsin as a major reason why he left for Arkansas. Purdue made a bigger commitment to its overall staff salary when it hired Darrell Hazell to replace Danny Hope.
How do the Big Ten teams stack up when it comes to salaries for assistants? Luckily, USA Today has
just compiled a database
looking at what every FBS program pays its staffs. The study found that the average major college football assistant
now makes $200,000 per year
, a number that is on the rise. According to USA Today, pay for assistants rose 10 percent from last year and is up 29 percent from 2009, the latter of which is higher than the increase in salary for head coaches during that time period.
Here is what Big Ten teams spent on their staffs in 2012, not including the head coach (Note: Because Northwestern and Penn State are not subject to the same state open-records laws as other schools, their information was not available):
Ohio State: $3.29 million
Michigan: $2.93 million
Illinois: $2.3 million
Michigan State $2.2 million
Nebraska: $2.15 million
Iowa: $2.1 million
Minnesota: $2.1 million
Indiana: $2 million
Wisconsin $1.77 million
Purdue: $1.61 million
As you can see, Wisconsin was near the bottom of the pack in the Big Ten. Purdue has given Hazell a pool of $2.1 million for assistant coaches, which would put the Boilermakers right about the average for league schools. Ohio State and Michigan are the two richest schools and have not surprisingly made the biggest commitment to salaries. When you add in Urban Meyer's salary, the Buckeyes are paying nearly $7.6 million per year in football salaries. You get what you pay for, I guess, as Ohio State went 12-0.
While the Big Ten's median salary pool for assistants was just over $2 million in 2012, the median in the SEC was around $2.5 million. According to USA Today, the SEC paid its assistants an average of $315,000, the most in the nation. The Big 12 was second at just under $290,000.
LSU is spending more than $4 million on assistants, while Alabama is doling out more than $3.8 million on assistants. Auburn ($3.77 million), Tennessee ($2.98 million), Florida ($2.89 million), Georgia ($2.77 million) and Texas A&M ($2.68 million) also far outspent most Big Ten schools, while Arkansas ($2.56 million in 2012) is making a larger commitment to assistant pay under Bielema.
Finally, here's a look at the top-paid coordinators in the Big Ten among the 10 schools whose information was available via public records:
Luke Fickell, co-defensive coordinator, Ohio State: $761,000
Greg Mattison, defensive coordinator, Michigan: $758,900
Al Borges, offensive coordinator, Michigan: $658,300
Pat Narduzzi, defensive coordinator, Michigan State: $501,700
Tom Herman, offensive coordinator, Ohio State: $456,000
Everett Withers, co-defensive coordinator, Ohio State: $456,000
Tim Banks, defensive coordinator, Illinois: $400,000
Chris Beatty, co-offensive coordinator, Illinois: $400,000
Billy Gonzales, co-offensive coordinator, Illinois: $400,000
Tim Beck, offensive coordinator, Nebraska: $372,300
Tracy Claeys, defensive coordinator, Minnesota: $340,000
Matt Limegrover, offensive coordinator, Minnesota: $335,000
Greg Davis, offensive coordinator, Iowa: $325,000
Dan Roushar, offensive coordinator, Michigan State: $307,000
Mike Ekeler, co-defensive coordinator, Indiana: $306,600
Doug Mallory, co-defensive coordinator, Indiana: $306,600
Phil Parker, defensive coordinator, Iowa: $301,500
John Papuchis, defensive coordinator, Nebraska: $300,000
Gary Nord, offensive coordinator, Purdue: $275,000
Chris Ash, defensive coordinator, Wisconsin: $267,050
Matt Canada, offensive coordinator, Wisconsin: $265,000
Seth Littrell, offensive coordinator, Indiana: $255,500
Tim Tibesar, defensive coordinator, Purdue: $250,000
Fickell, Borges and Mattison are three of 18 assistants nationwide who earned at least $600,000 in 2012, according to the study. There were 14 assistants paid that much last season and nine in 2010. Ohio State offensive line coach Ed Warinner is the highest paid position coach in the league, at a salary of $357,800.
November, 15, 2012
11/15/12
10:15
AM CT
Ten items to track around the Big Ten entering Week 12:
1. Ballin' for history:
Thirteen years after Ron Dayne broke the NCAA career rushing record, another Wisconsin running back is on the doorstep of a major milestone. Badgers senior
Montee Ball
, who, unlike Dayne, spent a year and a half as a reserve, needs one more touchdown Saturday against Ohio State to tie the NCAA career mark of 78 held by former Miami (Ohio) star Travis Prentice. Ball has scored 13 touchdowns in his past six games and is averaging 179.1 yards and three touchdowns in his past nine November games. A big performance against the unbeaten Buckeyes will once again put Ball on the radar for top national honors. Ball's next rushing touchdown will mark his 72nd, moving him past Dayne for the Big Ten career record.
2. Holding serve in the Legends:
Nebraska and Michigan are tied atop the Legends Division at 5-1, and on paper, they should stay that way after Week 12. Both teams are favored to take care of Minnesota and Iowa, respectively, on senior day in Lincoln and Ann Arbor. Nebraska's magic number (wins and Michigan losses) to punch its ticket to Indianapolis is 2. A Huskers loss and a Michigan win puts the Wolverines in control of their own fate in the division. One senior day subplot is whether face-of-the-program stars like Nebraska running back
Rex Burkhead
and Michigan quarterback
Denard Robinson
will play after missing time with injuries. Burkhead (knee) returned to practice this week and seems closer to a return, while Robinson (elbow) remains day-to-day.
[+] Enlarge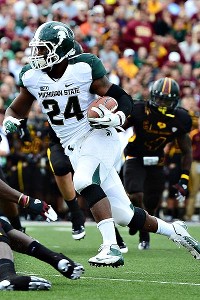 Andrew Weber/US PresswireLe'Veon Bell and the Spartans plan to finish strong against Northwestern on Saturday.
3. Finishing school:
Northwestern and Michigan State easily could be playing for a Legends Division title Saturday. Instead, both teams' inability to finish against the likes of Nebraska and Michigan has left them looking for a full 60-minute performance. Michigan State's four Big Ten losses have come by a combined 10 points. Northwestern held double-digit second-half leads in all three of its Big Ten losses. Something's gotta give Saturday as the teams meet at Spartan Stadium. "Their problem, just like ours, has been closing out games," Spartans linebacker
Chris Norman
told ESPN.com this week. "... It's going to come down to who can finish the best. Saturday is going to be interesting."
4. Hope and a prayer:
There's growing talk that Purdue will make a head-coaching change after the regular season no matter what happens in the final two games. But can fourth-year boss Danny Hope save himself with a three-game win streak to become bowl-eligible? It's reason enough to tune in for an otherwise off-the-radar game between Purdue and slumping Illinois on Saturday. A loss to the Illini would prevent Purdue from getting bowl-eligible and likely seal Hope's fate, while a Purdue win adds intrigue to next week's Bucket game against Indiana. The Boilers' offense got on track last week behind quarterback
Robert Marve
and running back
Ralph Bolden
, while defensive tackle
Kawann Short
had his best game of the season at Iowa.
5. Rivalry renewed:
Saturday's game at Camp Randall Stadium won't decide which Leaders Division team goes to the Big Ten title game, as Wisconsin already punched its ticket last week. But Ohio State can lock up the Leaders Division championship -- the only title it can win this season -- while Wisconsin can legitimize its trip to Indy by handing Urban Meyer's Buckeyes their first loss of the season. Looking ahead, the Ohio State-Wisconsin game likely will be the signature contest in the division for years to come. Illinois is a mess, Purdue has backslid this season, Indiana is still building and Penn State still has three more years of postseason bans. "I hate Wisconsin just as much as Michigan," Ohio State wide receiver
Corey Brown
said this week. While Meyer and Wisconsin coach Bret Bielema say their post-signing day spat is a thing of a past, it could bubble up Saturday depending on how the game goes.
6. Taking a pass:
The Big Ten might not be flush with elite quarterbacks and high-powered offenses this season, but a few of its teams can sling the ball a bit, and two of them meet at Beaver Stadium. Indiana and Penn State are the Big Ten's top two pass offenses, ranking 26th and 40th nationally, respectively. They'll share the field Saturday as they try to rebound from different types of losses. Indiana quarterback
Cameron Coffman
struggled with his accuracy (25-for-46) in last week's loss to Wisconsin and looks for a sharper afternoon. Penn State quarterback
Matt McGloin
wasn't a happy guy after the Nebraska loss and will try to take it out on IU. The game features two of the Big Ten's top receivers in Penn State's
Allen Robinson
and Indiana's
Cody Latimer
.
7. Hawkeye hex:
Iowa has been in a funk for much of the season and particularly in the past month, dropping four consecutive Big Ten contests. Perhaps a date with Michigan can put the Hawkeyes back on track. See, Iowa has won three straight against Michigan for the first time in team history and five of its past eight against the Wolverines. Michigan's seniors are anxious to finally get over the hump against Iowa, one of two Big Ten teams (Penn State the other) they have yet to beat. But maybe it works the other way and Iowa finally shows a spark on offense and stiffens its defense. If not, the Hawkeyes won't be going bowling for the first time since the 2006 season, and it'll be a very long winter for Kirk Ferentz. "It doesn't hurt, obviously," Ferentz said of his team's Michigan win streak, "but it doesn't guarantee us anything."
8. Backs of different sizes:
Michigan State's
Le'Veon Bell
is the biggest featured running back in the Big Ten, checking in at 6-2 and 244 pounds. Northwestern's
Venric Mark
is the smallest, checking in at 5-8 and 175 pounds. But both have been extremely effective this season with the ball in their hands. Bell leads the Big Ten in rushing yards (1,249), while Mark ranks third in rushing yards (1,181) and first in all-purpose yards (1,917). Each has been the MVP of his respective offense, and it'll be interesting to see them on the same field at Spartan Stadium. Both Michigan State and Northwestern defend the run well, too, both ranking in the top 25 nationally.
9. Illini look for a spark:
Illinois ranks last in the Big Ten in scoring, rushing and total offense, and lingers near the bottom of the FBS in all the significant categories. The Illini need some sort of boost on offense or a 2-10 season is a virtual certainty. Head coach Tim Beckman, whose background is defense but who had a high-powered offense at Toledo the past few years,
took a more active role with the offense
this week in an effort to get things going. Beckman also noted that co-offensive coordinators Chris Beatty and Billy Gonzales call plays on different downs. Hmmm. Starting cornerback
Terry Hawthorne
took more reps with the wide receivers this week and could see an increased role against Purdue. Illinois aims to win on senior day for the first time since 2007.
10. Bowl picture taking shape:
We learned a little more about the Big Ten bowl contingent last week as Minnesota became bowl-eligible, Purdue took a big step toward the postseason and both Iowa and Indiana took a step toward a winter at home. There should be some more answers in Week 12. Michigan State aims for its sixth win to go bowling for the sixth consecutive season under coach Mark Dantonio. Purdue must keep its bowl hopes alive at Illinois, while both Iowa and Indiana must win on the road to avoid loss No. 7. It won't be easy for the Hawkeyes or Hoosiers. Indiana never has won at Beaver Stadium in 15 previous meetings with Penn State. Iowa never has won consecutive games at Michigan Stadium.
August, 22, 2012
8/22/12
5:00
PM CT
In the Illinois offensive staff room, there's a board where the coaches list their top five playmakers. The goal is to identify which players need to touch the ball most often, and then to build the offense strategy and scheme around that.
How much has that list changed in the last several months?
"It's changed quite a bit since we got here," co-offensive coordinator Billy Gonzales told ESPN.com, laughing. "It's everchanging."
[+] Enlarge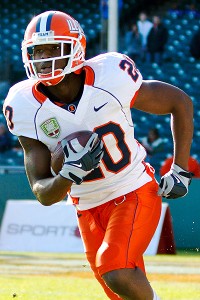 Jason O. Watson/US PresswireThe Illini are looking to Fritz Rock to add depth at receiver.
The Illini want that top five to stay fluid to reflect competition. But there also haven't been as many candidates for that list as the coaching staff would like.
The team is switching to the spread offense this season under new coach Tim Beckman, and that's an attack that usually requires lots of depth at the skill positions. Illinois, though, doesn't have that luxury and continues to look for more playmakers, especially at receiver.
"We are extremely, extremely thin there," said Gonzales, who oversees the receivers. "Depth is a major need for us, and we have to go out and recruit that. Of the guys we have right now, I probably feel comfortable with three of them, and they are the three with experience at the Division I level. After that, it's a dogfight."
Gonzales said a spread offense should ideally be four deep at each of the three receiver spots and added that the Illini "are not even close to that right now." He also said the Illini have "not by any means" identified a true No. 1 receiver among those they are sure will contribute. A big key for the staff, he said, will be to continue to develop young wideouts like sophomore
Fritz Rock
and redshirt freshman
Kenny Knight
.
While the receiver position is a big question mark, there are higher hopes at some of the other skill positions.
Gonzales said the running back group, considered a weakness going into the offseason, is now "one of the strengths of our team." Though it's not particularly deep, the duo of
Josh Ferguson
and
Donovonn Young
has Gonzales excited. He said there are packages where both will be on the field at the same time.
"Donovonn played for us last year, and Josh understands what's expected of him after this spring," he said. "Both of those guys have the ability to run the ball in our offense, and both of them are strong and powerful."
The tight end spot is another area for optimism. Gonzales feels the team is four-deep at that position with
Evan Wilson
,
Jon Davis
,
Matt LaCosse
and
Eddie Viliunas
. The tight ends, he said, "have had a really good football camp," and you could see multiple tight end sets this fall even in a spread offense.
"We've got to put our best 11 players on the field, and if the best 11 players includes tight ends over receivers or running backs over receivers, that's what it is," Gonzales said.
Gonzales also said that quarterback
Nathan Scheelhaase
has had a good preseason and has "really embraced a leadership role." He declined to say whether there was a plan to play backup
Reilly O'Toole
, as the team did last year, and said that the goal is just to get both quarterbacks and
Miles Osei
prepared to lead the No. 1 offense, if necessary.
There are still plenty of questions for the Illinois offense, questions that probably won't be answered until there are more players earning serious consideration for that top five list.
"Some of our guys are starting to step up, and that gives a little more flexibility to our offense," Gonzales said. "If we can get more guys to step up, that will make for a pretty good offense."
March, 28, 2012
3/28/12
9:00
AM CT
CHAMPAIGN, Ill. -- After the 2011 season, Illinois center
Graham Pocic
sat down with his linemate,
Jeff Allen
, to compile a highlight tape for Allen to show NFL talent evaluators.
It sounded like a fun exercise. And for a little while, it was.
Pocic and Allen took great joy in reviewing the first six games from the past year. Illinois was winning and scoring points. Life was good.
Then Week 7 arrived. Cracks began to form as Illinois lost 17-7 to an Ohio State team that completed only one pass.
Pocic's and Allen's review session soon made them want to avert their eyes.
"It was really depressing," Pocic said. "All the great opportunities we had, especially after starting 6-0. Mostly I was trying to figure out what went wrong with the offensive line, with the running game, why we couldn't run the ball like we did with Mikel [Leshoure] the year before.
"It was hard to find a reason why certain things happened."
Illinois dropped six consecutive games after its record 6-0 start, and the offense bore the brunt of the struggles. After scoring 33 points or more in four of the first six games, including a combined 79 points in the first two weeks of Big Ten play, Illinois failed to tally more than 17 points during its six-game slide and finished three games with just seven points.
Even when Illinois ended its slide in the Kraft Fight Hunger Bowl against UCLA, it was hardly an offensive explosion (20 points).
The Illini finished the season ranked in the top 15 nationally in several major defensive categories, including points allowed and yards allowed. While the team had other problems, namely special teams, its evaporating offense was most disheartening.
[+] Enlarge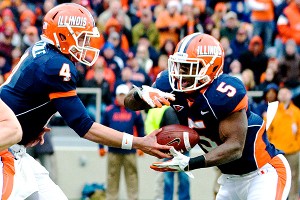 Bradley Leeb/US PresswireQuarterback Reilly O'Toole (4) and running back Donovann Young are entering their sophomore seasons with a brand-new offense.
Chris Beatty knew all about Illinois' season of extremes on offense, even though he didn't witness it firsthand. And while Beatty and Billy Gonzales, the team's new co-offensive coordinators, are spending spring practice installing their system, they're also trying to foster something less tangible.
"You get beat down a little bit when you struggle at the end of the year," Beatty said. "So you want to get some kind of swagger back. The only way to do that is to lay a good foundation as far as making some plays, getting a good knowledge base. Confidence comes with some success and knowing what you're doing.
"Those things, we're trying to build up because obviously, the last six games, there were some struggles."
When Beatty reviewed the final six regular-season games, he saw some issues along the offensive line and with the running game, and few consistent skill players aside from receiver
A.J. Jenkins
. But he also saw a group that lacked confidence.
"It's hard to have a swagger," quarterback
Reilly O'Toole
said, "with no points on the board."
The offense won't be able to light up the scoreboard until September, but spring practice has provided the platform to rebuild morale. Players like O'Toole and Pocic are excited about the multiple spread offense being installed.
Pocic said he's never been in such a complex offense. O'Toole said that while other Big Ten teams run spread offenses, Illinois' system will be unique in its flexibility and the number of angles from which the offense can attack.
"Unpredictable," wide receiver
Darius Millines
said of the new offense.
"We may run a play, and someone may think we're coming back with the same play, like a running play to the left. And we may play-action with it and throw deep over your head," he continued. "The defense has to be on their P's and Q's at all times."
And while the installation process is gradual and Illinois must build depth at running back, receiver and along the offensive line, there are mini-breakthroughs, like the one at Monday night's practice.
"We made some good plays and the offense was getting hyped, and we actually got rolling for a little bit," Millines said. "We actually felt how we felt in the beginning of last year. We got into a little rhythm, and our whole offense, we took that into consideration, that, 'OK, if we keep making plays, we can't be stopped.'"
March, 20, 2012
3/20/12
1:55
PM CT
Nathan Scheelhaase
used to watch teams run the spread offense and wonder why they were so effective. In high school, one of the players he admired was West Virginia quarterback Pat White.
"You see them running it and doing a good job with it and you hope you can do the same one day," he said.
The Illinois quarterback is getting his chance now. The Illini are switching to a spread offense under new head coach Tim Beckman, and that transformation is in full bloom this spring. As with any spread attack, much depends on the triggerman, so Scheelhaase's adaptation and grasp of the new system is paramount.
[+] Enlarge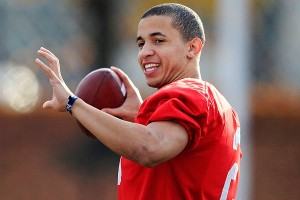 Marcio Jose Sanchez/AP PhotoQB Nathan Scheelhaase and the Illini are spending their spring practicing the spread offense.
The team held its first six practices of the spring before taking this week off for spring break. Scheelhaase said the players are catching on quickly.
"We've made a whole lot of progress and there have been a whole lot of positives," he said. "The coaches have even told us on various occasions how pleased and surprised they are at how we've been picking up and moving through with things."
How different is this offense from the one the Illini ran under Paul Petrino the last two years? There's all new terminology, of course. Scheelhaase said the passing concepts aren't that dissimilar from the past. The biggest change, he said, is in the running game.
"This offense likes to get people in space," he said. "Get fast guys the ball with space and a chance to make guys miss one on one. We're stretching the field a whole lot more."
There's also the no-huddle aspect. Scheelhaase said Illinois ran its high-tempo offense full bore for the first time in practice No. 5.
"It was really eye-opening, for both sides," he said. "You could feel the defense getting tired even in practice. We got seven plays deep in that drive, and then the pass rush wasn't as strong. They revealed their coverages a lot quicker than usual. Picking up the pace helped a lot, based on one series and one practice. I think it will be a big help to us to keep that going."
This isn't the first time Scheelhaase has been exposed to this kind of offense. He was a redshirt freshman under former offensive coordinator Mike Schultz, who engineered a spread just like Mike Locksley had done before him.
But Scheelhaase started the past two years under Petrino, who favored a more multiple attack based around a power run game. Beckman's teams at Toledo used the spread offense, though Scheelhaase said the Illini won't merely be mirror images of those Rockets. Co-offensive coordinators Billy Gonzales and Chris Beatty have added their own wrinkles.
"We're doing stuff that coach Beatty did at West Virginia and stuff that coach Gonzales did when he was at Florida with Tim Tebow," Scheelhaase said. "That's what makes this offense so cool, because it's not just one person's offense. It seems like it's almost three or four minds working together to kind of make this offense go, which makes it pretty tough for a defense to get a hold on what we like to do."
Scheelhaase will have to hold off a charge from
Reilly O'Toole
this spring to keep his starting job. He no longer has his favorite target from last season, wideout
A.J. Jenkins
, and the Illini are perilously thin at receiver and running back for this kind of offense.
So there are some reasons for concern as Illinois makes the switch. But so far, Scheelhaase is enjoying the process.
"I like learning new things all the time," he said. "It's cool because when I was growing up I watched Pat White and things like that. You see things working and you don't really know how it works until you get into the thick of it. It's neat getting that perspective."
March, 5, 2012
3/05/12
12:06
PM CT
The Tim Beckman era reaches a new phase Wednesday as Illinois players go through their first spring practice under their new coach. Beckman is a high-energy leader who wants to foster competition in every element of his program. Although two-year starter
Nathan Scheelhaase
returns at quarterback, he'll have to fend off three contenders and make an impression on the team's new coordinators, Billy Gonzales and Chris Beatty. The Illini are short on running backs and wide receivers, while the defense looks to continue the momentum it generated in 2011. Beckman takes over a team that has recorded back-to-back bowl victories but struggled to show it can take a step toward the top half of the Big Ten.
ESPN recently caught up with Beckman. Here are his thoughts.
[+] Enlarge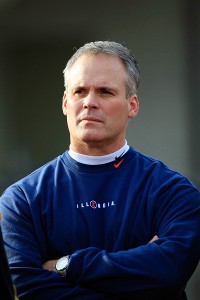 AP Photo/Marcio Jose SanchezNew Illinois coach Tim Beckman has high expectations for his team as it begins spring practices.
What are your expectations for spring practice?
Tim Beckman:
I want our players competing. I want them playing with outstanding effort in everything they do in spring ball. That competitive nature will be in every drill we do. These players will be evaluated in everything that they do. They're going to get feedback from the coaches on what we feel is championship-caliber and what we feel is not championship-caliber.
How much have you looked at tape from last season?
TB:
Definitely. I've watched and evaluated tape, and been involved with what they did last year. But that's in the past. As I told the players when I met individually with each one of them, this is the future, this is a new era and we're building this thing forward, not building from the back.
How would you describe your quarterback situation entering the spring? Will it be a full competition?
TB:
Oh, it's great. That's what life's all about. We've got the capabilities of being good at that position with four guys. Competition just makes you better. We've got one that has played [Scheelhaase] and played quite a bit and proven that he can win football games, won seven this year and won a bowl game. But we also have some backups with Reilly [O'Toole] and Miles [Osei] and [Chase] Haslett, there's three backups and a starter that are capable of winning football games.
January, 13, 2012
1/13/12
5:01
PM CT
Illinois has added three assistants to new coach Tim Beckman's staff, including former LSU passing game coordinator and receivers coach Billy Gonzales as co-offensive coordinator.
Read the entire story.
TOP 25 SCOREBOARD
Friday, 12/26
Saturday, 12/20
Monday, 12/22
Tuesday, 12/23
Wednesday, 12/24
Saturday, 12/27
Monday, 12/29
Tuesday, 12/30
Wednesday, 12/31
Thursday, 1/1
Friday, 1/2
Saturday, 1/3
Sunday, 1/4
Monday, 1/12
TOP PERFORMERS