Chicago Colleges:

Bo Ryan
November, 5, 2013
11/05/13
10:00
AM CT
In recent years, the Big Ten has boasted an assembly of athletes who have boosted the league to the top of college basketball's conference rankings.
Players who could've turned pro returned and granted the league a lineup of experienced players who carried their respective squads for multiple seasons.
Evan Turner
,
Trey Burke
,
Cody Zeller
,
Draymond Green
, Deshaun Thomas,
Jared Sullinger
, JaJuan Johnson,
Tim Hardaway
Jr. and others had opportunities to sign NBA contracts a year or two earlier than they did. Instead, they stayed and strengthened their teams and subsequently, the entire conference.
Prior to changes at Minnesota and Northwestern this past offseason, only four of the 12 Big Ten schools (Iowa, Nebraska, Illinois, Penn State) had changed head coaches in the previous five seasons. That continuity has fueled immense success for a league that has earned 20 total bids in the last three NCAA tournaments.
There are, however, more questions now.
Other than Michigan State, the Big Ten's membership enters the season possessing promise but also dealing with a rare uncertainty. Michigan and Ohio State return elite talent, but you can't ignore what both lost from last season. Indiana could blossom behind some youngsters, but how many teams improve after a pair of top-five picks turn pro? A fleet of seniors have left Madison. Iowa is still a "maybe" to many.
Illinois and Purdue? They'll either surprise or spend the year at the bottom of the league.
Even with four teams cracking the Associated Press' Top 25 preseason poll, the Big Ten is somewhat of a mystery as this weekend's tipoff to the 2013-14 season approaches. Still, there's plenty of hope for many squads in this league.
There's just a lot we don't know (yet) about the Big Ten.
The Contenders
[+] Enlarge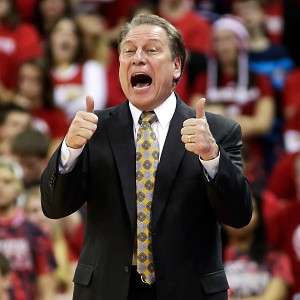 AP Photo/Andy ManisTom Izzo has a Michigan State team with enough talent to return to the Final Four.
Michigan State:
Tom Izzo has another capable crew in East Lansing this season.
Adreian Payne
and
Keith Appling
anchor the Big Ten favorite and national title contender.
Gary Harris
is a future lottery pick who could campaign for All-American honors. Whenever Izzo has this much talent and experience, his teams usually reach the Final Four.
Michigan:
The answer is no. No, the Wolverines won't replace Wooden Award winner Burke no matter how productive
Derrick Walton Jr.
is in his freshman season. But John Beilein's pillars --
Glenn Robinson III
and
Mitch McGary
-- and his stellar recruits should give Michigan State a serious shot at the Big Ten crown.
Ohio State:
Somehow,
Aaron Craft
is still eligible and available to squash the dreams of perimeter players throughout the country. Without Deshaun Thomas, the Buckeyes will probably spread the ball around more than they did last season. But
LaQuinton Ross
-- assuming we see the same player who lit up the Big Dance a few months ago -- might be the star Thad Matta needs to make a postseason run and snatch another Big Ten crown.
The (Possible) Contenders
Indiana:
If exhibitions are to be believed, then
Yogi Ferrell
has become a more dangerous threat from the field since registering a 45.4 effective field goal percentage last season. That matters, but not as much as the maturation of the rest of the roster does (will). How much production will
Noah Vonleh
and a bunch of inexperienced youngsters give Tom Crean? We'll find out soon.
Wisconsin:
Say it with me three times: "I will not doubt Wisconsin, I will not doubt Wisconsin, I will not doubt Wisconsin." Once again, however, there are a few reasons to doubt the Badgers, simply because they're entering the season without a trio of seniors (Mike Bruesewitz, Ryan Evans and Jared Berggren) who made a major difference last season, and they're depending on a point guard who's returning from a serious knee injury (
Josh Gasser
).
Sam Dekker
and Co. will probably maintain Bo Ryan's streak of 20-win seasons (10 in a row) and top-four finishes in the Big Ten.
Iowa:
The rebuilding phase is over, folks. The Hawkeyes return every meaningful player from a team that won 25 games and finished 9-9 in conference play during the 2012-13 season. It's time for Iowa to finally make some noise in the Big Ten race and get back to the NCAA tourney. Fran McCaffery has the pieces to achieve both.
The Questionable
Purdue:
The last thing Matt Painter needed was a bout of early drama involving young star
A.J. Hammons
. But that's exactly what he's facing after Hammons was recently suspended for three games after violating team rules. If Hammons gets his act together -- it's always if with him -- the Boilermakers could sneak into the at-large mix.
Illinois:
Same for John Groce's squad. Groce adds eight new faces to the program. This is a much different team compared to the one that reached the NCAA tournament last year. But if Groce can help transfer
Rayvonte Rice
become the star he was at Drake two seasons ago, Illinois might make a case for another berth.
The Bottom
Minnesota:
Richard Pitino has his father's last name and hair, but nothing resembling the players Rick Pitino used to win the national title with Louisville in April.
Northwestern:
Chris Collins is already making strides in recruiting, but he doesn't have the beef inside to compete in the Big Ten yet.
Nebraska:
The Cornhuskers have a new arena, but Tim Miles' squad has the same problems.
Penn State:
Tim Frazier
will have to carry a very heavy load. Again.
March, 16, 2013
3/16/13
5:22
PM CT
CHICAGO --
Ryan Evans
' poor free throw shooting had become a semi-obsession. Wisconsin's senior leader began to think about free throws throughout the day. And then again at night.
It wasn't just his decline from a 73 percent clip his junior season to a 40 percent mark his senior year. It was the unpleasant feeling that seized his body every time he reached the charity stripe. It was the free throws that completely missed the rim. It was the embarrassment stemming from a problem he just couldn't fix.
As the slump persisted, Evans lost confidence.
So coach Bo Ryan decided to pitch a few unconventional ideas to the veteran after Wisconsin's loss at Minnesota on Valentine's Day.
"Well, it was A, B or C," Ryan said. "A was the jump shot, Hal Greer-style. Hal Greer [an NBA star in the 1960s] had a little jump [shot]. It wasn't quite as accentuated, for the older people in the room, as Ryan's is. Ryan's is his game jump shot. Hal had a little jumper, mini-jumper. B was Harlem Globetrotter, kick the ball in. Dropkick. You drop it down; you kick it up. And third was underhanded.
"So it was A, B or C. Ryan chose A. He's OK with it. His numbers are up."
[+] Enlarge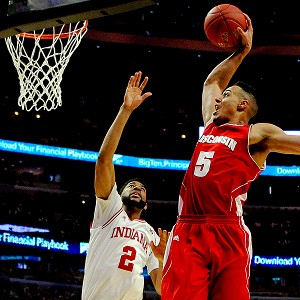 Dennis Wierzbicki/USA TODAY SportsRyan Evans had 16 points, 8 rebounds, 4 assists and 4 blocks against Indiana. He also made two of his four free throws.
Evans was initially reluctant but eventually accepted the change. It's certainly not a traditional approach, but it has helped. He's 6-for-10 from the free throw line in two Big Ten tournament games. And he's aggressive again.
"[Ryan] gave me the courage to go up here and try something new," Evans said. "I think it's been effective to this point. I'm no longer shooting 40 percent. So I mean, it's a good thing right now, and I'm going to stick with it for now."
On Saturday, he led the Badgers to their 12th consecutive win over the Hoosiers,
68-56
. Evans finished with 16 points, 8 rebounds, 4 assists, 4 blocks, 4 turnovers and a steal.
Jared Berggren
added 11 points and three blocks.
Ben Brust
scored 12 points, and
Sam Dekker
finished with 11 points.
Evans helped the Badgers corral
Victor Oladipo
(4-for-12, 10 points), and he helped Wisconsin maintain its edge, even as Indiana charged in the final minutes.
Wisconsin fans cheered whenever he made a free throw. Twice in four tries.
The switch is an extension of the principles that guide Wisconsin's program. The Badgers have a strong sense of their vulnerability. They're not the type of team that can give one guy the ball and expect him to make plays without help. Wisconsin needs everyone.
One missed defensive assignment, one poor pass or one botched free throw could change the outcome of a game and the entire season. And the Badgers know it. So Evans tweaked his free throws to boost his team's chances of overcoming its weaknesses.
Yet the Badgers are aware of their opponents' limits too.
On Saturday afternoon, they understood they were playing Indiana, not the Chicago Bulls who had won multiple NBA titles in this building. They weren't intimidated.
Not by Oladipo or
Cody Zeller
(Berggren's defensive effort against the future lottery pick changed the game) or the NBA scouts who traveled to Chicago to see them play.
"It's just the dynamics of our team. We can beat anybody, and we can be beaten by anybody," said
Traevon Jackson
. "But when we play together, I think that we're really tough to beat. And when we hit our shots and we do our defensive assignments and rebound, we're a tough team."
The Badgers closed the first half with an 18-9 run that allowed them to snatch the lead (34-31). The two teams were tight until Dekker recorded seven unanswered points (two layups and a 3-pointer) to give his team a 50-43 lead with 11:11 to play.
The Hoosiers responded with a 6-0 rally of their own. But Wisconsin's defense wouldn't budge.
Berggren blocked both Zeller and Oladipo in the final minutes of the game. Tom Crean's squad went nearly five minutes (10:02 to 5:04) without a field goal down the stretch.
"[It] just means we have a bunch of guys that want to play and play hard. Kind of how college basketball has gone this whole year," said
Mike Bruesewitz
. "I think we have had numerous times a change in No. 1, and I think it's going to make for a great NCAA tournament because I don't think a whole lot of 1-seeds are going to be making the Final Four. If they do, it's great, but it's a wide-open thing, and anybody can beat anybody on any night. We have to make sure we bring our A-game; otherwise we might be one of those teams."
Indiana's losing streak to Wisconsin was the least of Crean's concerns.
The only thing the Hoosiers wanted in Chicago -- other than a Big Ten tournament title, of course -- was a chance to prove to the NCAA tournament selection committee that they deserve a No. 1 seed and a slot in the Midwest Regional in Indianapolis.
It's no longer a guarantee after their third loss in six games. And the riddle that hails from Madison could be the culprit if they're disappointed on Selection Sunday.
"My mindset is you try to win every game and take the next one as it comes, and certainly we would have liked to have won it," Crean said. "But it doesn't undo what we have done to this point. It doesn't undo any of that. We have had an excellent season. There's room for growth; there's no doubt about that. But we would have liked to have played better today, no question."
The Badgers rarely discussed the postseason implications of their run to Sunday's Big Ten tournament title game. They were more focused on showering and preparing to watch game film.
As players rose from their seats and reporters gradually left the locker room, Evans continued to answer questions about his free throw shooting technique.
He said coaches have sent him text messages to thank him for a form that their teams have adopted. He even joked about the jump shot free throw becoming a "movement."
The awkwardness of it all? Evans isn't worried about it.
"I don't care what people are thinking too much," he said. "If I care what people are thinking too much, I wouldn't be out there shooting jump shots. But I don't. It's about knocking them down. It's about getting wins. And that's what we're doing at this point. So I feel great."