Chicago Colleges:

Bob Elliott
April, 22, 2014
Apr 22
9:00
AM CT
SOUTH BEND, Ind. -- Notre Dame wants to keep offenses guessing where
Jaylon Smith
will be. Opponents can rest assured, however, that he will be on the field for darn near every snap this fall.
Smith, the dog-turned-will linebacker, found himself playing inside more toward the latter half of the Irish's spring season, part of an effort to broaden his presence and account for a lack of depth among the interior linebackers. So the former five-star prospect spent much of March and April getting acclimated with seeing the game from a different view.
Whereas Smith spent his freshman campaign outside at dog linebacker in what was a 3-4 base, he now heads into his sophomore season with more inside responsibilities at will linebacker, looking to hone his skill set and develop the kind of confidence that comes with having a QB-like role on the defense.
"Watching guys like the great
Manti Te'o
controlling things and regulating things from inside, and that's something I'm looking forward to doing," Smith said. "You really just have to take it in stride and just keep getting better. We'll go back, watch film, make corrections and apply it to our football IQ."
The Fort Wayne, Ind. native is the Irish's leading returning tackler from last season, with 67 stops in 13 starts during his rookie campaign last season. He had described his role earlier in the spring in new coordinator Brian VanGorder's scheme as a Sam/Mike hybrid, before making the switch roughly five practices in.
With former starting safety-turned-cornerback
Matthias Farley
entering the picture for nickel packages, the Irish simply did not -- and could not -- take the precocious Smith off the field. The early returns were promising.
"He has to find a comfort level in there, he has some work to do, but he shows signs of being an outstanding player there," outside linebackers coach Bob Elliott said. "Jaylon Smith has great instincts and he has a super attitude. He came here as a five-star recruit, the best in the country, and you'd never really know it. He was like a sponge. Here to learn. He was a quick study. Now he's doing the same thing here. He's not any different than he was before he had that year. He's still humble and works it, doesn't have all the answers, smart and quick study and still has those wonderful instincts."
Fine-tuning said instincts will be the next step come fall camp. For now, Notre Dame sees plenty of possibilities for its prized prodigy, and he has been more than happy to take the next step for a remodeled defense.
"Every play starts with sight," Smith said. "Beginning of my career, all my life, I've seen the game from an outside perspective. It's really getting used to reading offensive linemen from inside-out. Just little things like that. I've had 14 practices and the spring game to actually get the hang of it. It's going good."
April, 18, 2014
Apr 18
8:00
AM CT
SOUTH BEND, Ind. — This week marked the first unofficial "off" week for
John Turner
. The redshirt sophomore's workload essentially doubled this spring, with the former safety learning a new position as a linebacker, a chore that would have been complicated enough had Notre Dame's defense not been undergoing a massive face-lift under new coordinator Brian VanGorder.
"After practice I usually go watch film with [outside linebackers] coach [Bob] Elliott, so I really haven't had any time off this spring," Turner said. "Just been putting in work, trying to get better."
Turner is hardly alone, as he is one of three notable players switching positions on the defensive side of the ball, an area that has become somewhat of a haven for fresh starts and surprises for the Irish during Brian Kelly's tenure as head coach.
James Onwualu
went from safety to linebacker this spring after playing wide receiver as a freshman last season. And
Matthias Farley
moved from safety to cornerback; he arrived at Notre Dame three years ago as a receiver.
Turner, who played cornerback while at Indianapolis Cathedral High, said the move from the secondary to linebacker this time around has been a far more difficult one, though the spring served as a nice transition period.
[+] Enlarge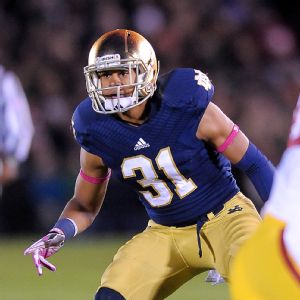 Cal Sport Media/AP ImagesJohn Turner is one of several underclassmen making a position switch for the Notre Dame defense.
"It was like a learning process the first, I'd say, eight, nine practices. Just getting used to like just being at the line of scrimmage, just being asked to do all the different jobs that they asked me to do," Turner said, adding that, toward the end of spring, "it's been starting to click a lot. Just knowing the defense and just being able to pretty much line up and do everything I need to for the most part."
Turner, who mostly played on special teams, is one of several underclassmen competing for potential starting roles on a retooled unit. Turner is getting practice time mostly in the Sam linebacker role in VanGorder's base defense. The circumstances are a bit different for Onwualu, if only because he earned meaningful action as a rookie last year, catching two passes for 34 yards.
Still, the 215-pound Onwualu's blend of size and athleticism made him an enticing prospect on the other side of the ball, with the sophomore starting this spring listed as a safety before being brought down into the box. He's mostly playing at the Sam position as well.
"Obviously the linemen are a little bit bigger, so you've got to learn how to beat them in different ways, and I'm trying to learn that every day with my technique and everything," said Onwualu, who played corner and safety at Cretin-Derham Hall (Minn.) High. "But I think that's really the only thing. My strength is up there with a lot of people, so I believe I can play in the box."
The moves are hardly unique to the Irish, as the position switches have become as much of a staple under Kelly as anything else. Four players who started in the secondary last year, for instance, had arrived to Notre Dame as receivers: Farley,
Austin Collinsworth
,
Bennett Jackson
and
KeiVarae Russell
.
VanGorder initiated this spring's moves shortly after his arrival, with the former New York Jets linebackers coach evaluating film and engaging in a series of conversations with both Kelly and the players.
"That evaluation started with film first, and then some training with them, watching them move around and all," VanGorder said. "But until you put the football down and put your cleats in the grass, there's a lot of ways to complete the evaluation. Now we're seeing them play the game of football, so there's some things we didn't have now that we've got to continue to evaluate. And then, in the end of this picture and the spring, we pretty much can define and profile a player in terms of who he is."
The returns from spring have been positive as the Irish search for unconventional ways to find playmakers among a relatively green group.
"I love him, I really do. I think he's a great guy. I think he's very honest and upfront about everything," Farley said of VanGorder. "You can talk to him about anything. He's personable, and that clicked from the start and I think everyone really feels that, and it's going to be really good for everyone moving forward."
December, 16, 2013
12/16/13
9:00
AM CT
Brian Kelly's bigger workload was on display already Friday night, when the Notre Dame head coach presented not one, not two, not three, but four different awards during the Irish's awards banquet, named "The Echoes" for the second straight year.
He did say on Saturday, however, that he does not expect any more of his assistants to leave, and that was seemingly confirmed shortly afterward by defensive line coach Mike Elston, whose first-ever tweet was the announcement he's staying at Notre Dame. (There had been some chatter that he could follow Bob Diaco to UConn to become the Huskies' defensive coordinator.)
Staying at ND. Love thee Notre Dame. Go Irish.

— Mike Elston (@CoachMikeElston) December 14, 2013
As for the awards show,
TJ Jones
took home team MVP honors in a team vote that Kelly said wasn't even close. (Yours truly
had predicted Jones as the winner beforehand
, just as he
had predicted the correct final score of the Stanford game
.)
Jones easily took home best-dressed honors on the night, wearing a burgundy suit with a bowtie and some hipster glasses.
Corey Robinson
and
Chris Watt
were among the bowtie-wearers as well.
The biggest news, or non-news, of the night came when
Stephon Tuitt
met with the media afterward,
saying he remains undecided on his future
.
As for the big winners on Friday...
There was also in-show fan voting for best hit and best catch honors, which went to Tuitt and Jones for their plays against USC.
April, 16, 2013
4/16/13
4:30
PM CT
SOUTH BEND, Ind. -- Once the crowning of Alabama had become official,
Robby Toma
walked off the field first with his helmet still on.
Theo Riddick
struggled to hold back tears. Louis Nix insisted his team was not dominated in the 28-point loss.
Then there was
Elijah Shumate
, virtually clueless about this whole exercise.
Notre Dame's 42-14 loss in the Discover BCS National Championship ruined its perfect season, and it ruined Shumate's perfect streak.
[+] Enlarge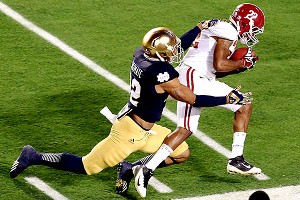 Robert Mayer/USA TODAY SportsElijah Shumate had a personal 55-game winning streak snapped in the blowout loss to Alabama.
A football career that saw three perfect prep seasons and a perfect regular season in his first year of college ball had become re-acquainted with the sting of defeat, Shumate's first after a 55-game winning streak.
"That was a tough loss," Shumate said of the title game. "They came out and they played hard and they really beat us. They handed us a big loss. Before the game I didn't think they were any way better than us. They played better than us, they were the better team that night and I definitely think we have a great team and that we were young. And we're still kind of young, but we're getting better and we're learning, so I think we're just going to keep working. Hopefully we'll see them again."
Not since the second game of his freshman season at Paterson (N.J.) Catholic had Shumate experienced a loss, as the next eight games that season and the three ensuing years at powerhouse Don Bosco Prep all culminated with state titles.
Now the player who made his mark as a nickelback in Year 1 with the Irish is transitioning to a full-time safety, the spot he was initially recruited to play. He has emerged from the crowded field to this spring to take first-team reps much of the way.
"He is what we thought he was in terms of a tackler," coach Brian Kelly said. "He's a very good tackler, a sure tackler, he's physical. He can play the safety position. I think [safeties] coach [Bob] Elliott's done a nice job with the learning curve. That's certainly what this is all going to be about, and picking up the nuances. Matthias [Farley] has done a very good job in helping him. But I think the entire defense is helping as well. So he's our guy back there, and he's got to continue to learn. The spring has been very good for him. He's going to have to continue to take steps forward in the summer."
The 6-foot, 213-pound rising sophomore has attacked the challenge after a year spent mostly getting his feet wet in the secondary, where coverage responsibilities were fairly straightforward and he had the luxury of working with three-year starter
Zeke Motta
.
This year brings other challenges, such as making calls and pre-snap adjustments, responsibilities he says he is slowly but surely growing more comfortable with.
Anything, it would seem, in order to return to his version of normalcy, which looks nothing like the one the Crimson Tide painted Jan. 7.
"It was really hard, I never want to have to go through that again," Shumate said. "But it's part of life. And it's part of growing up: You're going to win some, you're going to lose some. Go hard and learn from it."
December, 10, 2012
12/10/12
9:50
PM CT
Befitting a season seemingly from the past, Notre Dame made the theme for its Friday night awards banquet "The Echoes."
Seventeen "Echoes" were handed out at the DeBartolo Performing Arts Center by the entire Notre Dame staff, including the team MVP echo to
Manti Te'o
, who accepted the award live via satellite from atop 30 Rock in New York. Te'o was for the Heisman Trophy presentation the following night.
The highlights of the night:
Matthias Farley
's bowtie,
Theo Riddick
's Armani belt and Louis Nix's brief acceptance speech: "I'd like to thank my mom. She had a beautiful son and he's here today." The senior parents' video was a hit for the second straight year as well.
Here's a list of the night's winners:
Offensive scout team player of the year, presented by offensive GA Bill Brechin
Winner
:
Nick Fitzpatrick
(also nominated:
Bruce Heggie
, William Mahone)
Defensive scout team player of the year, presented by defensive GA Josh Reardon
Winner
:
Tyler Stockton
(also nominated:
Joe Romano
,
Joe Schmidt
)
Offensive newcomer of the year, presented by offensive coordinator Chuck Martin
Winner
:
Everett Golson
(also nominated:
DaVaris Daniels
,
Christian Lombard
,
Troy Niklas
)
Defensive newcomer of the year, presented by co-defensive coordinator Kerry Cooks
Winner
:
KeiVarae Russell
(also nominated:
Sheldon Day
, Matthias Farley,
Danny Spond
)
Irish Around the Bend award (community service), presented by director of player development and engagement Ernest Jones
Winner
: Mike Golic Jr.
A-Team award (accountability, appreciation, achievement), presented by defensive line coach Mike Elston
Winner
:
Kapron Lewis-Moore
Count On Me award (reliable, unselfish), presented by running backs/slot receivers coach Tony Alford
Winner
: Theo Riddick
Father Lange Iron Cross award, presented by strength and conditioning director Paul Longo
Winner
:
Braxston Cave
Special teams award, presented by tight ends coach/special teams coordinator Scott Booker
Winner
:
Kyle Brindza
Pietrosante award (courage, loyalty, teamwork, dedication, pride), presented by outside receivers coach Mike Denbrock
Winner
:
John Goodman
,
Robby Toma
Moose Krause defensive lineman of the year, presented by assistant head coach/co-defensive coordinator Bob Diaco
Winner
: Louis Nix and
Stephon Tuitt
Offensive lineman of the year, presented by offensive line coach Harry Hiestand
Winner
:
Zack Martin
Rockne Student-Athlete award, presented by safeties coach Bob Elliott
Winner
: Danny Spond
Next Man In award, presented by head coach Brian Kelly
Winner
:
Tommy Rees
Offensive player of the year, presented by Kelly
Winner
:
Tyler Eifert
Defensive player of the year, presented by Kelly
Winner
:
Zeke Motta
MVP, presented by Kelly
Winner
: Manti Te'o
February, 16, 2012
2/16/12
7:56
PM CT
Feels like just yesterday we were in Orlando, no? Yet just a little more than a month from now, spring practice will be underway, and at Notre Dame, there is plenty to be sorted out before the 2012 season kicks off this fall.
NOTRE DAME
Spring practice start date:
March 21
Spring game:
April 21

What to watch:
The quarterback battle. Four candidates, one spot. Two played last year, two others were ballyhooed recruits. Oh, and there's a new QB coach, too. Former safeties coach Chuck Martin will coordinate the offense and direct the signal-callers, jobs he held as Grand Valley State's head coach from 2004-09.
Reshuffled staff: Martin wasn't the only one making a change. No one from Notre Dame's offensive staff last season holds the same title in 2012, with Harry Hiestand (offensive line/running game coordinator) and Scott Booker (tight ends/special teams coordinator) providing new faces. Bob Elliott comes from Iowa State to replace Martin as safeties coach. For some current players, 2012 will mark a third different position coach within a four-year span.
How good can this front seven be? Likely first-round draft pick Manti Te'o returns for his senior year to captain the defense, but that job may be much easier with the talent in front of him. Sophomore ends Aaron Lynch and Stephon Tuitt exploded onto the scene in their freshman seasons, and junior noseguard Louis Nix proved to be a force in the middle. The pass rush could be devastating, making life much easier for a secondary that will likely feature three new starters.
TOP 25 SCOREBOARD
Saturday, 12/20
Monday, 12/22
Tuesday, 12/23
Wednesday, 12/24
Friday, 12/26
Saturday, 12/27
Monday, 12/29
Tuesday, 12/30
Wednesday, 12/31
Thursday, 1/1
Friday, 1/2
Saturday, 1/3
Sunday, 1/4
Monday, 1/12
TOP PERFORMERS