Chicago Colleges:

Bradley
April, 18, 2012
4/18/12
6:09
PM CT
Freshman point guard
Anthony Fields
will transfer from Wake Forest to Bradley.
Field averaged one point and one assist in 24 games during his freshman season at Wake Forest. He will sit out the 2012-2013 season and will have three years of eligibility remaining.
"We are very excited to add Anthony to this year's recruiting class," Bradley coach Geno Ford said in a statement. "He is a leader, great kid and high-quality student. We are expecting him to have an impact to our program in many areas."
Fields joins Oak Park (Ill.) senior guard Ka'Darryl Bell and Dodge City Community College forward Tyshon Pickett in Bradley's 2012 recruiting class.
June, 8, 2011
6/08/11
10:28
AM CT
Bradley fifth-year senior center
Will Egolf
tore the ACL in his right knee during an open gym this week and could miss all of next season, the school announced on Wednesday.
Egolf suffered a similar injury during his sixth game of 2008-2009 season and sat out the rest of the year. He was granted a medical redshirt that season.
Egolf started 31 games and averaged 8.0 points and 4.1 rebounds for the Braves last season. He was expected to be a key contributor this season for first-year Bradley coach Geno Ford.
December, 23, 2010
12/23/10
5:48
PM CT
1. Illinois (10-3):
A few turnovers, an intentional foul and a six-point Missouri possession led to Illinois' demise in the final minutes of Wednesday's rivalry game. The Illini, especially
Mike Davis
, responded well after losing to UIC on Saturday, but this team has some work to do before being thought of as a Final Four contender again. Jereme Richmond's progress could determine where this team goes.
[+] Enlarge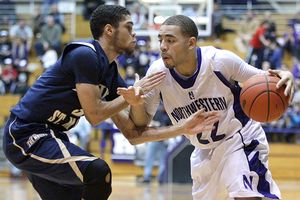 AP Photo/Nam Y. HuhMichael Thompson and Northwestern improved to 9-1 after routing Mt. Saint Mary's 70-47 on Thursday.
2. Northwestern (9-1):
The Wildcats could have been No. 1 on this list and set to coast into the Big Ten schedule with an undefeated record, but they met a hot-shooting St. John's at Madison Square Garden on Tuesday. While the Red Storm shot lights out, Northwestern was also exposed. The Wildcats still rely too heavily on
Michael Thompson
,
John Shurna
and
Drew Crawford
. The trio combined for 58 of the Wildcats' 69 points on Tuesday. Northwestern's NCAA tournament fate could rest on its first three Big Ten games -- at Purdue, hosting Michigan State and at Illinois.
3. DePaul (6-6):
After Illinois and Northwestern, the state drops off. DePaul has potential, but it's still a work in a progress. The Blue Demons did show some resilience by rallying to beat Loyola over the weekend. Oliver Purnell picked up his 400th win on Wednesday.
4. Loyola (9-4):
The Ramblers are in danger of tanking just like they did last season. Loyola began the season 7-0, but now has lost four of its past six games. Three of those losses were narrow ones against Butler, DePaul and Kansas State, but the Ramblers need to start winning some of the games if they're going to make an impact in the Horizon League.
5. Illinois State (8-3):
It's hard to fairly judge the Redbirds so far. They have won some games, but haven't really played anyone. In three of their more notable games, they lost to UNLV by 32 points and Ohio by two points and defeated UIC by 10. Once they begin to face Missouri Valley opponents, we'll know a lot more about Illinois State.
6. UIC (5-8):
The Flames shocked the country with their upset win over Illinois on Saturday. Whether UIC can sustain its success -- it lost to Illinois State and Northern Illinois before playing Illinois -- is unknown. But the Flames took a massive step for the future of Howard Moore's program. They came back down to earth Wednesday, losing at Oregon State.
7. Bradley (6-5):
Along with Illinois and Northwestern, the Braves had a chance at making the NCAA tournament. Those dreams ended with the season-ending injuries to
Sam Maniscalco
and
Taylor Brown
. Bradley could return with a vengeance next season.
8. Southern Illinois (6-5):
The Salukis finally got Illinois and Purdue on their schedule, but this wasn't the year for it. Southern Illinois just isn't the team of the past. The Salukis have been up and down all season, and this could be the end of the line for Chris Lowery. They defeated Northern Illinois on Wednesday.
9. Northern Illinois (3-6):
The Huskies have played better than expected. They have only won three games, but they've hung with nearly everyone. It helps that
Xavier Silas
is putting together a special season. They lost to Southern Illinois on Wednesday.
10. Eastern Illinois (5-7):
The Panthers' record isn't impressive, but they have fared well against in-state opponents. Eastern Illinois has defeated Bradley and Western Illinois. That has to mean something.
11. Western Illinois (5-6):
The Leathernecks don't have a lot of wins to show for it, but they have stayed competitive in all their games. Even against Missouri, they only lost by five points early in the season.
12. Chicago State (3-10):
The Cougars have played one of the toughest non-conference schedules in the state, and they've paid for it. Six opponents have scored 90-plus points on the them. It's going to take first-year coach Tracy Dildy some time to turn the program around.
13. SIU-Edwardsville (2-11):
The Cougars have taken their lumps. It hasn't helped that they've been without star forward
Mark Yelovich
, who has a broken foot and will miss the rest of the season.
October, 13, 2010
10/13/10
6:31
PM CT
[+] Enlarge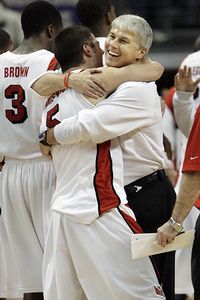 AP Photo/Laura RauchBradley head coach Jim Less hugs Sam Maniscalco after defeating Illinois 72-68 at an NCAA college basketball game at the Las Vegas Invitational in Las Vegas. Les wants Maniscalco to assume more leadership this season.
Five questions with Bradley coach Jim Les
You return a bulk of your team from last season, including your top three players. What are the expectations this season?
Jim Les: I think we have high expectations, not only from the coaching staff, but the players themselves. These guys last year logged a lot of minutes, got a lot of valuable experiences, and that's not enough to parlay into the following season into having success. What they did is they took that success and had a really good offseason. They were here all summer. They all got bigger, faster and stronger. For me, that's parlaying last year and putting in the necessary time and work to capitalize on that this year. I think all of our expectations are high and should be.

This team looked so good at times and so-so at other times last season. What was the difference between those two teams last season, and how do you fix that this year?
JL: I think it was a lot of factors that were a product of our youth, a product of new guys being thrust into situations that they weren't familiar with and sometimes not comfortable with. I would be extremely worried about that if they never showed me the type of basketball they're capable of, which they did beating Illinois, beating a ranked Northern Iowa team. Doing those type of things showed me the capability is there. You feel like you have to harness those moments and realize one of our goals going into this year is having consistency. Be sure the team that showed up on those nights shows up on every night.

Heading into your ninth season at Bradley, where do you feel the program is right now?
JL: I think I'm happy with the overall culture of the program. We went through a number of years facility-wise where we had some deficiencies, and we had to weather those years not being up to caliber in terms of the resources we could offer. We've now moved into to a $25 million dollar practice facility that is state of the art and off the charts. That's really positive. Our kids do really well in the classroom. Our team had a B average last year, and we graduate our kids. We have been able to establish a consistency in our program with 20-plus wins over the last five years. With the experience of this team and the resources we have, I think it's time for us to take another leap. We need to seek out championships and [NCAA tournament] bids year in and year out, and I think that's reasonable.

Sam Maniscalco and Andrew Warren make up one of the best backcourts in the Missouri Valley. What do you expect from them this season?
JL: I think first and foremost to provide leadership for our team. These guys have logged a lot minutes; they have an understanding of our system and understand what it takes to be successful at our level. We need them to provide leadership by example in every practice and in every game. The second thing is consistency in their production. Those are two guys who can have a major impact in a game. I think they're coming into this year looking to shoulder that responsibility. The direction of the team and the young guys following will be directed by their tone. I'm not worried about their offense. They're going to score points. They're too skilled not to expect them to. Where they're going to leave their mark is their defensive production and leadership on that end of the floor.

How did the opportunity come out to play at Duke, and what does that game mean for this program?
JL: I think every year we've been aggressive in scheduling since I've been here. It's a matter of making the phone calls and seeing what works and what fits. We're excited to play what I think will be the No. 1 team in the country in Duke and having the experience of playing at Cameron Indoor. What a challenge it'll be for us to find out who we really are. We'll get a good snapshot of who we are and what we need to get better at as we approach the rest of the non-conference schedule and the rest of the season in playing in that environment and against that type of team. We're looking forward to that challenge and grateful that Duke gave us an opportunity.