Chicago Colleges:

Brendan Gibbons
November, 18, 2013
11/18/13
11:00
AM CT
Twelve seconds.
That's how much time remained in regulation at Northwestern after Michigan quarterback
Devin Gardner
hit
Jeremy Gallon
on a 16-yard pass. The clock was running. What happened next was what Wolverines coach Brady Hoke said "might be the best single play I've ever seen."
The Michigan field goal unit sprinted onto the field. Holder
Drew Dileo
, who had run a pattern as a wide receiver, ran in from the other side of the field and slid into position. The snap came with one second to go, and kicker
Brendan Gibbons
made a 44-yarder to send the game into overtime, where the Wolverines eventually won.
Northwestern coach Pat Fitzgerald was upset that his team didn't get a chance to substitute its block team in. The Wildcats were in disarray as the field goal try went up. Referee Bill LeMonnier
explained to a pool reporter afterward
that on the final play of the half, teams aren't automatically given the right to substitute on field goal defense.
That play goes down as the second-craziest finish to regulation of a Big Ten game this year. In the Wisconsin-Arizona State game, there were 18 seconds left when
Joel Stave
downed the ball. The Badgers never got to run another play.
Take that and rewind it back ...
[+] Enlarge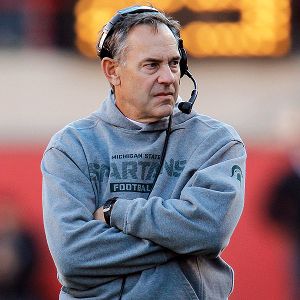 Bruce Thorson/USA TODAY SportsMark Dantonio and the Spartans control their own destiny to reach the Big Ten title game.
Team of the week:
Michigan State. It was not a vintage defensive performance for the Spartans, who allowed 28 points to a Nebraska offense that turned the ball over five times and played with a stitched-together line. But Mark Dantonio's team still won by double digits on the road in Lincoln for its first win over the Huskers while clinching at least a share of the Legends Division title. Then there's this: Through 10 games, the Spartans are averaging 30.9 points per contest.
Worst hangover:
Northwestern finds more ways to lose than anybody. The Wildcats had a dominant defensive effort against Michigan in allowing no touchdowns in regulation. But they had a 7-yard shank punt that set up a Michigan first-and-goal,
Ibraheim Campbell
dropped an easy interception on the Wolverines' final drive, and they couldn't pounce on a fumble in overtime. Northwestern has lost twice in overtime, once on a Hail Mary and in games that went down to the final drives against Minnesota and Ohio State. Sheesh.
Best call:
Nebraska had to be ready for some Michigan State tomfoolery, right? We've seen it so many times from Dantonio in a big game.
And it worked again on Saturday. The Spartans lined up for a field goal on fourth-and-1 from the Nebraska 27, leading 27-21 in the fourth quarter. Punter
Mike Sadler
, who serves as the holder on field goals, took the snap and pushed his way forward for 3 yards. The play was called "Charlie Brown," evoking memories of Lucy snatching the ball away in "Peanuts." But Sadler was actually supposed to check out of the play because of the way Nebraska was set up, and the play was never designed to go up the middle where he ran.
"That was the last thing going through my mind," said Sadler, who went up the middle on a successful punt fake at Iowa last month. "I was just trying to think of my touchdown dance."
He didn't score, but
Connor Cook
delivered a touchdown pass three plays later to all but seal the victory.
Big Man on Campus (Offense):
Ohio State running back
Carlos Hyde
piled up five total touchdowns while rushing for 246 yards on just 24 carries versus Illinois. He had touchdown runs of 51 and 55 yards in the final four minutes to put the game on ice.
Big Man on Campus (Defense):
In a game that didn't feature a whole lot of defense, Ohio State's
Ryan Shazier
still managed an impressive stat line at Illinois: 16 tackles, 3.5 tackles for loss, 1.5 sacks and a forced fumble. He had the safety on
Reilly O'Toole
that gave the Buckeyes some breathing room. And while he had a chance to turn that into a touchdown had he not celebrated a bit too soon, Shazier still had an outstanding performance considering Ohio State's other two starting linebackers were out with injuries.
[+] Enlarge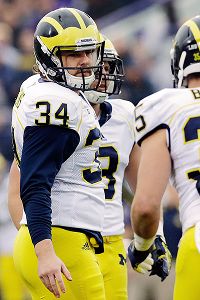 AP Photo/Nam Y. HuhBrendan Gibbons hit a 44-yard field goal as time expired to put Michigan into overtime at Northwestern.
Big Men on Campus (Special teams):
This goes to the entire Michigan field goal unit, including Gibbons, Dileo, snapper
Jareth Glanda
, special-teams coordinator Dan Ferrigno and everyone else involved in that unbelievable play at the end of regulation at Northwestern. That was a team effort, and if one guy was a half-second late, the Wolverines lose. (Tips of the cap also go out to Purdue's
Raheem Mostert
and Illinois'
V'Angelo Bentley
, who both scored on returns).
Sideline interference:
Illinois coach Tim Beckman
had to be separated
from offensive coordinator Bill Cubit on the sidelines after quarterback Reilly O'Toole was sacked in the end zone. Both coaches later said it was just a heat-of-the-moment thing, and Cubit added, "You'd be shocked at how many times" that happens during games. But it's still not a good look for Beckman, whose sideline mishaps the past two years include getting called for interference penalties and getting caught using chewing tobacco.
Who needs tickets?:
Want to see a Big Ten game, but you don't have more than 50 cents in your pocket? Then this week's Illinois-Purdue Basement Bowl is for you. On
StubHub this morning
, several tickets to Saturday's game at Ross-Ade Stadium could be had for as little as 39 cents. Get 'em while they're hot!
Fun with numbers (via ESPN Stats & Info):
Wisconsin ran for 554 yards Saturday versus Indiana. It was the second most in school history, behind the 564 the Badgers compiled against the Hoosiers last year. So in the past two games against IU, Wisconsin has rushed for 1,118 yards and 13 touchdowns; on Saturday the Badgers had three 100-yard rushers (James White, Melvin Gordon and Corey Clement) and an 86-yard rusher (Jared Abbrederis, on reverses). The Badgers' running game added 35.8 expected points to their net scoring margin; two of the top 10 rushing EPA games in the FBS the past 10 years were posted by Wisconsin against Indiana. The Badgers still fell far short of the Big Ten rushing record of 832 yards, set by Minnesota in 1905. But they do get Indiana again next year, so you never know.
ESPN's strength of schedule rankings (out of 126 FBS teams):
Alabama: 48th
Florida State: 60th
Ohio State: 88th
Baylor: 95th
November, 17, 2013
11/17/13
10:00
AM CT
Lessons learned from the weekend that was in the Big Ten:
[+] Enlarge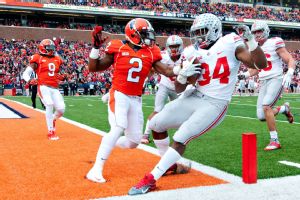 Bradley Leeb/USA TODAY SportsTailback Carlos Hyde rushed for 246 rushing yards and scored five touchdowns in the Buckeyes' win over Illinois.
1. Michigan State vs. Ohio State is happening, so get ready:
The Big Ten championship game is not signed, sealed and delivered yet. But it would take some major chaos for that game not to feature Michigan State and Ohio State. The Spartans clinched at least a tie for the Legends Division title with their
41-28 win at Nebraska
. All they need is to win one of their final two games -- at Northwestern and versus Minnesota -- or have Minnesota lose next week against Wisconsin in order to punch their ticket to Indianapolis. Coach Mark Dantonio's team has come too far to slip up two straight weeks. Ohio State needs one more win to clinch the Leaders spot in the title game because of its head-to-head win over Wisconsin, and the Buckeyes will be favored by multiple scores next week at home against Indiana. This is the matchup that the Big Ten should want -- Michigan State will be in the top 15 and possibly the edge of the top 10 if it wins out, and the Spartans' outstanding defense will test Ohio State's high-scoring offense. It hasn't been the most exciting Big Ten regular season, but things are setting up for a fantastic finish at Lucas Oil Stadium.
2. Wisconsin's defense deserves more notice:
Indiana came into Saturday's game averaging 43.1 points and 527 yards. Whatever you think of the Hoosiers, their offense is legitimately explosive. Wisconsin completely defused that attack in a
51-3 win
, shutting out Indiana in the first half while allowing 224 yards and a lone third-quarter field goal. The Hoosiers had scored in every quarter but three this year and hadn't been blanked in a half since September of last season. The point is that the Badgers' defense is outstanding, yet like the team as a whole, remains underrated. Everyone will notice how Wisconsin ran all over IU for 554 yards, second most in school history, but that pretty much happens every year in the Indiana game. The Badgers D is led by experienced players up front like
Chris Borland
,
Beau Allen
and
Brendan Kelly
and is getting terrific play from less experienced guys like
Sojourn Shelton
and
Tanner McEvoy
on the back end. Don't forget that Ohio State turned in its lowest point total of the season (31) against Dave Aranda's defense. This is a complete team, even if the the voters in the major polls still somehow fail to recognize it.
3. Don't tell Michigan this season is over:
We could have understood if Michigan would have mailed in the end of Saturday's Northwestern game. The Wolverines have been beaten up by opponents and piled on by fans and critics for their lackluster offensive performances. Their Big Ten title hopes are dead, and in coach Brady Hoke's own view, that means the season is a failure already. In the rain in Evanston, they found themselves down 9-6 in the closing moments of an ugly game. But Michigan pulled off a truly incredible effort to set up
Brendan Gibbons
' field goal at the very end of regulation, then ground its way through a
triple-overtime win
. Quarterback
Devin Gardner
, who has been battered and bruised countless times, appropriately scored the winning touchdown and two-point conversion. The Wolverines looked in serious danger of losing out for a 6-6 campaign before Saturday's gritty comeback. While wins at Iowa and against Ohio State the next two weeks won't be easy to come by, Michigan proved that it will not fold up shop. As for Northwestern, you can't fault the effort. But the Wildcats have now lost in just about every terrible way imaginable, including twice in overtime and on a Hail Mary. It's just one of those years for coach Pat Fitzgerald's crew.
[+] Enlarge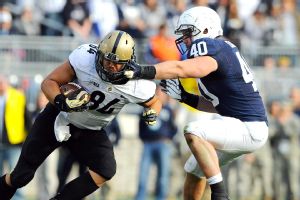 Rich Barnes/USA TODAY SportsLinebacker Glenn Carson and the Nittany Lions gave up just 264 yards to Purdue in the win.
4. It's wait 'til next year -- again -- for Illinois and Indiana:
The best thing you can say about Illinois is that it has shown a lot of fight this year -- even if that sometimes means near fisticuffs between coach Tim Beckman and offensive coordinator Bill Cubit. The Illini did not give up after falling behind Ohio State 28-0 and 35-7 on Saturday, battling back to keep it a two-score game throughout most of the second half. But like the games against Penn State and Indiana, the team simply couldn't finish the job. And so any slight bowl hopes were officially extinguished for Illinois, which now owns the nation's longest conference losing streak -- and second-longest in the long history of the Big Ten -- at 20 games. If Beckman can't lead the team to a win over hapless Purdue next week, he might not get a chance to finish his job, either. Indiana entered the year with high hopes for a bowl. The Hoosiers can still technically get to six wins, but that would require a win next week in Columbus over Ohio State. If you believe that will happen, you are either incredibly optimistic or completely untethered from reality. Coach Kevin Wilson's team has made strides this season on offense and in the running game despite Saturday's showing in Madison, but the defense has failed to grow at all and has some historically inept performances this season. The Hoosiers' status won't change until that side of the ball develops any competency. So it's back to the drawing board for both programs, and they'll have all of December to rethink things.
5. Freshmen making strides at Penn State, Purdue:
If you didn't watch
Penn State's win over Purdue
, we don't blame you. Neither team is going anywhere this season. But the game did provide some hope for the future, thanks to the play of true freshmen on both sides. Purdue quarterback
Danny Etling
took a step forward with the best start of his career, throwing for 223 yards and a touchdown. Both he and Penn State freshman quarterback
Christian Hackenberg
finished with similar stat lines. And their first-year targets fared pretty well, too.
DeAngelo Yancey
was Purdue's leading receiver, with four catches for 83 yards, and Nittany Lions tight end
Adam Breneman
caught the first TD pass of his career. Both teams are looking forward for different reasons, and the play of their youngsters gave them some reasons for hope.
November, 17, 2013
11/17/13
9:00
AM CT
Recognizing the best and the brightest around the Big Ten in week 12 …

Ohio State RB Carlos Hyde.
Ohio State coach Urban Meyer said that Hyde made the difference for the Buckeyes in a 60-35 win. The senior rushed for four touchdowns and 246 yards on 24 carries and tallied another receiving touchdown (he had two catches totaling 26 yards). It was Hyde's first 200-yard game of the season and more than double his previous season average of 117 yards per game.
Michigan kicker Brendan Gibbons and holder Drew Dileo.
Down three points with under 10 seconds remaining in regulation, the Michigan offense was sprinting off the field, the kicking team sprinting on the field and Dileo was sliding in to this holding position for Gibbons (yes, literally, sliding). Gibbons nailed a 44-yard field goal to send the game in to overtime, which the Wolverines eventually won after triple OT.
Wisconsin running backs.
The Badgers accounted for 554 rushing yards against Indiana.
James White
(205 yards, 1 touchdown),
Melvin Gordon
(146 yards, 1 touchdown) and
Corey Clement
(108 yards, 2 touchdowns) became Wisconsin's third 100-yard rushing trio this season. Wisconsin tallied seven runs of 30 yards or more and White recorded a 93-yard touchdown run which set a program record for the longest run. The Badgers' 554 rush yards are the most by an FBS team this season.
Nebraska RB Ameer Abdullah.
The Big Ten's leading rusher had his seventh 100-yard game of the season (bringing his rushing total this season to 1,213) and he became the first running back to rush for more than 100 yards against the Spartans defense. He accounted for 123 yards on 22 carries and his one TD of the day was a 12-yard receiving touchdown (his only catch of the day). MSU came into the match up giving up just 43 rushing yards per game -- which Abdullah tripled.
Illinois DB V'Angelo Bentley.
Coming into this weekend the Buckeyes had allowed just 1.5 yards per punt return and haven't allowed any kind of a return on 92 percent of their punts. But with the Illini down 28-0 on Saturday Bentley managed to get past more than half of Ohio State's punt coverage team and go 67 yards to the end zone. Not only did he become the first player to have success against this group, he also gave Illinois its first sign of life against the Buckeyes.
Honorable mention: Michigan State kicker Mike Sadler.
With a six-point lead in the fourth quarter and the Spartans faced with a fourth-and-1 on the Cornhuskers 27 yard line, Mark Dantonio called for a fake field goal play. Sadler was supposed to go right, but the formation wasn't quite what MSU expected, so instead of checking out of it and going for a field goal he rushed for three yards up the middle and a first down, setting up an MSU score.
October, 17, 2013
10/17/13
5:00
PM CT
The One Who Knocks is knocking on the door of a fantasy championship.
My team made it two in a row and four of the last five over Adam's Trombone Shorties with a decisive 119-79 victory last week. For that, I can thank quarterbacks
Christian Hackenberg
(30) and
Devin Gardner
(33) for putting up big point totals in their four-overtime game, as well as my timely pickup of the Nebraska defense, which registered 20 points in a near shutout of Purdue. Those three alone would have been enough to beat Adam's team, which got 23 points from
Melvin Gordon
and 18 from
Ameer Abdullah
but not enough anywhere else.
That gives me a 5-2 season edge, and I'm just three more wins from claiming the season championship. But once again, the double bye is making things interesting, so this thing is far from over. On to our Week 8 pickups …
Adam adds Ohio State QB Braxton Miller and drops Northwestern QB Trevor Siemian
Rationale:
I need a second-half boost, and so does Miller, who had a big fourth quarter against Northwestern and faces an Iowa defense that still could be vulnerable to a dual-threat quarterback.
Brian adds Ohio State RB Carlos Hyde and drops Penn State RB Zach Zwinak
Rationale:
Zwinak wasn't doing much for me and now is on a bye. Hyde will face a tough Iowa defense that hasn't allowed a rushing touchdown, but I'll take my chances with the Buckeyes' workhorse.
Adam adds Michigan State RB Jeremy Langford and drops Nebraska RB Ameer Abdullah
Rationale:
Abdullah is off this week, and Lankford faces a Purdue defense that has allowed a league-worst 16 rush touchdowns (four more than any other team). This might not be a long-term move, but Langford has elevated his game for an improving Spartans offense.
Brian adds Wisconsin RB James White and drops Northwestern RB Venric Mark
Rationale:
Mark just can't stay healthy, while White could join teammate Gordon in having a big day at Illinois this week.
Adam adds Michigan TE/WR Devin Funchess and drops Northwestern WR Tony Jones
Rationale:
Although Jones should improve on his 1-point total from last week against Minnesota, Funchess' production has surged in recent weeks. I like him going against a vulnerable Indiana defense.
Brian adds Michigan State QB Connor Cook and drops Penn State QB Christian Hackenberg
Rationale:
Strictly a bye week move here. Going to gamble on Cook against a struggling Purdue offense.
Brian adds Ohio State defense and drops Nebraska's defense
Rationale:
The Huskers served me well last week but go back on another bye. I'll take the Buckeyes at home against Iowa and hope for some big plays.
Brian add Michigan's kickers and drops Penn State's kickers
Rationale:
Yet another bye week move. I'll bet on a bounce-back from
Brendan Gibbons
. Should be lots of scoring chances against Indiana.
Our complete rosters for Week 8:
The Trombone Shorties (Adam)
Ohio State QB Braxton Miller
Indiana QB
Nate Sudfeld
Wisconsin RB Melvin Gordon
Michigan State RB Jeremy Langford
Michigan WR
Jeremy Gallon
Michigan WR/TE Devin Funchess
Michigan State kickers
Michigan State defense
The One Who Knocks (Brian)
Michigan QB Devin Gardner
Michigan State QB Connor Cook
Wisconsin RB James White
Ohio State RB Carlos Hyde
Wisconsin WR
Jared Abbrederis
Penn State WR
Allen Robinson
Michigan kickers
Ohio State defense
October, 9, 2013
10/09/13
1:00
PM CT
Conference play is in full swing, so it's time once again to gauge where players stand in the individual Big Ten awards races. Remember, there's still plenty of time left, and these will fluctuate quite a bit until we get deep into the season:
Graham–George Offensive Player of the Year
1. Wisconsin RB Melvin Gordon (LW: 2):
Gordon was off last week but moves back into the top spot after
Mark Weisman
was shut down by Michigan State. Gordon still leads the Big Ten in rushing but will have to prove he's healthy against Northwestern this week.
2. Nebraska RB Ameer Abdullah (LW: Not ranked):
Abdullah makes a big jump after his huge game against Illinois. He's second in the league in rushing behind Gordon and leads the Big Ten in all-purpose yards.
[+] Enlarge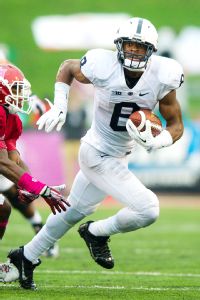 AP Photo/Doug McSchoolerPenn State receiver Allen Robinson caught a career-best 12 passes against Indiana.
3. Penn State WR Allen Robinson (LW: NR):
The Nittany Lions lost to Indiana last week, but Robinson was spectacular in grabbing a career-best 12 passes for 173 yards and two touchdowns. He's on pace to gain close to 1,500 yards receiving.
4. Wisconsin WR Jared Abbrederis
(LW: 5):
Abbrederis was also off last week but is right there with Robinson in the race for the league's Richter–Howard Receiver of the Year award.
5. Indiana QB Nate Sudfeld (LW: NR):
Sudfeld helms the league's best passing attack and tops the Big Ten with 1,467 passing yards, to go along with 13 touchdowns. That puts him on pace for a 3,500-yard season.
Dropped out:
Iowa RB Mark Weisman, Ohio State QB
Braxton Miller
, Illinois QB
Nathan Scheelhaase
Waiting room:
Ohio State RB
Carlos Hyde
Nagurski–Woodson Defensive Player of the Year
1. Wisconsin LB Chris Borland (LW: 1):
He was off last week, but Borland still holds the belt for how he played the first five weeks. He's got a big challenge this week with Northwestern's versatile offense.
2. Ohio State LB Ryan Shazier (LW: 2):
Although the Buckeyes were shaky defensively at Northwestern last week, Shazier came up with another 10 tackles and was right there on the punt block that
Bradley Roby
grabbed for a touchdown. He leads the Big Ten with eight tackles for loss.
3. Michigan State CB Darqueze Dennard (LW: NR):
Dennard showed what he could do when he's not being called for ticky-tack pass interference penalties, grabbing two interceptions against Iowa. He's our representative this week from the the ridiculous Spartan Dawgs, who lead the nation in total defense, rushing defense and pass efficiency defense.
4. Nebraska CB Stanley Jean-Baptiste (LW: NR):
It's hard to imagine any Cornhuskers player winning defensive player of the year honors because of the perception/performance of that overall unit. But Jean-Baptiste is having quite the year. He -- along with Michigan's
Blake Countess
-- is tied for the national lead in interceptions (four). He's also second in the Big Ten in passes defended (10).
5. Northwestern DE Tyler Scott (LW: NR):
Though Northwestern lost the game, it didn't surrender an offensive touchdown in the first half to Ohio State. Scott forced and recovered a fumble, and he leads the Big Ten in sacks with four.
Dropped out:
Michigan State DE
Shilique Calhoun
, Penn State DT
DaQuan Jones
, Iowa LB
James Morris
Bakken–Andersen Kicker of the Year
1. Northwestern's Jeff Budzien:
Last year's co-winner of this award, Budzien is 9-for-11 on field goals this year and nailed all three of his attempts versus Ohio State. He's perfect inside 40 yards in 2013.
2, Penn State's Sam Ficken:
He continues to author a tremendous comeback story. Ficken is 8-of-10 this year, which includes a 54-yarder. One of his two misses was a Hail Mary attempt from 57 yards. He has become a reliable weapon for Bill O'Brien.
Waiting room:
Iowa's
Mike Meyer
, Michigan's
Brendan Gibbons
, Michigan State's
Michael Geiger
January, 10, 2013
1/10/13
11:00
AM CT
The Big Ten won only two bowl games this season, but several players stood out around the league.
Let's take a look at ESPN.com's Big Ten All-Bowl squad ...
OFFENSE
QB:
Devin Gardner
, Michigan -- There weren't many good choices around the league, but Gardner fired three touchdown passes and racked up 214 pass yards. He has accounted for at least two touchdowns in all five of his starts at quarterback for the Wolverines.
RB:
Le'Veon Bell
, Michigan State -- The nation's ultimate workhorse running back did his thing in his final game as a Spartan. Bell had 32 carries for 145 yards and a touchdown, recording his eighth 100-yard rushing performance of the season. He also threw a 29-yard pass on a pivotal third-down play.
RB:
Rex Burkhead
, Nebraska -- Another back who stood out in his final collegiate game, Burkhead racked up 140 rush yards and a touchdown on 24 carries, and added four receptions for 39 yards. It's really too bad we didn't get to see what Burkhead could have done all season when healthy.
[+] Enlarge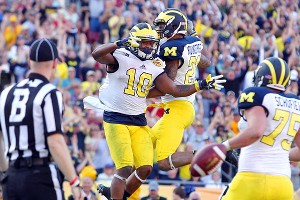 Kim Klement/USA TODAY SportsJeremy Gallon celebrates one of his two touchdown catches against South Carolina.
WR:
Jeremy Gallon
, Michigan -- Gallon recorded career highs in receptions (9) and receiving yards (145), and scored two touchdowns against a strong South Carolina defense in the Outback Bowl. It was his third 100-yard receiving performance of the season.
WR:
Derrick Engel
, Minnesota -- Along with quarterback
Philip Nelson
, Engel provided some hope for Minnesota's future on offense with 108 receiving yards on four receptions in the Meineke Car Care Bowl of Texas. His 42-yard reception marked the third longest of Minnesota's season.
TE:
Dan Vitale
, Northwestern -- The freshman provided offensive balance Northwestern needed against a Mississippi State team that focused on taking away
Venric Mark
and the run game. Vitale recorded team highs in both receptions (7) and receiving yards (82) as Northwestern ended the nation's longest bowl losing streak in the TaxSlayer.com Gator Bowl.
OL:
Taylor Lewan
, Michigan -- Everyone remembers
Jadeveon Clowney
's near decapitation of Michigan's
Vincent Smith
in the Outback Bowl -- which
resulted from a miscommunication
between Lewan and tight end
Mike Kwiatkowski
-- but the Wolverines' left tackle did a good job overall against college football's most dominant defensive lineman. Lewan anchored a line that helped Michigan put up decent numbers against an elite defense.
OL:
Zac Epping
, Minnesota -- Minnesota's offensive line showed flashes of the dominance it displayed for much of the Glen Mason era against Texas Tech. The Gophers racked up 222 rush yards and two touchdowns on 54 carries, as Epping and his linemates opened up holes for
Donnell Kirkwood
,
Rodrick Williams
and
MarQueis Gray
.
OL:
Brian Mulroe
, Northwestern -- Mulroe made his 40th career start and helped Northwestern finally get over the hump in a bowl game. The Wildcats had a balanced offensive attack, avoided the penalty flag and didn't allow a sack against Mississippi State.
OL
:
Cole Pensick
, Nebraska -- Stepping in for the injured
Justin Jackson
at center, Pensick helped the Huskers find success running the ball against Georgia, especially up the middle. Nebraska had 239 rushing yards in the Capital One Bowl.
OL:
Travis Frederick
, Wisconsin: The Badgers rushed for 218 yards against Stanford, which came into the Rose Bowl with the nation's No. 3 rush defense. They also gave up only one sack to a defense which led the FBS in that category. Frederick played very well at center and announced he would skip his junior year to enter the NFL draft a few days later.
DEFENSE
DL:
Quentin Williams
, Northwestern -- Williams set the tone for Northwestern's win with an interception returned for a touchdown on the third play from scrimmage. He also recorded two tackles for loss, including a sack, in the victory.
DL:
William Gholston
, Michigan State -- Another player who stood out in his final collegiate game, Gholston tied for the team lead with nine tackles, including a sack, and had a pass breakup in the Buffalo Wild Wings Bowl win against TCU. The freakishly athletic defensive end stepped up in a bowl game for the second straight season.
DL:
Tyler Scott
, Northwestern -- Scott and his fellow linemates made life tough for turnover-prone Mississippi State quarterback
Tyler Russell
in the Gator Bowl. The Wildcats junior defensive end recorded three tackles for loss, including two sacks, and added a quarterback hurry in the win.
DL:
Ra'Shede Hageman
, Minnesota -- The big man in the center of Minnesota's defensive line stood out against Texas Tech, recording six tackles, including a sack, and a pass breakup. Gophers fans should be fired up to have Hageman back in the fold for the 2013 season.
LB:
Max Bullough
, Michigan State -- Bullough once again triggered a strong defensive performance by Michigan State, which held TCU to just three points in the final two and a half quarters of the Wings bowl. The junior middle linebacker tied with Gholston for the team tackles lead (9) and assisted on a tackle for loss.
LB:
Chris Borland
, Wisconsin -- The Badgers' defense clamped down against Stanford after a slow start, and Borland once again stood out with his play at middle linebacker. The standout junior led Wisconsin with nine tackles as the defense kept the Badgers within striking distance in Pasadena.
LB:
Jake Ryan
, Michigan -- Ryan capped a breakout season with another strong performance in the bowl game, recording 1.5 tackles for loss, a fumble recovery and half a sack. He'll enter 2013 as a top candidate for Big Ten Defensive Player of the Year honors.
CB:
Michael Carter
, Minnesota -- Carter finished off a strong senior year with two interceptions, a pass breakup and seven tackles in the 34-31 loss to Texas Tech.
CB:
Nick VanHoose
, Northwestern: The redshirt freshman picked off a Mississippi State pass and returned it 39 yard to set up the game-clinching touchdown in the fourth quarter.
S:
Jared Carpenter
, Northwestern: The senior was named MVP of the Gator Bowl win with a game-high 10 tackles and a near interception late in the game.
S:
Ibraheim Campbell
, Northwestern: The Wildcats dominate our all-bowl team secondary for good reason. Campbell had an interception and a pass breakup against the Bulldogs.
Specialists
P:
Mike Sadler
, Michigan State -- The punters took center stage in Tempe as both offenses struggled, and Sadler provided MSU with a huge lift in the field-position game. He set Spartans bowl records for punts (11) and punting yards (481), averaging 43.7 yards per punt with three inside the 20-yard line. His booming punt inside the TCU 5 helped lead to a game-turning fumble by the Horned Frogs'
Skye Dawson
.
K:
Brendan Gibbons
and
Matt Wile
, Michigan -- Both kickers share the honors after combining to go 3-for-3 on field-goal attempts in the Outback Bowl. Gibbons, the hero of last year's Sugar Bowl, connected from 39 yards and 40 yards in the first half. Wile hit a career-long 52-yard attempt in the third quarter, setting an Outback Bowl record.
Returner:
Troy Stoudermire
, Minnesota -- It took a bit longer than expected, but Stoudermire finally set the NCAA record for career kick return yards with a 26-yard runback on the opening kickoff against Texas Tech. The senior cornerback finished the game with 111 return yards, including a 37-yard runback, on four attempts.
December, 10, 2012
12/10/12
9:51
PM CT
We unveiled our
All-Big Ten team
earlier today, but there are many others who deserve recognition. That's why we have a second-team all-conference squad. A handful of these players easily could have easily appeared on the first team, as several of the decisions were extremely close.
Here's the second-team squad:
Offense
QB:
Taylor Martinez
, Nebraska
RB:
Venric Mark
, Northwestern
RB:
Carlos Hyde
, Ohio State
WR:
Jared Abbrederis
, Wisconsin
WR:
Cody Latimer
, Indiana
TE:
Dion Sims
, Michigan State
C:
Travis Frederick
, Wisconsin
G:
John Urschel
, Penn State
G:
Andrew Norwell
, Ohio State
T:
Rick Wagner
, Wisconsin
T:
Jeremiah Sirles
, Nebraska
Defense
DL:
Kawann Short
, Purdue
DL:
Eric Martin
, Nebraska
DL:
D.L. Wilhite
, Minnesota
DL:
Adam Replogle
, Indiana
LB:
Max Bullough
, Michigan State
LB:
Mike Taylor
, Wisconsin
LB:
Gerald Hodges
, Penn State
DB:
Josh Johnson
, Purdue
DB:
Michael Carter
, Minnesota
DB:
Ibraheim Campbell
, Northwestern
DB:
Micah Hyde
, Iowa
Special teams
K:
Brendan Gibbons
, Michigan
P:
Cody Webster
, Purdue
All-purpose:
Ameer Abdullah
, Nebraska
Unlike the first team, we used a traditional 4-3 defense. We had three very good linebackers in Bullough, Hodges and Taylor who could have made the first team, and there's a clear drop-off after that point. ... Nebraska's Martinez struggled in the Big Ten title game, and we had a tough decision between him and Penn State's
Matt McGloin
, but Martinez's overall production gave him the edge. ... Northwestern's Mark made the first team as an all-purpose player, but he was our obvious first choice for second-team running back, too. It came down to Hyde and Abdullah for the other spot, but Hyde had better per-game production than Abdullah. The good news is Abdullah, who did a terrific job filling in for
Rex Burkhead
, still makes the team as an all-purpose player ... There were some tough choices at defensive back, and players like Michigan State safety
Isaiah Lewis
and Michigan safety
Jordan Kovacs
nearly made the list. Michigan State had the ultimate team defense this season, a great unit not loaded with superstars. ... Nebraska's
Brett Maher
received more recognition on the
official All-Big Ten teams
, but liked Gibbons' steadiness throughout the season and his ability to make big kicks against both Michigan State and Northwestern.
October, 22, 2012
10/22/12
5:53
PM CT
Take that and rewind it back.
Team of the week:
Penn State. Plenty of candidates this week, as Michigan ended Michigan State's four-game winning streak in the rivalry, Nebraska got a much-needed road victory and Wisconsin kept chopping in the Axe series. But no team was as impressive as the Nittany Lions, who went on the road in a hostile atmosphere and simply dismantled Iowa from start to finish in a 38-14 win. That was as complete a performance as you're going to see in this league, and as Adam wrote on Saturday, Bill O'Brien's team is no longer
just a nice little story
.
[+] Enlarge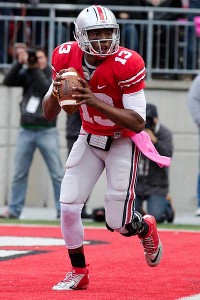 Greg Bartram/US PresswireBackup quarterback Kenny Guiton led the Buckeyes to an overtime win against Purdue on Saturday.
Game of the week:
Lots of good ones, including Michigan's nailbiter over Michigan State, Nebraska's comeback over Northwestern and even Indiana's loss at Navy. But for pure drama, it's hard to beat the Ohio State-Purdue game and how it ended. To review: the Buckeyes trailed by eight points and took possession at their 39-yard line with less than a minute to go.
Braxton Miller
was in the hospital and backup
Kenny Guiton
was at quarterback. Somehow, Ohio State made it work, driving for a touchdown and then the tying two-point conversion on a beautifully designed play. There seemed to be little doubt who would win in overtime after that, though Urban Meyer seemed stunned after the 29-22 decision. "I'm still trying to figure this bad boy out," he said. "We won, right?"
Biggest play:
The first play of that Ohio State tying drive was a 39-yard completion from Guiton to
Devin Smith
that made everything else possible. It was a slow-developing play that the Buckeyes were a little hesitant to call because it demands such good protection by the O-line. Maybe too good, as Purdue coach Danny Hope complained that his defense "probably would have [gotten to Guiton] if we didn't have quite so many hooks and so many hands on our jerseys." Regardless, it was still a play that will go down in Ohio State lore.
Best call:
It came in a losing effort, but we enjoyed seeing the return of Mark Dantonio's gambling special-teams ways in Michigan State's loss to Michigan. On fourth-and-9 from the Spartans' 23-yard line early in the fourth quarter, punter
Mike Sadler
sprinted for a 26-yard gain. That extended a drive that led to the field goal that put Michigan State up 10-9. I just wish Dantonio had been as aggressive on the fourth-and-1 from Michigan's 21-yard line earlier in the game, when the Spartans went for the field goal -- and missed it.
Best new wrinkle:
It sometimes feels as if Wisconsin doesn't need a quarterback, given its strength at offensive line and depth at tailback. The Badgers gave that idea a try Saturday against Minnesota, putting running back
James White
at quarterback and using seven offensive lineman, two tight ends and
Montee Ball
as a receiver. They called it the "Barge" formation because of how many large humans were involved. White ran four times out of the "Barge" and gained 30 yards, including a 14-yard touchdown. That gives defenses something else to think about, and Bielema said there are plays where White can throw out of the formation.
Big Man on Campus (Offense):
Taylor Martinez
has gotten crushed for his failures on the road, so it's only fair that he should be praised for winning an important game away from Lincoln. Granted, Northwestern had a couple of chances to pick him off in the fourth quarter, and if that happens, the narrative for Nebraska and Martinez is a whole lot different right now. But Martinez deserves credit for leading fourth-quarter scoring drives of 80 and 76 yards and finishing 27-of-39 passing for 342 yards with three touchdowns and -- most important -- no interceptions. He also rushed for 65 yards and a score.
Big Man on Campus (Defense):
Penn State's linebackers have gotten the, um, Lions' share of attention this season on the defense. But senior defensive tackle
Jordan Hill
made himself known against Iowa, recording nine tackles, including two for loss, a sack and a quarterback hurry. Iowa finished with only 20 rushing yards.
Big Man on Campus (Special teams):
Here's what I imagine
Brendan Gibbons
was thinking before his game-winning, 38-yard kick against Michigan State: "Zooey Deschanel, Mila Kunis, Natalie Portman." Actually, Gibbons said this time he was thinking about the Michigan seniors, not brunette girls as he was before hitting the game-winner in the Sugar Bowl. But this one was just as big, and one of his three field goals on the day in a 12-10 win. A hardy shout out goes to
Matt Wile
, who booted a 48-yarder for the Wolverines, and to Purdue's
Akeem Hunt
for his 100-yard kickoff return against Ohio State.
Worst hangover:
Purdue, Michigan State and Northwestern are all solid nominees here, but Iowa wins the least-coveted award in the rewind. Not only were the Hawkeyes destroyed at home by Penn State, they also lost starting left tackle
Brandon Scherff
to injury for at least the rest of the regular season, and starting guard
Andrew Donnal
may be out a while as well. That was Iowa's third home loss of the season already. The Hawkeyes still have no passing game, and while they can salvage something out of this season, things look a lot less promising than they did a week ago.
Strangest moment:
Northwestern had to go to a silent count for its final drive of the game against Nebraska. Which wouldn't have been weird, except that the Wildcats were playing at home. Ryan Field has never been the most intimidating home atmosphere, and Nebraska fans invaded in such large numbers and made so much noise that it felt like a road game for the Northwestern players at the end. "We didn't prepare for that all week," quarterback
Kain Colter
told the Chicago Tribune about the silent count.
TOP 25 SCOREBOARD
Saturday, 8/30
Thursday, 8/28
Friday, 8/29
Sunday, 8/31
TOP PERFORMERS