Chicago Colleges:

Brian Ellerbe
October, 10, 2014
Oct 10
10:00
AM CT
Week 7 is here, and let's not sugarcoat it: Big Ten football has looked more interesting on other weekends. This first Saturday of the season without nonconference action lacks marquee matchups. Still, the division races will continue to take shape.
Here's a look at the five games (all times Eastern):
Noon
Illinois (3-3) and Wisconsin (3-2)
, ESPN2: Will
Melvin Gordon
run for 300 yards? If the Badgers wanted it to happen, Illinois' 119th-ranked rushing defense would likely comply. More of the intrigue in Madison involves the quarterbacks. For Wisconsin,
Joel Stave
, who returned last week against Northwestern, will see time, in addition to
Tanner McEvoy
, who might also take a shot at receiver. And with Illinois'
Wes Lunt
out with a fractured leg, senior Reilly O'Toole and sophomore
Aaron Bailey
, who was set to redshirt, have competed in practice this week.
Indiana (3-2) and Iowa (4-1)
, ESPNU: Indiana has shown it can win on the road in tough spots, handing Missouri its lone loss on Sept. 20. The Hoosiers are more explosive on offense than any foe Iowa has faced. But Indiana still can't defend well, in particular against proficient quarterbacks. The Hawkeyes are going back to
Jake Rudock
at the start, but
C.J. Beathard
will play. How well can Greg Davis manage this? If it's a disaster, Indiana might just find itself in the right place at the right time for an upset bid.
[+] Enlarge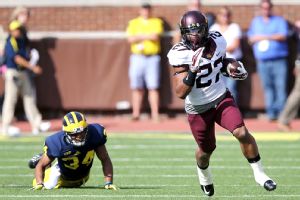 Leon Halip/Getty ImagesDavid Cobb and Minnesota can take a big step in their quest for a Western Division crown by beating Northwestern on Saturday.
Northwestern (3-2) at Minnesota (4-1)
, BTN: Who would have guessed a month ago, as the Golden Gophers fell flat at TCU and the Wildcats sat winless, that this game would have legitimate implications for the West Division title race? It does, with NU in quest of a third straight unexpected win to open league play. Its defense led the charge against Penn State and Wisconsin. Minnesota is simply solid, led by
David Cobb
, statistically the league's most valuable offensive player. Minnesota has defended the pass especially well in recent games and will test Northwestern's
Trevor Siemian
, 13th in the Big Ten in QBR.
3:30 p.m.
No. 8 Michigan State (4-1) at Purdue (3-3)
, ESPN2: At least it's not the best team in the Big Ten against the worst. Purdue escaped the low spot last week with a win over Illinois. And sophomore quarterback
Austin Appleby
looked good in the victory. Very good, in fact. Back at home, he figures to find a much more difficult situation against the Spartans, who might come in a bit angry after nearly blowing a 24-point, fourth-quarter lead against Nebraska.
7 p.m.
Penn State (4-1) at Michigan (2-4)
, ESPN2: The visitors from Happy Valley, after an off week, get an opportunity to show that their anemic performance against Northwestern was just a fluke. With an upcoming stretch of three challenging games, no better time exists for PSU to get healthy than at Michigan, trying to avoid its first 0-3 start in the Big Ten since 1965. Against a good Penn State front, the Wolverines must protect
Devin Gardner
and throw the football, neither of which they've done well in recent weeks.
Required reading
June, 17, 2013
6/17/13
3:32
PM CT
Former Washington D.C. high school coach Renard Phillips was named as an assistant to DePaul coach Oliver Purnell's staff on Monday.

Phillips had been at Friendship Collegiate Academy in Washington D.C. since 2012. Friendship Collegiate Academy went 20-7 and reached the semifinals of the Beltway Independent Playoffs last season. He has also been a prep coach at Arlington Country Day in Jacksonville, Fla., Progressive Christian Academy in Temple Hills, Md., Georgetown Prep in Rockville, Md.

Phillips was also involved in coaching DC Assault, a club program in Washington D.C., since 2008.

Phillips replaces Brian Ellerbe on the Blue Demons' staff. Ellerbe wasn't retained by Purnell after DePaul went 11-21 overall and 2-16 in the Big East last season.
December, 17, 2011
12/17/11
5:39
PM CT
CHICAGO -- Basketball didn't feel like basketball to Brian Ellerbe when he left coaching 10 years ago.
Ellerbe's coaching career began when he was 22, and he learned at an early age the job wasn't worth it unless you really loved where you were at. Yes, the money could be good and belonging to certain programs brought notoriety, but Ellerbe never wanted to be a coach for the fame and fortune. Few do.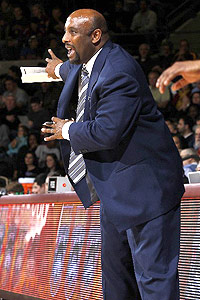 Courtesy of DePaul communicationsBrian Ellerbe is in his second season on Oliver Purnell's staff at DePaul.
Up until 1997, his coaching career had been all he wanted. He enjoyed the schools he worked at. He liked the people he worked with. He had been a successful recruiter. He loved teaching players and seeing them develop.
Coaching fulfilled him, and he never envisioned doing anything else. He was a basketball coach. It was his life.
Four years at Michigan ceased those feelings.
Michigan opened his eyes to the ugly side to college basketball. His tenure began with the scandal of booster Ed Martin paying players, which led to Steve Fisher being fired and Ellerbe becoming the interim head coach and later the permanent coach. One athletic director retired and another resigned during his time there. He was forced to sit Jamal Crawford without explanation.
And in the end, he was fired after four seasons, and he felt different about basketball.
"It wasn't pure," said Ellerbe, who is now in his second year as a DePaul assistant coach. "The game wasn't pure. The business wasn't pure. You become paranoid in a lot of respects. Nobody really understands unless in you're in those shoes.
"It really tests you psychologically. It tests your belief in the business. It tests a lot of things. It was a passion. It was like the air got let out of the balloon."
So Ellerbe stepped away from it.
Like his nine other siblings, Ellerbe was going to put his college degree to use. He studied urban planning at Rutgers, and he found a way to utilize it while helping various construction projects, including the Motor City Education Sportsplex, in the Detroit area and then later taking a vice president of corporate development position with Madison Grace Construction in Las Vegas.
Ellerbe wasn't completely detached from basketball. He was a consultant for college teams, high school players and showed up to the occasional AAU tournament to see his old colleagues.
All of it was enough to satisfy his basketball hunger. He wasn't dying to get back into coaching even if others were saying he should consider it.
Todd Bozeman was one of those who attempted to draw Ellerbe back. They had known each other for years, having growing up in the Washington D.C. area. Bozeman had a unique outlook on what Ellerbe was going through too because he had sat out 10 seasons between college coaching positions.
"When Brian went through his situation, I understood the language," said Bozeman, who is his fifth season as Morgan State's head coach. "I understood where he was coming from. I kept trying to make him think of it as not so bad. 'You went through a tough time. It jarred you. You got stunned. It's just a speed bump. You'll be back from it, and it'll come around.'"
Ellerbe didn't see it that way. He told Bozeman he was done with coaching. Bozeman disagreed.
"I kept telling him, 'You're coming back,'" Bozeman said. "He kept saying, 'I'm not coming back.' I knew he had too much to offer, and it was just a bump in the road, and it was a matter of time."
Bozeman was right.
Ellerbe and his associates sold their business in Las Vegas, and he returned to the D.C. area prior to the 2009-2010 college season. Karl Hobbs, who was then George Washington's coach, asked Ellerbe if he'd be interested in joining his staff.
Ellerbe liked Hobbs. Ellerbe and his wife had ties to George Washington. He knew he'd enjoy coaching there and being around the people. Plus, he was going to approach the job differently this time around.
"Totally different," Ellerbe said. "The one thing I do realize is I know why [DePaul coach] Oliver Purnell can coach until he's 80 because he has the ability to turn it off and keep it in perspective. You control what you can control, you work hard on what you can work on, and then you move on.
"But not a lot of us can do that. It eats at us to no end. I think stepping back I don't let it bother me like I used to. I tried to create some of the normalcy."
[+] Enlarge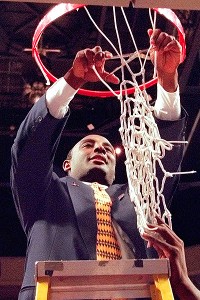 AP Photo/Fred Jewell Ellerbe had an up and down tenure at Michigan.
Bozeman has witnessed that change in Ellerbe.
"It's not life and death," Bozeman said. "I think that's what you see of Brian. He has a whole different perspective on it now."
Ellerbe was happy living back in his hometown and coaching. Life was good. Then one day, he received an unexpected phone call.
Ellerbe can recall the day precisely. He was home alone. His wife and children were out. A baseball game was on the television, and he was falling asleep. The phone rang, awoke him and Purnell was on the line.
"He said, I'm taking this DePaul job. You've been in the Midwest. You need to come out here with me,'" Ellerbe said. "I said, 'God, Oliver. What are you talking about?' I always had so much respect for Oliver Purnell. I knew that was a real call. When I hung the phone up, I'm like, 'What am I going to tell my wife?"
Within days, Purnell had his man.
"It was just his overall resume and body of work," Purnell said. "Obviously he was at Michigan and won a Big Ten championship. Michigan is obviously in the Midwest. He grew up in that Baltimore area, worked on the East Coast, which is an area I think we can recruit as well. He's an X's and O's guy. If you look at his resume, it's just impeccable."
Now in his second year at DePaul, Ellerbe is as happy as he's been coaching. He and his family enjoy Chicago, especially its food. He recruits mainly the Midwest and the East Coast, and his list of contacts in those places go back to when he began as a grad assistant at Rutgers in 1985. He works predominately with DePaul's big men in practice.
Ellerbe also loves the challenge DePaul has presented. It's been a while since the Blue Demons have made headlines in the college basketball world, and Ellerbe is confident Purnell and his staff can return it there.
"Everyone's like, 'Boy, that's a tough job, you got an uphill climb,'" Ellerbe said. "Yeah, that's what Oliver has done wherever he's been. We want to get it back to the days you remember. That would be the most satisfying thing. To get it back to that point and let the chips fall where they may."
If those chips dropped into Ellerbe being offered another head coaching position, he would at least listen.
"If it happens, it happens," Ellerbe said. "I'm not a guy who is actively seeking, on the phone touching everyone I know. That's not how I would approach it. If an opportunity came about, I definitely would look in it. It's one of those what-you-know-now kind of scenarios."
For the record, Bozeman never told Ellerbe he told him so.
"I'm just glad B's back," Bozeman said. "I'm not just saying him by himself, but college basketball needs guys like that. I'm glad he's back. I'm glad he's happy."
TOP 25 SCOREBOARD
Thursday, 10/23
Friday, 10/24
Saturday, 10/25
TOP PERFORMERS