Chicago Colleges:

Brian Smith
November, 27, 2010
11/27/10
11:55
AM CT
By
Wes Morgan
| ESPNChicago.com
SOUTH BEND, Ind. -- Brian Smith entered fall camp boasting the most previous starts and the most active vocal chords. By early September, vultures were circling the senior linebacker's career.
The 6-3, 243-pound Kansas native failed to impress new coach Brian Kelly, whose lack of enthusiasm for the defense's emotional leader initially appeared to be a motivational ploy. After all, Kelly had already criticized fellow linebacker Manti Te'o and star receiver
Michael Floyd
for not playing up to their full potential in 2009.
But it was Smith, who had started 24 games dating back to his freshman season, who began fading into the background.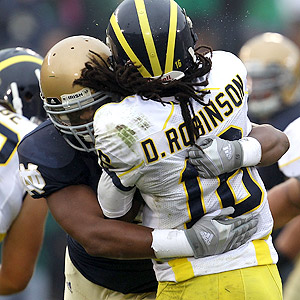 Jonathan Daniel/Getty ImagesNotre Dame linebacker Brian Smith has made the most of the second half of the season.
"In my mind I'm [thinking], 'Oh, I'm being picked on, they don't want me to play,' " he said. "On the inside, yeah, I was frustrated. On the inside, yeah, I'd feel like I was being mistreated."
Smith was being replaced on the outside by Kerry Neal and Darius Fleming, both of whom had spent more time at defensive end the previous year. He didn't know why.
"I didn't know how to take it," said Smith, who had 71 tackles last season. "But hey, [Kelly] says he's a Brian Smith fan now and that's all that matters."
Nine games into the year, injuries had taken their toll on both sides of the ball. Safety Jamoris Slaughter missed considerable time, nose guard Ian Williams was lost for the remainder of the season and inside linebacker Carlo Calabrese was struggling to get back on the field. Smith was inserted next to Te'o in his absence, starting the last three contests and salvaging a senior campaign in the process.
Smith now has 41 tackles, 2.5 tackles for a loss, one sack, one interception and three pass breakups. Not to mention a healthier perspective.
"Most definitely," he said with a floodlight smile. "Anytime you get a chance to end the season off on a high note, it writes a good ending to any story. I'm just excited to play in a meaningful role, especially against a great opponent in USC.
"The guys in my class ... whatever one of us isn't, someone else is. Add us all together and we make just one unit, one person, one mind, one soul. There's been some tough situations that's brought us closer -- sometimes guys getting in fights here or there, guys getting angry at each other here or there. But at the end of the day, it's only brought us closer."
It's brought the defense out of a considerable funk. Over the last 11 quarters, Notre Dame hasn't given up a touchdown. During victories over Utah and Army, the Irish allowed a combined total of just two field goals.
"What we've also gotten is player development," Kelly said. "It's becoming a better defense. I think I said this pretty clearly, that we could not be a championship program until we improved our defense. We've improved to that level where we can feel good about where we're going."
Smith, who wept alongside his parents following the team's sixth win at Yankee Stadium, which made the Irish bowl eligible, never gave up on his "brothers" or defensive coordinator Bob Diaco.
"That was one of the most special moments I will ever have in my life," Smith said. "If I had a brother in real life, there's no situation that I'd check out on him. There's no situation I'd check out on these guys either. I just found out that the team is more than any one person can do."
August, 7, 2010
8/07/10
7:29
PM CT
By
Wes Morgan
| ESPNChicago.com
SOUTH BEND, Ind. -- The Notre Dame football team clocked in for its first fall practice on Saturday fully understanding first-year coach Brian Kelly's expectations.
Unlike the system-shocking spring, the Fighting Irish appeared well prepared for the red-line pace at which Kelly and his staff operate.
"The more you get used to something, the more you get comfortable, the better you get at it and the more familiar you are with it," said sophomore inside linebacker Manti Te'o. "[And] the more smooth you move, and our defense as a whole is moving very well out there."
[+] Enlarge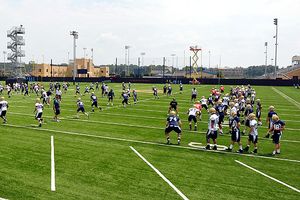 Matt Cashore/US PresswireThe defense is of prime concern as Notre Dame kicks off its preseason workouts.
The Irish defense, which allowed nearly 400 yards and 26 points-per-game last season, has the most issues to iron out. Often outspoken, senior outside linebacker Brian Smith prudently addressed the criticism his unit faced last season and the motivation moving forward.
"We've got a lot of work to do, so we need this time," said Smith, who isn't rushing to get at Purdue in the Irish's Sept. 4 opener. "We don't really need to prove anything to anybody else but ourselves. We just need to go out there and be the best we can be."
St. Rita High School product Darius Fleming, a junior working opposite Smith, said cracking pads against Notre Dame's new spread offense each day will only bolster the defense on Saturdays.
"It's fun and exciting," he said. "It's a lot faster and a lot different. We know what kind of talent we have and our capabilities. We'll have every opportunity to make big plays."
Junior Anthony McDonald and sophomore Carlo Calabrese will continue their battle at the other inside linebacker position next to Te'o, as most of the major shuffling will take place in the backfield.
Kelly said on Friday he was exploring a number of position changes in the secondary. Saturday he said it would probably be next week before that information would be made public.
"Not yet," he said. "That will probably be two, three days down the road before we get into moving anybody around. I've got a lot of guys in mind, just haven't made that decision yet. We haven't pulled the trigger on anybody yet. So until I talk to them face-to-face, I don't want them to hear it first in the media."
Seniors Gary Gray and Darrin Walls are the probable starters at cornerback and senior Harrison Smith and junior Jamoris Slaughter are the safeties at the top of a two-deep Kelly said the media shouldn't get "too married to."
June, 24, 2010
6/24/10
2:03
PM CT
By
Wes Morgan
| ESPNChicago.com
[+] Enlarge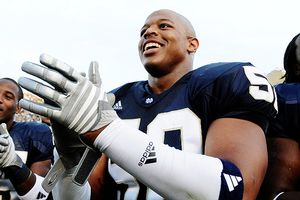 Andy Altenburger/Icon SMIBrian Smith's 71 tackles last year were the fewest by the top Irish linebacker since Jeremy Sample (70) in 1994.
Brian Kelly didn't waste time this spring breaking down his Notre Dame players in order to begin a challenging remodel in South Bend. The target of his first sledgehammer blow, well, that was the surprise.
The first-year coach ripped into linebacker Manti Te'o -- one of the programs most heralded defensive recruits in recent memory -- who got off to a strong start as a freshman last fall and was recently named to the Bronko Nagurski watch list.
He wasn't that good, Kelly told reporters early in spring practice.
Notre Dame finished 82nd or lower in all three major defensive categories last year, and it's hard to imagine Te'o was the most to blame. To most observers, that wasn't Kelly's intent.
It was more of a well-timed and very public barb meant to inspire the extremely talented Hawaiian to tackle a larger leadership role. And it must have been an alarm bell for Brian Smith, the so-called voice of a Fighting Irish defense that struggled in 2009.
Smith, entering his senior season with 24 career starts to his credit, has never lacked emotion or electricity. It's just that Irish fans are growing tired of watching his high-voltage pre-game antics fade to triple-A-battery results on the field. As Notre Dame bled all over the canvas during an 0-4 finish last fall, opposing running backs chewed up 5.7 yards per carry, including plenty of real estate under Smith's management.
Perhaps Smith is the victim of schematic unrest, shifting back and forth between inside and outside linebacker as Notre Dame has gone from a 3-4 defensive set to a 4-3 and back again in three years. Or maybe the 6-foot-3, 234-pounder who loves to jaw has one comprised of glass. His 71 tackles last year were the fewest by the top Irish linebacker since Jeremy Sample (70) in 1994.
What's clear is that the son of former Notre Dame running back
Chris Smith
is running out of time to make the kind of impact expected of the prep star -- ranked by ESPN Recruiting as the No. 4 inside linebacker in 2007 when he joined the Irish.
Smith's move to the outside this fall, a more natural position, is one last opportunity to leave a substantial mark. With Darius Fleming lined up opposite Smith, Te'o and Anthony McDonald filling the inside, the group is capable of punishing opposing offenses and providing arguably the most stability of any other unit on the team.
For Smith, it's never been a question of capability, just consistency. With a lot of depth at the position, including Steve Filer and Kerry Neal, both of whom are moving from defensive end, there is plenty of talent chomping at the bit to fill in for Smith. The best scenario for the Irish, however, is that the senior finds the bite to match his nasty bark.