Chicago Colleges:

Buckeyes-Illini-101511
October, 15, 2011
10/15/11
8:30
PM CT
CHAMPAIGN, Ill. -- Nathan Scheelhaase knew people were waiting for Illinois to stumble.
Whether it's a dislike for Illinois coach Ron Zook, a belief the Illini's schedule was designed for a 6-0 start (with five consecutive home games and a road contest at Indiana), an overall doubt in their talent or other reasons, the Illini haven't had many national backers. Even before Saturday, there were critics who considered Illinois to be one of the worst teams in the Top 25.
[+] Enlarge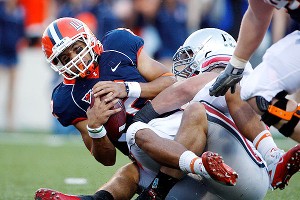 Jerry Lai/US PresswireNathan Scheelhaase threw two crucial interceptions in Saturday's loss.
With the Illini suffering their first defeat of the season Saturday -- a 17-7 loss to Ohio State -- those same people will have a field day.
Scheelhaase, the Illini's sophomore signal-caller, gets that.
"Doubters are going to say what they can," Scheelhaase said. "The best thing about Big Ten play and college football is you got another chance to prove yourself next week. That's where our mindset is at. We can't worry about what people are saying. I'm sure people are going to say stuff, and they have the right to."
Whether those doubters are right is another story.
It was unfair to reward Illinois too much for its 6-0 start. It is also unfair to demean it too much for Saturday's loss.
So what is fair to say about Illinois? That's still to be too determined. With Penn State, Michigan and Wisconsin remaining on the schedule, there's still a chance for Illinois to prove itself worthy of either praise or ridicule.
The margin between those two can be as minimal as the difference in Saturday's game, too.
What decided Saturday's outcome was nothing more than turnovers. Illinois committed two costly turnovers in its own territory, and they led to Ohio State scores. While the Buckeyes' offense had its own troubles Saturday, it stayed away from giving up the ball. Ohio State quarterback Braxton Miller didn't throw an interception in his four pass attempts, and the Buckeyes recovered all three of their own fumbles.
Illinois senior wide receiver A.J. Jenkins, whose fumble led to an Ohio State touchdown, even found it hard to credit the Buckeyes' defense too much.
"O State's very athletic, but I don't think they're like any different than any team we've played," said Jenkins, who had eight receptions for 80 yards. "We had three turnovers this game. I don't think it's more so on the defense. It's more so on us."
Illinois' offense appeared out of synch throughout the game. Scheelhaase missed targets. The receivers dropped balls. Even on Illinois' last offensive play, a 4th-and-3 attempt from Ohio State's 17, Jenkins ran the wrong route causing Scheelhaase to throw the ball to the spot where Jenkins was supposed to be.
"I don't understand," Illinois offensive coordinator Paul Petrino said of the game. "I would never have expected it. We've been catching the ball good all year. We dropped some crucial third-down passes. You're not going to beat a team that's good on defense when you do that."
Everyone took a share of the blame.
Petrino said. "If anyone had a bad day today, it's me."
Scheelhaase added, "I felt like on offense, me personally, I didn't make enough plays to win the game. That was the key."
Zook's attention went immediately to the future. He wasn't going to let one loss define this team.
"We can't scrap the season," Zook said. "We have a chance to be pretty good. We are 6-1. We go on the road for two Big Ten games, then we have two Big Ten games here. We just have to take care of business the next four games."
Then, it will be fair to judge Illinois.
October, 15, 2011
10/15/11
5:27
PM CT
CHAMPAIGN, Ill. -- Ohio State isn't dead yet.


After months of disappointment on and off the field, the Buckeyes earned the right to lift their arms in victory. Behind a suffocating defense and the triumphant return of top running back
Dan Herron
, Ohio State beat No. 16 Illinois
17-7
for its first Big Ten win. The Illini lost for the first time this season after living on the edge for several weeks.
Ohio State coach Luke Fickell deserves a lot of credit for keeping the team focused and united after the collapse at Nebraska. Fickell undoubtedly will be thrilled with his defense, which bounced back with an impressive performance against
Nathan Scheelhaase
,
A.J. Jenkins
and one of the Big Ten's most dangerous offenses. The win wasn't pretty to many, but Fickell, as a longtime defense coach, had to be loving it.
Behind several defensive standouts -- DT Johnathan Hankins, DL John Simon, S Tyler Moeller, CB Bradley Roby, CB Travis Howard -- Ohio State kept Illinois off the scoreboard for more than 53 minutes. The Buckeyes forced three second-half takeaways, converting the first two into touchdowns.
Quarterback
Braxton Miller
didn't complete a pass until the fourth quarter -- he connected for a 17-yard touchdown on his first attempt -- but Ohio State limited mistakes on offense and received a terrific performance from Herron.
Now the Buckeyes head into a much-needed bye before their showdown against Wisconsin.
I'll have much more from Memorial Stadium, so don't go anywhere ...
October, 15, 2011
10/15/11
4:44
PM CT
CHAMPAIGN, Ill. --
Braxton Miller
has yet to complete a pass for Ohio State, but the Buckeyes have a two-score lead. That's the kind of day it has been at Memorial Stadium.
A few thoughts at the end of three quarters, as Ohio State leads No. 16 Illinois 10-0.
October, 15, 2011
10/15/11
4:13
PM CT
CHAMPAIGN, Ill. -- A quick update at halftime from Memorial Stadium, where both defenses have dominated play. Ohio State
leads No. 16 Illinois 3-0
.
Stat of the half:
Ohio State QB
Braxton Miller
didn't attempt a pass until midway through the second quarter and finished the half 0-for-3 passing. He was sacked four times.


Best player in the half:
Several defenders stood out for both teams, but Jonathan Brown was an absolute beast in his return from suspension. The Illinois linebacker recorded 11 tackles, including 2.5 for loss and 1.5 sacks. Illinois DE Whitney Mercilus (2 TFLs, 1.5 sacks) and Ohio State DT Johnathan Hankins (3 tackles, 1 TFL) also were terrific.
What Ohio State needs to do in the second half:
Unlike last week at Nebraska, the Buckeyes' tackling has been extremely sound, and Illinois has had a tough time stretching the field. Ohio State must continue to keep Illini star WR
A.J. Jenkins
in check (3 receptions, 27 yards) and force QB
Nathan Scheelhaase
to look elsewhere. It's clearly a defensive struggle, so Ohio State must make Illinois work for its points. On offense, running backs
Dan Herron
(70 rush yards) and
Jordan Hall
(43 rush yards) have been terrific, but Miller must provide some passing threat or Illinois will load up.
What Illinois needs to do in the second half:
Make Miller beat them through the air. He has really struggled so far, and Illinois' constant pressure on the pocket is a big reason why. The Illini needs to prevent big runs by Herron and Hall and force Ohio State to mount a sustained drive. On offense, accelerating the tempo might be a good idea against a fundamentally sound Ohio State defense. Coordinator Paul Petrino tried to do so late in the half, but Illinois never got in a rhythm on offense.
October, 15, 2011
10/15/11
2:20
PM CT
CHAMPAIGN, Ill. -- A few notes from warm-ups as Ohio State and Illinois are about to get started here at Memorial Stadium.
Ohio State's quarterback rotation started off with Braxton Miller, Joe Bauserman, Kenny Guiton and Taylor Graham. But Guiton worked a good amount with the second-team offense. We'll see if Bauserman gets the first shot behind Miller, or if it will be Guiton.
I didn't see Illinois wide receiver Darius Millines in warm-ups. He's expected to miss another game with a foot injury.
Miller seemed to be moving around well. He'll get a boost from having Dan Herron back in the lineup.
October, 15, 2011
10/15/11
1:52
PM CT

Adam Rittenberg breaks down the Ohio State-Illinois game from Champaign.
October, 15, 2011
10/15/11
1:51
PM CT
CHAMPAIGN, Ill. -- Greetings from central Illinois, where today the 16th-ranked Fighting Illini try to maintain their undefeated record against a desperate Ohio State team. The teams are playing for the
Illibuck
, which Ohio State has retained since 2008.


Ohio State leads the series 63-30-4 and holds a 34-12 edge in Champaign.
It's a beautiful day for football, as the skies are clear and there's a slight chill in the air. The wind could be a factor as it's blowing at a decent clip to the southeast. A good atmosphere around the stadium today, as Illinois fans are understandably excited about their team, which is off to its best start since 1951.
Illinois is the undefeated team, but most of the pressure rests with Ohio State today. The Buckeyes are trying to avoid dropping below .500 this late in the year for the first time since 1988, the team's last losing season. With Wisconsin coming to Columbus on Oct. 29, Ohio State wants to avoid going 0-for-October. An offense that performed well for two and a half quarters at Nebraska regains the services of senior running back
Dan Herron
, who returns from suspension. It will be interesting to see how Herron is used among Ohio State's other backs (
Carlos Hyde
,
Jordan Hall
).
Braxton Miller
's health will be a big storyline today. The Buckeyes freshman will start at quarterback after leaving the Nebraska game with a sprained right ankle. The sprain doesn't appear too severe, but how it affects his mobility remains to be seen. Illinois defensive coordinator Vic Koenning has been effectively aggressive and creative all season. He'll look for ways to put Miller under pressure, and Ohio State will need a strong performance from its line and its backs in protection.
The Illinois offense comes in with a lot of confidence, as quarterback
Nathan Scheelhaase
and wide receiver
A.J. Jenkins
both are playing at an All-Big Ten level. Ohio State's defense needs to rebound after being steamrolled by Nebraska in the final 23 minutes in Lincoln. It's important for Illinois to develop weapons other than Jenkins, whether it's through the run game or with the pass.
Darius Millines
, the team's No. 2 receiver, will be a game-time decision after missing the past two games with a foot injury.
Illinois has shown impressive resilience this season, fighting through mistakes to get wins. But the Illini need to be careful against an Ohio State team with its back against the wall.
Much more to come throughout the day, so don't go anywhere.
TOP 25 SCOREBOARD
Thursday, 12/5
Friday, 12/6
Saturday, 12/7
TOP PERFORMERS