Chicago Colleges:

C.J. Fair
January, 21, 2012
1/21/12
9:54
PM CT
SOUTH BEND, Ind. — Here are some quick thoughts from Notre Dame's shocking upset Saturday, a
67-58 victory
over top-ranked and previously undefeated Syracuse (20-1, 7-1 Big East), which leaves Murray State as the nation's only unbeaten team:


Overview:
The Irish (12-8, 4-3) entered the contest 14th in the Big East in 3-point percentage, shooting just 26 percent from beyond the arc. But they came out firing early, connecting on their first three 3-point attempts and their first four shots overall, jumping to an 11-2 lead that set the tempo for the rest of the way. Notre Dame finished 8-of-16 from 3 for the night. The burn offense was key for Notre Dame, with several of the Irish's jumpers coming with less than 10 seconds on the shot clock. Syracuse could never get into a rhythm offensively. Amazingly, the Irish have now won seven of their past nine home games against a No. 1 team, the previous a 60-58 win over North Carolina on Feb. 1, 1987.
Turning point:
It's hard to overlook the first half in its entirety, particularly the first three minutes, during which the Irish jumped to an 11-2 lead behind back-to-back 3s on their first two possessions. They led by as many as 18 in the frame, during which they connected on 6 of 10 3-point attempts. Syracuse, meanwhile, couldn't buy a bucket, going 8-for-28 from the field in the first 20 minutes. Notre Dame actually endured an 8-minute, 18-second scoring drought in the second half, but Syracuse managed only a 9-0 run during that span, which was effectively ended with a monstrous fast-break dunk from
Jack Cooley
that made it 52-42 Irish.
Star of the game:
The Notre Dame 3-point shooters deserve plenty of credit, but Cooley was an absolute force inside, banging with
C.J. Fair
and the Syracuse front line en route to a 17-point, 10-rebound night. He hit 7 of 10 foul shots and had the crowd -- and Irish bench -- fired up all night long. The absence of the 7-foot
Fab Melo
was noticeable for the Orange.
Up next:
Syracuse needs to put aside the bitterness from its potential perfect season being ruined, as the Orange have a quick turnaround Monday at Cincinnati, which itself is coming off a tough loss at West Virginia in overtime Saturday. Notre Dame, meanwhile, will try to take momentum from this upset into next week's road trip, when the Irish will go to Seton Hall on Wednesday before traveling to Connecticut next Sunday.
January, 21, 2012
1/21/12
9:53
PM CT
SOUTH BEND, Ind. — The montage had stopped playing Friday night in the hotel, but something was still gnawing at
Eric Atkins
.
Notre Dame coach Mike Brey showed his players a roughly five-minute video clip of the Irish's history against teams ranked No. 1 by The Associated Press: the infamous snapping of UCLA's 88-game winning streak from 1974, the more recent knocking off of North Carolina nearly 25 years ago — seven in all, and six in this building.
Nearly 24 hours later, after seemingly most of the 9,149 in attendance rushed the Joyce Center court to celebrate a game that was never really as close as its
67-58 final score
would indicate, Atkins and the Irish were able to boast about another milestone for Brey, this time because of a victory over top-ranked and previously unbeaten Syracuse in which they led from start to finish.
"I actually remember saying after the video that there were no Coach Brey teams in there," the point guard said, "but I feel great that we can add that to his résumé."
Told of the reaction, Brey cracked: "That's awesome."
Brey was able to circumvent the chaos, but his players soaked it all in.
Scott Martin
followed the biggest guy he could find for the safest route off the court.
Pat Connaughton
was hoisted up by one of his friends from the stands. Atkins somehow ended up in the middle of it all.
"I was making sure Syracuse got off," Brey said. "Our guys were in the middle of it, which was awesome."
The 12th-year Notre Dame coach found himself amid the smaller remaining crowd 12 minutes after the final horn, when he came out for his radio interview.
But by then, the noise had died down considerably from the 40 previous minutes of action on the floor, which began thus for the Irish offensively:
Connaughton hits an open 3 outside the elbow.

Atkins hits an open 3 in front of the Syracuse bench with the shot clock winding down.

Jack Cooley lays it in inside.

Connaughton hits another 3, prompting Syracuse coach Jim Boeheim to call a timeout 2 minutes, 40 seconds into the game.
The Irish, who entered the night 14th in the Big East in 3-point shooting, made their first three 3-pointers. The Orange, whose biggest deficit at any point this season had been eight at North Carolina State, trailed 11-2.
The shots kept dropping for Notre Dame, which made 8 of 16 from downtown, including 6 of 10 in the first half. They kept clanking for Syracuse, which made just 18 of 53 field goal attempts for the night, starting with an awful 8-of-28 performance in a first half that saw the Irish lead by as many as 18.
[+] Enlarge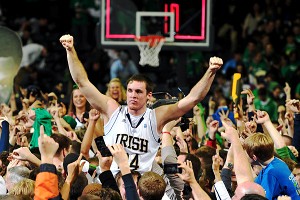 Matt Cashore/US PresswirePat Connaughton (7 points, 7 rebounds) gets a lift from the crowd after Notre Dame's upset.
"I wasn't surprised at how we started the game," Atkins said. "We were either gonna start really hot or really cold. We started hot — good.
"When we were up 18, that's when you would look up, and we're like, 'Oh wow, that is surprising.' "
Many of those 3-pointers came with less than 10 seconds on the shot clock, a product of the burn offense Brey often runs, an offense that kept his players in a rhythm while nursing a big lead.
"You know what's helpful? Because we play a slower tempo on offense, I've never felt that those guys feel kind of we're holding the ball," Brey said. "It's part of our arsenal to be very patient. We burn the clock and then score. If you never did it before, and then you're sitting on it, I think it can take away some confidence and you're looking over your shoulder. But it's something we've done for a while, so I think they feel that this is how we play."
Even more helpful — especially with Orange 7-footer
Fab Melo
not making the trip for undisclosed reasons — was the inside presence of the 6-9, 248-pound Cooley, who made Irish offensive possessions feel like an eternity by creating second chances and pounding the overmatched
C.J. Fair
(6-8, 212) inside.
Cooley finished with game highs of 17 points and 10 rebounds, six of those boards offensive. The Irish outrebounded the Orange 38-25.
"Cooley was able to get the ball inside and score," Boeheim said. "We just could not make shots to get back in the game. I have to give Notre Dame a lot of credit for that."
The Irish actually endured a 7-minute, 18-second stretch in the second half without scoring, during which Syracuse mounted a 9-0 run.
But Cooley's monster jam on a fast break with 5:17 left put the lead back to double digits at 52-42, re-energizing the building and helping to set up the eventual court-storming.
Cooley burst from the sea of revelers and barreled his way up the tunnel toward his locker room eight minutes after the victory, screaming "Here we go!" to anyone and everyone in sight.
His coach, the one who can now join Digger Phelps in claiming to have knocked off a No. 1 team in this building, hopes it's only a sign of things to come.
"To be part of that history of beating No. 1s, I'm very proud of that," Brey said. "But I'm more proud for our guys. This is a great memory for them. Now, winning 10 league games and getting an NCAA bid — that's a better memory, so we're gonna keep pushing buttons on that."