Chicago Colleges:

Cardinal-Irish-101312
October, 13, 2012
10/13/12
9:24
PM CT
SOUTH BEND, Ind. -- The secret to
Tommy Rees
' ability to step in without a moment's notice and lift Notre Dame out of its second deficit of the season is really no secret at all. It's plain on the sideline for all of his teammates to see. It's the reason why, when the trailing team's starting quarterback goes down in the final minutes with an undefeated season on the line,
Manti Te'o
said, the Irish "don't have any worries."
"It's just: OK, Tommy's in now," Te'o, one of four captains, said after Notre Dame's
20-13 overtime victory
Saturday over Stanford.
"Good luck, defense."
Why?
"He's watching the game, relaying stuff to coaches,"
Tyler Eifert
, another captain, said. "His knowledge of the game is so good that the coaches sometimes depend on him to talk to him [starting QB Everett Golson] and tell him what he's seeing out there for the sideline. He's focused on the game and not distracted during the game at all."
The clock showed 3 minutes, 27 seconds left in the fourth quarter when the white and gold helmets clashed at the Notre Dame 47-yard line, and the best backup quarterback in the country immediately went searching for his own headgear.
"Get your helmet and let's go," coach Brian Kelly recalled telling Rees. "He couldn't find his darn helmet."
[+] Enlarge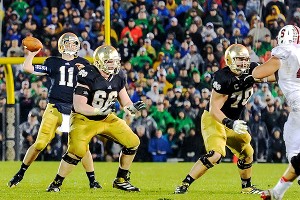 Robin Alam/Icon SMTommy Rees completed all four passes he threw against Stanford, including the winning score in OT.
That's as unprepared as the junior would be on a Saturday when he helped the Irish get to the season's halfway mark undefeated, completing 4 of 4 passes -- three of them in overtime -- in setting up
Kyle Brindza
's game-tying field goal before a 7-yard touchdown pass to
T.J. Jones
proved to be the deciding score in Notre Dame's sixth and most dramatic win of the season.
When
Everett Golson
was shaken up after a helmet-to-helmet hit from Stanford's
Usua Amanam
, his chance at lifting the Irish out of a three-point hole gave way to four support staff members crowding him on the sideline, his helmet off, his vision blurred from what Kelly later called a blow to the head.
The redshirt freshman's most uneven start of the year featured three fumbles but enough scrambling ability and resiliency against a hungry defense to keep Notre Dame alive, the calls for his backup to replace him coming the loudest after a fumble in his own end zone led to a Cardinal touchdown and the first Notre Dame deficit of the season.
And yet few have done more in a shorter period of time than Rees has in going from one of the most vilified students on Notre Dame's campus to one of the most popular, and not just because, like every No. 2 signal-caller on every level of this game, he is not the guy on the field making the mistakes. The twist has taken a sharper turn than the breaks that had so often been going against the Irish before this season.
Two closing jobs through Notre Dame's first five games of 2012 have Rees ready and waiting for his number to be called. But even he admitted afterward that this call was unlike any other so far.
Still, staying engaged while watching on the sideline for three-plus hours has not been the hard part for the aspiring coach.
"I like it," Rees said. "I love football and I love the game and I love learning and I love paying attention and trying to help Everett and the rest of the guys as much as I can. I stand with
[Andrew] Hendrix
most of the game and we talk about what the looks are out there. We just try to relay some of that."
Kelly added: "He's an incredible young man that he can stay so focused in the game, know what's going on during the game. At halftime I'm talking with him and Everett and he's pointing out some things about the outside coverages that we should maybe think about running, as well. He's just a very smart football player."
And so despite the biting rain pouring down shortly after his entrance -- creating a muck of a field -- and despite a big hit from
Trent Murphy
on the first play of overtime that threatened to unsettle things, Rees delivered.
He completed three consecutive passes in the extra session, his biggest a 16-yarder to
Theo Riddick
on a third-and-8 that saw the Irish staring at a long field goal in anything-but-simple conditions. He hit Jones for the score, and he watched his defense make a goal-line stand, celebrate, wait for an official's confirmation, then celebrate again.
Notre Dame is 6-0, with two different quarterbacks playing pivotal roles in three wins apiece.
"Not exactly, no, I didn't imagine this," Rees said. "For good, bad or different, it's worked out this way and it's going well, I guess, we are 6-0 I think."
October, 13, 2012
10/13/12
8:40
PM CT
Yes, Stanford scored a touchdown and should have been a PAT away from tying Notre Dame and forcing a second overtime, according to Mike Pereira, former NFL vice president of officiating and current rules analyst at Fox Sports.
It doesn't matter, of course. The
20-13
final score will remain in the favor of Notre Dame. And there were plenty of ways Stanford could have left no doubt.
But if it feels good -- or good in a bad way -- to hear this then hear this: Stanford, you did get screwed.
At least, that's Pereira's take.
Pereira told the Fox studio and then later explained with his
Tweets afterwards
that the Pac-12 officiating crew blew the call.
Tweet one: "We have looked at ND/STA last play from every angle & feel that it is a TD. Progress was not ruled & runner was not down. Ball broke plain [sic]."

Tweet two: "Back to ND/STA. Piece all the shots together. Field level shot from inside near the goal post shows the left elbow is not down before TD."
Said Stanford coach David Shaw after the game: "Well, I didn't get to view the last play.
Stepfan [Taylor
] swore to me that he got in and that he put the ball over the goal line on the second effort. Officials looked at it and they said he didn't get in, so we didn't get in."
When asked to comment on the officials, Shaw said: "I'm not going to comment on the officials."
Officials blow calls all the time. Don't forget this was a Pac-12 crew. And it was a close call.
But the sting of a tough loss probably will sting a little bit more on the Farm based on how it ended.
October, 13, 2012
10/13/12
7:08
PM CT
It was wet and often times ugly with No. 17 Stanford at No. 7 Notre Dame. As expected, it was physical and the weather made for some sloppy play on Saturday. Sixty minutes wasn't enough. The Irish clutched up and won
20-13
in overtime. Here's how it all went down:


It was over when
: After Notre Dame went ahead in overtime on a 7-yard touchdown pass from
Tommy Rees
(in for the injured
Everett Golson
) to
TJ Jones
, the Irish defense stopped
Stepfan Taylor
from the 1-yard line on third and fourth down. The final play even went to review to determine when Taylor's forward progress was stopped. The call on the field was upheld. It was high drama until the very end.
Game ball goes to
: The Notre Dame front seven. They clutched up when it mattered in overtime with two huge stops. It was ugly, it was messy and it was a heck of a football game.
Unsung hero
: Though he's part of that front seven, Notre Dame's
Manti Te'o
was huge, leading all players with 11 tackles. A fantastic performance from one of college football's marquee players.
Unsung hero II
: Fans were screaming for Rees, but they didn't get him until Golson was injured. He came in off the bench and was 4-for-4 for 43 yards and the touchdown in overtime.
Unsung hero III
: Give some credit to the Cardinal defense as well. It provided Stanford with its only touchdown of the game when
Ben Gardner
sacked Golson in the end zone and forced a fumble that
Chase Thomas
recovered for a touchdown in the second quarter.
What it means for Notre Dame
: The Irish remain undefeated, showed they can win ugly, and now have three wins over teams ranked in the Top 20. Expect a nice slot for them when the BCS rankings come out Sunday.
What it means for Stanford
: It was the second straight week the Cardinal have gone to overtime, though the outcome was different last week. Stanford needs to figure out how to score on the road. The Cardinal have two touchdowns in two road games this year and both came from the defense. They are on the road again next week at Cal.
TOP 25 SCOREBOARD
Saturday, 12/20
Monday, 12/22
Tuesday, 12/23
Wednesday, 12/24
Friday, 12/26
Saturday, 12/27
Monday, 12/29
Tuesday, 12/30
Wednesday, 12/31
Thursday, 1/1
Friday, 1/2
Saturday, 1/3
Sunday, 1/4
Monday, 1/12
TOP PERFORMERS