Chicago Colleges:

Carl Bradford
October, 2, 2013
10/02/13
9:00
AM CT
Notre Dame kicks off the first of three games this year against the Pac-12 with Saturday's showdown against No. 22 Arizona State in Arlington, Texas. What should you be looking for? Glad you asked. Notre Dame reporter Matt Fortuna and Pac-12 reporter Kevin Gemmell talk it over.
Matt Fortuna
: Arizona State is a newcomer to the Pac-12 portion of Notre Dame's schedule this year, Kevin. The Sun Devils have looked great against USC, not so great against Stanford and, well, fortuitous in their win over Wisconsin. They put up 62 points last week against what was believed to be a good Trojans defense, getting Lane Kiffin fired in the process. So I guess we'll start there, given Notre Dame's defensive struggles so far this season: What makes Todd Graham's unit so explosive offensively, and what do the Irish need to really keep an eye on Saturday to keep the points down?
Kevin Gemmell:
Tempo, tempo, tempo. Offensive coordinator Mike Norvell, who Graham trusts to run the show offensively, uses "tempo" as a verb, not an adjective. As in, he wants to tempo teams into submission.
[+] Enlarge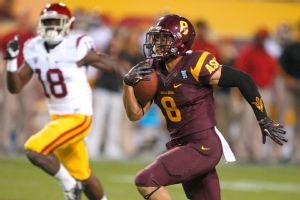 AP Photo/Rick ScuteriNotre Dame will have to find a way to slow down D.J. Foster and the Arizona State offense.
They want to have as many possessions as possible. And they get that with a fast-paced attack that stretches and then compacts a defense. Quarterback
Taylor Kelly
is off to another outstanding start, and a huge reason for that is the addition of wide receiver
Jaelen Strong
, a junior college transfer who already has 31 catches for 433 yards. He gives Kelly that sideline threat the Sun Devils were lacking last season, and Kelly has been fantastic at spotting him on the outside shoulder and letting him make plays. Strong has been targeted 51 times, so it's only a 60-percent completion rate when they look to him. But when he does catch it, it's usually for a substantial gain; he averages 14 yards per reception.
They use running backs
Marion Grice
(12 touchdowns already!) and
D.J. Foster
in creative ways in the screen game and like to splt Foster out into the slot. Tight end
Chris Coyle
has also emerged as one of the top players at his position in the country.
How about the Irish? Things don't seem to be going as swimmingly as they did last year. Only 25.4 points per game. ASU is going to blitz early and often. What does Notre Dame have to do to get its offense moving in the right direction?
Matt Fortuna
: It will get overlooked because Notre Dame lost Saturday, but the Irish were finally able to establish a ground game, tallying 220 rushing yards against the Sooners. They had eclipsed the 100-yard rushing mark as a team just once before, in the opener against Temple. Junior
George Atkinson III
, who was the No. 1 back entering the season, finally played like it, lowering his shoulder and looking more like a downhill runner. He finished with a career-high 148 yards and a touchdown on 14 carries.
Aside from not turning it over on their first two possessions and falling behind 14-0, it is very important for the Irish to continue to establish the ground threat early, as they often can become predictable in second- and third-and-long with a non-mobile quarterback under center in
Tommy Rees
, though Brian Kelly did insert
Andrew Hendrix
in for some zone-read, change-of-pace packages against the Sooners. Receivers must run better routes, too.
TJ Jones
and
DaVaris Daniels
have been big playmakers, but they both had route-running miscues Saturday that were costly. Kelly has said that ordinary things need to be done better. The Irish also regularly play three true freshmen wideouts (
Corey Robinson
,
James Onwualu
,
Will Fuller
).
I'm interested in ASU's defense, particularly
Will Sutton
. Before the season, everyone had pegged this as a matchup of the two best interior defensive linemen in the country, between Sutton and Notre Dame's
Louis Nix
. It's been hard to gauge Nix's performance so far, as the Irish have faced some mobile quarterbacks and quick-strike offenses that have utilized the short passing game early to essentially take the line out of the game. What challenges do Sutton and the rest of the Sun Devils' defense present?
Kevin Gemmell
: They like to blitz a lot. Todd Graham fashions his defense as a "hybrid attacking defense," meaning at times they'll substitute speed for bulk to create pressure from anywhere on the field.
Sutton hadn't made much of an impact the first few games for a couple of reasons: One, they were facing mostly run-based power teams like Wisconsin and Stanford; two, he's been seeing a lot of double and triple teams. Makes sense. His first step is so quick that it precedes his reputation. But he finally broke out against the Trojans with two tackles for a loss and a sack. I think, as the season pushes on, we're going to see more pressure from the front seven based on the teams they'll face.
That said, you have to look out for safety
Alden Darby
, who is coming off a fantastic performance against the Trojans. He had two picks (one returned for a touchdown) and has 19 tackles on the year. Hybrid linebacker
Carl Bradford
is explosive and
Chris Young
has really emerged, leading the team with 29 tackles.
The front seven is a little undersized, but it's quick and if your protections aren't set, someone will get missed with as much as the Sun Devils like to blitz.
Now that the Sun Devils are back in the top 25, it's a huge game for them to keep some of that momentum going on a national stage. The Pac-12 is already coming off of the nonconference season with a 29-4 record.
Notre Dame, however, seems to be scrambling to salvage its national reputation. And with three games against the Pac-12, which many believe is the deepest conference in college football, it seems the Irish could restore some of that lost credibility. How do you see them matching up with the now Lane-less Trojans or Stanford in the season finale?
Matt Fortuna
: Based on everything we have seen from both Notre Dame and Stanford so far, that matchup might not be a very pretty one for the Irish. Fortunately for them, it is not until the regular-season finale, meaning they have plenty of time to fix their issues in the six games before then.
The bigger question pertains to what kind of team the Irish will be heading into that matchup in Palo Alto, a status that will largely be dictated by their performances in both the ASU and USC games. The Irish need to get it together, fast, and Rees has to avoid a repeat performance of this past Saturday (three first-half interceptions) and get the offense going again. In theory, that should be enough to beat a USC team that looks to be reeling after the firing of its coach, though that kind of midseason move can have different lingering effects, good or bad. It's not like the Trojans aren't talented, and it's not like they won't be up for another night game at Notre Dame Stadium.
Still, I say the Irish win that one, especially coming off a bye. And especially with the threat of falling under .500, as a loss to ASU would make them 3-3 on the season. Notre Dame might be the better team, but the Irish have shown me little over the last four weeks that suggests that they are capable of keeping up with the Sun Devils' offense.
So that's an early 1-2 prediction for Notre Dame against the Pac-12 this season. What say you, Kevin?
Kevin Gemmell:
I'm an ASU lean right now simply because of how explosive that offense can be. And if the Sun Devils can fix a couple of assignment issues on defense, I think they have the firepower to be a top-20, maybe even top-15 team. But they have to show they can do it away from home. A neutral field setting provides a nice opportunity. It's close enough for their fans to travel, but it's not a true road game.
As of today, we're in lock-step when it comes to the Stanford matchup. The Cardinal offense is looking better and better each week. I thought back in April that
Tyler Gaffney
was going to be a game-changer for Stanford, and so far he's shown that he is. That season finale could also have huge BCS implications, and I don't see the Cardinal tossing one away at home in a game that could potentially lock them into a fourth straight BCS game.
As for USC, well, who knows? Haven't heard any USC players come out and condemn the firing of Lane Kiffin. Maybe this move reinvigorates them? The Trojans certainly have talent. But as of today (as always, I reserve the right to change my mind), I'd go with Notre Dame at home.
June, 21, 2013
6/21/13
10:00
AM CT
Notre Dame and the Pac-12 clash three times in 2013. First, it's Arizona State on Oct. 5 in Arlington, Texas. Then, the Irish host USC on Oct. 19 before closing out the season Nov. 30 at Stanford. Is any one of the three games more intriguing than the others? Notre Dame blogger Matt Fortuna and Pac-12 blogger Kevin Gemmell weigh in.
Matt Fortuna
: The USC game is the USC game. It's another night game at Notre Dame Stadium, and we all know the Irish do not want a repeat of 2011, when the Trojans beat them from start to finish in the building's first night contest in 21 seasons, which all but ended the Irish's BCS bowl hopes in the middle of the season.
The Arizona State game comes at a crucial time for both teams -- sandwiched between the Irish's Oklahoma tilt and their bye and following a three-week stretch of Wisconsin, Stanford and USC for the Sun Devils. But I've still got my eyes on Stanford, for a number of reasons.
For one, Notre Dame and Stanford seem to mirror each other, from the classroom standards to the smash-mouth, defensive-oriented style of football both displayed during BCS bowl seasons in 2012. One needs to look no further than last Oct. 13, with "College GameDay" in town and the rain coming down hard in South Bend, Ind.
It wasn't just that the Irish finally beat the Cardinal that day, it was the way that they did it -- utilizing an overtime goal-line stand to top a team that, in victories in the three seasons prior, had outrushed Notre Dame by a 642-208 margin.
Notre Dame outgained Stanford on the ground in their 2012 matchup.
Stanford was the standard, and Notre Dame passed it in fitting fashion.
When the Irish topped USC six weeks later to clinch a BCS title game spot, athletic director Jack Swarbrick said that the Stanford game was what made him think the program had turned a corner and could pull off the run it did last fall. When Stanford topped Wisconsin to win the Rose Bowl, Cardinal coach David Shaw called the Irish contest a turning point, as the team went on to win its final eight games.
With this season's game serving as both teams' regular-season finale, the stakes might be even higher.
Sure, the loss of quarterback
Everett Golson
hurts Notre Dame's chances at reaching another BCS title game. But the program is still in position to compete for a BCS bowl bid, and the final hurdle this fall might be the program it has begun to mirror in so many ways recently.
[+] Enlarge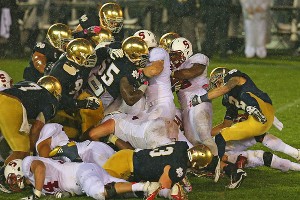 Jonathan Daniel/Getty ImagesNotre Dame and Stanford both pointed to last season's meeting -- an overtime Irish victory -- as key in their respective runs to BCS bowls.
As for Stanford? Well, for a Cardinal program consistently popping up in preseason top-five conversations, and with its conference title-game fate already decided before this contest, Notre Dame might be the biggest thing standing between Stanford and another trip to Pasadena, Calif. -- this time with stakes much higher than last season.
Kevin Gemmell
: No doubt, that game has plenty of intrigue, but I'm really eyeing the Arizona State game. And had I gone first in this Take 2, I still would go with Arizona State.
First, nationally televised games on neutral fields smack-dab in the middle of the season should naturally perk the ears up. Second, these two teams have
stirred the pot in recent weeks
, with the Sun Devils staring down the Irish to keep that 2014 game in Tempe, Ariz. Third, I think it's going to be an outstanding football game.
This is a big push season for the Sun Devils -- who feel like they have the personnel and depth to make a run at not just the South Division, but maybe the Rose Bowl. Their quarterback is efficient, their running back tandem is explosive and their defensive front seven might be as good as any in the Pac-12.
And I think the Sun Devils will be able to put up some points.
Marion Grice
and
D.J. Foster
form as dynamic a running back combination in the country, combining for 25 touchdowns last season on the ground and through the air.
Taylor Kelly
should be an even better quarterback this season after posting a 67.1 completion percentage in his first season as a starter, with 29 touchdowns to nine interceptions. And
Chris Coyle
is one of the top tight ends on the West Coast. If the junior college transfers ASU is expecting in the fall pan out at wide receiver, the Sun Devils will have one of the most diverse offenses in the league.
I'm also really excited to see how
Will Sutton
,
Carl Bradford
and the rest of the front seven do against Notre Dame's traditionally beastly offensive fronts -- headlined by left tackle
Zack Martin
. Last season, only five FBS players had 80-plus tackles, 20-plus tackles for a loss and 10-plus sacks. Three of them are gone. The remaining two are in the Pac-12. Bradford is one of them. And in case anyone forgot, Sutton, an All-American, had 13 sacks and 23.5 tackles for loss.
As Matt notes, this game comes at the tail end of what could be a character- and season-defining four-game stretch for the Sun Devils. Just two weeks earlier, that ASU defensive front will have faced one of the best offensive lines in the country in Stanford. However that game turns out, there's probably going to be a lot of self-scouting and lessons learned. The Sun Devils will know what they are made of before they set foot in Texas. And, a propos of noting, I also find it ironic that Notre Dame will be scouting ASU from consecutive weeks of Stanford and USC film.
Just as the Stanford game was a turning point for both teams last season, the Arizona State game could have a similar impact in 2013.
TOP 25 SCOREBOARD
Thursday, 9/18
Saturday, 9/20
TOP PERFORMERS