Chicago Colleges:

Charlie Weis
September, 29, 2013
9/29/13
2:15
PM CT
No alma mater after a loss.
That's Notre Dame's new home-game policy, instituted two years ago and cleared up Sunday by coach Brian Kelly during his teleconference, a day after some postgame confusion ensued following the Irish's 35-21 home loss to Oklahoma, with some players leaving immediately before most bee-lined toward the student section to engage in song.

The Irish's 10-game home winning streak was snapped by the Sooners so the players were not exactly versed in this exercise.
"A lot of our players were confused because they hadn't lost, a lot of them had never lost at home, and they weren't sure what to do," Kelly said. "I didn't communicate it to them clearly, what the protocol was, but we changed that protocol two years ago after a loss.
"We don't stay out on the field to sing the alma mater. We come in. And that wasn't communicated clearly. I wasn't thinking about losing a football game; it wasn't on my to-do list to go over with my team. It's a protocol we changed a couple years ago that we do not stay out on the field after the alma mater to sing after a loss."
Former Notre Dame coach Charlie Weis had started the routine in the 2006 season, his second with the Irish.
"I just don't think it's appropriate to put your players after a defeat in a situation where they're exposed," Kelly said Sunday. "I want to get them in the locker room. It's important to talk to them, and I just felt like in those situations, after a loss, there's a lot of emotions. It's important to get the team back into the locker room and get them under my guidance."
Notes
: Kelly will talk to ACC officials about
Ben Councell
's second-half ejection Saturday for targeting. Councell, by rule, has to sit the first half this coming Saturday against Arizona State.
Romeo Okwara
will likely take his spot as the No. 2 Dog linebacker. …
Sheldon Day
"tweaked" his ankle during warmups against Oklahoma, causing Kelly to sit him after he missed last week with an ankle sprain.
TJ Jones
"rolled" his ankle Saturday but should be fine moving forward. …
Greg Bryant
did not play because of a knee injury suffered this past week. …
Tommy Rees
is "certainly" Notre Dame's starting quarterback, with
Andrew Hendrix
serving as a complementary piece. Kelly said that, barring an injury situation to either signal-caller, he'd prefer not to play freshman
Malik Zaire
this season.
May, 3, 2013
5/03/13
2:30
PM CT
In some ways, social media is often a popularity contest. And few fare better in popularity contests than Notre Dame, which attracts attention like no other on an annual basis, win or lose.

The latest example comes from the Tulsa World's Kelly Hines, who compiled a list of college football coaches by Twitter followers.
No. 2 on the list? Brian Kelly.
The fourth-year Irish coach has 91,042 Twitter followers as of the writing, trailing only LSU's Les Miles, who has 105,760.
Anyone who has seen Miles live-tweet a sporting event in the past should not be all that surprised, given the Tigers coach's seemingly unfiltered thoughts on everything.
Kelly's successor at Cincinnati, new Tennessee coach Butch Jones, checks in at No. 3 on the list, at 75,300 followers.
Other coaches of interest to Notre Dame fans are USC's Lane Kiffin (18th, 29,790), Kansas' Charlie Weis (28th, 17,460), MSU's Mark Dantonio (39th, 9,425), BYU's Bronco Mendenhall (53rd, 4,560), Nevada's Brian Polian (60th, 3,046), Temple's Matt Rhule (66th, 2,289), UMass' Charley Molnar (76th, 1,548) and Navy's Ken Niumatalolo (84th, 837).
April, 24, 2013
4/24/13
9:00
AM CT
Another list, another debate — though this one should again have Notre Dame fans pleased following the Irish's 2012 campaign.
The Sporting News' Matt Hayes
released his list of college football coach rankings this week
, one week after AthlonSports
delivered a list of its own
. Athlon had Brian Kelly ranked fourth. Hayes has Kelly fifth.
His reasoning:
5. Brian Kelly, Notre Dame: How impressive has Kelly been at ND? The weight of the program hasn't crushed him like it did every other coach since Lou Holtz retired. The Alabama loss in last year's BCS National Championship Game was brutal, but he somehow managed to get a team with significant flaws (freshman quarterback, tight-end-oriented passing game) all the way to the big game. He won championships at the NCAA lower divisions, won conference championships at the non-BCS and BCS levels, and will win a national title at Notre Dame.
The usual suspects top this list: Alabama's Nick Saban and Ohio State's Urban Meyer. After that? The debate really begins.
Boise State's Chris Petersen is No. 3, followed by Oklahoma's Bob Stoops.
Athlon's list, meanwhile, had Kansas State's Bill Snyder at No. 3.
There really are no right or wrong answers with any of these, depending on your view. Program-builder? Hard to argue with Snyder, Petersen or Northwestern's Pat Fitzgerald, who comes in at No. 8 on Hayes' list. Length of success? Few can doubt Stoops' mark in Norman, though consecutive BCS-bowl-less campaigns have not made him the most popular guy among the die-hards lately.
Then there are the real head-scratchers, guys like Virginia Tech's Frank Beamer, who comes in at No. 34 on Hayes' list but is No. 9 on Athlon's. Les Miles is another one who seems to draw opposing reactions, as the LSU coach is ninth on Hayes' list but 24th on Athlon's.
Most can agree with Saban and Meyer at the top. After proving this past season that Notre Dame can succeed at the highest level, Kelly is making a case for himself to be right up there, too.
Former Notre Dame coaches Charlie Weis and Bob Davie check in at Nos. 57 and 87, respectively.
April, 11, 2013
4/11/13
8:00
AM CT
Much of college football debate is based on lists and rankings. Notre Dame fans know this as much as anyone after a 2012 regular season that did not see the Irish rise from fourth to first in all of the major polls until the three teams ahead of them dropped games.

Those same fans will have a hard time being upset with the list that AthlonSports released this week:
College football head coaches, Nos. 1-125
.
Brian Kelly's spot? No. 4.
Steven Lassan writes:
Not many coaches in college football can rival Kelly's resume in four stops as a head coach. Kelly's first head coaching gig came in 1991 at Grand Valley State, and he stayed in that capacity until 2003. During 13 years with Grand Valley State, Kelly went 118-35-2 and won two Division II titles. After his success with the Lakers, Kelly went 19-16 with Central Michigan, which included a MAC championship in 2006. Kelly moved on to Cincinnati at the end of the 2006 season and guided the Bearcats to back-to-back Big East titles in 2008 and 2009. After back to-back 8-5 seasons with Notre Dame, Kelly led the Fighting Irish to an appearance in the BCS National Championship game at the end of the 2012 season. Despite the blowout loss to Alabama in the title game, Kelly clearly has the program back on track to be an annual top 10-15 team.
The three men ahead of Kelly? Alabama's Nick Saban, Florida's Urban Meyer and Kansas State's Bill Snyder. Few can make a legitimate argument right now against the first two, as each is the owner of multiple national championships at college football's highest level. The Snyder spot could be up for debate, but when you take into account his longevity -- and remember just how bad the Wildcats were before his arrival -- it is tough to top what he has done in his 21-year career, ring or no ring.
How about some of the names above whom Kelly is ranked? South Carolina's Steve Spurrier (No. 5), Oklahoma's Bob Stoops (No. 7), LSU's Les Miles (No. 24) and Texas' Mack Brown (No. 28) are title-winners who finished behind Kelly on the list, though Miles is the only of that quartet whose best years have been among his most recent ones.
Other names of note to Notre Dame fans are UCF's George O'Leary (No. 68), New Mexico's Bob Davie (No. 89) and Kansas' Charlie Weis (No. 106).
November, 27, 2012
11/27/12
6:45
PM CT
Notre Dame
is back on top of the college football world, but Charlie Weis is not taking any of the credit.
Weis, who is completing his first season at
Kansas
, coached the Fighting Irish for five years and recruited a majority of the key contributors for the nation's current No. 1 team.
But Weis sidestepped the opportunity to talk about Notre Dame's success Tuesday -- five days before his Jayhawks close their season at
West Virginia
-- when he released a statement to ESPN.com supporting his former players.
"I have received several requests to speak about Notre Dame and their terrific season," Weis said. "As the head coach of the University of Kansas, I do not believe it is my place."
To read the full story, click
here
.
November, 25, 2012
11/25/12
12:52
PM CT
LOS ANGELES -- Brian Kelly emerged from the Coliseum field flanked by security guards left and right, looking nearly disheveled. He held his white Notre Dame baseball cap up toward the sky in a brief moment of bravado, his ensuing toss falling a good 10 feet short of the fans.
The coach of the nation's No. 1 team was already near his locker room by the time the cap landed, his star player rushing to catch up to him. Kelly and
Manti Te'o
embraced, the 51-year-old bear-hugging the linebacker, looking more excited than any of his players were after they had just pulled off the unthinkable.
"I can't remember what I said," Kelly recalled of the moment. "But what we've been saying all along is that we're in this together. It's really been about both of us, player and coach, driving this thing. And I think we were probably sharing that embrace, that we got it one step closer."
From South Bend, Ind., to Southern California, the Fighting Irish now will march on to South Beach, one step closer to holding up that prized crystal football. They will do it after winning Saturday night at rival USC,
22-13
, to clinch a spot in the BCS National Championship Game, which will be played Jan. 7 in Miami Gardens, Fla.
They will go there under a third-year coach, the standard for all legendary Notre Dame leaders, four of whom won national titles with the Irish in Year 3 and have statues on campus to show for it.
They will go there under the nation's best defensive player, who has emerged as an icon amid personal tragedy, who might or might not have some hardware already in hand after another interception Saturday, his seventh of the season.
"If a guy like Manti Te'o's not going to win the Heisman, they should just make it an offensive award," Kelly said afterward. "Give it to the offensive player every year, and let's just cut to the chase. He is the backbone of a 12-0 football team that has proven itself each and every week, and showed it tonight again with another key interception and a great play in the end zone on
Marqise Lee
to save another touchdown.
"If the Heisman Trophy is what it is, I just don't know how Manti Te'o is left out of that conversation."
With the Irish up 19-10 early in the fourth quarter, Te'o hit Lee, USC's Heisman candidate, in the back of the end zone on a third-and-goal play, forcing the ball to the ground and forcing the Trojans to settle for a field goal.
Te'o and the Notre Dame defense returned to that area of the field on USC's next drive, after a 43-yard Lee kick return and a 53-yard Lee reception. Backs against the wall, a 22-13 lead and a little more than five minutes from a perfect regular season, the Irish lined up, prepared to stop a first-and-goal play from the 2.
Eight plays and three minutes later, the visitors sideline was coming apart at the seams, Notre Dame's fate all but sealed. The Irish had kept USC's lethal attack out of the end zone, again. They had made a remarkable goal-line stand, again.
Six weeks earlier, against Stanford, Notre Dame had kept the Cardinal out of the end zone on four consecutive overtime plays from inside the 5. That was the moment everything came to fruition for athletic director Jack Swarbrick, who confessed Saturday night that this season's title run had come a year earlier than expected.
"Coming into the year, I thought Stanford was the test," Swarbrick said. "I just think in the past two years they were more physical than we were, bigger and tougher than we were. I thought, 'That's going to be our benchmark.' And when we survived that, especially the way we did, I thought this team had a chance."
Swarbrick came to Notre Dame as a student in 1973, just in time for Ara Parseghian's second national title. He graduated in the spring of 1977, just missing Dan Devine's first.
He came back to his alma mater four years ago, before a season that ended in this same building, the reporters that time surrounding him for comment about the status of former coach Charlie Weis after another blowout loss here.
"It's what gets you up in the morning," Swarbrick said of restoring the Notre Dame lore.
He helped do that by hiring Kelly, who now has a 12-0 team for the second time in four years. His previous one, at Cincinnati, did not get to play for the national title. This one, after entering the season unranked, after enduring questions from quarterback play to recruiting methods to injury concerns, will.
"We believed in each other," Te'o said of the journey, which took a detour last season after a loss to USC, leading to Kelly comments that threatened to fracture the locker room. "Our coaches believed in us, and we believed in our coaches. It showed the type of camaraderie we have on our team. It's the camaraderie on our team that has helped us be successful."
Upon reaching the visitors locker room after Saturday's win, Kelly greeted a group of players who were, in his words, singing and dancing and laughing. He said a few words to them before presenting the game ball to
Theo Riddick
, who had carved up the Trojans for 146 rushing yards.
Then Te'o, the leader who spurned USC four years ago for Notre Dame, who spurned the NFL last season for this moment, stood up unexpectedly. He said a few words himself, these ones about his coach, and then he presented Kelly with a game ball of his own. Teammates called it a speechless moment.
Notre Dame is back on college football's grandest stage. Not much else is left to be said.
November, 20, 2012
11/20/12
2:56
PM CT
Brian Kelly received a card from Ara Parseghian this week, just like he does every week. Kelly picks Lou Holtz's brain from time to time as well, seeking advice from coaches who have won national titles at Notre Dame.

The gestures aren't limited to legends, though.

"Charlie Weis knows Notre Dame," Kelly said during his Tuesday news conference. "I got a wonderful note from Charlie last week. It was heartfelt, and it talked about the seniors and wishing them the best, and it was really a terrific note from Charlie. It was very classy. We get a lot of that communication with the former Notre Dame coaches and it's really nice."

As much as the players have been showered with attention in class and online, as much as campus has been buzzing about being home to the nation's No. 1 team, Kelly has heard from all corners as well, saying he received a handful of congratulatory texts when Kansas State and Oregon fell and that the communication lines have been open with Notre Dame icons past and present.

"I get my weekly card from Ara each week; he hand writes a note to me," Kelly said. "The great thing is he's so unassuming. He's done this and been there, but he'll write a note like he doesn't want to assume anything. He's never given any advice, just talking as a Notre Dame fan and alum. It's just great to get that combination with him.

"As it relates to Lou, I talk to him about some specific things that I would like his opinion on. Ara's much more of a fan, supportive. I invite him up every home game to my box and he politely declines because he thinks he's got the best seat in front of the television. That's our conversation. And then with Lou it's more about some specific things."

The players, meanwhile, have noticed the No. 1 sign lit up atop Grace Hall, so Kelly hasn't ignored the obvious.

He insists, however, that whatever celebration period there may have been is now over, and the team is back to the usual business of reviewing its Wake Forest tape and preparing for Saturday's game at USC.

"It's a lot better when that light's on than when it's not on," Kelly said. "I'm sure it's better going to class. I'm sure it's better in the dorms. I'm sure it's a better feeling, a more positive approach to everything. That's unquestionable. But does it affect way they way they come to work every day? No, it does not."
September, 22, 2012
9/22/12
6:23
PM CT
Kansas doesn't need anyone to tell it that life is about to get a whole lot more difficult.
Still, Saturday served as a reminder that this Kansas team isn't ready to win close games. Playing with leads still seems wholly unfamiliar to the Jayhawks after a
30-23 loss
on the road. Kansas now has a road losing streak of 15, dating back to a win at UTEP on Sept. 12, 2009.


For the second time in three weeks, Kansas had the game well within its grasp. It led Rice by double digits in the third quarter on Sept. 8 and led by eight with five minutes to play. It lost on a last second field goal.
On Saturday,
Tyler Patmon
's 54-yard interception return for a touchdown gave the Jayhawks a 23-13 lead. Don't give up the big play, right? Make Northern Illinois grind this one out and keep the Huskies in front of you?
Nope. Northern Illinois scored on its first play of the ensuing drive when
Martel Moore
caught a
Jordan Lynch
pass for a 65-yard score to get the game back within reach for the Huskies.
In the game's final 14:23, Kansas was outscored 17-0 and now returns home to Lawrence with a 1-3 record that could very easily be 3-1. It's not, and it's another black eye for Charlie Weis in his hopes to re-ignite the Kansas program.
After the Rice loss, Weis said at some point teams figure out how to win. They turn a corner. It's easy to see that hasn't happened yet for KU. Same story, different opponent.
Dayne Crist
continues to underwhelm, too, which has to be a concern. Competition is about to ramp up considerably now that nonconference play is over and Crist completed just 10 of 26 passes for 147 yards. That's only 38 percent.
He's completing just 48 percent of his passes on the year, and with just one win (against an FCS team, no less) under its belt, it's now an uphill battle for KU to simply equal its two wins from a year ago.
Can Kansas figure out how to turn that corner? Right now, the Jayhawks look like they have a long way to go before any corners get turned in Lawrence.
Northern Illinois isn't a bad team, but it's not a team that's significantly better than Kansas. The rest of the Big 12? It's nine teams that are significantly better than Kansas.
I don't know how many days are left until basketball season starts, but KU fans might want to start checking their calendars.
August, 15, 2012
8/15/12
8:00
AM CT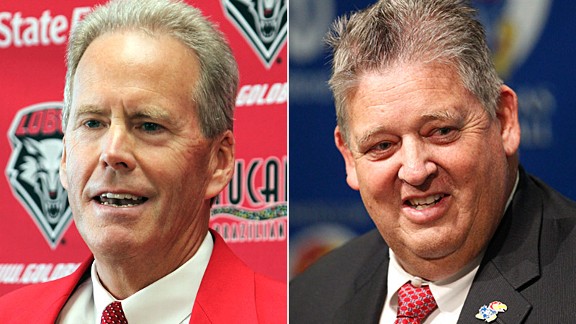 AP PhotoBob Davie, left, is taking over a 1-11 New Mexico team; Charlie Weis inherited a 2-10 Kansas squad.
Bob Davie's and Charlie Weis' finales were one and the same, the broadcaster and the Florida assistant joking before the Gators' senior-night loss to Florida State last November.
Davie was barely a week into his new job, Weis was closing his first regular season in Gainesville, and here they were, chatting it up on sidelines of the Swamp, the nexus between the coaches on the verge of tightening once more.
"We were down there laughing a little bit, and all of a sudden a couple weeks later he's the head coach at Kansas," Davie, now New Mexico's head coach, said of Weis.
Act II for the former Notre Dame head coaches is underway this month, each scaling a precipice steeper than Touchdown Jesus, sans all the ballyhoo. Each has embraced his new locale, where the records that cost them their first head-coaching jobs would be cause for celebration.
The tasks, however, remain the same.
"I want to win," Weis said. "That is what I want. I want to win. I want this team to win. They haven't been winning -- that is what I want to do, win. The more wins, the happier I am.
"It puts a big damper on things, when things don't go well. I want to get this program where we are winning more than we are losing. I think when we get to that point, then we will aim even higher, but let's get to that point first."
Davie has admitted to being more comfortable in his own skin his second time around, no longer feeling the need to over-prepare or rehearse on a daily basis.
"At the end of the day, it's all the same process," Davie said. "The process for me at New Mexico is no different than it was at Notre Dame, and Notre Dame is no different than anywhere else -- coach the football team. It's all the same thing.
"Don't get so tied up in, 'Oh, we've always done it this way. We've always done it that way.' Let it rip, man."
It will be easier said than done for the two. The Lobos are coming off three consecutive 1-11 seasons that were notable for former head coach Mike Locksley's off-field troubles, and they could be 10 scholarships short of the 85-man limit this season. The Jayhawks, Orange Bowl winners just five years ago, have gone 18-31 in the four years since, with Mark Mangino and Turner Gill losing their jobs along the way.
Each school was projected last at Mountain West and Big 12 media days, respectively.
Weis will have a familiar leader in Lawrence, having landed one of his biggest recruiting coups from Notre Dame in quarterback
Dayne Crist
. The transfer, who started the Irish's past two openers but was plagued by injuries and a crowded position unit, said fans on the Big 12's most basketball-centric campus will come out so long as the production is there on the field.
"There's a great deal of excitement," said Crist, who is joined by former Irish teammates and Weis recruits
Mike Ragone
and
Anthony McDonald
. "The fans are very encouraged with what they've been seeing, and you can tell that it's just a fan base that's very eager to win. It hasn't been too long ago when they were in the Orange Bowl and things like that, so fans are ready to cheer for the football team. We just have to give them a reason to."
Ten years as an ESPN analyst gave Davie access he otherwise would have never had. Shortly after playing Michigan and USC, he recalled, he was meeting with coaches Lloyd Carr and Pete Carroll, getting up-close looks at how their programs operate.
[+] Enlarge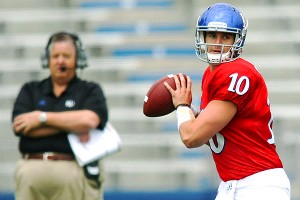 William Purnell/Icon SMIFor his new gig at Kansas, Charlie Weis, rear, brought along former Irish QB Dayne Crist.
"You go from, you're lucky to even share a handshake, to all of a sudden you're sitting in their office watching them practice," Davie said. "So that was a tremendous opportunity to get out and do those things. But there's nothing like actually coaching. You can analyze things and comment, [but] the great part of coaching is you're actually doing it, and there's just nothing like that.
"I can still smell the grass at Notre Dame Stadium, what it felt like on Saturdays, and that never goes away. You always have that -- the simple things that are hard to explain."
In taking over at Albuquerque, where nearly half a century has passed without a conference title, the 57-year-old Davie is hoping to replicate some of the rebuilding jobs he has seen on the road over the past decade. Bill Snyder's resurrection of Kansas State -- the losingest program in FBS history upon his arrival 23 years ago -- has particularly served as inspiration.
"Just seeing -- and I'm not saying I'm Bill Snyder or saying I can ever do a job like he's done or be the coach that he is -- but just going around the country seeing different programs, to see what Bill Snyder has brought to a Kansas State, for example, is something to me that's tremendously rewarding and tremendously fulfilling, to try to do something like that," he said. "I've been to Manhattan, Kan., done games there. To me, that's what's fun. It's fun to really take a place and put your name on it, try to build it. I'm not saying we can do that but that's kind of the mission."
In late October 2001, just more than a month before being fired by Notre Dame after a 35-25 record over five seasons, Davie and his family built a house in South Bend. They didn't move to Scottsdale, Ariz., until three years later, when the Irish made a new hire.
"I'll be forever grateful for Charlie Weis because he bought my house in South Bend, so I'm a huge Charlie Weis fan," Davie said with a laugh. "I'd still have that house sitting there."
A 35-27 record over five seasons with the Irish did Weis in in 2009, and now, like Davie, he is hoping the lessons learned from the spotlight of one of college football's biggest platforms translate to a second, smaller stage.
"I am more motivated than I have ever been to make this program successful," Weis said. "There might be more unknowns, but I have the same obligation to the administration, to the fan base and to the university. I have the same obligation to work as hard as I possibly can to get us as good as we possibly can be as quick as we possibly can.
"I mean, OK, Notre Dame has a big, national fan base down there, but what does that mean? Fans are fans; alumni is alumni. It's still the same to work as hard as we can collectively both as a coaching staff and players to try to get this right as fast as we can. That's why I'm here. Now it's time to go to work."
May, 20, 2011
5/20/11
9:30
PM CT
Notre Dame sent former football coach Charlie Weis packing in November 2009 after five seasons and a lackluster 35-27 record, cutting short the final six years of the 10-year extension he signed during his stellar first season on the job.
But apparently the break wasn't quite so clean. Notre Dame will continue to pay him through 2015, the Chicago Tribune reported Friday.
Read the entire story.
May, 20, 2010
5/20/10
10:19
AM CT
By
Wes Morgan
| ESPNChicago.com
A knee injury in 2008 sidelined heralded Notre Dame tight end
Mike Ragone
for his sophomore season. The senior's arrest on a marijuana possession charge on May 8 is presumably the final scorch mark on a once-promising career.
"It was horrible, just because I was getting ready to play, you know?" Ragone said of the 2008 injury in a Chicago Tribune story last August. "Looking forward to the season, coming off a good spring my freshman year. Then coming in and hurting my knee, it felt like my whole body was drained. I had nothing in me anymore, when it happened. I felt like I was dead. Literally. I felt like I lost my life, basically."
[+] Enlarge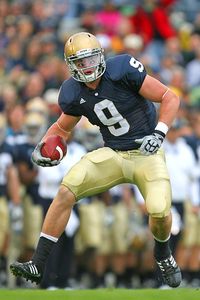 Jonathan Daniel/Getty ImagesKyle Rudolph had 33 catches for 364 yards and three touchdowns last season.
Ragone, who was pulled over by state police for speeding on the Indiana Toll Road, now faces a reality where, though unlikely, he could lose his freedom. At the very least, he's expected to lose his spot behind junior star
Kyle Rudolph
on first-year coach Brian Kelly's roster.
And it's not up to Kelly to decide.
Despite admitting at the scene that two bags of marijuana found in a female passenger's purse belonged to him, Ragone's attorney Jeffrey Stesiak entered a not guilty plea on his behalf Monday in LaGrange (Ind.) County court.
No matter the legal ramification, Ragone's confession will almost surely draw a suspension by Notre Dame's Office of Residence Life -- the university's own justice system that's dropped its sledgehammer gavel on many student-athletes in recent years.
In January 2007, Residence Life suspended Notre Dame basketball guard Kyle McAlarney from school for the entire spring semester after he was pulled over by police and marijuana was found in his vehicle.
Ragone is the latest in a string of tight ends to find himself in thigh-pad-high trouble -- continuing attrition at a position that has its own storied history in the hallowed halls of Notre Dame history.
Other than John Carlson (2004-07) and Rudolph, the position has been a bust.
Then a sophomore on the rise, 6-7, 250-pound Joseph Fauria was suspended by Residence Life for the fall semester in 2009 for "undisclosed disciplinary reasons." He played in only three games as a freshman but was expected to contribute behind Rudolph. Instead of sitting out, he left for UCLA, where he'll be eligible to play this year.
Will Yeatman compounded Ragone's physical status in 2008 when he was arrested for underage consumption at a campus party early in the season. Yeatman was already on probation after being cited for driving under the influence of alcohol in January, when he was issued a spring semester suspension and could not participate in football or lacrosse.
Following his second arrest, Yeatman sat out the remainder of the 2008 football season, leaving Rudolph to bear the entire load as a freshman. Yeatman transferred to Maryland in December.
Others include
Konrad Reuland
, who transferred to Stanford in 2007, and Luke Schmidt, lost to a career-ending injury the following year.
Rudolph is on track for legendary status with two seasons of eligibility remaining, but the Cincinnati product wasn't available for the remaining three games last season after injuring his shoulder against Navy.
Playing behind Rudolph last season, Ragone caught six passes for 60 yards. His performance last month at the Blue-Gold spring game (six catches for 75 yards and a touchdown) was a promising indication that the Irish could rest easy with it's depth at tight end.
Now Kelly holds his breath as Ragone's fate rests at the feet of Residence Life, an astringent judiciary body at which former coach Charlie Weis hurled heavy criticism after his ouster.
TOP 25 SCOREBOARD
Friday, 8/29
Thursday, 8/28
Saturday, 8/30
Sunday, 8/31
TOP PERFORMERS