Chicago Colleges:

Chris Salvi
November, 17, 2012
11/17/12
10:59
PM CT
SOUTH BEND, Ind. -- With Notre Dame's
38-0 win
over Wake Forest all wrapped up, the stands still full before the alma mater and everyone soaking in one last moment inside the building where the Irish went undefeated for the first time in 14 years, public address announcer Mike Collins went over the postgame itinerary for the final time this season:
Drive home safely, he said.
Thank your ushers, he recommended.
"And BEAT S-C!" he implored, drawing the biggest roar of the night.
Yes, it comes down to this for these Irish: beat the rival Trojans two days after Thanksgiving and lock up the first perfect Notre Dame regular season in 24 years.
[+] Enlarge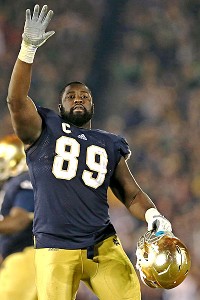 Jonathan Daniel/Getty ImagesKapron Lewis-Moore's final regular-season game comes next week against USC.
"Definitely," receiver
John Goodman
said when asked if next week's opponent is fitting. "They're definitely a potent offense and pretty good defense, and that's something that we're going to have to game plan for. We're going to celebrate this win and take it all in with our families and everything, and then we're going to be fully focused on them, because one more game and things are going to work itself out."
The Irish don't control where they'll end up in the BCS standings. They need Kansas State or Oregon to fall to gain a national title berth. But a player like Goodman knows just how shocking it is to think that USC stands in Notre Dame's way next week, not the other way around.
Goodman came to Notre Dame in 2008, one year after a program-worst 3-9 season. USC had won the Rose Bowl in 2007, and the Trojans won it again during Goodman's first college season.
Both programs underwent coaching changes following the 2009 campaign, but USC seemed to weather NCAA sanctions, winning 10 games last season -- one of those wins coming at Notre Dame Stadium -- and entering this fall as the preseason's No. 1 team.
So yes, many figured next Saturday in Los Angeles could be where a national title ticket gets punched; few thought the visitors would be the ones with that opportunity.
"It's easier now because we have one game left," coach Brian Kelly said of avoiding big-picture talk. "So for us, the focus and all of those things, not looking ahead, we don't have to worry about that anymore. We have one game left on our schedule. Our guys know what's at stake now. This is about an undefeated season. They cannot do anything else but beat USC. The rest is up to other people to decide. But they can clearly focus.
"I told them tonight I'm proud of them. I voted them No. 1 in the country for a reason, because I think they're the best team in the country, and I think they played like that tonight."
For once at home, they did. The Irish scored on their first three possessions, jumping to a 21-0 lead just more than 10 minutes into the contest, a feat more noteworthy when considering that they had not scored more than 20 points in regulation in any of their five previous home games.
They had won those five contests by a combined 23 points, needing four total overtime periods to come away with the victories. This one was 31-0 at halftime, the final 30 minutes a mere formality.
Everett Golson
earned a seat for much of the second half after a 346-yard, three-touchdown performance.
Kelly took the circumstances to send some of his seniors out on a high, calling a timeout before Wake Forest took over at the 13:27 mark.
In came
Sheldon Day
,
Chris Salvi
and
Ben Councell
-- replacing
Kapron Lewis-Moore
,
Zeke Motta
and
Manti Te'o
.
Naturally, Te'o received the biggest ovation, taking his helmet off, blowing kisses to the student section and chest-bumping Lewis-Moore as he reached the sideline.
"Just magic," Te'o said. "Like everything's come full circle, just very grateful. For Coach to do that; he could have easily taken us out and not even put us on the field. But it was a TV timeout, and he said I'm going to send you guys out there and then I'm going to call a timeout, and one by one I'm going to sub you guys out. So that's the type of coach that Coach Kelly is. I'm just very lucky to play for him."
Te'o was all but USC-bound in high school, stunning all with his last-minute pick of the Irish. He will get to play his final regular-season college game at the Los Angeles Coliseum with perfection on the line, and the irony will be thicker than the stack of leis draped around his neck after the game.
All that stands between these Irish and perfection are the Trojans, all their energies and emotions pitted toward one goal: Beat SC.
"There is no next week," Te'o said. "It's USC. There is no game after that. If we take care of USC, we'll be fine. All we have to do is take care of USC and prepare the right way. USC is a really good team, as we all know. The USC-Notre Dame game is always a battle. So we understand that and we're going to prepare the way we know how."
April, 21, 2012
4/21/12
6:11
PM CT
SOUTH BEND, Ind. -- From the stands, one could imagine the minor sigh of relief Notre Dame coach Brian Kelly exhaled upon
Everett Golson
's 19-yard touchdown pass to
Theo Riddick
in the second quarter of Saturday's Blue-Gold game.
It came after the defense forced another turnover, after Golson fumbled the drive's first snap and after the sophomore quarterback seemingly ran in circles before drawing a facemask penalty on
Kendall Moore
.
"The quarterback position, as I mentioned to you before, is the art and science," Kelly said. "In putting both the art and the science together, he's very creative. The art part he's got down. It's the science and the consistency, all of those things to be a championship quarterback."
Two drives earlier, Kelly was likely the only one among the crowd of 31,582 to control himself as
George Atkinson III
took a short pass from
Tommy Rees
, juked
Cam McDaniel
and made 19 yards out of nothing.
Because two plays later, the running back mishandled a pitch from Rees and turned it over for the second time in the first half.
Golson, the great unknown of this four-man quarterback derby, finished 11 of 15 for 120 yards and two touchdowns. He carried the ball six times for 25 yards. He was the only quarterback to not throw an interception.
Atkinson, whose electricity was on display during kick returns last season, rushed for 124 yards on just 15 carries, and added 54 receiving yards on three catches.
[+] Enlarge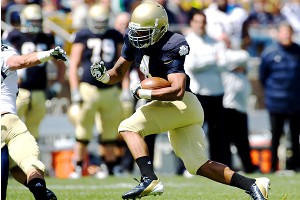 Matt Cashore/US PresswireGeorge Atkinson III ran for 124 yards on 15 carries, but also made some big mistakes.
"Both of those guys are exciting, electric players," Kelly cautioned, "but they are a heart attack for me."
So goes it for the Irish at the end of the spring season. They put up 500-plus yards of offense in five games a season ago, but ranked 118th in turnover margin. They entered fall camp last season with a quarterback controversy, and they also ended it with one.
Few clues could be gathered from Saturday's spring game -- in which the defense defeated the offense, 42-31, for those counting -- as the offense netted 551 yards but turned it over six times.
Rees took the game's first snap, played five drives, completed 7 of 14 passes for 84 yards and tossed a pick to
Matthias Farley
.
Andrew Hendrix
came next, connecting with
Tyler Eifert
for a 25-yard score and eventually playing four drives. He was 4 of 9 for 51 yards, rushed for 13 yards on a pair of carries and threw a pick right over the middle to
Ishaq Williams
.
Gunner Kiel started the second half, completed his first pass for 11 yards and was promptly picked by
Chris Salvi
on the next play. The freshman played the entire third and fourth quarters — which were eight minutes apiece with running time — and went 5 of 10 for 57 yards, adding 15 yards on three carries.
"I think we saw some things that we haven't seen before in terms of ball placement," Kelly said. "Then we saw some errors that, unfortunately, are all too familiar. So, I think there were some strides made, but clearly we're not there yet. We've got a lot of work to do with all the quarterbacks to get them to the level that we want. And we have a high bar set for them."
Kelly mentioned having seen the same movie before with Rees' and Hendrix's picks, specifically saying that Rees needs to know that "zero" is OK on third down, especially in drop-eight situations. He said the offense can't run everything with Kiel after just 15 practices to work with him.
And he said Golson needs to do a better job of getting plays in quicker, a fact the signal caller acknowledged goes a long way in earning the staff's trust.
"You never really know which way the play's gonna go with me and George," Golson said of himself and Atkinson. "That's because we're just not consistent: One play we're making a good play, one play it's a fumble or turnover, so I think just being more consistent on the positive end will help us out."
Added Atkinson: "There's so many things I can work on. I don't think I did that well today, personally. I still need fundamentals, basically. Just work on fundamentals and taking the coaching and everything else."
Atkinson said he doesn't want to give his staff a roller-coaster ride when he's on the field. Having a man under center who can protect the ball will go a long way in easing the blood pressure of everyone in the huddle and on the sideline. But an answer there isn't coming anytime soon.
"The guy that really commits to the details this summer is probably one of the guys that's going to start it," Kelly said. "So if you can go to any of those voluntary workouts, then let me know. I'd be happy to field that when I'm on the golf course. Just text me if you have that opportunity. The point is all of them have a lot of work to do. We'll see who does a great job this summer."
March, 30, 2012
3/30/12
8:00
AM CT
The third and final part of our breakdown of Notre Dame's 2012 roster wraps up today with the special teams.
SPECIAL TEAMS
The (key) players
:
Kyle Brindza
,
Ben Turk
,
Jordan Cowart
,
Theo Riddick
,
John Goodman
,
George Atkinson III
,
Amir Carlisle
,
Austin Collinsworth
,
Chris Salvi
,
Nick Tausch
The incoming:
Scott Daly
The breakdown:
New tight ends coach Scott Booker is now in charge of special teams, though the entire staff will take a more hands-on approach following a 2011 campaign in which the Irish averaged 0.3 yards per punt return before the bowl game. In addition to kickoffs, Brindza will likely be the Irish's field goal kicker as well following the loss of
David Ruffer
. Turk improved as the season went on last season and figures to be the starting punter again. Atkinson returned a pair of kickoffs for touchdowns last season and may see more action in the backfield this season, so it remains to be seen if his duties could be extended to the punt return game as well. Same goes for Collinsworth, who was solid on both the kick-return and kick-coverage teams but will likely see extended time at safety following the graduation of
Harrison Smith
. Carlisle is out for the spring with a broken ankle, but he returned kicks for USC at times last season and could possibly be a factor on either return team.
Riddick's struggles returning punts last season are well-documented, but the staff likely isn't ready to give up on the big-play potential of which he is capable. Goodman had the sure hands and was basically back there last season as a safety net to prevent anything bad from happening, and the Irish hope that won't be needed again this year. (Goodman is in line to play a bigger role offensively, too.) Salvi earned a scholarship for being such a force on both kickoff teams, and Daly is the second scholarship long-snapper in school history, likely backing up Cowart this season before taking over the reins in 2013.
March, 29, 2012
3/29/12
8:00
AM CT
Our breakdown of Notre Dame's 2012 roster continues today with the defensive side of the ball.
DEFENSIVE LINE
The players:
Aaron Lynch
,
Louis Nix
,
Stephon Tuitt
,
Kapron Lewis-Moore
,
Tony Springmann
,
Chase Hounshell
, Sheldon Day,
Tyler Stockton
,
Kona Schwenke
The incoming:
Jarron Jones
,
Romeo Okwara
[+] Enlarge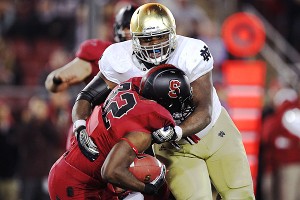 Ezra Shaw/Getty ImagesTackle Louis Nix is a key cog in what should be a strong, experienced defensive line for Notre Dame.
The breakdown:
Injuries forced all three current starters — Lynch, Nix and Tuitt — to play much more than expected last season, and none disappointed. They are all second-year players now, and their pass-rushing ability should have opposing offensive lines and quarterbacks on their heels. Lewis-Moore has been cleared for spring following a season-ending knee injury in 2011 but might not start, though he will likely see plenty of playing time as the line rotates. Hounshell (shoulder surgery) is not cleared yet, but he will likely see significant time this fall after playing as a true freshman last year as well.
LINEBACKERS
The players:
Danny Spond
,
Manti Te'o
,
Dan Fox
,
Prince Shembo
,
Kendall Moore
,
Ishaq Williams
,
Anthony Rabasa
,
Carlo Calabrese
,
Jarrett Grace
, Justin Utopo,
Connor Little
,
Ben Councell
,
Joe Schmidt
The incoming:
None
The breakdown:
As we said with
Tyler Eifert
yesterday, everyone knows what Te'o is capable of, as he likely would have been a first-round NFL draft pick had he left school following his junior year. Fox and Calabrese shared the other inside role last year, and their experience should prove valuable. Shembo has been working at the cat spot this spring, and up-and-coming talents like Williams and Spond figure to see extensive playing time.
SECONDARY
The players:
Bennett Jackson
,
Jamoris Slaughter
,
Zeke Motta
,
Lo Wood
,
Josh Atkinson
,
Austin Collinsworth
,
Dan McCarthy
,
Jalen Brown
,
Cam McDaniel
,
Eilar Hardy
,
Chris Salvi
,
Joe Romano
, Will Salvi,
Connor Cavalaris
,
Matthias Farley
,
Blake Breslau
The incoming:
Elijah Shumate
,
Nicky Baratti
,
C.J. Prosise
,
John Turner
The breakdown:
The loss of
Tee Shepard
really stings this group, which is down to four scholarship corners with a combined zero career starts. Jackson and Wood are in position to take over as the new starters, and playing time last season should help with the transition. At safety, Slaughter and Motta saw plenty of time the last two seasons, and Slaughter in particular has shown a nose for the ball and the capability of providing a leadership force that
Harrison Smith
is leaving behind. Collinsworth will likely also see plenty of snaps after playing last year.
October, 29, 2011
10/29/11
8:52
PM CT
SOUTH BEND, Ind. -- Harrison Smith does not have a Twitter account, which at this point may put him in the minority among college football players.
But the fifth-year captain did not need to be a social media buff to catch wind of the chatter among Notre Dame players Thursday night following controversial remarks by coach Brian Kelly.
"It was kind of a full-range, I would say," Smith said of the team's temperature. "I don't remember like specifics, but there was definitely a full-range. Everybody's human at the end of the day, so you're gonna get that."
The team had a hashing-out session Friday, one that included an apology from Kelly. On Saturday, the Irish exorcised their demons against a Navy team that had its number in recent years, beating the Midshipmen
56-14
.
It was no coincidence.
[+] Enlarge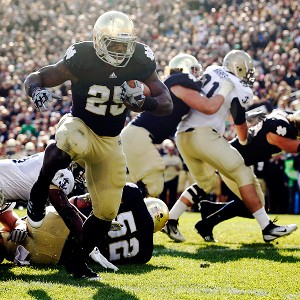 AP Photo/Michael ConroyJonas Gray had three of Notre Dame's seven rushing touchdowns against Navy.
1"I honestly think it had a big impact on it," Smith said. "Not that it went into the gameplan or went into the scheme or anything. But I think it just kind of showed that we're all in this together, that we all play for each other and for Notre Dame. It's not about individuals."
Another of the defensive leaders, Manti Te'o, appeared to play with a bigger chip on his shoulder than usual, finishing with a game-high 13 tackles, 2.5 tackles for loss and 0.5 sacks.
Te'o, who was not available for postgame interviews, made seven of those tackles on Navy's first two offensive possessions, which ended with a missed field goal and a punt.
The Irish offense scored touchdowns on five of their first six possessions, never leaving the Midshipmen a chance to play catch-up.
"Well, I can tell you that, you know, as a family, we all have good days and bad days," Kelly said. "And you work through that as a family. And we had to work through some things this week. But at the end, like all families, if there's a disagreement, if there's any kind of need to communicate, it needs to get done and we did that. We communicated with each other as a team and as a family, and you saw it today. You saw a team that played together.
"I told our team that's the best collection of plays relative to all 11 players playing together. It was part and parcel of all of those things; it was a family coming together. And like I said, those specifics I won't get into, those are family matters. But we're certainly pleased by the way our guys played together today."
Forty-eight hours earlier Kelly, in his second year at Notre Dame, made comments about the players he recruited that rubbed many of the upperclassmen the wrong way. Twitter became an outlet for players past and present to make their voices heard, and on Friday they made their opinions clear in person.
"There was nothing in particular,"
Jonas Gray
said of what the players needed to hear from Kelly. "We just wanted to make sure that he was aware of how we were feeling and I think that he was. And that was pretty much it. He did a great job of handling it, our team did a great job of handling the whole situation. We're definitely unified from the top to the bottom."
"We had some things we needed to hash out," Gray added later. "We got that across to Coach Kelly and he did a great job of hearing us out and we just went from there."
Gray, making his first start of the season and second of his career, rushed for 69 yards on just 12 carries and scored three touchdowns, helping to resurrect a run game that was non-existent for much of last week's game against USC.
Cierre Wood
added 66 yards on 11 carries and a pair of touchdowns himself. The Irish finished with seven rushing touchdowns, their most in one game in 19 years.
And then there's Chris Salvi, a walk-on special teams ace chosen as a game captain, who became emotional Friday night at the team's pep rally before joining season captain Smith on the pregame walk to the coin toss Saturday.
"That was just awesome, that's the only way I can describe that," Smith said. "Nobody deserves that more than Chris Salvi does. That guy brings it every day, everything he does. And his love for not only the game and for the team but for this university is something that's just awesome."
Salvi embodied that passion for the game Kelly so often talks about looking for in his players, who cleared up any confusion hours before the walk-on was named their leader Friday. They followed the next day by channeling their emotions to rout a team it lost to in three of the previous four years.
"I mean, I think any time you're in a business like we are, where you're around your guys all the time, that you need to be honest," Kelly said. "You need to be communicating, and that occurred. And like I said, those family matters, we've all been in them. The most important thing is what happens, and what happened today was our football team played together and played great football."
TOP 25 SCOREBOARD
Thursday, 11/20
Saturday, 11/22
TOP PERFORMERS
S. Perine Oklahoma - RB
34 car, 427 yds, 5 tds

V. Mayle Washington St - WR
15 rec, 252 yds, 0 tds