Chicago Colleges:

Cliff Alexander
November, 16, 2013
11/16/13
10:32
AM CT
Chicago Curie senior power forward
Cliff Alexander
signed and faxed his letter of intent to Kansas on Saturday, according to a source.
Alexander, ESPN's No. 3-ranked senior prospect, verbally committed to the Jayhawks over DePaul, Illinois and Memphis on ESPNU on Friday, but he said he likely wouldn't sign with the school until January.
Alexander said Friday that his decision came down to Kansas coach Bill Self and his ability to develop big men.
"It was really tough, really tough," Alexander said of his decision. "Me and my family did a lot of talking, a lot of thinking. We came down to a conclusion. Coach Self is a great guy. He develops players. I like how he coaches. I like how he gets the ball to the bigs, develop the bigs."
Alexander joined forward
Kelly Oubre
, who is ranked No. 10 by ESPN, in Kansas' recruiting class. Oubre has also signed his letter of intent.
November, 15, 2013
11/15/13
5:58
PM CT
CHICAGO –
Cliff Alexander
may go to Kansas … or he may not.
Alexander, ESPN's No. 3-ranked recruit, took a step in the direction of Lawrence, Kan. on Friday by announcing on ESPNU he was committing to the Jayhawks. That's enough to complete most recruitments. But in this case, it's difficult to believe Alexander's recruitment is a done deal.
For one, Alexander doesn't plan on signing a letter of intent during the early-signing period. He said Friday he might sign in January, but he wasn't exactly sure.
Then, there's the fact Alexander hadn't even decided on a school until about an hour before his announcement. He had known for a few weeks he was going on live television and naming a school Friday, and that would normally indicate someone who had made up his mind and was ready to put his recruitment to rest. But with Alexander, he was still taking recruiting pitches from coaches as late as Friday morning.
"People just don't know; this thing came down to the last hour," Curie coach Mike Oliver said. "As far as 2 p.m., he was still deciding between Illinois, DePaul and Kansas. His gut feeling was Kansas."
Gut feelings, especially those of teenagers, can change quickly. Even Alexander seemed unsure minutes after his announcement whether he was a solid Kansas commitment.
Alexander was asked whether there was a chance he could change his mind. Alexander replied, "There might be a chance; there might."
A reporter followed up and asked, "So there's a chance you could still end up at Illinois?" Alexander replied, "No."
Another reporter jumped in and asked, "What would make you change your mind?" Alexander was quick to cover up his tracks and said, "Nothing really. I'm set. I'm set. I want to go to Kansas. That's why I did it."
Even if Alexander meant that, his recruitment is still far from over. The schools involved in his final list and possibly others will continue to recruit Alexander until he stops answering their calls or he's secured with Kansas. The Jayhawks know that, too. They'll continue to recruit him as he is he wasn't already committed.
Alexander has also yet to qualify. Oliver said recently he fully expected Alexander to get the necessary test score and grades to qualify, but that's another part of the equation.
In the end, Alexander may decommit from Kansas, commit to Illinois, then decommit from Illinois and finally sign with DePaul. Or, he might just remain Kansas recruit.
Until it's officially over, uncertainty will reign.
October, 25, 2013
10/25/13
8:04
PM CT
Illinois has been waiting for another
Marcus Liberty
for nearly 30 years.
Liberty was considered the best high school player in the country in the class of 1987 and chose the Illini over Syracuse. Since then, Illinois hasn't been able to secure another top-5 player. It has had a few close calls, including Shannon Brown choosing Michigan State over Illinois,
Eric Gordon
committing and then de-committing, and
Derrick Rose
making a late visit, but none of them were to be.
That's where Chicago Curie power forward
Cliff Alexander
, ESPN's No. 3-ranked senior, and his official visit to Illinois this weekend enter the picture. Not since Rose made a last-minute visit to Illinois in 2006 have the Illini had a top-5 player consider them this late in the recruiting process.
Even when Rose stopped by Champaign before committing to Memphis, not many believed he was sincere about his Illinois interest. That's different with Alexander.
"I think it's bigger than the Rose one because of the validity of it," said Illinois state-wide recruiting analyst Joe Henricksen, who publishes the City/Suburban Hoops Report. "I think this one is more real than the other ones. There's some validity to it. It's a real option for Cliff Alexander to go to Illinois. He's been down there multiple times, plus, he's taken an official visit on top of those.
August, 2, 2013
8/02/13
7:26
PM CT
Illinois coach John Groce and his staff have narrowed their recruiting focus for the class of 2014. Here's a look at the players the Illini are recruiting:
Curie (Chicago) power forward Cliff Alexander:
Alexander, the nation's No. 2-ranked senior by ESPN, is the priority for Illinois. He would be the biggest recruit in the program's history since the Illini landed Marcus Liberty and Deon Thomas in the late 1980s. Alexander would likely only stick around one season, but he could do wonders for Illinois on the floor in that one year and off the floor in recruiting, especially in Chicago, for many years to come. Groce was glued to Alexander's club games in July. Alexander, his parents and his coaches are said to be in communication with Groce and his staff often. Sources have indicated Alexander is high on the Illini, and those around Alexander are pleased with Illinois' constant contact.
Whitney Young (Chicago) center Jahlil Okafor:
Okafor, the nation's No. 1 recruit, hasn't cut Illinois from his list, and Illinois hasn't stopped recruiting him, but his coming to the school likely won't happen. Okafor and
Tyus Jones
have been adamant about wanting to play with together, and Jones isn't interested in Illinois, and Illinois isn't recruiting Jones. The math is simple. Illinois' hope has to be for Okafor and Jones not to end up somewhere in the Big Ten. They're considering Michigan State and Ohio State.
White Station (Tennessee) power forward Leron Black:
Illinois feels as good about its chances with Black as anyone it's recruiting in the senior class. Black, who is ranked No. 36 in the country, has other schools, including Florida, Indiana and Louisville, after him, but the Illini have been pursuing him for some time now and have built a relationship. If Illinois received a commitment from Alexander or Black, it wouldn't mean the Illini would lose out on the other player. Illinois believes Alexander, a big-bodied power forward, and Black, a more slender and high-motored power forward, could play perfectly together and have been trying to sell them on that.
Ballard (Kentucky) point guard Quentin Snider:
Snider, who is ranked No. 28, recently de-committed from Louisville and re-opened his recruitment. Illinois has already been in touch and offered him a scholarship. Groce is still looking for his point guard of the future, and Snider could be that. A lot of schools, including several in the Big Ten, are reaching out to Snider, so it may be some time before he creates a list and figures out whether he'll consider Illinois.
Morgan Park (Chicago) power forward Josh Cunningham:
Illinois has expressed some interest to Cunningham and his high school and club coach Nick Irvin. The Illini have invited Cunningham to come on campus for a visit. Cunningham has drawn some Big Ten interest from Iowa, Minnesota and Northwestern and has also been recruited by DePaul, but he's still likely a long shot to get an offer from Illinois. If things fall through with Alexander and Black, Cunningham could be Plan C. Cunningham has said he's going to take his time with his recruiting, so that could play into Illinois' favor down the road. Either way, the Illini are covering their tracks in case they want to pursue Cunningham harder at some point.
Other notes:

Illinois has been in contact with the father of Marian Catholic (Illinois) senior point guard Tyler Ulis, but the Illini haven't picked up their recruiting of him.
Another Simeon player could be on the verge of getting a scholarship offer from Illinois. The Illini have been closely following class of 2016 guard Zack Norvell, a 6-foot-4 shooting guard.
June, 21, 2013
6/21/13
1:29
PM CT
Chicago Curie High School power forward Cliff Alexander, ESPN's No. 2-ranked junior prospect, announced a list of 10 schools he's considering on Friday.
Read the entire story.
December, 28, 2012
12/28/12
3:59
PM CT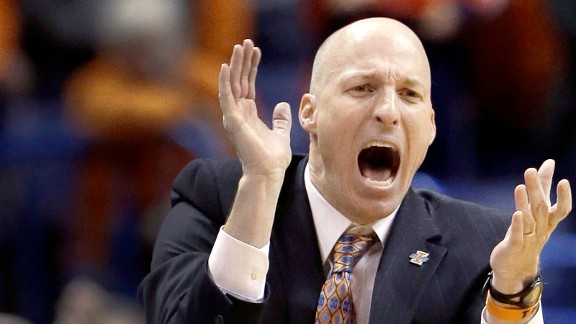 AP Photo/Jeff RobersonIllinois' John Groce is capturing the attention of recruits with the Illini's success.
Being Illinois' head coach got John Groce in most doors when he was first hired and began recruiting the Chicago area.
Groce's sales pitch then was a mixture of the past along with predicting the future. He spoke of what he had done at Ohio and what he thought he could with Illinois. Some recruits knew of Ohio because of Chicago product D.J. Cooper and its NCAA tournament appearances, but not everyone was familiar with the Bobcats.
TOP 25 SCOREBOARD
Saturday, 12/21
Monday, 12/23
Tuesday, 12/24
Thursday, 12/26
Friday, 12/27
Saturday, 12/28
Monday, 12/30
Tuesday, 12/31
Wednesday, 1/1
Thursday, 1/2
Friday, 1/3
Saturday, 1/4
Sunday, 1/5
Monday, 1/6
TOP PERFORMERS