Chicago Colleges:

Colorado Buffaloes
March, 22, 2013
3/22/13
10:35
PM CT
AUSTIN, Texas -- Somewhere lost in all the pomp, circumstance, inspirational montages and endless car commercials of the NCAA tournament is the little secret someone forgot to mention to Colorado and Illinois -- in order to win, you must put the ball in the basket with at least a modicum of regularity.
That's not to say the seventh-seeded Illini and No. 10 seed Buffaloes missed all their shots. But each did miss enough -- 11 straight for CU to end the first half; 14 in a row, including 11 3-pointers, for the Illini at the start of the second half -- to build unnecessary and frustrating drama into a game that could have been void of both. (Apparently it is in the contract of both teams that, since this is March, they must provide some madness. And boy, were the coaches plenty red in the face.)
But, finally, the drama came to a close, along with Colorado's season, as Illinois' 16-point lead -- built during CU's horrid shooting stretch -- was enough to withstand a 23-2 Buffaloes run -- made possible by the Illini's putrid shooting stretch -- to eke out a
57-49 win
in the second round on Friday.
"It's easy to come back. It is hard to come back and win,'' CU coach Tad Boyle said. "Our scoring droughts are tough to deal with. We played well enough to win today. We just didn't play well enough down the stretch to win.''
It's hard to say Illinois (23-12) played well enough to win, either. The Illini shot 13 percent in the second half. But they pulled it out at the end.
[+] Enlarge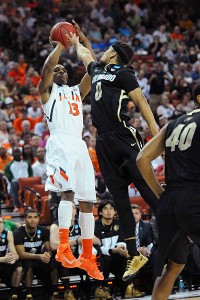 Brendan Maloney/USA TODAY SportsTracy Abrams scored 13 for Illinois on 4-of-10 shooting, and added 6 assists and 4 rebounds.
"It was only fitting that the game was maybe as strange a game -- as far as the ebb and flow of it -- that I have been associated with this group,'' said Illinois coach John Groce. "We have done it the hard way with this group a lot.''
"We just find ways,'' said Illinois guard
Tracy Abrams
.
Now it is time for Illinois to try to find a way to win against Miami, which appears to be about as intimidating as Tony Montana. The Illini get the No. 2 seeded Hurricanes here in Austin on Sunday. So they get to deal with size -- three players of 6-foot-10 or better in the rotation; speed --
Shane Larkin
moves like mercury on marble; and an experienced coach -- Jim Larranaga has been there, done that, with much less talent, just a few years ago at George Mason. It appears to be a daunting task for an Illinois program that slogged through the first nine games of its Big Ten schedule at 2-7. Miami started ACC play 13-0, by the way. Oh, and the Hurricanes had a 27-point win over then-No. 1 Duke.
"I know that they have got great size and they are going to play very hard,'' Groce said.
Illinois had its win over a No. 1, too, beating Indiana 74-72 on Feb. 7. So the Fighting Illini are capable. But they also need to be held culpable for their errors. It was those errors -- all 14 of them in a row -- plus a couple of turnovers, that might leave some wondering just how big a mismatch Sunday will be. (Did anyone mention Miami won
78-49
and had nine guys score in the first half against Pacific on Friday? Well, it did.)
OK, there are a few glimmers of hope. Illini guard
Brandon Paul
didn't improve his shooting percentage -- he is a 40 percent guy -- but did make 9 of 10 free throws, five of which helped seal the game. In fact, for as bad as the Illini were from the field (30.8 percent), they were solid from the line (70.8 percent).
"
D.J. [Richardson]
was in my ear, telling me to just keeping fighting,'' Paul said.
Then there was the defense and the rebounding. Illinois has now held two tournament teams under 50 points in its past three games -- Minnesota in the Big Ten tournament and Colorado (21-12) on Friday. The Illini, despite giving up 14 rebounds to
Josh Scott
, were able to win the battle of the boards 37-36. And that was crucial in a game where misses were rampant -- and will be crucial again against the taller, thicker Hurricanes.
Illinois proved it could close. After failing so miserably from the field and falling behind, the Illini finished on an 18-5 run. One might say that they looked into the abyss and didn't blink. Miami looms large; if they can look at the Ibis and do the same, they just might be OK.
January, 3, 2013
1/03/13
2:50
PM CT
Saddle Up is our semi-daily preview of the night's best basketball action. It is glad its neighbors don't participate in this tradition.


No. 2 Michigan at Northwestern, 7 p.m. ET, ESPN2
: Winning on the road in the Big Ten is (almost) never easy, and the Wolverines will be missing star off guard
Tim Hardaway Jr.
Northwestern's Welsh-Ryan Arena can be a tricky place to play, even if your fans make up half of the crowd. Michigan's strength is offense, and offense can occasionally abandon you on the road.
I could probably go on like this for a little while, listing off all the reasons why Michigan could lose at Northwestern tonight. And you know what? Yeah. Sure. Maybe. It could happen. But I sincerely doubt it will.
Were Michigan traveling to Welsh-Ryan to play a Northwestern team that included
Drew Crawford
(who suffered a season-ending shoulder injury in December),
JerShon Cobb
(who was suspended for the season this fall) or even
Reggie Hearn
(who is likely to miss Thursday night's game with an injury), then this game might be a legitimately scary one for Michigan fans. With Crawford and Hearn, as well as some solid big-man play from Louisville transfer
Jared Swopshire
and impressive 7-foot freshman
Alex Olah
, Northwestern was playing pretty well to start the season. With Cobb, this team might have been the one.
Alas, that always seems to be the talk in Evanston --
if only X were true!
The Wildcats team that Northwestern fans are faced with is considerably undermanned on both sides of the ball but particularly on defense, where Michigan plays some of the sweetest and most efficient hoop in the country.
Even without Hardaway -- who cooled off a bit after he scored 18.3 ppg in three straight November wins over Pitt, Kansas State and NC State -- the Wolverines offense features the nation's best shooter, freshman
Nik Stauskus
, great size and depth with
Jordan Morgan
and
Mitch McGary
and the immense athleticism of freshman
Glenn Robinson III
, whose offensive rating of 129.1 (on 18.1 percent usage) is outstripped only by
Trey Burke
's (133.5, 27.1 percent) and Stauskus, who makes everything (136.7, 17.1 percent).
Burke is smart, hard-charging, Big Ten-tested and totally capable, and he leads the most talented group of players John Beilein has ever coached. The offensive result is a joy to watch.


Colorado at No. 3 Arizona, 8 p.m. ET, ESPNU
: ESPN Insider's John Gasaway was tasked with discussing the
Oklahoma State Cowboys
, whose resurgence has been timed perfectly with the emergence of a Big 12 that, other than Kansas, looks anywhere from mediocre to downright bad. At the risk of giving up too much of our Insider content -- pony up, kids! -- one of John's points not only applies to Oklahoma State but to Arizona too. Under "Don't apologize for your 'down' league, dominate it," John writes:
The Cowboys' resurgence comes at a time when the non-Kansas Big 12 looks about as weak as we've seen for a good long while, at least on paper. But how much weight does that paper really carry when it comes to actual games? Good question. Note for example that in recent years the Pac-12 has tended to sport a very bad conference-wide number for average team strength, and I've been quick to mount what might be called the "Hey, it's not Washington's or Cal's fault the Pac-12 commissioner added Utah for football" defense. In other words, one or two unusually bad teams can bring down a whole league's "average" strength.
This was half of the problem with the Pac-12 last season, the year in which it became the first power six league to crown a regular-season champion that was not awarded an at-large bid to the NCAA tournament. That statistic, embarrassing as it may be, came about because A) the Pac-12 didn't beat anyone in the nonconference season, and B) by the time its best teams needed NCAA bubble help, there was nothing to distinguish the regular-season champ. The whole season was a big pile of blah salad.
That will not be the case in the Pac-12 this season. Stanford and Cal are decent teams. Colorado, UCLA and Oregon have Top-25 potential, and if UCLA ever figures out how to play a lick of defense with its talent, it could still prove scary good.
Then there's Arizona. The Wildcats appear to be a bona fide national title contender. You can cast doubt because the important wins have been so very close -- beating both San Diego State and Florida on the final possession of the game -- but when you consider the fact that Arizona went ahead and won those games despite being so young and so reliant on a transfer point guard (
Mark Lyons
), well, I don't care how tight those wins were. They were wins, and they hint at a potential that only a handful of teams across the country can look to match.
That is how the Pac-12 is different this season. Not only are there more good teams, there is at least one with a shot to cut down the nets in March. Arizona doesn't have the 2012 Pac-12 to apologize for anymore; tonight's matchup with a good Colorado team is no walk in the park, and if the Buffaloes spring the upset, that will say as much about Tad Boyle's team as Sean Miller's. The Wildcats don't need that excuse, anyway. They just need to dominate.
Elsewhere:
UCLA begins conference play by hosting Cal
. Let's see if the Bruins have figured out how to guard opposing guards yet, because Cal's
Allen Crabbe
is one of the conference's best (20.9 ppg). … The other
Pac-12 game is Stanford at USC
. Remember when Kevin O'Neill sold his USC team as a potential tournament squad? That was fun. His team is now 5-8 with losses to Nebraska, UC Irvine and Georgia. But hey, at least USC football is in good hands. … The truly good mid-major stuff is at a minimum Thursday night, but
Fairfield's trip to Canisius
-- the same Canisius team that won at Temple a few days before Temple beat Syracuse on the road -- is an interesting one. (That Canisius-Temple-Syracuse thing is going to lead us down some truly awesome transitive property rabbit holes by the time the season is over. Just you wait.)
TOP 25 SCOREBOARD
Thursday, 11/20
Saturday, 11/22
TOP PERFORMERS
S. Perine Oklahoma - RB
34 car, 427 yds, 5 tds

V. Mayle Washington St - WR
15 rec, 252 yds, 0 tds