Chicago Colleges:

Corey Lewis
September, 13, 2013
Sep 13
6:50
AM CT
Illinois is a surprising 2-0 after last week's thumping of Cincinnati. The reasons the Illini look so much better to start the season include the arrival of offensive coordinator Bill Cubit, better overall health and ... a video game tournament?
Senior tight end
Evan Wilson
suggests that as one factor. Several players battled head to head in NBA 2K13 this summer, with receiver
Miles Osei
beating out tight end
Jon Davis
for the championship.
"A lot of feelings were hurt," Wilson says.
[+] Enlarge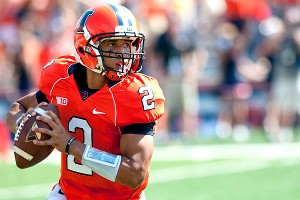 Bradley Leeb/USA TODAY SportsNathan Scheelhaase and his Illinois teammates have gotten off to a strong start.
But Wilson said that tournament was one example of how the team came together to form a family-style bond unit this offseason. It's an effort that began shortly after Illinois lost to Northwestern last November to complete a dismal 2-10 season.
"We had a meeting right after that game where we all made a pact to buy in," offensive lineman
Corey Lewis
said. "Everybody agreed to buy into the system, and we really harped on that."
Lewis said players made a conscious effort to spend more time together in the offseason, eating meals at the same time, going to the movies and doing community service projects. Head coach Tim Beckman continued to foster that during training camp with a team outing to a local water park.
"We were just getting to know each other more," Lewis said. "A lot of times, you see seniors who have no idea what the freshmen are like. But I think we're a tight-knit group. Our seniors talk to our freshmen. There are no cliques or anything like that. We're a family."
A healthy dose of skepticism here is understandable, as many teams talk about offseason bonding techniques. But Beckman stressed throughout the offseason that his players were doing everything right on the field, in the classroom and in the community. He sensed that his second year as coach in Champaign was building toward something better.
"We had done so many great things for 10 months, but of course you don't play a football game so you don't know," Beckman said this week. "But these players have bought in to all the things we've asked to do. You can see those things hopefully corresponding to and relating to what we do on the football field. At least in the last two games, the hard work we put in in January and the offseason paid off for us."
The most obvious change for Illinois on the field is the vast improvement by the offense. Quarterback
Nathan Scheelhaase
has thrown for 728 yards and six touchdowns through two weeks. Last season, the Illini had three passing touchdowns in their entire eight-game Big Ten season. The team averaged just 11.8 points in its final eight games of 2012; so far through two games, it is scoring 43.5 points per game.
Cubit's spread system is a big key to that, obviously, but so is Scheelhaase's health. The senior battled through injuries nearly all season in 2012, and when he went in for a postseason knee examination, "it was a lot worse than people thought," Beckman said.
It also helps to have senior linebacker
Jonathan Brown
back and healthy. He leads the team with 23 tackles after dealing with a series of injuries a year ago. While 2012 was mostly one to forget for everyone associated with the Illini, the sting of that memory drove the team.
"It's hard to stay positive in a 2-10 season, and at some points there wasn't any positivity around here," Brown said. "The biggest thing is that you use the losing and all the setbacks from last year as motivation. That's probably the best motivation you could have."
Wilson said the Cincinnati win was "vindication that there's a different atmosphere here," while Lewis says it "felt great to prove people wrong." At the same time, Illinois also started 2-1 last year before collapsing, and this week's game against No. 19 Washington at Soldier Field brings another jump in competition level.
The Illini still have much to prove. But if they can manage to pull off another upset, they might crack the Top 25 next week, believe it or not.
"I think a win would boost the program and really put us back on a national scale," Wilson said. "It would let people know Illinois is back, and we're still playing good football. That's all that matters to me."
November, 7, 2012
11/07/12
2:00
PM CT
The Big Ten hands out awards for practically everything at the end of the regular season, but the league lacks a comeback player of the year honor.
If it did, Illinois'
Corey Lewis
would be the obvious choice.
Most probably didn't notice Lewis trotting on the field for Illinois' third offensive series last Saturday against Ohio State. Despite being 6-foot-6 and 310 pounds, Lewis, like most offensive linemen, often goes unnoticed. But when he lined up at right tackle for the Illini, it completed one of the longest and toughest journeys back to the game field that you'll ever hear about.
"Not five," Illinois coach Tim Beckman said when asked if he had ever seen a player return from five knee surgeries.
[+] Enlarge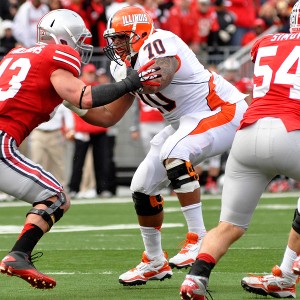 Photo/University of Illinois AthleticsIllinois offensive lineman Corey Lewis has come back from five knee surgeries to play.
That's how many Lewis has had to endure since tearing the ACL in his left knee for the first time in Illinois' spring game of 2010. He tore the same ACL two more times during workouts, needed another procedure when infection prevented a graft from healing in his leg, and underwent arthroscopic surgery on his right knee after overcompensating because of his left knee issues.
Yet all the setbacks never stopped Lewis from moving forward. And more than 1,000 days after he played his last game -- the 2009 regular-season finale at Fresno State -- he returned to the line at Ohio Stadium.
"When I did come on the field finally for my first rep in two and a half years, my heart was racing," Lewis told ESPN.com. "It was beating so fast. The adrenaline was going. It was just an exciting moment."
Lewis appeared in four games as a true freshman and played all 12 as a sophomore in 2009. Along with other talented young linemen like tackle Jeff Allen, Lewis looked to be part of the nucleus of Illinois' offensive line for years to come.
But everything changed once Lewis tore the ACL during a 2-minute drill segment in the spring game.
"I never thought I could be injured," he said. "I thought I was Superman. So it was rough for me. I always heard about people tearing their ACLs and going through stuff. I just never saw it happening to me. When it happened, it was just devastating."
The subsequent injuries proved to be even worse. Lewis' third ACL procedure, in March, was a low point.
Did he ever think about giving up the game?
"Stuff like that definitely creeps in the back of your head," Lewis said. "But I just looked at it like, I'm going to keep giving it a shot until all my years are up. What motivates me the most are my teammates.
"I didn't want football to be over for me."
He continued to attack his rehab, and by September, doctors cleared him to practice. Lewis hoped to return for Illinois' Oct. 27 game against Indiana but didn't get the final green light until last week.
The knee isn't quite 100 percent, Lewis said, but he's gaining more strength and more trust in it.
"You still have a little doubt at times because [the ligament tears have] happened multiple times, so that's in the back of your head," Lewis said. "But I think the more I keep playing, the more reps I get, the more I'll be able to trust it. That's the main thing, just knocking the rust off and being able to get back to my old ways.
"I'm only at like seven and a half months [since the last surgery], but over time, it will just continue to get better with the more I play."
Lewis intends to play a lot more at Illinois. Not just the rest of this fall, but he expects to return for a full season in 2013. He's seeking a sixth year of eligibility from the NCAA.
After all he has been through, it'd be a crime if he doesn't get it.
"That's what college football is all about," Beckman said. "A lot of people don't understand what all he's been through in the last two years, through rehab, through medically, getting himself prepared to step back out there on the field after an injury. That's why I coach, so you get to see those experiences.
"The best experience I had was him running off the field [last Saturday] after that series, seeing the smile on his face."
Despite Illinois' loss to Ohio State, the congratulatory messages for Lewis streamed in after the game, many of which can be found on his
Twitter page
. Former teammates like Allen, now with the Kansas City Chiefs, and current teammates like Illini center
Graham Pocic
were among those who acknowledged Lewis.
"I just learned I'm not a quitter," Lewis said. "I'm a dedicated person. Once I signed here to play here, that was my main goal, to play again, to play for Illini Nation and to play for this team. I love football. That's why I wanted to be able to get back."
TOP 25 SCOREBOARD
Thursday, 12/5
Friday, 12/6
Saturday, 12/7
TOP PERFORMERS