Chicago Colleges:

Corey Nelson
September, 28, 2013
9/28/13
10:30
PM CT
SOUTH BEND, Ind. — After Oklahoma called a timeout with 1:21 to play and the ball at the Notre Dame 17-yard line on Saturday, "Boomer! Sooner!" chants began to rain down from the crimson-clad contingent seated near Notre Dame Stadium's northeast corner, threatening to turn this place into Owen Field North. The Irish's student section responded with furious chants of "Let's Go, Irish!"
Two kneels and one final horn later, everyone was left to figure out where these Irish go from here.
Notre Dame had been flirting with a result like this in its previous three games. And, just like they did against Michigan three weeks ago, the Irish once again ran into a team more than happy to take advantage of another rough opening.
[+] Enlarge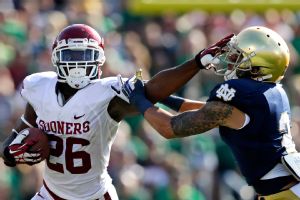 AP Photo/Darron CummingsThe Irish surrendered 212 rushing yards against the Sooners.
Starting painfully slow is just no way to live. And after a 35-21 loss to Oklahoma, Notre Dame's second defeat this month, neither is essentially having to win seven remaining games to return to a BCS bowl for the second year in a row.
"You never expect those things, but they happen," coach Brian Kelly said of the Irish's early mistakes. "That's why we have ulcers in this business."
In front of a green-out crowd against the Sooners, those gaffes were interceptions on back-to-back
Tommy Rees
throws on the Irish's first two drives, leading to an early 14-0 deficit. Much like Michigan showed in Notre Dame's other loss -- and much like Purdue and Michigan State couldn't, try as they might -- Oklahoma proved once again that shootouts are not conducive to the Irish's style.
Rees threw three picks against the Sooners, which accounted for one more than the two he had thrown in four starts entering the contest. Oklahoma converted those turnovers into 21 points, including a 24-yard
Corey Nelson
pick-six on the game's first possession.
Andrew Hendrix
provided a nice wrinkle in some zone-read packages, and the Irish finally got the ground game going behind
George Atkinson III
, who tallied a career-best 148 yards.
But after falling behind by two scores, they began just two drives while trailing by just one score -- the second of which ended with Rees getting picked off by
Julian Wilson
on third-and-10 with the Irish in field goal range. Oklahoma then went 88 yards in 10 plays to take a 21-7 lead 42 seconds before halftime.
"I don't know about a dream-like start," Oklahoma coach Bob Stoops said, "but a good start."
Stoops went on to say that toughness was not a problem with his Sooners, and that they did not lose to the Irish at home last year because of physical football.
Call it what whatever you want, but it was something that Notre Dame mastered last year, especially in its near-perfect outing in Norman.
Then, the Irish won the turnover battle 1-0. They limited Oklahoma to just 15 rushing yards. They won 30-13.
On Saturday, they lost the turnover battle 3-0. They surrendered 212 rushing yards. And they were down 14-0 less than three minutes into the game.
"I'm not sure, to be honest. I don't know how we fix our slow start," co-captain
TJ Jones
said. "I think it's just kind of a collective thing to come out with -- I really don't know what it is. Whether it's feeding off the energy and executing plays or not letting the mis-execution of plays slow us down."
Added Kelly: "Look, if I knew what that was, I would not be standing here right now. I'd be doing something else. This is my 23rd year as a head coach. You never expect to not pick up the simplest of stunts and have your quarterback get the ball stripped. You never expect not to run the right route when you're supposed to."
No, Notre Dame does not know how it got here, and it does not exactly know how to leave here, either. The student section booed heavily when the Irish began to head up the tunnel instead of staying for the alma mater. Fifth-year senior
Carlo Calabrese
urged his teammates to come back out and sing, per postgame ritual. They obliged, though it turns out a new team policy, instituted two years ago, calls for the players to regroup first in the locker room following a loss before reappearing and crooning.
Notre Dame had not lost in the 10 home games since the creation of that policy, a streak that came to an end against the Sooners. The Irish's national title dreams -- the Jan. 6 date at the BCS National Championship that is listed inside the football complex for all to see — are long gone. Their BCS bowl hopes are on life support.
"This season's a new season, we're a different team," co-captain
Bennett Jackson
said. "We have different characteristics as a team, and we take each game each week. We can't do anything about the past. As a team, we're going to come together and try to win the rest of our games. That's our main objective."
September, 23, 2013
9/23/13
10:00
AM CT
NORMAN, Okla. -- Is Oklahoma a BCS title contender? Or a pretender?
Those questions will start to get answered on Saturday when the Sooners visit South Bend, Ind., to take on Notre Dame.
[+] Enlarge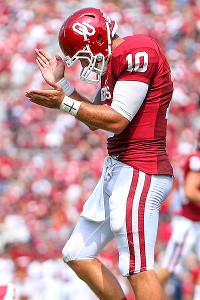 Kevin Jairaj/USA TODAY SportsIf Blake Bell can help the Sooners control tempo and execute in the red zone, OU's chance of winning at Notre Dame increases.
Turnovers, third down efficiency and sacks are obvious statistics that point to the eventual winner. But here are five overlooked stats to keep on eye on if the Sooners hope to knock off the Fighting Irish.
Rush attempts:
OU will want to establish the running game and be much more balanced than it was during its 30-13 loss to ND in Norman last season. The Sooners passed the ball 52 times and ran 24 times in that defeat.
Why it matters:
If OU's rushing attempts surpass 35, that likely means the Sooners are having success on the ground, particularly on first down. Four- or five-yard gains on first down will increase the chances of second down rushes. One- or two-yard gains will not. If the Sooners can run the ball, their odds of winning increase significantly.
Tackles for loss:
The Sooners need to play the majority of the game on Notre Dame's side of the line of scrimmage. OU had two tackles for loss against the Fighting Irish in 2012 as Notre Dame was never really taken out of its comfort level despite starting a redshirt freshman quarterback in Everett Golson.
Why it matters:
Mike Stoops' defense has been much more aggressive this season with more blitzing and a one-gap scheme along the defensive line. Those moves were made to get more penetration into opponent's backfield. If OU has five or more tackles for loss on Saturday, that's a great sign. If not, its defense could be losing the battle in the trenches.
Tackles recorded by Sooners' linebackers:
OU's leading tacklers after three games are
Corey Nelson
and
Frank Shannon
. Last season, the Sooners' leading tacklers were safeties Tony Jefferson and Javon Harris. Jefferson and cornerback
Aaron Colvin
combined for 21 tackles in OU's loss to ND last year, a sign that the defensive line and linebackers were subpar at best.
Why it matters:
Nelson and Shannon have played extremely well, along with pass rush specialist
Eric Striker
. If Nelson and Shannon are making plays sideline-to-sideline and Striker is getting pressure on ND quarterback
Tommy Rees
, the Sooners defense will have the chance to dominate the game. If OU safeties
Gabe Lynn
and
Quentin Hayes
are making the majority of the tackles, that means Nelson and Shannon aren't stepping up their game against the run or pass.
Red zone efficiency:
People often talk about how the Irish came into OU's house and dominated the Sooners in their last meeting. OU was 1 of 5 in the red zone in that loss, a negative state in a game that was tied 13-13 with just under 12 minutes left in regulation. Clearly, the Sooners weren't that far away from leaving Memorial Stadium with a win. Worse yet, they were 1 of 3 in goal-to-go situations that evening.
Why it matters:
Scoring points and capitalizing on opportunities decide games, particularly games between two quality opponents. The Sooners can't expect to win if they make consistent trips into the red zone and don't come away with points like they did in 2012.
Blake Bell
scored OU's lone touchdown last season, so the Sooners should be able to come up with ways to use Bell's skill set to make things harder on ND's defense. OU was 4 of 7 in the red zone and 3 of 4 on goal-to-go situations against Tulsa on Sept. 14 -- Bell's lone start this season -- but they'll need to be even more efficient against the Irish.
Time of possession:
There are several games where time of possession is irrelevant in this era of college football. This game will not be one of them. ND won the time of possession battle in 2012, as the Irish generally controlled the pace of the game.
Why it matters:
If OU can control the ball and maintain possession, it'll help take the crowd out of the game, potentially making things a lot easier in Bell's first collegiate road start. Obviously, if the Sooners can score five touchdowns on drives of two minutes or less to start the game, they'll take it. But the much more realistic scenario is to try to control the pace of the game by maintaining possession, much like the Irish did a year ago.
TOP 25 SCOREBOARD
Thursday, 8/28
Friday, 8/29
Saturday, 8/30
Sunday, 8/31