Chicago Colleges:

Creighton Bluejays
March, 3, 2012
3/03/12
7:58
PM CT
ST. LOUIS — Before Saturday it was assumed that two teams from the Missouri Valley Conference would receive NCAA tournament bids.
Now there may be three.
Tyler Brown
swished a pair of free throws with 6.4 seconds remaining to catapult Illinois State to a
65-64 victory
over 14th-ranked Wichita State — the regular-season league champion — in the semifinals of the MVC tournament at the Scottrade Center.
The Redbirds can earn an automatic bid to the NCAA tournament by defeating the winner of Evansville-Creighton in Sunday's championship. Even if Creighton doesn't win, the Bluejays are expected to receive an at-large berth along with Wichita State.
"Most of the people watching the game probably turned off their TVs when we were down by 10," Brown said. "But we're not that kind of team."
Illinois actually trailed by 13 points late in the first half before shaving the deficit to eight, 36-28, at intermission.
A free throw by Wichita State's
Toure Murry
gave the Shockers a 64-63 advantage with 2 minutes, 51 seconds remaining. Neither team scored again until Brown's free throw with 6.4 seconds left.
"I blocked out everything," Brown said. "It was just me and the rim."
Wichita State still had two more chances to win, but a 17-foot jumper from Murry and a 10-footer by
Garrett Stutz
were both off line. Illinois State players and fans went wild as the final horn sounded.
The win snapped Illinois State's string of 24 straight losses against ranked teams, a streak that dated back to 1987.
The Redbirds — who don't feature a single senior in their rotation — haven't been to the NCAA tournament since 1998. They went 9-9 in the MVC this season and are 20-12 overall.
"This was one of the toughest, hardest-fought performances by any team I've ever been around," fifth-year Illinois State coach Tim Jankovich said.
Illinois State won Saturday despite shooting just 33.9 percent from the field and getting outrebounded 40-34. Jankovich credited his team's defense for the victory. The Redbirds held Wichita State to 34.9 percent shooting.
"I never ever would've thought we would've shot 33 percent and beat this team," said Jankovich, whose team lost to the Shockers twice this season. "I don't care how you slice it ... that was grit and toughness and all the things that are dear to a coach."
Illinois State will have to step up its game even more if it hopes to win on Sunday, especially if the Redbirds face Creighton. They lost their two regular-season meetings with Creighton by an average of 18.5 points. They'll certainly enter the contest with plenty of momentum.
"I've never felt something like this before," Brown said. "Even though we have another game to win, I've never been a part of something this big. This game meant so much to so many people."
Including the Shockers.
Most bracketologists had pegged Wichita State as a No. 4 or a No. 5 seed in the NCAA tournament. Now it could experience a significant drop.
Shockers coach Greg Marshall scoffed when asked how he planned to "fix" his team's problems before its next game.
"I don't think we're going to do much fixing," Marshall said. "We're 27-5 going [into] the NCAA tournament. I'm looking forward to [playing on a] neutral floor. I feel like we'll have just as good of a shot, if not better, than we had today."
Granted, Saturday's game was on a "neutral floor," too. But it was obvious Marshall wasn't happy with a handful of calls that went against his team. Marshall said the Shockers "didn't play well enough to overcome everything we needed to overcome."
"I saw some strange things out there today," he said. "It's pretty tough to win when you see some strange things like I saw today."
Brown scored 25 points for Illinois State while
Jackie Carmichael
added 12 points and 11 boards.
Joe Ragland
led Wichita State with 17 points.
Ben Smith
had 14 points and 13 rebounds.
"We've got to learn from this loss," Stutz said. "Every other loss, we've learned from and recovered well."
Wichita State had won nine in a row before Saturday.
"How can you learn from a loss?" Marshall said. "Well, you let it sit in the pit of your stomach until it makes you violently ill. Then you expel that feeling and then you go back to work. That's all you can do."
October, 12, 2011
10/12/11
11:08
PM CT
All week, ESPN.com has been breaking down the nonconference schedules of each and every team in a dozen different leagues. On Tuesday, we began with the
ACC
,
SEC
and
C-USA
. On Wednesday, we continued with the
Big East
,
Atlantic 10
and
Colonial
.

We devoted Thursday to the West, with the
Pac-12
,
WCC
and
Mountain West
. Friday is all about the Midwest. Let's begin with a look at the Missouri Valley...

BRADLEY
Toughest
: Chicago Invitational Challenge (Nov. 25-26), at Michigan (Dec. 22)
Next-toughest
: at George Washington (Dec. 15), at Drexel (Dec. 17), BracketBusters (home)
The rest
: UMKC (Nov. 13), Southeast Missouri State (Nov. 16), North Dakota (Nov. 19), Wofford (Nov. 22), at Wyoming (Dec. 3), Northeastern (Dec. 6), Western Carolina (Dec. 20)
Toughness scale (1-10): 7
-- The Braves get the boost from their Chicago Invitational opponent -- Wisconsin -- giving coach Geno Ford at least two top-25 opponents (Michigan being the other) in his first year at Bradley. The I-95 corridor trip to George Washington and Drexel also should be good tests, and the BracketBuster looms in February.

CREIGHTON
Toughest
: at San Diego State (Nov. 30), Northwestern (Dec. 22)
Next-toughest
: at Iowa (Nov. 20), Nebraska (Dec. 4), at Saint Joseph's (Dec. 10), at Tulsa (Dec. 19), BracketBusters (home)
The rest
: Dale Howard Classic (Nov. 11-13), Campbell (Nov. 25), Houston Baptist (Dec. 17)
Toughness scale (1-10): 3
-- The Bluejays will be a hot sleeper pick this season, but they haven't exactly built a schedule to match their reputation. There are no games here that will test how this team compares with its BCS brethren. Creighton, in fact, ought to be favored against the likes of Iowa and Nebraska. Northwestern is a decent test and the road trip to SDSU is part of the MWC/MVC Challenge. The BracketBuster could be entertaining, but even that lacks huge punch as the Bluejays drew a home game. The Dale Howard isn't exactly classic, either -- with North Carolina A&T and Chicago State as the early opponents.
DRAKE
Toughest
: Iowa State (Nov. 15), Paradise Jam (Nov. 18-21)
Next-toughest
: Air Force (Dec. 3), at Iowa (Dec. 17), at BracketBusters
The rest
: Cal State Northridge (Nov. 26), at Boise State (Nov. 30), Eastern Michigan (Dec. 8), Central Arkansas (Dec. 21)
Toughness scale (1-10): 6
-- With Ole Miss in the first game of the Paradise Jam and perhaps Marquette next, this schedule at least has potential. An improving Iowa State team adds some meat, as does a BracketBuster game on the road.

EVANSVILLE
Toughest
: Butler (Nov. 12), at North Carolina (Dec. 6)
Next-toughest
: Indiana (Nov. 16), BracketBusters (home)
The rest
: Oakland City (Nov. 19), at Illinois Chicago (Nov. 23), Alabama State (Nov. 29), TCU (Dec. 3), North Carolina A&T (Dec. 10), Tennessee Tech (Dec. 17), at Miami (Ohio) (Dec. 20)
Toughness scale (1-10): 8
-- The Purple Aces open their new downtown arena in style, bringing Butler to town. It doesn't get any easier after that, with a much-improved Indiana team in town four days later. And then there's that little December trip to Chapel Hill. That's a pretty nice schedule for an Evansville team that returns eight of its top players but still won just 16 games a season ago.

ILLINOIS STATE
Toughest
: Cancun Challenge (Nov. 17-23)
Next-toughest
: at Morehead State (Dec. 7), BracketBusters (home)
The rest
: at Fresno State (Nov. 11), Bethune-Cookman (Nov. 27), Chicago State (Nov. 30), UNC-Wilmington (Dec. 3), Norfolk State (Dec. 18), Arkansas-Little Rock (Dec. 20)
Toughness scale (1-10): 3
-- Granted, the Redbirds are still in growing-pain mode, but this isn't going to do much to impress anyone. The Cancun Challenge -- with Rutgers in the first game in Mexico and either Richmond or Illinois after -- is decent. Otherwise, a home BracketBuster is really the only big game on Illinois State's slate.

INDIANA STATE
Toughest
: Old Spice Classic (Nov. 24-27), at Vanderbilt (Dec. 17)
Next-toughest
: Ball State (Nov. 18), at BracketBusters
The rest
: Eastern Illinois (Nov. 11), at Louisiana-Monroe (Nov. 14), Green Bay (Nov. 21), at Boise State (Dec. 3), Maryville (Dec. 10), Louisiana-Monroe (Dec. 21)
Toughness scale (1-10): 7
-- The Sycamores upset their way into the NCAA tournament last season. They could earn their way in this season, particularly with a good showing at the Old Spice in Orlando. Indiana State gets Texas Tech in the first round there, with a potential strength-of-schedule pop from Minnesota in the next game. Going to Vanderbilt and a road BracketBuster will only improve their reputation. The lone question mark: a home-and-home with Louisiana-Monroe. Really?

MISSOURI STATE
Toughest
: at New Mexico (Dec. 3), Oklahoma State (Dec. 7), Las Vegas Classic (Dec. 22-23)
Next-toughest
: at Nevada (Nov. 11), at Arkansas State (Nov. 15), Tulsa (Nov. 26), BracketBusters (home)
The rest
: Emporia State (Nov. 19), at Oral Roberts (Nov. 30)
Toughness scale (1-10): 8
--
Kyle Weems
will certainly have plenty of opportunities to showcase his talent, particularly in Las Vegas, where the Bears face West Virginia and Saint Mary's. Traveling to The Pit is never fun, and will be even less so this season with the loaded Lobos and
Drew Gordon
. Nevada and Arkansas State could finish atop their leagues, too.

NORTHERN IOWA
Toughest
: at Saint Mary's (Nov. 15), at Iowa State (Nov. 30)
Next-toughest
: at Old Dominion (Nov. 12), Iowa (Dec. 6), at BracketBusters
The rest
: South Padre Island Invitational (Nov. 20-26), Colorado State (Dec. 3), Milwaukee (Dec. 10), Loras (Dec. 19), Ohio (Dec. 20)
Toughness scale (1-10): 7
-- The Panthers get a higher grade here for the sheer logistical tap dance they'll perform to open the season. Northern Iowa travels to Norfolk to face Blaine Taylor's always-reliable Old Dominion team, then hopscotches the country for a 2 a.m. ET tilt against Saint Mary's in the Tip-Off Marathon. And it's not like the Panthers are traveling from Chicago. Getting anywhere from Cedar Falls isn't easy. The South Padre Island Invitational lacks a little luster -- with Northern Colorado, Western Carolina, Rice and Providence making up the field -- but an away BracketBuster could be huge for a team expected to challenge in the Valley.

SOUTHERN ILLINOIS
Toughest
: at Western Michigan (Dec. 11), Diamond Head Classic (Dec. 22-25)
Next-toughest
: Saint Louis (Nov. 15), at BracketBusters
The rest
: Ohio Dominican (Nov. 12), at Northeastern (Nov. 19), Chicago State (Nov. 25), Western Kentucky (Dec. 7), at Northern Illinois (Dec. 17), Southern Illinois-Edwardsville (Dec. 19)
Toughness scale (1-10): 5
-- The pressure is on the Salukis to get back to their glory days. Some wins here would surely help. Diamond Head offers some good head-turning opportunities, with SIU opening against Kansas State and getting either Clemson or UTEP in the next game. Western Michigan is loaded, and Rick Majerus finally has a full roster at SLU.

WICHITA STATE
Toughest
: Puerto Rico Tip-Off (Nov. 17-20), UNLV (Dec. 4)
Next-toughest
: UAB (Nov. 25), at Tulsa (Dec. 7), at BracketBusters
The rest
: Charleston Southern (Nov. 13), Cal State Fullerton (Dec. 1), Utah State (Dec. 10), Chicago State (Dec. 14), Newman University (Dec. 19)
Toughness scale (1-10): 6
-- This isn't a bad schedule but for the Shockers, NIT winners a season ago and potential top-25 team this season, but it's a little light. The Puerto Rico Tip-Off could help. Wichita State gets to go after a BCS scalp in Colorado to start and a game against either Maryland or Alabama will give a real pop to the strength-of-schedule rating. UNLV at home provides a great opportunity to turn some heads, and a road BracketBuster game could be huge.
October, 12, 2011
10/12/11
11:08
PM CT
Here are five questions I can't wait to see answered in the Missouri Valley this season:
1. Is this the year the Valley returns to the glory years?
Before Butler ushered in the new power era of the mid-major, there was the Missouri Valley. In 2006, four conference teams earned NCAA tournament bids and two -- Bradley and Wichita State -- went to the Sweet 16. A year later, Southern Illinois rode a No. 4 seed to regional semifinals as well.
Ever since, the Valley has slipped, falling to the ranks of the one-bid leagues. There have been highlights, of course -- the name Ali Farokhmanesh still sends shivers down the spines of Kansas Jayhawk fans -- but the standard has dipped.
Until perhaps this season. The cyclical nature of basketball is turning in the Valley's favor thanks to rosters heavy with talented upperclassmen. Creighton and defending NIT champion Wichita State both could make a case for a top-25 preseason ranking. Then there is Indiana State, the Valley's NCAA rep a year ago. The Sycamores have stockpiled their nonconference schedule with enough meaty games to turn a few heads.
It all should make for an interesting conference battle and perhaps a richer March for the Missouri Valley.
[+] Enlarge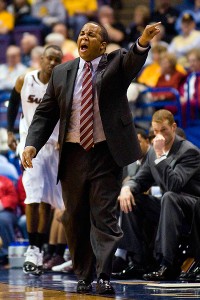 Jeff Curry/US PresswireChris Lowery's Salukis are just 58-67 since the 2007 Sweet 16.
2. Can Chris Lowery jump off the hot seat?
When Southern Illinois inked Lowery to a seven-year extension in 2007, it was smart business. On the heels of a Sweet 16 berth and three incredibly successful seasons, Lowery ranked among the hottest "it" coaches in the country. Now with that deal down to its final three years, Lowery is fighting to save his job. The once-powerful Salukis are just 58-67 since that Sweet 16 run.
Whether this is the year to turn things around remains to be seen.
Mamadou Seck
, the Valleys' leading rebounder a season ago, is back and SIU has a strong recruiting class to bolster its roster. But the Salukis need to rediscover their identity in order to succeed. In those first three years when everything was going so well, Southern Illinois allowed just 57.5 points per game. Ever since, the Salukis have given up 64.6.
3. Can McDermott & Son steal March?
Getting Greg McDermott to return to his Missouri Valley roots -- he led Northern Iowa to three NCAA tournament berths -- was huge for Creighton. Getting Greg's son, Doug, to follow dear old dad to Omaha was even bigger.
The younger McDermott was a stud freshman and is coming off an excellent summer with Team USA. And he's not the only standout for the Bluejays.
Antoine Young
and
Gregory Echenique
give Creighton three of the league's best players and the reason for the early expectations.
But you know how March goes. It's about great storylines and the father-son tandem taking Creighton back to the tournament would make for a heckuva tale.
4. How will following in Cuonzo Martin's footsteps pay off for Paul Lusk?
Following in Martin's wake already has paid off quite well for Lusk. Three years ago, Martin left Purdue to become head coach at Missouri State, making room for Lusk's job bump to associate head coach. This past offseason when Martin left for Tennessee, Lusk grabbed the opportunity by taking over the Bears.
[+] Enlarge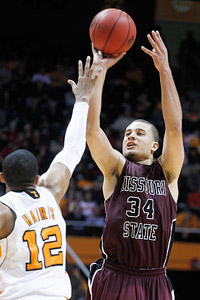 AP Photo/Wade PayneKyle Weems is the reigning Missouri Valley Player of the Year.
He inherits a team with both question marks and bonus points -- the bonus coming in the form of returning Valley player of the year
Kyle Weems
. The conference's most versatile player, Weems averaged 16 points and 6.9 rebounds per game. His supporting cast is gone, though. The loss of four starters means there is work to be done for Lusk, but in Weems the new coach at least has a good foundation.
5. Who will be the Valley player of the year?
Certainly not as interesting q question as who will win the league, but this race could be equally tight. Weems earned the honors last season and he's back in the fold, which should give him an early edge on the competition. But Weems will be playing for a retooling Missouri State team, which could either help or hurt his numbers.
Creighton's McDermott, Young and Echenique are three of the league's nine leading returning scorers. Together they could lead the Bluejays to special things this season, but they also could split the POY vote.
Jake Odum
, point guard extraordinaire, will have to play especially well for Indiana State to return to the NCAA tournament, but confidence is one thing Odum doesn't lack.
And don't discount a few sleepers: Mamadou Seck will have to put up big numbers if Southern Illinois is going to regroup, and at Evansville,
Colt Ryan
already has 125 3-pointers in just two seasons. The Purple Aces, who return the majority of their team and debut a new downtown arena, are on the uptick.
October, 12, 2011
10/12/11
11:06
PM CT
Before we get to the Blue Ribbon team-by-team previews for the Missouri Valley, here is Dana O'Neil's wind sprint through the league:
Blue Ribbon's in-depth previews of all 10 MVC teams:

Bradley
Creighton
Drake
Evansville
Illinois State
Indiana State
Missouri State
Northern Iowa

Southern Illinois
Wichita State
More Missouri Valley content
:
-- Dana O'Neil with
Five Things I Can't Wait To See
in the MVC.
-- Jay Bilas examines
five burning questions
in the league.
-- New Faces, New Places: O'Neil on
Bradley coach Geno Ford
and Diamond Leung on
Missouri State coach Paul Lusk
.
-- Andy Katz thinks Creighton is
primed for a return to its glory years
.
-- Creighton and Wichita State are the favorites, but Katz says
we shouldn't forget about Indiana State
in the MVC race.
-- Reggie Rankin gives us the
recruiting picture
in the Missouri Valley.
-- Let's take a team-by-team look at the
league's nonconference schedules
.
-- For more coverage of the Valley in the Nation blog,
click here
.
TOP 25 SCOREBOARD
Saturday, 12/21
Monday, 12/23
Tuesday, 12/24
Thursday, 12/26
Friday, 12/27
Saturday, 12/28
Monday, 12/30
Tuesday, 12/31
Wednesday, 1/1
Thursday, 1/2
Friday, 1/3
Saturday, 1/4
Sunday, 1/5
Monday, 1/6
TOP PERFORMERS