Chicago Colleges:

Darius Fleming
November, 28, 2011
11/28/11
12:00
PM CT
It's time to take one more look back at Notre Dame's regular-season ending 28-14 loss at Stanford.
[+] Enlarge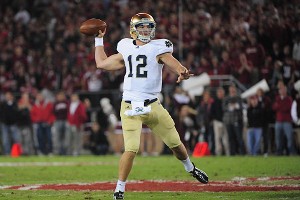 Kyle Terada/US PresswireQuarterback Andrew Hendrix saw extensive playing time in Notre Dame's loss against Stanford.
The Good:
Better late than never, right?
Andrew Hendrix
saw his first extended action since Oct. 22 against USC, playing the entire second half. The sophomore completed 11 of 24 passes for 192 yards and a touchdown, and added 20 rushing yards and another touchdown on 12 carries.
The Bad:
Whatever BCS-bowl hopes Notre Dame hung onto went up in flames with a convincing road loss against a likely BCS bowl team. The Irish were out-gained 287-75 in a first half that ended with them trailing 21-0.
The Ugly:
In falling to 1-3 against ranked opponents this season, Notre Dame surrendered five sacks, missed a 20-yard field goal and committed 10 penalties for 68 yards. Not the recipe for beating a top-10 team on the road.
Turning point:
After Darius Fleming picked off
Andrew Luck
in the second quarter and returned the ball -- with the help of a horse-collar penalty -- to the Stanford 11, David Ruffer missed a 20-yard field goal. Luck and the Cardinal then marched 80 yards in 10 plays, ending with a 28-yard touchdown pass to
Coby Fleener
that made it 14-0 and swung the momentum.
Call of the day:
Hard to point to just one call, but Stanford did a tremendous job of taking advantage of its massive tight ends against the Irish's small cornerbacks. Luck hit 6-foot-8
Levine Toilolo
for a three-yard touchdown pass on a first-quarter fade route when Toilolo was matched up against the 5-11 Gary Gray. For his second touchdown pass, Luck hit the 6-6, 244-pound Fleener near the 14-yard line when he was covered by the 6-1 Robert Blanton. Fleener essentially dragged Blanton the rest of the way into the end zone, resulting in a 28-yard touchdown pass and 14-0 Stanford lead in the second quarter.
Next up:
Despite its 3-0 ACC record (4-0 if you include soon-to-be ACC school Pittsburgh), Notre Dame will not be playing in this Saturday's ACC title game. That contest will feature Clemson and Virginia Tech. The Irish might get Clemson in the Champs Sports Bowl if the Tigers fall Saturday, but the Irish's bowl and opponent is, at the moment, not yet officially determined.
November, 12, 2011
11/12/11
7:43
PM CT
LANDOVER, Md. — Darius Fleming is tonight's game captain for the Irish, joining season captain Harrison Smith. Fleming, normally No. 45, is wearing No. 46 tonight in honor of teammate and fellow Chicago native Steve Filer, who is out for the year with an apparent ACL tear.

Maryland won the toss — flipped by Joe Theismann — and will receive the ball first.

Also worth noting is that senior end Ethan Johnson was lined up with the first-team defensive line in warmups. Johnson is expected to play tonight for the first time after spraining his right ankle on the first snap Oct. 1 at Purdue. He has dressed for the three previous games but did not see any action.
November, 10, 2011
11/10/11
6:33
PM CT
SOUTH BEND, Ind. -- Steve Filer is likely out for the season after suffering an apparent anterior cruciate ligament tear in practice Wednesday.

Brian Kelly said Thursday that Filer, a senior linebacker from Chicago, suffered the injury in a non-contact drill. With no eligibility remaining after this season, Filer's career appears to be over.

Kelly added that fellow senior linebacker and Chicago native Darius Fleming will wear Filer's No. 46 jersey this Saturday in his honor. Fleming normally wears No. 45.
September, 24, 2011
9/24/11
7:55
PM CT
PITTSBURGH — This wasn't a shellacking of the reigning Big Ten champs, but it was enough to move the Irish to .500. Here, we reward those who played big roles in the win.

Tyler Eifert:
Game-highs of eight catches and 75 yards will get you credit, as will four catches on the go-ahead drive, including the touchdown and two-point conversion receptions. On a day Notre Dame's biggest threat couldn't get anything going, Eifert stepped up in a big way.
Cierre Wood and Jonas Gray:
This wasn't the way the Irish drew it up, but it was successful nonetheless. Wood, the starter, was a force throughout, carrying it 23 times for 94 yards. Gray, who was supposed to wear defenses down, carried just three times for 84 yards, with his 79-yard touchdown proving huge in a close, low-scoring game.
Manti Te'o:
Te'o once again paced the defense, recording a game-high 10 tackles, notching one of the Irish's five sacks and accounting for one of their four quarterback hurries.
Tino Sunseri
had to earn every yard he got in what turned into an old-fashioned brawl at Heinz Field.
Darius Fleming:
Fleming had two of Notre Dame's five sacks and recorded three tackles for loss, pressuring Sunseri all afternoon. He had one quarterback hurry, too, and is elevating his status after Brian Kelly's "good not great" comment about his performance two short weeks ago.
August, 17, 2011
8/17/11
1:08
AM CT
SOUTH BEND, Ind. --
Notre Dame
sophomore quarterback
Tommy Rees
doesn't even like facing senior linebacker Darius Fleming in practice.
Rees said he can't imagine what it'd be like in a real game.
"He's tough to play against every day, I'll tell you," Rees said. "He's so fast off the ball that he gives our tackles a handful every day. He can disrupt the pocket, and he can drop out and cover."
[+] Enlarge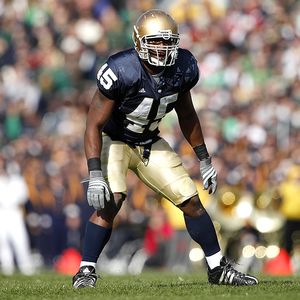 Joe Robbins/Getty ImagesThe Irish expect linebacker Darius Fleming to be an impact player this season.
That's just what Notre Dame coach Brian Kelly had in mind when he moved Fleming to the Irish's Cat linebacker position last year. With Fleming's unique combination of size, speed and power, Kelly knew Fleming could be one of the game's most dominating defensive players.
Kelly said he is ready for that to happen this season, especially from what he has seen so far of Fleming in practices.
"He's been a dominating player," Kelly said. "He has overwhelmed our offensive line at times. I don't use that word lightly. He's overwhelmed some of our players. He's now in that position where we believe he can be an impact player for us."
Getting there was a process for the 6-foot-2, 255-pound Fleming. When he was switched to the Cat linebacker last year, it took him part of the season to adjust to having the responsibilities of rushing and dropping back in coverage. There were plays he wasn't sure whether he was coming or going.
"It was just different," said Fleming, who played at St. Rita High School in Chicago. "In the past, I didn't drop back that much. At times, I may have been confused."
Fleming said he felt he started to turn the corner at the position in the ninth game last season. The difference was he didn't need to think as much and was just able to play.
In Notre Dame's final five games, Fleming had 18 tackles, including five tackles for loss. He finished the season with 49 tackles and 11 tackles for loss.
Fleming said he is ready to build on that.
"I'm just being more confident in myself and being more confident in my position," Fleming said. "Being more confident with my drops and rushes, it allows me to play faster and not think."
And when Fleming is able to do that, there are not many players around who have his ability. Notre Dame defensive coordinator Bob Diaco can attest to that.
"Darius Fleming can create stress on a tackle that other players can't because he's got a unique combination of speed and power," Diaco said. "He can generate a lot of power through his core and knock blockers back and create speed. That's rare."
August, 16, 2011
8/16/11
6:08
PM CT
SOUTH BEND, Ind. -- Standing before more than 100 media members ready to ask him questions at Tuesday's media day,
Notre Dame
coach Brian Kelly stated in the opening moments he still has questions of his own about this year's team.
Kelly still isn't sure who his starting quarterback will be. He has question marks at offensive backup positions. He wonders if Notre Dame has the depth to compete with the nation's best teams.
"Expectations are always high at Notre Dame, but I can't give you a whole lot about our football team until I get another 10 days to two weeks with them," Kelly said. "I can give you some early thoughts. I can give you some clearer pictures relative to our football team to where are position-wise. But we're still cooking; we're still developing who we are in 2011."
[+] Enlarge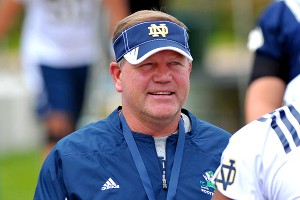 Matt Cashore/US PresswireNotre Dame coach Brian Kelly says it's too early to tell how the Irish will shape up this season.
While Notre Dame's identity may be unclear, Kelly said he witnessed enough in his team during a week of practice to know its focus is exactly where he wants it to be. It won't be determined for some time whether the Irish will play like champions this season, but their mindset is already there.
"This group has been as focused about the task at hand relative to their preparation in 2011 than any team I've coached," Kelly said. "Extremely professionally, they go to work every day with a purpose. It hasn't been a camp where we've had to take out the stick and get these guys to practice. They really enjoy practicing. They really enjoy the preparation. I enjoy that as a coach.
"The greatest joys will be in winning. I get that. But this is a team that I really enjoy coaching because they come to work every day."
Kelly admitted not all his teams throughout his 20-year head-coaching career have had that focus. He has seen it before in a few of his special ones at Grand Valley State and Cincinnati.
"They were so locked in that they had that kind of steely eyed focus when you walked into the locker room, you knew it was just, let them play," Kelly said. "Just let the dogs hunt. This group does a great job of keeping the distractions at bay as well. They don't get distracted. There can be things going off around them, and they can stay focused at the task at hand."
So, why now does it click for Notre Dame? Kelly had an easy explanation.
"They want and desire to be a championship football team," Kelly said. "It's been a long time. They've only won six games two years ago and eight games [last season]. That doesn't fill you up, I believe."
Notre Dame's players have noticed that same change in their approach. The seniors at Tuesday's media day agreed with Kelly's reasoning. Their focus grew more intense because they've come to the realization their college careers haven't lived up to expectations. They came to Notre Dame with aspirations to win big, and that hasn't occurred, going just 21-17 over their first three seasons.
"I've been here for four years," Notre Dame senior linebacker Darius Fleming said. "I've been here for some of the low points. My dad always tells me you have to learn how to lose before you can learn how to win. We've had our seasons; we've had our rough times.
"We know what we're capable of. We know we can do big things. We're going into practice every day with a hunger mindset, just trying to compete."
Senior defensive end Kapron Lewis-Moore said he believes the sea of change began during the team's season-ending four-game winning streak.
"I want to say ever since last season and the way we ended last season it's been a different feel in the air around the program in what our potential can be as far as the football team," Lewis-Moore said. "We've been staying focused and chipping away."
August, 7, 2010
8/07/10
7:29
PM CT
By
Wes Morgan
| ESPNChicago.com
SOUTH BEND, Ind. -- The Notre Dame football team clocked in for its first fall practice on Saturday fully understanding first-year coach Brian Kelly's expectations.
Unlike the system-shocking spring, the Fighting Irish appeared well prepared for the red-line pace at which Kelly and his staff operate.
"The more you get used to something, the more you get comfortable, the better you get at it and the more familiar you are with it," said sophomore inside linebacker Manti Te'o. "[And] the more smooth you move, and our defense as a whole is moving very well out there."
[+] Enlarge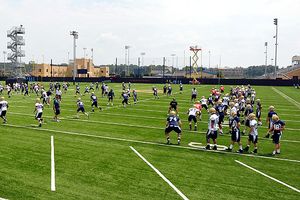 Matt Cashore/US PresswireThe defense is of prime concern as Notre Dame kicks off its preseason workouts.
The Irish defense, which allowed nearly 400 yards and 26 points-per-game last season, has the most issues to iron out. Often outspoken, senior outside linebacker Brian Smith prudently addressed the criticism his unit faced last season and the motivation moving forward.
"We've got a lot of work to do, so we need this time," said Smith, who isn't rushing to get at Purdue in the Irish's Sept. 4 opener. "We don't really need to prove anything to anybody else but ourselves. We just need to go out there and be the best we can be."
St. Rita High School product Darius Fleming, a junior working opposite Smith, said cracking pads against Notre Dame's new spread offense each day will only bolster the defense on Saturdays.
"It's fun and exciting," he said. "It's a lot faster and a lot different. We know what kind of talent we have and our capabilities. We'll have every opportunity to make big plays."
Junior Anthony McDonald and sophomore Carlo Calabrese will continue their battle at the other inside linebacker position next to Te'o, as most of the major shuffling will take place in the backfield.
Kelly said on Friday he was exploring a number of position changes in the secondary. Saturday he said it would probably be next week before that information would be made public.
"Not yet," he said. "That will probably be two, three days down the road before we get into moving anybody around. I've got a lot of guys in mind, just haven't made that decision yet. We haven't pulled the trigger on anybody yet. So until I talk to them face-to-face, I don't want them to hear it first in the media."
Seniors Gary Gray and Darrin Walls are the probable starters at cornerback and senior Harrison Smith and junior Jamoris Slaughter are the safeties at the top of a two-deep Kelly said the media shouldn't get "too married to."
TOP 25 SCOREBOARD
Saturday, 12/21
Monday, 12/23
Tuesday, 12/24
Thursday, 12/26
Friday, 12/27
Saturday, 12/28
Monday, 12/30
Tuesday, 12/31
Wednesday, 1/1
Thursday, 1/2
Friday, 1/3
Saturday, 1/4
Sunday, 1/5
Monday, 1/6
TOP PERFORMERS