Chicago Colleges:

Darrin Walls
November, 13, 2011
11/13/11
1:30
AM CT
LANDOVER, Md. -- A dominant
45-21 win
over Maryland lands the following Notre Dame players extra accessories for their already flashy helmets:

Jonas Gray:
What more can you say about the senior, who entered this season without a touchdown? He now has 11 in his past seven games, scoring in all seven. He had his first career 100-yard rushing game, going for 136 yards and two touchdowns on 21 carries.
Cierre Wood:
The junior was every bit as good as Gray, adding a 3-yard touchdown himself. Wood finished with 99 yards on just 18 carries, and the duo was relentless against the Maryland front-seven all night long. Wood also had a key block that sprung open
Tyler Eifert
on the tight end's 34-yard touchdown catch in the fourth quarter.
Michael Floyd:
The senior made a nice 19-yard touchdown catch in the second quarter to make it 17-0 Irish early. Floyd finished with nine catches for 90 yards and proved trouble for Maryland's defense all night long.
Robby Toma:
The little guy finally got his chance and took advantage of it. Replacing the injured
Theo Riddick
, the 5-foot-9, 185-pound Toma finished with a career-high seven catches for 73 yards.
Tyler Eifert:
The junior matched a career-high with eight catches and finished with 83 receiving yards. His 34-yard touchdown catch in the fourth quarter made it 45-14 late.
Tommy Rees:
The sophomore did a terrific job running the offense, completing 30 of 38 passes for 296 yards and two touchdowns. He hit seven different receivers and, during one stretch, completed 17 of 18 passes.
Lo Wood:
Not a bad way to get your first pick. The sophomore intercepted
Danny O'Brien
and raced it back the other way for a 57-yard touchdown to make it 38-7 with 7:18 left in the third quarter. Notre Dame now has pick-sixes in consecutive Shamrock Series games, as Darrin Walls had a 42-yard interception return for a score against Army last season at Yankee Stadium.
Ben Turk:
The junior was not needed much, but he delivered when called upon. Turk landed two punts inside the Maryland 10, and the only one he didn't went for a career-long 58 yards.
November, 21, 2010
11/21/10
5:23
PM CT
By
Wes Morgan
| ESPNChicago.com
Not since Notre Dame's national championship season in 1988 has the Fighting Irish defense hammered out such dominating performances in back-to-back weeks. The latest, a 27-3 drubbing of Army on Saturday at Yankee Stadium, pushed Notre Dame (6-5) into the postseason, no matter what happens this weekend at Southern California.
Including a 28-3 win over Utah, Notre Dame is 2-0 in November and hasn't allowed an offensive touchdown since Tulsa's opening drive late last month. The Irish gave up just 174 yards of total offense versus the Black Knights, pulling the plug on a triple-option attack that was similar to the one that gave them fits in a loss to Navy.
[+] Enlarge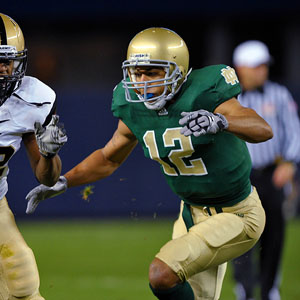 Matt Cashore/US PresswireRobert Blanton and the Notre Dame defense have been terrific in two November wins.
And just like the offense has soldiered on with a host of replacements due to injuries, the Irish defense, suddenly stunning under coordinator Bob Diaco, is getting a lift from a rotating cast. Against Army, a standout day by utility man Robert Blanton and stalwart cornerback Darrin Walls made all the difference in the Big Apple.
"I think [Blanton is] a great guy to talk about," Irish coach Brian Kelly said during his Sunday teleconference. "Versatility, first of all. He played the outside linebacker position. He's played nickel for us. He's played corner for us. He's played safety for us. He's blocked kicks. He sweeps out the stadium after the game. He's one of those versatile football players that just loves the game, has a great deal of confidence, and anytime we can put him in a position to help our football team we're going to do that."
Linebacker Manti Te'o registered a team-high nine tackles, breaking his nose in the process. Te'o has been cleared to play Saturday against USC, Kelly said. Walls made seven tackles. including one for a loss, and returned an interception 42 yards for a touchdown to open the third quarter.
Here's more from Kelly on Notre Dame's victory in New York City:
On running back Cierre Wood's 88-yard night:
"I think he's getting closer to the back that we want. I think the one thing, and we've talked about this all year, [is] his ability to pick up the blitz and the pressure. He did an incredible job on two big plays that we had of over 30 yards -- two of our big-chunk plays -- he was in there on protection. He gave up sacks earlier in the year not being able to protect. There was a couple times there I thought he's gotta fight through some runs, but he's getting better and better each week."
On tight end Tyler Eifert's performance:
"Obviously, two terrific catches. He's got that vertical threat -- his ability to get downfield. He's starting to feel comfortable with the day-to-day grind of getting banged on. Remember now, here's a young man who had a serious back injury and we really have to get him back from really not playing at all last year. So, he's just made progress and he's a touch matchup. If you want a linebacker or safety to cover him, you know, we're going to be able to utilize that matchup."
On his team fighting through distractions:
"You could look at a lot of things. I inherited a lot of things when I came to Notre Dame. What I didn't inherit were kids that weren't great kids. I got great kids and they show that every day to me in the way they come to work, the way they go to class, the way they do things and they've been able to handle adversity very, very well. There've been teaching moments for all of us. I've learned a lot during the year, I know our players have. I really believe at the end of the day our kids have gotten stronger in dealing with some tough times, really."
On the eight-game losing streak to USC:
"Obviously the rivalry is very, very important to many that follow this. There's no question about that. I think we all understand the USC-Notre Dame rivalry. For us it's consistency. The development of your program over a long period of time is how you can come back in back-to-back weeks and consistently perform with the same kind of mental and physical toughness necessary to be successful. But as a singular game, there hasn't and will not be one singular game that defines. We'll feel better about a win, obviously. ... The bottom line for us is to continue to move in the right direction and that is to play with that physical and mental toughness that I've kind of been talking about all year."
September, 10, 2010
9/10/10
6:24
PM CT
By
Wes Morgan
| ESPNChicago.com
[+] Enlarge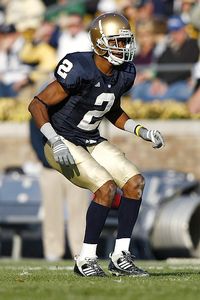 Joe Robbins/Getty ImagesAfter getting beat for the winning score last season, Darrin Walls is excited to see Michigan once again.
SOUTH BEND, Ind. -- Darrin Walls never fully regrouped following last season's loss to Michigan in Ann Arbor. Notre Dame's defensive collapse in the final minute, his own failure in particular, damaged the cornerback's psyche.


Clinging to a 34-31 lead with two minutes to play, the Fighting Irish needed only to stop a freshman quarterback in his second start from connecting with a depleted group of wide receivers on one drive. But Tate Forcier, oblivious to the pressure of the situation, had other plans.


The poised rookie led the Wolverines to a first-and-goal at the 5-yard line, and Forcier attacked a heavy-breathing Walls immediately. Walls' fingertip deflected a pass intended for LaTerryal Savoy just enough that the inexperienced receiver couldn't pull the ball in for a touchdown.


The Big House gasped. Walls looked at the clock.


On the next play, with 11 seconds remaining, Forcier went right back at Walls, who bit inside as Greg Mathews caught the game-winning score on the left side of the end zone.


"It was tough," Walls said recently. "Every week [after that] there were a couple plays where I'm like, 'Dang, if I would have made that play, we would have won this game.' Yeah, that Michigan game was tough. Especially for me at the end of the game, that last play, that touchdown was on me. That was tough dealing with it."


Notre Dame finished 75th in the nation last year in passing defense, allowing 220 yards per game that utterly perplexed Irish fans. The talent seemingly was there. But so was a confidence-eroding energy as former coach Charlie Weis' future in South Bend became the primary focus.


"I think the biggest part of [the failure] of the secondary last year was that we were afraid to make a mistake," said Walls, a 6-foot, 190-pound senior. "When you're afraid to make a mistake, you're going to play tight. With that, you can't really make plays. You're just going to sit back and hope and wish."


Notre Dame athletics director Jack Swarbrick didn't hire coach Brian Kelly to come in and cross his fingers. Kelly didn't bring in defensive coordinator Bob Diaco and defensive backs coach Chuck Martin to pray for success against the pass, or strength and conditioning coach Paul Longo to assume players would be conditioned enough in the fourth quarter.


Longo got to work changing the players' bodies. Kelly and Co. overhauled their minds.


"Well, yeah, we knew we weren't as good as we could have been in the past," Walls said. "I think everyone just put their thoughts and focused on the things that caused losing, and focused on the things that started creating winning again. I think the guys bought into coach Kelly's, and coach Longo's attitudes. I mean, that changed the whole team around."


Martin was impressed with how Walls approached his final season.


"He has a lot of God given talent, as well as all the physical tools necessary to play at a high level," he said. "He is a very intelligent player and has very good instinct. He prepares at a level that you would hope a great player prepares at and takes coaching very well. I think everything is there for him to have a very good year."


Kelly had high praise for the senior this week.


"He's been as purposeful as any player that we've got in the program since I got here," Kelly said "He's been so focused on everything he's done. There's no wasted motion with him. He comes to work every day, comes to meetings prepared. It's a big measuring stick for our players and how they go to work every day."


For now, football is fun again for Walls and the Irish. The atmosphere at practice is intense, but often jovial. Players are loose. Most importantly, players feel they're prepared.


The Irish will need to be Saturday when Michigan travels to South Bend for a 2:30 tilt on NBC. Both teams are 1-0, and like last year, both expect a move back to the successful side of the tracks this fall. The winner will likely crack the Top-25 rankings.


For Notre Dame, that means finding a way to slow sophomore quarterback Denard Robinson, who rushed for 197 yards and completed 19 of 22 passes for 186 yards in the Wolverines' 30-10 season-opening win over UConn.


Walls, whom Kelly chose as a weekly captain against Purdue, tallied seven tackles and an interception in a victory over the Boilermakers. Teammate Gary Gray provided sure tackling at the other cornerback spot, and safeties Jamoris Slaughter and Harrison Smith didn't give up any back-breaking plays. It's an improved unit, but still a work in progress.


They're all excited for a rematch with Michigan. But Walls is especially eager for another crack at the Wolverines, a game he feels is the next step in rerouting a promising career that took a wrong turn in 2009.


"I would probably call it average at best," he said. "No one comes to a program to have a 15-21 record through your career. I just expect more from myself, my coaches expect more, and my family expects more. I was never satisfied with what I've done, and I'm always pushing to be the best player I can. I know I can be better. I was never satisfied with what I've done, and I'm always working to be that player I know I can be."

April, 14, 2010
4/14/10
11:24
PM CT
By
Wes Morgan
| ESPNChicago.com
SOUTH BEND, Ind. -- During the 2008 season, Notre Dame cornerback Darrin Walls sat on the edge of his couch in Pittsburgh watching the Fighting Irish on NBC.


Screaming at his television, he felt hopeless, itching to get back on the field. The closest he came was as a paying customer, stuck in the stands one afternoon.


Gone from South Bend for personal reasons that year, Walls missed the spring workouts leading up to the 2009 campaign before rejoining the Irish in the fall.


Walls had been one of Notre Dame's brightest NFL hopefuls after his sophomore year, but upon his return often looked as stale as the popcorn trapped between the cushions he perhaps wished he had stayed on.


"Taking a couple months off, it was tough to get back in the groove," Walls said after Wednesday's practice. "It was tough; I've known these guys for years now and I knew we had the talent to be pretty good. We just weren't producing the way we should have. It was tough dealing with it."


Walls wasn't the only player to blame for secondary's mediocrity last season, when the Irish posted a pedestrian 6-6 record.


Notre Dame ended the year 86th in the country in total defense, giving up nearly 400 yards per game and slipping 47 spots from the previous two years. Walls, fellow corner Gary Gray and safeties Kyle McCarthy and Jamoris Slaughter finished a revolving-door season in which they allowed just over 227 passing yards per outing, 76th in the nation.


"I think it was the last loss for the seniors (that was the hardest)," the 6-foot-2, 190-pound Walls said. "Watching my classmates go out with a loss. I felt sorry for those guys. We didn't play up to our ability all year and those guys went out on a rough ending."


His career, had he remained on campus two years ago, would have ended the same way. Under coach Brian Kelly's new regime, Walls has another opportunity, and defensive backs coach Chuck Martin is hoping to see more consistency from his players this season.


"I think they're great kids, fun to coach and are real smart," Martin said. "They want to be coached and don't mind being challenged. Darrin is probably the most mature because he's played the most.


"I think they did a lot of good things. But like any team that's 6-6, they were too hot and cold. I could put together a pretty good highlight reel for a guy like Darrin and say, 'Ah, he had a pretty good year.' But you can also put some together where he was struggling. The difference is being that every-down player."


Like when the Irish had Michigan on the ropes at the Big House Sept. 12, then let the Wolverines move efficiently downfield in the closing minutes. Michigan quarterback Tate Forcier capped the comeback drive by hitting Greg Mathews with 11 seconds left as Walls watched from out of position. It was the first real indication that Notre Dame's last line of defense was tentative and unreliable.


"It was hard to let your teammates down," Walls said. "You want to do well for them. So you try to play well for them, not just yourself. [With the new coaches] you need to be broken down. We went 6-6 and that's not Notre Dame football. The players know that and the coaches know that.


"Technique-wise, I know I can be a lot more aggressive than I was in the past. That's something I've really focused on. We are going to be well-conditioned and mentally tough. You already see a difference from last year."
TOP 25 SCOREBOARD
Thursday, 12/5
Friday, 12/6
Saturday, 12/7