Chicago Colleges:

Dave Brandon
February, 24, 2014
Feb 24
9:00
AM CT
The Big Ten likes to consider itself a leader on many fronts in college sports. Several Big Ten schools were among the first to integrate their football programs, and the first two African-American head football coaches in a major conference called the league home.
But for much of this century, when it came to football coaching diversity, the Big Ten lagged behind the rest of the nation.
[+] Enlarge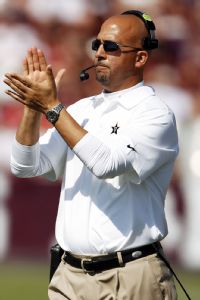 AP Photo/Eric Christian SmithPenn State's decision to hire James Franklin as its first African-American head football coach can't be underestimated.
After the third African-American head coach in league history -- Michigan State's Bobby Williams -- was fired late in the 2002 season, the conference went a decade without another black head football coach. The Big Ten was the only one of the six BCS AQ conferences that did not have at least one African-American head coach during that span; the SEC, by contrast, had four in the same time frame.
Thankfully, things have begun to improve. Two of the last three head coaches hired in the Big Ten -- Purdue's Darrell Hazell and Penn State's James Franklin -- are African-American.
"That's great news, to have that diversity," Ohio State athletic director Gene Smith said. "Now we just need to give them time and let them be successful where they are and develop their programs. I'm glad there is progress, and we need to continue to do more across the country."
There weren't a lot of opportunities, period, for head coaching jobs in the Big Ten during the recent diversity drought, as schools like Iowa, Northwestern, Penn State and Ohio State remained mostly stable at the top. But coaching turnover has increased in the league in the past few years; Penn State, for instance, just hired its second coach in three years after going nearly a half-century without a transition.
Was improving diversity a league-wide priority? Conference officials say no.
"What our schools try to do is hire the best coaches in their pool," Big Ten commissioner Jim Delany said. "We've had plenty of African-American basketball coaches.
"It's more about a commitment to opportunity and a fair process, and as long as our people are hiring the best people in processes that are open, you would hope and think that it would be sort of a broad representation of people. Whether you hire James Franklin or a new coach at any place, I'm not sure race should be the factor. Certainly people wouldn't want it to be a factor. It's really an outcome."
Still, it's hard not to note the importance of Penn State hiring its first African-American head football coach. More so than Dennis Green or Francis Peay at Northwestern or even Williams at Michigan State, Franklin is leading a flagship, blue-blood program. The timing was fortuitous, as the Pennsylvania native was ready for a new challenge after proving himself at Vanderbilt and the Nittany Lions needed a dynamic new leader.
"It's a lot of significance," Penn State athletic director Dave Joyner said. "We hired James because of the kind of person and coach he is. The fact he's African American is great. It's a great testimony to opportunity. A hundred years ago, that wouldn't have happened in this country."
[+] Enlarge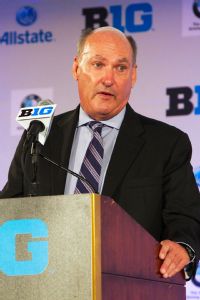 AP Photo/Ting Shen/Triple Play New MediaBig Ten commissioner Jim Delany said the hiring process should be fair and a commitment to opportunity for all coaches.
The Institute for Diversity and Ethics in Sports hasn't yet released its annual hiring report card for college football. But Richard Lapchick, the center's director, said the Big Ten's recent moves are "definitely a sign of progress." While there are only 11 FBS black head coaches heading into the 2014 season, it's noteworthy that minorities have gotten opportunities to lead storied programs like Penn State and Texas (Charlie Strong), Lapchick said.
"That's critically important," he said. "Historically, the opportunities in general that have gone to African-American coaches have been at programs that have been really down, and the opportunities to turn them around have been very problematic. Let's hope [Hazell and Franklin] are successful, because they will help create more opportunities for other African-American and Latino coaches in FBS conferences."
The next step for the Big Ten is to continue to develop and identify the next wave of minority head coaching candidates. Both Franklin and Hazell, who led Kent State for two seasons before Purdue hired him, had already established themselves as winning head coaches elsewhere, though Hazell was also a well-regarded assistant at Ohio State. The Big Ten sent several African-American assistant coaches to the annual minority coaches' forum between 2006 and 2010, and some athletic directors see it as their job to mentor young black coaches.
Smith saw Everett Withers leave the Buckeyes staff this winter to land the James Madison head coaching job and said he is spending time this offseason with running backs coach Stan Drayton to get Drayton accustomed to non-football issues like university budgets and policies.
"We want to have guys who are trained to hopefully win in the interview process," Smith said. "Sometimes, those are beauty contests. You've got to be able to answer the questions the right way and demonstrate an ability to lead."
That's the ultimate goal, to have more minority candidates who are ready when those opportunities do arise. Michigan athletic director Dave Brandon said that wasn't the case a few years ago, but the pool of potential coaches is increasing.
"We're starting to see more and more diversity among the coaching staffs and up-and-coming diverse candidates in all various positions in the sport," Brandon said. "Now, we're seeing more representation at the head coaching level. That was bound to happen and important to have happen, and I'm glad to see that trend evolve."
February, 10, 2014
Feb 10
11:00
AM CT
Pitchers and catchers report this week. Wish I could join them.
February, 1, 2013
2/01/13
8:00
AM CT
As we've written for the past several days, Big Ten athletic directors have a whole host of decisions to make over the next few months, including
how many league games
they should play,
how to align the divisions
,
the next bowl lineup
and even
what to call the divisions
.

"We've got some heavy lifting to do here for the next few months," Purdue athletic director Morgan Burke said.
But what if all that huffing and puffing turns out to be a Sisyphean task? There's one thing that could send conference leaders scrambling back to the drawing board: more expansion.
The decisions the athletic directors will make for the 2014 season and beyond will be based on the new 14-team format with Maryland and Rutgers joining. Many people suspect the Big Ten is not done adding members and could soon grow to 16 or even to 20 members. Ohio State president E. Gordon Gee recently informed us that conference
expansion talks are "ongoing."
The athletic directors are well aware of the possibility that more teams could be coming at just about any time.
"Based on the last three years I've been in this business, you'd be crazy not to think about it," Michigan athletic director Dave Brandon said. "But it's hard to model anything because you don't know what to model. The minute you get yourself convinced that you're going to go from 14 to 16, for all you know you're going to 18, and a lot of people think the ultimate landing place is 20. Who knows?"
For now, all the decisions they make will be based on a 14-team model only.
"You make your decision based on today," Iowa's Gary Barta said. "And today, we have that many teams. We can't worry about something that's not established yet. I don't know if and when there will be more teams. Right now, we're going to make decisions based on the additions of Rutgers and Maryland, and we're going to make them with the information we have, consistent with our principles."
"It's hard to predict the future," added Northwestern's Jim Phillips. "No one would have predicted we'd be at this place we're at right now. I don't think you can get polarized by the what-ifs or the potential of what might be and lose sight of where you're at."
The league's ADs will do their best to come up with the best framework for a 14-team league. If future expansion arrives in time for the 2014 season or shortly after it, at least the conference has gained lots of recent experience in how to deal with it.
"When you get into the discussion of things like 10 [conference games], you say, 'Wow, if we had a couple more teams, it would be easier,'" Ohio State athletic director Gene Smith said. "That's a natural. But it's not something that motivates you to say, 'We've got to position this in case we have another team, or two more teams.' We don't do that."
"What I've liked about our league is, when we added Nebraska, we felt like we needed to settle and watch the landscape. We thought the East Coast was important, and we got two good pickups relative to that principal. So I think we deal with what we have now, sit, monitor the landscape, and if something emerges down the road, we're positioned to be able to absorb."
January, 29, 2013
1/29/13
6:31
PM CT
In September 2010, the Big Ten spelled out clearly that geography wouldn't be the driving force
behind its new divisions
.
How do we know? Two words. L-E-G-E-N-D-S. L-E-A-D-E-R-S.
The controversial division names spawned in part from a desire not to make geography the chief factor in alignment. Otherwise, the Big Ten likely would have used simple directional names (East-West, North-South) or regional ones (Great Lakes-Great Plains). The league aligned its initial divisions based on competitive balance, with a nod to preserving traditional rivalries. Although the Big Ten said it also considered geography, the end result showed it didn't matter much.

As the league prepares to realign its divisions to accommodate new members Rutgers and Maryland in 2014, its power brokers seem much more comfortable saying the G-word.
"Maybe it was competitive balance last time," Northwestern athletic director Jim Phillips told ESPN.com. "Maybe geography wins the day this time. … It wasn't the most important [factor in 2010], but we should look at it this time because we are spread farther than we ever have been."
The Big Ten athletic directors will meet several times in the coming months to discuss division alignment and plan to make a recommendation to the league's presidents in early June. Several ADs interviewed by ESPN.com in recent weeks mentioned that geography likely will be a bigger factor in the upcoming alignment than the initial one. It's not a surprise, as geography was a much bigger factor in the most recent expansion than it was with the Nebraska addition in 2010.
When the Big Ten expanded with Maryland and Rutgers in November, commissioner Jim Delany talked about becoming a bi-regional conference -- rooted in the Midwest but also having a real presence on the East Coast. He described the move as an "Eastern initiative with a Penn State bridge." It would be a major surprise if Penn State doesn't find itself in the same division with the two new members.
"Maryland and Rutgers are about three-and-a-half hours away [driving], and Ohio State is about five hours," Penn State athletic director Dave Joyner said. "That's a nice, comfortable distance for us, and we've got huge alumni markets in those areas. From those standpoints, it's a really good thing. … No matter how the conference is aligned, you've got to believe that there are some efficiencies in travel that are going to come out of it."
Michigan and Ohio State are going to play every year no matter how the divisions are aligned, and if there's any push to move The Game away from the final regular-season Saturday, "the meeting will keep going on and on and on," Michigan athletic director Dave Brandon said with a laugh. But there also seems to be momentum to put Michigan and Ohio State in the same division, especially if there's a geographic split.
Ohio State athletic director Gene Smith favors being
in the same division as Michigan
, and Brandon has no objection.
"We will likely be a little bit more attentive to geographic alignment," Brandon said. "If Michigan and Ohio State being in the same division turns out to be what's in the best interest of the conference, that would be great. Obviously, it isn't the way it is now, and certainly that's worked. Certainly if we go to a geographic split situation and it's in the best interest of what we're trying to accomplish for Michigan and Ohio State to be in the same division, that would be just fine."
Despite being in opposite divisions, Michigan and Ohio State had their series preserved through a protected crossover. Other rivalries weren't so fortunate. Wisconsin and Iowa, for example, didn't play in 2011 or 2012.
Wisconsin was the most obvious example of the non-geographic focus of the initial alignment, as it moved away from longtime rivals Minnesota and Iowa into the Leaders Division.
"I do think we have a chance to have a little bit more of a geographic look to it, which I think is great," Iowa athletic director Gary Barta said. "It's great for fans, it's great for student-athletes, it considers travel, rivalries. With us, Wisconsin, Minnesota, Illinois, Northwestern, Nebraska, those just make great sense.
"It would be terrific if it works out, but we have to make sure we maintain and achieve competitiveness as well."
The ADs understand the need to maintain balance. As Purdue's Morgan Burke put it, "You don't want somebody to come through an 'easy' division."
But as many fans have pointed out, the Big Ten still could maintain competitive balance with a more geographic split. Ohio State and Michigan could form an Eastern bloc of sorts, but Wisconsin has won three straight Big Ten titles, Nebraska played for one last year and other programs like Michigan State and Northwestern have emerged.
Can the Big Ten align based both on geography and balance?
"I believe we can," Brandon said. "And that will always be somewhat subjective because all you can look at is history, and how a program has performed in the previous 10 years isn't necessarily indicative of how it's going to perform in the next 10. So there's some subjectivity to that, but the objective will be to create a circumstance where both divisions feel like they have equal opportunities to win and compete for the conference championship."
January, 28, 2013
1/28/13
8:31
PM CT
Big Ten athletic directors will meet several times over the next few months to hammer out some key decisions for the 2014 season and beyond. The most pressing, and arguably most important, issue will involve figuring out how many times to play each other during the season.
League officials chose to stay with eight conference games per season after Nebraska joined the league in 2011. But when Maryland and Rutgers come aboard next year, that could change. ESPN.com interviewed several conference athletic directors, who confirmed that a nine- and even a 10-game league schedule are on the table in the upcoming discussions.
"That's something that we have to really resolve quickly, because the ramifications of that discussion are significant," Michigan athletic director Dave Brandon told ESPN.com. "It's a high-agenda item."
The reason for the priority is obvious: More conference games means fewer nonconference opportunities. Some schools, like Nebraska and Minnesota, already have four out-of-league opponents lined up for the 2014 season and beyond, while others are waiting to see what the league decides before signing contracts with future opponents.
The Big Ten
announced in August 2011
that it would go to a nine-game league schedule. That was scrapped a few months later when the Pac-12/Big Ten alliance was brokered, but then that agreement was canceled the following spring before it ever began. Athletic directors we talked to were at the very least interested in revisiting the nine-game schedule idea.
Commissioner Jim Delany has said he'd like to see more conference games. Brandon and Ohio State athletic director Gene Smith both told ESPN.com that they favored that idea when the Big Ten balloons to 14 teams.
"As the conference expands, it would be unfortunate if a student-athlete came to the University of Michigan, played in the Big Ten Conference for four years and never even got to play or compete against one of the schools in the conference," Brandon said. "That doesn't make a lot of sense to me. As the number of institutions has grown, I believe we should take a look at at least moving to nine."
"I would like to go to nine or 10," Smith said.
Of the major conferences, only the Pac-12 and Big 12 currently play nine league games per season. No FBS conference plays 10 league games per year. The main advantage of adopting the latter, more radical idea would be balancing the conference schedule. Every team would then play five home and five road league contests, instead of having years with five road conference games and only four at home in a nine-game slate.
"Nine is challenging because of the statistical advantage for the home team over time," Purdue athletic director Morgan Burke said. "If you have some teams with five home games and others with only four, do you really have a true champion? To some people, that is a stumbling block."
But a 10-game schedule would bring its own share of obstacles. Such a plan leaves only two nonconference games and could make schools less inclined to play home-and-home intersectional matchups versus big-name opponents.
For example, Ohio State has already scheduled several high-profile series for the future, including home-and-home deals with Oregon, Texas and TCU. But with a 10-game conference schedule, the Buckeyes would have only six home games in years when it traveled to play opponents like the Ducks, Longhorns or Horned Frogs -- assuming it decided to keep those series.
"Most of us need seven home games in order to make our local budgets," Smith said. "Is there a way to overcome that? I don't know. We'll have to look at that. The conference is aware that it's an issue."
Would the extra inventory of conference games add enough value to the Big Ten's next TV contract to make up for the loss of home dates? Smith also points out that, with only two nonconference games, schools could potentially avoid paying huge guarantees to lower-level conference teams to fill out their schedule. Such teams are routinely getting $1 million or more to play sacrificial lamb against power programs in their giant stadiums.
Still, giving up home games is not a popular idea in a tough economic climate.
"Let's face it, we have a stadium that we're putting 112,000 people in every week," Brandon said. "It doesn't make a lot of sense to be shutting that stadium down and not playing as many events, and going to places where you're playing in front of crowds that are far less. We have to think about that financial consideration, and how do we leverage the assets we have in the most positive way for the conference and all the institutions?"
The forthcoming four-team playoff also complicates matters. Strength of schedule is expected to be a main component for the playoff selection committee. Would playing 10 games in the conference help or hurt Big Ten teams? In years when the league was viewed as down, like in 2012, it would most likely damage a league contender's chances, not to mention that 10 conference games means seven more guaranteed losses for Big Ten teams.
"I think [a 10-game schedule] could work if you're trying to schedule strong opponents in those other two games as well," Penn State athletic director Dave Joyner said. "The decision is, are you going to play two, three or four games outside of conference? I think a lot of it will depend on what the feeling is on how that would affect strength of schedule."
So a nine-game schedule appears to be a more likely option, but the thorny problem of an unbalanced number of home games remains. Could the league try to get creative, and perhaps add
more neutral-site conference games
to the mix? Anything and everything appears to be up for discussion.
"Maybe you could do it divisionally, where one division plays five home games one year, and then that division plays four home games [the next year]," Northwestern athletic director Jim Phillips said. "I don't know. But it should be interesting."
That last part is the only guarantee right now.
January, 25, 2013
1/25/13
11:29
PM CT
Our apologies for posting this so late, but The Bowtie -- Ohio State president E. Gordon Gee -- is at it again, recently confirming what most of us believe.
The Big Ten has hardly closed the book on expansion.
According to
the Columbus Dispatch
, Gee told Ohio State's athletic council in December that Big Ten expansion talks are "ongoing."
From The Dispatch:
Gee said "there has been ongoing discussion" about expansion and "believes there is movement towards three or four super conferences that are made up of 16-20 teams."

When a student member of the Athletic Council asked Gee what direction the Big Ten might take, Gee said "there are opportunities to move further south in the [E]ast and possibly a couple of Midwest universities."
Although the fact that a Big Ten president said this publicly is important, no one should be surprised. Rumors about additional Big Ten expansion targets -- mainly Georgia Tech and Virginia -- have been out there from the moment the league announced the additions of both Rutgers and Maryland. It's notable that Gee referred to other Midwest universities as potential targets. Could this be good news for, say, Kansas, an AAU member in a new market? Perhaps.
I still think if and when the Big Ten expands beyond 14, it will look to the South or East.
The league's athletic directors will meet several times during the next few months to discuss important topics like division alignment -- using the 14-team model they know will be in place in 2014. But they're also aware that the expansion landscape continues to shift.
"Based on the last three years I've been in this business, you'd be crazy not to think about it," Michigan athletic director Dave Brandon told ESPN.com on Friday. "But it's hard to model anything because you don't know what to model. The minute you get yourself convinced that you're going to go from 14 to 16, for all you know you're going to 18, and a lot of people think the ultimate landing place is 20. Who knows? There's too many variables out there to predict it."
September, 25, 2012
9/25/12
7:26
PM CT
Notre Dame just got finished dusting off three straight Big Ten teams, beating Purdue, Michigan State and Michigan in order. It was an impressive run but one that might not be possible again in the near future.
The Irish have notified Michigan that they are
opting out of their games
against the Wolverines from 2015 to 2017, the Associated Press first reported Tuesday. The two schools were already scheduled to take a hiatus in 2018-19. That means we won't see a Michigan-Notre Dame game for at least five straight years after 2014 and maybe longer, as nothing beyond that is guaranteed.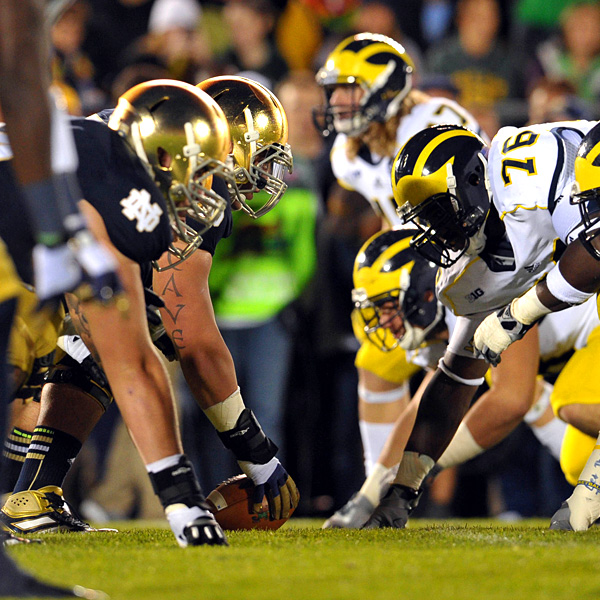 Matt Cashore/US PresswireNotre Dame has notified Michigan that it is exercising a three-year out in their series contract.
This is about more than just Michigan, though. This signals a new era in the Notre Dame-Big Ten relationship. Michigan State and Purdue both have cherished series against the Golden Domers that are no longer safe.
The Irish are clearly moving in a new direction. They recently joined the ACC in all sports but football while agreeing to play five football games per year against ACC teams. With Notre Dame wanting to keep Stanford, USC and Navy on the schedule and desiring to play in major recruiting areas, their need to face three Big Ten teams every year has diminished significantly.
For Michigan, it's a loss but not a crippling one. The Wolverines lose a regional rival, but playing Notre Dame doesn't carry nearly the cachet that it once did. Michigan fans don't live and die by this game like they do Ohio State. Fans will miss it, but they probably won't yearn for it.
In fact, they might not even notice if athletic director Dave Brandon replaces Notre Dame with high-profile games like this year's opener against Alabama. Michigan has already scheduled Pac-12 opponents Utah, Colorado and Oregon State for the near future. Brandon will have to scramble a bit to fill holes in the '15 and '16 schedules because many agreements are signed years in advance. Hopefully, though, the maize-and-blue use this opportunity to play marquee matchups, because that's what a program of this magnitude ought to do, especially with strength of schedule likely a large component of the forthcoming playoff structure. Brandon is a bold-enough thinker to recognize this.
The Spartans have a deal with Notre Dame that extends through 2031, although it's unknown what kind of out clauses the Irish have in that contract. Last week, Michigan State athletic director Mark Hollis
told MLive.com
, "Everything's not up to them. What's up to them is to make a request to alter the contract, and once they make that request, then it will be up to us on how we want to respond."
Hollis already has some big-time games on the future docket, including Oregon (2014 and 2015), Alabama (2016 and '17) and Miami ('20, '21). The Spartans played Boise State this year and will continue that series. They will play a strong schedule regardless, but the Notre Dame series has been good for them on the whole, especially when you consider that their top rival, Michigan, does not view them the same way.
Purdue is the team that should be really nervous here. The Boilermakers really value their in-state rivalry against Notre Dame and love the exposure it brings for a program that sometimes struggles to attract attention. You get the feeling athletic director Morgan Burke would schedule the Irish twice a year if he could.
But the Purdue series does little to benefit Notre Dame except that it is a very manageable road trip in odd years. It doesn't help Irish recruiting efforts or create much of a stir outside of northern Indiana. If Notre Dame truly wants to start being more of a coastal program, then there's little reason for it to play Purdue every year. While the Boilers will do everything they can to keep the series going, they shouldn't be surprised to see a Dear John letter from South Bend arriving in their mailbox soon.
Notre Dame didn't want to join the Big Ten, and the Big Ten would never have agreed to the kind of one-foot-in, one-foot-out arrangement the Irish made with the ACC. So both parties will move in different directions.
The Notre Dame games have been mostly beneficial for the conference, but in years when the Irish weren't that good, they dragged down the nonconference schedules. This year, they handed the Big Ten three losses. Today's news isn't necessarily No. 4.
TOP 25 SCOREBOARD
Saturday, 12/21
Monday, 12/23
Tuesday, 12/24
Thursday, 12/26
Friday, 12/27
Saturday, 12/28
Monday, 12/30
Tuesday, 12/31
Wednesday, 1/1
Thursday, 1/2
Friday, 1/3
Saturday, 1/4
Sunday, 1/5
Monday, 1/6
TOP PERFORMERS