Chicago Colleges:

Dave Sobolewski
November, 28, 2012
11/28/12
12:17
AM CT
EVANSTON, Ill. -- Once the question began to unfold,
Northwestern Wildcats
sophomore point guard David Sobolewski began shaking his head in disapproval.
His squad had just been routed on its home floor, losing 77-57 to the
Maryland Terrapins
in the ACC/Big Ten Challenge on Tuesday. The query was whether Northwestern's loss was anything more significant than an early-season defeat, considering the Terps were the first major-conference opponent the Wildcats had faced after starting the season 6-0.
[+] Enlarge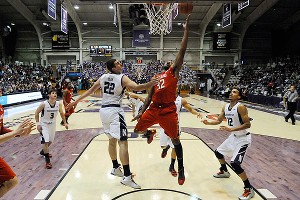 David Banks/US PresswireAfter starting the season with six wins, Northwestern was pummeled at home by
Maryland, its first major-conference opponent.
Sobolewski jumped on the question as soon as it was finished.
"No, it wasn't," Sobolewski said. "It was a November game against an ACC team. It's not the end of the season. We got a lot of work to do for sure, but we're not going to stop working. If anything, this will make us hungrier to improve in practice. So it was nothing more than a loss in November."
Some would debate that.
Whether the Wildcats like it, the question that will be associated with them from November until March is whether they are an NCAA tournament-caliber team. They've never been to the tournament ... and that, more than ever, is the measuring stick for the program after four consecutive NIT appearances. The question won't disappear until the goal of an NCAA tourney berth is realized.
From that standpoint, Northwestern didn't look much like a tournament team on Tuesday. The Wildcats were outscored 49-31 in the second half and outrebounded 47-19, shot 6 of 25 from the 3-point range and allowed 44 points in the paint. And their bench was outscored 23-7.
Northwestern coach Bill Carmody understood how one-sided the second half was and got that the Wildcats have to compete with teams like Maryland. But he also remained optimistic they'll get there.
"We have to be able to play with these guys, especially at home, so I think we're all disappointed. And we'll come back out and work hard and get this thing turned around," Carmody said.
ESPN college basketball analyst Stephen Bardo, who called the game, was more critical of the Wildcats.
"There really wasn't one thing they did well," Bardo said. "I think this was a game where anything could go wrong went wrong. It wasn't necessarily that Maryland is a dominant defensive team; Northwestern just couldn't get into anything."
What Northwestern does have in its favor are upcoming games with the
Baylor Bears
(Dec. 4 in Waco, Texas) and home against the
Butler Bulldogs
(Dec. 8). The Wildcats' Big Ten schedule will decide their postseason fate, but both these nonconference games could play a big part, as well.
Baylor has had some early bumps, but it is still a respected program. The Bears will face the
Kentucky Wildcats
just prior to playing Northwestern. Butler had a strong showing at the Maui Invitational, with wins over the
Marquette Golden Eagles
and
North Carolina Tar Heels
.
Bardo thought it was a necessity for Northwestern to defeat Butler and at least compete with Baylor. Last season, the Wildcats lost to Baylor by 28 points in Evanston.
"They're going to have to do some things if they want to improve their national view," Bardo said.
While all is certainly not lost with one game in November, the Wildcats now face more of an uphill battle if they're to reach their ultimate goal.
March, 1, 2012
3/01/12
12:30
AM CT
EVANSTON, Ill. -- Was it too much to ask?
Was it too much to hope that just one time -- this time -- would be Northwestern's turn as fate's chosen beneficiary? Was it too much to think that maybe, despite all the reasons to believe the contrary, the Wildcats might just catch a break? Could Northwestern fans, besieged constantly by reminders of their program's historic futility, finally feel the freedom of belief?
The short answer? No.
"It's very tough," Northwestern guard
Drew Crawford
said.
"Disappointing," forward
John Shurna
said. "Kind of a tough way to go out."
Wednesday night was Shurna's senior night, an honor he shared with
Davide Curletti
,
Nick Fruendt
and
Luka Mirkovic
. Shurna & Co. are the school's all-time winningest class, one that also set a school record with three consecutive postseason appearances.
Of course, none of those postseasons has been of the NCAA tournament variety, which is why Wednesday night's game was so much more than a disappointing loss, so much more than an emotional senior night spoiled by a
75-73 defeat
.
December, 2, 2011
12/02/11
2:14
PM CT
[+] Enlarge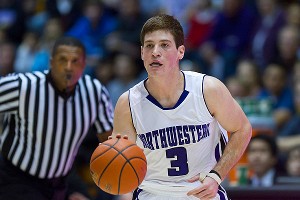 Damen Jackson/Icon SMIDave Soloblewski has tried to pick the brain of Michael Thompson to learn Northwestern's offense.
EVANSTON, Ill. -- Auditioning for a future acting career, Northwestern coach Bill Carmody pretended the name "Juice" didn't ring a bell with him after a recent practice.
"Who's that?" Carmody said while unable to hold back a smirk. "Juice? What's that?"
Carmody isn't likely to ever forget Michael "Juice" Thompson. He started 129 games and played 4,633 minutes for Carmody in four seasons. But the point to Carmody's routine was he'd like to keep Thompson's successor, freshman Dave Sobolewski, away from comparisons to one of the program's greatest players.
"I liked a ... Thompson?" Carmody continued with his act. "I liked him and I like this guy, too. I like them both."
It's a statement Carmody was unsure in the preseason he'd be able to make. There was a real concern over who would take over point guard duties this season. Sobolewski and fellow freshman Tre Demps were options, but Carmody also considered junior Alex Marcotullio, who had played more of a shooting guard role, and even thought about using 6-foot-9 forward John Shurna if he became desperate.
Fortunately for Carmody, Sobolewski has squelched those worries. Through six games, all of which he's started, Sobolewski has proven he is reliable and can get the job done. He's averaged nine points and four assists, has a 3.43 assist-to-turnover ratio and played 33.8 minutes per game.
Most importantly to Carmody, he's gotten Northwestern into its offense, has found Shurna and Drew Crawford and has helped Northwestern to a 6-0 start.
"He's doing nicely his first six games," said Carmody, whose team hosts No. 8 Baylor on Sunday. "He gets the ball to the right guy. He's been well coached in high school and AAU. The things that are new to him he picks up quickly. He's a competitor.
"He just has to get the ball to the right guy now. Timely shooting certainly helps. He's got some guys who can put the ball in the basket. He has to make things run smoothly."
Sobolewski never doubted he'd be able to that, but he realizes there were people who did. Much like what 5-foot-10 Thompson dealt with questions over his height, Sobolewski has always had to prove he can play with elite players despite lacking their same quickness and athleticism.
Sobolewski first began doing that in sixth grade when he and a bunch of his friends would be driven into Chicago from the western suburbs to play against some of the city's top players.
"You had to find a way to offset the quickness and do whatever it takes," Sobolewski said.
In time, Sobolewski figured that out. He turned to his basketball IQ. He found ways to create just enough space to get off shots. He didn't miss chances to hit open teammates. Plus, he never took plays off. He wasn't going to let anyone outwork him.
It's been Sobolewski's model ever since, and it hasn't failed him yet.
"I just try to play tough as much as I can because obviously the guards I'm going to play against there's a lot of guards quicker than me, a lot of guards more athletic than me," said Sobolewski, whose nickname is Sobo. "I try to make that up with toughness, kind of playing gutty and doing everything I can to help the team win."
At Benet Academy, Sobolewski was a two-time ESPNChicago.com all-area selection and was one of the state's premier guards as a senior. He averaged 15.2 points, 6.1 assists, 3.8 rebounds and 2.7 steals while leading Benet to 29 consecutive wins and a national ranking last season.
Despite his success in high school, he still had to work his way off the bench for his club team, the Illinois Wolves, his first few seasons. He eventually became a starting guard beside Chasson Randle, who is at Stanford, and Tracy Abrams, who is at Illinois.
"I think David's a good athlete," Illinois Wolves coach Mike Mullins said. "He's not blessed with NBA athleticism and quickness at the point guard position. He understands the game and playing angles. He plays very well within himself. He's done a very good job of adapting to that. He's able to figure out his opposing guy within a few possessions and knows what he can do against him offensively and defensively.
"David's living proof that being an efficient basketball player and to have success at the high-major level there's more than having athleticism."
Part of Sobolewski preparing himself for this season was picking Thompson's brain this summer. While Thompson waited for his agent to work on a professional contract overseas, he stayed on campus.
Thompson wanted to help along Sobolewski and get him ready to take over him, but he was pleased to discover Sobolewski sought the same.
"He pretty much came to me," said Thompson from his new home in Germany. "He always asked a lot of questions. You always want to help someone, but it's great when they want to ask questions and want to learn."
Sobolewski's questions weren't general either. He wanted to know as much as he could about the Princeton offense. Thompson broke it down for him, and they worked on the smallest of intricacies.
"At first, he was kind of teaching me a lot of the footwork that comes in the Princeton offense," Sobolewski said. "We would go through drills of shots that are common to get in the Princeton. I really appreciated that. He's just about the best guy you can learn from in the history of the program. He was great to me."
Thompson continues to give Sobolewski tips, too. Thompson has been able to watch most of Northwestern's games from Germany, and he talks with Sobolewski a few times a week to pass on his observations.
Thompson's assessment was nearly dead on with Carmody's.
"He's doing a good job of controlling the tempo and running the team, getting the ball to the right people at the right time," Thompson said. "He made a big shot at the Charleston Classic. He's not turning the ball over. His assist-to-turnover ratio is really good. The only thing he needs to do is switch it up and run certain plays, but that comes with time."
Overall, Thompson has been impressed, but he hasn't let Sobolewski know that. Thompson isn't ready to proclaim Sobo has officially taken over Juice just yet.
"He's not playing like a freshman," Thompson said. "I haven't told him that. I'm still trying to be in big brother mode with him. I don't want him to get cocky. I won't let him know he's doing a good job."
TOP 25 SCOREBOARD
Thursday, 8/28
Friday, 8/29
Saturday, 8/30
Sunday, 8/31