Chicago Colleges:

David Robinson
October, 30, 2014
Oct 30
12:00
PM CT
SOUTH BEND, Ind. --
Corey Robinson
surrendered himself into his father's arms, his career night gone for naught.
[+] Enlarge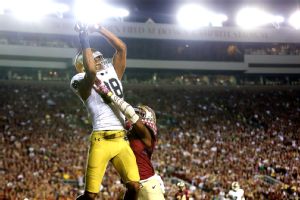 Streeter Lecka/Getty ImagesCorey Robinson knows how to handle success -- and failures -- thanks to his dad, former NBA great David Robinson.
His fourth-and-long catch would not go down in program lore. His fourth-and-short touchdown had been wiped away. Notre Dame had fallen at Florida State.
So the sophomore sauntered over to his dad, a guy who knows a few things about big games, and shared an embrace that served as necessary for father as it was for son.
"Don't miss the moment," David Robinson recalled telling his son. "You guys did what you were supposed to do: You took the ball, drove it right down their throats, you put it in the end zone. You can't be mad at yourself when you did what you were supposed to do.
"… I was just telling him: This is sports. In sports you win and you lose. That's the nature of sports. You can't get away from that part of it. And if you get too hung up on the losing part, then you miss the boat. The competition part, a game like that is why you play sports. That is as good as it gets."
That the Basketball Hall of Famer saw his son come so close to stealing the spotlight from the defending national champions was rewarding. That the Naval Academy graduate will follow that up by rooting against his alma mater on Saturday is somewhat surreal. But he finds himself in this position for a second straight year, this time near his old backyard, as the Midshipmen host the Fighting Irish in Landover, Maryland.
"It's nice because all my family is going to come up -- my aunts, my uncles, my grandparents," Corey said. "For them it's going to be really special. But for me it's just another game we have to go and perform and win."
His father will visit the Annapolis campus for the first time since 2011, when he was back for a 25-year reunion of Navy's 1986 Elite Eight team.
Notre Dame's last outing -- and specifically his son's role in it -- reminded the San Antonio Spurs great of his own coming-of-age moment, one year before that NCAA run, also as a sophomore.
The second round of the 1985 tournament pitted 13th-seeded Navy against fifth-seeded Maryland, led by the late Len Bias. David scored 22, Bias tallied 20 and the Terrapins won by five, but David took away plenty.
"My confidence just went through the roof at that point, and I just realized, 'You know what, there's nobody that I cannot play with,'" David said. "And I think for Corey, coming from a small school and getting on that big stage and realizing that, 'Hey, there's nobody that you can't play with' -- I could see that coming out of him."
It is not that the 6-foot-4.5, 215-pound Corey ever lacked for athleticism. But he never played much football until high school. And at San Antonio Christian -- with a prep enrollment under 400 -- validation was hard to find.
His coaches convinced him that the gridiron could take him places, but football was mostly foreign to the Robinsons.
Two-time NBA champion David confessed he knows little about the game other than the competitive mindset it takes to succeed at the highest level. Such potential is what drove Corey away from his old man's alma mater, as he drew heavy Division I interest.
David said Notre Dame and Corey are in some ways built for each other. Coach Brian Kelly used a signature mantra -- gentlemen off the field, tough guy on it -- in describing Corey.
"That's fun as a coach and teacher when you get somebody that is in so many ways learning every day that he steps on the practice field," Kelly said.
The tough guy in Corey was evident as he played through September with a broken right thumb. He said the pain forced him to focus on other nuances of his game. He is second on the team in catches (27), yards (359) and touchdowns receptions (four).
The gentleman in Corey comes through in mission trips, like this past summer's to Brazil. Or through jam sessions with teammates. Corey plays the piano, bass and guitar, among other instruments. His father takes credit for his son's love of music, but he cannot pinpoint the source of talent.
The Admiral can, however, trace his son's eccentricity to his forebears, including his own father, Ambrose, also a Navy man.
"My grandfather grew up in Little Rock, Arkansas, and there was all the racism at that time, and Central High there had the segregation issues," David said. "I grew up around the tail end of a lot of that stuff, where my parents and my grandparents had to deal with that. So I always admired how they stood strong and how my father overcame a lot of that stuff and joined the Navy and gave me opportunities that he didn't have, and I wanted to do that for my next generation and the generations after that."
Such opportunities have meant spending Veterans Day with President Obama and visiting troops in Afghanistan. David won the 2013 Heisman Humanitarian Award for charitable endeavors. Corey sees this, David said, and he knows how to handle success.
"All this stuff doesn't happen to you for your own sake," David said. "It doesn't happen to you so you can fill your shelves with trophies or line your pockets with cash; it happens so you can have a positive influence and encourage other people. It's what you leave behind that's far more important, because everything else is just going to be snatched up by somebody else. Your bank account's going to somebody else. All your records are going to go to somebody else.
"But what you really leave behind is that love that you put into other people's lives, and I think that's what he sees in my life over the years."
March, 27, 2014
Mar 27
8:00
AM CT
SOUTH BEND, Ind. -- Brian Kelly wants more out of all of them, because that's just the way the head coach is wired. Mike Denbrock is not displeased with any of them, because six practices into spring ball would be an awfully early time for the offensive coordinator to heap any significant praise on a green group.
If Notre Dame's offense is going to break out in the fashion all expect now that it has a proven, dynamic quarterback in
Everett Golson
, it's going to need its receivers to take the next step. And these final three weeks of spring practice will probably go a long way in determining whether such a leap can occur, especially with headliner
DaVaris Daniels
exiled until the summer because of an academic matter.
"Now, it's kind of been funny, when I have a question, I have to figure it out as opposed to last fall,"
Corey Robinson
said. "DaVaris played 'W' a lot -- whenever I had an issue, I'd go to him and he'd help me out, or I'd go to TJ [Jones]. Now I have to figure it out, and some of the younger guys who didn't play last year are coming to me and asking me what to do. That's really forced my hand -- and I know it's the same for Breezy (
Chris Brown
) and
C.J. (Prosise
). We have to know the offense better and it kind of puts pressure on us to do that so when questions are asked we can help out."
Robinson has raised eyebrows for the second spring in a row, this time for more than just his frame. The 6-foot-4.5, 205-pound son of hoops Hall of Famer David Robinson has asserted himself more after a nine-catch, 157-yard, one-touchdown rookie campaign, with Kelly saying the sophomore has pleased him more than anyone else at the position.
"He does exactly what I ask him to do all the time," Kelly said, loud and deliberately. "And he does it right. Now he may screw it up the first time, but you coach him and he does it right the second time. I love that kid."
"They try to do it right," Kelly later added of the others when asked. "They all try to do it right. He does it right the second time. He's fun to coach."
Denbrock said the experience of Brown has made him the steadiest of the bunch, as his junior status and 17 career grabs for 265 yards and a score are all tops on the current roster.
It helps that youngsters like Robinson and

Will Fuller
(six catches, 160 yards, TD) got their feet wet last season as freshmen, but there are still projects in spring enrollee
Justin Brent
and
Torii Hunter Jr
., who redshirted last season while recovering from a broken left leg suffered in high school.
"If you look at those other guys, it's still new to them," Denbrock said. "We're really working hard at all positions on offense because of our youth and gaining that type of consistency play in and play out that you need to control the game from the offensive side of the ball."
October, 31, 2013
10/31/13
12:00
PM CT
Congrats, Boston. And Happy Halloween to all!
October, 31, 2013
10/31/13
8:00
AM CT
SOUTH BEND, Ind. --
Corey Robinson
and his dad never talk football. Dad doesn't know anything about the sport, Corey said, and Corey feels as if he himself still has a lot to learn about the game despite playing it every day.
Saturday will nonetheless present quite the family conflict for the Robinsons when Corey takes the field for No. 25 Notre Dame against Navy, his father's alma mater. It was with the Midshipmen that his father, a pretty tall guy by the name of
David Robinson
David, helped set himself up to be taken No. 1 overall by the San Antonio Spurs and win two championships during a 14-year Hall of Fame NBA career.
[+] Enlarge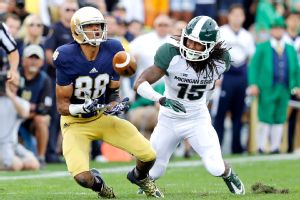 AP Photo/Michael ConroyCorey Robinson knows his dad, David, made a name for himself at Navy before embarking on a Hall of Fame NBA career, but he hopes to get him to support Notre Dame when the Irish play the Midshipmen.
"I need to talk to my dad about this, make sure he's wearing my jersey or wearing Notre Dame something as opposed to Navy," Corey Robinson said of this weekend's matchup. "But I think my grandpa who also served in the Navy might be wearing Navy. I don't know. There's a lot of Navy happening right now. I need to change that."
A freshman receiver with the Irish, Robinson reached the end zone for the first time this past Saturday against Air Force, hauling in a 35-yard pass from
Tommy Rees
for Notre Dame's first touchdown. He has five catches for 101 yards through eight games after enrolling this past spring.
He would always visit his father's old campus in Annapolis, Md., for older reunions and such, but Notre Dame's offer sent him in another direction when choosing a college out of San Antonio Christian High.
"I think he was happy, because he was telling me horror stories," Robinson said of his dad. "I think he was trying to scare me out of it. He was all like, 'You have to wake up at 5 in the morning, and all the PT we had to do in addition to basketball and football.' He said he didn't get any sleep the whole time. He's a smart guy, and he told me he got some bad grades his first couple years. And I was like, 'Hmm, I don't know if that's for me or not.' I think he was actually happy when I told him I wanted to go somewhere else."
The 6-foot-4.5, 205-pound Robinson will probably never reach his father's height of 7-1. David Robinson has been a fixture at Irish games so far, gestures that Corey appreciates, though he gives off little sign that he is a son with a famous father.
"He's a very easy-going guy, it seems like he never really gets riled up, never really seen him get upset or anything like that," Rees said. "He's extremely competitive and you can tell the way that he grew up there's a lot of structure, a lot of different -- this is how you work, this is what's expected of you. And he does a great job of coming in every day eager to learn and eager to get better."
Speaking to reporters Wednesday, the weight of the game had yet to dawn upon Robinson. Right now it is another military academy and another option-offense that stands in the way of the Irish extending their winning streak to four in a row as they make a late run toward a BCS-bowl berth.
That sentiment probably does not run throughout the family, though.
"So far it's another game. I think for my dad, it means a little more to him," Robinson said. "I'm excited to play Navy. But at the end of the day, we've got to get the win. it doesn't matter who we're playing. I respect them and I respect what they do and I'm excited to go play a school that I wanted to go to for a very long time, that my dad's helped out a lot. But we have to get the W."
June, 12, 2013
6/12/13
11:07
AM CT
Notre Dame has landed consecutive top-10 recruiting classes. Which players from those groups have the best chances of making an impact as first-year players this fall?
[+] Enlarge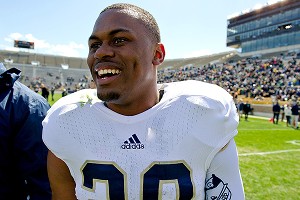 Matt Cashore/USA TODAY SportsC.J. Prosise had a 35-yard touchdown reception during the Blue-Gold Game this spring.
C.J. Prosise, WR
: The 6-foot-2, 208-pound Prosise redshirted a safety last season. He switched to the offensive side of the ball before spring practices this year, and the early returns have been positive. The Petersburg, Va., native had a long touchdown catch in the open field during an open scrimmage this spring, and his 35-yard touchdown reception in the Blue-Gold game marked the only time the Irish offense reached the end zone in the spring contest. With the spring transfers of second-year receivers
Davonte Neal
and
Justin Ferguson
, the opportunity is wide open for Prosise to seize the vacant slot position. He will likely enter camp as the leading candidate to bolster Notre Dame's struggling punt return unit, too.
Greg Bryant, RB
: Bryant will not officially enroll at Notre Dame until June 17, but he has the potential to become an immediate contributor to the Irish offense. The ESPN150 prospect form Delray Beach, Fla., was ranked second nationally among running backs, making him one of the top running back recruits Notre Dame has landed in recent memory. The 5-foot-11, 197-pound Oklahoma de-commit should get a chance to compete in a deep but untested backfield after the departures of Theo Riddick and
Cierre Wood
.
Malik Zaire, QB
: The early enrollee drew rave reviews from the staff this spring and figures to have a shot to play this fall after the suspension of
Everett Golson
. The southpaw is a dual-threat signal caller from Archbishop Alter in Kettering, Ohio. ESPN rated Zaire No. 6 among quarterbacks from the Class of 2013, and coach Brian Kelly said that he will get an opportunity to compete like everyone else in camp for the starting spot.
Corey Robinson/James Onwualu, WR
: Both players enrolled this spring and found themselves getting plenty of time all over the field after Neal and Ferguson left the program. The 6-foot-4.5, 197-pound Robinson, the son of hoops Hall of Famer David, has the size and speed to go up and get anything in sight on the outside, as evidenced by a deep, diving, juggling catch he made during an open scrimmage. The 6-foot-1, 215-pound Onwualu should also get a chance to contribute inside immediately after displaying flashes of athleticism early.
March, 28, 2012
3/28/12
12:55
AM CT
Receiver
Corey Robinson
(San Antonio/San Antonio Christian), son of basketball Hall of Famer David Robinson,
committed to Notre Dame late Tuesday
, becoming the Irish's ninth commitment for the class of 2013 and, more importantly, their sixth since Saturday.

"On the trip, I felt it myself. I felt the connection," David Robinson told our Damon Sayles. "I felt this could be a place where I could leave my son and feel good about it. The decision wasn't all mine, so I wanted him to be sure, too."
How quickly things have changed. Notre Dame entered the spring on the heels of
Tee Shepard
's de-commitment, the school's fifth from the 2012 class. Momentum was gone and then, with a strong Junior Day showing this past weekend, it suddenly shifted back in Notre Dame's favor.
To recap the past four days ...
Saturday: Offensive tackles Colin McGovern (New Lenox, Ill./Lincoln-Way West) and Hunter Bivin (Owensboro, Ky./Apollo), the latter a Watch List member, commit to the Irish following Junior Day.
Sunday: ESPNU 150 Watch List quarterback Malik Zaire (Kettering, Ohio/Archbishop Alter) and Watch List offensive tackle Mike McGlinchey (Philadelphia/William Penn) commit to Notre Dame, giving the Irish four commits in a two-day span after entering the weekend with a three-man class.
Monday: Athlete Rashad Kinlaw (Galloway, N.J./Absegami) commits, giving the Irish their first cornerback in the last two classes.
Tuesday: Robinson commits following a trip to Wake Forest.
Watch List tight end
Jacob Matuska
(Columbus, Ohio/Bishop Hartley,) athlete
James Onwualu
(Saint Paul, Minn./Cretin-Derham) and Watch List offensive tackle
Steve Elmer
(Midland, Mich./Midland) are the Irish's other commitments.
TOP 25 SCOREBOARD
Friday, 12/26
Saturday, 12/20
Monday, 12/22
Tuesday, 12/23
Wednesday, 12/24
Saturday, 12/27
Monday, 12/29
Tuesday, 12/30
Wednesday, 12/31
Thursday, 1/1
Friday, 1/2
Saturday, 1/3
Sunday, 1/4
Monday, 1/12
TOP PERFORMERS