Chicago Colleges:

David Ruffer
November, 28, 2011
11/28/11
12:00
PM CT
It's time to take one more look back at Notre Dame's regular-season ending 28-14 loss at Stanford.
[+] Enlarge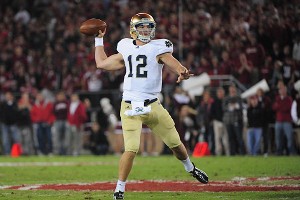 Kyle Terada/US PresswireQuarterback Andrew Hendrix saw extensive playing time in Notre Dame's loss against Stanford.
The Good:
Better late than never, right?
Andrew Hendrix
saw his first extended action since Oct. 22 against USC, playing the entire second half. The sophomore completed 11 of 24 passes for 192 yards and a touchdown, and added 20 rushing yards and another touchdown on 12 carries.
The Bad:
Whatever BCS-bowl hopes Notre Dame hung onto went up in flames with a convincing road loss against a likely BCS bowl team. The Irish were out-gained 287-75 in a first half that ended with them trailing 21-0.
The Ugly:
In falling to 1-3 against ranked opponents this season, Notre Dame surrendered five sacks, missed a 20-yard field goal and committed 10 penalties for 68 yards. Not the recipe for beating a top-10 team on the road.
Turning point:
After Darius Fleming picked off
Andrew Luck
in the second quarter and returned the ball -- with the help of a horse-collar penalty -- to the Stanford 11, David Ruffer missed a 20-yard field goal. Luck and the Cardinal then marched 80 yards in 10 plays, ending with a 28-yard touchdown pass to
Coby Fleener
that made it 14-0 and swung the momentum.
Call of the day:
Hard to point to just one call, but Stanford did a tremendous job of taking advantage of its massive tight ends against the Irish's small cornerbacks. Luck hit 6-foot-8
Levine Toilolo
for a three-yard touchdown pass on a first-quarter fade route when Toilolo was matched up against the 5-11 Gary Gray. For his second touchdown pass, Luck hit the 6-6, 244-pound Fleener near the 14-yard line when he was covered by the 6-1 Robert Blanton. Fleener essentially dragged Blanton the rest of the way into the end zone, resulting in a 28-yard touchdown pass and 14-0 Stanford lead in the second quarter.
Next up:
Despite its 3-0 ACC record (4-0 if you include soon-to-be ACC school Pittsburgh), Notre Dame will not be playing in this Saturday's ACC title game. That contest will feature Clemson and Virginia Tech. The Irish might get Clemson in the Champs Sports Bowl if the Tigers fall Saturday, but the Irish's bowl and opponent is, at the moment, not yet officially determined.
November, 19, 2011
11/19/11
6:47
PM CT
SOUTH BEND, Ind. -- Notre Dame edged out Boston College in an ugly contest Saturday, escaping with a
16-14
Senior Day victory at Notre Dame Stadium.


David Ruffer's 27-yard field goal with just more than eight minutes left in the contest all but iced the game.
Bobby Swigert
's seven-yard touchdown catch with 1:57 remaining was too little, too late for the Eagles.
Robby Toma
recovered Boston College's ensuing onside kick attempt.
The Irish won their fourth straight game overall and their third over an ACC opponent in as many weeks, matching last season's win total in improving to 8-3.
However, it was not all roses for Notre Dame on its Senior Day, as running back
Jonas Gray
went down in the third quarter with what looked like a serious knee injury. The blow would be devastating to the Irish backfield and especially to the senior Gray, who had a renaissance campaign and was positioning himself to be drafted this coming spring.
Be sure to keep it here for postgame reaction to the Irish win and for the latest news surrounding Gray's injury.
October, 22, 2011
10/22/11
8:28
PM CT
SOUTH BEND, Ind. — Here's a quick breakdown of the first half, as USC
has a 17-10 lead
over Notre Dame.


Turning point:
George Atkinson's 96-yard kickoff return for a touchdown with 3:22 left in the first half completely changed the tone of this game, as it got the Irish on the board and injected some juice into the stadium. The Irish responded by stopping USC on its next drive and then marching downfield, setting up a 24-yard David Ruffer field goal right before halftime.
Stat of the half:
USC has outgained Notre Dame, 253-127. The Trojans have had their way offensively while the Irish had trouble getting anything going in the first half until their final drive, when they marched 68 yards in 10 plays and just 1:04. Notre Dame will need to build off that last drive as it closes the gap on what was once a 17-0 Trojans lead.
Best player in the half:
Matt Barkley
has completed 12 of 20 passes for 125 yards and two touchdowns, directing three USC scoring drives and giving the Trojans an early three-possession lead. Notre Dame did a better job of slowing down the Trojans' offense as the half progressed and will need to continue to do that to complete the comeback.
October, 5, 2011
10/05/11
9:15
AM CT
SOUTH BEND, Ind. -- The smile on Brian Kelly's face said it all.
Asked whether Notre Dame could take its special-teams play to a new level this week, the head coach replied with a question of his own.
"What level would you like me to take them to?" he said to a room full of laughs.
If there was one thing that kept Kelly from proclaiming Saturday's 38-10 win at Purdue his team's best performance of the season, special teams may be it.
John Goodman
netted minus-3 yards on two punt returns and let another ball roll by him for a 61-yard punt in the first quarter. David Ruffer had one field goal blocked and missed another.
And Kyle Brindza, who saw more action than normal given the Fighting Irish's offensive outburst, averaged 64.3 yards on seven kickoffs, matching a season low from a week earlier at Pitt, where he kicked off just three times.
"Kyle took a step back last week in his performance against Purdue, so we gotta find out why," defensive line coach and special teams coordinator Mike Elston said, adding that Brindza has been punting in practice as well.
"Maybe we've overpunted him a little bit. He's been awesome up until last week, which he understands. And he'll do a better job this week."
Of bigger concern is the punt return game, which has netted 3 total yards for the season on 10 returns between Goodman and
Theo Riddick
, who have each turned it over once.
Goodman, who has returned eight punts, ranks last among all 76 qualifying FBS players in returns, averaging 0.63 yards per return.
"When you're going backwards, we gotta make better decisions catching the ball, first of all," Elston said. "We can't catch the ball with a guy in our face. And we gotta do a better job of holding up. We gotta get guys out there that can run a little better, that can hold up. And Purdue had good skill and we didn't really match up well and we'll match up better this week with guys that we can get out there. So we just gotta put better guys on their fast players and try to do a better job of holding up."
And then there is Ruffer, a fifth-year senior who converted 23 of 24 field goal attempts last season, when he was a finalist for the Lou Groza Award. Ruffer has made just 3 of 7 field goal attempts so far this year.
There have been some bright spots on special teams, specifically freshman
George Atkinson III
, whose 89-yard kickoff return for a touchdown broke open the Irish's Week 3 win over Michigan State. Atkinson ranks fifth among 100 FBS-qualifying players in kickoff returns, averaging 30.56 yards per return.
And punter Ben Turk has averaged 40.9 yards per punt over his past three games after a rough first two weeks left him with an average of just 33.85.
Still, a lack of clarity at several key spots five weeks into the season has forced Notre Dame into some tough situations, such as the first possession of the third quarter of its Week 4 win at Pitt, after the defense forced a three-and-out.
"It's very frustrating," Elston said, "because now you feel compelled to make a play so you call a block against Pittsburgh. And you rough the punter. So it's like you're trying to make something happen, you're trying to get something positive going on that unit and you're too aggressive, so it's very frustrating."
October, 2, 2011
10/02/11
9:00
AM CT
1) Protecting the ball makes for smooth sailing:
It seemed like we'd never see the day Notre Dame went 60 minutes without a turnover, but Saturday changed that.
[+] Enlarge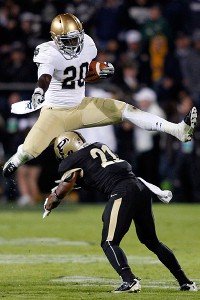 AP Photo/AJ MastNotre Dame's Cierre Wood is 42nd in the nation in rush yards per game at 89.8.
The Fighting Irish eclipsed the 500-yard mark for the third time this season, but won while crossing that plateau for the first time, as they were doomed by five-turnover performances in Weeks 1 and 2. Saturday was huge for the offense, in particularly
Tommy Rees
, who eliminated many of the befuddling miscues that had Irish fans calling for a new quarterback after his first three-and-a-half games under center. Now, for the first time all season, we can no longer say Notre Dame leads the nation in turnovers or has the worst turnover margin. (The first honor belongs to East Carolina, with 17. The latter is shared by East Carolina, Iowa State and Western Kentucky, at -2.00).
2) The rush defense is for real:
Notre Dame had another dominating performance up front Saturday, limiting the Big Ten's second-ranked rushing offense to 84 yards on 27 carries. This came two weeks after the Irish allowed just 29 rushing yards against Michigan State and one week after holding Pitt's
Ray Graham
to 89 yards, something that looks like more of accomplishment after Graham exploded for 226 yards Thursday against South Florida.
3) Special teams need to improve. Still:
Brian Kelly said Saturday that he didn't want to sound like sour milk when listing what his team could have done better, but the Irish did leave points on the board. David Ruffer, a 2010 Lou Groza Award finalist, missed two field goals. And the punt return experiment once again looked like just that -- an experiment.
John Goodman
netted -3 yards on two returns and, in a real head-scratcher, watched one ball sail over his head and roll for a 61-yard punt in the first quarter.
4) Penalties still need clearing up:
This one gets overshadowed because the Irish didn't turn the ball over, won by 28 points and saw their opponent commit an astounding 13 penalties for 118 yards. But Notre Dame itself committed eight penalties for 85 yards, including an ugly one when long snapper
Jordan Cowart
got tangled up with several Purdue players on a second-quarter punt. Mental lapses such as these are forgivable against the Boilermakers, not so much against USC or Stanford.
September, 17, 2011
9/17/11
2:21
PM CT
SOUTH BEND, Ind. -- Greetings from Notre Dame Stadium, where the Fighting Irish go for win No. 1 against the 15th-ranked and defending co-Big Ten champion Michigan State Spartans.

Plenty of green has taken over Notre Dame's campus today, with even a few "Go Green, Go White!" chants sparsed among the tailgaters. I've actually been impressed by the number of folks who made the trip from East Lansing, Mich., to cheer on Sparty as it looks to improve to 3-0.

No need to remind everyone what's at stake here, especially with the way the Irish's next opponent, Pitt, has looked against Iowa early today.

On the field, kicker Kyle Brindza is once again sporting lime-green cleats, which, despite the considerable amount of green on the field today, still manage to stand out like a sore thumb.

The weather today has been beautiful and is expected to hold up, meaning we may just have a game that goes less than five hours. Knowing the drama that inevitably follows Notre Dame, however, I wouldn't count on that just yet.

Be sure to keep it here throughout the afternoon for updates and analysis from Notre Dame Stadium.
July, 7, 2011
7/07/11
7:10
PM CT
Illinois senior Derek Dimke and Notre Dame senior David Ruffer were named to the Lou Groza Award watch list on Thursday.

The Groza Award is given to the country's top placekicker. Oklahoma State's Dan Bailey won the award in 2010.
Dimke made 24 of 29 field goals and 43 of 43 extra points last season. Ruffer was a finalist for the award in 2010 and made 18 of 19 field goals and 37 of 40 extra points.
December, 31, 2010
12/31/10
6:43
PM CT
By
Wes Morgan
| ESPNChicago.com
If you're a
Notre Dame
football fan, the 2011 season is shaping up to be pretty special.
The Irish dominated both sides of the ball in Friday's 33-17 victory over Miami in El Paso, Texas, as a four-game win streak to end 2010 took away the sting of a slow start and gave them momentum heading into next year.
The electric Fighting Irish jolted the Hurricanes (7-6) early with two quick touchdown strikes from freshman quarterback
Tommy Rees
to star receiver
Michael Floyd
, who nearly added two more, practically claiming a victory before everyone had reached their seats.
On an uncharacteristically cold day in West Texas, here's a look at a number of Notre Dame players who scorched an old rival to finish 8-5:
[+] Enlarge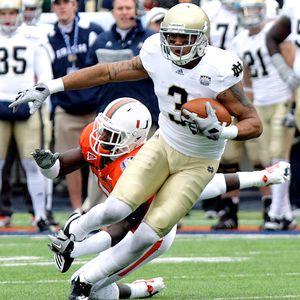 AP Photo/El Paso Times/Mark LambieMichael Floyd caught six passes for 106 yards and two touchdowns in Notre Dame's Sun Bowl win on Friday.
Farewell Floyd?
In what was probably his final game in an Irish uniform, Floyd, a junior, caught six passes for 106 yards and two scores against the nation's second-ranked pass defense. Few expected Floyd, assumed to be greeted by blanket coverage all afternoon, to be much of a factor. Instead, the 6-3, 227-pounder from St. Paul, Minn., victimized Miami and defensive back
Brandon Harris
.
Floyd showed his speed on third-and-long with a short slant that he took 35 yards -- on a drive he finished with a 2-yard TD snag -- and underscored his ability to get the ball on an under-thrown pass for a 34-yard score.
Harrison Smith-ereens
Irish senior safety Harrison Smith turned Miami quarterback
Jacory Harris
' brain to mush with three first-half interceptions, breaking former ND great Elmer Layden's 85-year record of two picks in the 1925 Rose Bowl against Stanford. Harris was soon replaced by freshman
Stephen Morris
, who finished 22-for-33 passing for 283 yards and a pair of TDs.
Smith has a fifth year of eligibility and it's all but a formality that he will be back in South Bend next year, pending an official offer from the university. Smith had four interceptions in the regular season to finish with seven. He hadn't registered one prior to his senior campaign.
Production, but not perfection
Senior walk-on kicker David Ruffer entered the Sun Bowl 16-for-16 on field goals this year and 22-for-22 in his brief career with the Irish. He connected on FGs from 40 and 50 yards (tying a career long) in the first quarter and added a 19-yarder in the third to give ND a 30-3 lead. Following the ensuing kickoff, Ruffer limped off the field.
When he came back out for a 36-yard attempt with 4:16 left in the third, his streak ended. Though his resume was finally smudged, his nine points were critical when the Hurricanes came to life later in the game. Sophomore Nick Tausch, a Texas product, relieved Ruffer and converted a 34-yard field goal in the fourth quarter.
Long haul for Hughes
Through his first three seasons,
Robert Hughes
never averaged more than 38 yards rushing per game. His 5-11, 245-pound frame was used mostly at fullback after opportunities as the featured back failed. When Armando Allen went down with a hip injury earlier this year, Hughes provided ND with energy, toughness and straightforward reliability in combination with sophomore
Cierre Wood
, who bolted to a 34-yard TD early in the third quarter.
Hughes, who only carried the ball in eight games this year, bruised the Hurricanes for 84 yards on 27 carries to cap a superb senior season and push his total to 303. Wood had 85 yards on 11 carries.
Quarterback conundrum
The crystal ball was already murky concerning Notre Dame's starting QB in 2011, and Rees' efficient and intelligent play against the 'Canes just made Kelly's decision that much tougher.
Never rattled, Rees completed 16 of 30 passes for 195 yards and two touchdowns with absolutely no mistakes against a heralded secondary. With ample protection from the Irish offensive line, Rees was patient in the pocket, made strong throws on the run and did far more than just manage the game. Of his four victories, Friday's was the loudest argument that he's ready to be the man and permanently replace injured junior
Dayne Crist
.
November, 23, 2010
11/23/10
6:26
PM CT
By
Wes Morgan
| ESPNChicago.com
SOUTH BEND, Ind. -- Notre Dame senior David Ruffer, a walk-on from Oakton, Va., has been named one of three finalists for the 2010 Lou Groza Collegiate Place-Kicker Award.
Read the entire story
.
October, 9, 2010
10/09/10
9:05
PM CT
By
Wes Morgan
| ESPNChicago.com
SOUTH BEND, Ind. -- Coach Brian Kelly has every right to feel good about Notre Dame's 23-17 victory Saturday over Pittsburgh. And quarterback
Dayne Crist
certainly deserves a postgame celebration on his 21st birthday.
The Irish finally won a close football game. Now it's a matter of preventing games from becoming close in the first place. Right?
"Again, got off to a pretty good start offensively," said Kelly, whose team is now 3-3 with a softer stretch ahead. "But, as we've shown, we are really good at stubbing our toe, whether it be a penalty here or a drop here. But that's us. So you're going to have to get used to it, because I'm still trying to get used to it, or it's going to make me look really old real quick."
[+] Enlarge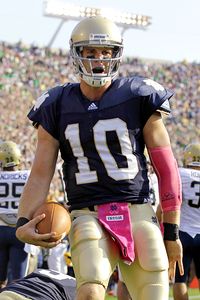 AP Photo/Michael ConroyDayne Crist helped Notre Dame to a win over Pittsburgh on his birthday.
Maybe winning is all that matters, no matter how ugly it got for an Irish offense that was extremely attractive in the first half and pedestrian in the second. Notre Dame enjoyed a 17-3 halftime lead but managed to add just two field goals in the final 30 minutes, leaving the door ajar for the outmatched Panthers.
"It's not a beauty contest yet for us," Kelly said. "There's something that they're starting to develop and that is they believe they're going to win. That's starting to change -- how they come to work every day, how they play the game now."
Here's how things played out Saturday:
Kick in the pants ND needed
Who is David Ruffer? No, really? Sure, we've heard his story: The kid who dreamt of playing for Notre Dame but couldn't even cut it at William and Mary, where he never saw a second of game time. Then, in 2008, he transferred to Notre Dame, where word spreads that the intramural player has quite a leg. Former coach Charlie Weis slaps a jersey on the walk-on and now he's the starter.
But it's still hard to believe, especially after his performance against Pitt. Ruffer connected on all three field-goal attempts Saturday, including a 50-yarder, improving his streak to 16-for-16 in his career. The 50-yard kick is the longest since Nick Fitzpatrick made one from the same distance in 2003.
Perhaps Ruffer inspired punter Ben Turk to turn things around. The sophomore entered the game ranked 85th in the country with a 36.5-yard average but pushed his mean to 47 on five attempts.
"It was huge," Kelly said of the kicking game. "I mean, we flipped the field position today. Ben Turk was outstanding punting the football. Ruffer is obviously doing things that obviously not many people, including myself, thought he could do. Nobody would have thought 50 yards was like automatic. He kicked that thing into the net. [I] had to look twice that it was 50 yards. He's just been outstanding."
Crist continues to develop
This was no quarterback sneak. Crist rolled out to the right sideline, hesitated, then zipped 10 yards midway through the second quarter for his third rushing touchdown of the year. It's further proof the junior understands his mobility is crucial if Kelly's spread offense is going to be effective. After throwing for 242 yards, one touchdown and no interceptions on 24-of-39 passing, the junior QB addressed his maturation process through the first half of the season.
"It's still a work in progress, I would say," Crist said. "It's still continuing to develop. We did some good things today and did some things that we'd like to correct. But the best part was we got a win while doing it. [The rushing TD] was just an opportunity that presented itself. When the play broke down, it was huge, and it just kind of happened."
Red zone defense
Out of 19 attempts, Irish opponents have made good on just seven trips to the red zone this season -- only three of which have resulted in TDs. The Panthers pushed deep into ND territory three times in the first half and netted only a field goal.
In general, the Irish defense continues to improve. Safety Harrison Smith intercepted Pitt's
Tino Sunseri
and now has two picks in as many weeks. The junior had none entering the season and finished with a team-high 11 tackles. Sophomore linebacker Carlo Calabrese shined again with nine total stops and OLB Darius Fleming put some hurt on all five of his sticks Saturday as Pitt managed just 110 net rushing yards.
Ball control is in Kelly's vocabulary
In the first quarter, Notre Dame answered Pitt's field goal with a 13-play, 77-yard touchdown drive that lasted 4:50 -- the longest scoring drive of the season. The next time the Irish got the ball, they marched 80 yards on 15 plays and chewed up 6:23 en route to another touchdown. In terms of the number of plays, it was the longest scoring drive since 2006.
TOP 25 SCOREBOARD
Saturday, 12/20
Monday, 12/22
Tuesday, 12/23
Wednesday, 12/24
Friday, 12/26
Saturday, 12/27
Monday, 12/29
Tuesday, 12/30
Wednesday, 12/31
Thursday, 1/1
Friday, 1/2
Saturday, 1/3
Sunday, 1/4
Monday, 1/12
TOP PERFORMERS