Chicago Colleges:

Deshaun Thomas
January, 5, 2013
1/05/13
6:38
PM CT
The last time
Brandon Paul
played Ohio State at home, he didn't have just a career game -- he had
anybody's
career game.
That night, Jan. 10, 2012, Paul scored 43 points on 15 shots, including 8 of 10 from beyond the arc. More than a few of those shots were patently ridiculous -- a contested fallaway 3 from the corner, a bank shot from 20 feet, step-backs from every angle -- and they let you know pretty early on that Paul was just having one of
those
nights. Stand back and enjoy.
Despite all that efficient brilliance, Illinois still only barely toppled the Buckeyes, 79-74. In the end, the game was a weirdly telling sign of things to come: Paul went back to his usual inefficient self and Illinois lost 12 out of its last 14 games, turning a 15-3 start into a 17-15 finish that got its coach, Bruce Weber, summarily canned.
This time around, the home victory over Ohio State couldn't have been more different. Illinois didn't have to summon its very best; Paul didn't have to go off. He just needed to do what he's been doing all season. He just needed to be consistent.
[+] Enlarge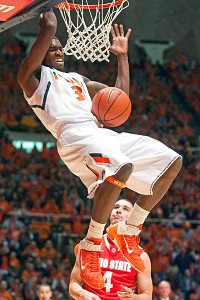 AP Photo/Darrell HoemannBrandon Paul credits the freedom new Illinois coach John Groce has given him for his steadier play.
"I really do just think it's about consistency," Paul told ESPN.com via phone following Saturday's
74-55 cruise
over No. 8-ranked Ohio State. "I'm a lot more consistent this year than I've been in the past."
It's simple but true. Last season, Paul's crazy 43-point breakout was an aberration in an otherwise choppy season. On Saturday, his 19 points on 12 shots (with 7 rebounds and 3 assists) was still one of the best performances on the floor (Illinois center
Nnanna Egwu
had 16 points on 10 shots, with 8 rebounds), and it was more in line with what we've come to expect from Paul this season. Last season, the guard still used 28 percent of his team's possessions -- the same as in 2012-13 -- but his offensive rating was a mere 95.2. Before Saturday's game, his 2012-13 mark was 111.4.
Paul's senior year has thus far been the best of his career, and it isn't even close. He's not only more "consistent," he's
better
, and so is his team.
How? Paul gives a lot of the credit to coach John Groce, who did a major set renovation on Illinois' offense in his first offseason with the team. Doing away with much of Weber's three-out, two-in motion, Groce instead spaced the floor. He frequently plays a four-guard lineup, runs much more high screen-and-roll, and allows 6-foot-9 forward
Tyler Griffey
to spot up from 3, where he's shooting 45 percent on the season.
All of this has helped Paul feel like he has more space to operate on offense -- he can take a screen or two, read the defense, attack the rim or dish to one of several perimeter options. But Groce has also done something much more basic: He has made his star guard feel trusted.
"He's given me, and continues to give me, more freedom," Paul said. "He knows if I make a strong decision with the ball he doesn't really have to worry about bad shot selection. We've all done a better job this year with bad shot selection, myself especially.
"He's given me the option to control the team, to control the game," Paul said. "He says to go at my pace, and make sure everyone else is on the same page. That definitely helps."
To be sure, Paul got plenty of other help in Saturday's victory. His teammates put in a balanced scoring effort -- Egwu picked up an off Griffey down low, while
Tracy Abrams
went 5-of-7 from the field and
Joseph Bertrand
added 12 points off the bench. It also helped that Ohio State went just 4-of-19 from 3.
Deshaun Thomas
needed 21 shots to get his 24 points, and the rest of his teammates combined for just 31 points on 28.2 percent shooting, easily the ugliest performance of the season from a typically good offensive team, albeit one that has yet to notch a marquee victory, and will have its doubters in droves. And 11th-ranked Illinois cleaned up all those misses on the glass, something the Illini struggled to do in Wednesday's Big Ten-opening loss at Purdue.
Illinois' victory also highlighted the sheer strength of the Big Ten, and just how difficult it will be to steal wins on the road in league play.
"You can't take one game off," Paul said. "You have to compete no matter where you're at. It's going to be like every year in the Big Ten -- there are going to be a lot of ups and downs."
Rarely was that more true than for the 2011-12 Illini, who went from an upset of a Final Four team and a classic 43-point performance to 17-15 with a fired coach. This season, the Illini have set about making those downs less down, even if the ups are never quite as high. In a word: consistency.
"We had balanced scoring, guys in double digits, guys were getting a lot of gang rebounds," Paul said. "I love these types of games."
January, 5, 2013
1/05/13
3:38
PM CT
A quick look at No. 11 Illinois' 74-55 win over No. 8 Ohio State at Assembly Hall on Saturday in Champaign, Ill.
Overview:
Illinois has proved twice now this season that it can bounce back from a loss. That wasn't a trait of last season's team, which had two three-game losing streaks and a six-game skid.
The Illini needed Saturday's win after falling at Purdue in their Big Ten opener earlier in the week. An 0-2 start with upcoming games against Minnesota and at Wisconsin wouldn't have been ideal for Illinois.
Illinois also showed it doesn't have to rely on the 3-pointer to beat top teams, as it did against Butler and Gonzaga. The Illini were 8-of-27 from 3-point range Saturday, but they did the bulk of their damage inside. Illinois had five players score nine or more points.
Brandon Paul
led the way with 19 points.
On the other end, Ohio State couldn't get much to fall. The Buckeyes were 20-of-60 from the field and 4-of-19 from 3-point range.
Deshaun Thomas
scored 24 of the team's 55 points.
Turning point:
Illinois came out motivated after losing to Purdue. The Illini used a 12-2 run early in the first half to go up 25-11. Ohio State was able to cut the lead to eight at one point, but the Illini wouldn't give in any more than that. Illinois led by 20-plus points throughout most of the second half.
Key player:
Illinois sophomore center
Nnanna Egwu
appears to improve by the game. He scored a career-high 16 points on Saturday, and added eight rebounds, one block and one steal.
Key stat:
Ohio State was averaging 10 turnovers heading into Saturday's game. The Illini forced the Buckeyes into 10 turnovers in the first half alone. Ohio State finished with 16 turnovers.
Next game:
Illinois will host its second consecutive top-10 team when No. 9 Minnesota comes to town Wednesday. Ohio State heads to Purdue on Tuesday.
January, 4, 2013
1/04/13
6:37
PM CT
[+] Enlarge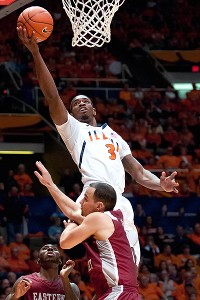 Bradley Leeb/US PresswireBrandon Paul leads the Illini with 18.5 points and 5.0 rebounds per game.
Coach John Groce said Friday the
Fighting Illini
have to make rebounding more of an emphasis after their last three opponents beat them on the boards, leading to their only two losses this season.
Missouri
first brought to light the Illini's problem by outrebounding them 58-35, including 22-14 on the offensive glass, in an Illinois loss on Dec. 22. The Tigers had 15 second-chance points in the 82-73 win.
Against
Auburn
on Dec. 29, the Illini were outrebounded 39-31 overall and 14-9 offensively in an 81-79 win. Auburn had 24 second-chance points.
In Wednesday's game against
Purdue
, Illinois was outrebounded 45-35 overall and 17-13 offensively in another loss. The Boilermakers had 15 second-chance points in the 68-61 win.
"I think just continue to make it more of an emphasis and getting everybody involved," Groce said on Friday. "I think we're a team that has to gang-rebound it. We are. All five guys have to be involved in it.
"I think at times we've done a decent job of doing that, and other times as I've watched I don't think we've done a very good job at doing that. We got to be more consistent in that area."
March, 1, 2012
3/01/12
12:30
AM CT
EVANSTON, Ill. -- Was it too much to ask?
Was it too much to hope that just one time -- this time -- would be Northwestern's turn as fate's chosen beneficiary? Was it too much to think that maybe, despite all the reasons to believe the contrary, the Wildcats might just catch a break? Could Northwestern fans, besieged constantly by reminders of their program's historic futility, finally feel the freedom of belief?
The short answer? No.
"It's very tough," Northwestern guard
Drew Crawford
said.
"Disappointing," forward
John Shurna
said. "Kind of a tough way to go out."
Wednesday night was Shurna's senior night, an honor he shared with
Davide Curletti
,
Nick Fruendt
and
Luka Mirkovic
. Shurna & Co. are the school's all-time winningest class, one that also set a school record with three consecutive postseason appearances.
Of course, none of those postseasons has been of the NCAA tournament variety, which is why Wednesday night's game was so much more than a disappointing loss, so much more than an emotional senior night spoiled by a
75-73 defeat
.
February, 29, 2012
2/29/12
9:55
PM CT
EVANSTON, Ill. -- A quick rundown of Ohio State's
75-73 victory
over Northwestern on Wednesday night:
Overview:
The script was written. Northwestern didn't have enough size, enough athleticism, enough sheer basketball talent, and Ohio State did. The Wildcats were getting brutalized on the boards, and while their outside shooting kept them in the game, it didn't seem capable of actually pushing them over that last big invisible hump.


And then, suddenly, it did. Northwestern hung in and battled back from double-digit second-half deficits. By the final two minutes, the Wildcats had cut the lead to five, then four, then three, then -- suddenly, miraculously, from 30 or so feet --
Alex Marcotullio
sank a game-tying 3 and sent Northwestern's tortured fan base into hysterics.
And then, just as suddenly, the euphoria vanished. Ohio State ran a perfectly designed play with 7 seconds left, leading to a shockingly easy
Jared Sullinger
layup.
John Shurna
's last-ditch half-court heave (just barely) missed, and there it was: 75-73, Buckeyes. Northwestern was close. So, so close. But the hump won again.
Star of the game: Jared Sullinger.
The Buckeyes big man found life in the middle of Northwestern's zone about as easy as you'd expect. He scored 22 points and grabbed 18 rebounds, 11 of them of the offensive variety. He and
Deshaun Thomas
(19 points, 10 rebounds) dominated down low, an advantage that for much of the game kept Northwestern at bay.
Stat of the game: 62.5.
That's the percentage of its own misses Ohio State grabbed Wednesday night. For reference's sake, the national leader in offensive rebounding percentage (Quinnipiac, believe it or not) grabs about 42 percent of its own misses on average. Again, OSU dominated the offensive glass, and those second-chance points were the key difference.
What it means
: It's impossible not to feel, if only a little, for Northwestern. In consecutive weeks, the Wildcats took a top team (first Michigan, then the Buckeyes) to the wire at home, either of which would have given them the marquee win that almost certainly would ensure a first-ever berth in the NCAA tournament. Now, their at-large bid is still shaky, with only one game -- a potential bubble-burster at Iowa on Saturday -- left in the regular season. This is Northwestern's second brutal loss in eight days.
TOP 25 SCOREBOARD
Thursday, 11/20
Saturday, 11/22
TOP PERFORMERS
S. Perine Oklahoma - RB
34 car, 427 yds, 5 tds

V. Mayle Washington St - WR
15 rec, 252 yds, 0 tds