Chicago Colleges:

Doug Nussmeier
August, 13, 2014
Aug 13
8:00
AM CT
Let's talk about your new favorite subject and mine: autonomy.
What, you don't even fully understand the ramifications of
the decision
last week by the NCAA Division I Board of Directors that grants power to the Big Ten, SEC, ACC, Big 12 and Pac-12 to create policy on a wide range of legislative topics designed to enhance the student-athlete experience?
Don't worry, you're not alone. Coaches at many schools in the Power Five conferences appear to remain in the dark about what's to come next year and beyond.
Really, most of us are waiting with curiosity. I talked to several Big Ten coaches about the subject last month in Chicago and came away unsure if they knew what was really afoot, beyond the primary talking points.
We know the cost-of-attendance topic -- basically a stipend for student-athletes at the Power Five schools -- is atop the agenda.
From there, it gets a bit murky. All of it, though, stands to positively impact the Big Ten, with its many rich athletic departments funded by football programs with giant stadiums and fruitful TV contracts.
Predictably, the cries have already begun that autonomy will simply serve as a tool for the power players to push their agenda.
Colleague Jeremy Crabtree
wrote this week
of a Big 12 recruiting coordinator who said he feared that the autonomy vote would open "Pandora's box" for biggest schools to reshape rules in their favor.
Wisconsin coach Gary Andersen told me at Big Ten media days that he hoped autonomy would lead to official recruiting visits in the summer, currently off limits. But Andersen said more.
"Let's just throw it out there," he said. "I'll be the guy to say it, that's fine. Certain people don't want recruiting trips to take place to the Big Ten in the summer -- certain conferences."
Newsflash: He's talking about the SEC. They're all talking about the SEC. If they're not talking about the SEC, they're at least thinking about the SEC.
How long before a coach or administrator flat-out blames the SEC for all that could potentially go wrong with this first go-round of autonomy? It'll happen before Oct. 1, when potential rule changes must be submitted for vote at the NCAA Convention in January.
And what are the chances that coach or administrator resides in the Big Ten?
Look, the SEC can't change college football alone. The rules of autonomy require a 60 percent majority of the 80-member voting panel -- which includes 15 student-athletes -- and approval from three of the Power Five leagues, or a simple majority of the panel and approval from four of the five league.
So what the SEC wants, the SEC can't get without help from other leagues.
Remember that if you hear someone from the Big Ten complain over the next six weeks about who's running football. The vote last week ensures that the Big Ten and others in the Power Five are offered the same opportunity as that league down south to initiate and steer change.
Around the league ...
East Division
West Division
Overtime
Last link . . .
July, 22, 2014
Jul 22
5:00
PM CT
Welcome back to another edition of the mailbag. As you've probably noticed, we're taking more of your questions from Twitter these days. And Adam and I now have our own separate Twitter handles: Here's
mine
and
his
. The
ESPN Big Ten account
is also still active, and you can always use our mailbag links on the right-hand side of this page as well.
Got all that? Good. Let's get to your questions:
@BennettESPN Which #B1G team has the biggest turnaround in 2014?

— Tyler Waddell (@Tyler_Waddell) July 22, 2014
Brian Bennett:
I say it's Northwestern. There's simply no way Pat Fitzgerald's team can have the same amount of bad luck as last year, which included four losses by a touchdown or less (five if you count the Ohio State game, which became a 10-point margin on a meaningless turnover for a score at the end), a pair of overtime defeats, the Hail Mary by Nebraska, Michigan's miracle field goal and all those injuries.
It reminds me of how Michigan State was an obvious bounce-back candidate last summer after the Spartans suffered so many close losses in 2012. Northwestern was outgained by nearly 24 yards per game, so the 5-7 record wasn't incredibly fluky outside of those crazy finishes. But with better health, a consistent approach in the passing game under quarterback Trevor Siemian and Venric Mark back to full health, I expect to see the Wildcats back in a bowl game this year and possibly even posing a dark horse threat in the West Division.
---
Alex from New Orleans writes:
Brian, I know there's been a lot of talk about Michigan's struggles from last year, and how they might continue to struggle again this year. Rightfully so. But rather than talk about the team's floor and how far it will sink, as so many people want to do, what do you think Michigan's ceiling is as a team this year? Let's just say everything comes together from the O-Line to the Pass Rush. They've got two very good coordinators, and a lot of talent on both sides of the ball. A lot of young talent, yes, but talent nonetheless.
Jabrill Peppers
, though a freshman, may not be of this world. I know this team won't go undefeated, but at the same time, I don't think there's one game on the team's schedule that it can't win. Thoughts?
Brian Bennett:
As mediocre as Michigan was in many ways last year, the only games the Wolverines were truly blown out of came at Michigan State and in the Buffalo Wild Wings Bowl vs. Kansas State -- the latter of which they played without quarterback Devin Gardner (and also without, it appeared at times, a whole lot of interest in being there). Of course, the counter argument to that would be that Michigan was at least a little fortunate and often more so in wins over Notre Dame, Akron, UConn and Northwestern. The 42-13 victory over Minnesota may have been the biggest aberration in a season in which just about every week went down to the wire.
But we can't simply assume that will happen again. Sure, the Wolverines have major questions on the offensive line, in the running game and at receiver, and their defense needs more playmakers to emerge. Yet there's no lack of talent here, and Gardner led all returning Big Ten players in total offense last year. Let's say Doug Nussmeier brings much-needed continuity and consistency to the offense and restores the running game. And the young talent on the defensive line plus the addition of Peppers on the back end raises the level of play on that side of the ball. I still believe Michigan would be a notch below Ohio State and Michigan State, especially with those games happening on the road. But it's not inconceivable that, if everything broke just right, the Wolverines could enjoy a season similar to Brady Hoke's first campaign in 2011, when they won the Sugar Bowl. That, I think, is the ceiling.
---
Todd from Peoria, Ill., writes:
Should the Illini erect a Dick Butkus statue on the opposite side of Memorial Stadium from the iconic Red Grange statue? Inquiring minds want to know!
Brian Bennett:
Yes, absolutely. Butkus is one of the most iconic players in Big Ten history, to say nothing of his status in Illini lore. What is the possible argument against it? I am sometimes leery of building statues of people too quickly, as scandals and such can make that look really embarrassing. But I think the 71-year-old Butkus is a pretty safe call, and wouldn't you want him to attend the ceremony rather than wait until he's gone? I think it would be cool for Illinois fans to figure out where to meet at Memorial Stadium by referring to the Grange side and the Butkus side.
---
David L. from Chicago writes:
Last week
, Patrick from Davenport, Iowa, asked who wouldn't make the Playoff in an imaginary world where every major conference produced one undefeated team, using Ohio State, Alabama, Stanford, Florida State and Baylor as examples. Great question, but I want to add a wrinkle to it: What if Ohio State, Stanford, Florida State and Baylor go undefeated and Alabama has one loss. Who are the four playoff teams then? (remember the media loves the SEC).
Brian Bennett:
I believe that it's going to be incredibly difficult, if not outright impossible, for the committee to leave out an undefeated champion of a Power 5 conference. Of course, the SEC-philes would mount a full-on propaganda campaign centered around the strength of their conference. I would imagine they would focus their rage on Baylor, who as mentioned last week has an abysmal nonconference schedule. Alabama opens with West Virginia, so how the Mountaineers fared in the Big 12 and specifically against the Bears would be a huge talking point.
Shutting out Baylor in that scenario would send the loudest message possible from the committee about the need to schedule up, and that would in the long run be great for the sport. In the end, as long as the Big 12 had some other highly-ranked teams, I think the Tide would get left out. And we might just have a new issue on our hands.
---
Chris from Castle Rock, Colo., writes:
Why do you suppose Iowa running backs (namely Mark Weisman) were left off the Doak Walker Award watch list? Is this a way of tricking the
AIRBHG
for another season?
Brian Bennett:
Shhh ... come on, Chris, don't wake him! As I wrote Monday, watch lists are pretty pointless and often miss the mark. So I wouldn't worry about it too much. But I also think that Iowa's deep stable of running backs, which also includes Jordan Canzieri, Damon Bullock and others in addition to Weisman, lessens the probability of any one back winning major awards. Unless Chris has roused the beast by daring to say his name.
June, 3, 2014
Jun 3
12:30
PM CT
One of the things separating the Big Ten from some of the other power conferences in recent years seems to be elite quarterback play.
Take the 3,000-yard passing mark as an example. The league had just one player reach that plateau both last season (Illinois'
Nathan Scheelhaase
) and in 2012 (Penn State's
Matt McGloin
). The good news is, some talented quarterbacks returned to Big Ten campuses for the 2014 season. Will any of them reach 3,000 yards?
We took a look at the
most likely candidates
to do so on Friday, and now we want your opinion. Which of these quarterbacks will throw for 3,000 yards this season?
Vote now in our poll.
May, 1, 2014
May 1
2:30
PM CT
Spring practice in the Big Ten has sadly come to an end, and we're both back home after some trips around the conference. Wednesday, we shared out thoughts on the
Big Ten's West Division
, and now it's time to turn our focus to the beast known as the East.
Brian dropped in on Ohio State, Michigan, Michigan State and Indiana, and Adam stopped by Penn State.
Adam Rittenberg:
Let's begin with your trip to the
Mitten State
. You made your first stop in Ann Arbor, where Michigan was wrapping up its first spring with new offensive coordinator Doug Nussmeier. Michigan's top priority is the offense and fixing the line. What did you gather about the unit, and how are the changes on the defense -- player positions and coaching roles -- working out?
[+] Enlarge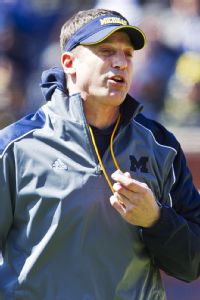 AP Photo/Tony DingNew OC Doug Nussmeier's top priority is fixing Michigan's offensive line.
Brian Bennett:
Things definitely seem a lot smoother on defense.
Jake Ryan
adopted quickly to playing middle linebacker, and
James Ross III
is talented enough to play anywhere. Mark Smith picked a good time to take over the defensive line, as he'll have a pair of senior ends in
Frank Clark
and
Brennen Beyer
and some nice young talent to work with in
Taco Charlton
,
Chris Wormley
,
Willie Henry
, etc. Throw
Jabrill Peppers
into the mix in the back end this summer, and this has a chance to be a very solid defense.
It's just a matter of whether the offense can keep up. The Wolverines are very young on that side of the ball, and the line is full of redshirt freshmen and sophomores right now.
Mason Cole
enrolled in January and was starting at left tackle in spring ball, which said a lot about the state of the position. Michigan's season likely depends on whether that O-line can come together and raise its collective level of play. There are some good-looking athletes at receiver and running back, but not many of them are proven. Many big questions remain in Ann Arbor.
AR:
There are fewer questions at Michigan State. How did the defending Big Ten/Rose Bowl champs seem to be handling their success? And how are they replacing defensive standouts such as cornerback
Darqueze Dennard
?
BB:
Several players told me they were sick of talking about the Rose Bowl, which is a good sign. I saw a team that could definitely repeat as Big Ten champions. The offense brings back most of its major pieces and will add new weapons suchas tight end
Jamal Lyles
and quarterback/athlete
Damion Terry
. The early-season scoring droughts of years past should not happen again this fall.
No doubt Pat Narduzzi's crew lost a lot -- four All-Big Ten defenders, plus both starting defensive tackles. Michigan State has a big experience gap to make up, especially at linebacker. But this is a program that just seems to reload on defense now and has recruited so well to its system. Guys like defensive tackle
Joel Heath
, defensive end
Demetrius Cooper
and safety
Jalyn Powell
all came on strong this spring. Three of the corners vying to replace Dennard had interceptions in the spring game. I have supreme confidence that Narduzzi will have this defense dominating again in 2014.
AR:
Ohio State's defense has many more question marks after a rough 2013 campaign. The line should be terrific but how did the back seven look during your trip to Columbus? And how are new assistants Chris Ash and Larry Johnson fitting into the mix? What else stood out about the Buckeyes?
BB:
In my eyes, this is one of the most intriguing teams anywhere. The Buckeyes are almost frightfully young on offense outside of
Braxton Miller
and are breaking in lots of new players at linebacker and in the secondary. Yet they also have some impressive looking athletes and more overall explosiveness than the previous two seasons under Urban Meyer. Ash is installing a quarters coverage look, but maybe even more important is the fact that the safeties can really run and cover now. The revamped offensive line is a big question mark, as is the inexperience at receiver and the linebacker spot. But when you see young guys like linebacker
Raekwon McMillan
and tailback
Curtis Samuel
running around, you realize there aren't a lot of Big Ten teams that look like the Buckeyes.
Adam, you made it up to State College to check in on Penn State and new coach James Franklin. What's the vibe like up there?
AR:
Electric. The charismatic staff has quickly formed bonds with the players, some of whom knew Franklin from the recruiting process. The defense should be better under Bob Shoop's leadership, as long as the starters stay healthy. There's decent depth up front and safety
Adrian Amos
and cornerback
Jordan Lucas
anchor the secondary. Linebacker
Mike Hull
is embracing his role as the unit's leader.
Christian Hackenberg
can really spin the ball -- very impressive. But can PSU protect him? No Big Ten team, including Ohio State, has bigger issues along the offensive line. Running back
Bill Belton
looked great, and I like the depth at tight end. Franklin is realistic about the depth issues and knows his team can't afford many more injuries.
You also visited Indiana this spring. How did the Hoosiers look, especially on defense with new coordinator Brian Knorr?
BB:
You know the drill. Indiana could make some real noise if it could actually, you know, stop anybody. Knorr has them playing a 3-4, and hey have some major beef inside with the defensive tackles in 325-pounders
Darius Latham
and
Ralph Green III
. Ten starters are back and some promising recruits are on the way, so there's more depth on defense than before. But it's still a major construction project, and the offense might lose a little of its big-play ability as it tries to replace three of its top four receivers from a season ago.
OK, lightning-round finish. I still see Michigan State and Ohio State as the heavy favorites here, with Penn State a dark horse if its O-line issues can be solved. What about you?
AR:
MSU is the team to beat because of the quarterback and the track record on defense. Ohio State definitely is in that mix, too. Michigan remains young at spots but could contend with a serviceable run game. Offensive line is a huge issue in this division. Sleeper-wise, I wouldn't count out Penn State, Indiana or Maryland, which could be dynamic on offense if it finally stays healthy.
April, 28, 2014
Apr 28
11:30
AM CT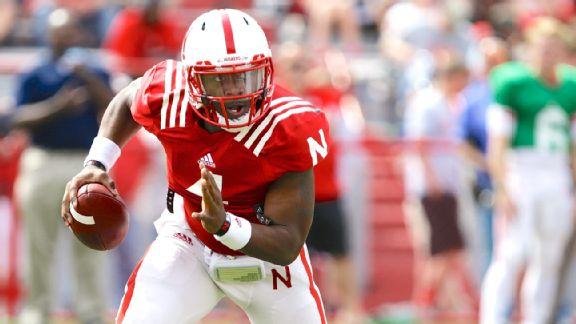 If Ron Burgundy coached college football -- the
San Diego Border Terriers
, perhaps? -- he would only need to learn two lines to survive spring practice.
1.
"I like my team."
2.
"I'm glad we don't have a game tomorrow."
[+] Enlarge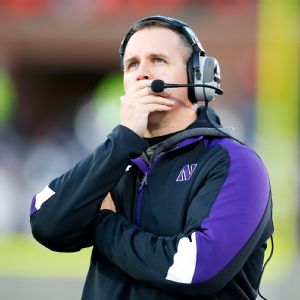 AP Photo/Jeff HaynesPat Fitzgerald's Wildcats had to deal with a lot off the field this spring.
College coaches have recited those phrases in spring ball for decades. The 14 men leading Big Ten programs are no exceptions. But the standard spring sentiments apply to the league more this year than most.
There are reasons to believe the Big Ten will be better this fall, but the work is far from over on most campuses. This isn't a league of finished products, and the coming months take on added importance before the 2014 season kicks off in late August.
"I don't think we're that far behind; it's just painfully obvious that we're not there," Northwestern coach Pat Fitzgerald said. "This next phase will be the most important phase of this team's life. It's always important, but with a lot of things we've gone though, we've got to come together."
Northwestern went through a lot in the spring, mostly away from the field, as the campaign for a player union gained national media attention, especially after
players were declared employees
of the school in March. The
team held a historic vote Friday
, after Fitzgerald had expressed his opposition to unionizing. Some players expressed concern that the vote could split the team.
It will be months before we know if the union plan goes through, but the Wildcats continue preparing for a pivotal season. They found their quarterback this spring in senior
Trevor Siemian
and an offensive identity based around the passing game. But questions along both lines remain.
The spring also produced quarterback answers at Iowa (
Jake Rudock
) and Minnesota (
Mitch Leidner
). Michigan's
Devin Gardner
had a rough spring game but still seems likely to retain his job. Another senior signal-caller, Rutgers'
Gary Nova
, is a good bet to remain atop the depth chart. Although Nebraska's
Tommy Armstrong
lacks Nova's or Gardner's experience, he exited spring just as he entered it: as the Huskers' top quarterback.
Indiana's platoon system of
Nate Sudfeld
and
Tre Roberson
frustrates some, but not coach Kevin Wilson, who has given every indication that he'll continue to use both for another season.
Other quarterback races have been reduced but not resolved. Illinois will pick between
Wes Lunt
, the Oklahoma State transfer who impressed for much of the spring, and veteran backup
Reilly O'Toole
. Coach Tim Beckman wants a resolution before two-a-day practices in August.
Purdue's
Danny Etling
, who started the final seven games of his freshman season, appeared to have a slight lead coming out of the spring, but coach Darrell Hazell isn't ready to declare a starter. So
Austin Appleby
and
David Blough
remain alive.
Wisconsin reduced its candidate pool from four to two as
Joel Stave
, who boasts 19 career starts but also a nagging throwing shoulder injury, will compete with dual-threat
Tanner McEvoy
in camp.
"It will be a fight," coach Gary Andersen said.
Quarterback is just one spot where Wisconsin has questions. The Badgers went through much of the spring with only four healthy wide receivers. They've also revamped their defensive front seven, which returns only one starter from 2013.
[+] Enlarge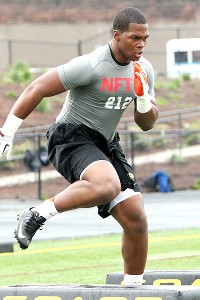 Miller Safrit/ESPNEarly enrollee Raekwon McMillan could make an immediate impact for Ohio State's defense this fall.
Ohio State didn't have star quarterback
Braxton Miller
for spring ball because of shoulder surgery, but the Buckeyes focused on bolstering a defense that struggled last fall. Freshman
Raekwon McMillan
, an early enrollee, is pushing for the starting middle linebacker spot, and competition will continue at the cornerback spot opposite
Doran Grant
. Chris Ash, the Buckeyes' new co-defensive coordinator, worked to simplify the scheme this spring.
"We only have about six defensive calls," safety
Tyvis Powell
said after the spring game. "We had too many last year."
Offensive line remains Michigan's focal point coming out of the spring. A sloppy spring game didn't ease fears about the Wolverines' front five, although coach Brady Hoke saw positive signs in earlier practices. A critical summer awaits new coordinator Doug Nussmeier, tasked with resurrecting Michigan's run game.
At Penn State, new coach
James Franklin continues to energize
both players and fans. But he's also realistic about the depth challenge his team faces, particularly along the offensive line.
"When you don't have a two-deep of scholarship players, you've got issues that you're going to have to overcome," Franklin said. "We don't."
Like Rutgers, Maryland began its Big Ten transition this spring and welcomed running back
Wes Brown
and wideout
Marcus Leak
after absences from the team. If the Terrapins finally stay healthy, they could be worth watching in a loaded East Division.
Sitting atop the division is defending Big Ten champ Michigan State. The Spartans had a relatively stress-free spring, but they must fill key spots on defense, especially at linebacker and cornerback, where players like
Taiwan Jones
and
Darian Hicks
step in.
The returning pieces for teams like Michigan State, Ohio State, Iowa, Nebraska and Wisconsin fuel optimism around the league. But in spring, optimism is always tempered by what lies ahead.
"We're improving," Iowa coach Kirk Ferentz said Saturday, "but we're hardly ready to play."
They won't have to for 132 days.
Until then, stay classy, Big Ten fans.
March, 17, 2014
Mar 17
4:00
PM CT
Let's round out this Monday with another edition of the ol' mailbag. Remember to keep
those emails coming
or to hit us up on
Twitter
.
Michael from Remsen, Iowa, writes:
Do you think that NEBRASKA's young but very talented linebackers will take that step up this year and be the best linebacking group in the Big Ten? Also, who do you think wins the starting left tackle spot?

Brian Bennett:
Michael, the potential is certainly there. Not all of the linebackers are young; the coaches have loved senior
Zaire Anderson
's talent and potential for some time, but he's just got to stay healthy and in the lineup.
Michael Rose
looks like a rising star,
Josh Banderas
has turned some heads in spring practice so far, and
David Santos
gained a lot of experience last year. Throw in newcomers like
Marcus Newby
and
Courtney Love
, and this is a deep group with loads of athleticism. Best in the Big Ten? I'm not so sure about that, but the league did lose an abundance of star linebackers to the NFL draft. I still need to see the Huskers' defense deliver consistently, but the future looks really bright in that front seven.
As for left tackle, Alex Lewis has been getting reps with the No. 1 unit so far this spring. Lewis transferred in after playing two years at Colorado and withstood some legal troubles. The reshuffling of Nebraska's offensive line remains a big story to watch this offseason.
---


Ol' Red from Sandusky, Ohio, writes:
In your
"Ultimate B1G 2014 road trip: Week 9"
pick of the Michigan-Michigan State game, you pointed out that Michigan has only scored 32 combined points the last three seasons. Just another tidbit I'd like to throw your way... Although Michigan has won four, the Spartans have held U of M to less points than the preceding year for 9 straight games (45, 34, 31, 28, 21, 20, 17, 14, 12, 6). If that trend continues, it will be awfully tough for the Spartans to lose giving up less than 6 points. This really shows the improvement in Mark Dantonio's defense year-to-year. I expect the Wolverines to score only three this upcoming season and be shut out in 2015.
Brian Bennett:
A Rose Bowl victory followed by a Big Ten tournament title and seemingly every expert picking them to win the NCAA tournament understandably has Spartans fans feeling a bit chesty. Michigan State's defense has locked things down against Michigan the past few years. You need some bulletin board material, Doug Nussmeier?
---
Jase from Nebraska writes:
I imagine most networks are doing something very similar to your fantasy trip planning, but on a much larger scale. My worry is at all the *meh* weeks we're racking up will mean few televised game and less exposure.
Brian Bennett:
The return of the dreaded double-bye does make for some less-than-stellar weeks on the 2014 schedule. But the nonconference opponents this year are much better than they were in 2013, and there are still some excellent heavyweight matchups sprinkled throughout the conference season. Ohio State-Michigan State, Nebraska-Wisconsin, Penn State-Michigan, Michigan State-Michigan, Ohio State-Penn State are just a few of those. The biggest question from the broadcast side is how many games will be picked up for primetime, especially in November? But the Big Ten isn't exactly hurting for exposure.
---

Craig from Braintree, Mass., writes:
I see that in
the West Division poll
, Minnesota is rated a distant fourth, barely over Northwestern. I guess most consider Minnesota's performance in 2013 to be a one-time occurrence. I think the team may have a difficult time improving on last year's win-loss totals though the team may be better than last year's.
Brian Bennett:
No doubt there are still some doubters on Minnesota (and polls like that tend to favor the biggest fan bases). The Gophers had a great run in the 2013 season but have yet to really break through as serious division contenders. It's going to be tough to do that without some major improvement in the passing game, something the team is emphasizing this spring for sure. Minnesota has a tougher schedule this year with a road game at TCU, crossover games against Ohio State and Michigan and intra-division road trips to Wisconsin and Nebraska. Still, a solid core returns from last year's team, and the arrow is pointing up in Minneapolis. I'm guessing Jerry Kill doesn't mind being the underdog right now.
---

Scott from Marinette, Wis., writes:
Why is no one talking about
Vince Biegel
this year for Wisconsin on defense? I truly believe he will make a big difference for the Badgers on the front seven this year. He is an absolute animal and will create havoc for opposing offenses this coming year.
Brian Bennett:
Biegel ... animal ...
Jack Russell
... nope, I'm going to stay strong. Biegel made an impact as a redshirt freshman at outside linebacker in the 3-4 and will step into a much bigger role this season. He needs to because the Badgers lost so much talent and experience in that front seven, including linebackers
Chris Borland
,
Ethan Armstrong
and
Brendan Kelly
. At 6-foot-4 and 233 pounds, Biegel has great size and a good chance to make some plays from that pass-rushing position. He's still a young guy, but he'll have to be an anchor for this rebuilt defense.
March, 13, 2014
Mar 13
11:00
AM CT
Hoops, hoops everywhere. Here's some football:
March, 10, 2014
Mar 10
10:30
AM CT
Non-Minnesota fans might have missed Friday's official announcement that Mike Sherels has been promoted to Gophers linebackers coach after serving on the team's recruiting staff. Sherels is the first new assistant Jerry Kill has hired in his Minnesota tenure, but the move likely signified -- likely being the operative word -- something bigger for the Big Ten.
The end of the coaching carousel for 2014.
This post always includes a reminder that additional coaching changes still can happen, even though most of the Big Ten has started spring practice. It's the nature of the business.
Despite two new teams in the Big Ten, the number of overall changes in the league dropped for the second consecutive year, going from 32 in 2013 to 27 this year. There was only one complete staff overhaul, at Penn State, and four programs -- Illinois, Iowa, Michigan State and Northwestern -- kept all of their coaches from last season. After replacing more than half of his staff in the last offseason, Illinois' Tim Beckman hopes continuity pays off in what likely will be a make-or-break 2014 campaign. Iowa is back to its stable self after two years of coaching flux, while Northwestern coach Pat Fitzgerald hasn't made a staff change since after the 2010 season.
Michigan State made a major commitment
to Mark Dantonio and his assistants after the Spartans' Rose Bowl win, but it's still impressive that Dantonio retained the entire staff after such a great season.
Both Rutgers and Maryland have some new faces on staff before their inaugural season of Big Ten play. Rutgers has two new coordinators (one outside hire, one promotion), while Maryland has new assistants overseeing both lines.
[+] Enlarge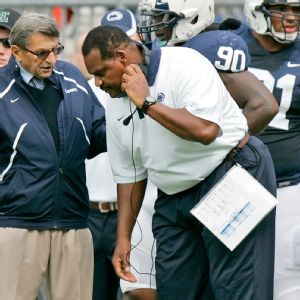 Michael R. Sisak/Icon SMILongtime Penn State defensive line coach Larry Johnson moved to Ohio State this offseason after James Franklin was hired as the Nittany Lions' head coach.
Other than Penn State, Indiana and Rutgers are the only teams featuring two new coordinators in 2014. Although IU assistant Kevin Johns previously held the co-offensive coordinator title, he'll be the main man, as he takes over for Seth Littrell.
For the most part, the coaches leaving Big Ten programs did so voluntarily and for potentially better positions. Penn State head coach Bill O'Brien took the same role with the Houston Texans, while two assistants -- Ohio State's Everett Withers and Maryland's Greg Gattuso -- left to become FCS head coaches at James Madison and Albany, respectively. The Big Ten lost several assistants to the NFL, as O'Brien brought four assistants with him from Penn State (John Butler, Stan Hixon, Charles London and Anthony Midget) and swiped another from Ohio State's staff (Mike Vrabel). Wisconsin also lost running backs coach Thomas Hammock to the Baltimore Ravens.
Arguably the most interesting move took place within the league, as longtime Penn State defensive line coach Larry Johnson replaced Vrabel at Ohio State.
OK, let's get to it already.
Here's the rundown of coaching changes (head coach and full-time assistants only; number of new coaches in parentheses):
INDIANA (3)
Who's gone?
Doug Mallory, defensive coordinator/safeties
Seth Littrell, offensive coordinator/QBs
Jon Fabris, defensive line
Who's in?
Brian Knorr, defensive coordinator/defensive ends/outside linebackers
Larry McDaniel, defensive line
Noah Joseph, safeties
Other moves
Promoted Kevin Johns to main offensive coordinator. Johns also now coaches quarterbacks in addition to wide receivers.
Moved James Patton from assistant defensive line/special teams to tight ends and fullbacks
MARYLAND (3)
Who's gone?
Tom Brattan, offensive line
Lee Hull, wide receivers
Greg Gattuso, defensive line
Who's in?
Greg Studwara, offensive line
Keenan McCardell, wide receivers
Chad Wilt, defensive line
MICHIGAN (1)
Who's gone?
Al Borges, offensive coordinator/quarterbacks
Who's in?
Doug Nussmeier, offensive coordinator/quarterbacks
Other moves
Defensive coordinator Greg Mattison is overseeing linebackers instead of defensive linemen
Mark Smith moves from linebackers to defensive line
Roy Manning moves from outside linebackers to cornerbacks

Curt Mallory will coach only safeties rather than the entire secondary
MINNESOTA (1)
Who's gone?
Bill Miller, linebackers/assistant head coach
Who's in?
Mike Sherels, linebackers (promoted from recruiting staff)
Other moves
Pat Poore moves from wide receivers to running backs
Brian Anderson moves from running backs to wide receivers
NEBRASKA (1)
Who's gone?
Terry Joseph, secondary
Who's in?
Charlton Warren, secondary
OHIO STATE (2)
Who's gone?
Everett Withers, co-defensive coordinator/safeties
Mike Vrabel, defensive line
Who's in?
Chris Ash, co-defensive coordinator/safeties
Larry Johnson, defensive line/assistant head coach
PENN STATE (10)
Who's gone?
Bill O'Brien, head coach/offensive playcaller
John Butler, defensive coordinator/cornerbacks
Charlie Fisher, quarterbacks
Stan Hixon, wide receivers/assistant head coach
Larry Johnson, defensive line
Charles London, running backs
Mac McWhorter, offensive line
Ron Vanderlinden, linebackers
John Strollo, tight ends
Anthony Midget, safeties
Who's in?
James Franklin, head coach
John Donovan, offensive coordinator/tight ends
Bob Shoop, defensive coordinator/safeties
Charles Huff, running backs/special teams
Brett Pry, co-defensive coordinator/linebackers
Josh Gattis, wide receivers/assistant special teams
Herb Hand, offensive line
Ricky Rahne, quarterbacks
Sean Spencer, defensive line
Terry Smith, cornerbacks
PURDUE (1)
Who's gone?
Jon Heacock, defensive backs
Who's in?
Taver Johnson, defensive backs
RUTGERS (4)
Who's gone?
Dave Cohen, defensive coordinator/linebackers
Ron Prince, offensive coordinator
Rob Spence, quarterbacks
Damian Wroblewski, offensive line
Who's in?
Ralph Friedgen, offensive coordinator/quarterbacks
Bob Fraser, linebackers/special teams
Mitch Browning, offensive line
Ben McDaniels, wide receivers
Other moves
Promoted special teams coordinator Joe Rossi to defensive coordinator
Anthony Campanile is coaching only tight ends after overseeing both tight ends and wide receivers
WISCONSIN (1)
Who's gone?
Thomas Hammock, running backs/assistant head coach
Who's in?
Thomas Brown, running backs
February, 25, 2014
Feb 25
9:00
AM CT
Spring football kicks off earlier than normal in the Big Ten, as Michigan takes the field Tuesday, Northwestern follows Wednesday and eight other squads begin their sessions by March 8.
The accelerated schedules seem appropriate in a league filled with players, coaches and teams itching for fresh starts.
New assistants get their first chance to repair struggling units, whether it's Doug Nussmeier with Michigan's offense, Brian Knorr with Indiana's defense or Chris Ash and Larry Johnson with a once-feared Ohio State defense. Quarterback competitions begin or resume at nine places, as new faces such as Illinois'
Wes Lunt
, Nebraska's
Johnny Stanton
and Minnesota's
Chris Streveler
enter the mix, while veterans like Wisconsin's
Joel Stave
and Michigan's
Devin Gardner
try to retain their starting jobs.
Happy Valley continues to buzz about new Penn State coach James Franklin, who seems to galvanize everyone whom he encounters. But Franklin barely has been around his new players and finally begins the real work with a team facing very real challenges.
[+] Enlarge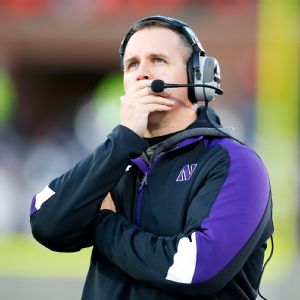 AP Photo/Jeff HaynesNorthwestern coach Pat Fitzgerald hopes his team can start a rebound from a disappointing, injury-riddled 2013 season.
Spring also allows teams such as Northwestern, Michigan, Purdue and Indiana to look forward after disappointing seasons. Michigan State, meanwhile, continues to bask in the Rose Bowl glow but looks toward its next goal -- a national championship -- as spring ball kicks off March 25.
"It's big-picture stuff, building relationships with the players and everyone associated with the program," Franklin told ESPN.com. "The other thing is laying a really good foundation with the philosophies and schemes of how we're going to do things. That's going to happen naturally over time, but I'm not the most patient person. I wish it would have happened yesterday."
Franklin doesn't water down his goals for Penn State, especially in recruiting, but he's also realistic about the challenges of a reduced roster. The Nittany Lions return strong pieces such as quarterback
Christian Hackenberg
and defensive back
Adrian Amos
,
but the two-deep has some holes that Franklin and his assistants must address, while installing new schemes.
"It's one thing when you get put in this situation in the first place with limited scholarships," Franklin said, "but the longer you're in it, the more effect it has. We've got some depth issues, there's no doubt about it, across the board. We're going to have to get creative."
Northwestern also is focused on depth after being hit hard by key injuries in 2013. Pat Fitzgerald blames himself and his staff for failing to get enough second-stringers ready, which proved costly in close Big Ten losses.
After their first bowl-less winter in six years, the Wildcats responded well in the weight room, as more than 50 players recorded personal bests. Although 11 players will miss spring practice, including standout running back/returner Venric Mark, the depth should be better in areas like the secondary.
"We're really emphasizing taking ownership of the finish," Fitzgerald said. "Finishing your technique, finishing the call, finishing the route. There's a lot of disappointment in the way the program didn't take the next step forward."
Michigan coach Brady Hoke
restructured the roles of his defensive assistants
for 2014, but the Wolverines' offense will be in the spotlight this spring after a wildly inconsistent season. Gardner, who continues to recover from a foot injury and likely won't be 100 percent until midway through the spring, will compete with
Shane Morris
,
Russell Bellomy
and midyear enrollee
Wilton Speight
.
But other positions, such as offensive line, figure to be just as important as Michigan tries to achieve Hoke and Nussmeier's vision.
"We had good intentions as far as what we wanted our identity to be, but obviously I don't think it came out the way we'd like it to," Hoke said. "The quarterback position is as important as any, and we have a guy [Gardner] who is very talented and had some really good games and games where we had to protect him better, have a better run game and take pressure off of him, and I don't think we did."
While Michigan turns the page on offense, Ohio State focuses on a defense that allowed 115 points in its last three games and finished 110th nationally in pass yards allowed (268 YPG). The Buckeyes lost top defenders
Ryan Shazier
and
Bradley Roby
, but they also added two accomplished assistants.
Johnson, who churned out NFL linemen during 18 years at Penn State, chose Ohio State instead of remaining in State College. Ash leaves a sole coordinator role at Arkansas for a co-coordinator role at Ohio State, where he'll work with the embattled Luke Fickell and others to mend the defense through a simplified scheme.
"Back in the day when Ohio State played great defense, you knew what you were going to get," Ash said. "They
played with swagger, played with confidence, played with toughness. We have to get back to that. The simplicity of the things we're going to do will lead to faster players, more plays made and a more aggressive defense.
"I wasn't here [in 2013], but I can tell you what Coach Meyer has told me, what Luke Fickell has told me and what I watch on film. I can see there's some hesitation, there's some uncertainty. Why that is, I don't know. But it's my job to get it fixed."
Purdue has plenty to fix after a 1-11 season, and players not surprisingly are
wearing T-shirts with the word "FORWARD" on the backs
. Maryland and Rutgers move forward to a new conference after an offseason that saw several staff changes, including new coordinators at Rutgers (Ralph Friedgen, Joe Rossi).
There's a fresh start of sorts at Wisconsin, as a large and decorated senior class departs. Coach Gary Andersen's markings will be more obvious with his second team, which begins practice March 7.
Wisconsin is just one of many places where the top quarterback job is at stake. Lunt, who sat out last season after transferring from Oklahoma State, competes with
Reilly O'Toole
and
Aaron Bailey
at Illinois.
"Competition's competition, no matter where it's at," said Lunt, who has added about 15 pounds since his arrival and checks in at 225. "It's different because it's different people, different coaches, but I'm excited for it."
He's not alone in the Big Ten. Spring ball can't start soon enough.
February, 12, 2014
Feb 12
12:00
PM CT
The Big Ten blog also secretly interviewed for the Browns job.
TOP 25 SCOREBOARD
Thursday, 8/28
Friday, 8/29
Saturday, 8/30
Sunday, 8/31