Chicago Colleges:

Eilar Hardy
November, 4, 2013
Nov 4
9:00
AM CT
SOUTH BEND, Ind. -- As Brian Kelly was finishing up his postgame press conference Saturday, an unexpected visitor made an appearance during the penultimate question.
"Jaylon, we'll be done in a second," Kelly said to
Jaylon Smith
, who had entered prematurely. "I know it's your press conference, but I'll be done in a second, and we'll let you get going. Is that all right?"
"Sorry," Smith said to the room of reporters. "I'm new to everything."
Within 24 hours, it turned out the freshman linebacker would be a seasoned veteran by Notre Dame's defense's standards. The Irish are hurting on that side of the ball -- just trying to get by, in a sense, with this weekend's game at Pitt preceding a much-needed bye before a two-game stretch against BYU and at Stanford.
[+] Enlarge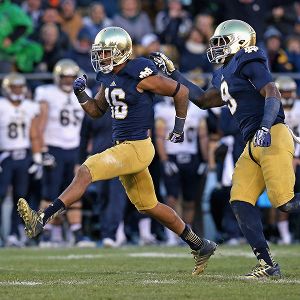 Jonathan Daniel/Getty ImagesSafety Eliar Hardy (left) is one of several Notre Dame reserves that were pressed into action due to injuries.
BCS dreams have essentially taken a backseat to figuring out just who is going to play and where, and how the remaining available guy will get ready for when their time comes.
"I think this is probably close to the pinnacle," Kelly said during Sunday's teleconference when asked if this defense has been hit as hard as any he's had in 23 years as a head coach. He added: "They don't give you any points for complaining about it. If they did, I'd complain every minute. So we just take care of it internally and get the next guy ready."
Ben Councell
, the man behind Smith most of the season at the dog linebacker spot,
was ruled out for the season Sunday after suffering a significant knee injury in the 38-34 win over Navy
. Smith and Councell, of course, waged a preseason battle for a starting spot only after senior
Danny Spond
, last season's starter, was forced to retire because of hemiplegic migraines. And the linebacking corp is less than a month removed from its other big hit, when
Jarrett Grace
broke his leg in the Oct. 5 Arizona State game, costing the Mike linebacker the rest of his redshirt sophomore season.
It only gets worse up front, where
Kona Schwenke
is lost for at least this Saturday's game at Pitt because of a high-ankle sprain suffered on the Midshipmen's final drive. And Schwenke was only starting these last two games in place of nose guard
Louis Nix III
, who at first was ruled to have a shoulder injury suffered in the USC game, and then knee tendinitis, and now tendinitis and a small meniscus tear, though the school says he will practice this week after undergoing an MRI Sunday. Before that, Schwenke filled in for end
Sheldon Day
, who missed most of a three-game stretch after leaving a Sept. 14 game against Purdue with a high ankle sprain, and then re-aggravated said ankle sprain against Navy.
And no, it is not a coincidence that most of these injuries have come during this two-game stretch against Air Force and Navy, teams that often cut-block.
"It's unfortunate," Kelly said. "It's the style of offense that the academies play. It is what it is."
Kelly said it will make sense to possibly avoid scheduling multiple option teams in a single season, but that is a bridge he will cross when he gets to it. For now, his next-man-in philosophy is being tested by, well, a lack of next-men-in.
He said he guards against that by putting those who saw 15 or fewer plays in a game through extra conditioning that following Monday, while reserves get roughly half the work of the starters during 11-on-11 and scout team work in a given week.
"I think that we're so close that you don't really think about it in terms of, Oh, I've never seen you out here," redshirt senior linebacker
Dan Fox
said. "We get a lot of guys in at practice, there's a lot of reps to go around, so next man in and next man in."
Underclassmen such as
Jarron Jones
,
Isaac Rochell
and
Romeo Okwara
have been thrust into more meaningful time than most could have reasonably expected entering the season, while names unfamiliar to all but the closest of program observers --
Tyler Stockton
,
Justin Utupo
and
Eilar Hardy
, to name a few -- saw extended action.
The last of those names, Hardy, helped set Smith up for the game-clinching tackle on Navy's
Shawn Lynch
during the visitors' final fourth-and-4 try. And he was only there because
Austin Collinsworth
suffered a neck strain that will require an MRI Monday.
Fellow safety
Elijah Shumate
, meanwhile, is expected to play against the Panthers after being sidelined the last three games with a hamstring injury, though Kelly had said the sophomore would play going into the Navy game, too.
There are also the knee injuries to left guard
Chris Watt
(PCL) and cat linebacker
Ishaq Williams
(ACL), both of whom left the Air Force game a week ago but only one of whom, Watt, could possibly return this week, depending on how quickly the redshirt senior can acclimate to the knee, which will not require surgery. Williams was in an immobilizer this week and could possibly return for the Nov. 23 BYU game.
The return of Watt would give Notre Dame four of its five starters back on the offensive line, as it lost right guard
Christian Lombard
for the season because of back surgery after the USC game. Still, the bruises have taken their biggest tolls on the other line, which during the spring and summer lost reserves
Chase Hounshell
(shoulder) and
Tony Springmann
(knee) for the season, in addition to seeing freshman signee
Eddie Vanderdoes
leave for UCLA.
All of it leaves the Irish, winners of four in a row, crawling to the finish line, every last piece of Kelly's three straight top-10 recruiting classes fitting into the plan for his push toward a second straight BCS-bowl berth.
"We are running out of next men. We're at that point where from a defensive standpoint, and particularly the defensive line, we're left with very few options," Kelly said, adding, "We'll figure something out. We'll get 11 guys out there. It's just not going to be one of those things where we're going to have the same group of guys out there all the time. As you know, we're going to have to find a way to stop a big, physical offensive line at Pittsburgh, and that is the thing that concerns you the most."
April, 4, 2013
Apr 4
9:00
AM CT
SOUTH BEND, Ind. —
Austin Collinsworth
was careful not to say that he was completely,
fully
healed from shoulder and back surgeries in the past year, but returning to the field this spring has served as a final hurdle to cross after missing last season.
"I would say probably 98 percent, something like that," the rising fourth-year junior said. "But I'll be 100 percent by the end of the spring."

The safety underwent surgery following last year's spring season to repair a torn labrum in his left shoulder, an injury that figured to sideline him for the 2012 campaign. That year-long wait became official when back pain that flared up in October eventually resulted in another operation, leaving him to watch the entirety of Notre Dame's run to the Discover BCS National Championship from the sideline.
"It's hard," said Collinsworth, the son of former NFL player and current analyst Cris Collinsworth. "It was a really exciting season. It was pretty terrible not being a part of it, but I liked watching my friends do well out on the field and it was a really fun season just to be a part of."
Collinsworth said that he began feeling great physically three weeks ago, and he impressed the staff in the weeks leading up to the start of spring practices.
"We had seven workouts where the coaches were involved in the conditioning elements," coach Brian Kelly said at the start of spring. "Our defensive staff feels really good. I had a chance to observe him because I wanted to see the guys that are coming back. I was really pleased with what I saw."
Collinsworth has been seen working with the second-team defense this spring upon his return, alongside
Eilar Hardy
. (Rising sophomore
Nick Baratti
has been sidelined following his own shoulder surgery.) After recording 25 tackles and forcing one fumble while playing in all 26 games throughout his first two seasons with the Irish, Collinsworth is hoping to crack the rotation of a secondary that finally finds itself with a good numbers problem, this after the unit suffered three season-ending injuries by Week 3 of last season.
The departure of
Davonte' Neal
has led to more opportunities for Collinsworth to field punts, too, something the Fort Thomas, Ky., native did for three years in high school.
"We lost some really good guys," Collinsworth said of the secondary. "
Jamoris [Slaughter]
last year only got to play a couple games when he was back at safety. And
Zeke [Motta]
-- that kid's an animal back there. But we've got a lot of good players that are returning, and I don't think our defensive backfield is going to take a step back at all."
March, 29, 2012
3/29/12
8:00
AM CT
Our breakdown of Notre Dame's 2012 roster continues today with the defensive side of the ball.
DEFENSIVE LINE
The players:
Aaron Lynch
,
Louis Nix
,
Stephon Tuitt
,
Kapron Lewis-Moore
,
Tony Springmann
,
Chase Hounshell
, Sheldon Day,
Tyler Stockton
,
Kona Schwenke
The incoming:
Jarron Jones
,
Romeo Okwara
[+] Enlarge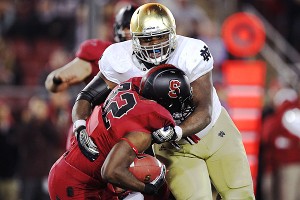 Ezra Shaw/Getty ImagesTackle Louis Nix is a key cog in what should be a strong, experienced defensive line for Notre Dame.
The breakdown:
Injuries forced all three current starters — Lynch, Nix and Tuitt — to play much more than expected last season, and none disappointed. They are all second-year players now, and their pass-rushing ability should have opposing offensive lines and quarterbacks on their heels. Lewis-Moore has been cleared for spring following a season-ending knee injury in 2011 but might not start, though he will likely see plenty of playing time as the line rotates. Hounshell (shoulder surgery) is not cleared yet, but he will likely see significant time this fall after playing as a true freshman last year as well.
LINEBACKERS
The players:
Danny Spond
,
Manti Te'o
,
Dan Fox
,
Prince Shembo
,
Kendall Moore
,
Ishaq Williams
,
Anthony Rabasa
,
Carlo Calabrese
,
Jarrett Grace
, Justin Utopo,
Connor Little
,
Ben Councell
,
Joe Schmidt
The incoming:
None
The breakdown:
As we said with
Tyler Eifert
yesterday, everyone knows what Te'o is capable of, as he likely would have been a first-round NFL draft pick had he left school following his junior year. Fox and Calabrese shared the other inside role last year, and their experience should prove valuable. Shembo has been working at the cat spot this spring, and up-and-coming talents like Williams and Spond figure to see extensive playing time.
SECONDARY
The players:
Bennett Jackson
,
Jamoris Slaughter
,
Zeke Motta
,
Lo Wood
,
Josh Atkinson
,
Austin Collinsworth
,
Dan McCarthy
,
Jalen Brown
,
Cam McDaniel
,
Eilar Hardy
,
Chris Salvi
,
Joe Romano
, Will Salvi,
Connor Cavalaris
,
Matthias Farley
,
Blake Breslau
The incoming:
Elijah Shumate
,
Nicky Baratti
,
C.J. Prosise
,
John Turner
The breakdown:
The loss of
Tee Shepard
really stings this group, which is down to four scholarship corners with a combined zero career starts. Jackson and Wood are in position to take over as the new starters, and playing time last season should help with the transition. At safety, Slaughter and Motta saw plenty of time the last two seasons, and Slaughter in particular has shown a nose for the ball and the capability of providing a leadership force that
Harrison Smith
is leaving behind. Collinsworth will likely also see plenty of snaps after playing last year.
November, 4, 2011
11/04/11
1:27
PM CT
A slate of games against ACC opponents -- amid the back-drop of conference expansion, no less -- has given way to even more talk about Notre Dame's football future.
During his Thursday radio show at Legends of Notre Dame, Kelly once again re-iterated his stance when asked if Notre Dame would ever join a conference.
"Well never's a tough word," Kelly said. "I think that the super-conferences are here to stay. I don't think that's gonna change. We're seeing the models coming together right now -- 14, 16 teams in a conference. So we feel like we're still in a solid position as an independent. We feel like we have a great schedule we can play every year. ... Certainly the Big East has been a great home for [our other sports], but those aren't my decisions. I can tell you from a football standpoint we're on top of it. But again, I think we're in a pretty good position right now to be independent."
Once again, the subject of a potential Jumbotron at Notre Dame Stadium came up as well, with Kelly only saying: "It's on order. How about that? It's on order."
Earlier, Kelly began his post-practice session with reporters by providing an obligatory Ethan Johnson update without being asked, simply stating that the senior defensive end is progressing.
Johnson has not played since the first snap Oct. 1 at Purdue, when he sprained his right ankle. He dressed for the past two games, but was held out both times.
Notes:
Kelly said freshman
Everett Golson
was named offensive scout team player of the week for his role in simulating Wake Forest quarterback
Tanner Price
. ... The coach also said freshman defensive back Eilar Hardy (knee surgery) should return to the team at full strength this spring.