Chicago Colleges:

Elijah Hood
May, 16, 2014
May 16
9:00
AM CT
OLYMPIA FIELDS, Ill. —
Notre Dame
has one transfer on the way this summer in former Florida cornerback
Cody Riggs
. The Irish are not opposed to adding another one, either.
[+] Enlarge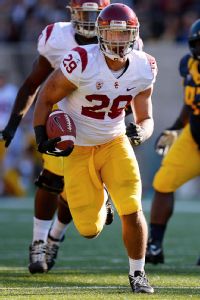 Thearon W. Henderson/Getty ImagesCould the Fighting Irish be interested in former USC tailback Ty Isaac?
With USC on Wednesday releasing running back
Ty Isaac
from his scholarship, and with the Joliet, Illinois, native
expected to transfer closer to home
, Notre Dame could be a destination for the former four-star prospect. Kelly, speaking in general terms Thursday, said he is looking at transfers as he is open to accepting players who make sense for his program.
"I always have an interest in adding transfers if they fit academically," Kelly said Thursday. "They've got to fit academically. We've got, obviously the young man coming in from Florida, fit into our accelerated one-year MBA program, was a great fit for us. Went for him. And he fit for us in terms of a veteran presence in the back end of our defense. It's unusual that you take a one-for-one guy, but it was the right time and it was the right place, so that worked.
"For a traditional transfer, my preference is that they have three years of eligibility and they're the right academic fit, and then of course, positionally it makes sense. You know what I mean? That there's not a backlog of players at that particular position. So I've always got my ear to the ground about transfers. There's transfers right now that we're looking at. So we're on top of what's going on."
Kelly said that there is not a backlog on running backs, if things time out the right way.
Riggs
announced in February
that he would attend Notre Dame as a graduate student following his graduation from Florida. The former Gators defensive back is expected to compete for playing time at cornerback.
With Notre Dame dismissing sophomore cornerback
Rashad Kinlaw
from the program in April, the Irish are expected to be at 83 scholarship players when all of their incoming freshmen arrive, leaving them two short of the NCAA maximum.
Isaac, who rushed for 236 yards and two touchdowns on 40 carries as a freshman last season with the Trojans, fits the mold of a traditional Notre Dame transfer, as he would have three years of eligibility remaining. The Irish were in the hunt for Isaac during the 6-foot-3, 225-pound prospect's recruitment, and there will be plenty of room on their running back depth chart when
Cam McDaniel
graduates following this season, as second-year players
Tarean Folston
and
Greg Bryant
are the only running backs on the roster behind McDaniel. The Irish also lost out on North Carolina's
Elijah Hood
during this past recruiting cycle. The four-star running back decommitted from Notre Dame last summer before going to the home-state Tar Heels.
Kelly said that Riggs, who has just one season of eligibility remaining, fit a special case for Notre Dame and was more of the exception to the rule.
"I would only do it after your program is on good, solid ground, you know what I mean?" Kelly said. "That you're not going to upset the locker room. That your locker room is in a good position. Our locker room is in a very good position where you can bring in a guy and not feel like, you know, he's going to upset what's already developed in your locker room. The first couple years I would not have gone that route, but where we are right now, we can bring in a guy for a year and do that."
March, 21, 2014
Mar 21
4:10
PM CT
Enjoy your weekends, everyone. Any other questions? Drop 'em
here in the mailbag
or
tweet 'em
.
Carter from LaPorte, Ind., writes:
Hi, Matt. I love reading your blogs, and I've been a
Notre Dame
football fan since I can remember. I've gone to at least one game a year since I was 3 weeks old. I'm curious as to how you see the team shaping up this year. Our final record (who we'll beat/hopefully not lose to), offensive production, defensive production (will our new defensive coordinator produce the defense we had two years ago?), the "Golson effect"(Heisman?), and how, if at all, will the new playoff system determine who we'll play postseason? Thanks!
Matt Fortuna:
Thanks, Carter. Three weeks old? Please tell me you didn't have to pay for a ticket back then. As for your questions … well, I know much better than to make season predictions this early, especially with just four spring practices in the books. I look at the schedule now and seem to think the closest thing to a sure bet either way is a loss at Florida State, but I (and everyone else) have been guilty of making a similar mistake before, back in 2012.
[+] Enlarge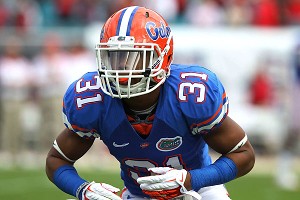 Kim Klement/USA TODAY SportsFormer Florida defensive back Cody Riggs should make an instant impact in the Notre Dame secondary.
I think a Heisman run by
Everett Golson
is asking a lot, though the offense should be much more dynamic while looking more like the kind of attacks Brian Kelly ran during his Cincinnati days. I'm not sure the talent is there yet for the defense to be as good as the 2012 unit was, but I think the secondary, especially with the summer arrival of Florida transfer
Cody Riggs
, will be really, really good, and I'm interested to see what kind of changes new coordinator Brian VanGorder implements with the unit.
Notre Dame's postseason destination will depend on a lot of things, though, if the Irish don't qualify for the playoffs, they do have a nice fallback plan thanks to their new ACC alignment: They can leap an ACC team for a spot in a non-access bowl if their record is better than, equal to or within one win of said team, or if they are ranked higher. The Orange Bowl will also select the highest-ranked available team from Notre Dame, the Big Ten or the SEC to face the ACC champion, though the Irish can appear in the game a maximum of two times during the 12-year agreement.
---
Thomas Witty from Northbrook, Ill., writes:
Hey, Matt! I envy your job! My question is about Brian VanGorder. How different do you think our defense will be under him than it was with Bob Diaco? How will our defensive coverages and just overall defensive format change under the new leadership? Great work as always!
Matt Fortuna:
Thanks, Thomas. I think the experience back in the secondary will allow VanGorder to be much more creative and aggressive up front. In fact, I'm not sure he wouldn't be that way regardless of who his defensive backs were. Kelly has said the defense will still be a 3-4 base that switches things up on roughly a 50-50 basis, but the unit has run mostly four-man fronts in our limited time viewing practice this spring. One bulletin-board quote that will likely stick with VanGorder this fall? "I'm built to stop the run" -- something he said during his introductory news conference in January.
---
Chad from Woodlawn, Tenn., writes:
Matt, I know recruiting is never easy, but it seems as of the last few classes, ND has had a large number of defections or decommits. Is there a problem with coach Kelly and his staff when it comes to recruiting or is this a product of the recruiting times?
Matt Fortuna:
Chad, I think it's a bit overblown and more a product of the times. I also think it's about identifying the right fits for Notre Dame, as there are obvious differences between Notre Dame and several of the other college football powers that most four- and five-star prospects are interested in. It's something that Kelly and his staff have become better at managing over time. Were there still decommits this year? Sure, as
Elijah Hood
,
Richard Yeargin
and
Isaiah McKenzie
showed. But I think the staff has become more risk-averse. They know what they are selling, they have tangible evidence of the heights that the program is capable of reaching, and they have learned who is and is not a great fit for what they are about.
---
Joe Meyer from Indianapolis writes:
Hi, Matt, just sharing the "must sees" at Notre Dame. No visit is complete without a trip inside the Basilica and the Administration Buildings. There are many great things to see in each, but no tour guide is required. Total time, 45 minutes.On game days, it's a treat to listen to the trumpets inside the Admin Building, about 90 minutes before kickoff. They play the fight song and alma mater from two levels of the rotunda beneath the dome. It's awesome. For the adventuresome, taking a walk around the lakes will provide a unique view of the notable buildings, including the Golden Dome.
Matt Fortuna:
Thanks, Joe. This is in response to
Matt from Pittsburgh's question in last week's mailblog
. Have at it, Matt.
May, 2, 2013
5/02/13
7:58
PM CT
Notre Dame continued its building of an even deeper offensive line Wednesday night, as the Irish secured a verbal pledge from four-star offensive guard
Quenton Nelson
(Red Bank, N.J./Red Bank Catholic).
Officially committed to Notre Dame #GoldenArmy #Irish #BestDay #LetsGo

— Quenton Nelson (@BigQ56) May 2, 2013
Nelson is the Irish's ninth commitment from the Class of 2014, and the fourth offensive lineman among that group, giving the program nine offensive line commitments during the past two recruiting cycles.
The 6-foot-5, 285-pounder is the No. 11 prospect in the state of New Jersey and the 19th-ranked guard in the nation.
Brian Kelly
secured the pledge from Nelson during the head coach's one allotted phone call

to the prospect during the spring evaluation period, our Jared Shanker writes.
"He's really thrilled," Nelson's mother, Maryellen, said. "We're so happy that he committed to a great school like Notre Dame. He's wearing his Notre Dame hat and shirt right now."
Here is a list of all nine Irish commitments from this class. ESPN150 members are designated with an asterisk (*).
" Four-star RB
Elijah Hood
(Charlotte, N.C./Charlotte Catholic)
" Four-star DE
Andrew Trumbetti
(Demarest, N.J./Demarest)*
" Four-star ILB
Greer Martini
(Woodberry Forest, Va./Woodberry Forest)
" Four-star OG
Sam Mustipher
(Olney, Md./Our Lady of Good Counsel)
" Four-star WR
Justin Brent
(Speedway, Ind./Speedway)
" Four-star OT
Jay Hayes
(Brooklyn, N.Y./Poly Prep)
" Four-star OG Quenton Nelson (Red Bank, N.J./Red Bank Catholic)
" Three-star TE
Nic Weishar
(Chicago/Marist)
" Three-star OT
Jimmy Byrne
(Cleveland/Saint Ignatius)
TOP 25 SCOREBOARD
Wednesday, 12/24
Saturday, 12/20
Monday, 12/22
Tuesday, 12/23
Friday, 12/26
Saturday, 12/27
Monday, 12/29
Tuesday, 12/30
Wednesday, 12/31
Thursday, 1/1
Friday, 1/2
Saturday, 1/3
Sunday, 1/4
Monday, 1/12
TOP PERFORMERS