Chicago Colleges:

Evan Watkins
November, 8, 2011
11/08/11
8:46
PM CT
Northwestern coaches and players don't sidestep the truth about the 2010 season.
When starting quarterback
Dan Persa
went down with a ruptured Achilles' tendon in mid November, the Wildcats were finished. They dropped their final three games, two in blowout fashion.
"From a team confidence standpoint," coach Pat Fitzgerald said, "obviously looking back in the rear-view mirror, we got rocked to the core."
Northwestern's offense has dealt with similar personnel fluctuation this season, but the impact hasn't been quite as severe.
Persa missed the first three games and has sat out portions of three others. Northwestern has had multiple quarterbacks attempt passes in eight of its nine games. Persa's health status has been a constant topic around the program, and the Wildcats have had to deal with their best player repeatedly going in and out of the lineup. The Wildcats also have dealt with injuries at the running back position.
But the constant shuffling hasn't slowed down the offense. The Wildcats rank second in the Big Ten in total offense (435.8 ypg) and fifth in scoring (31.2 ppg). They have eclipsed 400 yards of offense in all but two games and racked up 468 yards or more in three of the last four contests. In Big Ten play alone, Northwestern leads the league in passing (284.2 ypg) and ranks second in total offense (458.7 ypg).
Three of Northwestern's four wins have come in games that Persa either didn't play or didn't finish because of injury.
"We preach around here that the next guy's got to be ready to pick up the flag and get in there and do their job," running back
Jacob Schmidt
told ESPN.com "We have confidence in all of our quarterbacks regardless of who's out there at the time. … We're definitely more used to it this year and we've shown that by the number of points we've put up."
You could argue Northwestern's offense was too Persa-focused in 2010. Persa carried the unit on his back, displaying record-setting accuracy and dual-threat ability.
When he went down, the effect was dramatic.
"He was our leader, and he was an every-down guy and made the plays that we still wondered how he made 'em," Schmidt said. "So when he did go down, it was tough to adjust. It was tough to throw some freshmen in there who didn't have the experience and really weren't leaders of the offense yet."
Redshirt freshman
Evan Watkins
and true freshman
Kain Colter
were "thrown in the deep end, so to speak, without being taught how to swim," Fitzgerald said. The results were predictable, although Colter showed some flashes in a TicketCity Bowl loss to Texas Tech.
Colter started the first three games this year, leading Northwestern to two wins, and relieved Persa in several other contests. When Persa injured his left shoulder Saturday against Nebraska, Colter came in and guided the Wildcats to a 28-25 win. Colter, who has played receiver as well as quarterback, is averaging 136.7 yards of total offense against Big Ten opponents and has accounted for nine touchdowns.
"A lot of it might go back to that we've used Kain at other places on the field," Schmidt said. "We know what he can do with the ball in his hands, regardless of whether he's behind center or split out. If Dan does go down for a little bit, we know Kain is plenty capable to come in and get the job done."
The running backs follow a similar philosophy. Schmidt and true freshmen
Treyvon Green
have been the only healthy backs all season, as
Mike Trumpy
suffered a season-ending knee injury against Illinois, while
Adonis Smith
has missed three games with injuries.
Northwestern has had six games where multiple players recorded 10 or more carries.
"If you're No. 1 on the depth chart or No. 4 on the depth chart, you've got to be ready to get in there when you're number's called," Schmidt said. "You've got to know what to expect, you've got to study your butt off all week and prepare like you are the starter and you're going to get 20 carries and 50 plays.
"I'm incredibly confident with whatever 11 we put on the field offensively."
April, 16, 2011
4/16/11
10:01
PM CT
EVANSTON, Ill. -- Those Northwestern football fans who braved the rain and wind Saturday, ignoring the Chicago Bulls' playoff opener for
Northwestern
's spring scrimmage, likely regretted their decision by the end of the day.
On Saturday, Northwestern unveiled some newcomers who could see the field next season, but previewed little else for their fans as the Wildcats closed out the spring football season.
Northwestern sat 24 players during Saturday's scrimmage. Seventeen players missed the game due to injury, and seven more skipped it due to Wildcats coach Pat Fitzgerald's decision.
Among those absent were some of the Wildcats' biggest difference-makers, including quarterback
Dan Persa
, wide receiver
Jeremy Ebert
, defensive end Vince Browne, kick returner
Venric Mark
, superback
Drake Dunsmore
, cornerback Jordan Mabin and offensive tackle Al Netter.
Even the starters who did play on Saturday saw little action. Running back
Mike Trumpy
, who is expected to be the team's top running back in the fall, carried the ball three times.
As Northwestern athletic director Jim Phillips said of Saturday's scrimmage, "The key today is two words. No injuries."
But Saturday was a big day for one group of Northwestern's players -- the backup quarterbacks. Sophomores
Evan Watkins
and
Kain Colter
and redshirt freshman
Trevor Siemian
were again all given an equal chance to impress Fitzgerald.
Watkins had the most success throwing the ball Saturday. He completed 7 of 11 passes for 70 yards and one touchdown. Siemian was 5 of 14 for 46 yards and two touchdowns. Colter was 5 of 10 for 35 yards.
"I was trying to work on just raising my completion percentage, just making my reads and keeping the ball in our hands," Watkins said. "It was good. I had a nice touchdown with
Rashad [Lawrence]
. I thought I played pretty well for the most part. I was pretty happy with the performance."
Colter continued to show his mobility during the scrimmage. He rushed for a team-high 42 yards and scored a touchdown on a 28-yard run. Watkins ran for five yards and Siemian for one.
Fitzgerald wasn't ready to make any decisions on the quarterback depth chart -- aside from Persa still being his starter -- after the scrimmage.
"It's really hard to say who's further along," Fitzgerald said. "They've all had good days. They've all moved the offense. We've executed under all three of them. That's probably what's most encouraging to me.
"They've all done enough to get us beat. Today some of the decisions of Trevor holding onto the ball… Kain pitching the ball, that's a turnover… Evan sailing the ball when we had a guy wide open. Enough to where none of those guys are ready today to go out there and be our starter, but they don't need to be. They'll keep working at it. The good news is we have this guy named Dan [Persa] who is in the mix, and he's pretty good. I really like our situation at quarterback."
Wide receivers
Brendan Barber
,
Charles Brown
and Lawrence accounted for three of the scrimmage's four touchdowns. Colter's run was the other.
Brown's play was one of the highlights of the entire spring. Fitzgerald called him the team's spring offensive MVP, and he had two catches for 20 yards on Saturday.
"I've just been working hard all spring," Brown said. "I try not to really pay attention to the hype and all the stuff. I focus on myself, getting better, my teammates and performing. I want to be the best player I can be. I definitely have good hands, good speed, but just try to put them together and play."
Jeravin Matthews was among the team's spring defensive MVPs. After barely seeing the field last season and making a transition from running back to cornerback, Matthews played consistently throughout the team's spring practices and will head into the fall as a starting defensive back.
"In these 15 spring practices, I think the thing was last spring, last bowl practice, this season's bowl practice was me really just getting comfortable at the position, learning the defense," Matthews said. "I think this spring was more of fine-tuning of the techniques that come with being a DB, and the stuff that's going to set me up to be a great DB and play in the Big Ten."
Kickers Steve Flaherty and Jeff Budzien made all of their extra-point opportunities. Flaherty kicked field goals from 30 and 38 yards. Budzien was good from 30 and 33 yards and missed a 38-yard attempt.
March, 7, 2011
3/07/11
3:44
PM CT
EVANSTON, Ill. -- With snow on the ground, temperatures at the freezing level and the sun still waiting to make its first appearance of the day, nothing about 6 a.m. Monday indicated spring had arrived on Northwestern's campus.
Just don't say anything to the Wildcats football team.
Northwestern coach Pat Fitzgerald and his team assembled before sunrise Monday and held their first of 15 spring football practices.
[+] Enlarge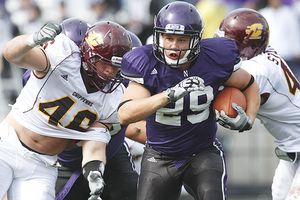 AP Photo/Nam Y. HuhMike Trumpy had two 100-yard rushing games before fracturing his wrist against Illinois and sitting out the last two games.
Although sophomore running back
Mike Trumpy
may have been delirious after the three-hour morning practice, he sounded as if he enjoyed being back out on the field even it was March 7 and so early in the morning.
"It was so much fun," Trumpy said. "I love practicing. It doesn't bother me we to wake up at five in the morning. I love it."
Coming off a disappointing loss in the TicketCity Bowl, Fitzgerald has said there will be competition at every position in the spring, but it's especially expected at running back. Trumpy, sophomore
Adonis Smith
and senior
Jacob Schmidt
are all in the running for the starting role next season.
The running game went through its ups and downs throughout last season.
Arby Fields
was expected to be the starter, but struggled early and left the program before the end of the season. Trumpy made the most of his chance, with two 100-yard rushing games before fracturing his wrist against Illinois and sitting out the last two games. Schmidt also was hampered last season with an ankle injury. Smith showed promised as a freshman and rushed for 61 yards in the bowl game.
"We all bring something different to the table," said Trumpy, who practiced with a protective cast on his right wrist. "We all work hard and have a good time. I think it's going to be fun competing with everyone.
"It's the Big Ten. There's never one running back. It's always going to be multiple running backs. Someone's going to get dinged up. Last year, we had I think four running backs go down at one point of the season. Everyone's got to be ready. Everyone's got to compete every single day and work hard every single day because you never know what's going to happen."
Fitzgerald preached the same message about his quarterbacks. While senior
Dan Persa
still rehabs after rupturing his Achilles tendon last season and will be limited in his practice participation, Fitzgerald is evaluating sophomore
Evan Watkins
, sophomore
Kain Colter
and redshirt freshman
Trevor Siemian
for his spring starting quarterback.
Watkins and Colter both saw time in the Wildcats' final three games last season after Persa's injury against Iowa.
"Dan's out," Fitzgerald said. "With that being said, now is the time. Last year after the Iowa game, we didn't have a chance; Evan was next up. We decided we'd move forward with Kain. Those two guys, their playing was predicated based on success. We went 0-3. Neither one of those guys is a starting quarterback. We add Trevor to the mixer.
"One of those three guys has to emerge to be the starting quarterback this spring. They're going to work their butts off and compete, and I'm look forward to watching."
Placekicker is another position up for grabs. Stefan Demos had the role locked down for the past four seasons, but with his graduation either sophomore Jeff Budzien or junior Steve Flaherty will take over.
On Monday, Budzien went 4 for 4 on field-goal attempts, and Flaherty was 3 for 4.
"It's about consistency," Fitzgerald said. "I would love for Jeff and Steve to both have a role."
Senior wide receiver
Jeremy Ebert
thought the first day went as well as could be.
"We came out a little sloppy," Ebert said. "You know, first day, it was expected. But I thought for a first day, it was pretty good.
"We've experienced this before. It's not our first rodeo. We have a sour taste in our mouth. We have a lot of guys coming back, and we're trying to do something big this year."
December, 11, 2010
12/11/10
6:48
PM CT
EVANSTON, Ill. -- If Northwestern coach Pat Fitzgerald had his way, he would be a couple years away from seeing redshirt freshman quarterback Evan Watkins or true freshman quarterback Kain Colter playing in a significant game.
[+] Enlarge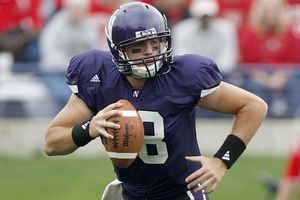 Jerry Lai/US PresswireEvan Watkins is 0-2 as Northwestern's starter.
He certainly didn't not envision them playing any time this season -- especially not on New Year's Day 2011.
But Fitzgerald wasn't given that luxury. With the season-ending injury to star signal-caller Dan Persa against Iowa, Fitzgerald had to throw Watkins and Colter into two of the Wildcats most difficult settings this season – at Wrigley Field against Illinois and at Wisconsin.
In each situation, Watkins and Colter played as one would expect freshmen QBs to play -- they struggled. But now as they prepare for the biggest game of their young college careers, with Northwestern facing Texas Tech in the TicketCity Bowl on Jan. 1, Colter and Watkins are grateful for those adversity-filled experiences. They are ready to show they're capable of leading the Wildcats to their first bowl victory since 1949.
"I wouldn't say I'm so nervous," Colter said Saturday following Northwester's first practice since finishing finals. "I've been dreaming of playing in a bowl game ever since I was little. I'm more anxious. I'm just ready to try and get my name out there and prove to the team that I can do it. Going into that first game, you get that first-game jitters out. I'm getting a little more comfortable."
Watkins echoed the statement.
"Those two games were pretty big games," Watkins said. "They were kind of like bowl games in a way. I think that would really help up us especially going into a big bowl game like this."
Watkins has been the predominant passing quarterback with Colter being inserted to run the ball. Watkins was 10 of 20 for 135 yards and one interception in the 48-27 loss to Illinois and 13 of 22 for 123 yards, one touchdown and three interceptions in the 70-23 defeat to Wisconsin. Colter has thrown three incompletions and rushed for 31 yards on 11 carries in the two games.
Both understand they must get better for the Wildcats to have a chance.
"There's a lot of room to improve obviously as a team, but I look at that personally," Watkins said. "There's a lot of things I could have done better. I'm really going to appraise myself and learn from that and eliminated that in the future. Mainly, just being smarter with the football."
Colter was hopeful to get more opportunities to show off his arm against Texas Tech.

"I came here as quarterback, so I'm going to have to throw at some point of the game," Colter said. "If I get the chance, I just want to make the best out of it. If I get in put the situation, I feel like I can do it."
Fitzgerald is thankful the Wildcats are playing on Jan. 1 rather than an earlier bowl game. The more reps he can get Watkins and Colter, the better.
They've already had five practices leading up to facing Texas Tech.
"They'll be much more prepared for this game than there was any way they could have been our last two games," Fitzgerald said. "To me, that's exciting and encouraging. I like the steps they've made so far, but I'm glad we don't play today. We have a long way to go."
November, 20, 2010
11/20/10
4:01
PM CT
Running back
Mike Trumpy
brought Northwestern even with Illinois with a 2-yard touchdown run to tie the game at 24 with 2:53 left in the half.
Freshman quarterback
Evan Watkins
is settling down, completing passes of 19, 8 and 33 yards on the drive
November, 15, 2010
11/15/10
7:30
PM CT
EVANSTON, Ill. -- During Northwestern's team meeting Sunday, coach Pat Fitzgerald tried to loosen up his new starting quarterback.
"I said, 'Remember when I recruited you and I told you that you were going to start your first college game at Wrigley against the Illini?' " Fitzgerald said. "And he kind of chuckled. I said, 'Just like we scripted, right?' "
Read the entire story
.
TOP 25 SCOREBOARD
Saturday, 12/21
Monday, 12/23
Tuesday, 12/24
Thursday, 12/26
Friday, 12/27
Saturday, 12/28
Monday, 12/30
Tuesday, 12/31
Wednesday, 1/1
Thursday, 1/2
Friday, 1/3
Saturday, 1/4
Sunday, 1/5
Monday, 1/6