Chicago Colleges:

Everett Withers
March, 10, 2014
Mar 10
10:30
AM CT
Non-Minnesota fans might have missed Friday's official announcement that Mike Sherels has been promoted to Gophers linebackers coach after serving on the team's recruiting staff. Sherels is the first new assistant Jerry Kill has hired in his Minnesota tenure, but the move likely signified -- likely being the operative word -- something bigger for the Big Ten.
The end of the coaching carousel for 2014.
This post always includes a reminder that additional coaching changes still can happen, even though most of the Big Ten has started spring practice. It's the nature of the business.
Despite two new teams in the Big Ten, the number of overall changes in the league dropped for the second consecutive year, going from 32 in 2013 to 27 this year. There was only one complete staff overhaul, at Penn State, and four programs -- Illinois, Iowa, Michigan State and Northwestern -- kept all of their coaches from last season. After replacing more than half of his staff in the last offseason, Illinois' Tim Beckman hopes continuity pays off in what likely will be a make-or-break 2014 campaign. Iowa is back to its stable self after two years of coaching flux, while Northwestern coach Pat Fitzgerald hasn't made a staff change since after the 2010 season.
Michigan State made a major commitment
to Mark Dantonio and his assistants after the Spartans' Rose Bowl win, but it's still impressive that Dantonio retained the entire staff after such a great season.
Both Rutgers and Maryland have some new faces on staff before their inaugural season of Big Ten play. Rutgers has two new coordinators (one outside hire, one promotion), while Maryland has new assistants overseeing both lines.
[+] Enlarge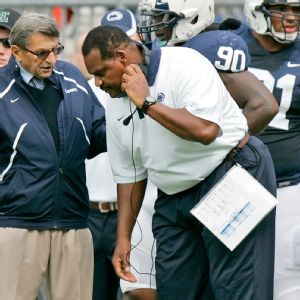 Michael R. Sisak/Icon SMILongtime Penn State defensive line coach Larry Johnson moved to Ohio State this offseason after James Franklin was hired as the Nittany Lions' head coach.
Other than Penn State, Indiana and Rutgers are the only teams featuring two new coordinators in 2014. Although IU assistant Kevin Johns previously held the co-offensive coordinator title, he'll be the main man, as he takes over for Seth Littrell.
For the most part, the coaches leaving Big Ten programs did so voluntarily and for potentially better positions. Penn State head coach Bill O'Brien took the same role with the Houston Texans, while two assistants -- Ohio State's Everett Withers and Maryland's Greg Gattuso -- left to become FCS head coaches at James Madison and Albany, respectively. The Big Ten lost several assistants to the NFL, as O'Brien brought four assistants with him from Penn State (John Butler, Stan Hixon, Charles London and Anthony Midget) and swiped another from Ohio State's staff (Mike Vrabel). Wisconsin also lost running backs coach Thomas Hammock to the Baltimore Ravens.
Arguably the most interesting move took place within the league, as longtime Penn State defensive line coach Larry Johnson replaced Vrabel at Ohio State.
OK, let's get to it already.
Here's the rundown of coaching changes (head coach and full-time assistants only; number of new coaches in parentheses):
INDIANA (3)
Who's gone?
Doug Mallory, defensive coordinator/safeties
Seth Littrell, offensive coordinator/QBs
Jon Fabris, defensive line
Who's in?
Brian Knorr, defensive coordinator/defensive ends/outside linebackers
Larry McDaniel, defensive line
Noah Joseph, safeties
Other moves
Promoted Kevin Johns to main offensive coordinator. Johns also now coaches quarterbacks in addition to wide receivers.
Moved James Patton from assistant defensive line/special teams to tight ends and fullbacks
MARYLAND (3)
Who's gone?
Tom Brattan, offensive line
Lee Hull, wide receivers
Greg Gattuso, defensive line
Who's in?
Greg Studwara, offensive line
Keenan McCardell, wide receivers
Chad Wilt, defensive line
MICHIGAN (1)
Who's gone?
Al Borges, offensive coordinator/quarterbacks
Who's in?
Doug Nussmeier, offensive coordinator/quarterbacks
Other moves
Defensive coordinator Greg Mattison is overseeing linebackers instead of defensive linemen
Mark Smith moves from linebackers to defensive line
Roy Manning moves from outside linebackers to cornerbacks

Curt Mallory will coach only safeties rather than the entire secondary
MINNESOTA (1)
Who's gone?
Bill Miller, linebackers/assistant head coach
Who's in?
Mike Sherels, linebackers (promoted from recruiting staff)
Other moves
Pat Poore moves from wide receivers to running backs
Brian Anderson moves from running backs to wide receivers
NEBRASKA (1)
Who's gone?
Terry Joseph, secondary
Who's in?
Charlton Warren, secondary
OHIO STATE (2)
Who's gone?
Everett Withers, co-defensive coordinator/safeties
Mike Vrabel, defensive line
Who's in?
Chris Ash, co-defensive coordinator/safeties
Larry Johnson, defensive line/assistant head coach
PENN STATE (10)
Who's gone?
Bill O'Brien, head coach/offensive playcaller
John Butler, defensive coordinator/cornerbacks
Charlie Fisher, quarterbacks
Stan Hixon, wide receivers/assistant head coach
Larry Johnson, defensive line
Charles London, running backs
Mac McWhorter, offensive line
Ron Vanderlinden, linebackers
John Strollo, tight ends
Anthony Midget, safeties
Who's in?
James Franklin, head coach
John Donovan, offensive coordinator/tight ends
Bob Shoop, defensive coordinator/safeties
Charles Huff, running backs/special teams
Brett Pry, co-defensive coordinator/linebackers
Josh Gattis, wide receivers/assistant special teams
Herb Hand, offensive line
Ricky Rahne, quarterbacks
Sean Spencer, defensive line
Terry Smith, cornerbacks
PURDUE (1)
Who's gone?
Jon Heacock, defensive backs
Who's in?
Taver Johnson, defensive backs
RUTGERS (4)
Who's gone?
Dave Cohen, defensive coordinator/linebackers
Ron Prince, offensive coordinator
Rob Spence, quarterbacks
Damian Wroblewski, offensive line
Who's in?
Ralph Friedgen, offensive coordinator/quarterbacks
Bob Fraser, linebackers/special teams
Mitch Browning, offensive line
Ben McDaniels, wide receivers
Other moves
Promoted special teams coordinator Joe Rossi to defensive coordinator
Anthony Campanile is coaching only tight ends after overseeing both tight ends and wide receivers
WISCONSIN (1)
Who's gone?
Thomas Hammock, running backs/assistant head coach
Who's in?
Thomas Brown, running backs
February, 24, 2014
Feb 24
9:00
AM CT
The Big Ten likes to consider itself a leader on many fronts in college sports. Several Big Ten schools were among the first to integrate their football programs, and the first two African-American head football coaches in a major conference called the league home.
But for much of this century, when it came to football coaching diversity, the Big Ten lagged behind the rest of the nation.
[+] Enlarge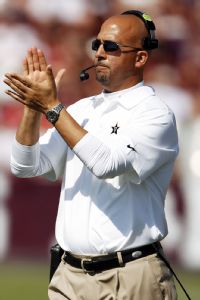 AP Photo/Eric Christian SmithPenn State's decision to hire James Franklin as its first African-American head football coach can't be underestimated.
After the third African-American head coach in league history -- Michigan State's Bobby Williams -- was fired late in the 2002 season, the conference went a decade without another black head football coach. The Big Ten was the only one of the six BCS AQ conferences that did not have at least one African-American head coach during that span; the SEC, by contrast, had four in the same time frame.
Thankfully, things have begun to improve. Two of the last three head coaches hired in the Big Ten -- Purdue's Darrell Hazell and Penn State's James Franklin -- are African-American.
"That's great news, to have that diversity," Ohio State athletic director Gene Smith said. "Now we just need to give them time and let them be successful where they are and develop their programs. I'm glad there is progress, and we need to continue to do more across the country."
There weren't a lot of opportunities, period, for head coaching jobs in the Big Ten during the recent diversity drought, as schools like Iowa, Northwestern, Penn State and Ohio State remained mostly stable at the top. But coaching turnover has increased in the league in the past few years; Penn State, for instance, just hired its second coach in three years after going nearly a half-century without a transition.
Was improving diversity a league-wide priority? Conference officials say no.
"What our schools try to do is hire the best coaches in their pool," Big Ten commissioner Jim Delany said. "We've had plenty of African-American basketball coaches.
"It's more about a commitment to opportunity and a fair process, and as long as our people are hiring the best people in processes that are open, you would hope and think that it would be sort of a broad representation of people. Whether you hire James Franklin or a new coach at any place, I'm not sure race should be the factor. Certainly people wouldn't want it to be a factor. It's really an outcome."
Still, it's hard not to note the importance of Penn State hiring its first African-American head football coach. More so than Dennis Green or Francis Peay at Northwestern or even Williams at Michigan State, Franklin is leading a flagship, blue-blood program. The timing was fortuitous, as the Pennsylvania native was ready for a new challenge after proving himself at Vanderbilt and the Nittany Lions needed a dynamic new leader.
"It's a lot of significance," Penn State athletic director Dave Joyner said. "We hired James because of the kind of person and coach he is. The fact he's African American is great. It's a great testimony to opportunity. A hundred years ago, that wouldn't have happened in this country."
[+] Enlarge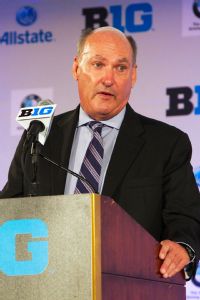 AP Photo/Ting Shen/Triple Play New MediaBig Ten commissioner Jim Delany said the hiring process should be fair and a commitment to opportunity for all coaches.
The Institute for Diversity and Ethics in Sports hasn't yet released its annual hiring report card for college football. But Richard Lapchick, the center's director, said the Big Ten's recent moves are "definitely a sign of progress." While there are only 11 FBS black head coaches heading into the 2014 season, it's noteworthy that minorities have gotten opportunities to lead storied programs like Penn State and Texas (Charlie Strong), Lapchick said.
"That's critically important," he said. "Historically, the opportunities in general that have gone to African-American coaches have been at programs that have been really down, and the opportunities to turn them around have been very problematic. Let's hope [Hazell and Franklin] are successful, because they will help create more opportunities for other African-American and Latino coaches in FBS conferences."
The next step for the Big Ten is to continue to develop and identify the next wave of minority head coaching candidates. Both Franklin and Hazell, who led Kent State for two seasons before Purdue hired him, had already established themselves as winning head coaches elsewhere, though Hazell was also a well-regarded assistant at Ohio State. The Big Ten sent several African-American assistant coaches to the annual minority coaches' forum between 2006 and 2010, and some athletic directors see it as their job to mentor young black coaches.
Smith saw Everett Withers leave the Buckeyes staff this winter to land the James Madison head coaching job and said he is spending time this offseason with running backs coach Stan Drayton to get Drayton accustomed to non-football issues like university budgets and policies.
"We want to have guys who are trained to hopefully win in the interview process," Smith said. "Sometimes, those are beauty contests. You've got to be able to answer the questions the right way and demonstrate an ability to lead."
That's the ultimate goal, to have more minority candidates who are ready when those opportunities do arise. Michigan athletic director Dave Brandon said that wasn't the case a few years ago, but the pool of potential coaches is increasing.
"We're starting to see more and more diversity among the coaching staffs and up-and-coming diverse candidates in all various positions in the sport," Brandon said. "Now, we're seeing more representation at the head coaching level. That was bound to happen and important to have happen, and I'm glad to see that trend evolve."
February, 8, 2013
2/08/13
8:00
AM CT
The Big Ten classes are
signed and sealed
. You can see ESPN's
final class rankings
as well as
grades for all the Big Ten teams

.
As we put a bow on national signing day 2013, let's take a look at some superlatives ...
Biggest winner:
Ohio State. The Buckeyes took a great class and made it even better with the additions of elite safety prospect
Vonn Bell
and four-star receiver prospect
James Clark
. They also held onto running back recruit
Ezekiel Elliott
. Plucking Bell out of SEC country made a significant statement, as Ohio State secured the
nation's No. 3 class
and the best in the Big Ten. Although other Big Ten programs secured strong classes -- Michigan, Nebraska, Penn State, Wisconsin, Michigan State -- Ohio State made the most headlines Wednesday.
Best closer:
Ohio State co-defensive coordinator/safeties coach Everett Withers. Although Buckeyes head coach Urban Meyer is unquestionably one of the nation's top closers, Withers merits a mention here after steering Bell to sign with the Scarlet and Gray. "I've seen some really good efforts," Meyer said Wednesday. "Everett Withers from start to finish, his effort on Vonn Bell, as good as I've ever seen." Bell's
high school coach called Withers
the "most proficient and professional recruiter we've ever dealt with," according to The (Cleveland) Plain Dealer. Withers played a major role in Ohio State securing five defensive backs
ranked in the top 50
by ESPN Recruiting.
Biggest surprise:
Indiana and Penn State. The Hoosiers have reached only one bowl game since the 1993 season and boast just five wins the past two seasons, but things are looking up in Bloomington. Kevin Wilson and his staff signed what appears to be a very solid recruiting class, especially on the defensive side, where IU has struggled for years. The Hoosiers signed two four-star defensive linemen from within the state --
Darius Latham
and
David Kenney III
-- and bolstered the secondary with
Rashard Fant
and others. Penn State overcame NCAA scholarship sanctions and a multiyear bowl ban to sign the nation's No. 24 class, headlined by quarterback
Christian Hackenberg
, rated by ESPN Recruiting as the nation's top pocket passer.
Who flipped/biggest loss:
The only notable intra-league flip on signing day -- and it wasn't a major surprise -- saw linebacker
Reggie Spearman
, a one-time Illinois commit, signing with Iowa. Ohio State (
Taivon Jacobs
) and Wisconsin (
Marcus Ball
) lost commits to Maryland and Arizona State, respectively, while Minnesota made a late flip with junior college linebacker
De'Vondre Campbell
, who was expected to sign with Kansas State. But for the most part, Big Ten teams played good defense on signing day.
December, 20, 2012
12/20/12
2:01
PM CT
Paying top dollar for assistant coaches has become an issue in the Big Ten lately. Bret Bielema cited his inability to pay and retain assistants at Wisconsin as a major reason why he left for Arkansas. Purdue made a bigger commitment to its overall staff salary when it hired Darrell Hazell to replace Danny Hope.
How do the Big Ten teams stack up when it comes to salaries for assistants? Luckily, USA Today has
just compiled a database
looking at what every FBS program pays its staffs. The study found that the average major college football assistant
now makes $200,000 per year
, a number that is on the rise. According to USA Today, pay for assistants rose 10 percent from last year and is up 29 percent from 2009, the latter of which is higher than the increase in salary for head coaches during that time period.
Here is what Big Ten teams spent on their staffs in 2012, not including the head coach (Note: Because Northwestern and Penn State are not subject to the same state open-records laws as other schools, their information was not available):
Ohio State: $3.29 million
Michigan: $2.93 million
Illinois: $2.3 million
Michigan State $2.2 million
Nebraska: $2.15 million
Iowa: $2.1 million
Minnesota: $2.1 million
Indiana: $2 million
Wisconsin $1.77 million
Purdue: $1.61 million
As you can see, Wisconsin was near the bottom of the pack in the Big Ten. Purdue has given Hazell a pool of $2.1 million for assistant coaches, which would put the Boilermakers right about the average for league schools. Ohio State and Michigan are the two richest schools and have not surprisingly made the biggest commitment to salaries. When you add in Urban Meyer's salary, the Buckeyes are paying nearly $7.6 million per year in football salaries. You get what you pay for, I guess, as Ohio State went 12-0.
While the Big Ten's median salary pool for assistants was just over $2 million in 2012, the median in the SEC was around $2.5 million. According to USA Today, the SEC paid its assistants an average of $315,000, the most in the nation. The Big 12 was second at just under $290,000.
LSU is spending more than $4 million on assistants, while Alabama is doling out more than $3.8 million on assistants. Auburn ($3.77 million), Tennessee ($2.98 million), Florida ($2.89 million), Georgia ($2.77 million) and Texas A&M ($2.68 million) also far outspent most Big Ten schools, while Arkansas ($2.56 million in 2012) is making a larger commitment to assistant pay under Bielema.
Finally, here's a look at the top-paid coordinators in the Big Ten among the 10 schools whose information was available via public records:
Luke Fickell, co-defensive coordinator, Ohio State: $761,000
Greg Mattison, defensive coordinator, Michigan: $758,900
Al Borges, offensive coordinator, Michigan: $658,300
Pat Narduzzi, defensive coordinator, Michigan State: $501,700
Tom Herman, offensive coordinator, Ohio State: $456,000
Everett Withers, co-defensive coordinator, Ohio State: $456,000
Tim Banks, defensive coordinator, Illinois: $400,000
Chris Beatty, co-offensive coordinator, Illinois: $400,000
Billy Gonzales, co-offensive coordinator, Illinois: $400,000
Tim Beck, offensive coordinator, Nebraska: $372,300
Tracy Claeys, defensive coordinator, Minnesota: $340,000
Matt Limegrover, offensive coordinator, Minnesota: $335,000
Greg Davis, offensive coordinator, Iowa: $325,000
Dan Roushar, offensive coordinator, Michigan State: $307,000
Mike Ekeler, co-defensive coordinator, Indiana: $306,600
Doug Mallory, co-defensive coordinator, Indiana: $306,600
Phil Parker, defensive coordinator, Iowa: $301,500
John Papuchis, defensive coordinator, Nebraska: $300,000
Gary Nord, offensive coordinator, Purdue: $275,000
Chris Ash, defensive coordinator, Wisconsin: $267,050
Matt Canada, offensive coordinator, Wisconsin: $265,000
Seth Littrell, offensive coordinator, Indiana: $255,500
Tim Tibesar, defensive coordinator, Purdue: $250,000
Fickell, Borges and Mattison are three of 18 assistants nationwide who earned at least $600,000 in 2012, according to the study. There were 14 assistants paid that much last season and nine in 2010. Ohio State offensive line coach Ed Warinner is the highest paid position coach in the league, at a salary of $357,800.
TOP 25 SCOREBOARD
Thursday, 10/2
Friday, 10/3
Saturday, 10/4