Chicago Colleges:

Frank Clark
January, 30, 2015
Jan 30
9:00
AM CT
Because it's Friday before the Super Bowl and you've likely not spent enough time thinking about the big game in Arizona, let's look at it from a Big Ten perspective.
These
fascinating maps
published by Athlon Sports, which detail the colleges and high schools of every player on the New England and Seattle active and injured-reserve rosters -- be sure to set aside some time to study them -- got me in the mood.
Tom Brady
and
Russell Wilson
give the Big Ten its first-ever pair of starting quarterbacks in a Super Bowl. But that's old news.
Between bites of chicken wings and nacho dip, impress with your friends with these nuggets:
The state of Illinois
produced six Patriots and two Seahawks. Of the eight Illinoisans (more than from any state other than California, Texas and Florida), five played at Big Ten schools.
Who got away? New England reserve quarterback
Jimmy Garoppolo
, who played at Eastern Illinois; New England defensive end
Zach Moore
of Division II Concordia (Minnesota); and linebacker
Darius Fleming
of the Patriots, who played at Notre Dame.
The Super Bowl features
four Seahawks and two Patriots who played at Wisconsin -- headlined, of course, by Wilson. The six ex-Badgers are the most from any college. Two are on injured reserve.
Michigan and
Big Ten newbie Rutgers
are among seven schools that placed four players in Super Bowl XLIX. That prestigious list also includes Alabama, Oregon, UCLA, Stanford and Texas A&M. Another six programs are represented Sunday by three players, including Illinois and Purdue. The others? LSU, TCU, USC and California.
Kent State, Memphis and Louisiana Tech
placed two players apiece in the Super Bowl, more than Ohio State, which sends only New England safety
Nate Ebner
. But Seattle coach Pete Carroll coached the Buckeyes' secondary under Earle Bruce in 1979, 15 years before his first head-coaching gig.
Other than Brady and Wilson
, probable starters Sunday from the Big Ten are New England defensive end
Rob Ninkovich
(Purdue), New England safety
Devin McCourty
(Rutgers) and Seattle defensive end
Cliff Avril
(Purdue).
Both of Rob Gronkowski's backups
played in the Big Ten --
Michael Hoomanawanui
at Illinois and
Tim Wright
at Rutgers. Keep an eye on the tight-end duo. Hoomanawanui factored in the Patriots' creative alignments against Baltimore in the AFC divisional round, lining up as an eligible receiver at tackle. Wright caught six touchdown passes in the regular season.
Based on their history, the Patriots will probably get creative near the goal line. In their two most recent Super Bowl wins, former Ohio State linebacker Mike Vrabel caught touchdowns from Brady.
On to the links:
November, 19, 2014
11/19/14
7:00
AM CT
It's cold in Big Ten country.
1. Several of the country's football conferences dabble in cold temperatures, but none face the elements quite like the Big Ten. The league's two biggest games last week were
snow-covered events
. Temperatures dipped into the mid-teens Tuesday night in six of the seven cities that will host Big Ten games this Saturday. As the season's first arctic blast visits the northern half of the country, it's time we consider weather as a playoff committee consideration.
After his team beat Minnesota by a touchdown in freezing temperatures, Urban Meyer challenged any playoff contender to visit Minneapolis in November and fare as well. If the selection committee is going to consider injuries and hot streaks and other factors the BCS computers of yore didn't, shouldn't bad weather be on that list as well? Rain storms, lightning delays and bitter cold days can affect games. Not every team has to deal with the elements. If we're going to credit teams for whom they play, it makes sense to do the same for where they play.
2. Ohio State moved up two spots in this week's College Football Playoff rankings to No. 6, jumping an idle Baylor team and Arizona State, which lost to Oregon State. The Buckeyes are in a good position now if they win the Big Ten championship, but there's a growing consensus that
Wisconsin won't make that easy
if both teams wind up in Indianapolis next month. If the Badgers continue their recent success, they'll provide an
interesting test case
for the selection committee when picking the New Year's Day bowls or potentially even the playoff teams. Wisconsin has two damning losses on their schedule, but appear to be a different team in November. Will the committee judge them more on their body of work or the way they're playing now?
3. And now for a different kind of semifinalist, the
Biletnikoff
and
Mackey
Award, given to the nation's best wide receiver and tight end, respectively, released their lists of semifinalists this week. We were reminded there aren't many pass-catching stars in the Big Ten. Minnesota tight end Maxx Williams -- who is tied for the national lead with seven receiving touchdowns -- was the only conference player to make either list. Michigan State's Tony Lippett has the stats to stack up with his counterparts from other leagues, but doesn't carry the same national profile.
Some of the lack of attention in the passing game is, of course, a result of an unprecedented year of dominant running backs in the Big Ten. The Doak Walker committee releases its semifinalist group late Wednesday morning. As many as five Big Ten backs -- Gordon, Ameer Abdullah, Tevin Coleman, David Cobb and Jeremy Langford -- have a legitimate claim to be on that list.
East Division
Urban Meyer
avoided several attempts to stump for a playoff spot
at Ohio State during a news conference this week.
Michigan State is in
good shape to play on New Year's Day
after moving up another spot in the playoff rankings.
Brady Hoke
doesn't regret giving Frank Clark a second chance
at Michigan despite Clark's failure to make good on it.
A new documentary attempts to
sift through the nuance
of the Sandusky scandal and all it affected in Happy Valley.
Rutgers is bowl eligible. Where are the Scarlet Knights
most likely to be spending their postseason
?
Despite the losses, Indiana fans should enjoy
Tevin Coleman's special season
while he's still around.
Maryland submitted plans this week to build a
$155 million indoor practice facility
.
West Division
Melvin Gordon isn't the first member of this Badgers team to
set a rushing record
at Camp Randall Stadium.
There are
more questions than answers
for Nebraska after a tough loss last weekend.
Jerry Kill
likes where his team is sitting
as it heads into the final two weeks of the regular season.
Wide receiver Derrick Willies
wants back in
at Iowa, but he'll have to wait for Kirk Ferentz to decide.
With a bowl berth on the line, Northwestern players are fighting to
keep their football family alive
.
Purdue's Raheem Mostert is a
cold-weather convert
as his career in West Lafayette winds to a close.
Illinois fans think Will Muschamp can be
their savior as a defensive coordinator
. Wishful thinking?
November, 9, 2014
11/09/14
8:00
AM CT
Recognizing the brightest from Week 11 in the Big Ten:
Ohio State quarterback J.T. Barrett: The redshirt freshman didn't just play well against the No. 5 defense in the nation; he absolutely dominated. Barrett threw for 300 yards, three touchdowns and no interceptions. That alone probably would've earned him a helmet sticker -- but he also added another 86 yards and another two scores on the ground. He led Ohio State to touchdowns on six straight drives and scored four TDs in just the first half, as the Buckeyes posted the surprising 49-37 victory over Michigan State. Barrett played big on the Buckeyes' biggest stage yet this season; this honor was a no-brainer.
Minnesota tight end Maxx Williams: When Williams inevitably wins the Big Ten tight end of the year award, how many of his highlights are actually going to come from this game: His first TD? His second? His third? Or about that toe-dragging 25-yard reception? On a day in which the Gophers finished with 51 points in a 51-14 win, the most they've scored in the battle for the Floyd of Rosedale since 1949, Williams was the star. He finished with five catches for 46 yards and three touchdowns. All of his scores came on second downs, and he made it all look easy for the Gophers.
Michigan defensive end Frank Clark: Good numbers, clutch play, holding the other team to minus-9 rushing yards – that's a pretty good route to a helmet sticker. Clark finished with seven tackles, two pass breakups, a sack and two stops in the backfield during Michigan's 10-9 victory at Northwestern. He was closing in on Wildcats quarterback Trevor Siemian when Siemian slipped on the potential game-winning two-point conversion. Clark helped ensure the U-M victory and, while linebacker Jake Ryan also turned in a solid performance, Clark's nose for the ball on the Northwestern's final play gives him an edge.
Wisconsin running back Melvin Gordon: Another week, another helmet sticker for MGIII. You can't really be surprised at this point because the Heisman hopeful tends to dominate every week. In a 34-16 victory over Purdue, he ended up with 25 carries, 205 rushing yards and a touchdown. He also added a highlight or two receiving with three catches for 44 yards and another score. His two touchdowns came when the Badgers needed them most, the first to take the lead and the second to make it a double-digit game. He's quick, he's explosive, and his helmet might be running out of room with all these Big Ten helmet stickers.
Penn State defense: Indiana never once entered the red zone during Penn State's 13-7 victory, but it's not fair to single out just one Nittany Lion defender here because, quite frankly, no individual stuck out. Mike Hull and Nyeem Wartman paced the unit with seven tackles apiece, but five other players had six tackles. And eight players had at least one stop in the backfield, with no one finishing with more than two. It was a total team effort. And it was the first time all season Indiana tailback Tevin Coleman didn't reach the 100-yard mark. It was an impressive performance all-around. PSU's defense finished with 10 stops in the backfield and two interceptions.
September, 5, 2014
9/05/14
10:00
AM CT
SOUTH BEND, Ind. -- Divorce is always messy, especially when the opposing attorneys are two of the biggest fan bases in all of college football.
[+] Enlarge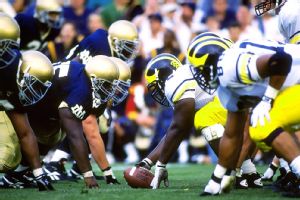 Jonathan Daniel/Getty ImagesA rocky relationship may finally come to an end when Notre Dame and Michigan meet Saturday.
Notre Dame broke up with Michigan. Heck, the Fighting Irish had been flat-out flirting with other prospects beforehand, arranging to see the ACC five times a year from 2014 to 2025. The Wolverines are the scorned ex-spouse, refusing to see the Irish for the foreseeable future while letting it be known at every turn that
"they"
started it, not
"us."
The Wolverines accused the Irish of chickening-out, and in case that had gotten lost on anyone, they made darn sure to serve a reminder by playing the visitors out of the Big House last year to the tune of the "Chicken Dance."
The Irish? Why, the Golden Domers are way too cool for Michigan anyway. It's the Wolverines who are distraught, remember?
"We"
dumped
"them."
"They"
need
"us"
more, because Michigan doesn't have another big game (or two) to circle on its calendar every year. Nope. And in case you weren't already convinced just how little Notre Dame concerns itself with Michigan, Irish fans
are shelling out only $349 per person to get into the building Saturday
. You know, just to prove that they don't care.
Michigan and Notre Dame will have gotten together only 42 times after this weekend. But the fact this relationship has been put on hiatus so often speaks to the complicated feelings between the two sides. Breaking up is hard to do.
Want mixed messages? Notre Dame athletic director Jack Swarbrick may have delivered the divorce papers to Michigan AD David Brandon before the 2012 game, but the Wolverines had given off the vibe that this was an open relationship. Less than three weeks before delivering the edict, the Irish had set up future dates with the ACC and were feeling a little claustrophobic. There was a three-year out clause in the Michigan agreement that simply made this affair the easiest for Swarbrick to get out of. Four months beforehand, Brandon himself
had been non-committal about anything long-term
. And there was already a fork in the road awaiting both parties in 2018 and 2019.
Brandon said he was blindsided in 2012. Swarbrick
told the AP this week that he had let Brandon know in a phone call beforehand
. In case that wasn't clear, Notre Dame announced Thursday -- two days before its last meeting with Michigan -- that
it has a pair of dates with Ohio State
.
We've heard you've been talking about us, Michigan. Now excuse us while we make arrangements to see the homecoming queen down the road ...
"For a team to opt out of that contract, and to opt out of playing another team that is a great rival and is one of those great games, it's almost like a slap in the face," Michigan defensive end
Frank Clark
told reporters.
Countered Notre Dame quarterback
Everett Golson
: "I don't think I get into all of the hype of the game and things like that. But at the same time, you have to take care of business and you have to prepare."
This latest wave of accusations from each side of the family simply follows what's in their bloodlines.
Michigan may have taught Notre Dame how to play football ... but then the Wolverines blocked the Irish from Big Ten entry.
Michigan may have canceled the 1910 game a year after its first defeat in the series ... but Notre Dame had been using ineligible players.
On and on it goes,
from the Fielding Yost-Knute Rockne feud that kept the union on ice for a 32-year stretch
, to the
tit-for-tat on the all-time winning percentage record
-- a battle that, fittingly, is at stake Saturday.
"Who knows when is going to be the last game?" Wolverines coach Brady Hoke said. "We just know we aren't going to play them in the near future."
Irish coach Brian Kelly is also looking ahead.
"We understand the great tradition and the rivalry of the Michigan game, and if it could have worked, it would have worked," Kelly said. "But it does open up some pretty exciting games in the future."
It was hardly a picture-perfect marriage, but it was far more than a fling. Here's to one more fond memory Saturday night.
May, 1, 2014
5/01/14
2:30
PM CT
Spring practice in the Big Ten has sadly come to an end, and we're both back home after some trips around the conference. Wednesday, we shared out thoughts on the
Big Ten's West Division
, and now it's time to turn our focus to the beast known as the East.
Brian dropped in on Ohio State, Michigan, Michigan State and Indiana, and Adam stopped by Penn State.
Adam Rittenberg:
Let's begin with your trip to the
Mitten State
. You made your first stop in Ann Arbor, where Michigan was wrapping up its first spring with new offensive coordinator Doug Nussmeier. Michigan's top priority is the offense and fixing the line. What did you gather about the unit, and how are the changes on the defense -- player positions and coaching roles -- working out?
[+] Enlarge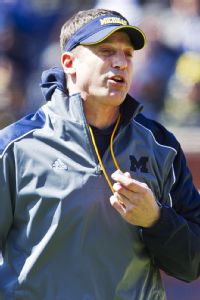 AP Photo/Tony DingNew OC Doug Nussmeier's top priority is fixing Michigan's offensive line.
Brian Bennett:
Things definitely seem a lot smoother on defense.
Jake Ryan
adopted quickly to playing middle linebacker, and
James Ross III
is talented enough to play anywhere. Mark Smith picked a good time to take over the defensive line, as he'll have a pair of senior ends in
Frank Clark
and
Brennen Beyer
and some nice young talent to work with in
Taco Charlton
,
Chris Wormley
,
Willie Henry
, etc. Throw
Jabrill Peppers
into the mix in the back end this summer, and this has a chance to be a very solid defense.
It's just a matter of whether the offense can keep up. The Wolverines are very young on that side of the ball, and the line is full of redshirt freshmen and sophomores right now.
Mason Cole
enrolled in January and was starting at left tackle in spring ball, which said a lot about the state of the position. Michigan's season likely depends on whether that O-line can come together and raise its collective level of play. There are some good-looking athletes at receiver and running back, but not many of them are proven. Many big questions remain in Ann Arbor.
AR:
There are fewer questions at Michigan State. How did the defending Big Ten/Rose Bowl champs seem to be handling their success? And how are they replacing defensive standouts such as cornerback
Darqueze Dennard
?
BB:
Several players told me they were sick of talking about the Rose Bowl, which is a good sign. I saw a team that could definitely repeat as Big Ten champions. The offense brings back most of its major pieces and will add new weapons suchas tight end
Jamal Lyles
and quarterback/athlete
Damion Terry
. The early-season scoring droughts of years past should not happen again this fall.
No doubt Pat Narduzzi's crew lost a lot -- four All-Big Ten defenders, plus both starting defensive tackles. Michigan State has a big experience gap to make up, especially at linebacker. But this is a program that just seems to reload on defense now and has recruited so well to its system. Guys like defensive tackle
Joel Heath
, defensive end
Demetrius Cooper
and safety
Jalyn Powell
all came on strong this spring. Three of the corners vying to replace Dennard had interceptions in the spring game. I have supreme confidence that Narduzzi will have this defense dominating again in 2014.
AR:
Ohio State's defense has many more question marks after a rough 2013 campaign. The line should be terrific but how did the back seven look during your trip to Columbus? And how are new assistants Chris Ash and Larry Johnson fitting into the mix? What else stood out about the Buckeyes?
BB:
In my eyes, this is one of the most intriguing teams anywhere. The Buckeyes are almost frightfully young on offense outside of
Braxton Miller
and are breaking in lots of new players at linebacker and in the secondary. Yet they also have some impressive looking athletes and more overall explosiveness than the previous two seasons under Urban Meyer. Ash is installing a quarters coverage look, but maybe even more important is the fact that the safeties can really run and cover now. The revamped offensive line is a big question mark, as is the inexperience at receiver and the linebacker spot. But when you see young guys like linebacker
Raekwon McMillan
and tailback
Curtis Samuel
running around, you realize there aren't a lot of Big Ten teams that look like the Buckeyes.
Adam, you made it up to State College to check in on Penn State and new coach James Franklin. What's the vibe like up there?
AR:
Electric. The charismatic staff has quickly formed bonds with the players, some of whom knew Franklin from the recruiting process. The defense should be better under Bob Shoop's leadership, as long as the starters stay healthy. There's decent depth up front and safety
Adrian Amos
and cornerback
Jordan Lucas
anchor the secondary. Linebacker
Mike Hull
is embracing his role as the unit's leader.
Christian Hackenberg
can really spin the ball -- very impressive. But can PSU protect him? No Big Ten team, including Ohio State, has bigger issues along the offensive line. Running back
Bill Belton
looked great, and I like the depth at tight end. Franklin is realistic about the depth issues and knows his team can't afford many more injuries.
You also visited Indiana this spring. How did the Hoosiers look, especially on defense with new coordinator Brian Knorr?
BB:
You know the drill. Indiana could make some real noise if it could actually, you know, stop anybody. Knorr has them playing a 3-4, and hey have some major beef inside with the defensive tackles in 325-pounders
Darius Latham
and
Ralph Green III
. Ten starters are back and some promising recruits are on the way, so there's more depth on defense than before. But it's still a major construction project, and the offense might lose a little of its big-play ability as it tries to replace three of its top four receivers from a season ago.
OK, lightning-round finish. I still see Michigan State and Ohio State as the heavy favorites here, with Penn State a dark horse if its O-line issues can be solved. What about you?
AR:
MSU is the team to beat because of the quarterback and the track record on defense. Ohio State definitely is in that mix, too. Michigan remains young at spots but could contend with a serviceable run game. Offensive line is a huge issue in this division. Sleeper-wise, I wouldn't count out Penn State, Indiana or Maryland, which could be dynamic on offense if it finally stays healthy.
April, 22, 2014
4/22/14
11:00
AM CT
Just make me an offer, Culver's.
March, 25, 2014
3/25/14
5:00
PM CT
Spring practice is in full swing around the Big Ten, and we've got you covered. Be sure to check us out
on Twitter
.
Mail call ...
Lance from Mooresville, N.C., writes:
Some hypotheticals for you in regards to the 2013 Spartans: 1. If Le'Veon [Bell] would have stayed, would MSU have won a national title? Or would MSU have used him as a crutch like it did in 2012. 2. If MSU would have beat tOSU in the BIG CCG by 20-plus points and not given tOSU the lead back in the third quarter, would it have gone to the NCG? 3) How crazy is it that the BCS came a year too late for U of M and they didn't get an outright national title, and the playoff came a year too late for MSU, and it didn't get a chance to play for one either.

Adam Rittenberg:
1. I don't think Le'Veon Bell, as good as he is, would have been the difference in Michigan State winning a national title. And as you note, it might have changed how the coaches approached the quarterback position. MSU needed to lean more on its QB, partly because Bell wasn't there, and it allowed for
Connor Cook
to emerge. 2. Maybe if Missouri had beaten Auburn, MSU could have vaulted into the No. 2 spot. There was a strong push to get the SEC champ in the game after the run of national titles, but Missouri didn't have the backing that Auburn did. 3. I guess the college football powers-that-be are anti-Mitten State. It's really too bad MSU didn't have a chance to participate in a playoff last year.
---
Puck from Chesapeake, Va., writes:
What impact does
Taco Charlton
make the for Wolverines this fall? I want him to be a game-changer!

Adam Rittenberg:
Puck, few young players impressed me more physically on my spring trips last year than Taco Charlton. Freshmen simply don't look like that very often. He got a small taste of game action last fall, appearing in 10 games as a reserve and recording two tackles. I'm interested to see if he makes a significant jump in Year 2. Michigan needs more pass-rushing production, and while Charlton is behind
Brennen Beyer
, he could have a bigger role.
Frank Clark
and
Mario Ojemudia
are on the other side and boast more experience, but I don't know if any Michigan defensive end has Charlton's physical gifts.
---
Leo from Philadelphia writes:
I grew up in close proximity to both Maryland and Rutgers. I feel like I know what both schools represent (having lots of friends from each), and I can't see either being a rival to Penn State (for obvious reasons). I understand why people from those schools try to justify it, but in reality Penn State has no true rival in the B1G. Ohio State might be the closest thing, but at the end of the day it's not (for obvious reasons). If the Big Ten caters to it, Nebraska, Wisconsin or Michigan State have serious potential (mainly Nebraska). Thoughts?

Adam Rittenberg:
Leo, the only way Maryland or Rutgers becomes Penn State's rival is if one or both start beating the Lions on a regular basis. James Franklin's connection to Maryland makes that series more interesting, but I can't call it a rivalry until the Terps start winning. Penn State will see Ohio State, Michigan and MSU annually in the East Division, but all three programs have bigger rivals. A lot of Penn State and Nebraska fans wanted to see that series continue annually, but the division realignment makes it tough. Penn State might never have a true Big Ten rival. At least Pitt returns to the schedule in 2016.
---
Stephen from Mount Prospect, Ill., writes:
Where do you stand on conference games beginning from Week 1? I think one of the more overlooked parts of the early part of the schedule is the effects it has on rankings and conference prestige. More early conference games will truly show who are the top teams. Look at the Michigan game when it lost to App State. It was the first game of the year, and the Wolverines were ranked fifth. It was a huge deal that they lost, and the perception was that the Big Ten was bad that season. If they played them at the end of the season with three losses, it wouldn't have been as big of a story.

Adam Rittenberg:
Stephen, some really good points here. I've long been in favor of earlier conference games because they add some spice to those September Saturdays. No one like the Big Ten's MAC/FCS Invitational, which seems to take place one Saturday per season. Sprinkling in earlier league games, as we'll see in the near future, ensures the league remains somewhat relevant in the national discussion. But your point about early league games shedding light on which teams are good and which teams are not is very valid. I hate preseason polls and early-season rankings, but they would be slightly more accurate if teams faced stronger competition in September.
---
Al Baker from Lincoln, Neb., writes:
It's Southern Illinois University-Carbondale, not Edwardsville, a much smaller satellite campus.
Adam Rittenberg:
Actually, the Illinois state senators were referring to the Edwardsville campus, in the context of having a Big Ten candidate closer to a larger media market (St. Louis). Carbondale brings nothing to the Big Ten in terms of market. Same goes for Illinois State, Northern Illinois and most of the highly unrealistic candidates for Big Ten expansion. SIU-Edwardsville at least has location in its favor, but not much else.
April, 10, 2013
4/10/13
4:54
PM CT
Every Legends Division head coach, along with a player from each of the six teams, participated in a Big Ten spring teleconference with the media on Wednesday.
Here are some notes and updates from those teams:

IOWA
After six practices, the Hawkeyes' three-man quarterback race between Jake Rudock, Cody Sokol and C.J. Beathard is "about where we expected," head coach Kirk Ferentz said. All three are receiving equal reps, and all are working with the first-, second- and third-team offenses. "At this point, it's a jump ball for all three guys," Ferentz said.
Accountability is a big theme this spring at Iowa after the team endured its worst season (4-8) in more than a decade. Ferentz said he can't bury his head in the sand after a season like last year's. "We have to do a better job in all areas and that starts with me," he said. Linebacker James Morris was candid about the legacy he'd like to leave at Iowa. "The mark we've left so far, if we're being completely honest, isn't a particularly good one," Morris said. "I'm not happy about it, but I'm excited we have one more opportunity to change things."
Ferentz said Sunday's open practice in West Des Moines gives Iowa a chance to say thanks to its fans in the central and western parts of the state. Hawkeyes players enjoy the chance to perform in front of their fans. "It's something to break the monotony of spring ball," Morris said. "This will be something different."
Morris wants to see Iowa's defense translate its red-zone effectiveness -- the Hawkeyes allowed only 15 touchdowns on 48 red-zone chances in 2012 and held opponents scoreless 10 times -- to the rest of the field. Better communication also is a focal point for the defense this spring.

MICHIGAN
Head coach Brady Hoke said the team will explore the possibility of adding a junior-college quarterback or a graduate transfer from an FBS program to address the position. Russell Bellomy, the projected backup, is scheduled for ACL surgery May 1 and could miss the entire season. Walk-on Brian Cleary is working as the No. 2 quarterback this spring behind Devin Gardner, and heralded recruit Shane Morris arrives in the summer. Asked generally about redshirting players, Hoke didn't sound as if he'd hesitate to use a player like Morris. "No matter if they're fifth-year seniors or true freshmen, the best players have to play," he said. "If you don't do your justice on playing the best players, you're going to cheat the kids on this team."
Both Hoke and left tackle Taylor Lewan praised the young players competing for the three vacant starting spots on the interior offensive line. Hoke has seen "a lot of progress" with players like Ben Braden, Kyle Kalis, Chris Bryant, Blake Bars and Joey Burzynski. Lewan sees more "maulers" along Michigan's line as the unit aims to be more physically dominant this season in a pro-set scheme.
Lewan said the experience of playing for Michigan and the opportunity to win a Big Ten championship led him to decide to return for his senior season rather than enter the NFL draft, where he likely would have been a first-round pick. He said his decision was his own, and that those who haven't played for Michigan can't truly understand the lure of remaining there. "There's no better decision I could have made than coming back to the University of Michigan," he said.
Lewan said defensive end Frank Clark could be on the All-Big Ten radar by the end of the season, while Hoke singled out Chris Wormley for having a strong spring with the D-line. Hoke said running back Fitzgerald Toussaint is progressing well as he recovers from leg surgery.

MICHIGAN STATE

MINNESOTA
Head coach Jerry Kill said injured offensive tackle Ed Olson (ankle) and defensive lineman Roland Johnson (knee) are both progressing well, and he expects both to be ready to go for fall camp.
Kill had high praise for safety Brock Vereen, saying he could follow his brother, Shane, into the NFL. "He's gotten better and better since we've been here, and he's turned into a great football player in our minds. We look for him to have a very productive year."
Vereen said the team is practicing with a new sense of confidence. "We're finally comfortable with coach Kill's system. We know what they expect from us. And that just makes it a lot easier to show up every day and do what we need to do."
Vereen on how far away the Gophers are from contending in the Legends Division: "We are closer than a lot of people think. If you look back to last season, a lot of those games we lost were in the fourth quarter. A loss is a loss, but at the same time, we were in a lot of those games. It's about pushing through, which is something we learned the hard way, but we still learned. ... I think we're going to shock some people this year."

Linebacker David Santos (arm) will miss a portion of summer workouts but will be back before the Huskers open preseason camp, head coach Bo Pelini said. Defensive linemen Vincent Valentine and Greg McMullen, who missed Saturday's spring game, aren't seriously injured and will be fine for workouts and camp.
Although Nebraska's defense had its ups and downs this spring, redshirt freshman linebacker Jared Afalava stood out. Pelini expects a lot of production this fall from Afalava, who is "probably further ahead of where I thought he'd be." Pelini also praised senior defensive end Jason Ankrah, saying the coaches gave him more freedom to move around this spring. "Hopefully, his best year is yet to come," Pelini said.
Senior quarterback Taylor Martinez expects Nebraska to throw the ball "a lot more" this season, mainly because of the team's strength at wide receiver with Kenny Bell, Jamal Turner and others. Martinez said expectations are extremely high for the offense, and that coordinator Tim Beck is more comfortable calling plays. "I'd rather throw the ball 30 times a game … get the football to those guys and let them do their thing," Martinez said. Pelini has no argument, saying "the best is yet to come" with Martinez at quarterback.
Martinez said the Memorial Stadium crowd was about as loud as he's ever heard it when 7-year-old cancer patient Jack Hoffman ran for a 69-yard touchdown in Saturday's spring game.

NORTHWESTERN
The Wildcats won't hold a traditional spring game this year but just a normal practice session. Head coach Pat Fitzgerald said 13 players had surgeries after the season, and the team was limited to eight healthy offensive linemen this spring. "We've had to tweak things, so that's why we've kept the same routine throughout all 15 of our practices," he said.
Some of the lesser-known Northwestern players who have had good springs, Fitzgerald said, included backup quarterback Zack Oliver, receiver Mike Jensen, superbacks Mark Szott and Jack Schwaba and defensive lineman C.J. Robbins. Fitzgerald said he's been "very, very impressed" by Robbins, who has been injured the past two years.
A question on offering prospects early prompted this response from Fitzgerald: "I have just a fundamental issue with offering a kid a scholarship that doesn't have a driver's license. Just barely shaving. And because he looks good in shorts doesn't mean he's going to be a great Big Ten football player. The glorification of these kids at a young age is unfair to them. It's putting unfair and unrealistic expectations on them."
Defensive end Tyler Scott, who Fitzgerald said is "poised to take the next step," said he's worked hard on becoming a more vocal leader this year and on his pass-rushing techniques. "I'm trying to bring more tools to that aspect of the defense," he said.