Chicago Colleges:

Garrett Wolfe
October, 17, 2012
10/17/12
3:30
PM CT
EVANSTON, Ill. -- Northwestern running back
Venric Mark
doesn't need a doctor to make the diagnosis.
Like most things in his life, he can do it all by himself.
"I have little man's syndrome," Mark told ESPN.com. "I've had that all my life, since Day 1. I've always been the small guy in the group. I've always been the guy that people go, 'Oh, no, let's not pick him.' So in my head, I'm thinking, 'OK, you're not going to pick me. I'm going to show you why you should have.'"
Any college coach who wouldn't pick Mark after the first half of the 2012 season hasn't been paying attention.
[+] Enlarge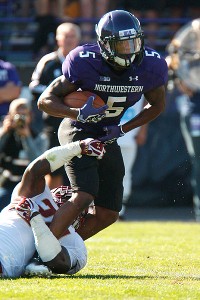 AP Photo/Matt QuinnanRunning back Venric Mark is on pace to break 1,000 yards.
Mark might be 5-foot-8 and 175 pounds, but he's the single biggest reason why Northwestern sits at 6-1, right in the thick of the Legends division race. Along with Iowa running back
Mark Weisman
and Penn State wide receiver
Allen Robinson
, Mark has been one of the Big Ten's surprise offensive stars through the first seven weeks, rushing for 792 yards and eight touchdowns.
He ranks fifth in the league and 15th nationally in rushing average (113.9 ypg). He also leads the league and ranks fourth nationally in all-purpose yards (184.6 ypg), recording two punt returns for touchdowns and 15 receptions, one for a touchdown. After putting himself in position to break most of Northwestern's career return records, Mark's emergence at running back has put the team's all-time career all-purpose yards mark (5,271 by Damien Anderson) very much in play.
"He's just playing at a high level right now," Northwestern coach Pat Fitzgerald said. "... He's a joy to coach."
Northwestern had 1,000-yard rushers every season from 2002-06, but none since. The team has lacked a true threat at running back since Tyrell Sutton departed after the 2008 season. For an offense born out of the Rich Rodriguez-style spread, it was a problem.
Few would have pegged Mark, a return specialist who struggled to find a true position for two years, to be the answer. Just don't tell him that.
"He has a level of intensity that if he was Muhammad Ali, he'd be knocking everybody out," said Northwestern linebackers coach Randy Bates, who recruited Mark out of Houston's St. Pius X High School.
Several times after runs, Mark has confronted defenders more than a half-foot taller than him.
"With football, emotions run high, people talk," Mark said. "For me, that's fuel. When they say, 'You ain't getting this,' that just motivates me."
Mark's edginess is his defining trait, even more so than the top-level speed that got him on the field at Northwestern as a returner and has been showcased on long runs, like scoring bursts of 48 and 26 yards last week against Minnesota. He's not a scat back who spends all his time on the perimeter.
He's a between-the-tackles runner who, along with quarterback
Kain Colter
, has boosted Northwestern's red zone run game, a weakness of the offense in previous years.
"Inside zone is his favorite play," Northwestern running backs coach Matt MacPherson said. "You have to be a special kid, a tough kid, and Venric is pound-for-pound one of the toughest guys on our team. He embraces that role. He wants it."
McPherson likened Mark to former Northern Illinois star Garrett Wolfe, who checked in at 5-7 and 185 pounds and while displaying tremendous speed in space, also had success between the tackles. Wolfe led the nation in rushing (1,928) in 2006.
When Bates began recruiting Mark, he heard some doubts about whether Mark could play in the Big Ten because of his size. Mark won Bates over with his intensity, a quality they share ("We're both pretty whacked-out in our own way," Bates joked).
The question always seemed to be where Mark would play.
Special teams was a given, and Mark became Northwestern's primary returner as a true freshman in 2010, averaging 26.2 yards on kick returns with a touchdown, and 12.9 yards on punt returns. He also stood out on kick coverage.
"There's no doubt in my mind if ever played anywhere at the next level, he could be on all special teams," Bates said. "He was a punt gunner and he was a kickoff guy, and obviously great returning. All that special teams value, even if he never played a snap on offense or defense, he already was a good player."
The coaches tried Mark at slot receiver, but he had just six receptions in his first two seasons, playing behind All-Big Ten selection Jeremy Ebert. There was some talk of using him on defense, but it never materialized. Although Mark came to Northwestern with the idea of simply being the team's starting returner, he wanted more and wasn't happy at receiver.
"I wanted the ball," he said. "I'm that type of player, I'm not going to lie to you. I like having the ball in my hands."
The coaches moved Mark from receiver to running back midway through the 2011 season.
"We weren't quite sure what position we were going to start him at, and as you can see, we were wrong," Fitzgerald said. "Hindsight being 20-20, we wish he would have started in the backfield sooner."
MacPherson knew Mark could make plays in space. His concern was how Mark would handle the mental challenge of being a running back in the Big Ten, where "you get the crap beat out of you," while remaining effective as a receiver and a blocker in Northwestern's offense.
Offensive coordinator Mick McCall wants to get Mark 25 touches per game. While MacPherson admits those won't be 25 inside zone plays, Mark has shown he can be a featured back, despite his size.
"I can take licks," Mark said. "Being a running back, you're going to get bumps and bruises. But it's how you play with them, it's your mindset. Coach MacPherson always talks about [defenders as] nameless, faceless victims. That's what they are."
How many victims has Mark taken this season?
"A lot," he said. "Us as a team, we've taken a lot. And we plan on taking a lot more."
November, 9, 2010
11/09/10
11:58
AM CT
[+] Enlarge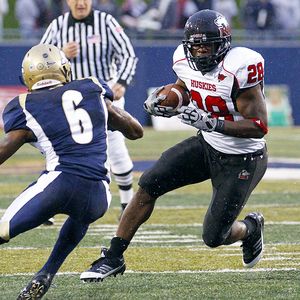 Rick Osentoski/US PresswireChad Spann has evolved from a prospect considered too small for Div. 1 football to the latest rushing machine for NIU.
DEKALB, Ill. --
Chad Spann
lost his patience in the college football recruiting process at some point during his senior year of high school.
All he heard from college coaches was that at 5-8 and 185 pounds, he was too small to play Div. I football, and the ones who weren't telling him that were simply ignoring him. Plenty of track and field coaches were showing him love, but it wasn't what Spann wanted.
Spann wanted to play college football -- and more specifically Div. I college football. He had heard the knocks against him and understood what was being said -- he'll never forget one coach telling him to his face he was too short -- but his confidence never wavered. He was as sure about his ability to succeed at the next level as he was of anything in life.
Spann's frustration ultimately boiled over. He was done waiting by the phone for a coach to call or anticipating the mailman to arrive. Instead, Spann with the help of his mother Wanda Spann Roddy, decided to do something about it.
"It was my job to pull him up," Spann Roddy said. "As he would get frustrated, it wasn't my job to say, 'They're doing you wrong.' I told him, 'Let's go about it a different way.' I wasn't teaching him to join the pity party. That's now what my job is."
They opted to be proactive. The two of them got into their silver Nissan Murano outside their home in Indianapolis and began driving around the Midwest, pitching his running back talents to any school willing to listen. They stopped at six schools in Indiana to introduce themselves and hand coaches his highlight tape and resume. They drove to five in Illinois. They hit up a few more in Kentucky, Michigan and Ohio.
Spann put thousands of miles on the Murano while visiting more than a dozen schools, but it ended up the program that was most interested in him was the one he and his mother first visited.
To this day, the Northern Illinois football program is grateful Spann made that trip, and it's that same Murano he drives on campus today.
The Huskies didn't give Spann a scholarship at first, but he was provided with all he had ever asked for -- a chance. Now in his fourth year at Northern Illinois, Spann has transformed that chance into a memorable career.
"He's gone from being a walk-on to earning a scholarship within two weeks of his arrival. He fought for special teams playing time and pushed for reps at running back, eventually becoming the starting halfback. He's currently a two-time 1,000-yard rusher and is tied for third-most career touchdowns in NIU history behind NFL running backs Garrett Wolfe and Michael Turner.
"I kept my faith and never really doubted what was going on," said Spann, whose 1,000 rushing yards this season rank 11th in the country. "I knew there was a plan for me, and worked it out.
"There was definitely a chip on my shoulder, and I was determined. The chip really hasn't left. I still have it. I still am determined. I'm working hard all the time. My goals haven't been met."
The goal Tuesday is for the Huskies to take a step closer to a MAC championship by defeating Toledo, a fellow undefeated conference team, on a nationally televised stage in DeKalb. And if Northern Illinois' success this season is any indication as to what the Huskies need to do to defeat Toledo, then Spann will be required to have another quality game.
In Northern Illinois' seven wins this season, Spann has rushed for a total of 915 yards and 11 touchdowns. In its two losses, he has compiled just 85 yards and one score.
In last week's 28-21 win over Western Michigan, Spann ran for his fourth consecutive 100-yard game and his sixth of the season. In the victory over the Broncos, a team known for its run defense, Spann did what has made him a successful back. He ran hard carry after carry. It sometimes meant a one-yard run or a seven-yard one, but it also led to bursts of 21 and 44 yards.
"Every run isn't going to be a home run [in coach Jerry Kill's offense]," Spann said. "If you look at Garrett Wolfe's highlights, it seemed like every run he took it to the house. The big runs will come for me as a result of hard 4-5-yard runs that you keep hitting them with."
Western Michigan coach Bill Cubit's team experienced that first-hand.
"Tough kid," Cubit said. "He's the back that you want in that offense. He's just a hard-nosed guy. The problem is you get a lot secondary guys hitting him, and they won't bring him down.
"I think leverage, his body-lean, he's always going forward. Of course, that offensive line helps, too -- they get some separation. But I think he has great vision. They only run about two or three plays. They do it a lot of ways and [with different] personnel and stuff like that. I think he understands schemes, understands what he has to get done. They don't ask him to do too much, and what he does, he does really well."
Spann hasn't surprised himself. While Northern Illinois likely recruited him to be a complimentary back -- the Huskies brought in a scholarship running back in Spann's recruiting class -- his intentions were to place himself alongside the great running backs of the Huskies' past.
"I wanted to be the next Garrett Wolfe," Spann said. "I saw the numbers Garrett Wolfe was putting up, and I envisioned doing the same thing. They are 'Running Back U' of the Midwest. Small running backs have flourished here. Michael Turner is a little taller than me. Garrett Wolfe is a little shorter. I saw it as a great opportunity to be successful.
"Having my name put with those guys -- the LeShon Johnsons, Michael Turners, Garrets Wolfes --that's a tremendous honor. I've picked up where they left off as 1,000-yard rushers. If I'm going to be a Northern Illinois starting running back, I have to be successful. I can't let those guys down."
Spann hopes future Northern Illinois running backs will feel the same about him someday. If he is to leave a legacy, he wants future Huskies to know where came from as an undersized walk-on and push themselves to achieve the same.
"I think it sets an example for the younger guys," Spann said. "When I see some younger guys, see the freshmen coming in playing 7-on-7 in the summer time, I tell them my story. 'I came up here as a walk-on and worked hard, and my hard work and determination got me where I am. What are you going to do to get to where you want to be?'"
TOP 25 SCOREBOARD
Thursday, 10/2
Friday, 10/3
Saturday, 10/4