Chicago Colleges:

Graham Pocic
January, 23, 2013
1/23/13
11:25
AM CT
Illinois on Wednesday announced a second hire for its offensive coaching staff as Tim Beckman selected Jim Bridge to oversee the Illini offensive line.
Bridge spent the past six seasons at NC State, the past two as the Wolf Pack's offensive line coach. He coached NC State's tight ends from 2007-2010 and needed a new post following the school's dismissal of Tom O'Brien.
Bridge replaces Luke Butkus, who
left Illinois after just one season for a post at Florida International
. He joins an offensive staff now led by coordinator Bill Cubit, who replaced the ousted Chris Beatty.
"Illinois is a great fit for me, personally, and Coach Beckman has assembled an outstanding staff," Bridge said in a prepared statement. "As a coach, you always look forward to competing in a premier conference like the Big Ten and at one of the nation's great academic institutions such as the University Illinois. I can't wait to get started with the members of our team and especially our offensive linemen."
Beckman and Bridge coached together on Urban Meyer's staff at Bowling Green in 2000, as Bridge coached tight ends and Beckman served as defensive coordinator. Bridge has coached tight ends or offensive line for most of his career and has made previous stops at Boston College, Eastern Michigan and The Citadel. His only previous Big Ten experience came as a graduate assistant at Ohio State in 2001.
He takes over an offensive line that underperformed in 2012 despite two veterans in
Hugh Thornton
and
Graham Pocic
. Several young linemen received extensive experience last fall, and Bridge will need to get the group back to the level it performed at for much of the 2010 season.
November, 7, 2012
11/07/12
2:00
PM CT
The Big Ten hands out awards for practically everything at the end of the regular season, but the league lacks a comeback player of the year honor.
If it did, Illinois'
Corey Lewis
would be the obvious choice.
Most probably didn't notice Lewis trotting on the field for Illinois' third offensive series last Saturday against Ohio State. Despite being 6-foot-6 and 310 pounds, Lewis, like most offensive linemen, often goes unnoticed. But when he lined up at right tackle for the Illini, it completed one of the longest and toughest journeys back to the game field that you'll ever hear about.
"Not five," Illinois coach Tim Beckman said when asked if he had ever seen a player return from five knee surgeries.
[+] Enlarge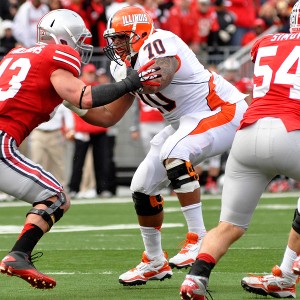 Photo/University of Illinois AthleticsIllinois offensive lineman Corey Lewis has come back from five knee surgeries to play.
That's how many Lewis has had to endure since tearing the ACL in his left knee for the first time in Illinois' spring game of 2010. He tore the same ACL two more times during workouts, needed another procedure when infection prevented a graft from healing in his leg, and underwent arthroscopic surgery on his right knee after overcompensating because of his left knee issues.
Yet all the setbacks never stopped Lewis from moving forward. And more than 1,000 days after he played his last game -- the 2009 regular-season finale at Fresno State -- he returned to the line at Ohio Stadium.
"When I did come on the field finally for my first rep in two and a half years, my heart was racing," Lewis told ESPN.com. "It was beating so fast. The adrenaline was going. It was just an exciting moment."
Lewis appeared in four games as a true freshman and played all 12 as a sophomore in 2009. Along with other talented young linemen like tackle Jeff Allen, Lewis looked to be part of the nucleus of Illinois' offensive line for years to come.
But everything changed once Lewis tore the ACL during a 2-minute drill segment in the spring game.
"I never thought I could be injured," he said. "I thought I was Superman. So it was rough for me. I always heard about people tearing their ACLs and going through stuff. I just never saw it happening to me. When it happened, it was just devastating."
The subsequent injuries proved to be even worse. Lewis' third ACL procedure, in March, was a low point.
Did he ever think about giving up the game?
"Stuff like that definitely creeps in the back of your head," Lewis said. "But I just looked at it like, I'm going to keep giving it a shot until all my years are up. What motivates me the most are my teammates.
"I didn't want football to be over for me."
He continued to attack his rehab, and by September, doctors cleared him to practice. Lewis hoped to return for Illinois' Oct. 27 game against Indiana but didn't get the final green light until last week.
The knee isn't quite 100 percent, Lewis said, but he's gaining more strength and more trust in it.
"You still have a little doubt at times because [the ligament tears have] happened multiple times, so that's in the back of your head," Lewis said. "But I think the more I keep playing, the more reps I get, the more I'll be able to trust it. That's the main thing, just knocking the rust off and being able to get back to my old ways.
"I'm only at like seven and a half months [since the last surgery], but over time, it will just continue to get better with the more I play."
Lewis intends to play a lot more at Illinois. Not just the rest of this fall, but he expects to return for a full season in 2013. He's seeking a sixth year of eligibility from the NCAA.
After all he has been through, it'd be a crime if he doesn't get it.
"That's what college football is all about," Beckman said. "A lot of people don't understand what all he's been through in the last two years, through rehab, through medically, getting himself prepared to step back out there on the field after an injury. That's why I coach, so you get to see those experiences.
"The best experience I had was him running off the field [last Saturday] after that series, seeing the smile on his face."
Despite Illinois' loss to Ohio State, the congratulatory messages for Lewis streamed in after the game, many of which can be found on his
Twitter page
. Former teammates like Allen, now with the Kansas City Chiefs, and current teammates like Illini center
Graham Pocic
were among those who acknowledged Lewis.
"I just learned I'm not a quitter," Lewis said. "I'm a dedicated person. Once I signed here to play here, that was my main goal, to play again, to play for Illini Nation and to play for this team. I love football. That's why I wanted to be able to get back."
April, 3, 2012
4/03/12
10:20
AM CT
Tim Beckman's first pivotal recruiting venture at Illinois didn't take place in a living room or at a camp for prep players.
It happened at a California hotel in late December. His targets already wore the Orange and Blue. The group gathered before the Kraft Fight Hunger Bowl to meet with a man who, at that point, was their head coach only by title.
"They didn't know me, and I didn't know them very well," said Beckman, hired Dec. 9 as Illinois' coach. "I had met with them because I met with everybody on the football team. I had watched practices. But it wasn't my job to interfere with them for their bowl game.
"It was kind of a scary situation because I wanted all of them to stay."
[+] Enlarge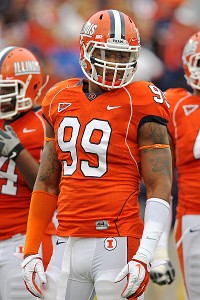 Jonathan Daniel/Getty ImagesIllinois will look to senior Michael Buchanan to be a leader on defense.
They were Illinois juniors who had the potential to enter the NFL draft after the bowl game. The group included defensive end
Michael Buchanan
, cornerback
Terry Hawthorne
, defensive tackle
Akeem Spence
and center
Graham Pocic
. Buchanan earned second-team All-Big Ten honors in 2011, while Hawthorne earned honorable mention honors and Spence displayed next-level ability.
All-America defensive end
Whitney Mercilus
, pegged as a potential first-round pick, also met with Beckman.
The meeting was part information session, part recruiting session. Beckman wanted to give each player an idea of his draft prospects. He fast-tracked the paperwork to the NFL draft advisory board and received the evaluations as soon as he could. Beckman leaned on his father, Dave, who had worked in the front office with the Cleveland Browns and San Diego Chargers, and other contacts to speed up the process.
"I tried to formulate as much information as I possibly could so they could make an educated decision, from Whitney to all of them," Beckman said. "I wanted all of them to stay. I wanted all of them to be able to say they played their senior year at the University of Illinois and had the opportunity to be a champion."
Despite that desire, Beckman didn't come on too strong.
"Not as much as you'd expect a coach to," Pocic said. "He showed us what kind of person he was and just talked about the opportunity we had if we came back."
Mercilus entered the draft after the bowl game, surprising no one, but the other four players opted to stay. They're now building blocks for Illinois as Beckman and his staff hope to make a transition without losing any ground.
What did Illinois retain?
Spence has started every game the past two seasons, while Buchanan has started 20 of 26 contests. Although Mercilus made the big splash in 2011 with insane numbers, Buchanan quietly racked up 7.5 sacks and 13.5 tackles for loss. Spence recorded 69 tackles and a forced fumble and clogged the interior for the nation's No. 7 defense.

Hawthorne has made starts in each of the past three seasons, including 11 last fall. He led the team in both interceptions (three) and passes defended (11) in 2011, and finished sixth in tackles (60). On a team that has some issues at safety, Hawthorne's presence as a potential shutdown corner looms large.

Pocic has started Illinois' past 24 games at center and provides leadership for a youngish line that loses mainstay Jeff Allen at left tackle. Having a veteran center to help make line calls during the transition to a new offense is a luxury for the Illini.
After Beckman told the players of their NFL grades, he gave them the floor.
"It was funny," Spence said of the December meeting with Beckman. "Me, Terry, Mike and Graham, we were sitting there scared to ask the first question. But we had to because this is our future. I was trying to find out what the deal was going to be, what type of defense, his plans for us and the team."
Spence eventually asked Beckman if the team's defense would suit his game like the previous scheme had. Although Beckman hadn't hired his defensive coordinator, he had announced that defensive line coach Keith Gilmore would be retained.
After the meeting, Spence remembers talking with Buchanan and Hawthorne about their decisions.
"We all wanted to come back and be leaders," Buchanan said.
Beckman doesn't downplay the significance of their decisions.
"It's huge," he said. "To look out there and see No. 1 [Hawthorne] running around, and 99 [Buchanan] and 94 [Spence] and 76 [Pocic], those are guys who have played, who have been involved in two bowl games and understands a little bit of what it takes to be successful."
March, 28, 2012
3/28/12
9:00
AM CT
CHAMPAIGN, Ill. -- After the 2011 season, Illinois center
Graham Pocic
sat down with his linemate,
Jeff Allen
, to compile a highlight tape for Allen to show NFL talent evaluators.
It sounded like a fun exercise. And for a little while, it was.
Pocic and Allen took great joy in reviewing the first six games from the past year. Illinois was winning and scoring points. Life was good.
Then Week 7 arrived. Cracks began to form as Illinois lost 17-7 to an Ohio State team that completed only one pass.
Pocic's and Allen's review session soon made them want to avert their eyes.
"It was really depressing," Pocic said. "All the great opportunities we had, especially after starting 6-0. Mostly I was trying to figure out what went wrong with the offensive line, with the running game, why we couldn't run the ball like we did with Mikel [Leshoure] the year before.
"It was hard to find a reason why certain things happened."
Illinois dropped six consecutive games after its record 6-0 start, and the offense bore the brunt of the struggles. After scoring 33 points or more in four of the first six games, including a combined 79 points in the first two weeks of Big Ten play, Illinois failed to tally more than 17 points during its six-game slide and finished three games with just seven points.
Even when Illinois ended its slide in the Kraft Fight Hunger Bowl against UCLA, it was hardly an offensive explosion (20 points).
The Illini finished the season ranked in the top 15 nationally in several major defensive categories, including points allowed and yards allowed. While the team had other problems, namely special teams, its evaporating offense was most disheartening.
[+] Enlarge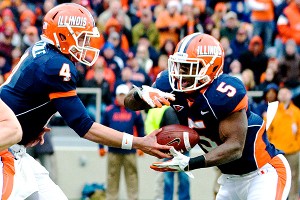 Bradley Leeb/US PresswireQuarterback Reilly O'Toole (4) and running back Donovann Young are entering their sophomore seasons with a brand-new offense.
Chris Beatty knew all about Illinois' season of extremes on offense, even though he didn't witness it firsthand. And while Beatty and Billy Gonzales, the team's new co-offensive coordinators, are spending spring practice installing their system, they're also trying to foster something less tangible.
"You get beat down a little bit when you struggle at the end of the year," Beatty said. "So you want to get some kind of swagger back. The only way to do that is to lay a good foundation as far as making some plays, getting a good knowledge base. Confidence comes with some success and knowing what you're doing.
"Those things, we're trying to build up because obviously, the last six games, there were some struggles."
When Beatty reviewed the final six regular-season games, he saw some issues along the offensive line and with the running game, and few consistent skill players aside from receiver
A.J. Jenkins
. But he also saw a group that lacked confidence.
"It's hard to have a swagger," quarterback
Reilly O'Toole
said, "with no points on the board."
The offense won't be able to light up the scoreboard until September, but spring practice has provided the platform to rebuild morale. Players like O'Toole and Pocic are excited about the multiple spread offense being installed.
Pocic said he's never been in such a complex offense. O'Toole said that while other Big Ten teams run spread offenses, Illinois' system will be unique in its flexibility and the number of angles from which the offense can attack.
"Unpredictable," wide receiver
Darius Millines
said of the new offense.
"We may run a play, and someone may think we're coming back with the same play, like a running play to the left. And we may play-action with it and throw deep over your head," he continued. "The defense has to be on their P's and Q's at all times."
And while the installation process is gradual and Illinois must build depth at running back, receiver and along the offensive line, there are mini-breakthroughs, like the one at Monday night's practice.
"We made some good plays and the offense was getting hyped, and we actually got rolling for a little bit," Millines said. "We actually felt how we felt in the beginning of last year. We got into a little rhythm, and our whole offense, we took that into consideration, that, 'OK, if we keep making plays, we can't be stopped.'"
March, 5, 2012
3/05/12
12:06
PM CT
The Tim Beckman era reaches a new phase Wednesday as Illinois players go through their first spring practice under their new coach. Beckman is a high-energy leader who wants to foster competition in every element of his program. Although two-year starter
Nathan Scheelhaase
returns at quarterback, he'll have to fend off three contenders and make an impression on the team's new coordinators, Billy Gonzales and Chris Beatty. The Illini are short on running backs and wide receivers, while the defense looks to continue the momentum it generated in 2011. Beckman takes over a team that has recorded back-to-back bowl victories but struggled to show it can take a step toward the top half of the Big Ten.
ESPN recently caught up with Beckman. Here are his thoughts.
[+] Enlarge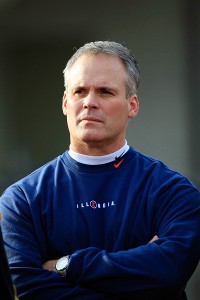 AP Photo/Marcio Jose SanchezNew Illinois coach Tim Beckman has high expectations for his team as it begins spring practices.
What are your expectations for spring practice?
Tim Beckman:
I want our players competing. I want them playing with outstanding effort in everything they do in spring ball. That competitive nature will be in every drill we do. These players will be evaluated in everything that they do. They're going to get feedback from the coaches on what we feel is championship-caliber and what we feel is not championship-caliber.
How much have you looked at tape from last season?
TB:
Definitely. I've watched and evaluated tape, and been involved with what they did last year. But that's in the past. As I told the players when I met individually with each one of them, this is the future, this is a new era and we're building this thing forward, not building from the back.
How would you describe your quarterback situation entering the spring? Will it be a full competition?
TB:
Oh, it's great. That's what life's all about. We've got the capabilities of being good at that position with four guys. Competition just makes you better. We've got one that has played [Scheelhaase] and played quite a bit and proven that he can win football games, won seven this year and won a bowl game. But we also have some backups with Reilly [O'Toole] and Miles [Osei] and [Chase] Haslett, there's three backups and a starter that are capable of winning football games.