Chicago Colleges:

Harry Hiestand
April, 30, 2014
Apr 30
9:00
AM CT
Consistency has been the definition of
Chris Watt
's career. He started 34 straight games in his final three seasons at
Notre Dame
. Alongside tackle and roommate
Zack Martin
, Watt helped form a left side that became the anchor of the Irish's stout offensive line the past three seasons.
[+] Enlarge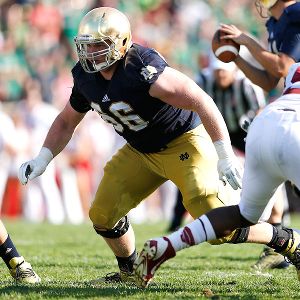 Joe Robbins/Getty ImagesChris Watt hopes to hear his name called at the NFL draft as early as the second day.
Perhaps it's the nature of the job, or the seemingly never-ending ascent of his buddy Martin's stock. But Watt quietly has flown under the radar these past four months. With the NFL draft just more than a week away, Watt could hear his name called as early as the third round.
Only then will the left guard allow himself to exhale and enjoy the feeling of a dream realized.
"I think the biggest thing is just stay patient and avoid the noise," Watt said. "The biggest thing to do right now is just really concentrate on yourself. When it's all said and done, it's really how you perform when you go to training camp, so all you really can control is getting better at this point. Don't worry about the things that are out of your control."
Watt, who suffered a PCL tear and an MCL sprain in his right knee late in his final season with the Irish, flew to IMG Academy in Bradenton, Fla., following the New Era Pinstripe Bowl, which he did not play in. He went to work there with Martin and
Stephon Tuitt
, preparing for February's NFL scouting combine, where he was only able to bench-press because of his lingering injuries. He did 29 reps.
The 6-foot-3, 310-pound Watt said he felt close to 100 percent right before last month's pro day at Notre Dame, where he did everything but the bench press. He had a three-cone drill time of 7.6 seconds and a vertical leap of 28.5 inches. (Each number would have ranked tied for 11th and tied for 12th, respectively, among offensive linemen at the combine.)
Watt has stayed in South Bend, Ind., since, and he said he has relied heavily on Irish offensive line coach Harry Hiestand throughout this process, as the assistant's five years of experience with the Chicago Bears has given him plenty of information to share.
Watt was one of about a half-dozen offensive linemen to work out with Bears line coach Pat Meyer two weeks ago at Halas Hall during the franchise's local pro day — a treat for a Glen Ellyn, Ill., native who grew up attending the club's training camp back when it was held in Platteville, Wis., more than a decade ago.
Watt has found himself snapping for teams on visits, and he is open to a switch to center if deemed necessary. It won't affect the way he approaches the game, however.
"The biggest thing is that I understand how to block, especially in our system. I understand everything it takes and some of the changes you have to make," Watt said. "I'm a smart player that's going to go out there and really just play through the end of the whistle at all times, and that's just kind of the attitude I've carried since I've been playing in high school, so I'm never really going to change the way I approach the game."
December, 16, 2013
12/16/13
9:00
AM CT
Brian Kelly's bigger workload was on display already Friday night, when the Notre Dame head coach presented not one, not two, not three, but four different awards during the Irish's awards banquet, named "The Echoes" for the second straight year.
He did say on Saturday, however, that he does not expect any more of his assistants to leave, and that was seemingly confirmed shortly afterward by defensive line coach Mike Elston, whose first-ever tweet was the announcement he's staying at Notre Dame. (There had been some chatter that he could follow Bob Diaco to UConn to become the Huskies' defensive coordinator.)
Staying at ND. Love thee Notre Dame. Go Irish.

— Mike Elston (@CoachMikeElston) December 14, 2013
As for the awards show,
TJ Jones
took home team MVP honors in a team vote that Kelly said wasn't even close. (Yours truly
had predicted Jones as the winner beforehand
, just as he
had predicted the correct final score of the Stanford game
.)
Jones easily took home best-dressed honors on the night, wearing a burgundy suit with a bowtie and some hipster glasses.
Corey Robinson
and
Chris Watt
were among the bowtie-wearers as well.
The biggest news, or non-news, of the night came when
Stephon Tuitt
met with the media afterward,
saying he remains undecided on his future
.
As for the big winners on Friday...
There was also in-show fan voting for best hit and best catch honors, which went to Tuitt and Jones for their plays against USC.
November, 26, 2013
11/26/13
9:00
AM CT
SOUTH BEND, Ind. -- What could have been a disaster turned out to be an offensive lineman's dream.
A season-high of 47 rushing attempts will create the latter. Having to pound it like that while down two starting blockers will make the former a legitimate possible outcome.
And with a test against the nation's No. 3 rushing defense on-deck, what will emerge next probably lies somewhere between the two extremes.
It doesn't get much more difficult for Notre Dame's front than it will this Saturday at Stanford, which concedes just 89.5 yards per game on the ground. Complicating matters is the loss of
Nick Martin
,
thanks to a season-ending left knee injury suffered in the first frame of Senior Day
.
[+] Enlarge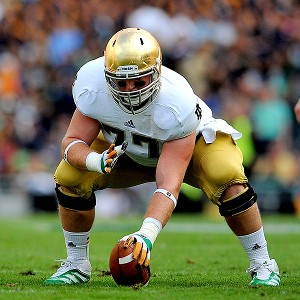 Tommy Grealy/Icon SMICenter Matt Hegarty filled in for the injured Nick Martin on Saturday and the Irish O-line didn't miss a beat, rushing for 235 yards against BYU.
But with southpaw
Matt Hegarty
snapping the rest of the way, the Irish marched toward 235 rushing yards, their second-best output of the season. And they kept
Tommy Rees
unscathed for the fifth time this year.
"It was kind of an offensive lineman's dream today, with the wind and running the ball," left tackle
Zack Martin
said after beating BYU. "So we wanted to kind of impose our will on them in the snow. It was kind of a nice little ending there."
The Irish are now 20-0 in their last 20 games when attempting at least 30 rushes,
according to Irish Illustrated
. Perhaps more noteworthy is the job they have done protecting Rees, who has been sacked just seven times this season, tied for the second-lowest mark in the nation.
The Cardinal will present a challenge in that department, too, as they are tied for sixth nationally with 34 sacks. But pass-rushing mammoths have brought out the best of Notre Dame, which is the only team to have held nation-leader
Aaron Donald
(26) of Pitt without a tackle for loss. The Irish protected their real estate this past weekend against BYU's
Kyle Van Noy
(15 TFLs) as well.
Stanford linebacker
Trent Murphy
enters the regular-season finale atop the nation in sacks (13) and tied for fourth with 19 stops behind the line of scrimmage.
"I think it could be an absolute disaster, right, if you think about the entire right side as well as missing
Chris Watt
for a game," coach Brian Kelly said of the offensive line. "You're talking about three and four different guys going in there on the offensive line at times, and Coach [Harry] Hiestand has done an incredible job of putting this together as a unit. I'll go back to their summer workouts where they stayed together as a unit during the summer and really worked hard together, and I think that unit mentality has really served us well."
Steve Elmer
, who has split time at right guard with
Conor Hanratty
since back surgery shut
Christian Lombard
down last month, is less than a year removed from high school. Hegarty, meanwhile,
is barely a year removed from a ministroke
.
Fifth-year seniors Zack Martin and Chris Watt on the left side will likely be tasked with recognizing pressures and conveying calls to Hegarty. But against the Cougars, at least, the newcomer blended in without incident.
"Any time you can have a strong running game and get some play-action going, it helps those guys up front," Rees said. "Zack's talking, it's the offensive line's dream to have a game like that. [The] offensive line has been awesome all year. Critical passing downs I was able to get through, back to my fourth progression and make some great plays down the field, and it all starts with them. I told them at halftime, Keep controlling the line of scrimmage, it starts with you guys and we are going to close this one out."
November, 19, 2013
11/19/13
9:00
AM CT
SOUTH BEND, Ind. --
Tommy Rees
and
Chris Watt
live together at Notre Dame, so the quarterback was sure to give the left guard heat when it looked like something as minor as a PCL tear would sideline one of the signal caller's anchors and best friends.
"You can ask him. I constantly tell him he's limping on the wrong leg or milking it," Rees said. "I always ask him, 'Which leg is it again?' Trying to prompt him to mess up."
It was the right leg, to be clear. And it did, in fact, end up keeping Watt out of the Nov. 2 game against Navy, before he returned the following week at Pitt.
[+] Enlarge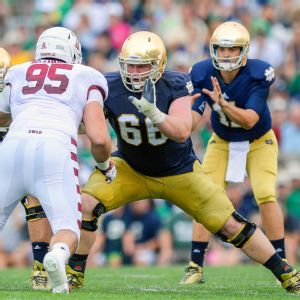 Robin Alam/Icon SMIChris Watt had played in 47 straight games, including 30 straight starts, before sitting out the Nov. 2 game against Navy with an injury.
"Yeah, he's been doing that," Watt said of Rees. "Telling me to go buy some milk, things like that. But it's all in good fun."
But such ribbing has the exception to the rule, underscoring just how fortunate and proactive Watt has been with his body. The same goes for Watt's sidekick and fellow roommate
Zack Martin
, too.
Watt and Martin have been bedrocks up front for the Irish, fifth-year seniors who have started for three-plus years on the left side of the offensive line. They have been through Senior Day before, though this Saturday against BYU will mark their official finales at Notre Dame Stadium.
The continuity has been a point of pride for the linemen, with Watt saying that one of the hardest things he has had to do in college was telling offensive line coach Harry Hiestand before the game against the Midshipmen that he would not be able to go. That marked the first contest either Watt or Martin had missed in college. Watt had played in 47 straight games before that, starting in the last 30. Martin, meanwhile, has started every single game since redshirting in his freshman season of 2009 -- 47 of the 49 at left tackle -- and he will break the school record for career starts if he starts these final three games.
"They have really shown those young players what it takes as a unit, as a group, in the weight room, in the practice field, and how to stick together as a group," Kelly said. "Now on the field, consistency of performance. So they've got two seniors there that have really set a high bar for everybody else to follow."
Other linemen have come and gone -- Notre Dame has seen a grand total of six players start at the other three offensive line positions these last three seasons, with two of them,
Christian Lombard
and
Mike Golic
Jr., starting in multiple spots. But Martin and Watt have been the heartbeat of the offensive line for much of the
Brian Kelly
era.
The duo has become so in-sync over the years that Martin seemingly spoke on behalf of Watt several weeks ago when talking about Watt's injured knee, saying that he himself could feel it improving based on some practice reps together.
"When we're working combination blocks it's either I'm setting it up for him or he's setting a block up for me, so I can definitely feel it," Martin said. "If he's setting one up for me I can definitely feel the difference with a full strength [knee]."
Martin laughed when asked how long it took to develop such synergy, saying he did not know. Taking care of their bodies in hopes of being in that position certainly does not hurt.
"They've learned to eat better along the way. They've also trained hard in the offseason," said Keith Martin, Zack's father. "Oftentimes that prevents injuries. I'm not saying it's 100 percent, but they've learned throughout the years to not just take care of your bodies during the season, but [that] how you prepare during the offseason is important."
Martin and Watt
put in extra work this summer with the five-man freshman class of offensive linemen
in hopes of accelerating their growth. Martin, the program's 18th two-time captain, said the work ethic has been hard to avoid throughout his career, as he credited his father, a former Kentucky defensive lineman, for instilling the mantra in him.
Zack and his brother, center
Nick Martin
, said they have never missed a game at any level, though Zack got lucky with the timing of an ankle injury in last year's regular-season finale at USC and Nick is currently playing through a broken hand suffered in his last outing, Nov. 9.
Nick joked that their father had claimed "he had broken something supposedly and played through it" in college, with Keith clarifying that he had played through foot and pectoral injuries during his career 30 years ago.
The durability of Notre Dame's left side has not gone unnoticed, especially by the man whose security has been affected most by this run of reliability.
"Zack and Watt have been doing it for a long time on the left side for us, and to play in the trenches like that and -- knock on wood -- be healthy for as long as they have is unbelievable," Rees said. "When you have that kind of consistency and familiarity up there it makes the whole offense go, and it really helps some of our younger offensive linemen who haven't played feel confident and know they have guys to turn to."
April, 3, 2013
4/03/13
8:00
AM CT
Notre Dame returns to the practice field Wednesday morning after a week off for the Easter holiday. Five sessions are in the bag and 10 remain, including the April 20 Blue-Gold spring game.
Like every team every season, the Irish are welcoming new faces in several new places. Among the biggest for the program heading into the 2013 season are at running back, center and Mike linebacker.
Here is a look at how those battles are shaping up as spring practice No. 6 takes place today.
RUNNING BACK
[+] Enlarge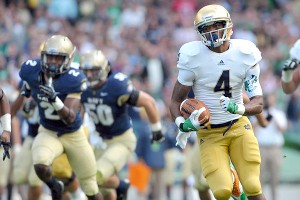 Matt Cashore/US PresswireIrish coaches have talked up George Atkinson III in the chase for playing time at running back.
This is, frankly, a blanket term for a backfield that will likely feature more than one person at a time throughout much of the coming season. But the Irish did lose their top two rushers in
Cierre Wood
and
Theo Riddick
, and with (at least) a strong left side of the offensive line returning, it will be interesting to see how the unit shakes out. Rising junior
George Atkinson III
has the most experience among returners, and head coach Brian Kelly and position coach Tony Alford have been high on him so far this spring, praising his weight training (he's up seven pounds, to 217) and ability to catch the ball in the slot. Can Atkinson be the typical 20-carries-per-game, between-the-tackles back? Will it matter? USC transfer
Amir Carlisle
also drew plenty of praise in the same role this spring before the rising redshirt sophomore suffered a broken collarbone March 23. Rising junior
Cam McDaniel
and rising redshirt freshman
William Mahone
are back there as well, and the program will welcome in talented prospects
Greg Bryant
and
Tarean Folston
this summer, at least one of whom may be primed to make an immediate impact.
From Brett Perotta of the ESPN Stats & Information blog, citing seven signees in college football who will
make an immediate impact in 2013
:
RB Greg Bryant, Notre Dame

Cierre Wood and Theo Riddick are gone, leaving a vacancy in the backfield and over 300 carries to go around. Bryant is the first top-10 running back the Irish have signed since James Aldridge in 2006. Notre Dame posted a respectable 4.9 yards per carry as a team last season and will return three starters on the offensive line. With returning dual-threat quarterback Everett Golson, Bryant should have plenty of room to work.
CENTER
So much of how Notre Dame's offensive line shakes out will depend on this position battle. With fifth-year seniors
Zack Martin
and
Chris Watt
back manning the left side of the line, and with redshirt junior
Christian Lombard
seemingly back for Year 2 as the starting right tackle, the Irish need to identify
Braxston Cave
's successor in the middle. Redshirt sophomore
Nick Martin
, Zack's younger brother, was running with the first team during the start of the first spring practice, March 20, and figures to have the inside track there right now. Nick Martin served as something of a utility man on the second-team line throughout last season. Redshirt sophomore
Matt Hegarty
, cleared following a November mini-stroke that threatened his football career, should give Martin a push here as well. Right guard is the other open position battle, and if Kelly or position coach Harry Hiestand deem tackle sophomore
Ronnie Stanley
or early enrollee
Steve Elmer
ready, there is always the chance that Lombard could slide to right guard.
MIKE LINEBACKER
Jarrett Grace
was talked about a lot last spring by the coaching staff but, frankly, just was not needed so much in 2012. Not with
Manti Te'o
having the kind of season he had, recording seven interceptions en route to a Heisman Trophy runner-up campaign that saw him rarely leave the field. Now that position is vacant following three consecutive 100-tackle seasons, and Grace, a redshirt sophomore, has the inside track to take over inside. Fifth-year senior
Dan Fox
, recovering from offseason shoulder surgery, is capable of playing both inside positions, and fellow fifth-year senior
Carlo Calabrese
has resumed his role as the Will linebacker after splitting duties there with Fox the past two seasons. No one should expect anything resembling Te'o's All-America-type run from the position so soon, but with starters, and depth, returning at every other linebacker spot, the Mike is the position to keep an eye on during the offseason.
January, 4, 2013
1/04/13
3:29
PM CT
FORT LAUDERDALE, Fla. -- Chuck Martin pleaded ignorance Friday when asked about Alabama's offensive line. The Notre Dame offensive coordinator only sees the Tide's top-ranked rushing defense -- and he has little to add to the growing narrative that the Alabama offensive line his Irish will face in Monday's Discover BCS National Championship is among the best in college football history.
"I'd say our offensive line is much more concerned with Alabama's very good defensive line," Martin said. "I would say we probably don't know a lot about what's been written about Alabama's offensive line. They've got their own set of issues dealing with the big boys on the other side of the ball."
[+] Enlarge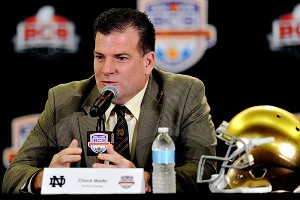 Steve Mitchell/USA TODAY SportsNotre Dame offensive coordinator Chuck Martin's line has steadily improved since struggling in the home opener against Purdue.
For the Irish's front, that will be one final challenge on its steady climb toward a perfect season.
Notre Dame surrendered five sacks in its home-opening nailbiter against Purdue. By the end of their first month of games, the Irish ranked 87th nationally rushing the ball, averaging 140.25 yards per outing.
Flash forward three months, and those numbers paint a different picture: Notre Dame has surrendered just 11 sacks in the 10 games since beating the Boilermakers, good for 28th-fewest nationally. Their rushing average has risen to 29th overall, at 202.5 yards per game.
Getting on the same page with a first-year starting quarterback in
Everett Golson
has been part of that surge. Getting accustomed to new offensive line coach Harry Hiestand likely has been, too.
Alabama surrenders just 79.77 rushing yards per game and 2.46 yards per carry. Notre Dame's line has paved the way for a pair of 700-plus-yard rushers in
Theo Riddick
and
Cierre Wood
.
"I think collectively they will be the toughest defensive line we face," left tackle and captain
Zack Martin
said of the Tide. "We have played some talented players, but collectively Alabama is the most talented. They are big, physical and have guys that can stop the run. They can also get after the quarterback, so we will have to be on our game."
"They are similar to our defense, which we see every day," he added. "They have big D-linemen who can stop the run and rush the passer. Also, Alabama has mobile linebackers who can make big plays and an active secondary, so very similar to our defense. We will have to be ready."
December, 10, 2012
12/10/12
9:50
PM CT
Befitting a season seemingly from the past, Notre Dame made the theme for its Friday night awards banquet "The Echoes."
Seventeen "Echoes" were handed out at the DeBartolo Performing Arts Center by the entire Notre Dame staff, including the team MVP echo to
Manti Te'o
, who accepted the award live via satellite from atop 30 Rock in New York. Te'o was for the Heisman Trophy presentation the following night.
The highlights of the night:
Matthias Farley
's bowtie,
Theo Riddick
's Armani belt and Louis Nix's brief acceptance speech: "I'd like to thank my mom. She had a beautiful son and he's here today." The senior parents' video was a hit for the second straight year as well.
Here's a list of the night's winners:
Offensive scout team player of the year, presented by offensive GA Bill Brechin
Winner
:
Nick Fitzpatrick
(also nominated:
Bruce Heggie
, William Mahone)
Defensive scout team player of the year, presented by defensive GA Josh Reardon
Winner
:
Tyler Stockton
(also nominated:
Joe Romano
,
Joe Schmidt
)
Offensive newcomer of the year, presented by offensive coordinator Chuck Martin
Winner
:
Everett Golson
(also nominated:
DaVaris Daniels
,
Christian Lombard
,
Troy Niklas
)
Defensive newcomer of the year, presented by co-defensive coordinator Kerry Cooks
Winner
:
KeiVarae Russell
(also nominated:
Sheldon Day
, Matthias Farley,
Danny Spond
)
Irish Around the Bend award (community service), presented by director of player development and engagement Ernest Jones
Winner
: Mike Golic Jr.
A-Team award (accountability, appreciation, achievement), presented by defensive line coach Mike Elston
Winner
:
Kapron Lewis-Moore
Count On Me award (reliable, unselfish), presented by running backs/slot receivers coach Tony Alford
Winner
: Theo Riddick
Father Lange Iron Cross award, presented by strength and conditioning director Paul Longo
Winner
:
Braxston Cave
Special teams award, presented by tight ends coach/special teams coordinator Scott Booker
Winner
:
Kyle Brindza
Pietrosante award (courage, loyalty, teamwork, dedication, pride), presented by outside receivers coach Mike Denbrock
Winner
:
John Goodman
,
Robby Toma
Moose Krause defensive lineman of the year, presented by assistant head coach/co-defensive coordinator Bob Diaco
Winner
: Louis Nix and
Stephon Tuitt
Offensive lineman of the year, presented by offensive line coach Harry Hiestand
Winner
:
Zack Martin
Rockne Student-Athlete award, presented by safeties coach Bob Elliott
Winner
: Danny Spond
Next Man In award, presented by head coach Brian Kelly
Winner
:
Tommy Rees
Offensive player of the year, presented by Kelly
Winner
:
Tyler Eifert
Defensive player of the year, presented by Kelly
Winner
:
Zeke Motta
MVP, presented by Kelly
Winner
: Manti Te'o
February, 16, 2012
2/16/12
7:56
PM CT
Feels like just yesterday we were in Orlando, no? Yet just a little more than a month from now, spring practice will be underway, and at Notre Dame, there is plenty to be sorted out before the 2012 season kicks off this fall.
NOTRE DAME
Spring practice start date:
March 21
Spring game:
April 21

What to watch:
The quarterback battle. Four candidates, one spot. Two played last year, two others were ballyhooed recruits. Oh, and there's a new QB coach, too. Former safeties coach Chuck Martin will coordinate the offense and direct the signal-callers, jobs he held as Grand Valley State's head coach from 2004-09.
Reshuffled staff: Martin wasn't the only one making a change. No one from Notre Dame's offensive staff last season holds the same title in 2012, with Harry Hiestand (offensive line/running game coordinator) and Scott Booker (tight ends/special teams coordinator) providing new faces. Bob Elliott comes from Iowa State to replace Martin as safeties coach. For some current players, 2012 will mark a third different position coach within a four-year span.
How good can this front seven be? Likely first-round draft pick Manti Te'o returns for his senior year to captain the defense, but that job may be much easier with the talent in front of him. Sophomore ends Aaron Lynch and Stephon Tuitt exploded onto the scene in their freshman seasons, and junior noseguard Louis Nix proved to be a force in the middle. The pass rush could be devastating, making life much easier for a secondary that will likely feature three new starters.
TOP 25 SCOREBOARD
Thursday, 8/28
Friday, 8/29
Saturday, 8/30
Sunday, 8/31