Chicago Colleges:

Ian Williams
December, 21, 2010
12/21/10
9:11
PM CT
By
Wes Morgan
| ESPNChicago.com
According to
Notre Dame
football coach Brian Kelly, the Fighting Irish did what they were told in Tuesday's final full practice before their trip to the Sun Bowl in El Paso, Texas. Then they added some unexpected pop to a session that satisfied Kelly and his staff.
"Today was a good day," Kelly said. "It was fast, there was high-paced action. It was supposed to be tag-off today and it ended up in tackling. That's a good sign. I've been on teams that didn't want to play the bowl game; they just wanted to get through it, get the season over with and get out of here. These guys want to play the game. … They got a lot of gas in the tank."
[+] Enlarge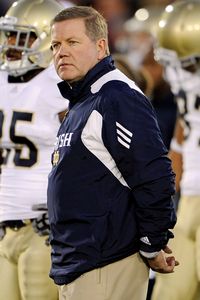 Chris Williams/Icon SMIBrian Kelly would like to see the Irish go into the offseason on a high note with a win in the Sun Bowl.
Kelly feels his team is adequately prepared to take on Miami on New Year's Eve, but his other concern is taking good vibrations into 2011.
"You want to win the game because [if you don't,] you're carrying with you in the offseason the loss," he said. "That's the No. 1 thing. It's such a long time before you get a chance to eradicate that. More than anything else, there's such a long layoff before you get a chance to play again. That's very, very important to me and I know it is for our players. They don't want (strength and conditioning) coach (Paul) Longo with a loss on the first day of winter conditioning. I think they'd rather have him with a win on his mind."
Here are the other topics Kelly addressed in his last news conference before heading to El Paso:
On maintaining defensive chemistry now that nose guard Ian Williams is back:
"Well, I think it was more about the other players playing at a higher level (while Williams was out). We got Darius Fleming playing really well late; Brian Smith playing really well late. So, it was really more about those other guys around him playing very, very well. And then Sean [Cwynar] and Hafis [Williams] did a really nice job when they were called upon as a package [at nose guard]. Now you got Ian back in there, and if we can keep the same level of play, because we can't have those guys drop off, if they continue their same play, we can obviously feel good about our defense going into Miami.
"The scheme didn't change much at all. I think if anything we probably focused more on making sure we protected our linebackers even more."
On Miami's voracious secondary:
"They play man-on. Their hands are on you. There's not a lot of space. This isn't a team that's going to play soft quarters and let you throw it and rally it. They're going to have hands on you. So, it's bump and run, it's tight coverage. You better be very accurate with the football and be able to put it on your receivers. That's why they've been so good. And they generate a really good pass rush with just four."
On what he's learned about his team since the victory over USC:
"Like all other teams that I've coached, if you prepare them in the manner that I have prepared them, they will have a lot left in the tank, you know, later in the year. There's a lot of energy with our group; they enjoy coming to play. All these things are important principles in developing consistency within your program. They really like playing the game. This is a group, I think, again, is, you know, the best word I can use is the morale is pretty high. And when the morale is high, these guys like to come in and play the game."
On what happens once they arrive in Texas:
"We want to make sure they enjoy the experience. To enjoy the experience you have to be well prepared before you get there, because if you're not well prepared and organized with your schedule, then it becomes a bit of a distraction. … So we try to create a very solid schedule for them and do a lot of the preparation work before we get there, because we want them to enjoy the bowl experience."
On his first Christmas in South Bend:
"I'm ready to enjoy it. It's not here yet, though my kids thought Christmas was like the last three days. I need to get out and shop in the greater South Bend, Michiana community and buy a lot of stuff. I haven't done any shopping yet.
"I think just sitting down and having a meal. You never get an opportunity to sit down as a family and, you know, talk to your kids for more than sound bites. So, it will be nice to sit down and relax and not have to get what happened in your school day in about 20 seconds at 6:30 in the morning."
December, 7, 2010
12/07/10
8:55
PM CT
By
Wes Morgan
| ESPNChicago.com
Even after all the injuries that piled up for Notre Dame this season, head coach
Brian Kelly
said the Fighting Irish must bang on each other in the weeks leading up to the Hyundai Sun Bowl on Dec. 31.
"My first couple of bowl games I was really hesitant to even get into some contact," he said about his postseason trips with Cincinnati, including a comeback 31-21 victory over Southern Mississippi and a 20-7 loss to Virginia Tech. "I think we all get caught up in wanting to be injury-free going into the game, and then the game is a little too fast for you early on.''
Kelly, noting advice he once received from Virginia Tech's Frank Beamer about maintaining a high level of physicality through December, said he won't coddle his players, though practices will lighten up around exam time, before Notre Dame (7-5) meets Miami (7-5) on New Year's Eve.
Senior nose guard Ian Williams, who went down with an MCL injury against Navy and missed the final four games for the Irish, and sophomore receiver
Theo Riddick
(ankle), extremely limited since Oct. 16, are both expected to start against the Hurricanes.
"Ian will get as much work as he's able to get," Kelly said of the 6-2, 305-pounder. "It's his last game playing for the University of Notre Dame. So he's going to have to tap his helmet and yell real loud to come off the field, because we're going to stick with him."
Odds and ends
ESPN.com's Heather Dinich reported today that Miami's allotment of Sun Bowl tickets sold out in 36 hours. Notre Dame sold out by Monday night. No tickets remain available to the general public and it's the quickest sellout in the 77-year history of the bowl game, according to Sun Bowl officials.


Kelly confirmed that juniors Michael Floyd (WR) and Kyle Rudolph (TE) have asked the NFL's draft advisory board to provide them with evaluations as to where they might fit in the 2011 draft.

"I guess that's different from last year," Kelly said, "because I don't know that either of those players [quarterback Jimmy Clausen and wide receiver Golden Tate] had asked to be evaluated. They both were going to go [no matter what]. Both of these young men have asked to be evaluated."
December, 5, 2010
12/05/10
7:45
PM CT
By
Wes Morgan
| ESPNChicago.com
Notre Dame nose guard Ian Williams, who missed the final four games with a MCL injury, is expected to suit up against Miami in the Sun Bowl on New Year's Day.
Read the entire story.
October, 25, 2010
10/25/10
7:51
PM CT
Notre Dame senior defensive lineman Ian Williams tore the medial collateral ligament in his left knee and will miss four to six weeks, possibly ending his regular season, a source close to the player said Monday.
Read the entire story.
October, 24, 2010
10/24/10
4:40
PM CT
By
Wes Morgan
| ESPNChicago.com
[+] Enlarge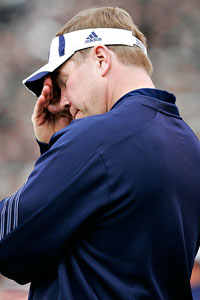 AP Photo/Rich SchultzNotre Dame coach Brian Kelly is off to a frustrating 4-4 start after a loss to Navy on Saturday.
How damaging is a loss to Navy for the head coach at Notre Dame? Charlie Weis knows. So does Brian Kelly.
"Let's put it this way… if we play like we played defensively, there won't be a Year 5 or 6 for me," Kelly said during his Sunday teleconference, a day after the Fighting Irish were throttled, 35-17, in New Jersey. "We have to execute better, clearly, on both sides. We see glimpses of it. But we haven't been able to grasp it in a consistent form."
A defense that did little to stop the Midshipmen's triple-option attack now may be without two starters this Saturday against Tulsa. Nose guard Ian Williams left the game in the third quarter and was seen on the sideline wearing a full leg brace and inside linebacker Carlo Calabrese apparently pulled a hamstring -- the default injury, so it seems, at Notre Dame this season.
Both were scheduled to have MRIs Sunday.
"We'll probably have better information first thing in the morning," Kelly said of Williams' injury. "He wasn't able to finish the game. It'd be really too soon for me to give any injury update until we get the full report.
"We're going to have to look at Carlo, he had a bit of a hamstring. He could have come back in the game, he wasn't 100 percent. … Then
T.J. [Jones
has] a little bit with a hamstring, he was fatigued more than anything else. We didn't see anything else today. And we upped his reps a lot. Clearly there was a bit of fatigue there."
Here are some other topics Kelly addressed Sunday:
On Robert Hughes seeing little action:
"
Armando [Allen]
and
Cierre [Wood]
are 1-2. If we were going to go to a third back, he'd be the third back. This is still pretty consistent in terms of who the top three guys are. We got behind in the game and Cierre gives us a little bit more out of the backfield."
On what he saw from the film:
"Other big picture items would be turnovers on the offensive side of the ball. If we just take care of the football getting out of the half, we come out in the second half and make some adjustments and we're in much better position. If we get off the ball on the one-foot line and score... there are so many little things to point to in the game and they're not just all about defending the option."
On if there are growing pains with the coaching staff:
"I don't know if I'd call those growing pains. By and large, plugging in a new tight end in
Tyler Eifert
, a new 'Z' receiver, a new 'W' receiver, Armando has been less than 100 percent… I thought our coaches did a pretty good job getting those kids ready. There's an accountability and responsibly for how we execute on both sides of the ball. The coaches take that seriously. There's no finger-pointing in this room. This is about a collective group that understands why we're here at Notre Dame. We're here to win football games."
On what he sees behind the scenes that makes him optimistic:
"I'd probably say trust more than anything else. Coaches trust each other, players trust the coaches. If you have trust in any business or organization on a day-to-day basis, you can't help but to continue to grow in the right direction. There's a great deal of trust in what we're doing and how we're doing it."
On team leadership:
"We're still a work in progress as relates to leadership skill. Those weren't prevalent when we got here. They're emerging every single day, but I couldn't give you a guy and say he's it."
On quarterback Dayne Crist:
"Here's what I can tell you: It's understanding that first and foremost, he's the one that makes the big decisions. Those are the things we spend a lot of time on. Understanding the flow of game, time and place, how important it is to take a shot at this point. Those are conversations that are happening on the sideline, at practice, at dinner. Recognition of so many different coverage variations he's not used to. Some things are clicking. He's being a lot more physical when he puts the football under his arm and runs. There are so many moving parts to get him to be the complete player. That dialogue takes place every day in every circumstance."
On backup quarterback Tommy Rees:
"We went no-back the whole time with him. We feel like he's a guy that can distribute the football, he recognizes the field pretty good in the spread, he's comfortable back there. It's more about finding what his strengths are. This is more about developing who those guys are and their strengths more than anything else. We have a lot more confidence now that, if our quarterback is dinged up, we can insert [Rees] or
Nate [Montana]
and run a particular package that can be effective."
On Saturday's breakdowns:
"Let me make it clear: We're responsible for option. Whether it's mid-line, veer, speed, load, it doesn't matter. If we run against an option football team, we're responsible for all those phases. Our kids played really, really hard. They did what we asked them to do. This is accountability and responsibility that we have as coaches to make sure our players are well-prepared. We can't use the excuse that we haven't seen that before. We're responsible for option. We're going to make sure we're prepared against all forms of option moving forward."